Water is essential to human life. Roughly 60 percent of the human body is made up of water. An average person can go for weeks without eating, but most people wouldn't make it longer than a couple of days without water.
We use water not only for drinking but also for cooking, cleaning, and bathing. The importance of water is impossible to overstate. Having access to clean, healthy water is a basic human right, but not all water sources are inherently safe.
Hard water is one of the most common issues found in the modern world's water sources. This makes water softeners a vital addition to homes around the world. Not all water sources or water softeners are alike, so here are some things to keep in mind when looking for the best water softener for you.
Features to Consider in Good Water Softeners
Before you start looking for the right water softener for your home, you should first get an idea of the characteristics of the water source in your area. Different areas of the world and different kinds of water sources have varying levels of hardness, which is measured in grains per gallon (gpg) of calcium carbonate. Any more than 7 gpg of calcium carbonate is considered to be hard water.
Necessity
An estimated 85% of homes across America have hard water, but only 30 percent of those homes employ the use of water softeners. You can reference this map that shows hard water levels across the United States to see if you live in an area known for hard water issues. You can also get your water tested by buying a home kit or having samples taken to a lab to analyze the water in your home in more detail.
Water Softener Size
Once you know the details of your water situation, you should assess what size of water softener you need by figuring out your household's daily water usage. Determining the capacity in grains that you'll require can be complicated, but there are websites that can cut down on the work. Finding a water softener that's the right size for your home will make sure you get one that can handle your usage rates without breaking the bank.
Budget
This brings us to our final consideration before beginning a search for water softeners: budget. You should always have a price range in mind before doing any kind of shopping, and this applies to water softeners just like anything else.
With these ideas in mind, here is a list we put together of the 10 best water softeners for your home.
Top 10 Best Water Softeners 2021
Why we like it:
The Pentair Fleck provides top-of-the-line water-softening performance at a very reasonable price. This product has great reviews, a great price, and is a breeze to install.
Editor's Rating:
Specifications
The Pentair Fleck has a size of 48,000 grains, making it a great choice for typical households. It has a flow rate of 14 gallons per minute (GPM) with a water consumption of 3.5 GPM and a maximum pressure of 125 PSI. It is a complete water softener system with an included digital metered control head so you can adjust salt usage with ease.
Features
This system features a Fleck 5600SXT digital metered control and comes with a black resin tank as well as a standard brine tank with included safety float. It employs the use of chlorine-resistant resin by using a durable type of construction called 10 percent crosslink. The Pentair Fleck also features a bypass valve and 1" male connections for ease of use and setup.
It also comes with an install kit to make installation a breeze, giving you simple, reliable, long-lasting water treatment in your home for years to come. The complete system comes with an included 14×33 brine tank, a mineral tank, and a valve with bypass and adapter. There is a 5-year warranty on the valves, which have been tested to run continuously for up to 27 years.
Pros
Comes with included installation kit.

Extremely reasonable price and great build quality make this an easy recommendation for just about any household looking for a water softener.

The digital metered control makes operation straightforward and easy to understand.

NSF-Certified for its capabilities dealing with hard water issues.
Cons
The directions for regeneration of the system can be confusing.
---

Why we like it:
The Whirlpool Pro Series system is a compact and easy-to-use water-softening solution for relatively small households that have high levels of water hardness. This system is designed to provide you with excellent water quality year-round.
Editor's Rating:
Specifications
This Whirlpool softener has a 31,000 grain capacity and can go for several days without the need for regeneration. With its digital metered control, this water softening system constantly measures water usage and will regenerate itself only when needed. The digital controls provide easy adjustment capabilities for automatically managing capacity and salt usage.
Equipped with a single tank that filters all unwanted particles, the Whirlpool is fully equipped to deal with your home's water softening needs. The whole-home water softening system comes with a bypass vale, drain hose, and everything you need for a quick and easy installation.
Features
The Whirlpool Pro Series is designed to handle nearly anything that you can throw at it. Not only can it filter up to 120 gpg of minerals (including lead, calcium, magnesium, and manganese) from your hard water, but it also removes ferrous iron, chlorine, and any sediment that's contaminating your water supply.
On top of that, it handles all of this without any upkeep. Set it and forget it, and this filter will take care of your water for years to come. All you'll have to do is watch its salt levels, which will be made simple because of the product's excellent monitoring technology.
Pros
Automatic regeneration of the system makes this a no-fuss and easy to operate system.

Filters a variety of contaminants from your water.

Simple set-up and no-nonsense maintenance.
Cons
The 31,000 grain capacity might not be enough for larger homes.
---
Why we like it:
The APEC Futura-10 provides chemical-free, maintenance-free, and environmentally friendly water softening services for your home. It comes with a 10-year warranty on all tanks and valves, with lifetime manufacturer support.
Editor's Rating:
Features
The APEC Futura-10 salt-free water softener cleans existing scale out of your system while having no impact on the environment. This system requires no electricity to run, and will adjust on its own to the level of water hardness present in your system throughout the year. This water softener will help extend the life of all other appliances in your home.
Clean Water
The base level of this unit is intended for homes with 1 to 3 bathrooms and provides a flow rate of 10 GPM, but there are several other options available for larger homes. It provides fantastic water quality for your entire home with a reduced impact on the environment and without consuming any electricity. This allows you to operate a water softener year-round without impacting your electricity bill by even one penny.
The APEC Futura-10 cleans existing scale from the home's water system and can help extend the life of your appliances such as your water heater, dishwasher, and coffee maker, as well as your plumbing. It will also reduce spots left on your dishes while providing cleaner, fresher water for you and your family to consume.
Pros
Environmentally friendly with salt-free and chemical-free operation.

Comes with a 10-year warranty.

Lifetime manufacturer support.

Operates without electricity and adjusts itself to the hardness levels of your water.

Doesn't require any maintenance or hassle once installation is complete.
Cons
This water softener is pricier than many others on this list.
---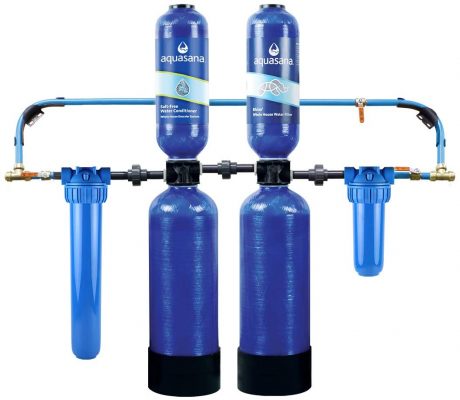 Why we like it:
The Aquasana Whole House Water Filter System provides excellent water filtering and makes a great whole-house filtering system. It removes up to 97 percent of your water's chlorine, while reducing harmful contaminants like mercury, lead, herbicides, pesticides, and VOCs.
Editor's Rating:
Great Water Quality
This Aquasana Whole House Water Filter System uses carbon and KDF filtration media combined with Scale Control Media salt-free technology to remove harmful contaminants without taking out the healthy minerals found in your water. Their system provides excellent water quality by removing the bad stuff and leaving in the good.
Your water will taste great while providing healthier skin, hair, and water quality by removing harmful chemical components from your water with the Aquasana Whole House system. This system removes heavy metals like lead and mercury in addition to organic chemicals such as herbicides and pesticides. It also filters out industrial solvents, among other harmful materials.
Guaranteed for 10 years or one million gallons of water filtration, the Aquasana Whole House system removes pesticides, rust, silt, sediment, water soluble metals, and industrial solvents alike.
Optional Upgrade Features
Aquasana SimplySoft can be optionally included with this system, which uses salt-free SCM technology to descale your system and protect your pipes from corrosion. It removes harmful compounds without demineralizing your water or adding excess salt waste or chemicals into the water or our environment.
UV filtration that is capable of killing 99.99 percent of viruses and bacteria such as E. coli, cryptosporidium, and giardia can also be added to the system.
Pros
Treats your water to provide amazing taste and health benefits.

Filters out more organic compounds than most water softeners.

Functions for up to 10 years or one million gallons of water filtration.
Cons
Expensive up-front cost.

Not great for water with high hardness levels.
---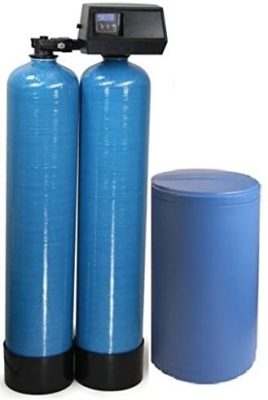 Why we like it:
This 80k Dual tank system is great for larger homes or residences with high water consumption rates. Capable of providing 24/7 water softening, this system is a great choice for people with high levels of water usage.
Editor's Rating:
Specifications
This system uses a twin-tank setup with 80,000 grains of capacity per tank. It uses the Fleck 9100 valve to meter and control both tanks simultaneously. When one tank is regenerating, the other tank remains in operation to provide 24/7 uptime of water softening performance. The product comes with 5.0 cubic feet of resin, two 13 x 54 mineral tanks, 18 x 4 brine tank with safety float, and a bypass valve.
Features
The AWFFilters 80k Dual Tank system offers a 5-year warranty on valves and a 10-year warranty on both tanks. Its ability to alternate between each tank allows for continuous water softening even when the system is regenerating. The single Fleck 9100SXT control valve monitors both tanks simultaneously to ensure proper operation at all times.
This two-tank system provides 24/7 uptime of water softening capabilities, so you're never out of soft water no matter the time of day or night. It has a flow rate of 22 gallons per minute. This system is capable of providing water softening services for large homes, and is also a great option for small businesses thanks to its 100 percent uptime. The AWFFilters 80k Dual Tank's installation process is as simple as it would be for a single tank system.
Pros
Dual tanks provide 100 percent water-softening uptime.

Twin 80,000 grain capacity tanks provide the ability to soften large amounts of water for packed homes and small businesses alike.

The Fleck 9100SXT utilizes an anti-memory loss system which can save its data even during times of lost power.
Cons
This system is more expensive than others due to the dual tank setup, and its capacity is overkill for most households.
---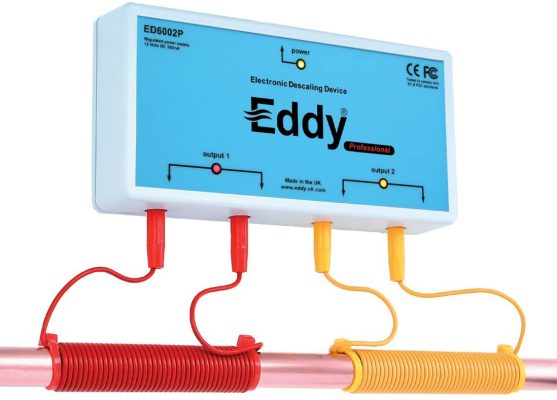 Why we like it:
The Eddy Electronic Water Descaler is an alternative water softening system that provides great results at a fraction of the cost. While it doesn't reduce the chemical hardness of water (as measured in total dissolved solids), it vastly improves the quality of the water in terms of scale and buildup.
Editor's Rating:
Performance
The Eddy (as it is lovingly called by its creators) provides incredible descaling services to homes by producing complex electromagnetic waves that alter the adhesive properties of limescale. This descaler is marketed as a water softener alternative in that it doesn't chemically alter the hardness of the water, but modifies the way particles behave in your system in order to prevent scale buildup.
The Eddy Electronic Water Descaler is capable of descaling systems with water hardness levels up to and above 20 gpg. It is also environmentally friendly thanks to its salt-free and chemical-free design. This system leaves the healthy minerals like calcium in your system so that water quality is not negatively affected.
Features
This electronic water descaling system comes with a 12-month 100-percent "no quibble" money-back guarantee. If you don't like it for any reason in the first year, you can return it and get every dime you spent on it back. In addition to this excellent return policy, the Eddy also has a lifetime repair or replace warranty, so you never have to worry about it breaking down.
Pros
Excellent water descaling capabilities at an unbeatable price.

Salt and chemical free for a reduced environmental impact.

12-month money-back guarantee.

The Eddy's lifetime repair or replace warranty is unparalleled in the business.
Cons
Does not remove built-up iron or sulfur.

The Eddy doesn't chemically reduce the hardness of your water.
---
Why we like it:
The Iron Pro 48k is a great whole-home system for houses that draw their water from wells. It provides excellent water softening and iron removal performance in one system—unlike most other water softeners, it even removes some ferric iron.
Editor's Rating:
Well Water Softener System
The Iron Pro 48k is perfect for homes that use well water as their primary source of water. It provides excellent water softening performance in addition to the ability to filter out ferrous iron from the water. This system also employs the use of a KDF 85 MediaGuard cartridge which can remove low levels of hydrogen sulfide as well to help get rid of that rotten egg smell your well water might have. On top of that, unlike most of its competitors, the 48K even filters out some (though not all) of the ferric iron that will stain your fixtures brown if left unchecked.
Specifications
The Iron Pro 48K weighs a total of 95 pounds and has tank dimensions of 18 x 30 x 62 inches. This AFWFilters system boasts a 48,000 grain capacity resin tank, as well as a safety float and stainless steel bypass system. It also utilizes a digital metered control valve and has a large gravel bed.
The Iron Pro 48K's fine mesh resin can filter ferrous iron up to 6 ppm, while its water softening system is capable of softening water of hardness levels up to 50 gpg and hydrogen sulfide levels up to 2ppm. AFW doesn't rate the Iron Pro 48K's ability to filter out ferric iron, but the product does a fairly good job of making sure it doesn't get through.
Pros
This all in one system provides water softening, ferrous and ferric iron filtering, and hydrogen sulfide filtering to offer complete water treatment services for your well water.

The digital LCD provides easy access to monitoring and adjustments on the fly.

The stainless steel bypass provides excellent filtering with a long lifespan.
Cons
Though this system does filter out some insoluble ferric iron, those with a severe ferric iron problem might need a dedicated iron filter.
---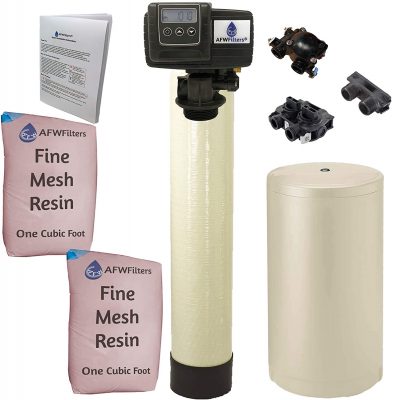 Why we like it:
This all-in-one water softener and iron filter system is perfect for homes with excess iron and hardness in their water sources. The Iron Pro 2 from AFWFilters comes with a 30-day satisfaction guarantee.
Editor's Rating:
Specifications
The Iron Pro 2 is a larger water softener system that offers a 64,000-grain capacity ideal for medium- to large-sized household use. It can remove hardness up to 75 gpg and iron up to 8 ppm. It also removes manganese up to 6 ppm in addition to sediment, sand, and rust.
The Iron Pro 2 from AFWFilters comes with a fine mesh resin designed for long-lasting removal of high iron levels. It weighs 119.5 pounds and measures at 14 x 7 x 21 inches in total.
Features
This system makes use of the Fleck 5600SXT digital control head, which offers convenient and controllable meter-based regeneration. The control head has a 5-year warranty while the tank has a 10-year warranty. The Iron Pro 2 system is designed to treat water sources that have both high levels of iron as well as high hardness levels of water. The fine mesh resin helps to remove ferrous iron, which is the most common cause of rust staining.
Pros
Offers two-in-one water softening and ferrous iron filtering.

Comes with a 30-day satisfaction guarantee for easy returns if the system doesn't work out.

The digital 5600SXT metered control head works well and has a 5-year warranty.

Clocking in at a 64,000-grain capacity, this system can handle larger househands.
Cons
This system is not intended for filtering out ferric iron (insoluble iron).
---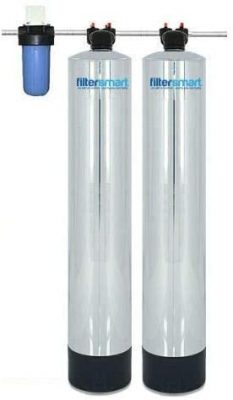 Why we like it:
The Filtersmart Whole House Water Filter & Softener system provides salt-free water treatment that uses no electricity and wastes no water. This is a great alternative system for whole-home water treatment.
Editor's Rating:
Specifications
By using filtration and conditioning to suspend hard water particles before they attach to your plumbing and fixtures, the Filtersmart alternative treatment system prevents and removes hard water scale from appliance and plumbing. Available in 1 to 3 bathroom or 4+ bathroom capacities, this system creates no waste and is great for environmentally-conscious home owners.
This system also comes with a sediment pre-filter system that includes bacterial static media which inhibits bacterial growth. This pre-filter is combined with their water filter and a softener-conditioner combo to provide great tasting water out of every tap in your home.
Features
The Filtersmart system uses a 4-stage whole house filtration system consisting of pre-filtering, catalytic granular activated carbon media, and a salt-free anti-scale media for whole home water filtration. It also removes almost all chlorine from your water, and has a lifetime capacity of up to 1 million gallons of filtered water.
The salt-free system uses zero electricity and creates zero wastewater while leaving behind beneficial minerals in your water. It provides conditioned water that doesn't have that slippery feeling typical from salt-based softening solutions. The Filtersmart whole-home system provides healthy water free of chlorine, chloramines, and other contaminants.
Pros
Zero water-waste and zero-electricity system for low environmental impact.

Leaves behind beneficial minerals for healthier drinking water.

System arrives ready to install and can be placed inside or outside the home.

Prevents and removes hard water scale from all plumbing and appliances.
Cons
This is one of the pricier options on the list.

Not a traditional water softener in chemical terms, since it primarily prevents water hardness from damaging your plumbing or affecting your health rather than fully softening it.
---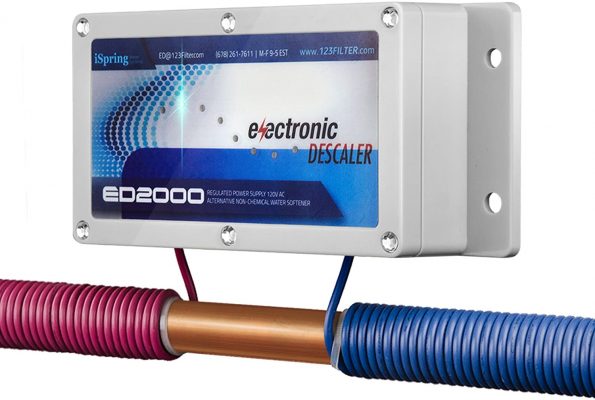 Why we like it:
Another electronic-based descaler, the iSpring ED2000 provides benefits similar to traditional water softeners without the use of chemicals or salt. This system is extremely affordable and very easy to install.
Editor's Rating:
Price to Performance
The iSpring ED2000 is the cheapest system on our list, but it's not quite as powerful as its alternatives. That's not to say that this system won't improve the quality of your home's water, it just won't work as well in comparison to the other options we have presented.
This system functions in the same way as the Eddy also featured on our list, by using electromagnetic waves to alter the adhesive properties of hard water. The purpose of this system is to prevent scale buildup by causing hard water to no longer stick to your plumbing and appliances.
Benefits
The iSpring ED2000 greatly reduces scale buildup through its electromagnetic process that requires no salt or other chemicals. This system can be easily installed onto any pipe, including PEX and PVC. It saves energy compared to traditional systems and functions best in hard water areas that contain 10 to 19 gpg.
This system also leaves healthy minerals unaffected in your water. The iSpring ED2000 has no need for maintenance and can save you a lot of money in the long run.
Pros
Since it doesn't use chemicals or salt, the iSpring ED2000 is great for the environment.

Works well for descaling and increasing the life of your appliances.

1-year money-back guarantee.
Cons
This system will not fully remove minerals, and as such won't lower TDS.

Does not function well for water with high iron content (anything over 0.3 iron ppm reduces its effectiveness).

Not ideal for larger homes as the treatment effect only lasts for roughly 50 feet of water travel.
---
Guide to Buying the Best Water Softeners
The consumption of water is essential for life, and water also plays an enormous role in our daily lives—think of all the roles water plays in your life, from bathing and cleaning to food preparation. Water becomes "hard" for various reasons: sometimes it's hard because of treatments performed on the water for health and safety reasons, and sometimes water is hard simply because of the trace elements surrounding the water at its natural source.
But what exactly is hard water?
What is Hard Water?
Hard water is defined as water which contains traces of dissolved calcium and magnesium. These trace minerals can lead to negative impacts on your appliances and the cleanliness of your dishes—to to mention your own body.
While hard water is certainly a nuisance due to the slimy feeling it can leave on your body after washing in it, it has not been shown to be harmful to our health for drinking purposes. According to this study from the National Library of Medicine and National Institutes of Health, purported negative health effects of hard water are not supported by scientific evidence. In fact, calcium and magnesium can have beneficial effects when added to a person's diet.
However, hard water can cause buildup (often called "scale") to occur inside plumbing pipes and household appliances that use water, such as a washing machine or dishwasher. This buildup can reduce the flow of water in pipes and cause your water bill to increase. The scaling can impact faucets and showerheads, and result in blockages and damage to appliances, reducing the overall lifespan of these products.
This white paper from the City of Cambridge goes into detail about water hardness and its impacts on health. The science shows that hard water poses no risk to our health, but also backs up the issue of hard water causing damage to household appliances and plumbing.
Water softeners help reduce the negative impacts of hard water, but can also result in the demineralization of your drinking water. Different types of water softeners function in different ways and have varying impacts on the overall quality of your home's water.
Types of Water Softeners
Technically speaking, there is only one method for "softening" water in the chemical sense of reducing or eliminating calcium and magnesium ions from the water. However, the presence of calcium and magnesium has been shown to not be inherently negative, so the "hardness" of the water isn't so much the concern from a health perspective as it is an issue for the longevity of household appliances and plumbing. This video goes over the differences between water softeners and water conditioners.
For the purposes of preventing scale buildup which is the main issue caused by hard water, there are three primary methods of treatment:
1. Salt-Based Water Softening
The most common kind of water softener and the only true way of reducing hardness levels in water is a salt-based system which uses ion replacement to remove hard minerals from your water. It replaces calcium ions and magnesium ions with sodium ions. These calcium and magnesium ions attach to resin inside the water softener tanks which are then flushed out during the process of regeneration.
This solution reduces the hardness of water effectively, which can save households a lot of money in the long run by increasing the longevity of their plumbing and water-using appliances. However, a salt-based solution removes magnesium and calcium from your water, minerals that can have some health benefits.
These systems also add salt into your water, which can impact your sodium intake. This may be an issue for people who are on a low sodium diet for medical and health reasons. Salt-based systems also require maintenance and salt refilling from time to time.
2. Salt-Free Water Softening (Descaling)
These types of water softeners don't actually reduce the hardness of water; however, they do help break down scale and prevent the formation of deposits. They achieve this by using a softening medium such as polysaccharide, which deactivates the properties of the hard water that causes scaling to occur.
Salt-free water descalers tend to be much easier to maintain than their salt-based counterparts. They also have a lower impact on the environment and don't run the risk of interfering with a person's low-sodium diet. Having said that, these systems tend to be slower than salt-based offerings and may be less effective at preventing scale buildup in appliances.
3. Electromagnetic Water Softening (Descaling)
Also called electronic water conditioners, electromagnetic descalers do not alter the hardness of water on a chemical level. As such, they can not be truly called water softeners despite the fact that they are designed to achieve similar results to traditional water softening systems.
These devices attach to your existing pipes and give off electromagnetic waves that alter the adhesive properties of the scale-causing components of hard water. They don't remove the magnesium or calcium ions like the salt-based water softening systems. Instead, they prevent those minerals from attaching to your pipes and appliances to reduce the buildup of scale.
These systems have some potentially great benefits in that they are very affordable and have no impact on your overall water usage. They also require a fairly small amount of electricity, so they are cheap to operate and don't require maintenance thanks to their lack of additives or tanks. Another benefit these share with salt-free systems is that they don't remove beneficial calcium and magnesium.
The primary issue with these systems is that they are fairly new, and as such have not been thoroughly tested in a scientific manner. Due to the fact that they don't alter the chemical hardness of water, you can't test your water to verify that they are working. Instead, you would need to keep tabs on the impact they have on scale buildup in your pipes and appliances.
All three of the treatment options for hard water have their merits and drawbacks, so deciding on the best one for you is not the easiest decision to make. One of the main factors when looking for water treatment options is what the quality of your home water is like before any home water treatment is used. Match the issues in your home to the problems that each softener resolves, and you'll be well on your way to making a purchasing decision.
You may not need to use any water softeners if your home is having no adverse impacts. Here are some signs that you might want to look into getting a water softening system.
Signs You Need a Water Softener System
There are a fair number of signs that it may be time to install a water softening solution in your home. These are a few of the most common symptoms of hard water in your home.
Visible Scale Buildup
One of the most obvious symptoms of excessive hard water is scale buildup on your appliances. Scale or limescale looks like a chalky, hard substance that can build up on your faucets, showerheads, dishwasher, or any other appliances that use water.
If you can see scale building up on your appliances, there's a good chance it's also being left behind in places you can't see like the insides of your plumbing. This can lead to another symptom of hard water.
Increased Water Bills
Water usage can rise as a result of excessive buildup inside your pipes because the scale can make your water have a difficult time making it through the narrowed pipes. The more limited the flow, the more pressure is needed to provide your home with water throughout the house, and this means an increase in water usage which you might not notice until the bill comes in.
Faded or Discolored Clothing
Clothes and bedsheets can become faded or discolored much faster as a result of washing them with hard water. Hard water can make your linens feel rougher and come out of the wash less clean than they would otherwise be. This can be a nuisance and result in you needing to buy clothes more often, lightening your wallet.
Dry Hair and Itchy Skin
Hard water can cause your soap to struggle to get your body and hair clean because it won't rinse away easily. The minerals in hard water can settle onto your skin and leave a residue that can irritate your skin and leave you feeling dry and itchy.
Bottom Line
Hard water may not be bad for your health, but it can be problematic for your comfort and the health of your appliances while also having an impact on your wallet over the years. Finding the right solution for dealing with hard water will vary depending on the state of your water.
Hard water isn't the only consideration when it comes to water treatment as your water source may have other materials or chemicals in it that should be treated prior to you using it for drinking or general household purposes. Things like ferrous or ferric iron may be an issue depending on where you live and where your water comes from. Make sure you get your water tested to verify its safety and to check for its level of hardness.
If you do decide that water treatment is the right choice for your home, we hope this guide can help make the process of finding the best solution a little bit easier.