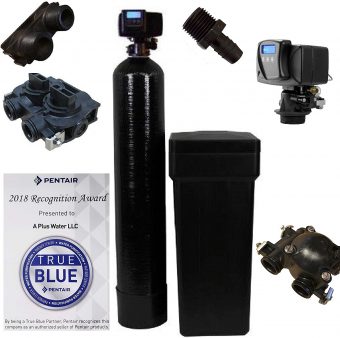 Pentair Fleck Water Softener

Whirlpool Pro Series

APEC Futura-10 Salt-Free Water Softener
Previous
Next
Water is essential to human life. Roughly 60 percent of the human body is made up of water. An average person can go for weeks without eating, but most people wouldn't make it longer than a couple of days without water.
We use water not only for drinking but also for cooking, cleaning, and bathing. The importance of water is impossible to overstate. Having access to clean, healthy water is a basic human right, but not all water sources are inherently safe.
Hard water is one of the most common issues found in the modern world's water sources. This makes water softeners a vital addition to homes around the world. Not all water sources or water softeners are alike, so here are some things to keep in mind when looking for the best water softener for you.
Features to Consider in Good Water Softeners
Before you start looking for the right water softener for your home, you should first get an idea of the characteristics of the water source in your area. Different areas of the world and different kinds of water sources have varying levels of hardness, which is measured in grains per gallon (gpg) of calcium carbonate. Any more than 7 gpg of calcium carbonate is considered to be hard water.
Necessity
An estimated 85% of homes across America have hard water, but only 30 percent of those homes employ the use of water softeners. You can reference this map that shows hard water levels across the United States to see if you live in an area known for hard water issues. You can also get your water tested by buying a home kit or having samples taken to a lab to analyze the water in your home in more detail.
Water Softener Size
Once you know the details of your water situation, you should assess what size of water softener you need by figuring out your household's daily water usage. Determining the capacity in grains that you'll require can be complicated, but there are websites that can cut down on the work. Finding a water softener that's the right size for your home will make sure you get one that can handle your usage rates without breaking the bank.
Budget
This brings us to our final consideration before beginning a search for water softeners: budget. You should always have a price range in mind before doing any kind of shopping, and this applies to water softeners just like anything else.
With these ideas in mind, here is a list we put together of the 10 best water softeners for your home.
Top 10 Best Water Softeners 2020
Guide to Buying the Best Water Softeners
The consumption of water is essential for life, and water also plays an enormous role in our daily lives—think of all the roles water plays in your life, from bathing and cleaning to food preparation. Water becomes "hard" for various reasons: sometimes it's hard because of treatments performed on the water for health and safety reasons, and sometimes water is hard simply because of the trace elements surrounding the water at its natural source.
But what exactly is hard water?
What is Hard Water?
Hard water is defined as water which contains traces of dissolved calcium and magnesium. These trace minerals can lead to negative impacts on your appliances and the cleanliness of your dishes—to to mention your own body.
While hard water is certainly a nuisance due to the slimy feeling it can leave on your body after washing in it, it has not been shown to be harmful to our health for drinking purposes. According to this study from the National Library of Medicine and National Institutes of Health, purported negative health effects of hard water are not supported by scientific evidence. In fact, calcium and magnesium can have beneficial effects when added to a person's diet.
However, hard water can cause buildup (often called "scale") to occur inside plumbing pipes and household appliances that use water, such as a washing machine or dishwasher. This buildup can reduce the flow of water in pipes and cause your water bill to increase. The scaling can impact faucets and showerheads, and result in blockages and damage to appliances, reducing the overall lifespan of these products.
This white paper from the City of Cambridge goes into detail about water hardness and its impacts on health. The science shows that hard water poses no risk to our health, but also backs up the issue of hard water causing damage to household appliances and plumbing.
Water softeners help reduce the negative impacts of hard water, but can also result in the demineralization of your drinking water. Different types of water softeners function in different ways and have varying impacts on the overall quality of your home's water.
Types of Water Softeners
Technically speaking, there is only one method for "softening" water in the chemical sense of reducing or eliminating calcium and magnesium ions from the water. However, the presence of calcium and magnesium has been shown to not be inherently negative, so the "hardness" of the water isn't so much the concern from a health perspective as it is an issue for the longevity of household appliances and plumbing. This video goes over the differences between water softeners and water conditioners.
For the purposes of preventing scale buildup which is the main issue caused by hard water, there are three primary methods of treatment:
1. Salt-Based Water Softening
The most common kind of water softener and the only true way of reducing hardness levels in water is a salt-based system which uses ion replacement to remove hard minerals from your water. It replaces calcium ions and magnesium ions with sodium ions. These calcium and magnesium ions attach to resin inside the water softener tanks which are then flushed out during the process of regeneration.
This solution reduces the hardness of water effectively, which can save households a lot of money in the long run by increasing the longevity of their plumbing and water-using appliances. However, a salt-based solution removes magnesium and calcium from your water, minerals that can have some health benefits.
These systems also add salt into your water, which can impact your sodium intake. This may be an issue for people who are on a low sodium diet for medical and health reasons. Salt-based systems also require maintenance and salt refilling from time to time.
2. Salt-Free Water Softening (Descaling)
These types of water softeners don't actually reduce the hardness of water; however, they do help break down scale and prevent the formation of deposits. They achieve this by using a softening medium such as polysaccharide, which deactivates the properties of the hard water that causes scaling to occur.
Salt-free water descalers tend to be much easier to maintain than their salt-based counterparts. They also have a lower impact on the environment and don't run the risk of interfering with a person's low-sodium diet. Having said that, these systems tend to be slower than salt-based offerings and may be less effective at preventing scale buildup in appliances.
3. Electromagnetic Water Softening (Descaling)
Also called electronic water conditioners, electromagnetic descalers do not alter the hardness of water on a chemical level. As such, they can not be truly called water softeners despite the fact that they are designed to achieve similar results to traditional water softening systems.
These devices attach to your existing pipes and give off electromagnetic waves that alter the adhesive properties of the scale-causing components of hard water. They don't remove the magnesium or calcium ions like the salt-based water softening systems. Instead, they prevent those minerals from attaching to your pipes and appliances to reduce the buildup of scale.
These systems have some potentially great benefits in that they are very affordable and have no impact on your overall water usage. They also require a fairly small amount of electricity, so they are cheap to operate and don't require maintenance thanks to their lack of additives or tanks. Another benefit these share with salt-free systems is that they don't remove beneficial calcium and magnesium.
The primary issue with these systems is that they are fairly new, and as such have not been thoroughly tested in a scientific manner. Due to the fact that they don't alter the chemical hardness of water, you can't test your water to verify that they are working. Instead, you would need to keep tabs on the impact they have on scale buildup in your pipes and appliances.
All three of the treatment options for hard water have their merits and drawbacks, so deciding on the best one for you is not the easiest decision to make. One of the main factors when looking for water treatment options is what the quality of your home water is like before any home water treatment is used. Match the issues in your home to the problems that each softener resolves, and you'll be well on your way to making a purchasing decision.
You may not need to use any water softeners if your home is having no adverse impacts. Here are some signs that you might want to look into getting a water softening system.
Signs You Need a Water Softener System
There are a fair number of signs that it may be time to install a water softening solution in your home. These are a few of the most common symptoms of hard water in your home.
Visible Scale Buildup
One of the most obvious symptoms of excessive hard water is scale buildup on your appliances. Scale or limescale looks like a chalky, hard substance that can build up on your faucets, showerheads, dishwasher, or any other appliances that use water.
If you can see scale building up on your appliances, there's a good chance it's also being left behind in places you can't see like the insides of your plumbing. This can lead to another symptom of hard water.
Increased Water Bills
Water usage can rise as a result of excessive buildup inside your pipes because the scale can make your water have a difficult time making it through the narrowed pipes. The more limited the flow, the more pressure is needed to provide your home with water throughout the house, and this means an increase in water usage which you might not notice until the bill comes in.
Faded or Discolored Clothing
Clothes and bedsheets can become faded or discolored much faster as a result of washing them with hard water. Hard water can make your linens feel rougher and come out of the wash less clean than they would otherwise be. This can be a nuisance and result in you needing to buy clothes more often, lightening your wallet.
Dry Hair and Itchy Skin
Hard water can cause your soap to struggle to get your body and hair clean because it won't rinse away easily. The minerals in hard water can settle onto your skin and leave a residue that can irritate your skin and leave you feeling dry and itchy.
Bottom Line
Hard water may not be bad for your health, but it can be problematic for your comfort and the health of your appliances while also having an impact on your wallet over the years. Finding the right solution for dealing with hard water will vary depending on the state of your water.
Hard water isn't the only consideration when it comes to water treatment as your water source may have other materials or chemicals in it that should be treated prior to you using it for drinking or general household purposes. Things like ferrous or ferric iron may be an issue depending on where you live and where your water comes from. Make sure you get your water tested to verify its safety and to check for its level of hardness.
If you do decide that water treatment is the right choice for your home, we hope this guide can help make the process of finding the best solution a little bit easier.