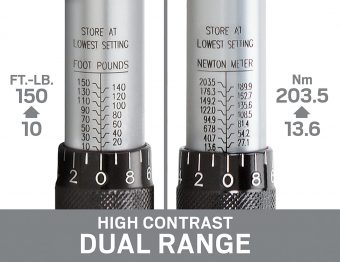 TekTon ½ Inch Torque Wrench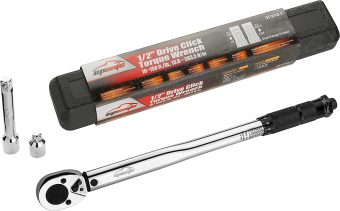 Epauto half inch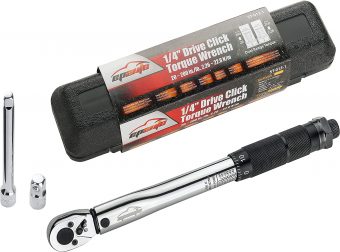 Epauto ¼ Inch Torque Wrench
Previous
Next
A torque wrench is a very special wrench, because it makes sure that your nut or bolt is tightened correctly. A torque wrench, by design, is a tool that allows you to apply a specific amount of torque to a given bolt or nut; the amount of torque needed is generally based on a specification provided by the machinery. This is an important thing to consider, especially when working with heavy machinery like cars and trucks. A properly torqued nut or bolt can make sure that something remains attached and works how it's supposed to.
Torque wrenches are mostly used in the automotive industry, because cars and trucks have a lot of moving parts that need precise calibration. Also, torque wrenches are not an all-purpose wrench. This is due to the fact that they should only be used to tighten nuts or bolts, and they should never tighten something beyond its specifications. This is important, because when you tighten a nut or bolt on a car too much, it can actually wear down the threads.
So if you need to pick up a torque wrench, you're definitely in the right place. We'll be showing you exactly what you need to know before buying a torque wrench, and we'll show you 10 great products to make the buying process a breeze.
Features to Consider in Good Torque Wrenches
Before we dive right into the best torque wrenches, it's important to understand the things that you need to look out for. Each torque wrench comes with different specifications, so we want to make sure that you know what you're looking at.
Torque
The first thing you'll want to consider is the torque rating, because that's what you'll primarily be buying a torque wrench for. A torque wrench is a very precise tool, which means that you'll be tightening a nut or bolt to a very specific parameter. This means that you should never overload the amount of torque a wrench is certified for, because this can actually damage the tool. When considering the torque, also be on the lookout for accuracy ratings. If a torque wrench is rated at +/- 4% accuracy, this means it's very accurate. The lower the number, the more accurate the wrench.
As for the torque ratings themselves, they come in all different shapes and sizes. You'll find wrenches that have up to 150 pounds of torque, and the increments may vary. When looking at the torque of a torque wrench, keep the project you'll be working on in mind. If you'll be needing more torque, you'll need a wrench with a much higher torque rating. On the other hand, some projects that are very small, may only require you to use very small amounts of torque. This is when you'll see the inch-pounds rating instead of the foot-pounds rating.
Drive size
You'll notice that a lot of torque wrenches have different inch measurements attached to them. These are called drive sizes or range. This is a very important measurement to consider, because it tells you the size of bolts that a wrench is compatible with. Here is a look at the common measurements, and what they mean.
¼ drive
The ¼ drive size is a very common drive. While it's not the most versatile size, it will take care of most small nuts and bolts. Keep in mind that this drive size is designed for small applications, and can usually handle a torque rating between 50 and 250 inch-pounds of torque.
⅜ drive
The ⅜ drive is actually one of the most common torque wrenches on the market. This is due to the fact that they can handle most automotive applications, and they're the closest thing to a one-size-fits-all torque wrench. These wrenches can usually handle between 15 and 75 foot-pounds of torque.
½ drive
The ½ drive is designed for larger applications. This means that a ½ inch drive is more appropriate for heavy machinery like engine or transmission work, and this drive size is usually rated for 30 to 250 foot-pounds of torque.
¾ drive
The ¾ drive is one of the less common sizes on the market. They're best used on very large nuts and bolts, and aren't very versatile. While this may be the case, when working with something like a lug nut, a ¾ drive can come in handy.
Type
Not every torque wrench is made the same, and there are actually 3 different types that you'll find on the market. Each type has its benefits, but the most common one that you'll find are click wrenches. Here is a brief overview of what the 3 different types of torque wrenches look like.
Click-type
The click-type torque wrench is by far the most popular type of torque wrench. They have a very simple design, and they get the job done. The way the click-type wrench works is very simple; once the required amount of torque is applied, the wrench will click. Once the wrench clicks, you'll want to stop, because continuing leads to a risk of making a nut or bolt too tight.
Electronic
The electric torque wrench is actually very similar to the click-type torque wrench. This is due to the fact that this wrench makes a beeping sound once the required amount of torque is applied. Also, electric torque wrenches may also come with some more features than click-type torque wrenches, because they utilize LCD monitors.
Beam-type
The beam-type torque wrench is the oldest type of torque wrench on the market. These torque wrenches are typically very cost effective, because they're a bit harder to use. Instead of making an audible notification, you'll have to pay attention to the rating of torque shown on the beam. The only time this torque wrench should be used is if price is something you're very concerned about.
The 10 Best Torque Wrenches 2020
Guide to Buying the Best Torque Wrenches
If you have questions about the type of torque wrench that you need, or how one may be better for you than another, you're in the right place.
What is a torque wrench used for?
A torque wrench is a precision tool that's designed to tighten a nut or bolt to a specified torque rating. Therefore, torque wrenches are typically used on heavy machinery that has a lot of moving parts. This is due to the fact that you'll want a precisely torqued nut or bolt in order to prevent damage to nuts, bolts, or even the machine itself.
A torque wrench is typically used on automotive applications, because cars need to be perfectly calibrated. If a part becomes too tight or too loose, you can be in a lot of trouble out on the road. If you plan on doing any engine work, or on changing your brakes or even a tire, a torque wrench is a great tool to have.
How do I use a torque wrench?
A torque wrench works like a ratchet, which means that it clamps onto a nut or bolt. From there, you set the torque that you need, and tighten the nut or bolt until you reach that torque rating. Here is a torque wrench in action.
How do I know which torque wrench to use?
When shopping for the best torque wrench to fit your needs, you need to consider a couple different factors. Therefore, pay close attention to the parameters you need to keep in mind, and we'll give you a brief run-down of how to properly gauge the best torque wrench for you.
Drive size
If you'll be working on a smaller project, you'll want to use a smaller drive size. This means that ½ inch or ¾ inch torque wrenches should be out of the question. Those drive sizes are designed to work well for bigger applications, like engine work, while smaller drive sizes are better suited for small nuts and bolts. This is where the ¼ inch and ⅜ inch torque wrenches shine.
Also, if you can find a torque wrench that can be set to different drive sizes, that's definitely a great option. Just be sure to make sure that they're built with quality parts, and that they have enough torque.
Torque
Torque is either measured in foot-pounds or inch-pounds. On larger drive size torque wrenches, you'll see a foot-pounds rating, while smaller wrenches will have the inch-pounds rating. To determine which torque wrench you need, carefully consider the project you're working on. If the bolts are small, you'll likely need a smaller drive size with a smaller torque rating in inch-pounds. On the other hand, if the bolts or nuts are large, you'll need more torque. If you're unsure about torque, this guide will help you understand the physics of torque, which will help you gain some insight into why precision is so important.
How important is accuracy?
When you're using a torque wrench, accuracy is extremely important. This is due to the fact that a torque wrench is a precise tool, so you want that torque measurement to be as accurate as possible. If your torque wrench is not precise, you can end up damaging the nuts and bolts that you're tightening.
When shopping for a torque wrench, you'll want to have a rating that's as low as possible. For example, a +/- 3% accuracy rating is good compared to a +/- 6% accuracy rating. Also, keep in mind that the accuracy rating may be different for clockwise or counter-clockwise ratings. For example, a torque wrench may be +/- 4% accurate clockwise, and +/- 6% accurate counter-clockwise. While the difference is minimal, it's something to keep an eye on. Here you can see how to calibrate a torque wrench.
How does ratcheting work on a torque wrench?
A torque wrench works in a very similar way to a standard ratchet. Think of a torque wrench as a ratchet with some extra accuracy. Therefore, considering the ratcheting options is very important. Most torque wrenches will operate in a clockwise direction, but there are some torque wrenches that can actually be used both ways.
If you come across a torque wrench that can be used both clockwise and counter-clockwise, this is a more versatile wrench. It can reach more angles and give you better leverage in hard to reach places. Here's a more detailed summary of the differences between torque wrenches and ratchet wrenches.
Do the materials of a torque wrench really matter?
Metal is stronger than plastic, and when you're working with precision, you'll want to utilize a torque wrench that has stronger materials. Therefore, the materials definitely matter. While a plastic torque wrench may be viable for a few around-the-house uses, 9 times out of 10 a metal torque wrench is going to be the better tool.
When you're shopping for a torque wrench, you should also consider the type of metal that's used. Stainless steel is great for handling wear and tear, but it can be corroded. Therefore, it's always a good idea to find a torque wrench that has a corrosion resistant ratcheting head.
Can I loosen nuts and bolts with a torque wrench?
A torque wrench is designed to tighten bolts to a specified torque setting, which means that it should only be used in that way. If you do loosen bolts with a torque wrench, you can actually cause some issues. These issues include: extra wear on the wrench, wear on the nuts and bolts you're working with, and a reduction in accuracy.
Recap
Finding the best torque wrench is not as easy as may seem. With so many different configurations, drive sizes, and torque ranges, if you don't know what you're looking at shopping for a torque wrench can be a real nightmare. Hopefully, this buyer's guide has shown you everything you need to know in order to help you with your next purchase. If you have any questions, or become lost along the way, please feel free to refer back to this article as a guide.
Keep in mind that torque wrenches are not universal. Always make sure that you understand what you'll be using a torque wrench for before you buy one, or you may end up with the wrong one. Once you know what you need, and what you'll be using your torque wrench for, finding the best torque wrench for you should be very easy to do.