Ask anyone who spends a lot of time laboring away in the workshop or garage and they'll tell you: clutter can be a major issue. It doesn't have to be inevitable, however. Whether you're a hobbyist or a professional craftsman, the right tool chest can be the focus of a tidy and efficient workspace.
Not only does a tool chest provide a way to minimize the mess that tends to build up over the course of a project, but can also keep often-used tools close at hand and allow for safe and secure storage while you're away.
The best chests are spacious, made of sturdy materials, and will keep your expensive hardware protected from the elements for years of use. Of course, they should also be chosen based on your specific needs – there are many varieties out there that cater to different projects and different shops.
You might want something compact for a small workspace, or maybe you need some extra security.  Don't worry, we've got you covered. Read on, and we'll explore some of the characteristics you should look for in an ideal chest, then dive into ten of the best options on the market today.
Choosing the Right Tool Chest for You
There are many, many options out there for storage solutions regarding tools and hardware, and sometimes it can be overwhelming or confusing trying to find the one that suits your needs best. Many may look the same, or others might seem too good to be true at the price they're offered.
Fortunately, we've done our research and sifted through a large number of tool chests currently available to find you a selection of the best.
First, however, we'll discuss a few of the properties that make a good chest and that you should consider when making your choice. This will be a broad overview to start, but if you're interested in a more in-depth guide, we will do a deep dive later that we recommend you check out.
Materials
Tool chests come in a variety of materials. Each offers different protections and characteristics, though for the most part, there are only two common options on the market: metal or plastic.
Metal chests tend to be sturdier overall and are more suited to heavy-duty work. They can handle larger loads and often last longer than their counterparts. This is why they usually come with a heftier price tag.
Plastic chests are not as hard-wearing but have their own advantages that make them suited to the home workshop. They tend to be lighter, cheaper and more resistant to corrosion. They are sturdy enough for most work, though lack in this aspect when compared to metal.
Size and Storage Options
Aside from general build quality, this tends to be the most important consideration when purchasing a chest. This is not just overall capacity, but also the options for storage a chest offers.
Every product is different in this regard, with some that tend towards large collections of small drawers, while others have larger bins or cabinets. Some combine both for extra convenience and utility, but you will want to bear in mind the items you need to store. Certain products also come with trays for very small objects such as screws, or slots for smaller tools you want to keep nearby for easy access.
Additionally, you should also consider the overall dimensions of the product. This doesn't always translate to storage capacity but is a good indicator of it. Plus, it will also be required when determining whether the chest will fit in your workspace.
Mobility
An almost mandatory requirement – your tools should always be close at hand while working, so a mobile tool chest is a great benefit. Almost all of the products on our list are portable or easily moved around a workshop, often rolling on wheels.
If a chest is wheeled, usually with swivel casters, you should note that it will have a maximum weight capacity. If this is exceeded, you may cause damage or render the chest stationary.
Extras
Besides the base utility of providing a space to store your hardware, some chests also offer additional uses that you may find attractive. Some may be used as a seat; others can provide more work surface. You may also find that some come with free extras that are included with the price, such as drawer liners or screw storage bins.
We will note these when applicable, but if you're doing your own research, these are always worth looking for. They may not be the deciding factor in your purchase, but they at least add more value to the product that you may appreciate.
Now that we've discussed some of the basic properties you should look for, let's move on to our top 10 list of some of the best tool chests on the market today. Armed with knowledge, you should now have a good idea of what you're looking for and, by the end, we hope you'll have a chest in mind that suits your needs.
Top 10 Best Tool Chests 2023
1.

Best Overall Tool Chest:

DEWALT TSTAK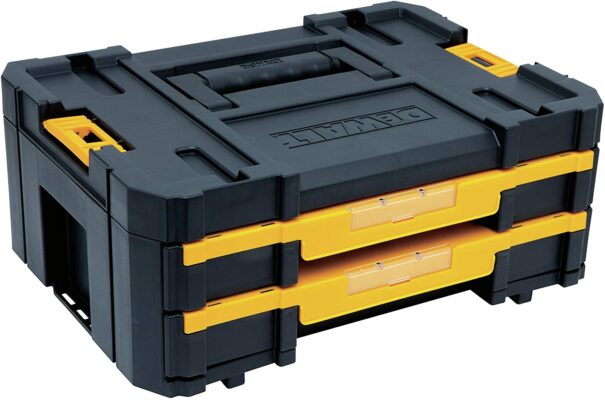 Why we like it:
A winning product with the potential for a great deal of utility. Each of its optional modules are high-quality chests in their own right, but combined, they can be perfect for your needs.
Editor's Rating:
Quick Facts:
Material: Metal and Plastic
Storage: Various
Size: Variable
A non-standard entry on our list, but one we highly recommend looking at, this product is a storage system comprised of different modules that can be stacked into many combinations. We'll focus here on some of the general benefits, but note that DEWALT delivers a chest that can be built to fit your unique needs. Coming from a brand well-known for their expertise, you can be assured of quality and long-term use.
Comprised mainly of hard-wearing plastic and metal, each of the components available are hardy enough to stand up to years of heavy use. We recommend beginning with the four-wheeled cart, or trolley with handle, as a base to build up from.
The rest of the modules offer specific storage solutions – some are smaller with sliding drawers, while others are deep bins for heavier tools and items. Each comes with their own specific price, also, so you can be selective in how much you pay depending upon which modules you purchase.
It is worth noting that each module can be used separately and has its own utility, often coming with carrying handles, so it's not necessary to combine them if you don't need to. There are too many to list the benefits of each here, so we recommend you take a look yourself to determine what best fits your needs.
The main problem with this product, however, seems to be that the latching mechanisms that secure the different modules together can rarely break. This can be a significant issue and mean that you can no longer combine the pieces you have bought. It is worth noting, though, that this does not occur often and affects only a very small number of units.
An interesting solution to the problem of tool hauling and storage – we strongly recommend you give this product a look, considering its potential for convenience. DEWALT is a big name and a safe bet, so whatever you choose you can purchase with peace of mind. If you prefer a more conventional storage solution, however, you may want to look at this more basic product by Craftsman.
Pros
Each module is high-quality in its own right

Numerous combinations can cater for specific needs

Variable price to suit your wallet, depending on what you buy
Cons
Latching mechanisms that allow modules to combine may be weak
---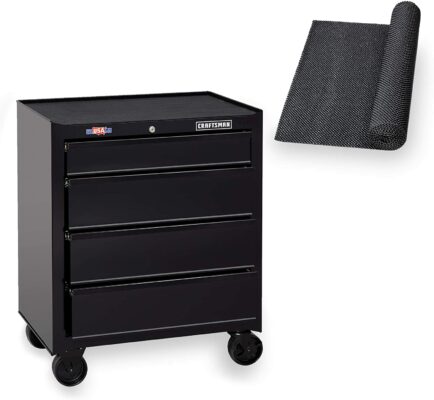 Why we like it:
A chest that offers quality and simple convenience at a reasonable price. Spacious for its size, you'll be surprised at how much you can fit inside.
Editor's Rating:
Quick Facts:
Material: Steel
Storage: 3 Large Drawers, 1 Small Drawer
Size: 26.5 x 18 x 32 inches, LxWxH
This product from Craftsman may not be the largest tool chest on the market, but its modest size makes it ideal as a portable workspace in a home workshop or garage. You'll be surprised by its hidden depth, too, with a generous capacity for tool and material storage as compared to a lot of other similarly-sized models.
Craftsman are known for quality tools, and their expertise shines through in this simple, but heavy-duty chest, which comes at a reasonable price. Made of 20-24 gauge steel this product is built with long-term use in mind. Sturdy and robust, it'll stand up to years of punishment while keeping your tools securely contained from any would-be thieves, with a keyed internal locking system.
Each drawer has a 50-pound capacity and slides open smoothly on ball bearings. Three of these are deep, to store larger loads, while the top drawer is shallower and lighter for those items you need to keep close at hand. A max load of 500 pounds is recommended.
The chest moves on 4-inch by 2-inch casters, two of which can be locked for stability when you need it. A drawer liner roll comes included with the price, providing a non-slip surface for often-used tools. Additionally, a 3-year limited warranty is part of the purchase, too, which provides peace of mind.
It should be noted that there has been a recorded issue, though only in rare circumstances, of the locking mechanism being non-functional on delivery or breaking during use. This can be a major issue to those who have no other options for keeping their tools safe. With the included warranty this should not be a problem, but you may want to be aware of it and test the locking mechanism after purchase.
Overall, this is a strong contender on our list and one that delivers simple utility without breaking the bank. Craftsman are a well-known brand so you can be reassured you're buying quality when considering their products.
Pros
High max capacity

3-year warranty

Built for long-term use
Cons
Locking mechanism may break or arrive non-functional
---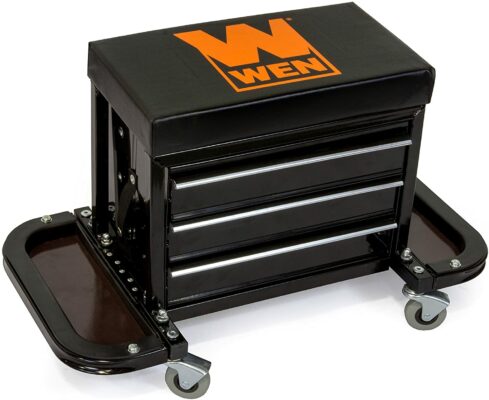 Why we like it:
A rolling tool chest that doubles up as a seat – this is great for a workshop where space is at a premium, while not sacrificing storage space.
Editor's Rating:
Quick Facts:
Material: Steel
Storage: 3 Drawers, 2 Magnetic Trays and 16 Storage Slots
Size: 16.5 x 27 x 16 inches , LxWxH
WEN delivers a product that stands out from the crowd – a tool chest that serves dual-purpose as a garage stool. Lightweight and portable, it rolls on four swivel casters for jobs on the move, taking you and your tools where you need to be without hassle. While not as large as its competitors, it's the perfect size for sitting, with a comfortable, vinyl-layered padded seat so you can spend hours on your work without aches or pains.
This itself chest is made of steel and stands at around 16 inches tall. This is not particularly large, but has a great deal of storage capacity for its size. Not only are there three spacious sliding drawers, but two magnetic trays on each side allow for holding of nuts, screws, bolts, and other metal items you need close to hand. There is also a number of storage slots that are suited for screwdrivers, wrenches and more, allowing easy access while sitting on the chest.
The four ball-bearing swivel casters provide a smooth ride when repositioning, and can bear up to a maximum of 350 pounds of weight. WEN, additionally, offers a 2-year warranty on their product, so they've got you covered if any mishaps occur.
When it comes to the issues you should be aware of, there are two that have been known to occur. First, the packaging the product ships in can stick to the seat cushion in transit and, when peeled off, leave unattractive white marks behind that can't be removed. Also, the wheels do not seem to be as hard-wearing as the rest of the chest and may be delivered defective or become stiff over time. This is rare, however, and should not be a problem in most cases.
This is a great product, overall, that the manufacturer clearly has confidence in, given its extended warranty. If you're looking for a tool chest that can easily follow you around the workshop this may be the one for you – with its many handy features all your most-used tools are only just a reach away.
Pros
Doubles as a seat for convenience

Many storage options for keeping tools close by

2-year warranty
Cons
Packaging may cause unsightly white marks on the seat

Wheels can become stiff or be delivered defective
---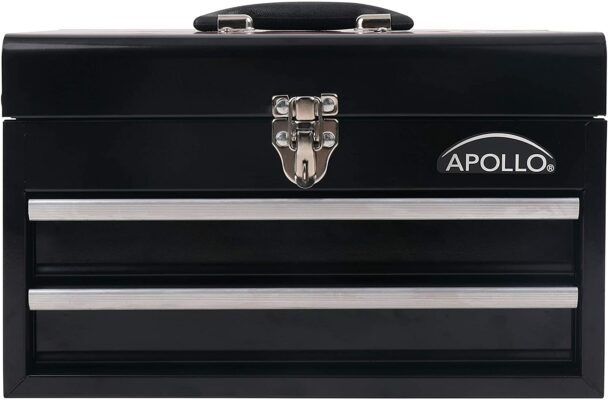 Why we like it:
Small but attractive, what this tool box lacks in storage space it makes up for in portability and convenience.
Editor's Rating:
Quick Facts:
Material: Steel
Storage: 2 Drawers and Deep Top Compartment
Size: 14 x 8.86 x 9.65 inches, LxWxH
This versatile metal tool chest premiered at the 2019 National Hardware Show and received rave reviews. Are these accolades deserved? We hope you'll make up your own mind, but we think they are. Handy and spacious, this product from Apollo Tools is made for DIY projects on the go, though also looks good in any garage or workshop. It may not have the capacity of some other chests, but makes up for this in portability.
The chest itself is made of heavy-duty steel, with options for a black or pink color, depending on your taste. This will keep your tools safe from mishaps, but has no locking mechanism so is no obstacle to burglary. It is worth bearing this in mind and storing the chest itself in a secure place.
There is a generous amount of interior space for storage, considering the smaller overall size of the product compared to others on the market. A deep top compartment is perfect for larger tools while the sliding side drawers are more suited to those items you need to quickly access.
The selling point of this product is, however, its portability and versatility. While marketed as a tool chest, it has the potential to fit in most rooms and store all kinds of items, and look good while doing it.
It should be mentioned that a documented problem that can arise with this product is that the latching mechanism of the top compartment can misalign, or arrive after purchase in this condition. This means the compartment cannot be locked closed, which is not ideal for transport. Apollo Tools, however, has stated that they will replace any defective item with the same product or one of equal value.
This is a safe bet for a smaller, portable tool chest at a very reasonable price. This product looks attractive and provides a great deal of utility for its size.
Pros
Very portable

Sturdy for its size

Attractive enough to fit in most rooms of the home
Cons
Latching mechanism may misalign
---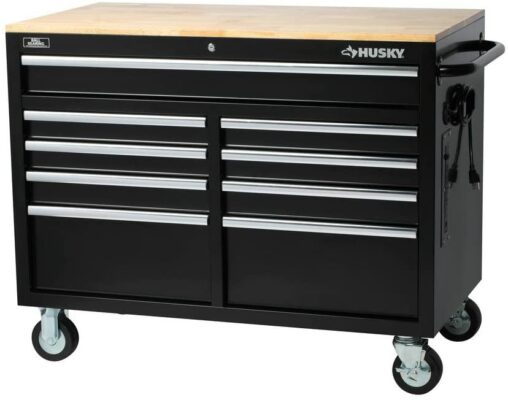 Why we like it:
With a mammoth amount of storage space this chest is hard to beat in terms of capacity, also offering another work surface for those of us who need it.
Editor's Rating:
Quick Facts:
Material: Steel and Wood
Storage: 7 Small Drawers, 2 Large Drawers
Size: 23.5 x 50.5 x 34.3 inches , LxWxH
A veritable monster of a chest, this product does double-time as a portable workbench, offering great utility as well as an extra-large storage capacity that can't be beat. This is a good choice for those who need a bit more space for their DIY products, providing another surface to work on, and fitting well in any home or garage. It does come with a significant premium price tag attached, however, so you may want to consider the purchase carefully.
While made primarily of a heavy-duty steel, the work surface of the chest is wood, which is both attractive and functional. The product is sturdy enough to take 100 pounds in each of its smaller drawers and 200 pounds in the larger bottom drawers, which makes it a heavy-hitter in terms of capacity: easily one of the highest on our list, if not the top dog.
Each of the drawers' latches closed for security, and can be locked with an internal keyed locking system. Four swivel casters allow for easy repositioning and can bear a maximum weight of 1,200 pounds. As a bonus, the chest comes with an integrated power strip and 2 USB ports to make use of specialized equipment more convenient.
There are few criticisms of this product, but it is worth noting that while this chest is suited for home use, it may not be heavy-duty enough for a professional setting. Additionally, some may be put off by the price, which is particularly high for a chest of this nature.
One of the largest chests we've reviewed, this is perfect for those who need some serious storage capacity. The price may be high, but as a product that's pulling double-duty, you may feel it's worth it for the extra utility. Hard-wearing and robust, it'll last many years of use for the home mechanic.
If this chest seems like overkill for your needs, then you may want to check out this product by Craftsman which offers smaller capacity at a much more reasonable price.
Pros
Very large storage capacity

Provides a work surface with a power strip

Robust build quality
Cons
Not suited for professional settings

High price compared to other options
---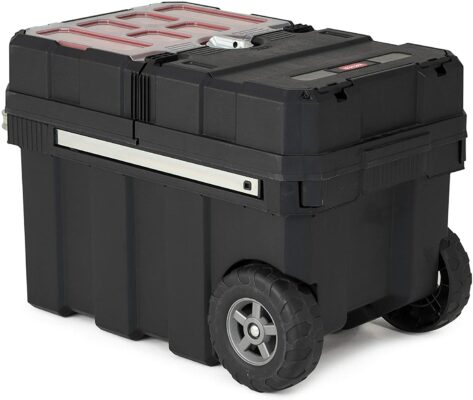 Why we like it:
This is a no-nonsense plastic chest that does away with all the extraneous features and delivers core utility, coming at a price that's hard to beat.
Editor's Rating:
Quick Facts:
Material: Plastic
Storage: 2 Small Compartments, 1 Large Bin
Size: 24.25 x 14.88 x 16.34 inches , LxWxH
This product from Keter is a winner – a plastic rolling tool chest that focuses on maximizing storage space while still allowing for easy transport. It may not be as large or have the extra features of some of the chests on this list, but it makes up for this in reliability and surprising storage capacity, while also saving you some dollars in the process.
Made from weather-resistant resin, this chest is suited for both indoor and outdoor use. It is durable and hard-wearing, despite being a plastic product, so should last many years of frequent use. It isn't particularly tall and sits quite low to the ground, which you should be aware of, but has a few features that make it handy, nonetheless.
Two top bins are ideal for keeping the tools you need frequently close by, and the bottom bin is extremely spacious, for storage of heavier items and those used less. It can be locked for stability, while two wheels and a telescoping handle also allow for transport, with a maximum capacity of 66 pounds. Finally, it comes with some accessories – 6 removable bins for organization of small parts.
Criticisms of this chest mainly target the locking mechanism and the telescoping handle. Both can break, becoming unusable, and Keter do not offer replacement parts. These issues aren't common, but should be noted when deciding to make a purchase.
We like this product for its simple quality. It may appear basic but, often, that is exactly what you need. Plenty of space means it's convenient to use, plus its robust resin shell offers peace of mind that your tools are protected from the elements, which might corrode its metal counterparts. If you need utility at a good price, we recommend you consider this chest.
Pros
Suited for indoor or outdoor use

High storage capacity for its size

Plastic shell will not corrode compared to metal chests
Cons
Locking mechanism and telescoping handle known to break on rare occasions
---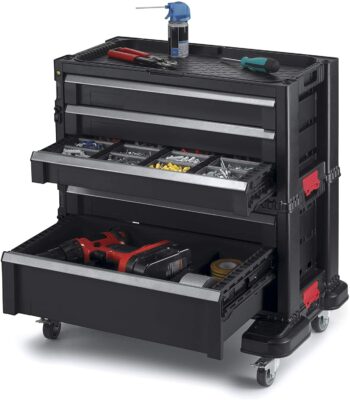 Why we like it:
This plastic chest competes with any metal product on the market – durable and offering many options for storage, it's hard to beat.
Editor's Rating:
Quick Facts:
Material: Plastic
Storage: 4 Small Drawers, 1 Large Drawer
Size: 22.13 x 11.38 x 19.76 inches , LxWxH
Plastic tool chests may get a bad rap, but Keter are coming in to prove that reputation wrong. This product is a solid all-rounder, providing an ample amount of space in a chest that is durable and resistant to all kinds of inclement conditions. Hard-wearing, but portable, it aims to challenge any of its metal counterparts on the market, coming at a price that's hard to beat.
The chest itself is made of a durable polypropylene plastic that can stand up to the wear-and-tear of everyday use while also keeping your tools safely locked away. A central locking system keeps the drawers secure while you're using it, and also after you're done. We won't lie – it won't deter any thieves, but it provides some peace of mind that your kids won't be rifling through your tools while you're away.
Four robust casters mean that the box can be moved around like any conventional tool chest, and can be locked in place for stability. As a multi-module chest, the upper and lower boxes can be detached and moved separately at your convenience, though this does not detract from its durability when fully assembled. The product also comes with 16 removable bins for organization of small parts such as screws and bolts.
As a note, a recurring issue with the product is that, on some occasions, it is shipped to the customer without wheels, or with an incorrect number. Additionally, there has been some criticism that the chest is not as spacious as some others on the market, making it more suited to use in a home garage or workshop as opposed to anything heavy-duty.
Otherwise, this a great example of a plastic product done right. This chest may not be the roomiest on the market, but is very much suited to home use. Robust and weather-resistant, if used correctly it will last for years, and is a steal at a very reasonable price.
Pros
Hard-wearing for a plastic product

Upper and lower boxes can be detached for convenience

Removable bins suited for small parts come with the purchase
Cons
Not as spacious as some other products

Rarely shipped without full complement of wheels
---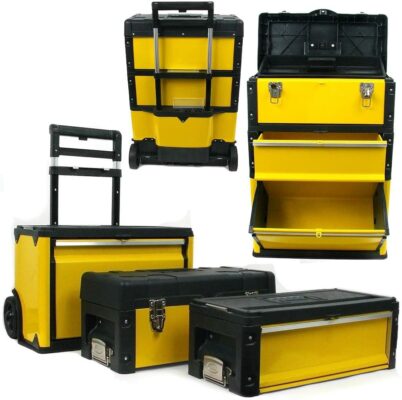 Why we like it:
Three chests in one, this product may be small compared to others, but its various options for use are attractive.
Editor's Rating:
Quick Facts:
Material: Steel and Plastic
Storage: 2 Large Boxes, 1 Large Bin
Size: 21 x 13 x 30 inches , LxWxH
A three-in-one chest, this product offers great basic utility, consisting of three separate boxes that can either be stacked together into a single unit, or separated for convenience. On top of this, it also provides a decent amount of storage space for its size, with the large bottom bin being particularly spacious. Suited to many kinds of uses, this would fit right in at the home workspace, hobby room or garage.
Constructed of steel and injection molded polymer, this chest is designed to be tough enough to take the rigors of daily wear and tear, while also being sturdy enough to carry heavy tools. Its selling point is the modular design, with three separate tool boxes comprising the whole product. All are generously spacious, but the two upper boxes are slightly smaller than the lower bin. This can be handy for ease of portability. A pair of wheels plus a telescoping handle allow the whole chest to be moved while assembled, also. There is no locking mechanism included; however, the top two boxes can be latched closed and there is a space for a lock if you are able to provide one of your own. We doubt this will prevent theft but may help keep your tools secure in case of mishaps or curious kids.
When considering this product for purchase, the main issue to be aware of is its size. Compared to others on the market this chest is a considerable degree smaller, which may surprise some people, depending on their expectations. As such, it is worth taking note of the specific measurements before making your decision.
This is a basic but quality offering from Stalwart. What it may lack in size it makes up for in portability, making this suited to all kinds of on-the-go projects. While we wouldn't recommend it for heavy duties, it is nonetheless very handy and will last for many years of use in the right hands.
Pros
3-in-1 design offers different options for use

Tough for its size

Well suited for small-scale projects
Cons
Small compared to similar products
---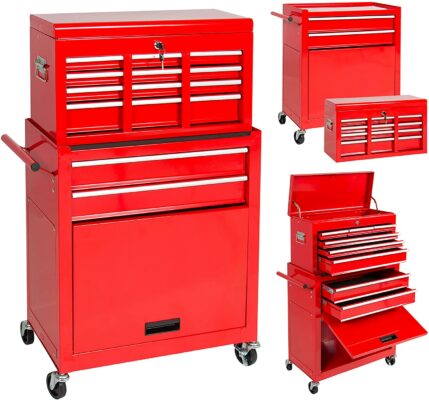 Why we like it:
A chest that wouldn't look out of place in any garage or workshop, it offers a great deal of storage space with options for in-shop mobility and transport.
Editor's Rating:
Quick Facts:
Material: Steel
Storage: 4 Small Drawers, 3 Large Drawers, 1 Large Cabinet
Size: 23.5 x 13 x 42.5 inches , LxWxH
A large and heavy-duty chest made to suit the garage or home workshop; you definitely won't be lacking for space with this product. One of the largest on our list, it puts others to shame with its storage capacity, with its many drawers and generously-sized bottom cabinet. Best Choice certainly haven't skimped on utility and quality, but be aware that you will be paying a premium price for this beast.
The chest is comprised of sturdy steel, making it hardy enough to hold an upper limit of 295 pounds of tools and gear. That's a lot of hardware, and you can be sure everything is kept in good condition as every drawer is lined with foam to prevent bumps and to absorb oils.
The product comes in two parts – top and bottom – which can be separated for ease of transport. The top chest is smaller than the bottom, so can be used as a portable tool box. Unlike the bottom cabinet, it can also be locked for peace of mind. Additionally, four omni-directional casters mean that your tools are always at hand when you need them.
A major concern when ordering this product is that it is known to arrive damaged. This may not be a criticism specific to the chest itself, but it is worth bearing in mind. Of course, it only occurs in a minority of cases, but happens often enough to be a problem, and may reflect on the overall build quality.
This is a solid choice if you're looking for something large, with a good deal of storage space. You're paying a premium, but may be worth the price depending on your needs. We recommend this product for heavy work at home, but considering the issues we have mentioned, it may be unsuitable for professional settings.
Pros
A lot of storage space compared to similar products

Drawers lined with protective foam

Top box can be removed for portability
Cons
Overall build quality may be lower than other chests
---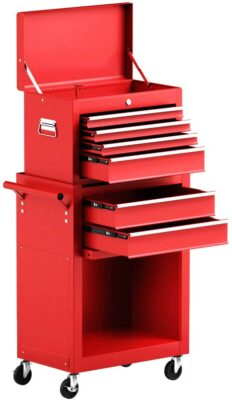 Why we like it:
With many options for storage, this chest offers ample space that's easy to access while not sacrificing mobility.
Editor's Rating:
Quick Facts:
Material: Alloy Steel
Storage: 4 Small Drawers, 2 Large Drawers, 2 Trays and 1 Large Cabinet
Size: 13 x 24.5 x 43.5 inches , LxWxH
A 2-in-1 product that aims for utility, this offering from Goplus is exactly what comes to mind when you think 'tool chest,' even down to the quintessential red color. You definitely won't be running low on space with this product, with its numerous sliding drawers and generous bottom cabinet. Suited for heavy-duty use, it also comes apart for additional convenience – the upper chest removable, and easy to transport as a smaller tool box.
Made of cold-rolled steel, Goplus claim that this cabinet is more durable than others on the market, and able to take heavier use. It's got a rust-resistant coating, too, which makes it suitable for use indoors and out, as well as being very easy to clean.
One of the main features that sets this product apart, however, is its sizable storage capacity. It's larger than a lot of the chests currently on the market and can take a heavy load. As a two-part design, the top chest, as we mentioned, can be removed to aid mobility. It is also lockable with an external key, though the bottom cabinet is not. The whole cabinet moves on four swivel casters, two of which can be locked in place.
As always, no product is perfect, and some problems exist that should be mentioned. First, and most importantly, there are complaints that the build quality isn't as high as the brand claims, and that the chest is quite flimsy compared to others. Additionally, it has been reported that the product sometimes ships without the key required to lock the top cabinet. This does not happen often, however.
This is a solid entry on our list, but not without its faults. Consider this if you're in need of a lot of space on the move.
Pros
A large number of drawers and storage spaces

Top box can be removed for convenience and transport

Rust-resistant coating helps prevent corrosion
Cons
Build quality may be lacking when compared to other products

Locking key may be missing on delivery
---
Guide to the Best Tool Chests in 2021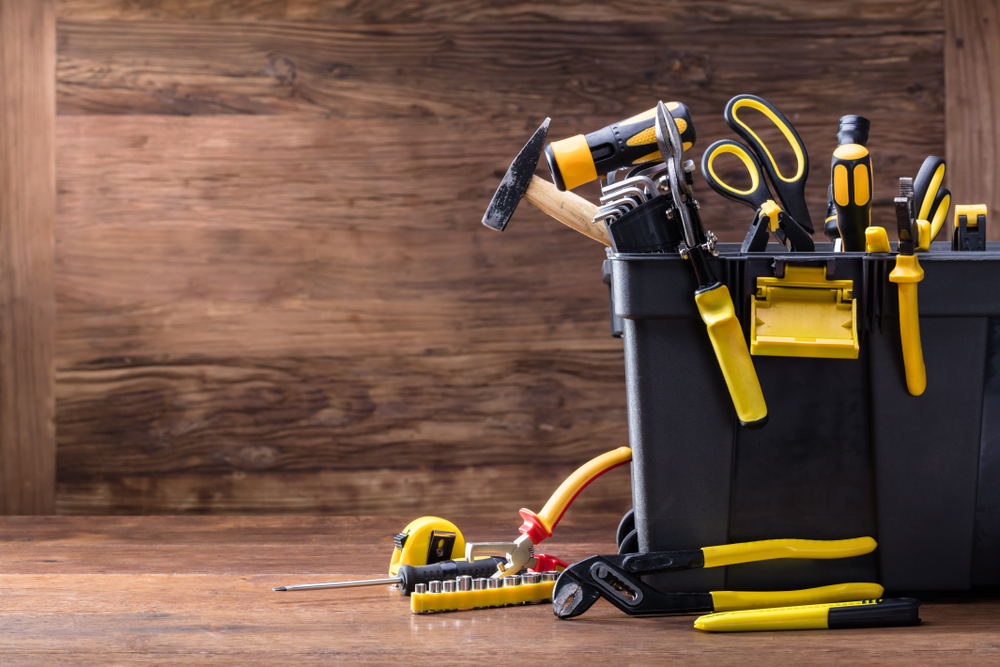 If you're still with us you have, by now, seen ten of the best chests available for purchase today. This should have given you a good idea of the kind of product you want, but you may still have questions that you would like answered before making the decision. Here we'll try to cover some of these in more detail, and give you a broader perspective on the topic.
What Are Your Specific Tool Chest Needs?
This is, of course, the most important question you need to ask yourself before you decide to buy. Here are a few guidelines we suggest when asking yourself this question.
What Is the Nature of Your Work?
First, and this may be obvious, we recommend you consider the nature of your work. General DIY or mechanic work will require, more often, more storage space than hobby crafts or electronic repair. We have products on our list that cater to both. This chest from Stalwart, for example, is particularly suited for lighter work.
What Is Your Work Area Like?
Second, you should also choose based upon your work area. You may need something space-efficient, or something that won't look out of place in your home. WEN provide a chest here that doubles as a seat, which is a great solution to the issue of low space.
What Extras Do You Need?
Finally, there may be additional utility that you require besides just storage. For example, you may need something secure to prevent theft, or you may want something that provides another surface to work on. For the latter we recommend this product by Husky.
You are the ultimate authority on your own requirements, but these points should provide a good start on what to look for.
Tool Chest Materials
We covered these in passing, but let's take a closer look at what makes different materials stand out.
When it comes to heavy work or professional settings steel chests are generally more desirable. They are sturdier overall and can take heavier loads, as well as resisting the daily wear-and-tear that comes from intense use. This is dependent on overall build quality, however, and is not automatic to every metal product. Additionally, steel can be particularly vulnerable to corrosion unless it is specially treated, so outdoor use isn't always recommended.
Plastic chests are much lighter in weight, which makes them very portable but, at the same time, less durable. Some are specifically built to be sturdy, but as a general rule, steel chests are more suited to heavy loads. That said, plastic is particularly weather-resistant, which suits them to outdoor use and inclement conditions.
Wooden chests are a wild-card option, but not one we recommend for sustained use, except for particularly light work or when you need your tool chest to look particularly attractive.
Organizing My Tools
Buying a tool chest is only the first step in the process. Knowing how to efficiently store your tools will help make the most of your purchase – or even save you a purchase entirely if your current storage options can be optimized.
There are a few general rules that can be followed to make the most of the space you have.
First, tools should be stored together based on function, with those that you use most often placed in drawers that are easy to access.
Second, everything should be labeled, which will save you time in the long-run.
Finally, heavier and bulkier tools should be kept in bins closer to the ground. This will help prevent mishaps that may result in damage.
Our own recommendation is that you use a drawer liner to keep things stable and safe, which helps prevent tools from sliding around and getting misplaced. This product is a good option for this purpose.
We paraphrase here for brevity, but Gray Tools has a great guide focused on this issue that goes into much more depth. You may find it useful if you're stuck for space or looking for tips to increase your work efficiency.
Professional vs. Amateur Tool Chest Needs
There is a great difference in requirement when it comes to amateur and professional work. Chests suited for professional settings need to be made to a higher standard as they will be subject to much more frequent use and, often, heavier loads. Amateur work is, comparably, less intense and cheaper products are more viable an option.
All of our products are well suited to amateur use and will last years under these conditions, however, we would say that it is worth being selective if considering them for professional settings. We recommend only the most heavy-duty of the chests on our list if you're undertaking professional work.
What Is a Good Price for a Tool Chest?
Prices can vary wildly between products, depending on a number of different qualities. Snap On is a well-known name in the market and a by-word for quality, but are also infamous for their extremely high costs – which is exactly why they don't feature on our list! You do not have to pay multiple thousands of dollars to receive a quality product, fortunately.
Our recommendation also varies based upon the material and function of the chest in question, but for a sturdy metal chest you should expect to pay between approximately £200 and £900 dollars.
Plastic is significantly less, and may be a consideration when working on a budget, often offering the same functionality for a fraction of the price. This product from Keter is a great example of this, coming at a very competitive cost.
Will a Tool Chest Protect My Tools From Theft?
This is a question that often arises: will this chest keep my tools safe from thieves? Many products offer a locking system that will keep the drawers safely closed when you're not using them, but not all of them are made with security in mind.
A number on our list are locked by a catch or button that is easily opened, but some come with a key. Even those will not provide absolute protection against theft, however, and should be seen as a deterrence rather than a solution.
As such, our recommendation is to keep your tool chest in a place that can be secured, such as a lockable garage, or within the home – especially if you have a security system. For particularly valuable tools, you may even want to consider a separate safe.
Gray Tools has a guide here that mentions the specific locking mechanisms that chests may come with, if you are interested to read more.
Until Next Time
By now you've read some of the issues that are important to consider, and seen a selection of the best tool chests for purchase on the market today. We've covered a broad range that should suit many budgets, so you can be sure you've got a good perspective of what's on offer.
You may have already found the perfect product for you, or you may still be looking. Whatever the case, we hope this guide has been helpful and has provided an informative base from which to make your decision.