Dewalt D24000S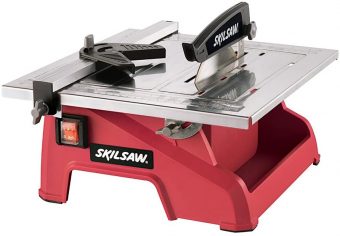 SKIL 3540-02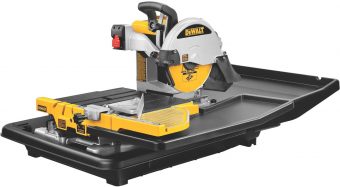 DEWALT D24000
Previous
Next
Tile saws are tools used to cut tiles, pavers, and similar materials into different shapes and sizes. These tools have a specific purpose: cutting tiles. Because of their popularity and usefulness, it is not surprising that many companies have waded into this industry. As a result, there are a lot of tile saws on the market. However, this means that there are a lot of low-quality tile saws too. To help you choose the right tile saw, we have compiled a list of the 10 best tile saws on the market. We have also compiled a buying guide that will show you the important factors to consider before buying a tile saw.
Read on to find out more.
Features to consider in Good Tile Saws
In this section, we will take a brief look at the important factors to consider before you buy a tile saw. These factors include:
Power

Installation and Maintenance

Price

Type of Tile Saw

Blade

Portability and Storage
The above factors need to be carefully considered before you choose a tile saw. Power refers to the specifications of the tile saw's motor. Installation and maintenance need to be considered as it involves how easy it is to set up the tile saw, the stress of maintenance, and related factors.
There are different types of saws from the wet tile saw to the handheld tiles and subdivisions. More information about these and the other important factors for consideration are considered in the main buyer's guide.
The fact is that there is no actual brand without flaws. The best brand of tile saw is largely dependent on the requirements of the project. Each tile saw is designed to carry out some specific projects. In the review below, we highlight some of the best tile saws. These tile saws are from different brands.
Some are very expensive, while others are cheaper. The more expensive a tile saw is, the more features it likely has. However, even if you are on a budget, you can find the right fit for you from among the tile saws reviewed below.
Now, let us consider the 10 best Tile Saws.
The 10 Best Tile Saws 2020
Guide to Buying the Best Tile Saws
If you are a DIYer or a handyman, and your project or job requires cutting tiles, tile saws can make your job so much easier and faster to do. There are many tile saws on the market, and it is important that when buying a tile saw, you choose the right one. The products listed above are some of the very best tile saws you can buy on the market. Choosing any of them is sure to make your work more enjoyable. If you do not have the inclination to choose any of those above, you need to read this buying guide.
In this section, you will see the important factors you need to consider no matter the tile saw you choose to buy. Therefore, read on to know the important factors to consider when buying a tile saw.
Power
Power is a very important criterion that will determine if you will enjoy the use of a tile saw. The aim of buying a tile saw is to reduce the stress and effort from cutting tiles, right? Well, the motor of a tile saw provides all of the power it uses to carry out its function.
If the tile saw's motor doesn't have sufficient power, it will require more effort to cut some materials (if they cut at all). To determine the amount of power that your tile saw has, you should check the horsepower rating of the motor. If a motor has a horsepower of 2 HP, it is more powerful than that with a rating of 1 HP. Therefore, the higher the rating, the more powerful it is. If you will be handling a job that involves tough or very thick materials, choosing a tile saw with a high horsepower rating will help you do the job faster and easier.
From our general testing, the best tile saws have motors that have a horsepower rating of 1.5 or more.
If your motor has a high horsepower, the chances are higher that even tough materials like pavers and porcelain are sliced through like hot knife through butter.
The important specifications to check are :
Horsepower

AMP

Revolutions per minute (RPM)
Installation and Maintenance
While the ability of the tile saw to cut through different materials with ease is important, it is also vital to consider the convenience of using the tile saw. Your whole experience can be made more stressful if you do not take note of this factor.
With regards to this, you need to consider the ease of setting up the tile saw. Some tile saws are very easy to set up; in a few minutes, they are good to go. This makes your work more enjoyable and faster. However, if it takes time before setting up or if it is hard to assemble, you might lose enthusiasm for the project or job even before you have started.
Aside from the ease of installation, you need to take note of the ease of maintenance. Some tile saws are very easy to set up, deliver wonderful performance, but require almost constant cleaning and maintenance. If you have a busy schedule or you have other important stuff to attend to, having to always clean and maintain can be a hassle.
Furthermore, there are some other features you ought to consider with regards to convenience. Features such as rubber feet, rubber tabletops, and the ability to extend the table to accommodate large tile pieces are a sweet addition to any tile saw and make your work easier.
Price
Just as with everything you buy with your hard-earned money, you need to consider the price of the tile saw before going for it. You need to think about how much of an investment it is going to be and if it is worth it.
If you need a tile saw to do simple jobs around the home, you do not need expensive and sophisticated tile saws. There are questions you should ask yourself before committing to buying an expensive tile saw. Ask yourself: What is the main purpose of buying this tile saw? Is it just for a one-off project, or will I still use it later? Can I handle this tile saw?
If you have counted the cost, it will be easier for you to purchase a tile saw that would fit your specific needs at a reasonable price.
Type of Tile Saw
There are different types of saws available on the market. You need to know what these types of tile saws are so that you can make an educated decision. Here are the most important and common types of tile saws:
Wet Tile Saw
This saw is widely regarded as the best type of tile saw. The blades of a tile saw are inserted into water. This makes them so precise and accurate with their cutting. The water serves as a lubricant. Furthermore, the use of water reduces any chances of overheating as the water acts as a coolant to reduce the heat the blade suffers.
If you are allergic to dust and fine particles, a wet tile saw is also the right type of tile saw for you. Why? Well, the water traps the dust and prevents it from blowing about.
Handheld Tile Saws
If your project is a small one, or if it is a medium project, the handheld tile saws are a great option. These saws are great for cutting through small tiles, stones, for countertops, and similar projects.
It goes without saying that they are usually super-portable and lightweight. However, this portability makes them error-prone. Since they are not weighted, a person operating them can move in an erratic manner and cause them to cut in an unwanted manner. Furthermore, they produce more dust and particles than the fine cutting of wet tile saws.
They are sub-divided into dry handheld tile saws, wet hand tile saws, and wet/dry hand tile saws.
There are also some other equipment, that while not technically saws, are referred to as such by folks.
Tile Nippers

Tile Grinders

Masonry Saw
Blade
Aside from the motor, one factor that strongly affects how effective your tile saw is the blade. The blade you choose depends on what you are planning to cut with it. Therefore, if you are going to be cutting tough or thick materials, you need to identify the specific factors like the cutting depth and the size of the blade.
Blades come in different sizes, and this affects the depth of cutting and the ripping capability of the tile saw. From the reviews above, one factor that remained constant for the best tile saw was the presence of an integrated rail system. What does this do?
The rail system is a system that holds the blade firmly in position. This offers a number of advantages. The blade is more precise, and cutting is more accurate.
Some tile saws come with interchangeable blades. This feature can be very useful when you consider the different dimensions which might work on daily.
Portability and Storage
Having a tile saw that can be carried around from one place to another is a factor to consider. This might not be very important to you if all your work is done at a spot, but for most contractors, portability is a main consideration. Since work on a busy site involves moving from place to place, it is important to have a tile saw you can pack up and take somewhere else.
On Amazon, most of the bestsellers are tile saws that can be moved from one place to another with relative ease. If you have projects around the home, having a portable tile saw can be a major bonus.
Some tile saws, like some of those in our review above, come with their own stand. This feature is great. Why? This is because, on a site, contractors might not be able to find a stable surface to cut materials. This affects the accuracy and quality of the work. However, with a stand, you can cut wherever you want without any loss of precision.
Conclusion
There are so many brands out there with each one claiming to have the best tile saw for you. Our list of the best tile saws is unbiased and highlights the best ones you can buy right now. If you do not want any of those on our list, you can use our buying guide to discover the factors to consider when buying the best tile saw for you.