When water makes its way into your home, it's inevitably going to work its way to the lowest point. No one wants to walk into their basement and end up in half a foot of water. Water naturally gathers at the bottom of your house, and if allowed to build up it will inevitably cause flooding, so every smart homeowner should install a sump pump to deal with this problem before it becomes a disaster.
Sump pumps shift water outside of your property, and unlike a lot of pumps require a lot of specialized systems because they're constantly pumping water vertically, which puts a whole lot of strain on the system. For this reason, buying the right sump pump is much more important than just buying any sump pump at random. Here's what you need to know to choose the right one for you.
Features to Consider in Good Sump Pumps
Performance
The single biggest consideration when buying a sump pump should be whether it's going to be able to do what you need it to do. Make sure to focus on the flow capacity of each pump, which is measured in terms of how much water it can pump per hour, typically in terms of gallons per hour. This should be the first and most important thing you look at.
We also considered the maximum vertical height at which a pump can comfortably move water, which is important if you have a particularly low basement. On top of that, always make sure you know the horsepower of the motor and how much sound it makes in operation.
Construction
The second big consideration should be how well built your pump is. After all, some pumps aren't cheap, and having your investment break down after just a handful of years can leave a bitter taste in your mouth. Poorly-made sump pumps tend to require a lot of maintenance and break down sooner, while well-made pumps should be relatively worry-free for a long time.
When looking at construction, we considered:
General build quality and materials used
How rigorous the manufacturer's testing is
Whether it can handle solids, and to what size
Ease of installation
How it is powered, and whether it has battery back up
Price and Warranty
The final consideration in our guide is price. No one has an unlimited budget, and grand designs can often be hamstrung by simple economics. Getting more for your money is a big deal, and if a pump has an exceptional value, we'll be sure to point that out.
The warranty is also taken into account, as sump pumps go through a lot of abuse in their daily operation, and failures can happen. Good warranty coverage makes everything a whole lot smoother if your pump does break down.
Top 10 Best Sump Pumps 2022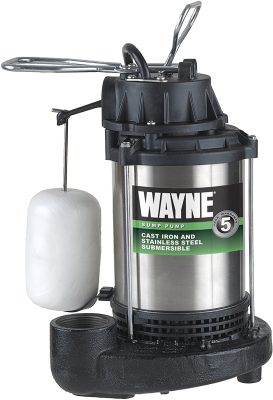 Why we like it:
By far the most powerful pump on this list, the hugely powerful motor on this pump by industry giants Wayne will take anything you can throw at it. You could be in the middle of a monsoon with your neighbors paddling past in dingies, but your house will stay warm and dry while this powerful pump does its job.
Editor's Rating:
Pump Capacity: 4,600 GPH
Performance
Out of every pump on our list, and pretty much every pump we've looked at, this is by far the most powerful. It puts out a monstrous 4,600 gallons per hour (GPH) at 10 feet of vertical lift, which is absurd. In fact, it might actually be needlessly powerful for a lot of homes, so bear that in mind before you buy.
There's a ton of smart features, too. It's fully submersible, with a smart top suction design. This reduces the chance the pump will draw in dirt or other solids and jam, and leaves the bottom of the sump pit undisturbed. The top suction also helps prevent air locks, eliminating the need for a weep hole, which is a nice touch.
Despite the power of this pump, the fact that it's a submersible means it's deceptively quiet in operation, too, so you don't have to worry about being woken up in the middle of the night.
Construction
Wayne tests their pumps to one million cycles, which is up to 10 times more than most of their competitors. That means Wayne pumps are some of the most reliable on the market. Internally, it's made from high-quality stainless steel and cast iron parts, making it resistant to corrosion. All their parts are produced abroad, but assembled in the US.
It needs at least an 11-inch diameter sump pit, which is small considering the power output. The
power cable is almost 8 feet long, which makes situating it easy and cuts down on extension leads or extra wiring.
Price and Warranty
We won't lie: the pump isn't cheap, but you're paying for quality. For peace of mind, Wayne's pumps come with a 5-year warranty, so if something does happen to go wrong, your investment is protected.
Pros
Exceptionally rugged construction

Hugely powerful

Long 5-year warranty

Very quiet
Cons
Not cheap

Might be overkill for small- to medium-sized properties
---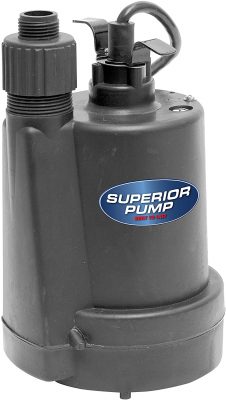 Why we like it:
A great budget option with everything most smaller homes will need. As long as you don't live on a flood plain, this little utility pump will definitely do its job.
Editor's Rating:
Pump Capacity: 1,800 GPH
Performance
A budget pump isn't going to give you the same level of performance as a top-of-the-line unit, but this little Superior Pump model still puts out 1,800 gallons per hour at a 10-foot lift, which is admirable and enough for many small homes.
It's also got an excellent maximum vertical height: it can handle up to 25 feet of vertical lift, which is actually more than some pumps with double the power! This is possible because it's built around smart split capacitor technology, which gives the pump two speeds, saving energy while increasing power output.
Lastly, you don't need to worry about particulates, because it has a removable suction screen to filter out large solids, which is easy to remove and clean.
Construction
Designed to be simple and tough, everything about this pump screams smart design.
It's incredibly easy to hook up, and unlike a lot of pumps, it can actually be linked to a discharge hose or a normal ¾-inch garden hose adapter. That means you might be able to grab one of these and hook it up with things found in your garage, perfect if you need it working now and don't want to purchase extra parts.
The thermoplastic construction is tough and resistant to rust and corrosion. Internally, the shaft seal is stainless-steel jacketed, and the motor windings, which provide the power, are 100-percent copper for superior performance and longevity.
Price and Warranty
The single best thing about this pump is the price. It's the perfect budget model, especially if you're only looking for a pump for a smaller home or one that's only going to operate when you experience heavy rain. It comes with a 1-year warranty for a bit of added peace of mind.
Pros
Easy to set up

Reliable performance

High quality build overall
Cons
Short warranty

Can't handle large homes
---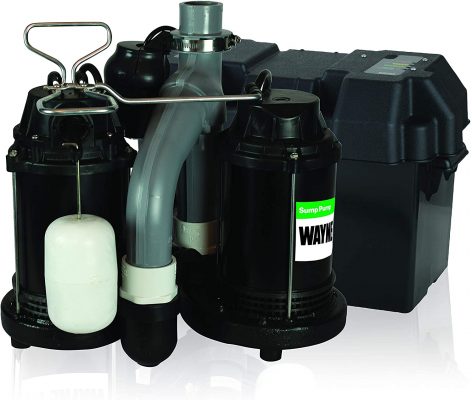 Why we like it:
For the ultimate in security, Wayne has you covered. Powerful and reliable, this pump also links up to a standard 12V battery, which can keep it running for days in the event of a power outage.
Editor's Rating:
Pump Capacity: 5,100 GPH
Performance
As expected from Wayne, this pump's performance is exceptional. The primary pump moves up to 5,100 gallons per hour, with a capacity of 3,480 GPH at a 10-foot lift.
The backup pump is slightly less powerful, moving 2,900 GPH. But this is more than enough to keep you afloat if the worst happens and the power goes out. This pump's back up battery lasts for up to 10,000 gallons, which should be more than enough to keep you dry until you can get something more long-term in place.
As a bonus, both motors are as quiet as you'd expect a Wayne system to be.
Construction
Built to the same rugged construction standard as all Wayne pumps, this premium sump pump is no different. The pump's operation has been tested to 1 million cycles, and it's all made with high-quality materials.
The pump comes prebuilt, so it's ready to drop straight in. If the site is already prepared, you can install a brand new pump like this in a little under half an hour. Bear in mind that you have to purchase the battery separately, so make sure you pick one up in advance, before disaster strikes.
Price and Warranty
This pump isn't cheap. But you're paying for reliable, powerful performance, and the security and peace of mind in knowing that no matter what, your pump will keep on working.
Pros
Battery back up keeps the pump running with no power from the grid

Powerful dual-motor design

Incredibly quiet Wayne design
Cons
Not the cheapest

Have to buy the battery separately
---

Why we like it:
The only pedestal pump on our list, this affordable and easy to install sump pump has a wide variety of options able to suit any property.
Editor's Rating:
Pump Capacity: 5,000 GPH
Performance
When discussing performance, it's important to realize that WaterAce offers two models here. You can purchase either a 1/3 or ½ horsepower motors, which gives you the choice between 3,480 and 5,000 gallons per hour.
The pump gives you a lot of choice in how you use it, with an adjustable float that can pump down to as low as 1 inch. The pump can also handle solids up to 3/8th of an inch, so you don't have to worry about filthy water or other solids getting caught up in your system.
The real downsides of pedestal pumps are easy to see and hear. They take up a lot of space, and they're a lot louder than submersible pumps. But in return, you get great performance and incredibly simple installation and maintenance.
Construction
Each model is available in your choice of thermoplastic or a combination of cast iron and zinc. Cast iron is more durable, and the zinc-plated column is more resistant to corrosion and damage, but they're both more expensive than thermoplastic. That being said, if you expect heavy use, or you have a humid or waterlogged basement, premium materials are a worthwhile investment.
Price and Warranty
These pumps are available at a price point that can suit almost all budgets. No warranty is offered, but this affordable pump typically lasts for quite a while before it needs to be repaired or replaced.
Pros
Quiet for a pedestal pump

Easy to install

Good performance out of the box

Inexpensive
Cons
Pedestal design is louder than submersibles
---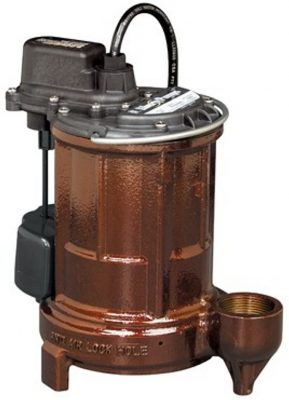 Why we like it:
If space is a premium, this cast iron Liberty pump is an excellent choice. Great for small pits, it also packs a lot of power into the tiny frame, delivering serious performance for the size.
Editor's Rating:
Pump Capacity: 3,000 GPH
Performance
For such a slim unit, this pump packs a lot into its space. It can pump up to 3,000 gallons per hour, up to a maximum vertical height of 21 feet.
The robust, nearly all-metal design is also pretty tough, and capable of handling solids up to ½ inch in size, so it's less likely to jam in dirty water. The best thing about this pump, though, is how it's designed for use in smaller pits. This pump fits into pits that are as small as a 10-inch diameter, significantly smaller than the 18-inch standard. You can fit it almost anywhere. So for smaller basements or areas that a standard pump might otherwise be cramped, you'll appreciate the extra room you gain buying this.
Construction
Unlike a lot of cheaper pumps, this is metal through and through. The solid and heavy cast iron design is incredibly resilient, shrugging off almost anything that might be thrown at it. The housing is also cast as a single piece, making it even tougher.
The internals are also excellent. The motor is designed for efficiency, and uses up to 40 percent less power than many other models on the market. The vortex impeller makes it much less likely to jam, and also contributes to the low operating sound.
These pumps also come with a long 10-foot power cord, making it easy to plug in and rig up without having to run a bunch of extra wiring.
Price and Warranty
Liberty pumps aren't a budget choice, but you get what you pay for. We think the rugged construction, powerful performance and 2-year warranty more than justify the price.
Pros
Tiny unit that fits almost anywhere

Powerful, despite the small size

Tough and robust

Made in the United States
Cons
Requires threaded PVC pipe on the discharge line, unlike some other pumps

Non-adjustable height switches
---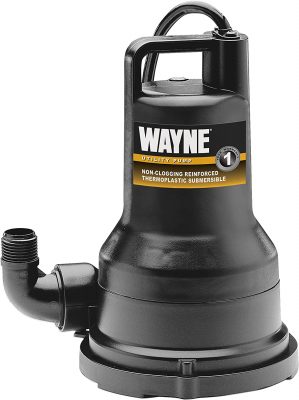 Why we like it:
This is another Wayne pump with another excellent design. This portable pump makes our list primarily because of its portability: its effortless to pick up and move around. It would make an exceptional backup unit, or even work well as a main sump pump for smaller properties that might see infrequent rainfall.
Editor's Rating:
Pump Capacity: 2,600 GPH
Performance
For a small and portable pump, this little thing sure puts out a lot of power. It has a maximum flow of 2,600 gallons per hour, maxing out at 1,680 GPH at the expected 10-foot lift. This is easily more than enough for most small- to medium-sized houses.
It's also incredibly simple to use. Just move it around using the built-in, top-mounted carry handle, drop it where it's needed, link it up to a hose (including a standard garden hose), and switch it on. That's your job done: the pump will do the rest.
The bottom suction lets this pump remove water to a depth as low as 1/8th of an inch, which is lower than the industry standard of around an inch. It's also low enough to almost completely eliminate standing water, allowing it to fully dry most rooms. Unfortunately, it needs a relatively high water level of at least 2 and 5/8-inches of water to prime.
This pump is especially perfect if you have a pool, as it can serve double duty to drain water from pool covers, or drain the pool itself for servicing, repairs, or at the end of the season.
Construction
Like all Wayne pumps, this portable pump is really well built. The main body is a thermoplastic construction, which is rugged and rustproof. The internals are the same high quality you get with all Wayne pumps, and they're also assembled (but not built) in the US.
One smart design choice is the outflow adapter, which features a swivel design that can be used at any angle. This makes the pump great for when you need to get into awkward spaces, further enhancing the unit's portability.
Price and Warranty
Like all Wayne pumps, you pay a little more than average, but the quality and reliability is far more than worth it. On top of that, this pump comes with Wayne's exceptional 5-year warranty.
Pros
High power for a portable unit

Can be moved from place to place

Simple to install and use

Can be a great pool pump
Cons
Not suitable for large amounts of solid material in the water

Requires a high water level to prime
---
7.

Best Sump Pump for Standing Water

1HP Sump Pump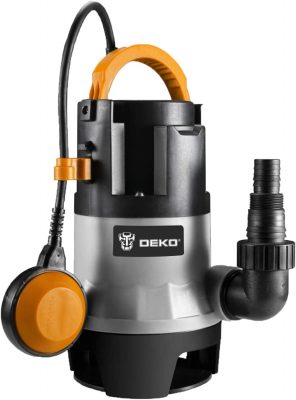 Why we like it:
This value-priced 1-horsepower portable sump pump has solid performance across the board, and won't disappoint or let you down. With it's small, light build and long power cord, it's perfect for moving around to target flooded areas.
Editor's Rating:
Pump Capacity: 3,302 GPH
Performance
This pump manages to drain an impressive 3,302 gallons per hour, an impressive number for such a small and affordable submersible sump pump. It's fully portable, and can even be brought out to standing water no matter where it is, thanks to the included 16-foot power cable.
Unlike a lot of pumps, this model has both automatic and manual operation. That gives you complete flexibility and control in its use, which is excellent if you're experiencing heavy flow or something goes wrong with the automatic sensors, which will by default turn the unit off once the water level drops below 4.7 inches.
Construction
The pump is made made of industry-standard thermoplastic, so it's resistant to corrosion and should last for quite a long time. The unit features. The 16-foot cord makes it easy to run a power line, and despite the power of this pump, it's also deceptively simple to install thanks to its compatibility with many different types of hoses, and requires very little maintenance. On top of that, it's shockingly quiet and energy-efficient.
Price and Warranty
Although reasonably priced for its power, this pump does not include any sort of warranty. That being said, it should last for a long time as long as it's used as intended, so most people won't need to worry about that.
Pros
Light and rugged

Easy to install and maintain

Highly portable

Solid performance
Cons
Not suitable for draining low water levels
---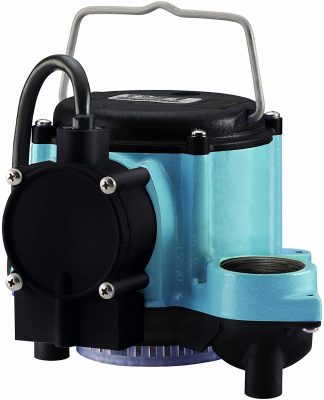 Why we like it:
Powerful and aesthetically pleasing (as sump pumps go), this model by Little Giant differentiates itself in more ways than just its appearance. Unlike a lot of pumps that cycle on and off, this pump can run continuously if needed. If you need your pump to look as as unlike an eyesore as possible, this is your best bet.
Editor's Rating:
Pump Capacity: 2,760 GPH
Performance
Like we've already said, this pump is designed to be able to run for days on end. Other pumps might overheat or need downtime, but this one doesn't. If you get constant water flow and need a pump that's going to just keep chugging along, this sump pump should meet your needs.
In terms of performance, it's middle of the road, putting out 2760 gallons per hour, which isn't bad, but mildly disappointing considering it's not really a budget model. That being said, if your property doesn't need a massive pump, this won't be a problem. That being said, it does have a widely adjustable water level range, from 10 inches down to 1, so you can fine-tune the activation levels to exactly what you need.
Construction
Considering the intent behind the design, the build quality is somewhere this pump definitely delivers. The housing is cast iron, and unlike a lot of other cast iron pumps it's been given an epoxy coating. This gives it even more corrosion resistance, and makes it even tougher. The coating is also an attractive blue color, making this pump about the only one on our list that put any attention into it's aesthetics. This won't matter if your sump pump is tucked away in some far off corner of your basement, but it's a nice touch if you're going to be placing it in a room that gets any foot traffic.
Internally, the 1/3-horsepower motor is powerful enough to handle its pumping duties constantly, with overload protection just in case something goes wrong.
Because there's a little more to this pump than some of the entry-level models, it might also require a little more effort to install, so bear that in mind if you have no experience with plumbing and water lines.
Price and Warranty
Though somewhat pricey considering its capacity, the price is fair considering its performance and reliability. It's only covered by a one year warranty, but realistically it's solidly built enough that manufacturer's defects that would be caught in those first twelve months aside, it should last years.
Pros
Solid design, specifically made to run for long periods

Powerful motor

Easy on the eyes
Cons
Can be hard to install for beginners

Not the best warranty
---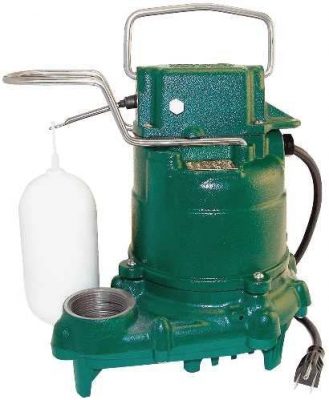 Why we like it:
Solid and reliable with a rugged cast iron construction, the Zoella Mighty Mate pump will do the job for years and years.
Editor's Rating:
Pump Capacity: 2,580 GPH
Performance
Middle of the road is the best way to describe the performance of this pump. It doesn't excel at anything, but it's not bad at anything either. In terms of flow, it puts out 2,580 gallons per hour, at a maximum 19-foot lift, which is solid enough performance unless its working alone on a large, damp property. It can pass solids as large as half an inch, and it's quiet in its operation.
Construction
One of the best things about this pump is the quality of its materials and construction. It's made almost entirely from cast iron, with a solid thermoplastic base. The internals are just as good, with a powerful motor and a vortex impeller design that makes it almost impossible to jam, no matter how dirty the water flowing through it ends up.
It also has a built-in thermal-overload kill switch, protecting it from overheating under heavy strain. One thing that is recommended is to drill a weep hole in your outlet pipe, because these pumps are reasonably susceptible to airlocks.
Altogether, this unit is built to last. There isn't a single weak point in its construction, making it the perfect choice who wants a pump that won't break down no matter what you throw at it.
Price and Warranty
Although not a budget-priced model, the quality of this pump is fantastic for the price. On top of that, Zoella does offer a good warranty, covering this for 3 years from date of purchase just in case something does go wrong.
Pros
Reliable and powerful

Solid construction

Excellent all-round pump
---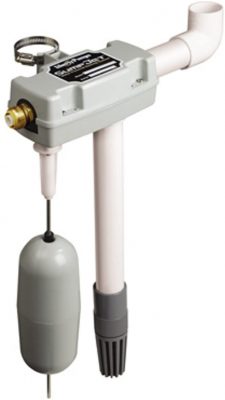 Why we like it:
A great backup pump that runs off exclusively through water pressure, and requires absolutely zero electricity. While it's not going to deliver the same performance as a pump that runs on electricity, if you absolutely need a pump that will always run, even with zero power, you should consider the Liberty Sumpjet.
Editor's Rating:
Pump Capacity: Variable depending on home water pressure, about 1,000 GPH
Performance
This pumps works exactly like a standard pump, but is powered by water instead of electricity. Like other pumps, when the float switch activates, it draws in water and pumps it up and out of the sump pit. Instead of running off of electrical power, the unit uses 1 gallon of water to power itself for every 2 gallons it moves through the system. For this reason, the pump's capacity is determined by your own home's water pressure, making it difficult to provide an exact GPH figure for how much work it can do. That being said, in most homes you can expect the pump to move about 1,000 GPH.
So why buy it? Because it can't fail. Your power can go out, generators can run dry, and batteries can die, but as long as your home's water supply is functioning, this pump will keep on chugging along. Bear in mind, however, that this pump does need a back flow valve that must be bought separately, and requires a good flow rate and water pressure for optimal operation.
Construction
Featuring a relatively simple design, this pump it arrives assembled and just needs to be plugged into your mains and have an outflow pipe linked up. Its mechanical operation requires next to no maintenance, and though made mostly of plastic, there are very few parts that could ever break.
Price and Warranty
The Libery water-powered sump pump isn't cheap, but it can be worth it for the reliable operation it gives its owners, especially as a back-up or emergency pump. Solidly built and unlikely to ever break, it nevertheless comes with a 2-year warranty.
Pros
Runs for a long time without maintenance

Does not require electricity

Near-silent operation
---
Guide to Buying the Best Sump Pump
There's much more that you'll need to know before you jump into purchasing one of the above sump pumps, so keep reading.
Motor Size
Not all sump pumps are created equal. Different brands, and different pumps, have different motors, with anywhere from 1/3 horsepower to a bit over 1 horsepower being the norm.
Higher horsepower pumps tend to have a higher water flow rate, but also cost more and are much louder in operation. That being said, there's more than horsepower to a pump's capacity, so you can't solely search for a high-powered pump.
Water Flow
Water flow, measured in gallons per hour (GPH), determines how much water a pump can move over time. Obviously, if you live in an area that experiences heavy rainfall or regular flooding, a higher water flow rate is preferable, and maybe even necessary. It's generally much better to buy a pump that's 50% or more powerful than you think you might require, just to be sure that your pump will be able to handle extraordinary rainfall and flooding.
Calculating How Much Pump Capacity You Need
If you already have a sump pump and pit, there's a simple formula you can use to calculate the approximate flow rate you should be looking for.
First, you will need to wait for a day when your existing sump pump is in operation, preferably a day with heavy rainfall.
Run your pump until it drains enough water from the sump pit to shut off naturally.
Measure the level of the water.
Wait for 60 seconds, then measure the level of the water again.
Most sump pits are around 18 inches in diameter. That means every inch of height holds a gallon of water. The amount of inches the water level rose in that 60 seconds is the number of gallons per minute your pump needed to move.
Multiply the number of inches the water rose in that minute by 60 to get a rough figure in GPH
Once you have your rough GPH number, it's recommended to increase it by another 50%, giving yourself a comfortable safety margin.
Properties which experience regular, heavy rainfall or live in areas that experience snow-melt or flooding should further increase their margin of safety.
Do note that non-standard-sized pits will require different calculations. Due to the different volumes of smaller and larger pits, you'll need to multiply the change in inches measured in step 4 by the following gallon-per-inch figure:
20-inch diameter: 1.35 gallons per inch
18-inch diameter: 1 gallon per inch
15-inch diameter: 0.75 gallons per inch
12-inch diameter: 0.5 gallons per inch
Lifespan
On average, a well-maintained sump pump should work at full capacity for about ten years, but this can vary widely depending on how the pump is treated. Every sump pump should be checked regularly for debris, and professionally maintained and repaired whenever something goes wrong.
But buying the right pump will help ensure that problems don't emerge in the first place. Firstly, a higher build quality obviously increases the lifespan of your pump. A higher build quality will mean higher quality parts and machining, and more durable materials in a pump's construction. A well-built pump will also have more operational tolerance, so it's less likely to get jammed or stop working.
However, these things tend to come with a higher price tag. It's worth considering that, for some properties, a heavy-duty pump can be overkill. If your home won't need to have its sump pump in constant or heavy operation, a more expensive and robust pump might not be necessary.
On the other hand, buying quality can give you some serious peace of mind. If you live in an area with heavy rainfall, or you're afraid about seasonal flooding, then spending a little more could be regarded as a form of insurance. Almost all pumps will operate as you need them to under light stress, but it's when you experience unseasonal weather or excessive rainfall and flooding that you really need your sump pump to perform.
Power
Almost all sump pumps are powered by electricity, and typically plug into a standard socket with a normal plug. Some may also have backup batteries, or other power options. This also means that you should be able to run your sump pump from most standard generators in an emergency.
Submersible vs. Pedestal Pumps
Submersible Pumps
The most common style of sump pump, submersible pumps sit inside the sump pit. This means they might spend a good amount of time underwater. Because of this, a submersible pump tends to have a shorter lifespan than a pedestal style pump. If something does go wrong, they're also much harder to access the workings and make repairs.
Submersible Pump Advantages:
Much quieter in operation since water and earth block the majority of the sound
Tend to be more powerful and higher-capacity than pedestal pumps
Submersible Pump Disadvantages:
Generally more expensive
Harder to replace and repair
Pedestal Pumps
Like the name suggests, a pedestal pump sits above the sump pit on a pedestal. This means that the mechanism isn't exposed to water, and tends to last quite a bit longer than a submersible pump. The pump then threads down into the sump pit, allowing it to draw water up and out through hoses.
Pedestal Pump Advantages:
Open-air design makes it easy to access for simple repair and replacement.
Longer lifespan than submersible pumps
Typically quite affordable
Pedestal Pump Disadvantages:
Because they're directly exposed to the air, they tend to be very loud in operation
Often aren't as powerful as submersible sump pumps
How Do I Know When I Need a New Sump Pump?
A sump pump failing is one of the worst things that can happen to a property. Not only will you be required to repair or replace and reinstall a new pump, but failure tends to lead to standing water and flood damage.
There are a few signs to watch out for that will let you know when your pump is coming to the end of its lifespan:
Excessive or unnatural noises, including rattling or grinding
The pump vibrating in operation
Constantly running, even when the water level is low
Rapid cycling, or switching on and off with seemingly no reason
Rusting or corrosion
Power outages in your house
Age: most sump pumps should last about ten years, so once the end of a pump's typical lifespan approaches, keep an eye out for signs that it needs to be replaced.
If any of this starts to occur, repair or replace your sump pump before disaster strikes.
Sump Pumps and Insurance
It's worth checking over your home insurance coverage, as most home insurance will not cover sump pump failure and subsequent flooding.  If your home insurance does cover sump pump failure, it's very likely that it only covers damage, not the cost of replacement. If this is a concern, make sure to discuss it with your insurance company or broker at your next renewal.
Final Thoughts
When buying a sump pump, the most important thing to remember is that over-preparation is never a bad thing. It's easy to sit back and think that the worst will never happen. But when your basement is completely flooded and your neighbor's is bone dry because they bought a bigger, more powerful, more reliable sump pump, you'll only have yourself to blame. Sump pumps may not seem exciting, but you'll never have to face such a disaster if you purchase the perfect pump that meets you and your home's needs.
The simple, effective design, huge amount of power and great warranty means that, if the worst happens, nothing will protect you, your family or your home better.