Hard-working manual laborers are the foundation upon which our country thrives, and your feet are the foundation upon which you thrive—so take care of them! A solid, well-built pair of steel-toed boots can save you from pain, discomfort, and even serious injury in the workplace.
We put together this list of the top ten steel toe boots money can buy to help make finding the right pair of work boots for you as easy as possible. Before we jump into the list, let's briefly discuss the search criteria we used to reach our conclusions.
Features to Consider in Good Steel Toe Boots
Safety is always at the top of the list of things to consider when it comes to buying work boots. The American Society for Testing and Materials (now known as ASTM International) and the American National Standards Institute (ANSI) set the industry standards for testing and safety for all kinds of equipment, apparel, and construction methods. Their work boot safety tests and the resulting ratings are a key indicator of the quality and protection offered by steel toe work boots.
Another important consideration when buying any pair of shoes is comfort. However, not everyone agrees on what makes a pair of work boots comfortable. Only you know what is comfortable for you. Your preferences will be the primary deciding factor when it comes to finding the comfiest pair of steel toe work boots.
Having said that, there are a few key aspects to consider when deciding whether a pair of steel toe boots are right for you: materials, fit, and utility.
Materials
If there's one clothing material that doesn't exactly scream "comfortable," it's steel. Luckily, steel toe boots come in many different shapes, sizes, and materials surrounding the steel toe box to provide comfort.
Most steel toe work boots are made from leather, nylon, rubber, or a combination of all of these materials. The primary material used to make the shoe will dictate a lot of qualities of the final product, including protection, cost, and comfort.
Fit
This is probably the most divisive aspect to consider that comes down to your personal preference. Some prefer snug-fitting boots, while others like them a bit more on the relaxed side. High-ankle boots are ideal for some conditions but less than perfect for jobs that might require you to get down on your knees or be more mobile.
Keep in mind the kind of work you do and past experiences you've had with various shoes when considering what fit would be best for you.
Utility
This is kind of a catchall section for aspects of work boots that make them better or worse depending on their use case. Some boots might be ideal during the summer but an absolute nightmare to wear during the winter (or vice versa). You might find a pair of boots that meet most of your criteria but then fall short on safety ratings.
The region and environment where you work will often dictate whether one pair is better for you than another. Your job's safety standards can also help you decide which product is best suited for your needs, as can the type of work you'll be doing.
We'll discuss these and some other aspects of each product in our rundown of the top ten steel-toed boots on the market. Without further ado, here are the…
Top 10 Best Steel Toe Boots 2023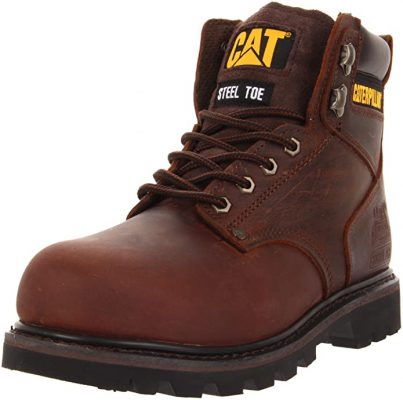 Why we like it:
Caterpillar prides themselves on the quality of their products, and these work boots have earned their CAT emblem. These steel toe boots are made for the job site by a company that understands the demands of hard labor and the needs of those workers.
Editor's Rating:
Materials
Made from thick 100 percent leather, these Caterpillar Second Shift Steel Toe Work Boots offer great protection and comfort for your feet. The outsole of this boot is oil-resistant to help prevent slipping. The leather is durable thanks to its thickness, but thick leather tends to take some time to break in and form to your foot, so they may not be as comfortable as they can get until after a few wears.
The thickness of the leather along with the genuine steel toe-boxes makes these boots sturdy and fairly heavy. If you aren't accustomed to work boots, the heft of these shoes might take some time to get used to.
Fit
The toe box provides a fair amount of wiggle room for your toes, so they don't feel like they're squished in place all day on the job. These CAT Steel Toe Work Boots have a 6" shaft that places the fit just above the ankles to provide you with some extra stability. They also sport a ¾" platform that provides a bit of lift while protecting your feet from getting punctured by nails and other sharps you might step on.
Utility
These CAT Work Boots are suitable for many job sites thanks to their electrical hazard rating of ASTM F2413-18 1/75 EH, which protects workers against open circuits up to 14,000 volts when dry. The steel toe is rated ASTM F2413-18 1/75 C/75, which is the highest rating for protecting your toes from harmful impacts and compression.
Pros
100% full-grain leather offers protection and long-lasting durability.

These boots meet the high standards of ASTM safety ratings like you'd expect from a brand like Caterpillar.

They are surprisingly affordable considering the quality of their materials and construction.

Available in the Prime Wardrobe program that lets you try before you buy.
Cons
The heft of these boots may wear you out and take some getting used to, especially since the thick leather can take a while to break in.
---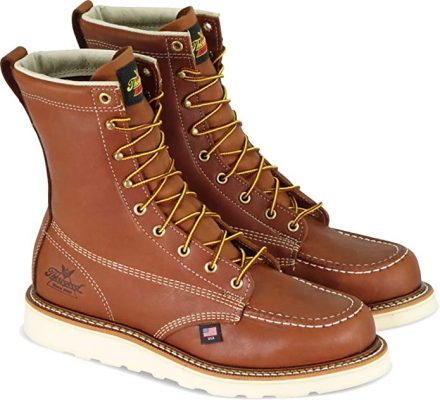 Why we like it:
These Thorogood American Heritage Safety Toe Boots are equal parts attractive and well-built to provide you with comfort and security on the job.
Editor's Rating:
Materials
Made from oil-tanned, full-grain leather, Thorogood places quality at the top of the list when it comes to their products. These American Heritage Steel Toe Boots are supremely comfortable and durable, while also providing protection for your entire foot.
There is a removable Ultimate Shock Absorption footbed insole that provides additional comfort and cushion for your feet, especially over the course of long days. The shank is made from fiberglass instead of steel to provide security without weighing down the boots excessively. The outsole is also slip and oil-resistant.
Fit
These Thorogood American Heritage Moc Toe Boots have an 8" shaft that allows them to sit a few inches above your ankles. The Goodyear storm welt construction provides excellent durability without compromising on comfort thanks to the intelligently-placed stitching that allows these shoes to form well to your feet.
The long shaft provides additional protection, but the soft leather allows these boots to offer excellent mobility without binding your feet or restricting your movement.
Utility
These Thorogood Steel Toe Work Boots are rated for withstanding up to 18,000 volts giving them an ASTM F2413-18 EH rating for electrical hazard protection. They are also rated ASTM F2413-18 M I/75 C/75, which means they have achieved the highest rating possible for protection against impact and compression damage to the toes.
These boots are excellent for long days thanks to the supreme comfort offered by them. However, they aren't ideal for cold or inclement weather due to the lack of waterproofing and heat insulation. Thorogood American Heritage Steel Toe Boots are a great choice for warehouse workers, assemblers, and electricians who want to keep their feet happy all day long.
Pros
These are likely going to be the most comfortable steel toe boots you ever slip your feet into.

Made in the USA by Union Made in Wisconsin with all-American hide natural leather.

The leather is superior quality and requires little to no breaking in to provide immediate comfort for your feet.

These boots are attractive enough to wear on a night out, and could even be pulled off in formal wear situations.
Cons
These definitely aren't the cheapest steel-toed boots on our list, but the price is fair for the quality on offer.
---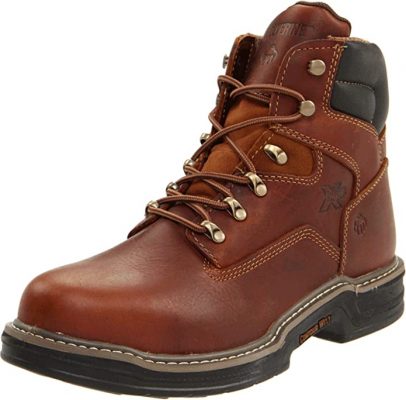 Why we like it:
These Wolverine Raider Steel Toe Work Boots offer excellent comfort and protection for your feet. The removable cushion footbed is an especially nice inclusion.
Editor's Rating:
Materials
Made from 100 percent full-grain leather, these Wolverine Steel Toe Boots combine quality materials with excellent construction. The leather is top-notch and thick enough to offer protection, while not being so thick that the boot is overly stiff.
The inner lining is made from breathable and moisture-wicking mesh nylon that keeps your feet from overheating during long hours on the job. These Wolverine Raider Boots also have MultiShox compression pads molded into the outsole that further improves their comfort and safety.
Fit
The Wolverine Raider Work Boot uses a contour welt construction that allows these boots to offer a snug fit without feeling too tight or restrictive. These boots have a 6" shaft that allows them to cover your ankles and provide some extra stability and security, while not overly restricting your movement.
Utility
These Wolverine Raider Steel Toe Boots are rated ASTM F2413-18 M I/75 C/75, giving them the highest possible rating for safety-toe protection against both compression and impact. They are also ASTM F2413-18 EH rated to provide electrical hazard protection.
These work boots are great for moderate climates and regular use throughout the year. Their safety ratings should meet the standards of most employers and insurers depending on the type of work you do.
Pros
These Wolverine Work Boots are exceptionally comfortable and they run true to size.

The removable cushioned footbed provides comfort and customization for those who prefer more space inside their shoes.

The mesh lining is a much-appreciated addition that provides comfortable wear over long hours of work.

Available in the Prime Wardrobe try before you buy program.
Cons
These Wolverine Raider Boots are fairly heavy.
---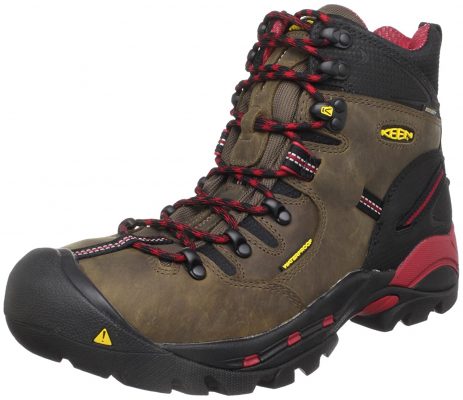 Why we like it:
These KEEN Utility Steel Toe Waterproof Work Boots are great for any weather conditions or job sites thanks to their excellent protection and durability. These boots are made to protect your foot no matter what type of work you do.
Editor's Rating:
Materials
Made from a combination of 100 percent nubuck leather and nylon, these KEEN Waterproof Work Boots are rugged and built to take on any weather or terrain. The lack of insulation could lead to your feet getting cold in extreme winter conditions, but they will remain dry all day long. The rubber soles offer excellent traction on uneven terrain and are also slip-resistant.
Fit
With a standard 6" shaft, these KEEN Waterproof Work Boots will sit over your ankles and protect your entire foot. The laces run all the way to the top of the boot for a secure fit that is reminiscent of hiking boots. These steel toe shoes are sturdy but not overly weighted, which will prevent fatigue during long hours of wear.
Utility
KEEN's Utility Steel Toe Waterproof Boots meet or exceed ASTM F2412-11 and F2413-11 I/75 C/75 standards. These shoes offer the highest level of protection from compression and impacts for your toes. They also meet ASTM F2413-11 EH standards to protect you from electrical hazards caused by open circuits.
These are great steel toe boots for outdoor work or play alike, and are an ideal pair of steel toe work boots for construction and maintenance work.
Pros
Excellent durability and ruggedness for long-lasting foot protection on the job.

The hiking boot-like design makes these great for various outdoor activities outside of work.

These KEEN Utility Work Boots offer excellent protection and good breathability thanks to the combination of mesh and 100% nubuck leather.
Cons
Fairly expensive, these KEEN Utility Waterproof Work Boots are one of the pricier products on our list.
---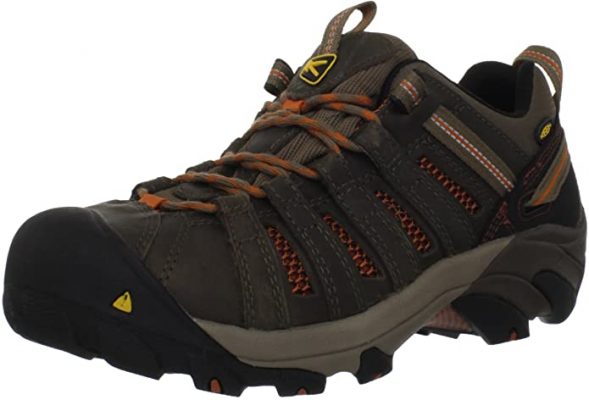 Why we like it:
These KEEN Utility Steel Toe Work Shoes are a great alternative to traditional work boots that give your feet the protection they need without all the added weight of standard steel toe boots.
Editor's Rating:
Materials
Made from a combination of 100 percent nubuck leather and nylon, these Steel Toe Sneakers are strong, reliable, and built with your comfort in mind. The upper nubuck leather is waterproof, and the outsole is oil- and slip-resistant. KEEN designed these work shoes to provide excellent breathability with air-flow slots in the leather that allow your feet to air out through the nylon mesh.
Fit
These KEEN Utility Steel Toe Shoes wear more like sneakers with a low-top shaft that sits below your ankles. They feel more like a combination of sneakers and hiking shoes than they do work boots, which is perfect for those who are more mobile on the job. Ideal for carpenters, landscapers, and warehouse workers, these steel toe shoes offer a combination of protection and comfort for long days on your feet.
These steel toe work shoes are ideal for workers who can't afford to sacrifice their agility as standard steel toe boots would force them to. Thanks to their more athletic design and lighter weight, these KEEN shoes are great for general outdoor purposes when off-duty as well.
Utility
Despite their less professional appearance, these KEEN Steel Toe Shoes meet ASTM F2412-11 and F2413-11 M I/75 C/75 standards. They are rated to provide the highest level of impact and compression protection for your toes. They are also ASTM F2413-11 EH rated to provide you with electrical hazard protection from open circuits.
These steel toe work shoes are great for all kinds of job sites and professions—especially for those who need some extra agility. They may not offer as high of a level of general foot protection compared to standard work boots, but these shoes make up for it with a much higher level of comfort.
Pros
Much lighter than typical steel toe work boots, these KEEN Utility shoes are perfect for active job sites.

Made from high-quality nubuck leather and built to last, these work shoes will keep your feet safe and comfortable.

These steel toe shoes are surprisingly affordable considering the quality of materials and craftsmanship present in them.
Cons
The low heel and breathable design make these shoes more comfortable at the expense of being less protective than standard steel toe work boots.
---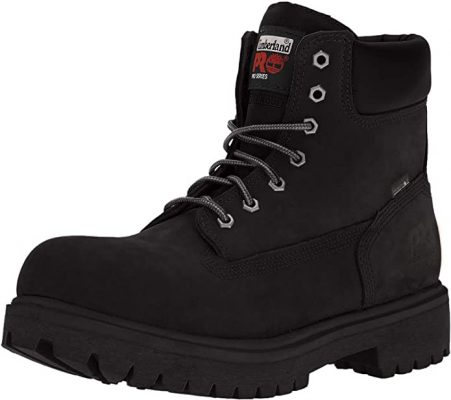 Why we like it:
These Timberland PRO Steel Toe Waterproof Insulated Boots are perfect for outdoor jobs near water sources or during inclement weather.
Editor's Rating:
Materials
Crafted from 100 percent leather, these steel toe work boots are made from quality materials and with expert craftsmanship. The rubber lug sole offers a heel platform of roughly 1 ¾" thickness. The outsole is also oil-resistant to help prevent slips.
The midsole is a lightweight PVC that provides extra cushioning and comfort throughout the day. These Timberland Pro Steel Toe Boots are thick, rugged, and built to last.
Fit
A little on the narrower side, these Timberlands are great for people who like a snugger fit. The 6" shaft provides ankle coverage and added stability. These Timberland PRO Work Boots are also available in wide sizes for those who prefer the extra room. These boots have a fairly tall platform that will give you a bit of elevation and protection from punctures.
Utility
The Timberland PRO Insulated Boots provide 200g Thinsulate insulation (rated for as low as -25 degrees Fahrenheit) to help keep your feet warm when working in the cold. The steel toe is ANSI 75 rated. This is the highest possible rating and means these shoes have been tested to provide toe protection against compressive pressure of up to 2,500 pounds of force.
These boots also offer electrical hazard protection from open circuits rated by ANSI Z41 PT99 safety standards. Timberland's Waterproof Steel Toe Boots are perfect work boots for colder climates and wet working conditions.
Pros
The combination of 200g Thinsulate insulation and waterproofing makes these excellent boots for working outdoors in the middle of winter.

The 100% leather exterior provides comfort and durability that lasts.

An extra-tall heel gives you a little boost of confidence when wearing these boots.

Timberland boots seem to never go out of style and are comfortable enough to wear outside of work.

Available in the Prime Wardrobe try-before-you-buy program.
Cons
These aren't the cheapest boots on our list, but the price is fair for what you get.
---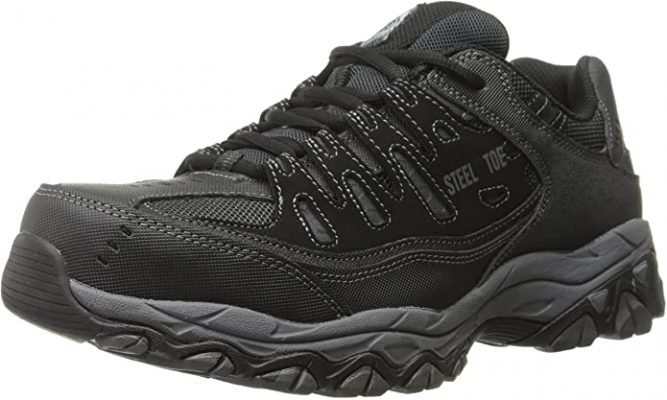 Why we like it:
Skechers is known for making comfortable, affordable shoes, and these Cankton Athletic Steel Toe Work Sneakers are no exception. These look and wear like typical sneakers but offer the protection of top-end steel toe work boots.
Editor's Rating:
Materials
To keep the weight and the price down on these Skechers for Work Steel Toe Sneakers, they were made from a combination of suede and nylon mesh. The sole is a synthetic rubber, and the insole has a memory foam cushion for comfort and support all day long. The suede and mesh combination provides a good mix of comfort and protection.
The mesh allows the shoes to be pliable and breathable so your feet don't overheat while on the job. While the material used for these shoes isn't quite as premium as other products on our list, they are still well-constructed and durable. Also, the less expensive cost of materials allows them to offer these at a lower price than many of the other products found on our list.
Fit
Designed with comfort in mind, these Skechers for Work Steel Toe Shoes will feel very similar to your favorite pair of sneakers while still offering your toes some much-needed protection. The low-ankle design and suede and mesh material come together to offer a relaxed fit for your feet. These are intended to keep you safe at work without making you compromise your comfort.
Utility
These Skechers Steel Toe Sneakers are ASTM F2413-11 M I/75 C/75 rated. This places them at the highest possible rating for protection against impacts and compression to the toes. They are also ASTM F2413-11 EH rated to protect against open circuits up to 18,000 volts. That means that while these shoes may look like normal sneakers, they should meet any standards required by your employers or insurers.
These are the best budget steel toe work shoes for people looking to keep their feet safe without breaking the bank. The comfort offered by the athletic sneaker design and materials also makes these great for everyday wear on and off the job.
Pros
Extremely light and flexible, Skechers has created a fantastic steel-toe shoe for long days on the job.

These Skechers Work Sneakers offer top-notch toe protection while still letting your feet breathe.

These are some of the lowest-costing steel toe shoes you're going to find on the market.
Cons
The sneaker design isn't for everyone and might not be acceptable on certain job sites.
---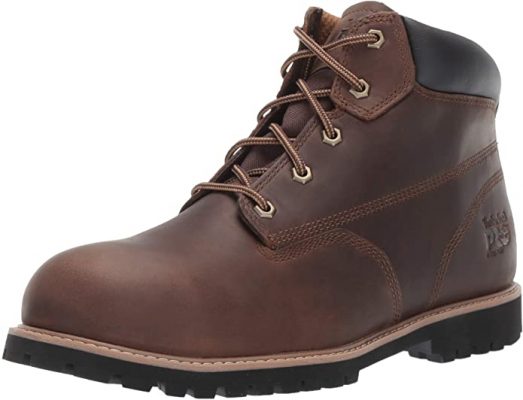 Why we like it:
Timberland's Gritstone Steel Toe Boots are a solid pair of work boots that have the quality materials and construction you'd expect to get from Timberland products. These boots are comfortable while still being sturdy enough to take a beating. On top of that, they look more like normal everyday boots than any other steel toe boot on our list.
Editor's Rating:
Materials
Crafted from 100 percent leather with a few fabric accents, these Timberland Steel Toe Boots are rugged and ready to take on any job site. The rubber sole is slip and oil-resistant to provide you with protection from slips. The collar of the shaft is padded for extra comfort, so these shoes won't pinch or constrict your ankles.
Fit
Designed with an ankle-height shaft, these boots cover the ankle without going much further up your legs. The padded collar at the top of the shaft allows these boots to fit snugly without being uncomfortable. The heel is roughly 0.75" tall to give you a little bit of lift and protection from sharps.
Utility
Timberland's PRO Steel Toe Boots are rated ASTM F2412-11, ASTM F2413-11, and C/75, offering the highest level of toe protection from compression and impact damage. They are also ASTM F2412-11 EH rated to provide protection from electrical hazards. The Timberland Gritstone's rubber sole is heat-resistant and oil-, slip-, and abrasion-resistant as well.
These boots offer excellent arch support and cushioning for your feet to provide great protection and comfort all day long. Thanks to their design, these are great all-around boots for most job sites. The lack of waterproofing makes these less ideal for snowy or rainy days.
Pros
These Timberland Steel Toe Work Boots offer a good mix of durability and protection without being overly heavy.

Made from 100% quality, full-grain leather that is durable and long-lasting.

Timberland boots are streetwear worthy thanks to their timeless style.

Available in the Prime Wardrobe try before you buy program.
Cons
These are made with rather thick leather which is great for durability but also means the break-in period can take some time.
---
Why we like it:
These Reebok Work Athletic Steel Toe Shoes are some of the lightest and most comfortable steel toe shoes money can buy.
Editor's Rating:
Materials
Made with nylon mesh, these Reebok Construction Shoes are lightweight and exceptionally breathable. The comfort offered by these steel toe sneakers is unparalleled and sure to keep your feet happy during long days of work. The toe box is made from an alloy as opposed to true 100 percent steel.
Alloy Toe
Unlike most items on our list, this Reebok Work Industrial Shoe has an alloy toe as opposed to a true steel toe. This safety toe will still protect your feet, but it may not meet specific requirements made by your employer or insurer depending on their insistence on "steel" toe shoes. Alloy toes are rated by the same ASTM safety standards but tend to be lighter in weight overall.
Fit
These shoes wear exactly like your favorite pair of gym shoes while still providing security for your toes from impacts and compression. The shoe flexes beautifully with your feet as you move to provide you with the utmost in mobility and agility on the job. The MemoryTech footbed adapts to the contours of your feet and provides superb comfort all day long.
Utility
Despite these Reeboks having an alloy safety toe as opposed to a true steel toe, they still meet ASTM F2413 safety standards. They also meet electrical hazard protection standards from the ASTM. The outsoles provide excellent slip resistance and fair protection from oil, abrasion, and chemicals.
Pros
These Reebok Work Steel Toe Sneakers are incredibly light and breathable, keeping your feet comfortable at all times.

These work shoes are priced competitively and offer good value.

Available in the Prime Wardrobe try-before-you-buy program.
Cons
The sneaker design is ideal for comfort but not so great when it comes to protecting your whole foot from potential workplace hazards.
---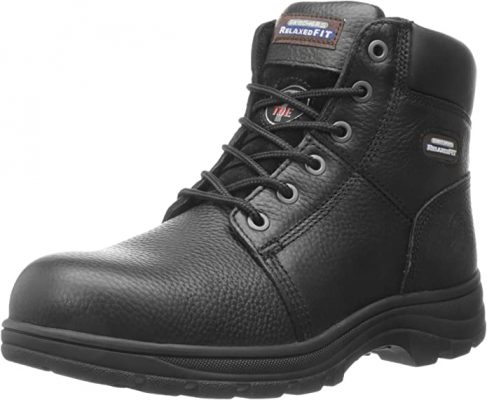 Why we like it:
Skechers is well-known for making comfortable shoes, and these Workshire Relaxed Fit Steel Toe Work Boots are no exception to that rule.
Editor's Rating:
Materials
These Skechers Relaxed Fit Work Boots are made from 100 percent leather that is appropriately thick and rugged for long-lasting protection and durability. The leather outer is soft and thick but not overly stiff, allowing these steel toe work boots to provide you with good mobility and security. The outer sole is made of a slip-resistant rubber, providing solid traction.
Fit
With a 5.25" shaft, these Skechers for Work Relaxed Fit Steel Toe Boots are the lowest boots on our list. This makes them more comfortable, but they should still cover your ankles, if not by as wide a margin. The heel is roughly 1.5" in height, which provides a reasonable boost and good protection against punctures from nails and other sharp materials.
Utility
These Skechers Work Boots have steel safety toes that meet ASTM FM2413-11 I/75 C/75 standards, meaning they have the highest possible rating for protection from impact and compression injury to your toes. They also meet ASTM F2413-11 EH requirements for providing you with protection from electrical hazards.
Pros
Despite the fact that these are made from 100% leather, they are still available at a relatively low price point, making these a great value buy.

The relaxed fit of these boots is great for those who have wider feet and need some extra wiggle room.

Available in the Prime Wardrobe try-before-you-buy-program.
Cons
These shoes are known to break down a little faster than many other products on our list.
---
Guide to Buying the Best Steel Toe Boots
Finding the right pair of shoes can be a difficult and frustrating task. This is especially true when you're looking for shoes that you're going to be wearing all day long at work. A good pair of steel toe boots will keep you comfortable throughout your entire workday while also providing your toes and feet with much-needed protection from impacts, crushing, punctures, and scrapes.
If you're like most people who have never worn steel toe shoes, you might have heard others talk about how dangerous they can be to the wearer. This is a common question that comes up for new steel toe boots buyers.
Are Steel Toe Boots More Dangerous Than Regular Boots?
The quick answer: absolutely not. For more details and some proof, read on.
A commonly held belief concerning steel toe boots is that they are actually less safe than normal boots. The thought process is that the steel toe boxes can curl under too much weight and come down onto your toes to cut them clean off!
If this was the case, then employers and (even more telling, possibly) insurers wouldn't insist on steel toe boots being worn on worksites. Steel toe boots go through lots of testing to verify their protective capabilities. The results of these tests are how they receive their safety ratings that we mentioned in our product reviews.
If you still aren't convinced, you don't have to take my word for it. The guys from the popular Discovery Channel show Mythbusters made an episode that tackled the issue of the supposed danger of steel toe boots amputating your toes when under pressure. According to their summary of the episode, "your toes are much safer with steel toe boots than without." This blog post did an excellent job further running down the procedures and results of the Mythbusters testing of steel toe boots compared to regular boots.
It's pretty clear from all the data that steel toe boots do offer enhanced safety for your feet. However, this doesn't mean all steel toe boots are created equal in terms of safety. And what about comfort?
Comfort vs Safety
Generally, the more protection offered by a pair of work boots, the less comfortable they tend to be. While this rule isn't necessarily true across the board, it holds up pretty well in most cases. This reality leads to a decision that you have to make when buying steel toe shoes or any other piece of protective equipment.
Deciding between your safety and your comfort is rarely a black and white decision. This is why finding a balance that works for you is the most important factor in finding the best pair of work boots for you.
The job you perform and the conditions you are subject to when on the job will dictate the minimum requirements for your protective equipment, but that doesn't mean you won't have room within those requirements to lean more towards safety or comfort.
The sneaker-like steel toe shoes on our list concentrate on the side of comfort, while still providing the necessary protection to keep your toes safe and your boss and insurers satisfied. However, you may feel more comfortable knowing that your feet are safer when tucked away in some heftier and more rugged boots.
Ultimately, striking that perfect balance of comfort and security will come down to a matter of preference. We feel that all of the products on our list do a good job of offering security without sacrificing comfort.
ASTM Ratings Explained
In the "Utility" section of our product reviews, we threw a lot of letters and numbers at you. Those ratings look indecipherable, but are actually pretty easy to understand once explained. Let's break them down so you know what you're looking at when going over your steel toe boot options.
Example Rating: ASTM F2413-11 M I/75 C/75 EH
The first part of the rating, "ASTM," is the organization we mentioned above that is responsible for creating safety standards and testing for compliance with those standards. The second part, "F2413," is simply the specific safety code being applied.
The number after the dash, "F2413-11," indicates the year of that standard (2011 in this case). Most products are tested by the 2011 or 2018 standards, but both standards are roughly the same for the purposes of work boot standards.
The next part, "M," indicates that that standard applies to boots created for men. An "F" indicates boots made for women. The only difference is that men's steel toes require the minimum clearance between the toes and compressed metal of the toe box to be ½ inch after testing occurs, while female shoes have a minimum requirement of 0.468 inches.
"I/75" indicates the test results from the impact safety test, and "C/75" is for the results of the compression safety test. The standard test involves dropping a 50-pound weight from a set height of 1 ½ feet. I/75 means it will protect your feet from an impact up to 75 foot-pounds, and C/75 will protect you from compressive loads up to 2,500 pounds.
The "EH" at the end indicates that the shoes provide electrical hazard protection and can withstand up to 18,000 volts at 60 Hz for 1 minute without allowing for current flow or leakage in excess of 1.0 milliampere.
Check out this post from Occupational Health & Safety (OHS) for more details on ASTM ratings.
What Are the Best Steel-Toed Boots Made Out Of?
Great work boots come in all kinds of shapes and sizes, but there are a few key materials that tend to make the best steel toe boots you can buy. Each material has its own benefits and drawbacks when it comes to the final product. The three main materials typically found in steel toe shoes are leather, rubber, and nylon.
Leather
Leather is the most common material when it comes to good quality steel toe boots. Good leather shoes are durable, reliable, and comfortable, but quality leather tends to come with a higher price tag. Not all leather is created equal, and even two high-quality pieces of leather can provide very different results depending on their thickness and how they were treated.
Dense leather provides a lot of protection from cuts and punctures while also doing a fair job of insulating heat. On the other hand, heavy leather also tends to be less flexible and can result in a stiff pair of boots. The best shoes are made with thick, supple leather that is both protective and malleable.
These kinds of shoes often come with a higher price tag. Leather boots can also require some maintenance to keep them in good repair. Check out this blog post for more information on caring for leather boots.
Rubber
Rubber (or PVC) is a great material for workers who need waterproof shoes or those who work around electricity and want some insulation. On the downside, rubber boots tend to be less comfortable due to rubber's lack of pliability compared to other materials.
While thick leather can be sturdy and relatively low in terms of flexibility, you can typically break it in over time. Rubber is much less forgiving in this way, as it is unlikely to break in as well. Finding a good fit for rubber boots is especially important due to the rigid nature of the material.
On the positive side, rubber outers are amazing for protecting from electrical hazards, and they are great in all kinds of weather and wet environments. Rubber stands up to a beating very well and can last for an extremely long time.
Nylon
Known for being lightweight and breathable, nylon is engineered to be comfortable during long hours of work. However, manmade materials like nylon are also known for breaking down and tearing easier than sturdy leather or rubber.
Nylon is often included in pretty much every shoe as a component of the inner liner or to provide flexibility to key areas of the product. Nylon is a lot like rubber and leather, where the material itself isn't necessarily bad or good, but can vary quite a lot in overall quality depending on the manufacturer.
Shoes that have a larger percentage of nylon are going to be much lighter, while also needing very little time to get broken in. They will also provide less protection for your feet from the elements and from cuts or impacts.
A combination of these materials often leads to the best results, but finding the right balance is key here, too. You want your steel toe boots to last a long time while being protective and comfortable. To get a better feeling for how well those boots will wear on your feet and how long they are likely to last, pay attention not only to what materials are used, but also to where and how they are used.
Steel Toe Boots Style Considerations
One aspect that we didn't really address in our product reviews much is style. We might have mentioned it here and there, but we avoided talking about it for the most part because of the nature of aesthetics. The purpose of steel toe boots is to firstly to keep your feet safe and secondly to keep you comfortable at work, while fashion considerations come third.
The third purpose is one that can really only be figured out on a case by case basis by you. Your personal preferences will dictate which styles appeal to you. The same sneaker might fit well in your workplace, or it could stick out like a sore thumb. Leather boots tend to work well in many different settings, but may look a little too formal at times.
Most of the products on our list come in various style and color options. While appearance matters, we primarily focused our reviews on the function over form principle to let you come to your own conclusions about which look best.
Finding the best pair of shoes for your needs may take a little bit of trial and error. To make that process easier (and cheaper) for you, you may want to consider trying out the Prime Wardrobe program.
What is the Prime Wardrobe Program?
You may have noticed that some of the products on our list mentioned the Amazon Prime Wardrobe try before you buy program. This is available to all Amazon Prime members at no additional charge.
It's very easy to get started using the Prime Wardrobe service. Items that qualify for it are clearly marked on the Amazon store page. These items can be added to your order (with a maximum of 8 Prime Wardrobe items per cart) and then shipped to your home for free.
Once every item from that cart arrives, you will have a full 7 days to try things on and figure out if you want to keep any or all of the items. After you decide what you want to keep and what you want to send back, you mark the items on Amazon indicating which you would like to keep. You then simply use the provided resealable packaging and pre-paid shipping label to send back everything you don't want to keep.
This program is simple to use and 100 percent free for Amazon Prime members. If you're interested in trying out a few different boots, or even in the same pair in a couple different sizes, you can learn more about the Amazon Prime Wardrobe program through this link.