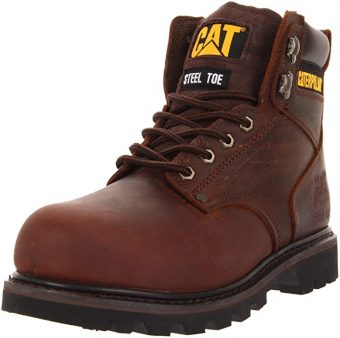 Caterpillar Second Shift Work Boot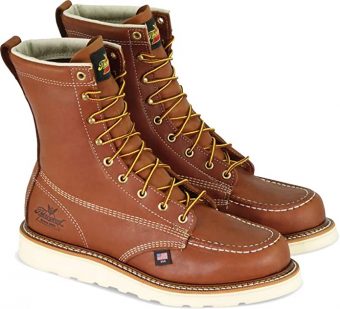 Thorogood American Heritage Boot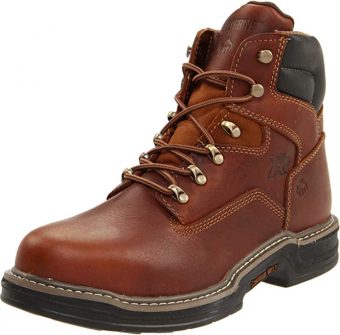 Wolverine Raider Work Boot
Previous
Next
Hard-working manual laborers are the foundation upon which our country thrives, and your feet are the foundation upon which you thrive—so take care of them! A solid, well-built pair of steel-toed boots can save you from pain, discomfort, and even serious injury in the workplace.
We put together this list of the top ten steel toe boots money can buy to help make finding the right pair of work boots for you as easy as possible. Before we jump into the list, let's briefly discuss the search criteria we used to reach our conclusions.
Features to Consider in Good Steel Toe Boots
Safety is always at the top of the list of things to consider when it comes to buying work boots. The American Society for Testing and Materials (now known as ASTM International) and the American National Standards Institute (ANSI) set the industry standards for testing and safety for all kinds of equipment, apparel, and construction methods. Their work boot safety tests and the resulting ratings are a key indicator of the quality and protection offered by steel toe work boots.
Another important consideration when buying any pair of shoes is comfort. However, not everyone agrees on what makes a pair of work boots comfortable. Only you know what is comfortable for you. Your preferences will be the primary deciding factor when it comes to finding the comfiest pair of steel toe work boots.
Having said that, there are a few key aspects to consider when deciding whether a pair of steel toe boots are right for you: materials, fit, and utility.
Materials
If there's one clothing material that doesn't exactly scream "comfortable," it's steel. Luckily, steel toe boots come in many different shapes, sizes, and materials surrounding the steel toe box to provide comfort.
Most steel toe work boots are made from leather, nylon, rubber, or a combination of all of these materials. The primary material used to make the shoe will dictate a lot of qualities of the final product, including protection, cost, and comfort.
Fit
This is probably the most divisive aspect to consider that comes down to your personal preference. Some prefer snug-fitting boots, while others like them a bit more on the relaxed side. High-ankle boots are ideal for some conditions but less than perfect for jobs that might require you to get down on your knees or be more mobile.
Keep in mind the kind of work you do and past experiences you've had with various shoes when considering what fit would be best for you.
Utility
This is kind of a catchall section for aspects of work boots that make them better or worse depending on their use case. Some boots might be ideal during the summer but an absolute nightmare to wear during the winter (or vice versa). You might find a pair of boots that meet most of your criteria but then fall short on safety ratings.
The region and environment where you work will often dictate whether one pair is better for you than another. Your job's safety standards can also help you decide which product is best suited for your needs, as can the type of work you'll be doing.
We'll discuss these and some other aspects of each product in our rundown of the top ten steel-toed boots on the market. Without further ado, here are the…
The 10 Best Steel Toe Boots 2020
Guide to Buying the Best Steel Toe Boots
Finding the right pair of shoes can be a difficult and frustrating task. This is especially true when you're looking for shoes that you're going to be wearing all day long at work. A good pair of steel toe boots will keep you comfortable throughout your entire workday while also providing your toes and feet with much-needed protection from impacts, crushing, punctures, and scrapes.
If you're like most people who have never worn steel toe shoes, you might have heard others talk about how dangerous they can be to the wearer. This is a common question that comes up for new steel toe boots buyers.
Are Steel Toe Boots More Dangerous Than Regular Boots?
The quick answer: absolutely not. For more details and some proof, read on.
A commonly held belief concerning steel toe boots is that they are actually less safe than normal boots. The thought process is that the steel toe boxes can curl under too much weight and come down onto your toes to cut them clean off!
If this was the case, then employers and (even more telling, possibly) insurers wouldn't insist on steel toe boots being worn on worksites. Steel toe boots go through lots of testing to verify their protective capabilities. The results of these tests are how they receive their safety ratings that we mentioned in our product reviews.
If you still aren't convinced, you don't have to take my word for it. The guys from the popular Discovery Channel show Mythbusters made an episode that tackled the issue of the supposed danger of steel toe boots amputating your toes when under pressure. According to their summary of the episode, "your toes are much safer with steel toe boots than without." This blog post did an excellent job further running down the procedures and results of the Mythbusters testing of steel toe boots compared to regular boots.
It's pretty clear from all the data that steel toe boots do offer enhanced safety for your feet. However, this doesn't mean all steel toe boots are created equal in terms of safety. And what about comfort?
Comfort vs Safety
Generally, the more protection offered by a pair of work boots, the less comfortable they tend to be. While this rule isn't necessarily true across the board, it holds up pretty well in most cases. This reality leads to a decision that you have to make when buying steel toe shoes or any other piece of protective equipment.
Deciding between your safety and your comfort is rarely a black and white decision. This is why finding a balance that works for you is the most important factor in finding the best pair of work boots for you.
The job you perform and the conditions you are subject to when on the job will dictate the minimum requirements for your protective equipment, but that doesn't mean you won't have room within those requirements to lean more towards safety or comfort.
The sneaker-like steel toe shoes on our list concentrate on the side of comfort, while still providing the necessary protection to keep your toes safe and your boss and insurers satisfied. However, you may feel more comfortable knowing that your feet are safer when tucked away in some heftier and more rugged boots.
Ultimately, striking that perfect balance of comfort and security will come down to a matter of preference. We feel that all of the products on our list do a good job of offering security without sacrificing comfort.
ASTM Ratings Explained
In the "Utility" section of our product reviews, we threw a lot of letters and numbers at you. Those ratings look indecipherable, but are actually pretty easy to understand once explained. Let's break them down so you know what you're looking at when going over your steel toe boot options.
Example Rating: ASTM F2413-11 M I/75 C/75 EH
The first part of the rating, "ASTM," is the organization we mentioned above that is responsible for creating safety standards and testing for compliance with those standards. The second part, "F2413," is simply the specific safety code being applied.
The number after the dash, "F2413-11," indicates the year of that standard (2011 in this case). Most products are tested by the 2011 or 2018 standards, but both standards are roughly the same for the purposes of work boot standards.
The next part, "M," indicates that that standard applies to boots created for men. An "F" indicates boots made for women. The only difference is that men's steel toes require the minimum clearance between the toes and compressed metal of the toe box to be ½ inch after testing occurs, while female shoes have a minimum requirement of 0.468 inches.
"I/75" indicates the test results from the impact safety test, and "C/75" is for the results of the compression safety test. The standard test involves dropping a 50-pound weight from a set height of 1 ½ feet. I/75 means it will protect your feet from an impact up to 75 foot-pounds, and C/75 will protect you from compressive loads up to 2,500 pounds.
The "EH" at the end indicates that the shoes provide electrical hazard protection and can withstand up to 18,000 volts at 60 Hz for 1 minute without allowing for current flow or leakage in excess of 1.0 milliampere.
Check out this post from Occupational Health & Safety (OHS) for more details on ASTM ratings.
What Are the Best Steel-Toed Boots Made Out Of?
Great work boots come in all kinds of shapes and sizes, but there are a few key materials that tend to make the best steel toe boots you can buy. Each material has its own benefits and drawbacks when it comes to the final product. The three main materials typically found in steel toe shoes are leather, rubber, and nylon.
Leather
Leather is the most common material when it comes to good quality steel toe boots. Good leather shoes are durable, reliable, and comfortable, but quality leather tends to come with a higher price tag. Not all leather is created equal, and even two high-quality pieces of leather can provide very different results depending on their thickness and how they were treated.
Dense leather provides a lot of protection from cuts and punctures while also doing a fair job of insulating heat. On the other hand, heavy leather also tends to be less flexible and can result in a stiff pair of boots. The best shoes are made with thick, supple leather that is both protective and malleable.
These kinds of shoes often come with a higher price tag. Leather boots can also require some maintenance to keep them in good repair. Check out this blog post for more information on caring for leather boots.
Rubber
Rubber (or PVC) is a great material for workers who need waterproof shoes or those who work around electricity and want some insulation. On the downside, rubber boots tend to be less comfortable due to rubber's lack of pliability compared to other materials.
While thick leather can be sturdy and relatively low in terms of flexibility, you can typically break it in over time. Rubber is much less forgiving in this way, as it is unlikely to break in as well. Finding a good fit for rubber boots is especially important due to the rigid nature of the material.
On the positive side, rubber outers are amazing for protecting from electrical hazards, and they are great in all kinds of weather and wet environments. Rubber stands up to a beating very well and can last for an extremely long time.
Nylon
Known for being lightweight and breathable, nylon is engineered to be comfortable during long hours of work. However, manmade materials like nylon are also known for breaking down and tearing easier than sturdy leather or rubber.
Nylon is often included in pretty much every shoe as a component of the inner liner or to provide flexibility to key areas of the product. Nylon is a lot like rubber and leather, where the material itself isn't necessarily bad or good, but can vary quite a lot in overall quality depending on the manufacturer.
Shoes that have a larger percentage of nylon are going to be much lighter, while also needing very little time to get broken in. They will also provide less protection for your feet from the elements and from cuts or impacts.
A combination of these materials often leads to the best results, but finding the right balance is key here, too. You want your steel toe boots to last a long time while being protective and comfortable. To get a better feeling for how well those boots will wear on your feet and how long they are likely to last, pay attention not only to what materials are used, but also to where and how they are used.
Steel Toe Boots Style Considerations
One aspect that we didn't really address in our product reviews much is style. We might have mentioned it here and there, but we avoided talking about it for the most part because of the nature of aesthetics. The purpose of steel toe boots is to firstly to keep your feet safe and secondly to keep you comfortable at work, while fashion considerations come third.
The third purpose is one that can really only be figured out on a case by case basis by you. Your personal preferences will dictate which styles appeal to you. The same sneaker might fit well in your workplace, or it could stick out like a sore thumb. Leather boots tend to work well in many different settings, but may look a little too formal at times.
Most of the products on our list come in various style and color options. While appearance matters, we primarily focused our reviews on the function over form principle to let you come to your own conclusions about which look best.
Finding the best pair of shoes for your needs may take a little bit of trial and error. To make that process easier (and cheaper) for you, you may want to consider trying out the Prime Wardrobe program.
What is the Prime Wardrobe Program?
You may have noticed that some of the products on our list mentioned the Amazon Prime Wardrobe try before you buy program. This is available to all Amazon Prime members at no additional charge.
It's very easy to get started using the Prime Wardrobe service. Items that qualify for it are clearly marked on the Amazon store page. These items can be added to your order (with a maximum of 8 Prime Wardrobe items per cart) and then shipped to your home for free.
Once every item from that cart arrives, you will have a full 7 days to try things on and figure out if you want to keep any or all of the items. After you decide what you want to keep and what you want to send back, you mark the items on Amazon indicating which you would like to keep. You then simply use the provided resealable packaging and pre-paid shipping label to send back everything you don't want to keep.
This program is simple to use and 100 percent free for Amazon Prime members. If you're interested in trying out a few different boots, or even in the same pair in a couple different sizes, you can learn more about the Amazon Prime Wardrobe program through this link.