So let's say you've got a fairly sizable home improvement project that involves carpet coming up, and you're wondering just how you're going to fasten it to the floor? Maybe it's the holiday season and you've got to make your house look a little more festive than normal. How do you go about accomplishing both of these tasks? These are both tasks where staple guns come into play.
Like a lot of products out there on the market, though, there's a huge variety when it comes to staple guns… and if you're like a lot of consumers or just individuals who are new to the home improvement lifestyle, then the number of products available is absolutely staggering. So if you're lost, and need some guidance on the matter, look no further… we're here to help!
Features to Consider in Good Staple Guns
The very first thing you need to consider when choosing a staple gun is determining the right kind of gun to purchase in the first place. One of the first major considerations you need to make prior to buying a staple gun is determining which type of model you actually need to accomplish whatever home improvement goal you have. Obviously, you would purchase an industrial-grade staple gun unless you've got an equally huge project and require hundreds and hundreds of staples to be driven down the line! Make sure your personal goals line up with the proper stapling tool, as well as your budget!
Despite the fact that you may not need the most top-of-the-line industrial-grade model of staple gun on the market, you still probably want to make sure that it doesn't break down after just a few uses, right? Putting a certain amount of research into the durability of each individual staple gun product is another recommended thing to do prior to making a purchase decision.
Another factor to take into consideration is how easy the staple gun is to wield and manipulate. A good example is if you suffer from an arthritic condition: constantly squeezing barely responsive staple gun triggers, or having to lug around heavy and unwieldy large industrial-grade staple guns might not be the best solution for your body's long-term health! It seems like a pretty minor thing to be worried about, especially in regards to the smallest of staple guns out there, but it can end up nagging you and even literally cause you great pain in the future.
As you can see, there's really not that much to worry about when deciding to make your first purchase choice for a staple gun… at least for now. Be sure to stick around after the product reviews for an extended buyer's guide that will help crystallize your decision-making towards the product you need.
Now that you've got the lay of the land out of the way, let's get on to the product reviews, shall we?
The 10 Best Staple Guns 2021
Why we like it:
This versatile heavy-duty manual staple gun can do anything: it accepts the three most common staple types, and the pressure can be adjusted to be used on anything from delicate fabrics to thick pieces of wood.
Editor's Rating:
Details
This rough and tumble, heavy-duty manual staple gun is made of strong carbon steel and has the ability to support not one, not two, but three staple types (U-types, D-types and T-types). On top of that, it has quick-jam mechanisms in place in order to keep staple jams from happening often, if at all!
Another key thing this product has is a knob on the top of the staple gun that is utilized to raise or lower the overall pressure that the staple gun puts out with every squeeze of the trigger. As mentioned above, this is great for fine-tuning your stapling needs to suit whatever material you happen to be working on at the time.
Due to the versatility of this product, it is great to use for all sorts of work, including upholstery, generalized carpentry, and just the normal kind of home improvement touch-ups that a household needs every once in a while!
Weighing in at a light 1.54 pounds, the Topec 3 in 1 Manual Staple Gun has a cushioned grip, which is great for your hand durability. It also contains a non-slip handle which is perfect if you operate in inclement or excessively humid environmental conditions on the regular.
Our Verdict
This is the best manual staple guns on this list, and not only because it's a 3-in-1 tool that can accommodate three different kinds of staples within it. It's also durable, customizable, and easy to use. When you pair this up with the low price point, this is a no-brainer bargain!
Pros
It can utilize three different staple types.

It can be used on thick materials, like woods and fabrics.

It has a knob on the body that raises and lowers the pressure of each trigger squeeze.
Cons
Many customers report having a difficult time inserting and removing staples from the product.
---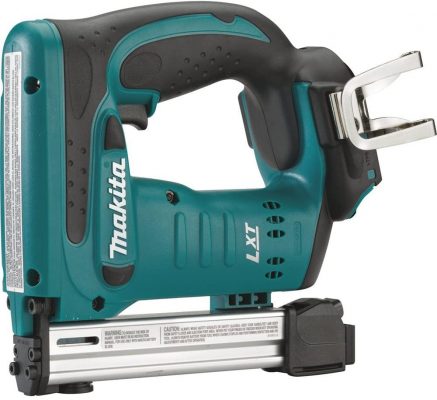 Why we like it:
With convenient features like an easy-adjust control knob and a handy staple-viewing window, the battery-powered Makita XTS01Z is the best all-around electric staple gun on the market.
Editor's Rating:
Details
The Makita XTS01Z has diversity in mind with its design. It has the capability of driving ⅜-inch staples into a variety of materials, from drywall, upholstery and even hardwoods. However, this model can also punch in ¼-inch and ⅞-inch staples as well. Versatility with electric-driven power is ultimately the name of the game here with Makita!
This electric staple gun comes with a fantastic depth control knob that is easy as pie to use. Just turn it according to the depth you need for the project you're working on—it's that simple. It also comes with a staple-viewer window, which allows you to determine how many staples you have left in your given magazine. Also, as a general standard nowadays with many high-end staple guns, this model also comes with an anti-jamming mechanism for optimal performance.
Our Verdict
The only real downside to the Makita XTS01Z is that it comes without a battery in the box, which requires you to take an extra step in order to use your new purchase. The good news, however, is that if you currently own any kind of Makita-based cordless tool, you probably already have the battery necessary to run the XTS01Z. Other than that, this is an exceedingly flexible, comfort-minded tool that is the best electric staple gun on our list.
Pros
Weighs around 5.3 pounds, which is pretty lightweight for an electric model.

Versatile in terms of depth and staple usage.

Ergonomic, tight design.
Cons
The kit doesn't come with a battery.
---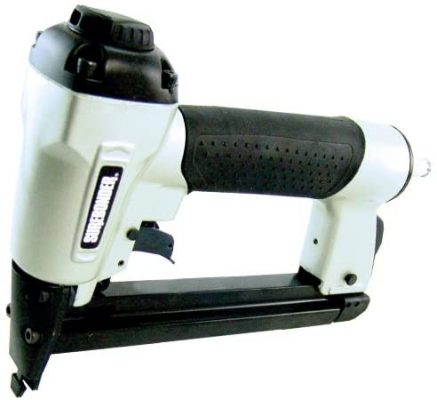 Why we like it:
For heavy-duty DIY projects, you can't beat a pneumatic staple gun—and the Surebonder 9600B, with its safety-focused features and high-powered performance, is the best pneumatic staple gun around.
Editor's Rating:
Details
The Surebonder 9600B, weighing in at around 3.22 pounds, is an excellent choice whether you are a professional construction worker or a DIY homeowner. It is the definition of heavy-duty and can take a lot of punishment. Additionally, it can take multiple kinds of staples, including the most common staple types out there (such as T50s).
The Surebonder contains some interesting features. It has a little something called a quick-release magazine that allows for speedy reloading of the gun. The Surebonder's magazine holds 100 staples at a time, which is a pretty impressive number, but still lacking in comparison to the Porter-Cable US58, which holds 180. Another cool feature that makes this particular staple gun great for the average person is it also contains a bump-action safety system in place that keeps the gun from firing unless pressure is applied on the nozzle. Did we also mention that the Surebonder has a multi-directional exhaust system that can be aligned away from whatever surface or material you're working on at the time? This gun does it all! If your job requires it, this is the best pneumatic stable gun on our list.
Our Verdict
This is a phenomenal staple gun, no matter which way you toss it. It's got unbelievable accessories and additions that you find in most higher-tier models. There are some indications, based on past reviews of the product that there may be some issues with quality control coming out of Surebonder… however, there is a 90-day warranty for their products, which gives this product some buffer if things go bad.
Pros
The exhaust can be adjusted.

Many helpful safety features.

Extremely low price for the value!

Uses most common staple types.
Cons
Some individuals have seen their models break down faster than other buyers.

Slightly heavy.
---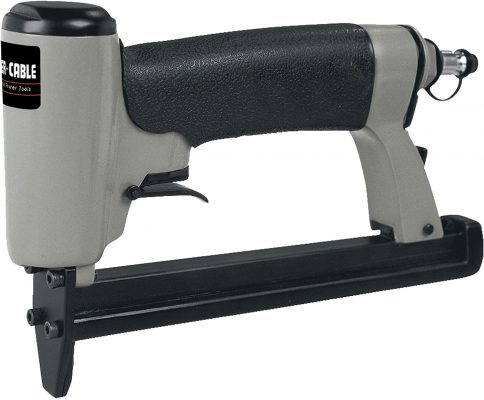 Why we like it:
This light, easy-to-use staple gun can put out staples quickly without jamming or needing to be reloaded, making it perfect for upholstery projects.
Editor's Rating:
Details
Lightweight is the name of the game when classifying this pneumatic upholstery staple gun. It weighs in at just around 1.8 pounds total, making it one of the lightest out there for the heavy-duty kind of work that pneumatic staplers generally get up to. It also works with many different kinds of air compressors that have a PSI rating in the range of 70-120 PSI.
This stapler also holds a whopping 180 staples at a time, which really helps for peak efficiency before having to reload the gun. This aspect is doubled with the addition of an expertly manufactured driver within the gun that makes jams, when they rarely occur, extremely easy to clean out so you can get back to work quickly. Another cool thing this model comes with is something called a 1-inch nose extension, which basically extends the reach of the gun for extremely narrow or hard to reach spaces.
Our Verdict
This is an ideal pick for professional-level projects that are going to require ample amounts of staples and fast. On top of that, it also has the factor of being probably one of the lightest pneumatic staple guns that can be bought, which is a factor that adds greatly to how easy it is for users to wield it! Staple fast, staple accurate… time saved is money saved! If you're in the market for a lightweight pneumatic gun for furniture and fabrics, this is the best upholstery staple gun on our list.
Pros
It comes with a 30-day performance certification and a limited one-year warranty along with a handy carrying case.

The gun is incredibly light and easy to use.

The exhaust port built in the back of the staple gun allows for the exhaust to travel behind the user.

It can hold up to 180 staples, which makes it the perfect buddy for staple-intensive projects.
Cons
It doesn't have a pressure-activated safety nose, which makes safety a little iffy. This gun isn't really for the layman and is definitely geared more towards the professional.

Customers complain about misfires often with this staple gun.
---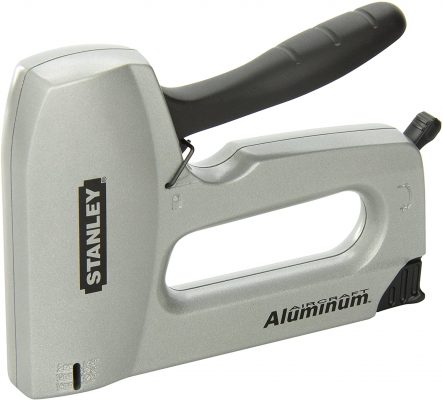 Why we like it:
Made out of aircraft-grade aluminum and backed by a lifetime warranty, the Stanley Sharpshooter will serve you well through project after project.
Editor's Rating:
Details
This is a heavy-duty version of a manual staple gun brought to us by Stanley, one of the most reliable brands on the market. Made of aluminum sourced for aircraft, this is a powerful manual staple gun that can take 6- and 14-millimeter heavy-duty staples. This product can penetrate pretty deep, but due to its power-adjusting lever included with it, the Stanley TR150HL can also be used for materials that require less impact than others.
The anti-jam mechanism on this model is really interesting. The handle itself holds a locking component which can save you lots of time and keep you from needlessly wasting numerous staples. This is a really good thing because this gun can hold a lot of staples due to its heavy-duty construction.
The Stanley Sharpshooter is a really light staple gun, weighing in at around 1.45 pounds. It comes with a fantastic grip that can even be adequately used while wearing bulky, protective gloves. It's also small enough to toss into any kind of ready bag or even a decent-sized toolbox.
Our Verdict
Some Amazon.com reviewers mentioned that they had a little bit of difficulty squeezing the trigger on this manual staple gun. Some have also reported that the staples themselves were hard to load in the gun itself. Despite some of these concerns, however, we can say that this is one of the best, hard-to-damage, and versatile manual staple guns out there today.
Pros
Has the power level for varied work output.

Made of high-quality aircraft aluminum.

It comes with a limited lifetime warranty.
Cons
It requires a certain amount of grip strength for the trigger.
---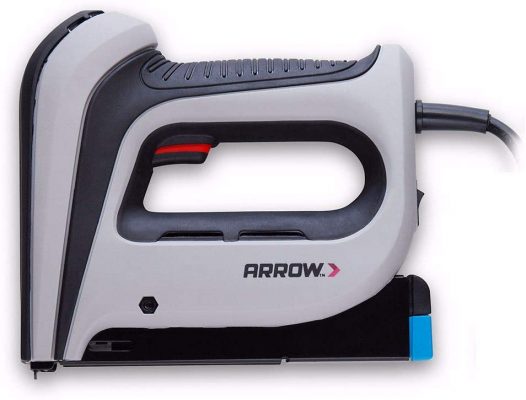 Why we like it:
This versatile electric staple gun lacks a battery and needs to be plugged in, but you gain a lot of power and longevity for the trade-off in portability.
Editor's Rating:
Details
This is a slick, modern-looking electric staple gun that has a lot of great properties to it. The first thing you notice about it is its futuristic design: it almost looks like a weapon that would be used in sci-fi video games, like Halo! But don't let looks deceive you, this isn't some flimsy piece of plastic. It is sturdy, durable, built for all sizes of hands out there and it has a slip-resistant grip. The model also can utilize both staples as well as nails, making it a highly versatile staple gun for all sorts of projects.
It has a fast-release staple magazine at the bottom of the gun for quick reloading. On top of that, there's a nifty indicator light near said magazine that lights up when it's time to reload your staple gun. The gun also has a fantastic LED light built into it that lights up the area you are working on at the given time so that you can effectively see what you are doing. This is one smooth staple gun!
Our Verdict
Despite being corded and having no real depth adjustment capabilities, this is a solid electric staple gun for the price. It's got the looks, comfort, and versatility—and it won't cost you an arm and a leg!
Pros
Lightweight to boot!

LED lights to illuminate what you are doing.

Digital indicator for staple amount.
Cons
No depth adjuster.

Not as high-powered as a more expensive electric staple gun.
---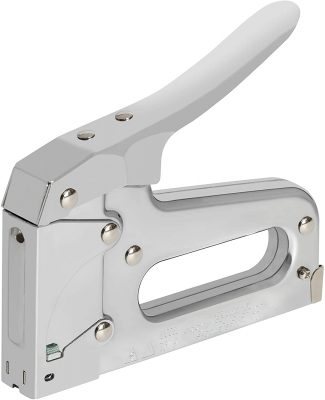 Why we like it:
The classic design of the Arrow T50 means it might not be powerful enough to pierce through heavy-duty materials, but it's simple, easy to use, and perfect for general household purposes.
Editor's Rating:
Details
This looks deceptively like any old staple gun you could purchase at a local dollar store, but looks are ultimately deceiving sometimes, aren't they? While lots of garden-variety staplers look shiny and chrome, the Arrow Fastener T50 model is 100 percent solid steel, with a shiny chrome outer layer. This kind of steel housing has a distinct advantage over, say, aluminum. This thing can take a beating!
The Arrow Fastener T50 is built to avoid jamming concerns with its own internal anti-jamming system, however there is a noticeable absence of adjustable power level settings for more fine-tuned work. It seems to do all sorts of jobs well, from construction to household stapling, but if you want 100 percent depth-control with your staples this isn't the model for you.
Weighing in at 2.0 pounds, this is a heavier staple gun than the above Stanley TR150HL, but that's to be expected with the steel housing. So, if you're not too concerned about sacrificing toughness for a lighter weight, then this product is a pretty good bet.
Our Verdict
The Arrow Fastener T50 model manual staple gun is an extremely strong product. When you compare its durability with its price, this purchase should be a no-brainer for a consumer who is looking for a quality manual staple gun for general household work. Just don't expect to be doing high-octane stapling work on hard materials with it!
Pros
Tough, durable chrome steel housing.

Jam-resistant, and built for comfort.

The staple window gives you a head's up when you need to refill.
Cons
Lack of adjustable power level means fine-tuning staple depth is impossible.
---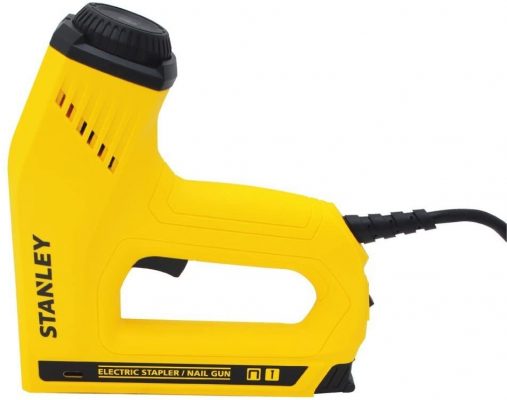 Why we like it:
Able to handle nearly any staple type and boasting enough power for all but the toughest materials, this little yet powerful electric stapler is another excellent household option.
Editor's Rating:
Details
At a diminutive 2.34 pounds, this is easily one of the tiniest electric staple guns on the market today. You can also use a variety of staples with this product, anything from Arrow T-50 staples all the way to 5/18-inch brad nails. Due to this selection pool when it comes to this tool's output, the Stanley TRE550Z is a great choice for a variety of your project needs.
This electric staple gun comes with an anti-jam mechanism, and safety implementations in place so that the gun doesn't go off unless there's pressure being applied to the nose. It also has a solid handle molded for maximum comfort for any hand size.
This is a staple gun for lower-end projects that don't require you to pierce really tough materials and surfaces. There is a dual selector mechanism on the gun that allows you to choose different depth power settings, but it only really makes a marginal difference at best. You're not going to be punching through metals and hardwoods very effectively with this Stanley lightweight model… but honestly, that's not what it's really designed for.
Our Verdict
If you need an electric staple gun for really high end, hard material work, this probably isn't the pick for you. However, if you're looking for a low-cost electric staple gun that can handle most, if not all, your domestic needs, then this is a pretty safe purchase to consider.
Pros
Great price value for what you get!

Eight foot cord included with the kit, keeping you from needing an extension for most project.

Awesome staple variety capability.
Cons
Missing power for really tough materials and surfaces.
---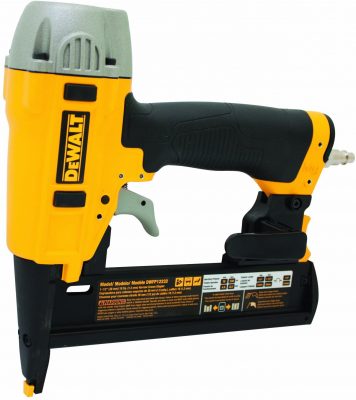 Why we like it:
For extremely heavy-duty projects, you can't beat the power, durability, and versatility of the top-of-the-line pneumatic DeWalt DWFP12232.
Editor's Rating:
Details
DeWalt builds things tough… in fact, it's part of their slogan! This particular pneumatic staple gun weighs in at 5 pounds, which, while fairly heavy for an end-user, is actually rather light for such a heavy-duty piece of hardware in general! This gun is made mostly for people who are going to be doing stapling on relatively light materials and surfaces… no heavy metals or extremely dense woods for this bad boy!
The trigger on the gun is spring-loaded, which makes pulling each shot with your finger an absolute breeze (and an absolute pleasure). There's also a handy indicator on the gun that tells you when it's time to reload the 100-count magazine full of staples. Another cool included accessory is a hook for one's belt that keepsthe staple gun close by at all times. Worried about the gun going off by accident? Don't worry, DeWalt's DWFP12232 comes with a safety mechanism that requires you to be pressing the nose of the gun on something in order to fire in the first place.
Our Verdict
This is a sturdy, well-built product that comes with a great brand name backing it up, but for most home-owners and less professional users, this isn't going to be the staple gun of choice for you. Not only does it not come with a required compressor in the kit, but the price point isn't nearly as good as the other two options presented in this buyer's guide. Still, the DeWalt DWFP12232 is a solid staple gun for those that require brand name power behind their purchase.
Pros
Rear exhaust keeps things neat and tidy and keeps particles away from the user.

It's a solidly built tool while still keeping things (relatively) lightweight.

Safety lock so the gun won't go off by accident.
Cons
Still rather heavy at 5 pounds.

A compressor doesn't come with the kit. You have to buy it separately.

It's more expensive than equivalent types of pneumatic staple guns.
---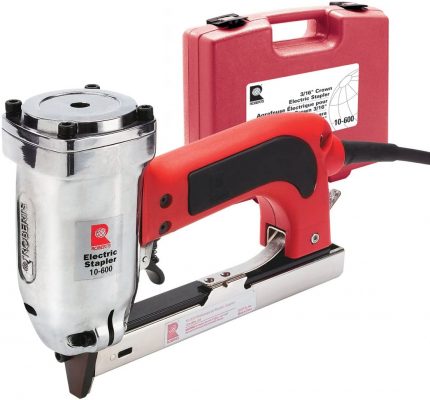 Why we like it:
Though it can only accept a single staple size, this is one of the most powerful and durable electric staple guns around.
Editor's Rating:
Details
Weighing in at 6 pounds, this is the heaviest electric stapler on the list. However, it's still inexpensive compared to other models out there. This model comes with a handle treated with a non-slip agent, which makes this perfect for working out in the rain . You won't drop this staple gun… ever! On top of that, the entire staple gun is heat-treated when manufactured. This makes it an obscenely strong, durable staple gun!
The only real downside to this gun is that it can only use 9/16-inch 20-gauge staples with 3/16-inch crowns… but that's it. If most of your work is going to require that size, then you're good to go with this product, otherwise consider seeking a more versatile electric staple gun for your needs.
Our Verdict
Due to the Roberts 10-600 using only one kind of staple, we can't rightfully recommend it as a general-purpose electric staple gun. However, if you only require the previously stated size of staple for whatever you're working on, this a low-priced, extremely safe, and durable staple gun that is given high accolades for what it does. It does one thing, but it does it well!
Pros
Quick-release staple magazine for fast reloads.

Fairly long power cord.

No-slip handles for premium grip and safety.
Cons
It can only accommodate one staple size.
---
Guide to Buying the Best Staple Gun
Here's a more expanded view on the different kinds of staple guns out there, and the value each individual one can give you. As stated above, be diligent when it comes to determining the type of staple gun model that best suits your home improvement means.
Manual Staple Guns
These are the kind of staple guns that most of you reading this are likely to be familiar with. They are pretty much the cheapest staple guns, and you can find them practically anywhere. Manual staple guns work in a very simple, mechanical manner. Your hand provides all of the power the staple gun needs in order to activate the "hammer" on the inside of the gun, which then slams the staple into whatever substance you happen to be working with. These kinds of staple guns require absolutely no external power source, so you can staple to your heart's content without having to worry about something as pesky as battery power.
One of the downsides to manual staple guns is that they require the user to, literally, give the trigger a squeeze in order to function. Because of this fact, they require the most strength to manipulate the user's end. The good thing about this is you can literally take them anywhere with you, due to its relatively small size. The bad news is that if you suffer from an arthritic condition, or you just haven't developed the necessary hand strength yet, then large-scale stapling projects might end up being something of a chore for you… and your hands!
Electric Staple Guns
These are typically the next tier up in price from manual staple guns, but they are a lifesaver when it comes to projects that require tacking down lots of items. They basically function via the utilization of electricity that gives power to a motor inside the stapler. One clean trigger pull equals out to one clean staple neatly embedded in whatever substance you happen to be targeting at the time. This saves both wear and tear on your hands, as well as minutes on the clock.
Electric staple guns come in two main categories: corded and battery-powered. The corded variety easily is the most dependable of the two, but the obvious downside is that you need to be pretty close to some kind of outlet, or at the very least have an extension cord (or two!) handy.
These kinds of staple guns allow for absolute precision with where the staples end up in the material, while keeping your precious hands from too much use and abuse. Electric staple guns are also great for doing corner work or applying staples to a ceiling, as they can apply a proper amount of force for those areas that a manual staple gun might not effectively produce. The ultimate downside is all that all this stapling efficiency comes with a fairly hefty price tag!
Pneumatic Staple Guns
These are special staple guns mostly used in the construction industry, and they are generally considered to be professional-level tools. Most homeowners and other individuals concerned with smaller projects wouldn't consider purchasing such high-end equipment. These kinds of staple guns use compressed air in order to quickly and accurately insert staples, nails, and tacks.
Another benefit of pneumatic staple guns is that they are less complex to build, which ultimately means they are not as easy to break as opposed to, say, electric staple guns. These kinds of staple guns are what you could call heavy-duty models, and they are not only manufactured to deal with the most arduous of stapling tasks, but they are also built to withstand a great deal of punishment themselves. These are sort of the "tanks" of the staple gun world, which can make them quite expensive.
While these kinds of staple guns are a little too aggressive for most home improvement projects, bigger industrial and construction groups can make great use out of them. Electricians, flooring installers and even large-scale furniture manufacturers all benefit from the sheer power of a pneumatic staple gun.
Upholstery Staple Guns
If you're in the business of remodeling and maintaining furniture, this is the kind of staple gun for the task! Upholstery staple guns come in manual, electric, and pneumatic varieties, but they typically differ in power from the standard options in each category. They aren't necessarily as powerful as a typical pneumatic or heavy-duty staple gun, but they are a lot more efficient in use than, say, a manual one that isn't rated for upholstery use!
When purchasing a staple gun for upholstery work, two main functions need to be looked at prior to making said purchase. First, make sure the stapler can drive in staples as deep as mechanically possible. Furniture thickness varies, and you don't need subpar staple depth when it comes to upholstery work.
The second thing you should be looking into is the overall weight of the model you're interested in purchasing. Furniture upholstery is a time-consuming task, and you are going to be at the job for quite a while per day. Be sure to choose a staple gun that isn't so heavy that you couldn't see using it for more than an hour at a time.
Some General Attributes to Always Look For
Here are a few very general tips to keep in mind when shopping for just the right kind of staple gun. Don't be hoodwinked into buying a low-quality tool, and keep these key things in mind.
Ease of Use
Ideally, the staple gun you end up purchasing shouldn't cause your hair to grey any faster than it already is. There's a distinct chance that the project you actually need the staple gun for could end up taking hours and hours of your time. Don't buy a product that is inordinately heavy or bulky, or otherwise difficult to move around hard to reach areas like the corners of a house or ceiling areas. This might seem like a really obvious concern to have in mind, but you would be amazed at how many people don't consider how taxing prolonged use of a heavy staple gun can actually be!
Power Adjustability
Power setting dictate just how deep staples are driven into a given object or material. Obviously, you don't want high levels of stapling power used on something like balsa wood… it would absolutely shatter such a soft wood like that! Being able to adjust the ultimate driving power is a crucial part of modern staple guns, and it is good practice to find a product that allows for variable power settings.
Size
Another "duh" thing to look out for, but if you're prone to working in lots of areas with small, narrow corners, purchasing a huge and bulky staple gun isn't in your best interests. When in doubt, take accurate measurements of your working area, and base them on the length and width of the staple gun you have an interest in purchasing… it'll save you time and keep your stress levels lower in the long run.
Something else to take into consideration is how the shape and size of each individual staple gun can affect efficiency. If the staple gun has a small trigger or grip handle, then individuals with bigger hands are going to have a very hard time being accurate and efficient with their work. Also, be aware of just what the grips of the handle are made of. Rubber is a great choice, as it keeps hands from slipping even in the worst of conditions, like bad weather.
Toughness
If you are expecting your staple gun to pound away at extremely hard surfaces for hours at a time, durability is going to be one of the top things you need to look out for prior to purchase. Heavy-duty models are the only way to go in industries that are constantly driving staples into hard surfaces, such as stronger types of wood and even assorted metals. The cost of low-quality staple guns add up, especially in repair costs… so choose wisely the first time!
Fasteners
Most staple gun can shoot generalized staple sizes, but not all of them are designed to use alternate versions of staples for different construction needs. For example, there are fasteners called "brads" (small wire nails) that only a small amount of guns are equipped to use. Different kinds of work require different solutions, but not all staplers are made equal. Be sure to look out for 3-in-1 (or better) staple guns that can handle a variety of staple types.
Jamming Protection
Staples can jam into guns on the regular. Think about the last time you used a manual staple gun for a long period of time… it probably happened at least once or twice! This is both aggravating and time-wasting. Make sure any future staple gun you purchase comes with an anti-jamming tool if you're invested in wasting less time on the process than usual!
Warranty
We wouldn't necessarily worry about getting a warranty for a manual stapler, due to their price and the fact that they can potentially survive an apocalypse due to their durability. However, if you're dedicating a certain amount of cash to a pneumatic or electric stapler, perhaps it might be best to invest in a warranty in the process. Anything could happen at any time, and you don't want to be left out in the dark if your precious tool breaks down in the middle of an important project… let a warranty put your mind at rest no matter what happens.
With all of this in mind, buying the best staple gun for you should be a breeze. Keep in mind how you're going to be using the gun and look at each gun's features, build quality, and ideal use and you'll be well on the way to putting the troubles of poorly-chosen staple guns from your past behind you.