Spray paint is a widely helpful type of paint for many DIY and art projects, including decorating a metalwork project, sealing and protecting a grill, or revamping an old metal mailbox. That being said, any spray paint you use on metal needs to be designed for that purpose, otherwise you run the risk of the paint chipping or not even adhering to the metal.
To help you make your decision on which spray paint for metal to purchase, we've put together a guide of the best paints out there. You'll also learn what's important to consider before buying your spray paint for metal and discover the best way to spray paint your metal projects. Read on to learn everything you need to know!

Why Does Metal Need Specialized Spray Paint?
Metal is not one of the most porous surfaces out there and can often be quite glossy. While this may look nice, it means that it can be very hard to get paint to stick to metal unless you are using a paint specifically designed for metal painting.
Any spray paint that is suitable to use on metal will have an improved level of adhesions, making it stick to the metal surface much more easily. Metal spray paints may also be heat resistant, as they are commonly used outside or on cars, like the Dupli-Color spray paint, or may be suited for both indoor and outdoor metal use, like Rust-Oleum's Painter's Touch.
Considerations When Buying Spray Paint for Metal
Before purchasing spray paint for your metal projects, you should understand and keep these important product considerations in mind.
Durability
Durability is especially important in a spray paint, as metal projects are most often kept outside where they will be exposed to the environment constantly. This can introduce high heat, water, and cold temperatures on a regular basis.
The spray paint that you select should take into account all of these factors, making it suitable for outdoor and metal usage. In the case of spray painting a grill or similar item, you also need to make sure your spray paint is suitable for high temperatures, like with Krylon's High Heat spray paint.
You cannot use an indoor only spray paint on exterior metal objects as the paint will completely chip and fade off, often in a pretty short amount of time.
Color
Finding a spray paint that offers you multiple color choices is a good idea, as this will lend you more versatility when it comes to your many metal DIY projects or creating art with the spray paint. Make sure to also pay attention to the finish of your spray paint along with the color, as this will give you a fair estimate of what the paint will look like when it is completely dry.
If you are looking for a metal spray paint with plenty of color options, we recommend Krylon's COLORmaxx line of paints.
Curing Time
The curing, or drying, time of your spray paint is important to keep in mind. Some spray paints are designed to be fast-drying, while others can take up to 12 hours to fully dry before you can apply another coat. Make sure you know the estimated curing time of your spray paint before purchasing so you can better plan out your DIY metal projects.
Added Benefits
Along with being suitable for use on metal, some spray paints may have added benefits. This can include things like being useable both indoors and outdoors, being resistant to UV rays, or inhibiting rust from forming on your metal. Other paints, like Rust-Oleum's Hammered Spray Paint can even minimize surface imperfections on your metal, thanks to their finish.
It is a good idea to understand which added benefits your chosen spray paint has so you can maximize its potential on your projects.
Now that we've discussed the most important considerations for purchasing a spray paint for metal, let's head into our reviews of the best products out there!
Top 9 Best Spray Paints for Metal 2022

Why we like it:
The Rust-Oleum Hammered Spray paint is durable and works to hide the appearance of surface imperfections, revitalizing your metal.
Editor's Rating:
Quick Facts:
Colors Available: 14
Curing Time: Approximately 4 hours
Added Benefits: Hides surface imperfections
This spray paint features an oil-based formula that gives it added durability. It is both weather and corrosion resistant, which makes it a good choice for applying on metal projects that will be permanently outside. You can also apply this paint directly over rust, which is very helpful if you don't have the time to completely scrape off rust before spray painting your metal.
The hammered texture of this paint is designed to minimize and hide the appearance of surface imperfections. This makes it a good choice if you are trying to revamp an old piece of metal or dress up an old metal appliance, such as a mailbox.
On the downside, the Rust-Oleum Hammered Spray Paint is not the truest to color paint. It can often appear duller or darker than what is advertised on the can. The spray may also come out unevenly, meaning that you need to take care when painting to get an even coverage. If you are looking for a paint with more coverage on each spray, we recommend looking at Krylon's COLORmaxx Spray Paint.
Pros
Weather and corrosion resistant

Hammered paint hides surface imperfections

Can apply directly over rust

Oil-based formula for added durability
Cons
Not true to color

May spray unevenly
---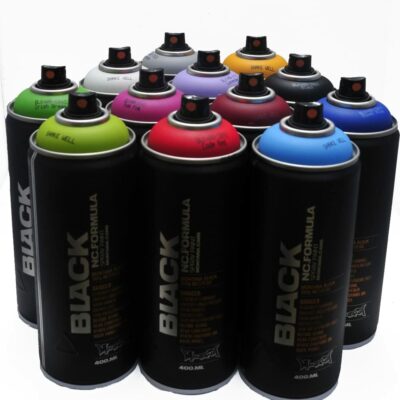 Why we like it:
This premium spray paint from Montana Black is designed for artistic use and comes in a bulk pack of 12 different colors.
Editor's Rating:
Quick Facts:
Colors Available: 12
Curing Time: Approximately an hour
Added Benefits: Bulk set of paints
If you are interested in purchasing spray paint for artistic and street use, the Montana Black Spray Paints are some of the best you can get. The colors are designed to be bright and vibrant, and you can even purchase a set of fluorescent colors, in addition to packs of just black and white paints. The paints are available in bulk packs of 12 different colors, which is a great option if you want to purchase a complete set of paints, instead of purchasing colors individually.
Unfortunately, because these paints are more premium, they tend to be on the more expensive side, which may be a dealbreaker for someone who isn't that interested in using the paints for art. The nozzles on these cans also clog easily, which can make for a lot of work changing out and cleaning the nozzles that you may want to avoid altogether by purchasing a different item.
Pros
Designed for artistic use

Bulk 12 pack of spray paints

Fluorescent colors available
Cons
Can be expensive

Nozzles clog easily
---

Why we like it:
The Kyrlon COLORmaxx Spray Paint features plenty of color options at a budget-friendly price.
Editor's Rating:
Quick Facts:
Colors Available: More than 25
Curing Time: Approximately 1 hour
Added Benefits: Very affordable
Coming in at under 10 dollars a can, the Krylon COLORmaxx Spray Paint is suitable for most budgets. And even though the product is affordable, you are still able to choose from a large line of both colors and finishes, which makes the paint great for any DIY enthusiast not looking to break the bank with their projects.
This spray paint features a larger nozzle and an easy push button. Together, this achieves coverage over a larger area with each spray and allows you to paint comfortably, as your hand will not easily get fatigued pressing down the spray button.
Even though the Krylon COLORmaxx paint can dry to the touch in under an hour, it can take up to 48 hours after your last coat to have the paint completely dry. If you try to use the metal item before the 48 hours, you may experience paint chipping or rubbing off. Additionally, this paint may be on the watery side and can drip down the can, so you need to be extra careful when applying it.
Pros
Affordable

Plenty of color options

Larger nozzle for more coverage
Cons
Full cure time takes 48 hours

Paint may be on the watery side
---

Why we like it:
This combo spray paint and primer is perfect for saving time on all of your metal painting projects.
Editor's Rating:
Quick Facts:
Colors Available: More than 25
Curing Time: Approximately 4 hours
Added Benefits: Combo paint and primer
The Krylon Fusion All-In-One Spray Paint features both a paint and primer in one, so you don't have to worry about purchasing separate items. There is no preparation needed for this paint, so you can apply it directly to your clean metal project without any type of sanding or other primer application.
Thanks to the presence of a primer in the paint, it does tend to stick onto metal more easily, making it highly adhesive and unlikely to chip or rub off once the paint has dried. There are multiple finishes and colors of this paint available, making it a good choice if you are looking for a brand to offer you spray paint variety.
Some of the colors of this product may not be as bright as depicted or as true to color. If you are concerned that your colors won't be as vibrant or decorative, you may want to check out our pick for best décor spray paint instead.
Pros
All-in-one spray paint and primer

Sticks to metal easily

No preparation sanding required

Multiple finishes available
Cons
Colors may not be as bright as depicted
---

Why we like it:
The Rust-Oleum Protective Enamel Spray Paint is both highly protective for your metal items and weather-resistant.
Editor's Rating:
Quick Facts:
Colors Available: More than 25
Curing Time: Approximately 4 hours
Added Benefits: Weather-resistant
The Rust-Oleum Protective Enamel Spray Paint is a highly durable and protective paint that is good for use on any of your metal items. The product is oil-based and designed to form a coating over your metal project, making it fully weather, corrosion, and environment resistant. It makes a good choice if you want something strong and durable to paint your outdoor metal items with.
This paint is UV resistant, meaning that the color will resist fading or chipping caused by the sunlight. The protective paint coating will also prevent rust from growing, which will leave your metal items looking beautiful for a long time. If you plan on leaving your metal projects around water or outside in the rain, this is a good product to use.
Because this product is oil-based, it can take a long time to fully dry, despite the can advising the paint will dry within 4 hours. You may have to wait up to 3 days for all paint layers to be fully cured. Additionally, you need to spray this paint on a completely smooth, prepared surface, as any minor imperfection or debris can cause bubbling in the paint. If you are looking for something to cover up surface imperfections, we recommend the Rust-Oleum Hammered Spray Paint instead.
Pros
Fully weather and environment resistant

Protective coating prevents rust

UV resistant
Cons
Can take a long time to fully dry

Must be sprayed on a smooth surface
---

Why we like it:
The any angle nozzle on the Rust-Oleum All Surface Spray Paint is perfect for easy application of the paint onto any type of metal project.
Editor's Rating:
Quick Facts:
Colors Available: 26
Curing Time: Approximately an hour
Added Benefits: Any angle nozzle
The Rust-Oleum Universal All Surface Spray Paint lives up to its name and is perfect for using on metal and most other surfaces. It can be a great choice if you have a project that is partly metal and partly another material, as you can be sure that this paint will stick to both surfaces evenly and without issue.
This product has an any angle nozzle on it which allows you to spray the paint however you like; this makes for a simple application of paint onto metal projects that are intricate or cannot be taken apart to be painted. The metallic appearance of the paint is fade-resistant and gives your products a smooth, classy-looking sheen.
Due to the color and oil base of this spray paint, it can come out quite thick and a little bit tacky. You will need to shake the can thoroughly before painting anything and will likely need to wait up to 48 hours for each paint coat to dry before applying the next one to ensure that the paint doesn't chip or rub off.
Pros
Works well on multiple surfaces

Any angle nozzle for easy application

Fade-resistant metallic appearance
Cons
Paint can be very thick and tacky
---

Why we like it:
Perfect for use on cars and other automotive accessories, the Dupli-Color spray paint works well on chrome and other metals.
Editor's Rating:
Quick Facts:
Colors Available: 5
Curing Time: Approximately an hour
Added Benefits: High gloss, anodized color effect
Designed exclusively for use on chromes and other polished, shiny metals, the Dupli-Color Metal Cast Spray Paint is a great choice for using on cars or other automotive accessories; its highly adhesive nature allows it to stick easily to some of the most difficult metals, making it a good choice if you have a very shiny chrome project that other paints won't work with.
The color of this paint is high gloss and anodized in appearance, adding an eye-catching appearance to your vehicles. It is a good choice if you regularly work with cars and want to try your hand at customizing a vehicle's appearance, or if you prefer a brighter, more metallic color. This paint also has intermittent heat resistance up to 500 degrees Fahrenheit, which means it won't peel or chip no matter where it is sprayed on your car or metal accessory.
You will need to apply this paint using multiple thin coats, as applying too much at one time can make the paint look uneven or become tacky. You will also need multiple coats to allow the color to reach its best appearance; between 3 and 5 coats is recommended as the best number. And if you want to apply the paint onto a non-chrome or metal surface, you will need to purchase the base coat separately to get the paint to stick properly, which may be too much of a hassle for some.
Pros
Intermittent heat resistance up to 500 degrees Fahrenheit

Works well on chrome or shiny metals

Perfect for use on cars and automotive accessories

High gloss, anodized color
Cons
Must be applied in multiple thin coats

Base coat needed for non-chrome or metal surfaces
---
8.

Best Spray Paint for High Temperatures:

Krylon High Heat

Why we like it:
The Krylon High Heat spray paint is equipped with durable Thermo-Guard protection and can help dress up any metal item that comes into contact with high temperatures.
Editor's Rating:
Quick Facts:
Colors Available: 5
Curing Time: Approximately an hour
Added Benefits: High heat resistant
Perfect for using on grills, fire pits, or stovetops, the Krylon High Heat spray paint is equipped with durable Thermo-Guard protection. This makes it resistant to a continuous high heat temperature of 600 degrees Fahrenheit, with intermittent high heat resistance up to 1,200 degrees Fahrenheit. If you know that you need a spray paint to cover up a metal item that will be exposed to high heat, this spray paint is the product to get.
The paint does leak out of the nozzle easily and can cause drips onto your painting project, so you should be sure to take care when applying the paint. You also need to make sure that you don't apply the paint to kitchen stovetops or to areas that are directly exposed to flames, such as the rack or grate of your grill; you can apply it all around the grill or fire pit, just not directly onto the rack.
Pros
High heat resistant up to 1200 degrees Fahrenheit

Continuous heat resistant of 600 degrees Fahrenheit

Durable Thermo-Guard protection

Perfect for grills or fire pits
Cons
Paint leaks out of nozzle easily

Cannot use on direct flame exposed areas
---

Why we like it:
The Rust-Oleum Painter's Touch spray paint is a great option for decorating all kinds of metal décor both inside and outside of your home.
Editor's Rating:
Quick Facts:
Colors Available: More than 25
Curing Time: Approximately an hour
Added Benefits: Ultra Cover paint for fewer coats
The Rust-Oleum Painter's Touch spray paint features Ultra Cover technology which makes the paint just a little bit thicker but does the job of two paint coats in one. This extra paint coverage means that you will be able to spend less time waiting for coats of paint to dry or applying additional coats because one single coat will do the job just fine! It is a good choice for a DIY painter who doesn't have a lot of free time.
This paint is suitable for both indoor and outdoor use, and it can be used on all kinds of metal décor. You can also use it on plastic and wood, making it a good choice for a metal project or furniture items that are made out of multiple different materials.
Unfortunately, this paint tends to peel fairly easily if you don't wait for it to fully cure before applying another coat of paint, or if you expose it to the environment too often (we recommend Rust-Oleum's Protective Enamel Paint for outdoor metal items). You also need several cans of paint to cover much larger metal painting projects, which makes this item a little less than economical.
Pros
Perfect for all kinds of metal décor

Suitable for indoor and outdoor use

Extra paint coverage for fewer coats
Cons
Paint peels easily

Takes several cans to cover larger projects
---
Your Full Guide to Spray Painting Metal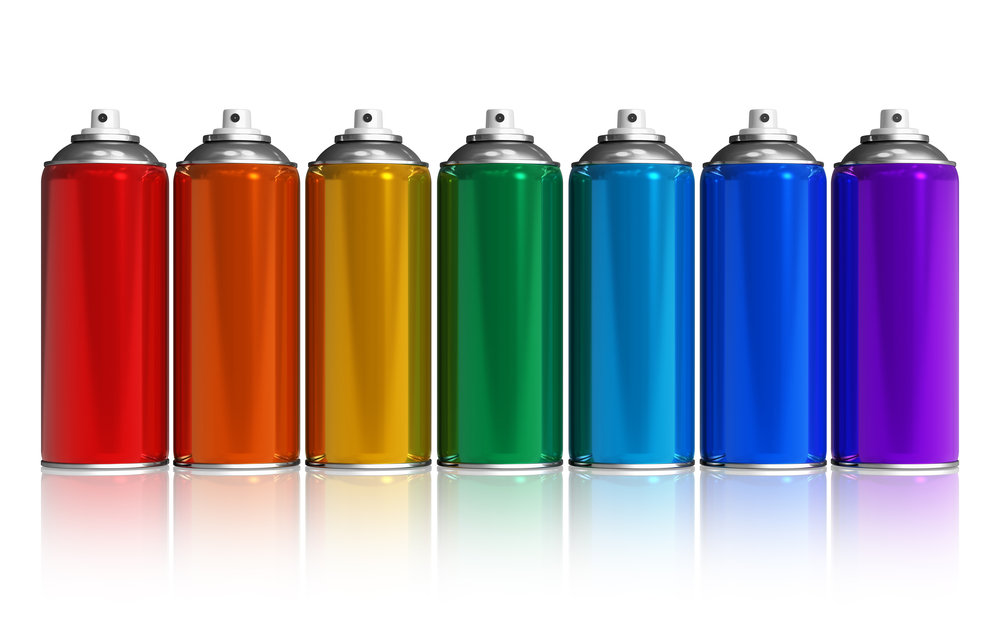 If you have more questions about using your spray paint on metal, check out our full buyer's guide for all the information you need to know!
Benefits of Using a Dedicated Metal Spray Paint
As we discussed above, a dedicated metal spray paint can help you finish your DIY projects up with ease and without worrying about whether the paint is going to stick to your metal surfaces.
Additionally, a spray paint for metal can provide you with additional benefits such as high temperature heat resistance, UV protection, and rust growth inhibition. You can even use certain metal spray paints to decorate chrome and polished metal surfaces, making them a good choice for use on vehicles (we recommend this product if you are looking to decorate cars).
A dedicated spray paint for metal will stick to your DIY projects better, appear more favorable, and will act more durable over time.
Steps for Spray Painting Metal
This step-by-step guide can help you get started spray painting and making your projects look their best.
Prepare Your Paint Area
Before applying any paint, you will need to prepare both your metal surface and the area you are working in. The metal should be cleaned and wiped down of all dust and debris; leaving anything like this on the surface can make it harder for the paint to stick or may leave the appearance of the paint bumpy.
You may also need to remove rust from the surface of the metal in order to make it completely smooth. You can use sandpaper or a putty scraper to do this, or you can follow the tips in this article here.
Prepare yourself for painting by wearing clothes you don't mind getting dirty. You will also need protective gloves, eyeglasses, and a mask, as you want to avoid getting spray paint into your eyes or inhaling any of the paint fumes. Make sure to apply your spray paint in a well-ventilated area, far away from anything you don't want to accidentally be stained with paint.
Use a Primer
Using a primer is optional (we will talk about this more in our FAQs) and only needs to be done if you want your spray paint to have extra grip onto the metal. In most cases, you can simply purchase a spray paint that is both a paint and primer, as this will give you the best of both worlds without you having to take the time to apply a primer.
If you do choose to use a primer, apply it carefully in a thin coating over the entire metal surface. Wait for it to dry fully before applying your first coat of paint.
Shake and Test the Can
Once you have your painting area set up and you are prepared with your protective clothing, you should shake up your paint can for between 45 and 60 seconds. Perform a test spray onto a piece of cardboard to ensure that the paint is coming out correctly.
If you see spitting or an uneven spray, the nozzle may be clogged or malfunctioning. You can try and clean it with warm water to remove the clog, then shake it and perform another test spray. If there is still spitting or giving an uneven spray, try using a new can of paint instead.
Paint the Metal
After you've ensured your spray paint is working correctly, it's time to paint the metal. You should always begin and finish paint by spraying off to the side of your metal project, as this ensures that the only paint to hit the surface is coming out in an even, steady stream.
Hold the can approximately a foot away from the surface you are painting and work in a steady side to side or up and down motion to cover it. After every row of paint, you should shake the can for 5 to 10 seconds before applying another row. Each row should overlap slightly with the previous row to give a smooth application.
When painting larger items, move along with your paint can, taking steps instead of just moving your arm; just moving your arm may change the density of paint and can prevent you from getting full, even coverage.
Try not to pause while applying a row of paint or spray too much in one area, as this can create large drips or an uneven application. If you do end up with wet paint drips, you can remove them with a dry, clean cloth. If the drips have dried, sand them down and then wipe the dust off with a clean cloth.
Wait For Curing
How long you need to wait for the paint to cure depends on the type of paint you are using. It may be between 15 minutes or several hours, so make sure to check your spray paint can for the manufacturer's recommendation. After your first layer of paint has cured, you can apply up to two more layers in the same fashion, waiting for the appropriate amount of drying time between each.
Before using your spray-painted item, you should wait for 24 hours to ensure that every layer of paint has dried; this will prevent smudging and safeguard against any type of paint transfer onto you or your clothing.
DIY Spray Paint Tips
These DIY spray painting tips can help your work look as professional as possible with less stress.
Use a Controlled Environment
Most professional painters who frequently work with spray paint will have a controlled environment set up where they can use the paint without the worry of wind or dirt interfering. If you want to avoid the risk of the environment ruining your paint job or blowing your spray paint in every direction when you apply it, you can create your own controlled area.
Spray painting is typically better done outdoors due to fumes, so we don't recommend setting up a controlled environment anywhere indoors that is not well-ventilated. Use cardboard or wood boards as a shield around your metal project to protect it from the wind. This video can give you more detailed instructions about creating a controlled environment for your spray painting projects.
Don't Be Afraid to Disassemble
Sometimes, it can be difficult to properly cover every part of your metal surface without taking it apart. Don't be afraid to disassemble metal tables or chairs whenever possible in order to reach every spot of metal and completely cover the surface. Just make sure to wait until all of the paint is dry before putting the metal item back together again.
And if you are looking for a spray paint that can help you hit all the angles of a metal project no matter what, we recommend looking back at Rust-Oleum's Universal All Surface Spray Paint.
Swap out Clogged Nozzles
In the case you experience a clogged nozzle on one of your spray paints, don't panic or immediately throw the paint away. Chances are you can easily swap out the broken nozzle for a working nozzle from an old can of spray paint, allowing you to continue using your paint without waste.
Ensure a Supreme Grip
If you really want to be sure that your spray paint adheres to the metal surface, you can lightly scrub the surface of the metal with a brush or sandpaper in order to add some texture. Complete this step before wiping down the entire surface with a clean cloth, removing dust and debris, and then apply your spray paint.
Clean Paint Accidents Quickly
It can be easy to accidentally get spray paint onto an area you didn't intend it to go. When this happens, you should act as quickly as possible to remove any paint, as spray paint is much easier to clean up when it is wet. Use a paint thinner and a dry, clean cloth to dab at the spilled paint. Once the stain is removed, wipe up any remaining paint thinner and allow the area to dry thoroughly.

FAQs
Check out these frequently asked questions to answer any of your lingering concerns about purchasing or using a spray paint on metal.
Do You Need to Use a Primer Before Spray Painting Metal?
A primer is a good idea to use if you want to ensure your spray paint will absolutely stick to the metal. You should also use a primer if your metal will be exposed to water on a regular basis. In all other cases, you don't typically need to use a primer before spray painting your metal, but you can always purchase a product that acts as both a paint and a primer, such as Krylon's Fusion All-In-One paint, if you want to cover all your bases.
Which Type of Spray Paint Works Best on Metal?
You can use either water-based or acrylic-based spray paints on metal, as long as they are designed for either metal use and provide some protection against either the outdoors or high temperatures.
How Long Does It Take for Spray Paint to Cure on Metal?
How long it takes for your spray paint to cure on metal depends on the brand of paint you are using, and on how much paint you have applied. Some spray paints are quick-drying and shouldn't take more than an hour to cure. Others will need at least 4 hours to cure, all the way up to 24 or 48 hours to fully dry.
You should also keep in mind that the thicker the layer of paint, the longer it will take for it to dry completely; it is a bad idea to apply another layer of paint to still-wet spray paint, so if you are in doubt about whether or not your paint is dry, just wait 24 hours before adding another layer or using the metal item.
How Do You Keep Spray Paint From Chipping off Metal?
If you notice that your spray paint application is starting to chip off during or shortly after the paint's application, then you need to stop applying paint to that area. Go back and sand down the area, removing the chipping and making it completely smooth.
Once the chipping spots have been removed, you can repaint the area.
How Do You Keep Spray Paint From Rubbing Off?
If you find that your spray paint application keeps rubbing off of the metal, you may be applying too much paint at once, or the surface isn't cleaned properly. Make sure to rub down your metal surface first with a clean cloth, removing any traces of dust or grease.
Apply one thin layer of paint and then wait for it to dry completely before applying another layer. Adding on too much paint at once or before the first thin layer has time to dry can result in the paint not sticking properly, eventually rubbing off.
Metal Spray Paint for Your DIY Needs
Finding a spray paint for metal that is able to meet all of your DIY needs can seem like an overwhelming task, but, fortunately, it is possible. As long as you consider what you are looking for in a spray paint and seek out any additional paint benefits that you may require, you are sure to find the best spray paint for your metal painting needs in no time at all.