You might want to build your own devices for the Internet of Things, or want to fix the broken jack of your old headphones, make a DIY Alexa alternative, or repair your favorite but old and falling apart electric guitar. What's common between these cases – and more – is that you will need a good soldering iron for the job.
In this guide, you will find the top soldering irons available today, but also everything you need to know about them to locate the best one for your needs. A choice that can make all the difference in the world between loving your gear and having your floor covered in third-degree burns.
Things to Know Before Buying a Soldering Iron
Many types of devices fall under the "soldering iron" umbrella term. Although similar, they excel at different things. If you don't choose an appropriate tool for the tasks at hand, you might very well end up buying a second one soon after. And then a third one – along with a new computer without burn holes on its motherboard. Read on to learn how you can find the best one for your needs.
How Does Soldering Work?
Soldering is the electronic equivalent of applying conductive glue – called solder – to metal bits and pieces to 'stick' them together. Using solder not only joins the pieces but also enables the flow of electricity between them.
Types of Soldering Irons
The most basic soldering irons consist of a metal tube that heats up, a heat-resistant grip that allows you to hold them without getting burned, and a heating element inside them. From there, things can get exponentially more complicated.
Standalone Pencils
To power their heating element, "pencil type" soldering irons usually connect to a wall socket, but there are also portable variants. The portable ones rely on a rechargeable battery or a refillable gas canister as their power source.
Adjustable Soldering Irons
The simplest soldering irons don't allow any adjustments – most don't even have a power switch. For some tasks, though, you need more control. That's where adjustable soldering irons come into the picture.
One step up from entry-level models, adjustable soldering irons have a dial for adjusting their temperature. The trade-off is that the circuitry needed for that has to fit in their handle, reducing the available space for the heating element and, thus, their power. That's why the most affordable adjustable models need more power to get up to temperature and struggle to keep it steady.
Soldering Stations
By adding a large box to the equation, soldering stations have the space for smart(er) circuitry and useful features. They can continuously monitor the soldering iron's temperature and keep it stable by increasing or decreasing the power reaching the heating element. Soldering stations come with large screens and extra controls, and some can even store presets for different tasks.
It's probably more important, though, that they contain all items needed for the job – like a soldering iron stand, holders for the solder, and a sponge – under the same roof. When soldering every day, it's tidier to have everything in a dedicated corner on your workbench.
Soldering Guns
Higher powered but less accurate than soldering irons, soldering guns take their name from their shape. They're bulkier, heavier, and heat up and cool down rapidly when you press their trigger. For those reasons, they're optimal for connecting bulky wires or large components. However, they're a terrible choice for sensitive electronics. You can't control them with pinpoint precision, and they produce too much heat that can damage anything more sensitive than a big, fat cable.
Torches
Soldering torches produce a flame that you can tweak with different types of tips, some of which allow them to work as a typical soldering iron. They rely on butane or propane canisters as their power source, and they're usually more powerful but less precise than their electric cousins.

Hot Knives
You can get hot knives as individual devices, but you can also turn a modular soldering iron into a hot knife by swapping its tip. They're shaped like knives and are mostly used in crafts and construction, their heat helping cut materials, engrave shapes, etc.
How to Choose the Best for You
All soldering irons perform a similar task, allowing you to connect things using solder. Their differences, though, mean that you should choose the right one for each type of work.
A soldering station allows you to have everything needed for soldering in one spot but is large, heavy, and demands a constant connection to a power outlet. You can't take it with you to fix your car's MP3 player cables. On the other hand, a butane torch is excellent for such tasks. Still, it can be too overpowered for working on sensitive electronics and better tailored for crafts.
As for how much it will cost you, this, too, depends on your needs and demands. A cheap portable option can be just as good as pricier alternatives for simple tasks. More expensive choices are usually better built, with higher quality materials, both factors that help them last longer. They also typically offer more power, stable temperatures, and in the case of stations, easy-to-read displays and a useful workstation for your projects.
The final thing to consider is your need for tips and accessories, as most of the products on this list don't come with any and you will need to buy extra. You can find out more about this in our full guide below.
With these key things in mind, let's look at some great soldiering irons to help get your repair job or project off the ground.
Top 9 Best Soldering Irons 2022
1.

Best Overall Soldering Iron:

Hakko FX-888D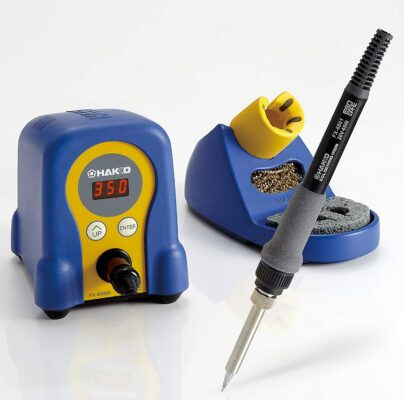 Why we like it:
Excellent build quality, performance, and accuracy.
Editor's Rating:
Quick Facts:
Type: Soldering Station
Power Source: Power Plug
Power: 70W
Temperature Range: 120F – 899F
Tip Compatibility: T18-Series
Included Tips: 1x Conical
Included Components: Soldering Station, Soldering Iron, Safety Holder, Cleaning Sponge, Waterless Cleaner
Hakko's FX-888D was, is, and will probably remain for a long time one of the most popular soldering stations. At least, until an upgraded model replaces it. Yes, it's pricey compared to many alternatives, like Weller's WLC100. Yes, its blue and yellow color combination brings to mind kindergarten toys. Still, many pro-level tools share the same aesthetics – for when you're buying pro-level hardware, that's the last thing you care about. Your priorities lie elsewhere – in the tool's performance, build quality, and ergonomics. Those are precisely the areas where Hakko's FX-888D shines.
With 70 Watts of power, the FX-888D's soldering iron is ready for work in less than a minute. When in use, it can keep the set temperature steady by "bouncing back" quickly from being cooled. It also has one of the widest temperature ranges, making it an excellent option for anything from woodworking to connecting your Tesla to your home-made A.I. without frying it with an unexpected electrostatic discharge.
Two buttons and an LED screen on the soldering station allow you to set the target temperature, define presets for different projects or materials, or even set a password. The Hakko FX-888D also supports digital calibration to ensure you can maintain your intended working temperature – while its high precision also helps, and it comfortably maintains a temperature within 2 Fahrenheit.
We can't think of anything Hakko could improve for an upgraded model. Maybe include more extras, as more affordable options do. Tweak the station's legs and increase its weight – for, as it is, it can move as you tug on the soldering iron's cable.
Pros
70 Watts of Pure Soldering Power

Steady and accurate temperatures

Wide temperature range

Easy-to-use interface

Support for multiple presets
Cons
Very few extras

The station may move while working

Playskool-compatible color scheme
---
Why we like it:
A powerful soldiering station with a more grown-up aesthetic that has impressive temperature accuracy and an ergonomic grip.
Editor's Rating:
Quick Facts:
Type: Soldering Station
Power Source: Power Plug
Power: 70W
Temperature Range: 200F – 850F
Tip Compatibility: ET
Included Tips: 1x Flat/Screwdriver
Included Components: Soldering Station, Soldering Iron, Safety Holder, Tip Retainer, Cleaning Sponge, Screwdriver
Weller's WE1010NA is the best alternative you can find to Hakko's FX-888D top performer. You see, just like Hakko's soldering station, the WE1010NA offers 70 Watts of power, which guarantees blinking-fast heat-up and hyper-steady temperatures with this device. It's similarly accurate within a wide range of temperatures, from a low 200F to a scorching 850F. But wait, there's more.
Although it's a matter of opinion, we find its soldering iron better balanced and its grip more ergonomic than its Hakko-made primary contender. The cable connecting the soldering iron to the station feels less stiff. Weller's offering also ]has a better display and an even easier three-button navigation system. Like the Hakko FX-888D, the Weller WE1010NA supports presets, setting a password, is ESD-safe and comes with a sponge.
Pros
A 70 Watt soldering beast

Speedy heat-up and thermal recovery

Very accurate in a wide temperature range

Dead-easy three-button navigation system

Balanced, ergonomic soldering iron
Cons
Expensive

Solder, flux (and other useful stuff) not included
---
3.

Best Budget Soldering Iron:

Weller SP40NKUS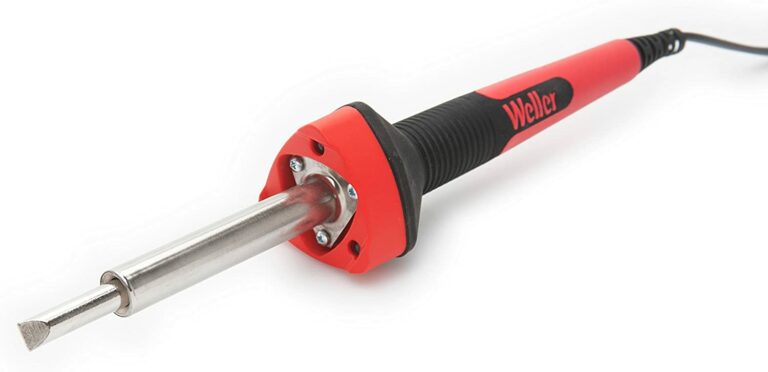 Why we like it:
A trustworthy solution that might not offer professional features but also doesn't skip the basics.
Editor's Rating:
Quick Facts:
Type: Soldering Iron
Power Source: Power Plug
Power: 40W
Temperature Range: Up to 900F
Tip Compatibility: ST
Included Tips: 3x (Conical, Chisel)
Included Components: Soldering Iron, Safety Holder, Solder, Solder Aid Tool
Those who solder day-in, day-out, know why they need a soldering station like Hakko's FX-888D. Those who want to try soldering their joypad's broken battery connector themselves, to save money, experiment, and probably never try it again for years, don't need anything more than an entry-level solution, like LDK's soldering iron.
However, some people sit in the middle, and they would like a trustworthy but affordable soldering iron. A device for those occasions when the dear wife's hairdryer blows a fuse or the kiddo's RC car stops "reading" its battery cells. That's precisely the intended audience for Weller's SP40NKUS.
A no-frills solution, the SP40NKUS doesn't come with stations, de-soldering pumps, or other fancy accessories like a sponge. It's self-consciously presented as a medium-duty consumer product that might not be the most powerful option at 40 Watts, but it's more than enough.
It come with three tips, some solder, a stand, and a solder aid tool, so it has everything needed for a quick soldering project. Plus, it's comfortable to work with, thanks to its soft non-slip grip. It also has three LED lights that shine on the working area, a feature that tip-toes between being a gimmick and actually useful.
You can always purchase extra tips that would be more appropriate for different soldering jobs. You can get more solder and some flux for when you need it again in the future. And you can also add a sponge to the mix to ensure SP40NKUS's tips won't oxidize by then.
Pros
Affordable quality

Good performance

Adequate power for working with electronics

LED lighting
Cons
A slower performer than more powerful models

Cheaper options available
---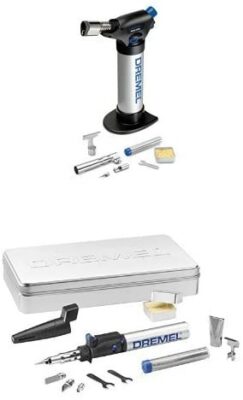 Why we like it:
The best option for mind-meltingly high temperatures.
Editor's Rating:
Quick Facts:
Type: Soldering Torch
Power Source: Butane
Temperature Range: 1022F – 2192F
Tip Compatibility: Dremel
Included Tips: 6x (Soldering, Hot Cutting Knife, Shaping Knife, Wide Flame Head, Hot Air Tip, Soldering Deflector)
Included Components: Multi-Function Butane Torch, Precision Butane Soldering Torch, Attachable Base for Hands-Free Operation, Dremel 2000-01 VersaTip Precision Butane Torch Portable Micro Torch Mini Welder, Solder, Cleaning Sponge, Storage Case
Unlike kits that pack a device with some extras, the 2200 Versa Flame kit bundles together Dremel's Versa Flame Multi-Function Butane Torch with the VersaTip Precision Butane Torch. They're variants of the same device, a soldering torch, but they differ in design and ergonomics.
The torch is useful for more heavy-duty tasks, like welding together low-gauge wires, cutting through thick plastics as if wielding a light-saber, and making crème brûlées. The VersaTip Precision Micro Torch is better for pyrography, soldering smaller cables, and drawing smileys on the crème brûlée.
Butane-powered torches can't be directly compared to electric soldering irons, and you can't easily estimate their power level. What you can know, though, is their highest temperature, which in this particular case a scorching 2,192 Fahrenheit. That's as hot as it gets if that's what you need for your adventures in jewelry.
It will take over an hour until you have to take a forced break. Then, you'll spend around half a minute refilling the device's tank before you return to fixing your electric guitar – and maybe pyromaniacally etching your name on it.
Such temperatures might be too much for intricate electronics, though. Spend longer than a minute to solder a little something on a PCB with a butane torch, and the results could look like Dali's Persistence of Memory. Something like Weller's WE1010NA, or even LDK's entry-level soldering iron would be a better choice for such tasks.
Pros
More than 2x higher top temperature than typical soldering irons

Easy to refill

Long runtime

Great for jewelry, pyrography, and signing your crème brûlée
Cons
We wouldn't use it on something like a computer's motherboard

You have to take hourly breaks for refills
---
5.

Best Soldering Iron for Hobbyists:

Hakko FX601-02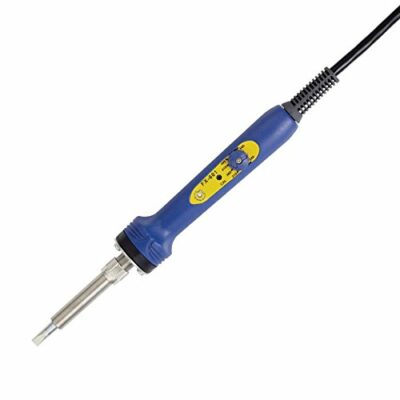 Why we like it:
A pro-level tool that shows others how it's done.
Editor's Rating:
Quick Facts:
Type: Soldering Iron
Power Source: Power Plug
Power: 67W
Temperature Range: 464F – 1004F
Tip Compatibility: T-Series
Included Tips: 1x Chisel
Included Components: Soldering Iron
While Weller's SP40NKUS is a great option to have tucked away for when you need it, Hakko's FX601-02 is the opposite, a device for invested hobbyists who spend a significant chunk of their free time soldering.
The FX601-02 looks just as bare-bones and hastily put together as (much) cheaper models until you have it in your hand. It's then that you realize that Hakko managed to cram all the must-have features of a modern soldering solution in a lightweight device that you can take anywhere. It only lacks a safety holder and other optional extras.
More straightforward than any soldering station, the Hakko FX601-02 allows you to set the working temperature easily. It has 67W of power, heats up quickly and stays on-temp while working, with no dips in its heat output with its top-of-the-line thermal retention and recovery. It's a tool professionals can proudly add to their toolbox, which in use feels like an extension of your hand, even after hours of soldering.
Admittedly, those working on their convenient workbench would better look for a soldering station like Weller's WE1010NA. With the FX601-02, you only get the soldering iron, and that's it. You have to purchase all needed extras separately, from solder to flux, and then juggle them on your working area.
Pros
Pro-level performance in a portable form factor

Ergonomic design for hours of soldering without hand fatigue

Outstanding thermal retention and recovery
Cons
Zero extras. None. Not even a stand

You can find complete soldering stations at half its price.
---
6.

Best Budget Soldering Station:

Weller WLC100
Why we like it:
An affordable and compact soldering station that gets the job done.
Editor's Rating:
Quick Facts:
Type: Soldering Station
Power Source: Power Plug
Power: 40W
Temperature Range: Up to 900F
Tip Compatibility: ST
Included Tips: 1x Flat/Screwdriver
Included Components: Soldering Station, Soldering Iron, Safety Holder, Cleaning Sponge
Who said that soldering stations have to be pricey? Options like Hakko's FX-888D might come with all the features required even by professionals, but if all you want to do is some basic soldering on a tidy workbench, then Weller's WLC100 is a more wallet-friendly alternative.
Its 40W of power might not impress, but it's more than enough for most projects. It does take time to heat up beforehand however. Optimists may say this is a feature, giving you enough time to arrange your workspace and ponder on how you'll deal with the task at hand. We also appreciate the placement of its cleaning sponge tray directly under the safety holder. This setup can help in cleaning and resting the soldering iron with one single swift move.
The station's "interface" consists of a power button with a light indicator and a rotating dial for adjusting temperature levels. It doesn't have the presets or password support of Hakko's or Weller's soldering stations, but they're unnecessary. Perfectionists would argue that we're living in a digital era, and analog tools like this are a remnant of days long gone. For many, though, this simplicity is its best feature, since it makes the Weller WLC100 more straightforward than much pricier alternatives. To use it, you press the power button, rotate the dial to the desired position, and start soldering.
That said, it could do with better ergonomics and its foam grip isn't comfortable for long soldering sessions.
Pros
One of the most affordable but quality-built soldering stations

Easy to use with straightforward controls

Well-thought-out safety rest and sponge holder placement
Cons
Not the best ergonomics

Low power levels
---
Why we like it:
Everything you need for any soldering task in a convenient carrying bag.
Editor's Rating:
Quick Facts:
Type: Soldering Iron
Power Source: Power Plug
Power: 60W
Temperature Range: 392F – 842F
Tip Compatibility: 900M
Included Tips: 5x (Conical, Chisel, Flat/Screwdriver, Knife)
Included Components: Soldering Iron, 2x Anti-static Tweezers, Desoldering Pump, Solder, Safety Holder, Cleaning Sponge, 6x Soldering Assist Tools (Screwdriver, Fork, Squeeze Head, Hook, Brush, Needle), PU Leather Carrying Bag
The soldering iron is at the epicenter of every soldering job. If you sit down and make a list of everything else you might need for a successful soldering job, though, it becomes apparent the soldering iron itself is only part of the equation.
Solder, and maybe some flux, is a given. For safety reasons, add a stand to the mix. A sponge will help you extend the soldering iron's lifetime and keep its performance up to snuff while working. A de-soldering pump can assist when you're not adding but replacing parts. Alternative tips may be required for different tasks, and a screwdriver and a needle could also come in handy. As would a brush, for cleaning any residues.
While compiling this list, you realize the costs quickly add up. Having a portable collection of everything needed for soldering, plus the carrying bag itself, can end up costing as much as a premium soldering station.
In use, the soldering iron in Sywon's kit isn't as comfortable – or high-performing – as other options, but at this price and the fact it is a trusted brand with top-reviewed products in the field, it's a great kit that allows you to get everything you need a once.
Pros
Very cost-effective

If it's required for soldering, it's in the bag

Good performance
Cons
Questionable build quality
---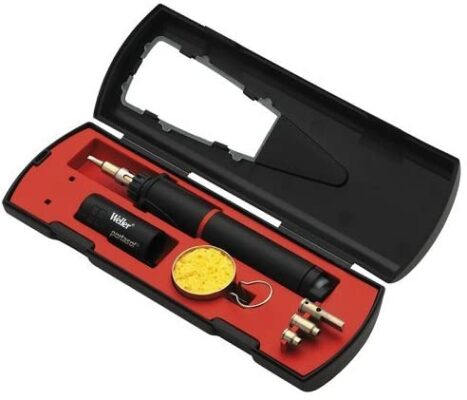 Why we like it:
A realistically powerful soldering torch for a quick solder fix wherever you might be.
Editor's Rating:
Quick Facts:
Type: Soldering Torch
Power Source: Butane
Temperature Range: Up to 850F
Tip Compatibility: PPT
Included Tips: 5x (Double Flat, Flame, Hot Knife, Hot Air, Hot Air Deflector)
Included Components: Cleaning Sponge, Tool Holder, Storage Case
If you want to be able to solder without being tethered to a wall plug, you have to make some compromises. Battery-based soldering irons are usually too low-powered for demanding tasks. Butane-powered solutions, like Dremel's Versa Flame torches tend to offer less control and may be too powerful for delicate work. Weller's Portasol P2KC is an excellent middle-ground. It also relies on liquid butane as its power source but can work at a realistic 850F temperature, and it can be (roughly) adjusted to offer equivalent performance to a 25-75 Watt electric iron.
The P2KC is relatively compact, lightweight, and quite ergonomic. In practice, not having to deal with cables can feel liberating. Plus, as with most butane-based solutions, it's quick. You can be soldering less than a minute after taking it out of its case, and keep going for up to an hour of continuous use.
It's not a replacement for soldering stations like Hakko's EX-888D, which are a must for delicate projects demanding accuracy. However, as a portable and adjustable soldering solution for when you're not at your home base, it's a great choice – especially at this price point.
Pros
A portable solution for soldering without a power plug

More powerful than battery-based portable soldering irons

Quick heat-up

Comfortable ergonomics and easy to use
Cons
Needs refilling after around an hour of use

As most butane-based options, doesn't allow fine temperature control
---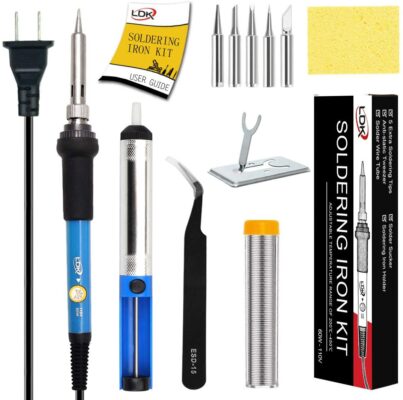 Why we like it:
This soldering iron comes at a bargain price considering the included accessories.
Editor's Rating:
Quick Facts:
Type: Soldering Iron
Power Source: Power Plug
Power: 60W
Temperature Range: 392F – 842F
Tip Compatibility: 900M
Included Tips: 5x (Conical, Chisel, Flat/Screwdriver, Knife)
Included Components: Soldering Iron, Safety Holder, Desoldering Pump, Solder, Cleaning Sponge, Anti-static Tweezers
If you don't want to throw money at an expensive product like Hakko's FX601-02, have no need for something like Weller's soldering station taking up space, and think even Sywon's full kit costs too much, LDK's got you covered.
For not more than the cost of a pair of socks, you can get LDK's soldering iron kit, which includes everything you might need for a soldering task. Like Sywon's kit, the LDK alternative has an adjustable 60W soldering iron as its core product, accompanied by four alternative tips, solder, a soldering pump, a stand, a pair of anti-static tweezers, and, yes, a sponge.
Strangely, although it costs around four times less than better-built products, it doesn't feel cheap. We can't vouch for its longevity, though, nor would we dare use it on sensitive electronics that could be affected by ESD.
Pros
It doesn't get cheaper than this

Everything you need for soldering, for the price of a coffee and sandwich

Adjustable 60 Watts of power
Cons
Questionable build quality

Not the best performer, despite its theoretical power levels
---
Complete Guide to Soldering Irons

You may have more questions about soldering irons, and we're here to answer them. What is flux, and do you need it? What are ESD-safe models, and should you prefer them? Do you have to buy a sponge? Read on to find out!
Where Is Soldering Useful?
Soldering irons are useful in many types of work that demand joining components.
You can use a soldering iron to re-connect a wire to a headphone jack, permanently attach a battery pack to an RC car or drone, or even repair your car's cabling. They can also be used to "stick" components on circuit boards, replace parts of a computer or gadget.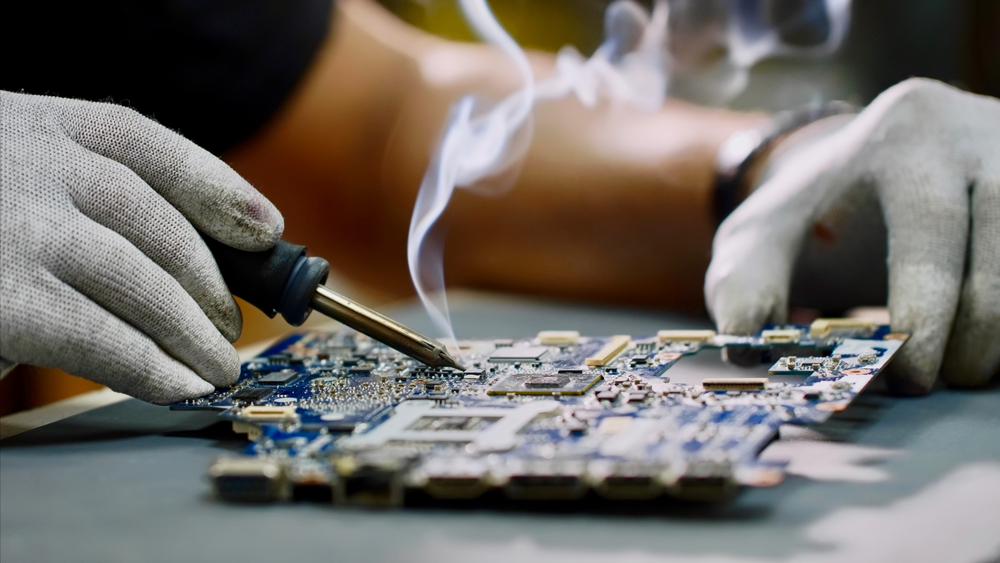 Soldering irons and, more usually, torches can fuse separate parts and bend tiny metal strands into intricate jewelry. Soldering can also assist when making stained glass, cutwork embroidery, pyrography, etc.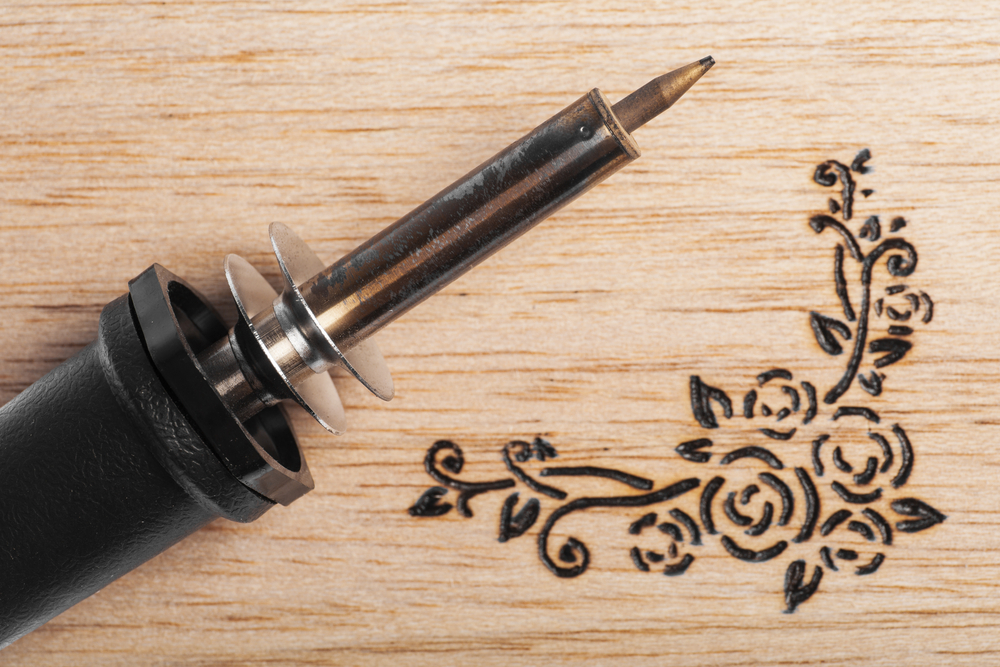 Soldering irons or, even better, soldering guns can be a handy tool when working with roofs, metal gutters, or plumbing. And although it might look surreal to picture Jimi Hendrix soldering wires, but soldering irons are also great at repairing guitars.
How Do Soldering Irons Work?
Electric and gas-powered soldering irons accomplish the same task but use a different power source and approach. Both categories also offer portable options. The electrical models come with rechargeable batteries, while the gas-powered ones with refillable canisters. Adjustable models, like Hakko's FX601-02, allow the user to control the amount of electricity or gas, which, in turn, affects how hot their tip will get.
Electric Soldering Iron
Electric devices contain a heating element, like a coil made out of Nichrome or a ceramic rod. Electricity passes through that element, turns into heat, and heats-up the metal tube connected to it.
Gas Soldering Irons
Gas-powered soldering irons work by lighting-up a butane or propane stream. Depending on if they work as soldering pencils or torches, the produced flame either heats a metal rod or is exposed from a nozzle.
Key Features to Look For
Simple tasks – and beginners – don't demand much more than a pencil-type soldering iron, some solder, and flux. The more you're using a soldering iron, though, the more you appreciate the extra features and niceties that come with better models. We've grouped some of those features in the two following lists, based on if we deem them essential or merely nice to have.

Must-Haves
Enough power (Wattage) to quickly bring the soldering iron up to temperature – and keep it there.
Quick heat-up speed to minimize downtime before you can start working.
Good heat retention to avoid drastic temperature drops.
Speedy thermal recovery to reduce temperature fluctuations.
The proper tip for the task at hand.
Good ergonomics for when you have to solder for more than five minutes.
A safety rest/stand/holder for the soldering iron can help avoid nasty accidents.
Support for changeable tips.
Good build quality – so the burning tip doesn't fall on your leg while working, and the grip doesn't become one with your hand.
Nice Extras
Precise temperature control.
A wide temperature range.
Multiple tips included.
A screen that helps check out the device's status at a glance.
Easy menu navigation – if the device has enough options to warrant a menu, it should be easier to access than Windows Vista's control panel.
On some high-end soldering stations, you can store your settings for different types of tasks in presets. This way, you won't have to re-adjust them each time.
Some devices come with LEDs that shine on the area you're working for enhanced visibility.
It's nice when your soldering iron comes with everything you need in the package, so you don't have to purchase separately one or more of the following:

Solder
Flux
Anti-static tweezers
Tip cleaner
Desoldering braid/pump
Wirecutter
Screwdrivers
Multimeter
Carrying case
Spool holder
Magnifying glass
A large tank – for gas-based options – translates to longer working sessions between each refill.
Soldering Iron Tips and Accessories
The soldering tip is the part at the end of the metal tube of a soldering iron, which transfers its heat to the solder and components. Those tips are usually made out of copper, which excels at transferring thermal energy, covered with a coat of iron for better durability.
Most modern soldering irons allow you to replace their tip. Multiple tips grant a soldering iron the versatility to tackle different tasks. The ability to swap their tip for a new one also prolongs their lifetime, since you can replace it if damaged instead of having to buy a new device.
The tip is just as important as the working temperature for the successful outcome of a soldering job. To use an extreme example, you can't perform brain surgery with a sledgehammer. Similarly, there are many different types of tips for soldering irons, and you should choose the best one for the kind of work you want to perform.
Conical Tips
The most precise – and popular – type, conical soldering tips are optimal for working with small electronic components. Their precision, though, relies on the user's skills (and eyesight and hand stability), rendering them a more challenging entry point for beginners.
Chisel/Screwdriver Tips
Chisel tips look like mini flathead screwdrivers and are more forgiving for newcomers to the soldering hobby. Their shape makes them great for many tasks. The flat side can cover larger areas and makes joining wires almost as easy as spreading peanut butter on a slice of bread. You can then rotate them for tasks that demand precision and use only one corner of their tip on a small soldering point as if you were using a conical tip.
Bevel Tips
An even better option for connecting wires, working with larger areas, or covering breadcrumbs with peanut butter, bevel tips are like chisel tips cut at an angle. This angle translates to an extended edge without a larger diameter.
Knife Tips
The slanted edge shape of knife tips allows them to get in narrow cavities other tips can't reach. They're also optimal for applying solder on larger areas, multiple solder points, and de-soldering already connected parts.
Soldering Accessories
Many soldering irons come with almost everything you need in their package. Still, you'll probably have to purchase some extra stuff separately. Among the things you'll need are:
Solder
Solder is a conductive metal alloy with a low melting point. It's initially solid and looks like a piece of wire. When heated up, though, it temporarily melts into liquid form. Using a soldering iron, you can melt small amounts of solder into droplets precisely on the spot where you want to connect two parts. As the solder cools down and solidifies, it creates a connection between the two pieces and keeps them together.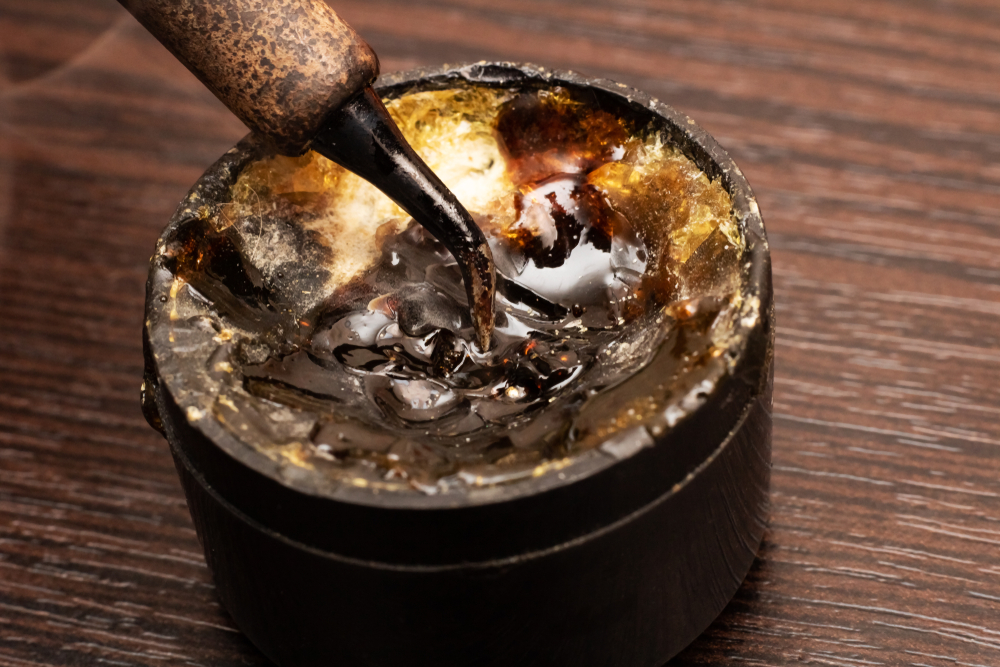 Flux
Flux is a chemical that comes as a paste that you can apply on the contact points you want to bind together with solder. Flux cleans their surface and prevents the formation of metal oxides that could weaken the connection.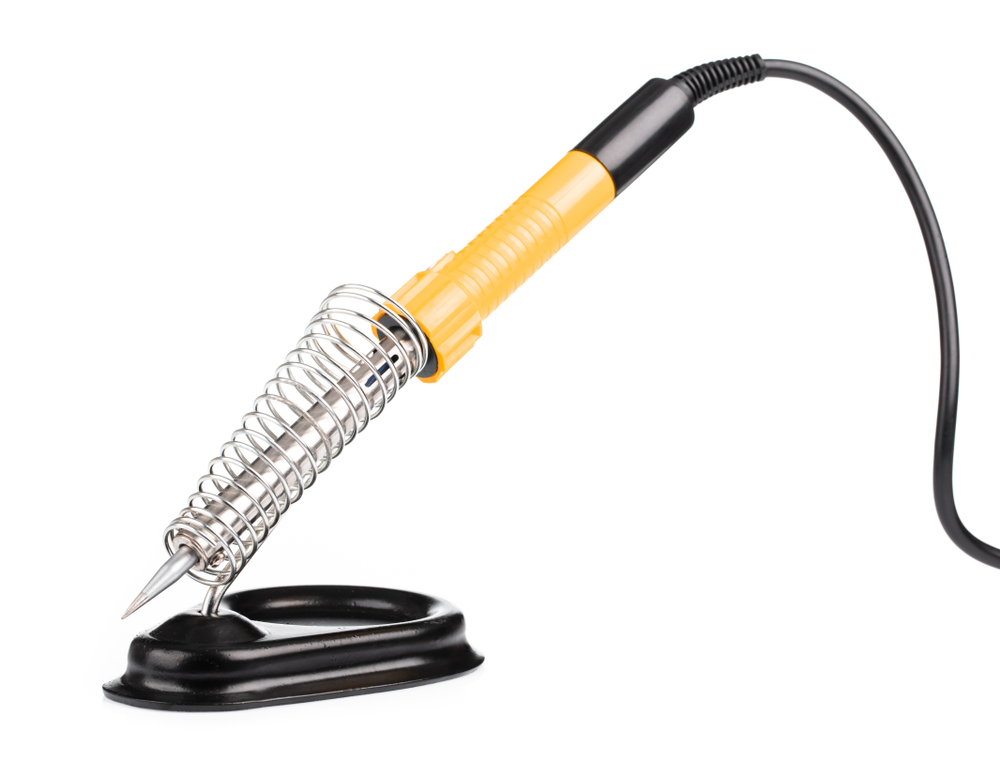 Safety Holder
A blazing-hot soldering iron that can move freely on your workbench can easily lead to nasty accidents. A safety rest (also known as soldering iron stand or rest) is the solution to that problem.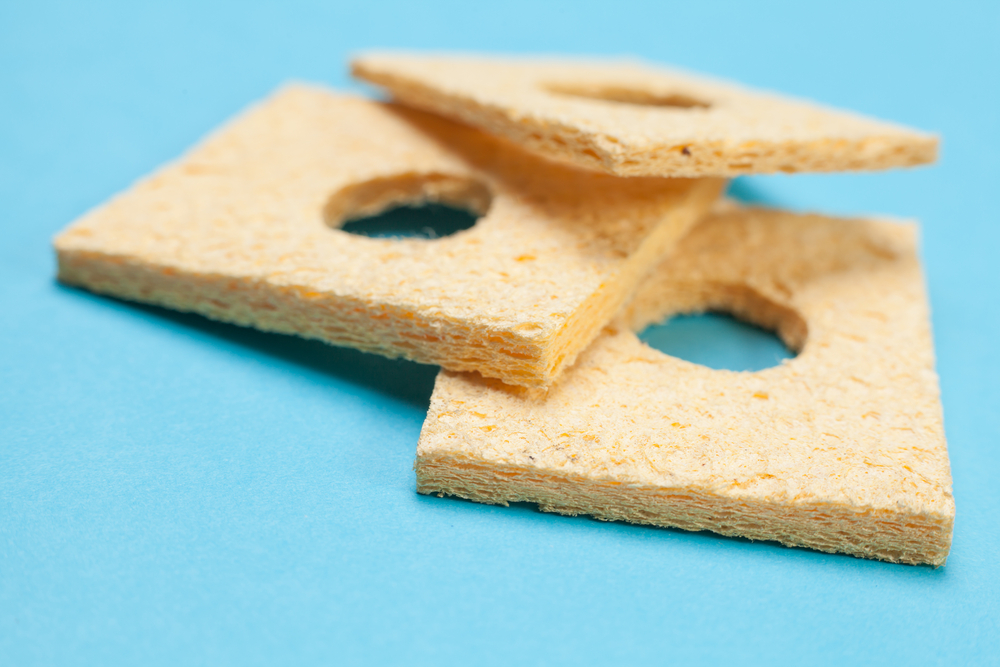 Tip Cleaners / Sponges
You shouldn't only clean your soldering iron before tucking it away but also during long working sessions for optimal solder joints. For that, you'll need a tip cleaner – and, thankfully, even a simple wet sponge can play this role. In the long run, though, wet sponges can reduce the lifespan of the soldering tip. They cause the tip's temperature to drop temporarily, making the tip contract. It's better to pay a little extra to buy a brass sponge that doesn't have to be wet to clean your soldering iron's tip.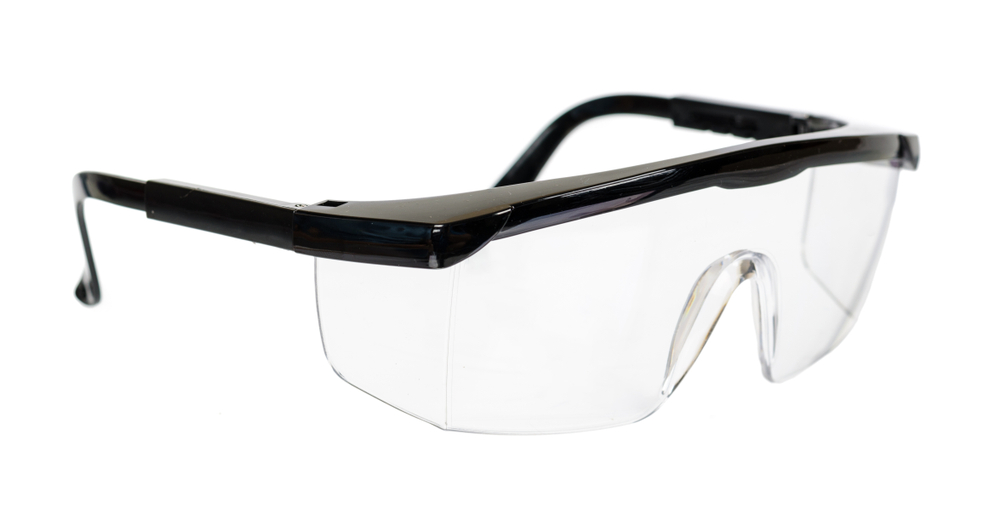 Safety Glasses
Solder droplets and flying pieces of wire aren't only bad for your workbench and surroundings, but also for your body – and especially your precious eyes. Safety glasses are relatively cheap and can help you keep your eyes safe.
De-Soldering Tools
If Confucius were soldering, he'd tell you that for all your soldering Yin, you also need some de-soldering Yang. To replace an existing part in a circuit board, you first have to detach it, and for that, you need de-soldering tools.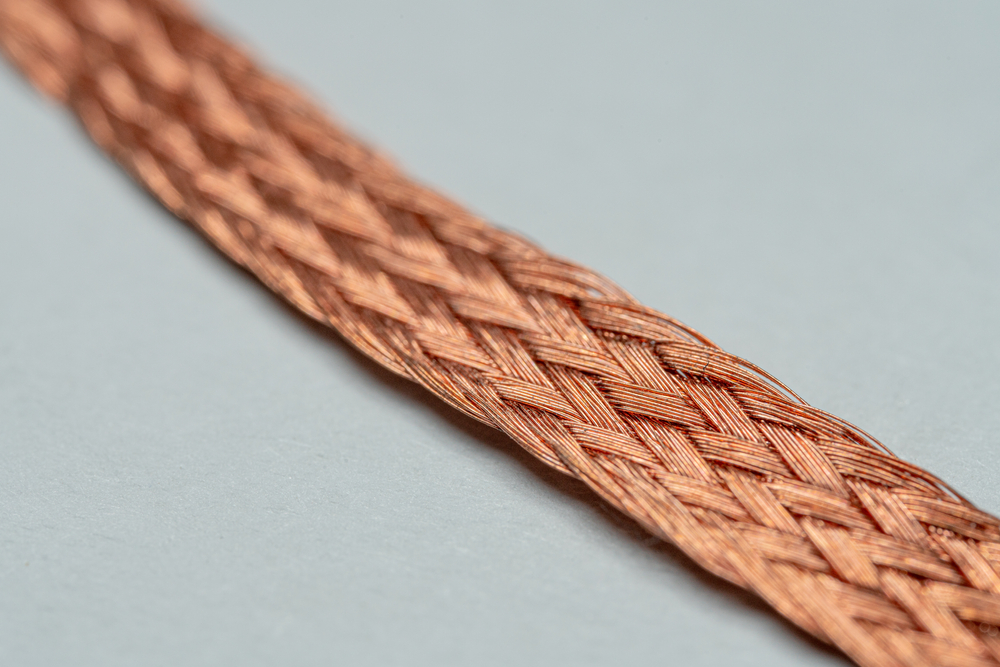 The most common is a de-soldering braid, which you can touch on the spot you want to de-solder. Then, by applying pressure on it with a hot soldering iron, the braid absorbs the solder as it melts.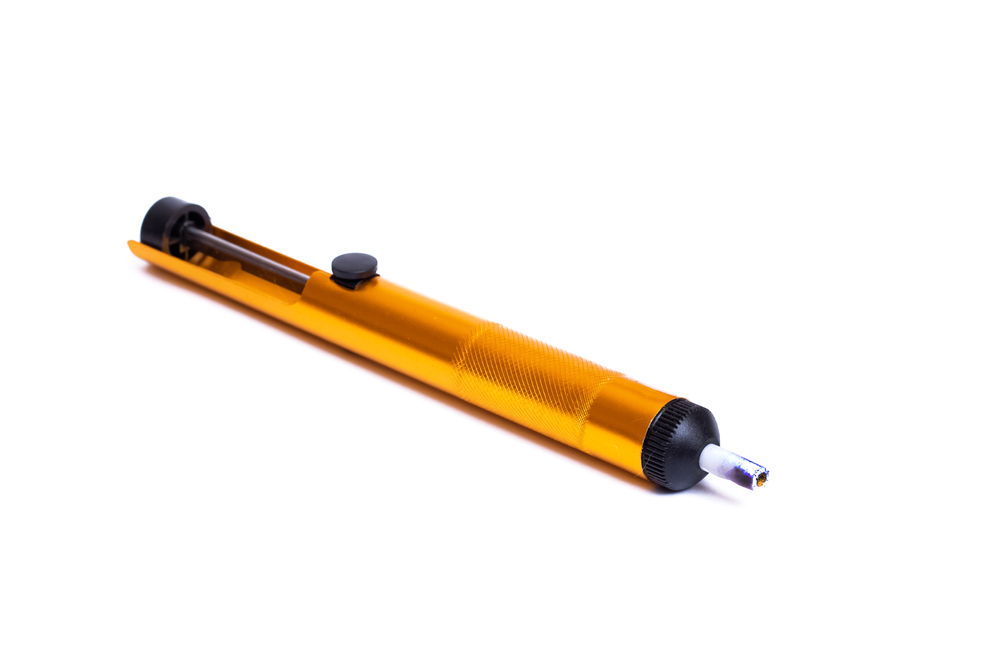 De-soldering pumps work like mini syringes that can suck larger quantities of solder, but may leave traces behind. They're good to have, but if you're going to buy only one de-soldering tool, go for the more versatile braid.
FAQ
What Power/Wattage Level Do I Need?
The power of electric soldering irons is measured in watts, while gas-powered models either mention only their temperature range or offer a Wattage-equivalent estimate. Most models fall within the 30W to 80W range, with power levels between 40W to 50W being more than adequate for work involving electronics.
The higher-powered a soldering iron, the faster it reaches the target temperature, and the quicker it can respond to temperature fluctuations. In non-adjustable models without sensors, Weller's SP40NKUS, and depending on the project, higher power levels can be catastrophic. They can lead to higher temperatures than needed, which could damage sensitive components.
On the other hand, lower-powered devices need more time to reach working temperature and have slower reaction times to temperature fluctuations. When severely underpowered for the task at hand, they may produce sloppy results and bad connections that might cause electronics to fail.
How Hot Does a Soldering Iron Get?
The typical temperature range for most soldering irons is 650°F to 800°F, but that's not a given. A more realistic answer would be that it depends on their type, their setting (if adjustable), the materials used, and the needs of the task at hand. For some jobs, a temperature between 450°F to 500°F is more than enough. Others call for heavy-duty soldering irons and temperatures over 1000°F.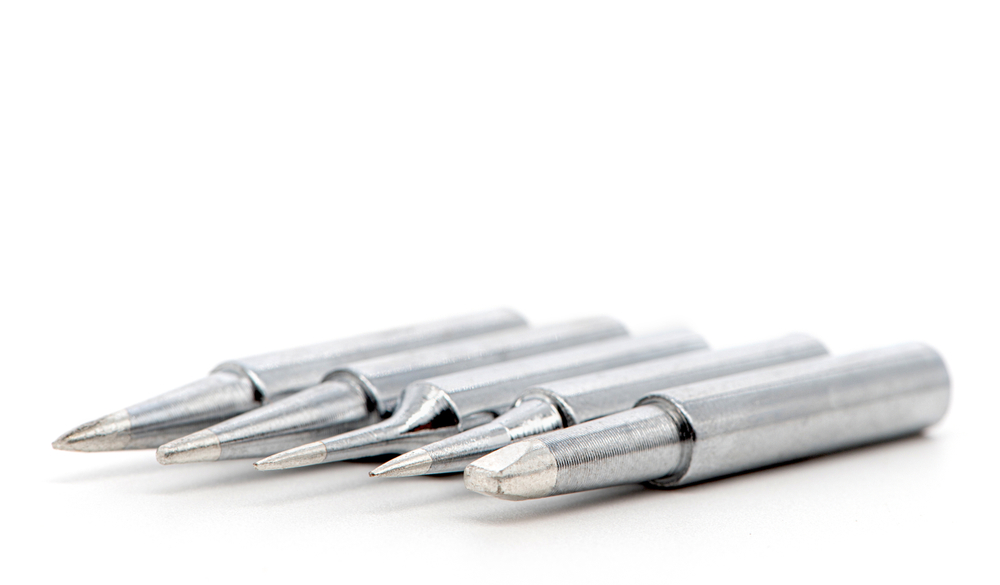 How Long Do Tips Last?
Lower-quality options in cheaper soldering irons may oxidize sooner than those in pricier models. One of the factors that justify their price difference is the quality of their materials. With proper maintenance, a good quality soldering tip can last years before you have to replace it.
This "proper maintenance" isn't some obscure ritual: you only have tin the tip and keep them clean after each use. The term "tinning the tip" refers to applying solder all over the soldering iron's tip before and after each use. This covers the tip with a layer of solder, protecting it from oxidization. You can clean the tips with a wet or brass sponge or use a cleaning solution for brass and iron to remove any leftover residues.
Why Calibrate a Soldering Iron?
With the most basic plug and play soldering irons that don't offer some kind of adjustment, your only option, if they underperform, is to replace them. With adjustable models, though, and since many projects demand you work at specific temperatures, it's worth checking their accuracy.
You can use a third-party temperature gauge to check if their actual temperature is off compared to their setting or reading. If it is, you can keep the difference in mind and adjust their power up or down in the future. Higher-end models might come with an extra dial precisely for that reason, readjusting their working temperature to match the display and setting.

What Does "ESD-Safe" Mean?
You might not care much about electrostatic discharge (ESD) when soldering water pipes, but it can damage electronic components. That's why, if you are primarily dealing with electronics projects, you should invest in an ESD-safe soldering iron. Those are connected to the ground, made from static dissipative materials, and insulated, to minimize ESD.
Even if you don't have an ESD-safe soldering iron, like Weller's WE1010NA, you can use an ESD mat and ESD wrist strap to minimize the possibility of ESD damaging the components you're working on. It's better, though, if you are purchasing your first soldering iron to work with electronics, to spend a little extra on an ESD-safe option from a trustworthy brand. Keep in mind that the cheapest options from obscure brands might come with questionable claims.
Go Forth, and Solder
Unlike millennia ago, when people were guessing how to make metal thingies stick together, today, we know much more about metals and materials and have tamed electricity. Recently we've also almost perfected manufacturing.
What might look as unfathomably magical as Harry Potter's wand for our ancient ancestors is now mass-produced and sold for not much more than a burger and a Coke. Today's magic wands are powered by knowledge, technology, and electricity or butane. There are many options available, but we're pretty sure the ones on our list are the best you can find for their price point.