Anyone who uses knives regularly can tell you what a difference there is between a sharp and dull blade. A dull knife requires greater force to cut through meats and raw vegetables and ruins the ability to thinly slice softer food. A dull pair of secateurs can require many pounds of extra force to cut through even a small branch. This extra force and inconsistent cutting are also dangerous to the user, with medical experts agreeing that sharper knives are safer to use.
Still, many of us avoid sharpening our tools and knives. Why? Because it seems like too much to learn. Sharpening a knife sounds like a skill that requires a lot of practice, and there are just too many types of sharpening stones to know which is the best for our knives.
Fortunately, it only takes a little bit of work to master the use of the sharpening stone and know which is the right tool for you. By the end of this short guide, you will have found the perfect sharpening stone and feel confident in using it.
What to Look for in a Sharpening Stone
There are a few important factors to consider when finding the right stone for your sharpening needs. These rely heavily on what you want to be sharpened and how well you know your tools. Garden tools will have different needs to kitchen knives, and knowing the difference will go a long way to ensuring you purchase the correct stone.
The Right Material for Your Stone
While it may have once been true that natural sharpening stones were the only way to go, modern manufacturing practices have meant some of the highest quality stones are synthetics and ceramics, with the very best of them coming from Japan. Meanwhile, diamond stones are tough and perfect for outdoor tools.
The Grit You Need
All we really need to know about grit is "the higher the number, the sharper the knife." For badly dulled instruments, we want to start at low grits and coarse grains, but as we "level up" our tools, we want high-grit materials. That is why sharpening tools that offer multiple grits are so useful.
A Shape and Size That Suits You
No one wants to lug around half a brick when fishing, but we want something solid and unmovable when sharpening at the kitchen bench. Finding a sharpening stone that suits your purpose in shape, size, and weight can save hassle in the future.
A Stone That Fits Your Budget
As with everything in life, price matters. Natural stones are going to cost a lot more, and the difference between the high-end stones used by sous chefs and your basic starter kit can be hundreds of dollars. Knowing your budget means you can save time and find the highest quality stone that you can afford.
Our list contains ten of the best sharpening stones you can find and includes a range of materials, shapes, sizes, and prices. From the elite Shapton Kuromaku to the little handheld Sharpal file, we know you can find the sharpening stone that is right for you.
Top 10 Best Sharpening Stones 2022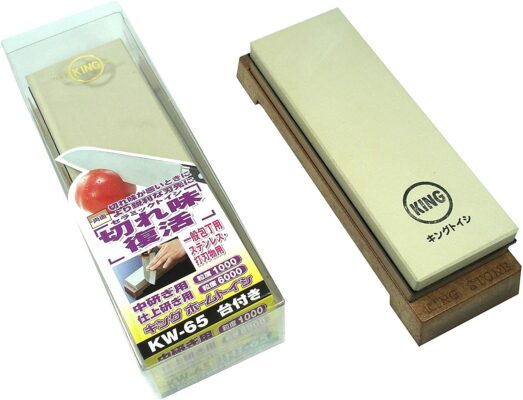 Why we like it:
This Japanese whetstone creates the sharpest blades you will ever need, at a price that suits a family, not just a five-star restaurant.
Editor's Rating:
Quick Facts:
Size and Weight 7.25 x 2.5 x 1in. 1 lb.
Stone Material: Corundum, Carbide, and Nitride.
Grit: 1000/6000.
The city of Osaka, in Japan, is considered the blade capital of the world. It comes as no surprise, then, that the most respectable name in stone-manufacturing, King, comes from there. King's synthetic sharpening stones are made from a high-quality mix of aluminum oxide, carbide and nitride particles and are baked at high temperatures in a patented bonder. This forms a stone that is soft but also at a very precise grit for effective sharpening.
The King stone of choice for us has the dual-sided 1000 and 6000 grit, which is perfect for most knives that are blunt but not damaged. Plus, soaking the stone in water before use softens it further, making for very precise grinds.
Being a flat, wide block on a firm plastic base means that the casual user will have no problem using this stone. While it might do better to come with some anti-slip feet if it is being used on a marble bench, it is otherwise quite sturdy.
A high-quality sharpening tool at a competitive price, the King KW65 sits right at that sweet spot of being the best value for money without losing quality in any way.
Pros
High grit means sharpest knives.

Precise grinds.

Firm plastic base.

Competitive price.
Cons
The base isn't always sturdy on marble.

No lower grit for damaged knives or thick tools.
---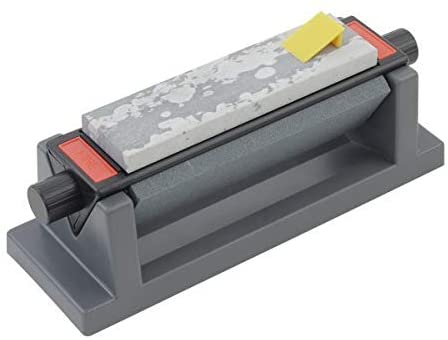 Why we like it:
Smith's stone system is the only one to offer three stones that provide a wide range of grit, including a natural stone of high grit.
Editor's Rating:
Quick Facts:
Size and Weight: 6 x 1 5/8 x 3/8in. 1.63lbs.
Stone Material: Arkansas and Synthetic.
Grit: 300/800/1000.
With all the discussion around whether synthetic or natural stones do a better job when it comes to sharpening steel, it is refreshing to see a company that recognizes the benefits of both. Smith's TRI-6 system offers synthetic blocks for its coarser grains, while it also provides a genuine Arkansas stone for finer sharpening. Having that really course 400 grit stone is a god-send, too, allowing us to have a system that is just as good at honing our kitchen knives as it is fixing nicks in our ax.
You might be concerned that the Smith's system is too complicated, and for good reason. With rotating stones and a need to use oil, a beginner might have initial hesitations. But the company has put a lot of time and effort into designing a product that is very easy to learn. From the "v" trough to catch drippings to the non-skid rubber feet and sharpening angle guide, the system is designed to help you every step of the way. The provided user guide is also one of the better ones we have come across, filled with clear instructions and illustrations.
Using natural stone does require more effort, however, and it is important to use oil correctly, clean the system thoroughly, and always wipe down any remaining shavings. While this product can last for years, that is only if proper maintenance is kept.
The Smith company has been around for over a century, and the TRI-6 system is a reflection of that knowledge and experience. A little complex, sure, but worth learning if you care for your tools.
Pros
As useful for knives as for outdoor tools.

Natural and synthetic tools.

Easy-to-follow user guide.

Long lifespan.
Cons
More complicated to use, requiring oil and water.

Requires thorough cleaning afterward.
---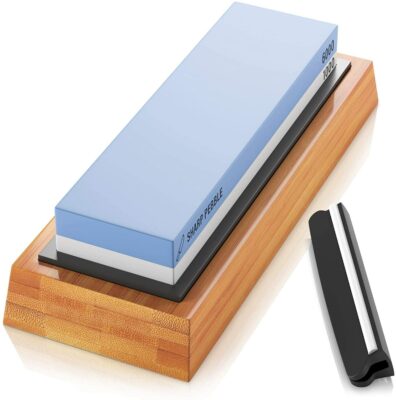 Why we like it:
A high-quality whetstone from a reliable company, there isn't an individual component that will fail you.
Editor's Rating:
Quick Facts:
Size and Weight: 7.25 x 2.25 x 1in. 2.12 lbs.
Stone Material: Synthetic.
Grit:1000/6000.
The Sharp Pebble Premium Whetstone is a lesson in simplicity. Make each part of your product high-quality and ensure they work together in perfect unison, and you will have a product people love. At first glance, the Sharp might look like one of the dozens of other whetstones on the market, with its two-sided rectangular stone, set in wood, ready to be used. It's the little things that make the real difference, though—like the consistency of the 1000/6000 grit sides and how the block fits snugly into the bamboo base, thanks to a layer of silicone. Plus, this base sits on a thin layer of rubber to ensure there is no slipping. While inferior products have blocks that crumble or an uneven grain to their surface, the Sharp is solid, consistent, and well-balanced.
While the user guide is helpful, there should be a warning that it comes as an eBook, which isn't as useful for those of us without eReaders or tablets. However, due to the simplicity of the stone, and the easy-to-use angle guide, this isn't as big of a problem as it sounds.
Pros
Consistent grain to stones.

Snug fit to base thanks to silicone layer.

No slipping on benches.

Easy to use.
Cons
The guide comes as eBook only.
---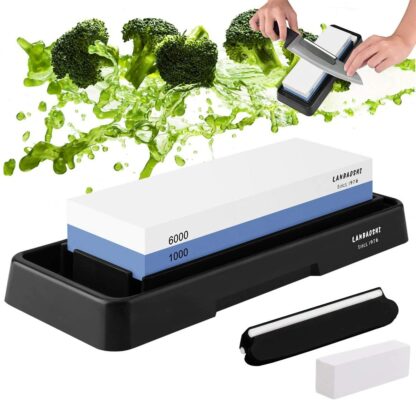 Why we like it:
A stone not too different from our best, but at a price that cannot be beaten.
Editor's Rating:
Quick Facts:
Size and Weight: 7.25 x 2.25 x 1in. 2lbs.
Stone Material: Corundum.
Grit: 1000/6000.
For a very low price, Lanbaoshi has produced a strong contender among the many sharpening stones out there. The triple-tested stone is double-sided, and the silicone base ensures the stone won't slip on even a wet counter. In fact, one could almost be mistaken that this stone is identical to the Sharp Pebble. Certainly, for the first dozen or so times, the Lanbaoshi provides a high-quality sharpening, aided by the included guide.
It is in the long-term use that one finds why the Lanbaoshi is cheaper than other stones. While the stone is made from white corundum, like many others, it appears to wear faster than you would expect. If you are willing to flatten the stone on a more regular basis, this is still a worthwhile choice, and replacing it even twice as often as other stones will still result in less overall cost.
Attempting to take advantage of the "lifetime warranty" is quite a hassle, though, and with return costs being what they are, it simply isn't worth it.
For a quality stone at a very low price, it may be worthwhile overlooking the shorter longevity and choosing the Lanbaoshi Knife Sharpening Stone Set.
Pros
Triple-tested Corundum stone.

Included sharpening guide.

Great value for money.
Cons
Doesn't last as long as other stones.

Poor customer service.
---

Why we like it:
The Shapton collection sells its stones individually, with a wide range of grits to suit the customer that knows the exact granularity they want.
Editor's Rating:
Quick Facts:
Size and Weight: 9.09 x 3.5 x 1.61in. 1.41lbs.
Stone Material: Ceramic.
Grit: 120 to 30000.
Shapton is another of those Japanese brands that have spent years perfecting the design of their stones and producing a reputation for high-quality products. Its Kuromaku Professional stones are sold individually, which can make them quite expensive, but also offers more freedom in the type of sharpener you want to use.
Shapton uses ceramic abrasives, rather than aluminum, as many other brands do. These create stones that cut faster than other brands, and it may take a little getting used to if you are an experienced knife-sharpener. However, it also means Shapton stones produce a more precise cut, and you can feel the difference between an 800 and 1000 grit stone.
Shapton stones also do not need to be soaked, and need flattening far less often than other sharpening stones. This can produce some great long-term benefits that should not be ignored.
A surprising additional benefit to Shapton is the customer service, especially the Frequently Asked Questions page found on their website. If there is a question that wasn't answered there, we couldn't think of it.
While an expensive option and one that might not seem worth it to those less picky about their sharpening stones, Shapton's range will leave the experts satisfied.
Pros
Wide range of grit options including ultra-fine.

No need to soak or oil.

Require flattening less often.

Great customer service.

Quality Japanese manufacturing.
Cons
Only one grit per stone.

Very expensive.
---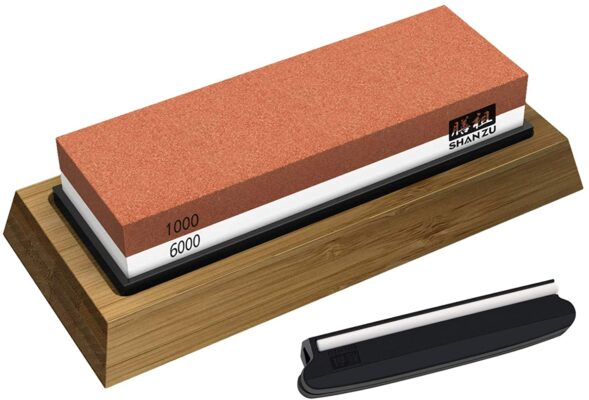 Why we like it:
Shan Zu puts a major emphasis on providing everything a beginner needs to feel comfortable with stone sharpening.
Editor's Rating:
Quick Facts:
Size and Weight: 8.46 x 3.74 x 2.17in. 2.2lbs.
Stone Material: Corundum.
Grit: 1000/6000.
For a very good compromise between the Sharp Pebble and the Lanbaoshi sits the Shan Zu Whetstone Sharpener. With the bamboo and silicone base of the Sharp and the same double-sided corundum stone that the others use, it is a quality sharpening set at a reasonable price.
What sets the Shan Zu apart from other blade sharpeners, and what makes it the best stone for beginners, is the easy to follow instruction manual and accompanying videos that show just how easy it is to start using a sharpening stone. To further aid beginners, the Shan Zu is also one of the largest blocks in terms of surface area. Having the extra room to learn does make a noticeable difference.
While it may not last as long as the Sharp Pebble, the Shan Zu has a good lifespan and the stone fits snugly into the base time and again. Cleaning is as easy as expected and, like other corundum whetstones, it only requires water.
For those a little nervous about using knife sharpening stones, the Shan Zu offers the best choice for learning how to sharpen knives on a quality block that won't break the bank.
Pros
Easy to follow manual and instructional videos.

One of the larger blocks for surface area.

Bamboo and silicone base.
Cons
Smaller lifespan than high-end stones.

One of the heavier stones out there.
---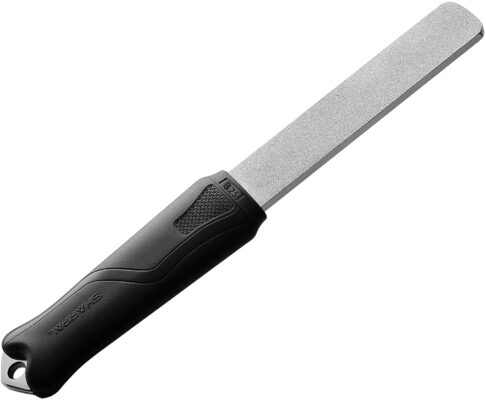 Why we like it:
The Sharpal Stone File is a field-tested, handheld tool designed to be tough and durable.
Editor's Rating:
Quick Facts:
Size and Weight: 8.46 x 1.38 x 0.67in, 6oz.
Stone Material: Steel and Diamond.
Grit: 325/1200.
With the very high hardness of the diamond coating and the extra-coarse 325 grit on one side, the Sharpal 121N is the perfect tool for the belt of the outdoorsman. Created by a Californian company and provided with a 3-year warranty, the tool has been tested in the field, not just the lab.
Whether it is a handaxe, hunting knife, or shears, tools with major chips are quickly resharpened without the need to find a solid flat surface. Water and oil are not required when sharpening and only a little water is needed to clean after use.
The two-sided tool allows for an extra-sharp hone to knives, which also makes it great for fishermen. The handle, comfortable to hold and non-slip, can also work as a leather strop for honing.
The Sharpal isn't for the fine work you may want for kitchen knives, and it will require a lot more effort to get the job done. But for sharpening those larger outdoor tools, we cannot recommend a better product. If there was any complaint, it would be that the sheath provided isn't as good as you would want when taking this tool out in the wild. We recommend soaking the sheath in water to make it more pliable.
Pros
Properly field-tested.

Fixes major flaws in tools and hunting knives.

Three-year warranty.

No water or oil is required.
Cons
Not suitable for kitchen knives.

Not the best protective sheath out there.
---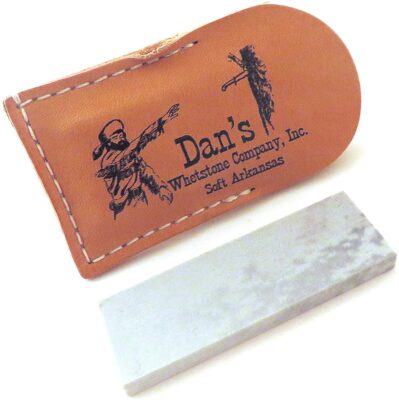 Why we like it:
An Arkansas Stone that we can afford, Dan's puts an emphasis on quality.
Editor's Rating:
Quick Facts:
Size and Weight: 3.6 x 2 x 0.5in. 1.59oz.
Stone Material: Arkansas Stone.
Grit: Natural.
For the hunter or fisherman that believes in the superior quality of natural sharpening stones, Dan's Arkansas stone is the real thing. Quarried in the Ouachita Mountains, these Novaculite stones take much longer to wear down than artificial sharpeners. Rather than being categorized by grit, they are organized based on the density of the stone. The greater density produces a finer edge.
It is important to recognize that natural stones come in a range of colors that are independent of density and the grain of natural stones is far more inconsistent than artificial blocks. Natural stones also require oiling to maintain effectiveness. If you are comfortable with these more complex components, however, they can truly be worth it.
Dan's stones are small, making them better for shorter blades and experienced hands. This small size is a consequence of the company wishing to produce a stone that is more affordable for the amateur sportsman. To keep the stones in good condition, they come in leather pouches that protect them from further wear.
For an introduction to natural stones or a great portable stone for fishing and hunting, we highly recommend Dan's Genuine Arkansas Stone.
Pros
Arkansas stone actually from Arkansas.

Great for keeping in your pocket.

High-quality leather pouch for protection.
Cons
Quite small which makes it difficult to handle.

Requires oiling.
---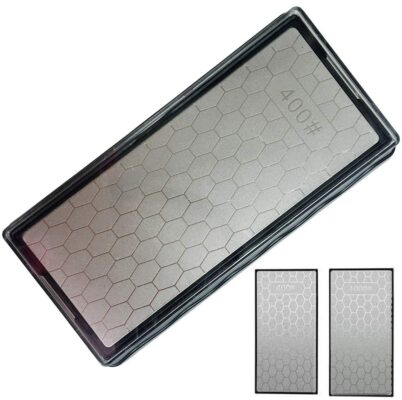 Why we like it:
The best diamond benchtop stone, YCAMMIN suits knives, not just tools.
Editor's Rating:
Quick Facts:
Size and Weight: 7 x 3.5 x 1.38in. 11.0oz
Stone Material: Diamond and Steel.
Grit: 400/1000.
Diamond sharpening stones can often provide greater success when it comes to highly damaged knives and tools, but many of them don't offer a higher grit for those final touches. The difference between the two sides of the YCAMMIN sharpening stone sets it apart from other choices. With sturdy rubber feet, this won't slip on your bench. Diamond stones don't need flattening, soaking or oil, and can be cleaned with water.
The biggest downside to using the YCAMMIN is in the aesthetics of the final sharpening. Unlike whetstones, diamond-sharpened knives often give a rougher appearance on the edges. While they cut as well as any other knife, it is next to impossible to cleanly hone the edge to give it a like-new appearance. For those for whom aesthetics is as important as practicality, this product may then not be the best option.
Still, for durability, ease of use, and greater handling of severely damaged blades, the YCAMMIN diamond sharpening stone is a great choice.
Pros
Diamond doesn't require cleaning.

Good choice of two grits.

Low maintenance and long lifespan.
Cons
Less fine sharpening and honing ability.
---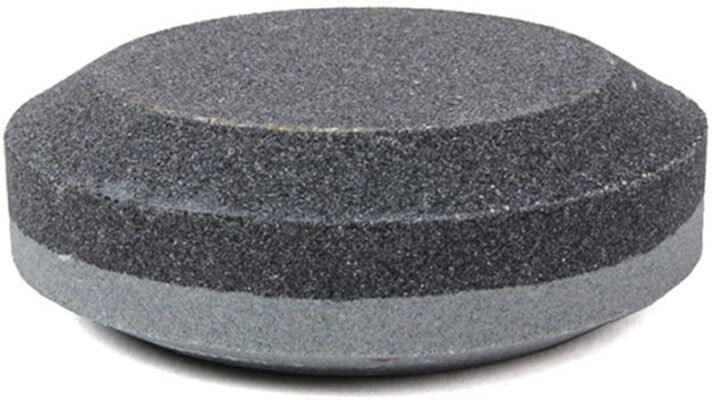 Why we like it:
The unique shape and durable design mean this stone is a permanent fixture in our toolbox.
Editor's Rating:
Quick Facts:
Size and Weight: 9.5 x 5 x 1.13in. 7.8oz
Stone Material: Unknown.
Grit: 120/280.
The Lansky Puck certainly has a design that is far different than anything else we have come across. While it takes a little to get used to, once you do, you will realize just how helpful the angles are when sharpening your tools out in the garden. Rather than drawing the blade across the stone, the puck is designed for you to draw the stone across the blade. With a low grit to fix those major problems in mower blades, shovels, and shears, the puck is easy to grip and provides a quick sharpening solution.
The stone is surprisingly durable and doesn't require water or flattening. It is tough enough to sit in your toolbox for months and still come out working like the day you bought it.
The Lansky Puck is certainly a tool for a specific purpose. Not suitable for knives or hunting tools, this is one strictly for the landscaper. A fast, coarse grind that, once you get used to the shape, makes for a great addition to the toolbox.
Pros
Easy to hold and use on larger tools.

Durable and long lifespan.

Fast sharpening.
Cons
Unsuitable for kitchen knives.

May take a little practice to use properly.
---
A Guide to Buying Sharpening Stones in 2021
Sharpening stones are not tools reserved for only the hunter or chef. For the everyday home cook and the occasional gardener, learning how to use a sharpening stone will remove a lot of stress from your life. To better understand what we need to know before buying a sharpening stone, we have put together this short guide on what stones are made of, how to use them, and questions you may need to answer before making your purchase.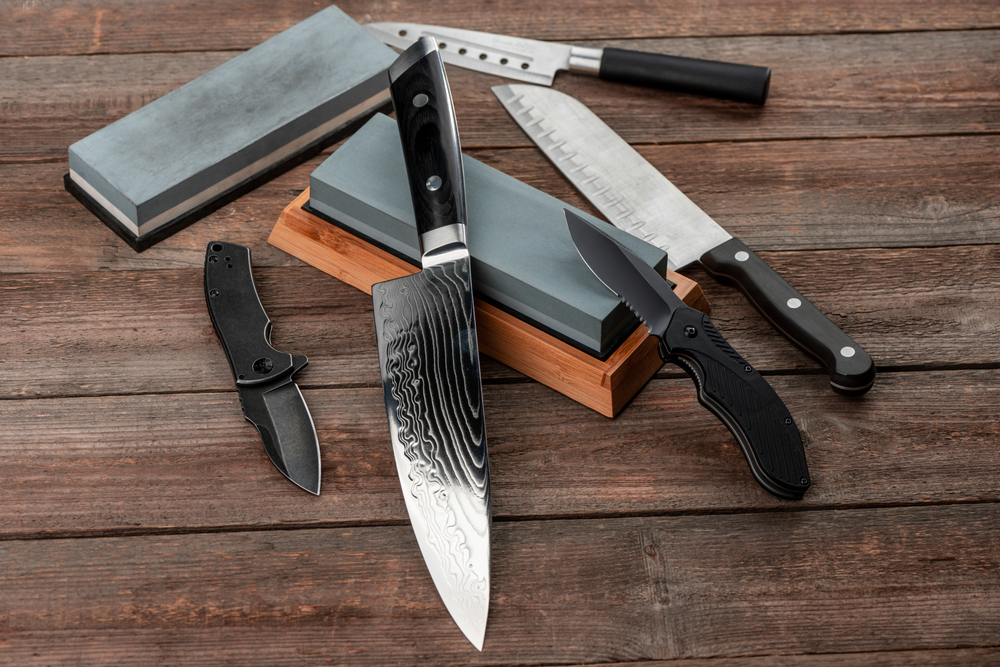 The Types of Material Used for Sharpening Stones
Before choosing the correct stone for sharpening your tools and knives, it is important to understand the differences between stone materials and creation, and how this can influence your decision. There are three main types of stone used for modern sharpening stones. Each comes with its own advantages and disadvantages and is more beneficial for some knives and tools over others.
Synthetic
Man-made sharpening stones using ceramics, aluminum, or corundum are some of the best available. The high-end blocks from Japan are considered by some to be superior to natural sharpening stones due to their consistency of grain. Most companies have their own unique formulas and processes for preparing their blocks, so you should never assume that one brand will work as well as the other. In our opinion, the Sharp Pebble is the gold standard, while fans of the Japanese blocks may instead turn to Shapton for the best there is.
Natural
For some purists, there is no better sharpening stone than a natural one. Often from Arkansas, these stones are made from Novaculite, which contains a high percentage of quartz crystals. These stones have a natural grit but wear away faster than synthetics and have a less consistent surface. Natural stones require oil to keep clean and are more often used for fine sharpening.
Diamond
Diamond stones are more likely to be used for coarse sharpening and are highly recommended for outdoor tools. They do not need water or oil to prepare and last longer without requiring special care. These "stones" are made from diamond particles embedded into the metal. While not suitable for fine sharpening, they make a great starting point for your kitchen knives or to be used as handheld devices for garden shears.
Understanding Grit
The grit, or coarseness of a stone, refers to the size of the grains used. A "coarse grit" has larger grains, which can be better at removing nicks from blades that have been damaged. A "fine grit" has much smaller grains and can make an already-sharp blade sharper still. A "fine grit" stone is not suitable for more damaged blades as it will take much more work to remove nicks and will wear out the stone faster. "Coarse grit" stones are also what you would want to use for use on outdoor tools.
It is generally considered that a "coarse" grit is under 500, while anything higher is considered "fine." The King KW65 Whetsone includes a grit that is 6000, which will produce an extremely sharp knife.
A stone's material affects the ability to produce a fine and consistent grit. Natural stones are generally of very high grit and are more likely to be damaged by sharpening extremely blunt tools, while diamond stones are rarely fine enough to sharpen razors.
How Do You Use a Sharpening Stone?
Using a sharpening stone for the first time may feel a little daunting. However, after only a little practice, the task can be found quite simple.
Step 1 – Prepare the Stone
This may require soaking, wetting, or oiling the stone, depending on the type. Arkansas stones always require oil. Diamond sharpening stones do not need either water or oil and can be used dry.
Make sure the stone is firmly in its base and that the base is not slipping on the counter. If using a handheld stone, ensure that it is not slipping in your grip. If you intend to use more than one grit, start with the coarsest grind.
Step 2 – Use an Angle Guide
When first learning to sharpen knives, it may be useful to use an angle guide. Our top stones, including the King, come with angle guides included. Place this guide at the head of your stone to find the correct angle to position your knife. This will provide the most efficient sharpening process.
Ensure the knife blade faces away from your body.
Step 3 – Move the Knife
Push the blade away from yourself as if you are trying to peel off the top of the stone. When first sharpening the knife on a coarse grit, do not be afraid to apply a little pressure. Repeat this process three or four times.
Step 4 – Swap Sides
It is important to sharpen both sides of a knife. Turn the knife over and maintain the same angle. While still keeping the blade away from your body, pull the knife towards you. This allows you to keep holding the handle in the same hand, and pulling produces the same effect as pushing.
You can swap sides back and forth until you no longer feel any "bumps" as you drag the knife along the block. At this point, move to the finer grit block and repeat the process.
Step 5 – Finish Up
Wipe your knife carefully with a cloth and then test it using a piece of fruit or vegetable. Never test the sharpness of a blade using your finger as, if you have done a good job, you may be able to slice it off before feeling it.
Clean the stone if required, and you're all done. You can now start using your newly sharpened blade.
If you are sharpening scissors and gardening shears, the process is much the same. The only difference is that you will be using a coarser grind.
Frequently Asked Questions
Do I Need a Strop as Well as a Sharpening Stone?
The use of a leather strop to finely polish an already sharp knife can be something useful for cut-throat razors, but kitchen knives and garden tools don't generally need that level of sharpness. However, if you like to do everything to the absolute peak of perfection, there are many fine choices out there. We would recommend the Sharp Pebble Strop, which comes with the same great workmanship as the Sharp Pebble Stone.
Is There a Sharpening Stone for a Ceramic Knife?
Ceramic knives may be capable of great sharpness but are also extremely brittle. Unless you are an expert at knife sharpening, we recommend not using a sharpening stone and, instead, finding a professional.
How Long Do You Soak a Wet Stone?
If you need to soak your sharpening stone, as is the case with some of our top picks, five to ten minutes should be enough to soften the stone to an appropriate degree.
How Do You Clean a Sharpening Stone?
The best way to clean a water or diamond stone is to simply rinse it under the sink and then wipe it down with a paper towel. To clean a natural oil stone, put a little oil on the stone and use a cloth to rub-down the length in a circular motion. For a detailed visual guide to cleaning a sharpening stone, check out this video.
How Do You Flatten a Sharpening Stone?
You need to maintain sharpening stones after about every 100 uses, and this includes "flattening" the surface to ensure the technique you use continues to be precise. To flatten a sharpening stone, simply clean it and then use high-grit sandpaper to rub gently over the surface to remove any inconsistencies. There are "flattening plates" that can also claim to help, though we do not generally recommend them.
Final Words
A good sharpening stone will save time, money, and hassle, as well as providing a safer cutting experience with your knives and tools. We highly recommend using multiple grits for the best effect, and many of our stones include this. Synthetic sharpening stones have come a long way and, for the kitchen, are currently the best option for both quality and price.
If you're still not settled on a sharpening stone after seeing our top 10 list and you're after a tool to sharpen knives specifically, then you may wish to check out our guide to the best knife sharpeners. As well as including additional whetstone options, we also pick out the best knife sharpening sticks, pocket tools, and electric sharpeners.