Having a well-maintained lawn is one of those unavoidable ongoing tasks of being a homeowner. Mowing the lawn can take hours and has the potential to be physically exhausting. While some people can afford to pay someone else to perform the weekly task, this isn't the case for most of us.
Fortunately, it is easy to save money and effort by purchasing a high-quality self-propelled lawnmower. Not bulky like ride-ons, nor backbreaking like push mowers, these motorized beauties just need gentle guiding around the yard to produce a high-quality cut with minimal fuss.
What to Look for in a Self-Propelled Lawn Mower
There are only a few specific factors you need to look for to pick the right lawn mower for your needs and, by keeping these in mind, you are sure to find the perfect choice for your budget.
Cut Capacity, Height, and Discharge
Obviously, the most important factor to consider when buying a self-propelled lawn mower is how well it does its primary job: does it cut the grass? A good lawn mower can finish your lawn in the least number of passes, cutting the grass to a height you want. This means having a wide width of cutting (cut capacity), the ability to adjust the height to the length you prefer, and having multiple discharge options for the waste grass.
The width of a lawn mower can be anywhere from 17 to 30 inches. The wider the base, the fewer passes you need up and down the yard, but the more maneuverability issues you may have getting around trees and gardens. For this reason, having a mower that is between 20 and 25 inches is ideal. We prefer the 21inch, as it remains light-weight and maneuverable without significantly increasing the time it takes to mow our lawns.
We all have personal preferences when it comes to the length of our grass. Longer grass has less cause for erosion and can be better for pets, while short grass can make our front lawns look neater. Good self-propelled lawn mowers offer multiple height settings.
For the most discerning of us, the Snapper Ninja has seven unique options between 1.25 and 4 inches in length.
Finally, we need to decide what we want to happen to our lawn clippings. While the neatest way is to collect with a bag or container, you can also have lawn mowers discharging the grass to the side or mulching it to encourage growth. Most of our choices offer all three.
Electric or Gas
We are a big fan of the latest electric lawnmowers. They are almost as powerful as gas while being quiet, environmentally friendly, and lighter to carry around. Today's battery can be charged in under an hour and will last you years without needing replacing while avoiding the need for oil checks or gas refills.
Still, it is undeniable that the most powerful lawn mowers are gas-driven. Gas mowers are also cheaper and don't require waiting for a battery to charge. It used to be they were also better at cutting tall, thick grass, but that is no longer the case. For those of us who hate the old cord-pull system, we welcome that many of the gas options come with electric starters.
Maneuverability
When it comes down to it, you need to think about the lawn you are cutting. A lawn with many trees and curving gardens is going to need a mower that can take sharp corners, while uneven ground and hill terrain will require large tires and rear-wheel-drive.
Maneuverability, of course, is about more than just where you are mowing. Having something that is light and can fold away makes a difference as well. Electric mowers are the winners here, with the EGO Power+ coming in at under sixty pounds.
Finally, if you have a really big lawn to maintain, you may want to take a look at a riding lawn mower instead.
With all of this in mind, let's continue to our list of the best self-propelled mowers for 2021.
Top 10 Best Self-Propelled Lawn Mowers 2023
1.

Best Overall Self-Propelled Lawnmower:

Lawn-Boy 17732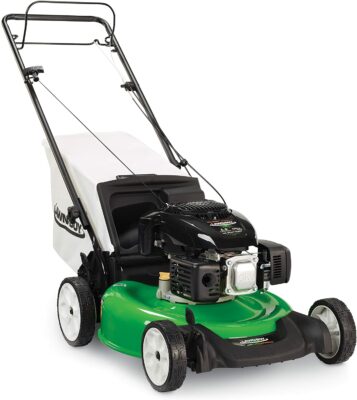 Why we like it:
A reliable, powerful mower that does everything it needs to perfectly. From a reliable company comes a high-quality machine that makes you wonder if extra bells and whistles are really worth it.
Editor's Rating:
Quick Facts:
Cut Capacity: 21" width, 1.25-3.75" height
Power: 149cc gas-powered
Weight: 66 lb.
There are mowers with larger cut capacity, mowers with larger engines, and mowers with lower costs, but no mower can do all three. After eighty-five years in the business of mowing, Lawn-Boy has perfected getting the important things right.
Made from aluminum and hard polymers, it is lighter than most gas mowers, while its 149cc motor maintains the sort of power that can handle hills with ease. A small turning circle and variable speed control make it easy to move about the yard, while the rear-wheel-drive means it won't be slipping about when on uneven ground. Its 8" wheels are sufficient for all but the roughest conditions.
The Lawn-Boy is CARB-Compliant, which is a difficult certification to get and, while not as quiet as the electric mowers on this list, won't get your neighbors too angry.
There are few bells or whistles on the Lawn-Boy 17732. It only has two height settings, and it is a cord-start. But with a "Tru-Start" three-year warranty and a price well under three hundred dollars, it easily makes our pick for "Best Overall Self-Propelled Lawn Mower."
Pros
Light and easy to move, without losing power

Can handle a range of environments

Low on air and noise pollution

Best value for money
Cons
Only two height settings

Cord-Start
---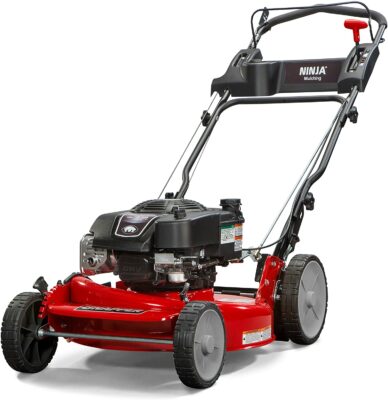 Why we like it:
From its 190cc engine to its foam handles and cup holders, no expense is spared in making this the ultimate self-propelled lawn mower.
Editor's Rating:
Quick Facts:
Cut Capacity: 21" width, 1.25-4" height
Power: 190cc gas-powered
Weight: 82 lb.
When money is no object, you tend to go looking for a machine that has everything. This mower features solid steel construction made in the USA. 10" wheels perfect for both flat and rocky lawns, seven different settings for height, and the most powerful engine you will find on a self-propelled lawn mower. Just for kicks, let's give its blades extra cutting surfaces for a neater-looking cut to the grass.
You know what? Let's even give it a foam-grip handle with a cup-holder.
Now you are looking at the Snapper Ninja. The ultimate in self-propelled lawn mowers, it boasts a Briggs and Stratton engine, 8.5 ft-lb. of torque, and a Ready-Start system that doesn't require a choke or priming. It is the only mower we found that offers seven separate height settings, including 4". It mulches better than any other mower we have found and, while it doesn't come standard with a bag, you can optionally buy one. Knowing that you have to pay for this kind of power, the team at Snapper went all out on the extras. We weren't kidding about that cup-holder. It also comes with a three-year warranty.
Obviously, this isn't a light machine, and it doesn't have the smallest of turning circles, but that doesn't mean it isn't suitable for a front lawn. While there isn't a grass so thick it won't cut, it handles finer, more delicate operations quite aptly as well. With variable speed and smooth-turning wheels, moving the heavy machine is quite easy as long as the motor is running. Unlike many other rear-wheel-drive machines, turning this mower isn't difficult. We put this down to the equally sized wheels.
You are spending over twice the amount you would pay for the Lawn-Boy, but Snapper is still making sure you still get your money's worth.
Pros
Solid steel construction

Powerful 190cc engine

7 different height settings
Cons
The bag must be purchased separately

Heavy, with a large turning circle
---
3.

Best Electric Self-Propelled Lawn Mower:

Greenworks MO40L03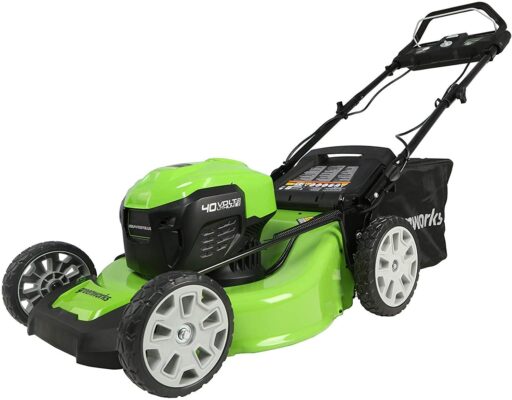 Why we like it:
It has only been recently that you could buy a self-propelled lawn mower that performs as well as a gas one. Greenworks is to thank for that.
Editor's Rating:
Quick Facts:
Cut Capacity: 21" width, 1.75-3.75" height
Power: 40V electric running with two batteries 2-6Ah
Weight: 65 lb.
If you are surprised that electric lawn mowers could rank so high on our list, you can join our club. We were expecting something light, yes, but also weak, short-lasting, and ultimately without the necessary abilities to "make the cut." Greenworks 40V Smart Pace goes further.
The 40V motor is as powerful as any 140cc engine we found and cut through even thick grass easily. A ¼ acre block can be done in a single battery charge, and the mower is designed to fit two batteries at once.
While they are not included, we found them and their chargers easy to purchase and, combined, don't make for an expensive outlay. These same batteries work in Greenworks trimmers, blowers, and cutters, which means it is especially worth considering if you are upgrading the entire tool shed.
The Greenworks is slightly quieter than a vacuum cleaner, and it can be a bit disconcerting at first. Is it really working? The lawn shows that it is. Can it handle the thicker grass? Yep.
The only place where we have concerns is on hilly terrain.
The Greenworks just doesn't have the guts to push itself forward when it is both steep and thick. Still, it's not too terrible, offering it an extra push, what with how light it is. With seven height positions, we found setting the level a little higher made things easier, and we were glad for the ten-inch back wheels.
The Smart Pace comes with a 4-year warranty, and its batteries last around 100 hrs of work (which, for most of us, is about 18 months of lawn mowing).
Light, quiet, environmentally friendly without significantly losing power, if you are ready to be convinced by the power of electricity, let Greenworks do it for you.
Pros
Amazing power from an electric mower

Long battery life

Seven height levels and good with long grass

Quiet and light
Cons
Battery and charger are not included

Struggles on hills
---
4.

Best Budget Self-Propelled Lawnmower:

PowerSmart DB2321SR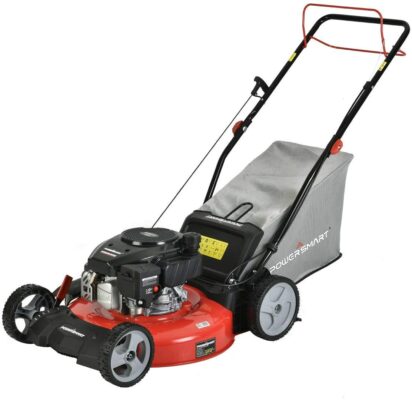 Why we like it:
Powerful and reliable at the lowest price, you will find for a self-propelled mower.
Editor's Rating:
Quick Facts:
Cut Capacity: 22" width, 1.18-3" height
Power 170cc gas-powered
Weight: 75 lb.
Let's start with the price, because this is the cheapest self-propelled lawn mower you will find, and it is impressive that it comes from such a respected brand. If saving every cent matters to you but you still insist on self-propelled, this is your choice. Hey, if self-propelled doesn't matter, almost the exact same mower is nearly one hundred dollars cheaper again.
What are we losing for going cheap? The real answer is "not much." You still get a lawnmower with a steel deck, 170cc motor, and three ways to dispose of the clippings. You do get a slightly larger cut capacity and doesn't affect its maneuverability too poorly.
If there is any real complaint to be had, it is that the speed of self-propulsion isn't variable and, set how it is, can be a mite too quick for some. PowerSmart has made an impressive mower like they always have, but the self-propulsion part still needs fine-tuning. Still, as the cheapest self-propelled lawn mower out there, it is far better than it should be for the price.
Pros
As powerful and sturdy as your best mowers

Slightly larger cut capacity than others

Cheapest self-propelled mower you will find
Cons
Non-variable speed is a little fast for our liking
---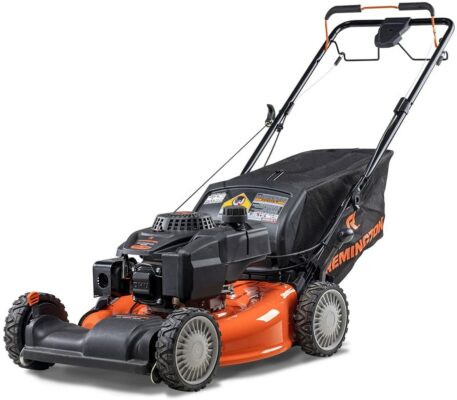 Why we like it:
A reliable piece of machinery from a name you can trust, what makes it truly stand out is the All-Wheel-Drive.
Editor's Rating:
Quick Facts:
Cut Capacity: 21" width, 1.25-3.5" height
Power: 159cc gas-powered
Weight: 82 lb.
Remington is a name you can trust, so we weren't surprised to find this ending up on our list by name alone. But it would be unfair to suggest it got here based on the branding because this is an interesting mower.
As we discuss in the full buyer's guide, there is a difference between front-wheel and rear-wheel control for self-propelled mowers. Remington's response to this was to create a mower that not only does both but lets you choose. Yep, not only all-wheel-drive but selectively rear or front as well.
Besides this great feature, it is a solid mower. Six height settings, a strong steel deck, and the three options for discharge that we come to expect in the best mowers. It does fail slightly in having the smaller rear wheel, but when you put it in AWD, you don't notice it.
The Pioneer is a heavy beast, and not for moving around easily. But for hilly, uneven ground, there is little more than you could ask from a mower.
Pros
Selective AWD

Reliability you would expect from Remington

Six height settings
Cons
Heavier of the self-propelled mowers
---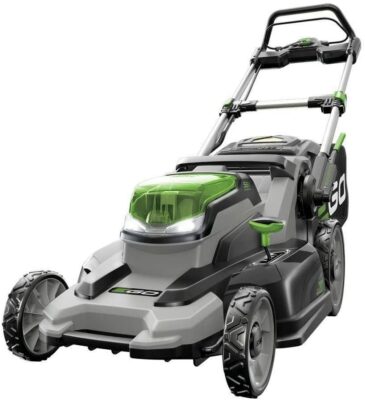 Why we like it:
A high-quality electric mower that isn't self-propelled but feels like it is. Perfect for the front garden.
Editor's Rating:
Quick Facts:
Cut capacity: 20" width, 1.2-3.5" height
Power: 56V electric
Weight: 56 lb.
When someone pointed out the EGO to us, our first response was "that isn't self-propelled." It's true. It isn't. The EGO, instead, is a mower that reminds you that self-propelled doesn't automatically mean "easier to use" and vice versa.
The EGO is one powerful cutting machine, better than most of the gas mowers out there (including the ones below it on this list). It cuts tall grass easily and, despite its 9" wheels, takes hills without expecting much effort.
It's the special polymer construction and removal of any unnecessary weight that makes this such a maneuverable tool and because it doesn't have a motor connected to its axles, it makes moving backward easier than any self-propelled mower. With five separate height settings and a slightly smaller 20" width, this is perfect for tricky-shaped lawns.
If there is a problem with the EGO, it isn't in its lack of propulsion. It is, in fact, with its charger. While it is a fast, 30-minute charge (which means your flat battery will be full by the time you are finished with the spare), it does so in a very warm manner. Yeah, the charger gets hot. Keep your kids' fingers away.
If you are looking for a mower for the front garden, carefully moving between rosebushes, this is the one you want. Moves easier than any other, as only quiet electric mowers can, and leaves you with the sort of cut you used to only get from powerful gas guzzlers.
Pros
Powerful and quiet

Very light and easy to move about

Fast-charging batteries
Cons
Batteries are not included

Charger gets quite hot
---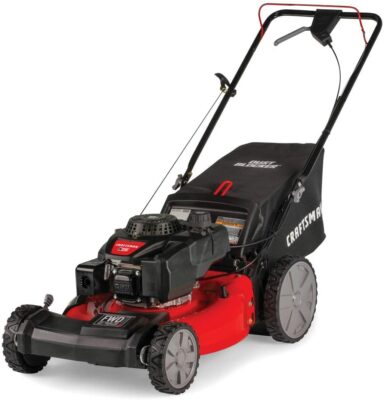 Why we like it:
A great all-rounder, this American-made mower is easy to use and kind to the wallet.
Editor's Rating:
Quick Facts:
Cut Capacity: 21" width, 1.3-3.5" height
Power: 159cc gas-powered
Weight: 82 lb.
The Craftsman is simply a solid lawnmower. Proving that American-made doesn't have to come at a premium, it sits on the cheaper end of our list of mowers but has the quality manufacturing you expect from local companies.
While being front-wheel drive makes it great for moving about, the 11" rear wheel means it doesn't struggle in thicker grass. The 159cc motor is powerful enough for most scenarios, although we did note that the propulsion struggles on hills. This is likely due to the weight, which is a little excessive.
The Craftsman offers six levels of height, and its frame easily moves around trees, and its variable speed means it never gets away from you. One interesting thing we can't say for other mowers on this list: the bag is comfortable to move about and empty. It just had that right shape and weight to never feel awkward, full or empty.
This Craftsman mower Is a good machine at a reasonable price, making mowing a no-hassle event.
Pros
Comfortable and light bag

American-made from strong materials

Inexpensive
Cons
Heavy for what it offers

Struggles a little on hills
---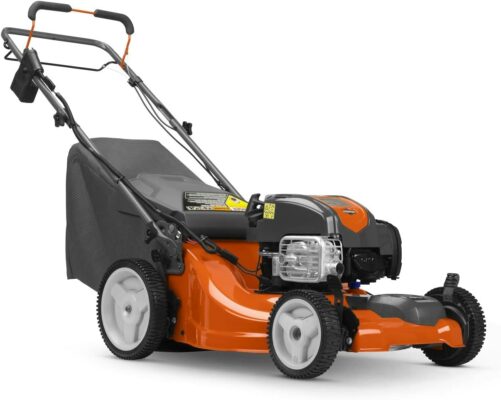 Why we like it:
A quality premium mower from a known name, it has an electric start and Briggs and Stratton Engine
Editor's Rating:
Quick Facts:
Cut Capacity: 21" width, 1-4" height
Power: 163cc gas-powered
Weight: 75 lb.
The Husqvarna is a premium gas mower, and the price reflects the attention to detail the company has put into it. The Briggs and Stratton engine is one of the most powerful around, and extremely reliable, and the front-wheel-drive is variable speed. With 8" wheels and four height choices, the mower is designed with the suburban yard in mind.
The electric start means the literal push of a button is all you need to get on your way, which makes this especially helpful for those of us who don't want to pull a muscle just trying to begin the mowing process. Unfortunately, it is still a steel-decked mower with an engine, so putting it away may take a little of that strain instead.
Like most Husqvarna tools, the self-propelled mower is very reliable and can last you years without a single fault and, for that reason, it is worth paying the extra money. It still doesn't come close to being as expensive as the Snapper, and not all of us need a cup holder.
Pros
Electric start button that works every time

163cc Briggs and Stratton engine

Long-lasting construction
Cons
Small wheels are not suited for tough work

Heavy, due to steel construction
---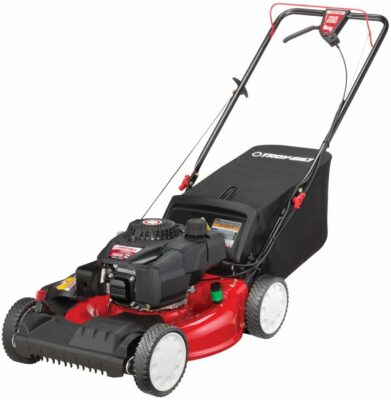 Why we like it:
A good self-propelled mower that is easy to clean and has a tri-cutting action that ensures a single-pass cut.
Editor's Rating:
Quick Facts:
Cut Capacity: 21" width, 1.25-3.75" height
Power: 159cc gas-powered
Weight: 79 lb.
Troy-Bilt has been making farm and gardening equipment since 1937, and their TB220 is evidence of what you can learn in that time. With this particular mower, they asked, "what do you need for a small to medium yard mower?" and then concentrated on providing the best in those areas.
The solid OHV engine, turning a tri-cut blade, ensures a single-pass mow on even the thickest and wettest of lawns and offers you six different height settings for the cut. While its 75 lb. body doesn't turn on a dime, the front-wheel-drive makes it easy to move about and the 8" wheels are perfect for the suburban yard.
A nice touch to the Troy-Bilt is the purpose-built hose-adaptor on the side of the deck, for an easy way to rinse clippings out from the underside of the mower. It's little touches like this that show when a manufacturer is thinking with a specific user in mind.
Pros
Tri-cut blade system for consistency

Front-wheel-drive and 8" wheels for suburban lawns

Hose-adapter for rinsing clippings
Cons
Difficult to turn

Heavy for a suburban mower
---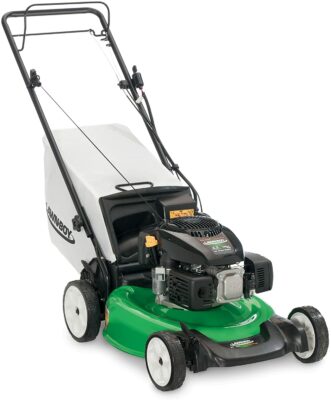 Why we like it:
The big brother of the
Lawn-Boy 17732
, this mower provides the same quality of the machine, but with some added extras to make life just a little easier.
Editor's Rating:
Quick Facts:
Cut Capacity: 21" width, 1.25-3.75" height
Power: 149cc gas-powered
Weight: 72 lb.
A slightly more expensive alternative to the Lawn-Boy 17732 this model is a very similar lawnmower. It has the same great engine, the same great maneuverability. It even has the same CARB-Compliance certification that is so hard to obtain.
So why buy this one if the other is cheaper? Or why include it at all?
It's the electric start. The only other gas-powered mower on the list with one is the Husqvarna, which is a premium brand. While this model of the Lawn-Boy is one hundred dollars more than its baby brother, that very well could be worth spending. Especially when you find that the electric start on the Lawn-Boy is a key-turn start that is guaranteed to work every time, right there at the top of your handle. Because this Lawn-Boy, despite being slightly more complex to start at a mechanical level, still has the Tru-Start warranty.
It truly is a tough call. In the end, we decided that it was a luxury, albeit a wonderful one to have, and went with the 17732, but we would be failing you in not letting you know this exists.
Pros
Everything that was in our number one choice

One-turn key electric start with Tru-Start warranty
Cons
Is this benefit worth a little extra weight and a lot of extra money?
---
Self-Propelled Lawn Mower Buyers Guide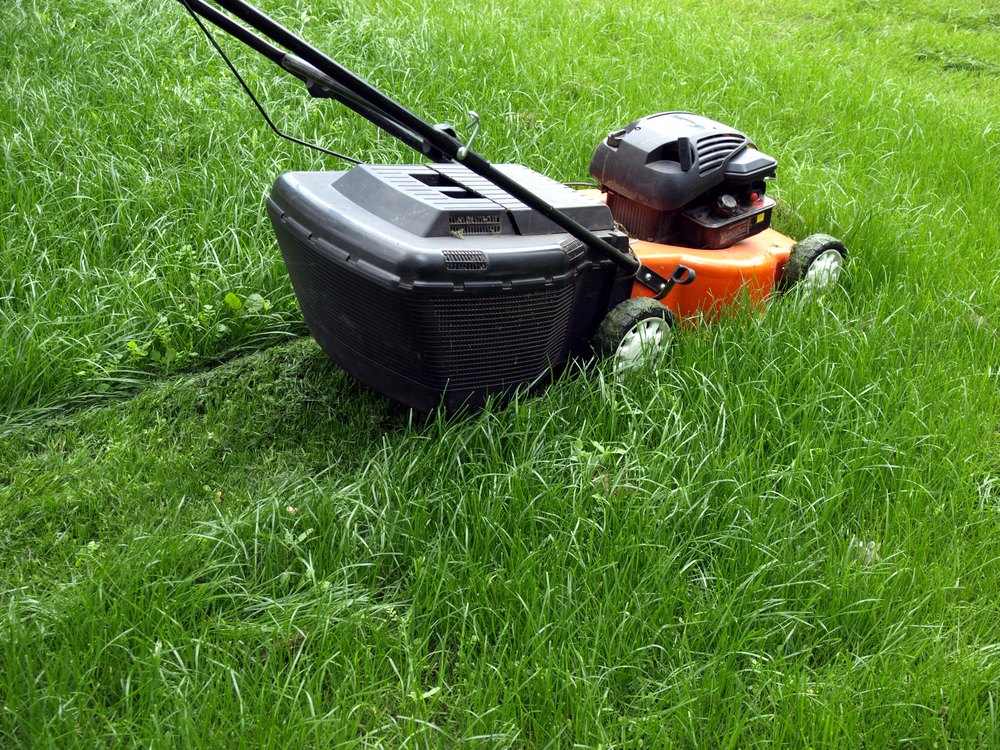 Mowing the lawn can be as simple or as complex as you would like it to be, and some mowers are suitable for both circumstances. The pure simplicity of a self-propelled lawn mower is that it drives itself. Point it in the right direction and it goes. While there can be factors like height settings, front or rear-drive, and how it is powered, if all you are interested in is having your large flat lawn being cut, then any of the above list will be perfect for you.
Having said that, those of us who seek perfection in everything we do want to fully understand why one mower is better than another for hills or yards with many bends. We find out what the ideal grass length is for our particular turf, and want a mower that can do it. Hopefully, by the end of this guide, you have all the information you need to make that informed choice.
Does Front vs. Rear Wheel Drive
A lot of marketing around self-propelled lawn mowers makes a big deal about front and rear drives, and we have made sure that each of our listed mowers includes a note about this, but how much does it matter? As long as the mower moves forward without much effort on our behalf, does it matter if it is the front or back wheels being pushed?
Yes, and No. On flat ground, moving straight ahead, a front-wheel-drive and a rear-wheel-drive will move just as well as each other. One isn't more or less likely to get away from you or struggle on a hill. However, when it comes to moving about, one out-performs, depending on the task.
A front-wheel-drive is slightly easier to turn corners because you can lean a little on the handlebars to lift the front wheels as you turn. A rear-wheel-drive machine may need to either be stopped completely or lifted (including the bag) from the back. There are some exceptions to this, obviously, with both the Lawn-Boy-17734 and Snapper Ninja having no problem taking corners.
On the other hand, a rear-wheel-drive is not going to slip on hilly terrain, especially when the bag gets heavy and the weight of the mower redistributes to the back. This can be especially important in wet or thick grass. Mowers designed for rougher work, like the Craftsman, also have larger rear wheels, which can help in this area.
There does exist an All-Wheel-Drive self-propelled lawn mower, the Remington Pioneer, which is perfect for large yards of heavy terrain, especially on hills. It is difficult to turn, but will not slip, or struggle to move forward.
For us, we think that the difference is far more important for heavy yard work on uneven ground. For a flat suburban yard, either works fine.
How High Should I Cut My Grass?
Believe it or not, universities teach classes on the best lengths for cutting grass, and the best answer given is "there is no confirmed length that is perfect." There are, however, some things the experts agree upon:
Grass cut at around 2 ½ inches is ideal, but anywhere between 1.5 and 4 inches is fine.
Grass that is cut longer will need cutting more often, but will better deal with erosion and drought.
Grass that is cut shorter can be better at avoiding snow mold in the winter.
Longer grass is, contrary to popular opinion, less likely to attract weeds.
Mowing over dead leaves is good for your grass, as is leaving grass clippings behind.
It's unlikely you will be using "the wrong height." Choose what looks nice, and feels good underfoot.
Environmentalism, Gas and Battery Usage
With 71% of consumers considering the environment when making purchasing decisions, it is no surprise that more and more of us look into the differences between gas and battery-powered mowers, even though it is sometimes difficult to find answers we can understand. While some questions exist about the impact batteries have on the environment, we know that appropriate recycling can make a real difference.
We also know that 5% of American air pollution comes from mowing lawns. Going electric, and disposing of old batteries the correct way (that every 2-3 years it will be needed), is by far the most environmentally responsible option.
CARB-Compliance
According to the California Air Resources Board (CARB), one hour of lawn mower use has the same emission as driving 300 miles. Because of this, the Californian government created regulations to decrease the air pollution created by small engines. To be considered "CARB-Compliant," a company must show that their engines meet very specific emissions targets over time.
This is a difficult process, so if you decide to choose a gas-powered mower, one that is CARB-compliant is made by a company that has shown considerable thought to their production. All Lawn-Boy Mowers, including our top pick, have this compliance.
Some people still think that going electric means losing power, mowers that cannot cut as well and waste time due to waiting for batteries to charge. That was once the case, but it isn't any longer.
We would happily pit any of the gas mowers on our list against the EGO Power+, and the Greenworks is as powerful as the Lawn-Boy. The EGO also has a full battery recharge in only half an hour, faster than going down the street to refill the gas can, that is for sure.
There might have once been a reason to avoid electric mowers, but today there are some amazing examples of self-propelled mowers that run on batteries.
Safety When Mowing
Each year, across America, over 6000 people are injured in lawn mower accidents. 22% of these are amputations. More people die from lawnmowers than bears, sharks, and alligators combined.
Sometimes it is easy to forget that the machine we pull out of the shed once a week can do serious damage, and should be treated with respect. No matter how often we have mowed the lawn, we should still go through the following checklist to avoid harm to ourselves and our loved ones:
Is the engine cool and mower turned off before refilling gas?
Are we wearing proper protective equipment including closed-toe shoes, gloves, and ear protection?
Have we checked the lawn for debris that may be dangerous to mow over?
Are we making sure not to use an electric mower on a wet lawn?
Do we know where all the nearby children are and are they safe?
While there are many other considerations to be had, these are the most important questions.
Final Thoughts
Self-propelled lawn mowers make a common chore easier and do not considerably add to the cost of our garden maintenance. To get the best value for money means knowing what type of mower is best for our needs, and what options out there fit those criteria. We are pleased to present a mix of both gas and electric self-propelled lawn mowers for every budget.