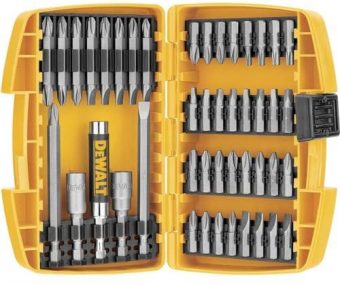 DEWALT DW2166 Screwdriving Set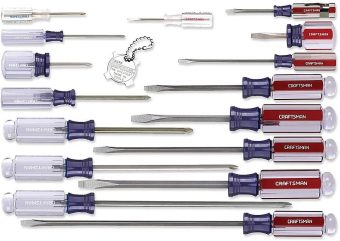 Craftsman 9-31794 Slotted Phillips Screwdriver Set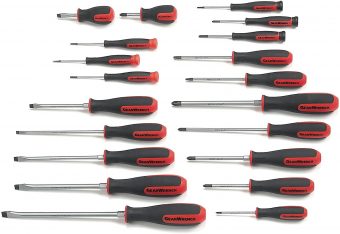 GEARWRENCH 80066 Master Dual Material Screwdriver Set
Previous
Next
If you are a do-it-yourself type of person, it is vital that you should have a set of screwdrivers in your household. Having a set of screwdrivers will mean that you can complete house repairs on your own without having to call for a carpenter or a plumber. A single screwdriver will never get the job done, meaning you need a full set that will come with a range of screwdrivers to fit in your toolbox.
With so many choices of screwdrivers out there, getting the right set of screwdrivers can be a challenge. This is because it can be hard to tell the difference between high-quality sets and those that are not. It does not matter whether you are using them around the house or for work, the screwdriver sets below to give you value for your money and come in great quality. We give you a guide that will enable you to narrow down your choices into choosing the best screwdriver set.
Features to consider in Good Screwdriver Sets
A good set of screwdrivers is a vital component for any toolbox. Screwdriver sets come in all sizes and shapes. Knowing which set is right for you can be something of a challenge. Therefore, there are certain things you should consider when choosing your screwdriver set.
What to Look for Before Buying a Screwdriver Set
To know which screwdriver set is best for you, here are some of the few key things you should take into consideration:
Heads
There seems to be an ever-growing list of head types developed by different companies in a bid to ensure that you buy their bits. It is no wonder then that most of these head types look the same. Nevertheless, the kind of screwdriver you buy will depend on the purpose of using them.
If you intend to use your set for gardening purposes, it is ideal to opt for Phillips, slotted and flatheads. On the other hand, if you intend to use it for professional purposes, a hexagonal or Torx screwdriver head will be the best for you. Torx screwdrivers are commonly used with electronic equipment, whereas hex screw heads are used for do-it-yourself furniture. Once you consider the usage for your screws, you can choose the right selection for you.
Separate or Integrated Heads
For a person looking for easier storage and a wider selection of bits, getting a multi-bit screwdriver is their best option. Multi-bit screwdrivers consist of a blade, handle, and attachment mechanism that allows bits to be used interchangeably. This also allows you to use a power drill if the individual bits are compatible with these.
Nonetheless, screwdrivers with fixed bits can be used to your advantage because they will be more solidly secured. Having a dedicated screwdriver can be a good idea especially if you encounter the same type of screw every time. However, it is easier to lose bits than losing a whole screwdriver.
Tips
One of the most important parts of a screwdriver is the tip. Finding one that is of high quality is essential for your long-term usage. Hardened tips are tougher and more durable and you should look out for these. Take note of tips that have been dipped in paint to appear hardened.
In addition, you can look out for magnetized screwdriver tips. Many sets now come with magnetized heads that make the positioning of a tool a lot more easier. You should also be on the look-out for the strength of these magnetic tips since some are stronger than others.
Handles
Screwdriver handles have a vital role to play since they need to have a good grip to prevent accidents. It is your point of contact with the tool, and if it's uncomfortable to hold, it can become very unpleasant if you are using the screwdriver for long periods of time. When choosing a screwdriver set, the handle should be ergonomically easy to hold in addition to providing enough grip. This will allow you to work with a handle for longer periods of time.
Storage
With most people having limited space available, it is important to choose a screwdriver set with a storage solution. Such sets come with a rack, a case, or even a box. You will also have to consider the portability of the screwdriver set. Regardless, you have to make sure that the storage of your set does not become a big issue for you.
Different Types of Screwdrivers and Their Uses
There are different types of screwdrivers that are used for different uses. If you end up using the wrong screwdriver, you are likely to cause more damage to your electronic or equipment. Be sure to match up the right screwdriver to the right job. Take a look at this guide to ensure that you choose an option that is suited for your needs.
Slotted Screwdrivers
They are best known for their ability to force a lid from a tub of paint out and are used on simple slotted screws. They are mostly used for carpentry and making of cabinets. They lack grip in comparison to other screws. However, they are still widely used because of the neat appearance of a tightly fitted slotted screw. They come in two standard sizes of 5.5 mm and 8 mm.
Phillips Screwdrivers
These are the most essential screwdrivers in all kinds of screwdriver sets. The 'x' shaped indentation of Phillips screws provide a greater surface area compared to the traditionally slotted screwdrivers. This makes them provide a firmer connection with the bits and hence more control over the fit.
Pozidriv Screwdriver
These screwdrivers are rare to find but their design is a variation of the Phillips screwdrivers. As such, Phillips screwdrivers can be typically used on Pozidriv screws. Just like the 'x' shaped indentation of Phillips screwdrivers, they provide you with extra grip when working with them.
Torx Screwdriver
Torx screwdrivers were patented back in 1967 by Camcar Textron and are essentially a development of the Phillips screw. However, they consist of a six-point pattern instead of four. Therefore, they are commonly known as 'star' screws and must be tightened or loosened with a specially made Torx screwdriver. With two extra points of contact between the tool and screw, ensures that they can be attached especially tightly. This means that they are well suited for use in fixing electrical equipment or fixing do-it-yourself tools.
The 10 Best Screwdriver Sets 2020
Guide to Buying the Best Screwdriver Sets
You have been provided with a rundown of the 10 best screwdriver sets that are available in the market right now. This can help you narrow down your options so choosing the best product becomes easier. Before you choose the best screwdriver set, there are some factors that you need to consider. So, whether you need a new set for your gardening work or for some professional work, this guide will help you out.
When choosing your screwdriver set, there are a few key factors you need to consider
Purpose
The reason you may be getting a screwdriver set will vary from one individual to another. You may need a set for your home use, construction use, or professional work. If you intend to get screwdrivers for general use, your screwdriver set should contain different screwdrivers and heads that are adaptable to various screw types. Such a set should include the most common driver heads as well as a few that are not so common.
Screwdrivers are a common part of any construction worker's job. As such, any screwdriver set that they use should be made from the best quality material and properly engineered. The screwdrivers in these sets should be sturdy and capable of heavy daily usage.
On the other hand, if you are into performing work that involves a lot of details, you will require precision screwdrivers. Small screws and delicate materials that require superb control will be suitable for you. Such a set is extremely useful if you are working on electronic devices, watches, and jewelry.
Type of Screwdriver
There are two types of screwdriver sets, a standard set, and a bit set. A standard set of screwdrivers comes with solid screwdrivers that include an integral handle, shank, screwdriver head, and a tip. They cannot be disassembled.
On the other hand, a bit set includes a screwdriver with removable tips. You can easily interchange these multi-bit screwdriver tips. They come in a wide variety of shapes and sizes.
Features
Different screwdriver sets have different features. Some of the features to look out for in a screwdriver set include magnetic heads, durability, ergonomic grips, non-corrosion coating, and a quick release driver head. Magnetic screwdriver sets have magnetic bits that enable them to adhere to screws during use. The magnetism reduces the chances of loose screw heads dropping by making it easy to maintain contact.
Durable screwdriver sets are made from tougher construction, tighter fits, and heavier materials. The most preferred materials are chrome vanadium steel or heavy-duty alloy. On the other hand, screwdriver sets with ergonomic grips have handles that have been specially designed for comfort and ease of use. The handle should be preferably made from non-slip material.
A quick release screwdriver set has a built-in mechanism for retaining and gripping the driver heads. They hold the bits firmly in place while leaving them easily interchangeable. Coating screwdriver heads with non-corrosion coating ensure that they are resistant to corrosion and rust-proof.
The Verdict
Since we all need to unscrew something once in a while, a screwdriver set is an essential part of anyone's toolbox. Whether you are opening your laptop cover or a vent in an air conditioner, a screwdriver set will come in handy. That is why it is important for homeowners and professionals to invest in a decent screwdriver set.
The most important thing you need to determine when making any meaningful choice when it comes to a screwdriver set is the type of head you will need. Besides, you need to also consider the type sizes and the number of pieces in your set. Having a set with a wide variety of heads should be advantageous to you.
Despite the fact that you need to get the right types and sizes for your screwdriver set, you can add more to your collection to come in handy in the future. The safest bet for you when it comes to choosing the best screwdriver set will be the DEWALT DW2166 Screwdriving Set and the Oria 58-in-1 Precision Screwdriver Set. These will cover most of anything that your garage could end up needing.