If you are a do-it-yourself type of person, it is vital that you should have a set of screwdrivers in your household. Having a set of screwdrivers will mean that you can complete house repairs on your own without having to call for a carpenter or a plumber. A single screwdriver will never get the job done, meaning you need a full set that will come with a range of screwdrivers to fit in your toolbox.
With so many choices of screwdrivers out there, getting the right set of screwdrivers can be a challenge. This is because it can be hard to tell the difference between high-quality sets and those that are not. It does not matter whether you are using them around the house or for work, the screwdriver sets below to give you value for your money and come in great quality. We give you a guide that will enable you to narrow down your choices into choosing the best screwdriver set.
Features to consider in Good Screwdriver Sets
A good set of screwdrivers is a vital component for any toolbox. Screwdriver sets come in all sizes and shapes. Knowing which set is right for you can be something of a challenge. Therefore, there are certain things you should consider when choosing your screwdriver set.
What to Look for Before Buying a Screwdriver Set
To know which screwdriver set is best for you, here are some of the few key things you should take into consideration:
Heads
There seems to be an ever-growing list of head types developed by different companies in a bid to ensure that you buy their bits. It is no wonder then that most of these head types look the same. Nevertheless, the kind of screwdriver you buy will depend on the purpose of using them.
If you intend to use your set for gardening purposes, it is ideal to opt for Phillips, slotted and flatheads. On the other hand, if you intend to use it for professional purposes, a hexagonal or Torx screwdriver head will be the best for you. Torx screwdrivers are commonly used with electronic equipment, whereas hex screw heads are used for do-it-yourself furniture. Once you consider the usage for your screws, you can choose the right selection for you.
Separate or Integrated Heads
For a person looking for easier storage and a wider selection of bits, getting a multi-bit screwdriver is their best option. Multi-bit screwdrivers consist of a blade, handle, and attachment mechanism that allows bits to be used interchangeably. This also allows you to use a power drill if the individual bits are compatible with these.
Nonetheless, screwdrivers with fixed bits can be used to your advantage because they will be more solidly secured. Having a dedicated screwdriver can be a good idea especially if you encounter the same type of screw every time. However, it is easier to lose bits than losing a whole screwdriver.
Tips
One of the most important parts of a screwdriver is the tip. Finding one that is of high quality is essential for your long-term usage. Hardened tips are tougher and more durable and you should look out for these. Take note of tips that have been dipped in paint to appear hardened.
In addition, you can look out for magnetized screwdriver tips. Many sets now come with magnetized heads that make the positioning of a tool a lot more easier. You should also be on the look-out for the strength of these magnetic tips since some are stronger than others.
Handles
Screwdriver handles have a vital role to play since they need to have a good grip to prevent accidents. It is your point of contact with the tool, and if it's uncomfortable to hold, it can become very unpleasant if you are using the screwdriver for long periods of time. When choosing a screwdriver set, the handle should be ergonomically easy to hold in addition to providing enough grip. This will allow you to work with a handle for longer periods of time.
Storage
With most people having limited space available, it is important to choose a screwdriver set with a storage solution. Such sets come with a rack, a case, or even a box. You will also have to consider the portability of the screwdriver set. Regardless, you have to make sure that the storage of your set does not become a big issue for you.
Different Types of Screwdrivers and Their Uses
There are different types of screwdrivers that are used for different uses. If you end up using the wrong screwdriver, you are likely to cause more damage to your electronic or equipment. Be sure to match up the right screwdriver to the right job. Take a look at this guide to ensure that you choose an option that is suited for your needs.
Slotted Screwdrivers
They are best known for their ability to force a lid from a tub of paint out and are used on simple slotted screws. They are mostly used for carpentry and making of cabinets. They lack grip in comparison to other screws. However, they are still widely used because of the neat appearance of a tightly fitted slotted screw. They come in two standard sizes of 5.5 mm and 8 mm.
Phillips Screwdrivers
These are the most essential screwdrivers in all kinds of screwdriver sets. The 'x' shaped indentation of Phillips screws provide a greater surface area compared to the traditionally slotted screwdrivers. This makes them provide a firmer connection with the bits and hence more control over the fit.
Pozidriv Screwdriver
These screwdrivers are rare to find but their design is a variation of the Phillips screwdrivers. As such, Phillips screwdrivers can be typically used on Pozidriv screws. Just like the 'x' shaped indentation of Phillips screwdrivers, they provide you with extra grip when working with them.
Torx Screwdriver
Torx screwdrivers were patented back in 1967 by Camcar Textron and are essentially a development of the Phillips screw. However, they consist of a six-point pattern instead of four. Therefore, they are commonly known as 'star' screws and must be tightened or loosened with a specially made Torx screwdriver. With two extra points of contact between the tool and screw, ensures that they can be attached especially tightly. This means that they are well suited for use in fixing electrical equipment or fixing do-it-yourself tools.
Top 10 Best Screwdriver Sets 2023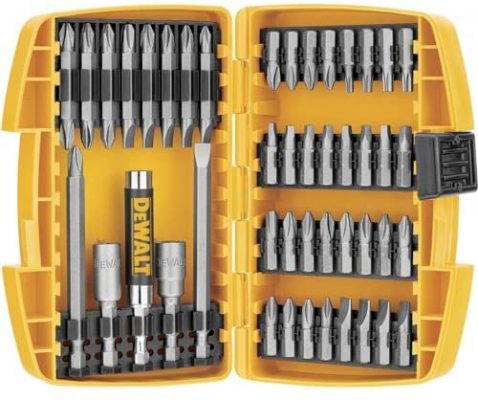 Why we like it:
The DEWALT DW2166 is one of the best ergonomic screwdriving sets you can have in your home for repairing your electronics and cleaning gadgets. It is a compact, sturdy, and comes with a set of 45-pieces screwdrivers. It comes with a single handle and several interchangeable bits that you can put to different uses. This set also includes Phillips, square, slotted, and double-ended bits for extended life.
Editor's Rating:
Magnetic Drivers
This screwdriver set comes with magnetic drivers that are designed to specially unscrew gadgets for cleaning or repairing. For instance, you may want to remove your laptop casing and clean the fan inside, the DEWALT DW2166 would be the perfect choice for you. The magnetic drivers mean that you will not lose any screws. They secure each one of the bits to the screwdriver and prevent wobbling.
Handles
This set has ergonomically designed handles that means you no longer have to worry about messing up a job because of shaky hands. This handle is comfortable to handle and provides enough grip when working with this screwdriver set.
Strength
The pieces of this screwdriver set are made of hardened steel which makes them tough and durable. This means you can use this screwdriver set for years to come without wearing about too much wear and tear. In addition, the ABS tough case provides protection and convenient storage for your set that comes with 54 total tips.
Pros
It comes with 40 interchangeable drill bits.

The industrial-strength case makes it compact and sturdy and easily portable.

All the bits are made of hardened steel, which makes them durable.

The titanium torsion bits provide durability and heavy-duty fastening.

The magnetic drive guide helps in keeping the bits safe and in their place.
Cons
This set does not come with the 3/8" nut driver. Instead, it comes with a 3/8" inch socket adapter.

Some customers have complained about some bits breaking because they were not properly heat treated.
---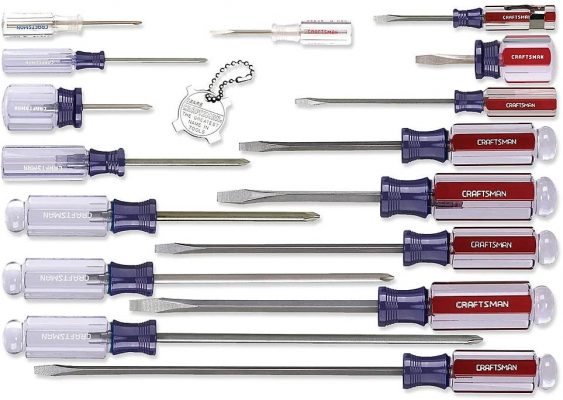 Why we like it:
The Craftsman screwdriver set features professional quality Phillips and slotted screwdrivers. You can be assured of an excellent job whenever you want to tighten or loosen a screw with this set. It includes 17-pieces that have enough sizes to accommodate multiple standard jobs. The butyrate handles are designed specifically for increased strength and make it easy to hold and use. Furthermore, the screwdriver blades are heat-treated for maximum toughness to get the job done.
Editor's Rating:
Strength and Durability
The drivers for this screwdriver set are built with high-quality metal and boast of ergonomically designed grips. The metal used to manufacture the screwdrivers in this set have been heat treated to make for a strong and dependable tool. In addition, Craftsman stands behind their tools with a lifetime warranty.
Heads
This set features 9 slotted screwdrivers and 7 Phillips head options. The total number of pieces is 17, offering a great selection of screwdrivers in both Phillips (cross tip) and slotted (flat head). What's more, the Craftsman Screwdriver Set gives you a range of different lengths to let you either go with the longer handle for more leverage of the stubby version when working in a tight space. In addition, it comes with a 4-in-1 keychain to help you carry along a screwdriver for those real quick jobs or when away from the garage.
Pros
The butyrate handles make it durable and easy to hold and use.

The heat-treated blades make them sturdy and durable.

This set comes with a packed set of 9 slotted screwdrivers and 7 Phillips screwdrivers.

It comes with a unique 4-in-1 keychain with slotted screwdriver blades for various applications.

The drivers come inside a very handy case that makes them easy to store in your garage or car without worrying.

It comes with integrated handles that mean you have solidly secured bits.
Cons
Not the best screwdriver set in terms of durability. Several reviews show that the bits break easily.

They are not magnetic. It is therefore impossible to pick up screws with them if they fall.
---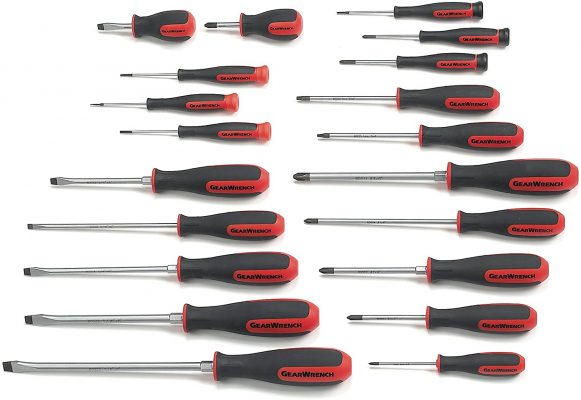 Why we like it:
The GEARWRENCH 8066 Master Dual Screwdriver set comes with 20 different pieces, manufactured to the best quality making them very sturdy. Despite being more expensive compared to other sets on this list, it is a great investment if you need a screwdriver for frequent usage. It contains all the basic drivers you will need at home. The handles are also very comfortable to use. The set includes slotted, Phillips, and Torx heads all coated with a non-slipping coating.
Editor's Rating:
Handle
The GEARWRENCH Screwdriver Set has been designed for comfort and convenience. It includes a tri-lobe ergonomic handle that provides a high degree of comfort and overall strength. This overall strength means that it can last for a long period of time making it good to work with. In addition, the dual material handle ensures that the handle is as durable as comfortable.
This set also features a "speed zone" for turning lower torque applications. This means you can work faster in low torque conditions. What's more, the handles have a colorful design that will catch your eye. Every driver has a color-coded handle that makes it easy to choose in addition to making the set look good too.
Storage
This screwdriver set comes with a large durable case that holds all the drivers for easy identification and storage. It comes with 20 pieces that include 9 slotted and 9 Phillips screwdrivers. It also includes two Torx drivers to handle a wider variety of tasks.
Strength
The shafts of this screwdriver set are manufactured to last. They are made from chrome plated vanadium steel for durability. In addition, each of the screwdrivers in this set has the size engraved on the shaft to aid in the selection of the right size instead of trying to make a guess. Each sturdy piece will help you get any job done without a fuss.
Pros
The handles come in dual material making them easy to maintain and use.

They are durable because their shafts have been made from chrome vanadium steel.

The neatly organized storage case means that you can easily spot and pick the screwdriver you need.
Cons
It is quite expensive in comparison to other sets on this list.

A few people have complained about their sets being brittle. This suggests that these sets are occasionally defective.
---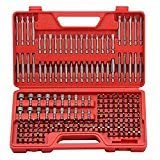 Why we like it:
The craftsman Ultimate Screwdriver Bit Set contains a massive 208 pieces that have been tidily organized in a convenient and durable case. This kit has been designed for use with an electric drill since it does not contain a manual handle. The massive number of pieces proved a huge array of Torx, Phillips, Specialty, Hex, Slotted, and Security bits all labeled for maximum ease of use. Each bit has been constructed from a durable steel alloy, making them well suited for a wide variety of tasks. You can use this set for general purposes around your home and workshop.
Editor's Rating:
Need correction
Pros
Each bit has been labeled to make it easy in selecting them from the box.

The bits are made from a steel alloy that makes them durable.

This set can be used for a wide variety of tasks because of the massive number of pieces.

The molded carrying case ensures that you can carry your tools around and keep them protected
Cons
It can only be used with an electric drill since it does not feature a manual handle.
---
Why we like it:
The Oria 60-in-1 Precision Screwdriver Set is a top-notch set that comes with 58 pieces made from hardened steel. This ensures that the screwdrivers last a long time. The wide variety of pieces ensure that you can use it with a great variety of devices such as opening up cell phones. It is one of the most versatile products in the market right now.
Editor's Rating:
High Quality
This set comes with impressive construction material for the bits, which means that you will not have any problem handling various applications. It features a unique non-slip driver machined from a single piece of aluminum and covered with silica gel. To simplify the operation, this screwdriver set has a ball bearing mounted swivel top.
Number of Bits
As mentioned, this screwdriver set features 56 different kinds of screwdriver bits, all made of chrome-vanadium steel. It has all the bits and drivers needed to unscrew basically all types of screws used in homes. You will never find yourself looking for yourself driving to a store for a last minute purchase. The flexible shaft attachment is convenient for screwing things in tight spaces. In addition, the tips are magnetized so that you will not lose nails.
Handles
This model comes with an ergonomic design. This is thanks to the non-slip ergonomic handle that will allow you to have the best in terms of professional design. Each driver has these really comfortable grips that ensure you will never get frustrated when using one. The model also comes with innovative wrenches ensuring that you have some good times when it comes to working with it.
Pros
The innovative wrenches ensure that you do not have a hard time when using this screwdriver set.

They are durable because the screwdriver bits have been made from chrome-vanadium steel.

It comes with 56 different kinds of bits that ensure you can use it on a wide range of applications and electronics.

The handles have a non-slip ergonomic design that ensures you have comfort when using these screwdrivers.
Cons
They are of cheap quality and bits may break easily.
---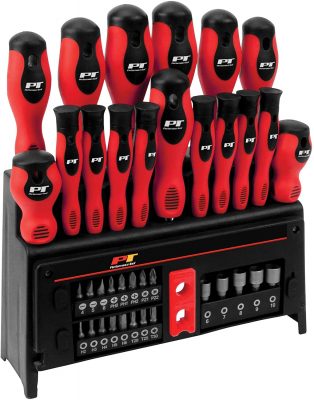 Why we like it:
This is an affordable screwdriver set that offers you the best performance. You do not have to spend a lot of money just to end up with the best product compared to others in the market. This 39-piece set comes in a convenient freestanding rack that makes it easy to get all your screwdrivers. To meet your fixing purposes, this set includes the slotted, Phillips, hexagonal, and star screwdriver heads.
Editor's Rating:
Tips
The blades and power bits of this screwdriver set have been made of chrome vanadium steel famous for hardness and resistant to oxidation and rusting. This construction means that your screwdrivers will serve you for long because of their durability. You can have the best performance screwdriver for yourself when you get this one today. The satin finished magnetic tips also make it generally easy to work with the screwdrivers.
Storage
This set features an organizing rack having built-in holders as well as a magnetize and demagnetizer. The rack comes in handy when organizing your screwdrivers. This means that you are able to retrieve the screwdriver you want to use with a lot of ease. In addition, the built-in bit holders included in this rack helps with further organization of your bits.
Handles
The handles are ergonomically designed and molded with non-slip grips. Therefore, you do not have to worry about any accidents while using them. These bits also come with a small image on the side that makes them very convenient to choose from.
Pros
It is a quite affordable screwdriver set that comes with 39 pieces including star heads, hexagonal, slotted, and Phillips.

The freestanding storage rack is convenient and can be wall mounted.

The blades and power bits of the Performance Tool Screwdriver Set are made from chrome vanadium steel that makes them hard and durable.

The handles are ergonomically designed and non-slippery making them comfortable to handle and use.
Cons
Some reviews show that the tips have been only dipped on paint to appear as if they've been hardened.
---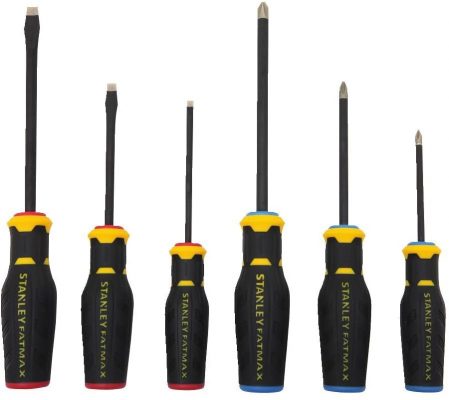 Why we like it:
This screwdriver is ideal for those individuals looking for quality over quantity. It comes with six flat and Phillips head screwdrivers, each of which has been tipped using Stanley's diamond technology coating. This provides maximum durability and hardness to this set's bits. The magnetic tips ensure that you can use them easily and conveniently. In addition, the shafts are coated in black phosphate to protect them against corrosion and ensure that they remain durable.
Editor's Rating:
Tips
The Stanley 6 piece Fatmax Diamond Tip Screwdriver Set features a magnetic tip that provides easy usage and functionality. These tips make it easy to deliver the best performance. This is the main reason why more people are getting this screwdriver set.
Handle
This set's handles are made from with an ergonomic quad-lobe design. The increased grip of the handles makes it easy for you to get a maximum tip torque with this set. Each screwdriver is comfortable to use, with a shape that will allow you to achieve the highest level of tip torque. When it comes to work, you should be sure to enjoy some good times.
Strength
The diamond technology used to make the tips of this set makes it even better when it comes to maintaining toughness. In addition, the screwdrivers have black phosphate bars, that are capable of delivering the best corrosion resistance. This ensures that they are durable and you should definitely enjoy working with it generally.
Pros
The tip of the blades is made of magnetic, diamond technology that makes the screwdrivers in this set hard.

The ergonomic quad-lobe design of the handles provides maximum torque.

The blades of the screwdrivers in this set are made of black phosphate to prevent corrosion and ensures that you use them for a very long time.

It comes with a set of six flat and Phillips head screwdrivers.
Cons
They lack in overall durability, which could be improved.

The grip of the handles while adequate are still entirely dependent on a person's clean, dry hands.
---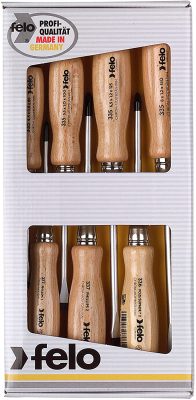 Why we like it:
The Felo 18108 Wooden Handle Screwdriver Set features a wooden handle and comes with a lot of modern improvements such as an anti-roll design, as well as a wear resistant leather cap. Such features help in protecting your tools from splintering whilst being struck by a hammer. You will definitely find that this is one of the best in the market thanks to such designs. The wooden handle design makes it stand out, which means more people will want to check it out.
Editor's Rating:
Ergonomic Design
The handles have been ergonomically designed and made to be very durable. The Beachwood ergonomic handles feature an anti-roll design and a wear-resistant leather cap that prevent splintering of your tools. The anti-roll handle aids in preventing rolling on either an inclined or a vibrating surface. A hex bolsters at the bottom of the handle help in making sure the handle stays in place always.
Construction
The screwdrivers have a non-glare, matte-finish blade that has been manufactured from the best Molybdenum Vanadium steel. The blades have also been heat treated to precision. This ensures that the screwdriver tips always fit exactly and easily into the screw head.
You should find it is good in terms of durability due to its design. In addition, the set has a full-length screwdriver blade that runs completely through the handle ensuring a longer life. The construction of this screwdriver set is an assurance of great quality since this set has been engineered and made in Germany.
Pros
The handles of this screwdriver have been ergonomically designed to ensure comfort while using them.

The anti-roll design of the handles makes it easy to use on inclined or vibrating surfaces.

The tips have been heat treated to precision providing an exact and easy fit into the screw heads.

Since they are made from high-quality Molybdenum Vanadium steel, they should last you long due to their durability.

They have a non-glare/matte finish blade.

The leather cap on the handle prevents splintering when hammering your tool.
Cons
This set includes only a limited number of tools.
---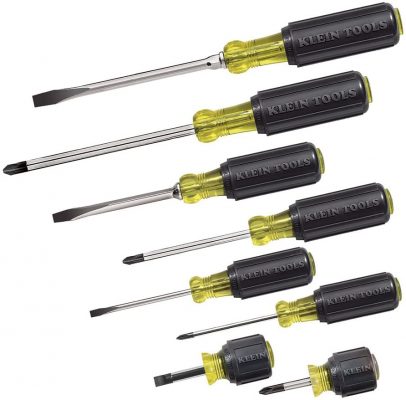 Why we like it:
The Klein Tools Cushion Grip Screwdriver Set offers you a great screwdriver set that will be suitable for your garage as well. The set includes a cabinet tip, three keystone tips, and 4 Phillips tip screwdrivers. These screws are durable and easy to handle. The Tip-Ident quickly identifies the screwdriver type and tip orientation. In addition, the tips are all machined precisely for the exact fit and you can store them in a reusable plastic container that comes with this set.
Editor's Rating:
Tips
The Klein Cushion Grip Screwdriver Set provides the best performance ensuring that you are going to have a great time when it comes to working with it. One of the most important features of this set is the Tip-Indent. This helps in the identification of the screwdriver type and orientation. You can rest easy knowing that you can deal with the various applications you might have for the screwdrivers.
Handles
The handles have flanges inside that grip the blade securely during use. This ensures that you can use the screwdrivers as safely and as comfortable as possible. Each of the handles has been cushioned to maximize comfort and designed so as to give maximum torque.
Construction
This set comes with 8 pieces which are mostly Phillips, flat, and keystone heads. The shafts are heat treated to provide maximum durability ensuring that you can use them for years to come. In addition, the tips have been all machined precisely to provide an exact fit. They are plated with premium chrome, which proves a smooth feel and a corrosion resistant exterior.
Pros
There is a wide range of tips that include the flat, Phillips, and keystone head screwdrivers.

The shafts have been heat treated to provide maximum durability.

The cushion grip handles make them easy and comfortable to use and give maximum torque.

The chrome-plated bits provide for a smooth feel and resistance to corrosion.
Cons
This set does not feature magnetic tips and also does not come with a carrying case.

Because of Klein's reputation, one is likely to run into knock-offs passing for the genuine Klein Cushion Grip Screwdriver Set. It is important to only buy from verified sources.
---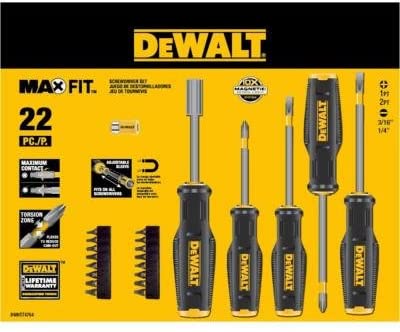 Why we like it:
The Dewalt Maxfit Screwdriver has been designed to deliver some good performance in comparison to other models in the market. It features CNC machining for an increase in fit and life. On the other hand, the handles have been designed with a bi-material grip that ensures maximum comfort when using them.
Editor's Rating:
Bits
This Screwdriver Set comes with up to 22 pieces. These bits ensure that you end up with the best with regards to performance. You will no longer have to worry that you may fail to accomplish some tasks because you have all the tools at your disposal. In addition, the model comes with a magnetic bit holder that helps with setting up the bits and exchanging them whenever you have to. In addition, the magnetic bit holder ensures that you have an easy time when working with this screwdriver set.
Durability
The screwdrivers in this set have been manufactured using Maxfit technology that helps with eliminating the stripping of screws. This ensures that you can use your set for a long time because of their durability.
Pros
The magnetic bit holder makes it easy to use this screwdriver set and ensures that your bits are not lost.

Maxfit technology helps in eliminating screw stripping and ensuring that they are durable.

CNC machining ensures that there is an increase in fit and life of your set.

It features a hex bar that provides additional torque.
---
Guide to Buying the Best Screwdriver Sets
You have been provided with a rundown of the 10 best screwdriver sets that are available in the market right now. This can help you narrow down your options so choosing the best product becomes easier. Before you choose the best screwdriver set, there are some factors that you need to consider. So, whether you need a new set for your gardening work or for some professional work, this guide will help you out.
When choosing your screwdriver set, there are a few key factors you need to consider
Purpose
The reason you may be getting a screwdriver set will vary from one individual to another. You may need a set for your home use, construction use, or professional work. If you intend to get screwdrivers for general use, your screwdriver set should contain different screwdrivers and heads that are adaptable to various screw types. Such a set should include the most common driver heads as well as a few that are not so common.
Screwdrivers are a common part of any construction worker's job. As such, any screwdriver set that they use should be made from the best quality material and properly engineered. The screwdrivers in these sets should be sturdy and capable of heavy daily usage.
On the other hand, if you are into performing work that involves a lot of details, you will require precision screwdrivers. Small screws and delicate materials that require superb control will be suitable for you. Such a set is extremely useful if you are working on electronic devices, watches, and jewelry.
Type of Screwdriver
There are two types of screwdriver sets, a standard set, and a bit set. A standard set of screwdrivers comes with solid screwdrivers that include an integral handle, shank, screwdriver head, and a tip. They cannot be disassembled.
On the other hand, a bit set includes a screwdriver with removable tips. You can easily interchange these multi-bit screwdriver tips. They come in a wide variety of shapes and sizes.
Features
Different screwdriver sets have different features. Some of the features to look out for in a screwdriver set include magnetic heads, durability, ergonomic grips, non-corrosion coating, and a quick release driver head. Magnetic screwdriver sets have magnetic bits that enable them to adhere to screws during use. The magnetism reduces the chances of loose screw heads dropping by making it easy to maintain contact.
Durable screwdriver sets are made from tougher construction, tighter fits, and heavier materials. The most preferred materials are chrome vanadium steel or heavy-duty alloy. On the other hand, screwdriver sets with ergonomic grips have handles that have been specially designed for comfort and ease of use. The handle should be preferably made from non-slip material.
A quick release screwdriver set has a built-in mechanism for retaining and gripping the driver heads. They hold the bits firmly in place while leaving them easily interchangeable. Coating screwdriver heads with non-corrosion coating ensure that they are resistant to corrosion and rust-proof.
The Verdict
Since we all need to unscrew something once in a while, a screwdriver set is an essential part of anyone's toolbox. Whether you are opening your laptop cover or a vent in an air conditioner, a screwdriver set will come in handy. That is why it is important for homeowners and professionals to invest in a decent screwdriver set.
The most important thing you need to determine when making any meaningful choice when it comes to a screwdriver set is the type of head you will need. Besides, you need to also consider the type sizes and the number of pieces in your set. Having a set with a wide variety of heads should be advantageous to you.
Despite the fact that you need to get the right types and sizes for your screwdriver set, you can add more to your collection to come in handy in the future. The safest bet for you when it comes to choosing the best screwdriver set will be the DEWALT DW2166 Screwdriving Set and the Oria 58-in-1 Precision Screwdriver Set. These will cover most of anything that your garage could end up needing.