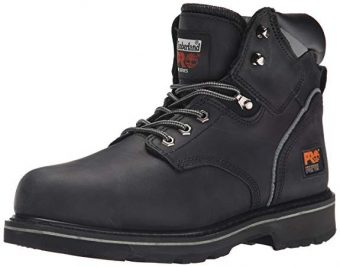 Timberland PRO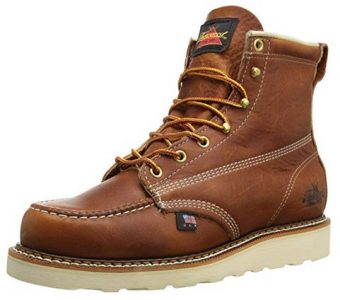 Thorogood Non-Safety Toe Boot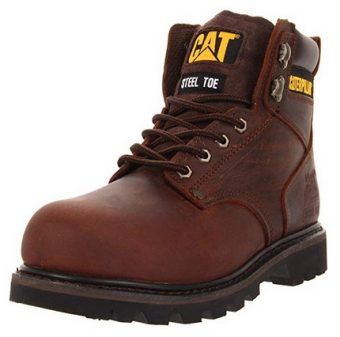 Caterpillar Men's Second Shift
Previous
Next
Safety boots are a must-have for those who work in a job that's physically demanding or engage in hobbies which are potentially dangerous. In such cases, you shouldn't have to worry about the safety of your feet and the best way to do that is to get yourself the best safety boots available. Just because your work demands a lot, that doesn't mean you have to suffer while doing it, right?
The main purpose of safety boots is to protect your feet, especially your toes, against compression, falling objects or even things on the ground which may harm your feet. Such boots provide this protection through the various safety features they come with. In this article, we'll go through these features as well as some products which you may consider for your work.
Features to consider in Good Safety Boots for working
Durability
This is an important feature that most safety boots have. The durability will largely depend on the quality of the materials used to make the boots. Of course, footwear made of cheap materials won't be as sturdy as those made with high-quality materials. It's better to spend a few more dollars on a pair of boots which will last for a longer time than those which have a short lifespan.
Waterproofing
The best safety shoes have a waterproof feature. This is essential especially for those who travel to different places and walk on different terrains. Whether or not you think you need this feature, it's still worth having just in case. So that if the need arises, you won't have to worry about your boots getting ruined just because they aren't waterproof.
Puncture-proof
It goes without saying that safety boots should be puncture-proof. Since they're meant to protect your feet, they should be able to do just that. Imagine a pair of boots which gets punctured easily. Such type of boots won't be able to provide you with the protection you need to stay safe while working or traveling.
Slip-resistance
Then there's the slip-resistance feature. Again, if your work involves a lot of traveling on different terrains and surfaces, slip-resistance will be highly beneficial. Safety boots should have good traction and should be able to grip the ground well to prevent you from slipping or sliding as you climb, run or walk.
Fit
Of course, the boots should also have a good fit. Boots which are too big or too small won't be very comfortable. You may already know the size of your feet but keep in mind that some products have varying sizes. Some shoe sizing may run small while others run big so try to find this out before making a choice.
The Best Safety Boots for working 2020
Guide to Buying the Best Safety Boots
There are a lot of jobs out there which don't require special kinds of footwear such as safety boots. But if your work is physically demanding or hazardous, then you need a good pair of safety boots to protect you from injury. We've reviewed some of the best safety boots on the market now, and they all have different features.
If you want to be able to find the best one for yourself, there are some important factors which you need to consider. When you keep all these in mind while making your choice, you can find a good pair of boots which will serve you well and which you can use for years to come.
What important factors should you consider when buying safety boots?
Breathability
First of all, think about the boots' breathability. Without this feature, you won't feel too comfortable wearing the safety boots as your feet might overheat or they might feel too stuffy. This factor is especially important for those who work in hot, humid environments. In such cases, you need a breathable footwear to prevent perspiration, bad odors, and more.
Flexibility
You should be able to move comfortably in your safety boots if you want to keep on using them each and every day. This is where flexibility comes in. How the boots move will impact how your feet will feel at the end of each day. Search for a pair which will protect your feet but are also flexible enough that you'll be able to move freely while wearing them.
How comfortable should the safety boots be?
Typically, people who need safety shoes have jobs which require them to stand or walk almost all day long. That's why comfort is a huge factor to think about when choosing safety boots. All the parts of the boots should feel comfortable so that you don't feel uncomfortable while wearing them.
Upper
Generally, the uppers of safety boots are of leather material. Some boots may have synthetic uppers and other materials mixed in. Although a pair of boots that's completely made of leather is normally less flexible, it has improved durability. On the other hand, those with synthetic materials are more breathable and flexible, but they're more prone to wear and tear.
Insole
When it comes to comfort, the insole is the most important part of the boots. There are different materials used for insoles, so you need to choose carefully. The most comfortable ones are the EVA foam insoles and varieties of them. Removable soles are also popular because they provide an option to the user.
Outsole
Finally, the outsoles of the boots are also made of different materials which absorb impact and distribute it evenly. Rubber outsoles are the most common ones, and they're quite comfortable and flexible.
Conclusion
When you work in environments which require safety gear, you need to find the best safety boots available. Choosing the best pair of boots means more than just going for a pair that looks good. You also have to consider other factors which will allow you to perform at your best while you're wearing the boots.
We've covered a lot of information about safety boots in this article. From a buying guide to a review of the best products on the market, there's a lot to learn. Hopefully, all this information can help guide you as you select the perfect pair of boots. Now all you have to do is choose which one you think would be best for yourself. Good luck!