We all know them: those hand-powered lawn mowers that your neighbor's teenager uses to cut the lawn. Maybe you when you were a teenager even used a hand-powered reel mower. Invented in about 1860, they've lasted this long and continue to be a popular, inexpensive way of cutting the grass because they're quiet, environmentally efficient, safe, and run on nothing but a bit of elbow grease. And even after 150 years, we've got no doubt they'll be around for another 150.
These reel lawn mowers are designed so that when you roll them forwards, their blade spins around an axis, cutting the grass below. As long as you can push the mower forward, preferably with a little bit of speed, the grass gets cut down to the desired height. Is it a bit more difficult than a ride-on mower? Sure! But it's cheap, gets the job done just as well, and it's a better workout, too.
Features to Consider in a Reel Lawn Mower
While all reel lawn mowers are clever and incredibly useful devices, they vary in everything from form and size to construction and design. When shopping, consider who'll be using the lawn mower (is it you or your teenager, for example) and in what capacity they'll be using it. Consider your lawn size, grass type, and mowing frequency, as well.
Though they're great for most urban and suburban lawns, but reel mowers just aren't big enough for massive spaces unless you plan to set aside your entire Sunday to mow the lawn. If you're looking to mow anything over about half an acre, you're probably better suited to a traditional riding lawn mower.
If a reel mower is the right choice, the following characteristics will help you narrow down your options based on your needs.
Cutting Dimensions
The 'cutting dimensions' of a reel lawn mower refer to the width of the swath of grass a mower cuts, which is the same as the width of the blade itself.
Remember that while a wider mower cuts a lawn with fewer passes by trimming down a larger surface area, a wider cutting swath is tougher to cut. If your lawnmower is going to be used by a teenager or someone who isn't looking to get a workout when mowing, consider a smaller cutting dimension.
Cutting Height
The perfect height of a lawn is a contentious topic, but the typical length of most American lawns ranges between about one and three inches. Most reel lawn mowers can be adjusted from about .75 inches to 3 inches, although they vary on both sides of the spectrum.
As a general rule, most varieties of grass in the United States do best when cut to about 1.5 inches. If you really want to get into detail, check out this article that lists optimal cutting heights by grass species and season.
Blade Quality
A lot of what you're paying for with a reel lawn mower is the blade: not only the sharpness and material of the blade, but the design itself. A sharper and more efficient blade will make the task of mowing much, much easier. An inexpensive blade isn't the end of the world, though, as they can always be sharpened, but it's better to start off with something well designed that holds an edge.
Weight and Construction
Typically, reel lawn mowers are the most maneuverable type of lawnmower, often weighing in at under 20 pounds, with a small footprint, and pivoting on a single set of wheels. This gives them an advantage over powered lawn mowers, although they still require a bit more effort to actually cut the grass. Construction is important as well, as while good reel mowers can last for decades, a poor-quality one might not even last a whole season.
With these features in mind, let's take a look at the best reel lawn mowers on the market today.
Top 10 Best Reel Lawn Mowers 2023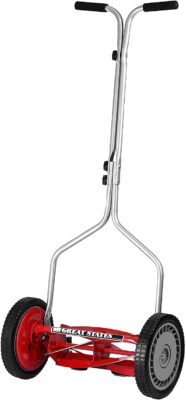 Why we like it:
With an ultra-light weight and a tight minimum height, this reel lawn mower is great for those who appreciate control and precision in a hand-powered machine.
Editor's Rating:
At a Glance:
Cutting Dimensions: 14 inches
Cutting Height: .5 to 1.75 inches
Weight: 21 lbs
This lawn mower from Great States emphasizes one thing: precision. A 14-inch cutting width is narrow, but it means that homeowners will have no problem cutting around flower beds, curved lawns, and the sides of houses.
A light, 21-pound weight means it's plenty maneuverable, even for older and younger users, and a 5-blade ball bearing reel means the blades spin up on a dime and keep spinning without slowing down.
Durable and inexpensive, the blades are constructed from alloy steel coated with an enamel that keeps the reel sharp, although you'll still have to occasionally hone the edges. You can buy a sharpening kit or get the reel sharpened professionally inexpensively and without too much trouble at your local hardware store.
While some homeowners see the low cutting height (starting at .5 inches) as an advantage, those who prioritize a slightly longer lawn height with thicker, more lush grass might find the 1.75-inch maximum cutting height a bit short. Other lawn mowers don't have that problem but similar push mowers (the Fiskars Stay Sharp Mower, for example) have maximum heights close to 4 inches but only cut down to a minimum of about 1 inch.
If you prioritize a clean, low cut and have a grass species that can tolerate that low height, this lawn mower is a great pick.
Pros
Very maneuverable with sharp blades and small footprint

Perfect for older and younger users

Cuts down to a low height

Five-blade reel spins up quickly
Cons
1.75-inch maximum mowing height

Requires occasional sharpening for the best performance
---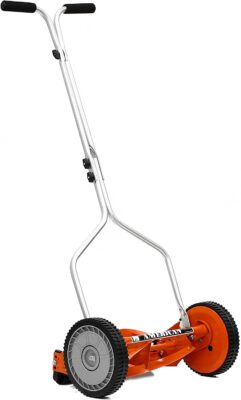 Why we like it:
Inexpensive, lightweight, and well made, it feels tricky to find any compromises on this lawnmower.
Editor's Rating:
At a Glance:
Cutting Dimensions: 14 inches
Cutting Height: .5 to 1.75 inches
Weight: 20 lbs
The only mower in our line up coming in at this light of a weight, the American Lawn Mower Company 4-blade mower is perfect for anyone looking for a maneuverable, safe mower—it's the perfect product to put in the hands of a teenager just learning how to cut the lawn for the first time.
It's not only safe, but it's also easy to use. The sturdy support column down the middle is rigid, helping to cut curves and close edges. One small issue we have with the mower is the quality of its plastic/rubber wheels, although they're made with well-made bearings that spin easily and require little to no maintenance, their construction feels a bit cheap.
Perhaps that is to be expected with a sub-$100 mower, but more premium setups like the Fiskars Stay Sharp Mower use a metal wheel construction.
While the blade doesn't hold an edge as well as premium mowers like the Fiskars Stay Sharp Mower, you can fortunately purchase the same mower with an included sharpening kit for a slight upcharge, helping you out on that one day a year (that's the manufacturer's recommendation) where you'll have to hone the blade.
Pros
Lightweight, well-made, inexpensive reel mower

Can be purchased with an included sharpening kit

Perfect for teens just learning to cut the lawn

Sturdy support column helps with control
Cons
Blade doesn't hold its edge that well, requiring sharpening once per year

Cheap wheel construction
---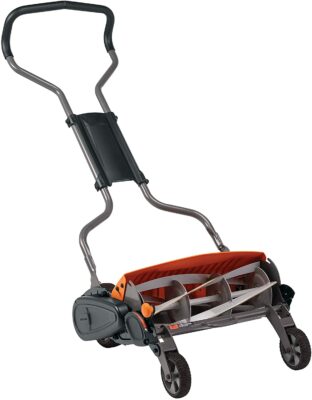 Why we like it:
This smartly-designed product is pricey, but requires minimal maintenance and represents a technological improvement over most of the more classic-style lawnmowers.
Editor's Rating:
At a Glance:
Cutting Dimensions: 24 inches
Cutting Height: 1 to 4 inches
Weight: 51.7 lbs
Fiskars is a Finnish company that's particularly focused on ease of use, creating products that are comfortable, efficient, and intuitive. On this reel mower this philosophy starts from the ground up, as it is designed with an additional two wheels (four total) to improve mowing precision and better guide the mower.
The true innovation, though, is Fiskars' InertiaDrive reel technology that spins up to high speed using the back wheels, making quick work of even the thickest, tallest grass. The helix-shaped blade directs clippings via an adjustable chute, so you won't end up with grass shavings in your boots.
The blade is constructed out of a proprietary alloy, so sharpening is only required once in a blue moon (Fiskars claims it will need a touch up every three to five years). The product is well thought out and smartly designed in general.
All of these design features come at a price: it's one of the burliest reel mowers in our lineup, weighing in at a hair over 50 pounds, and it's one of the priciest as well. However, it's still easy to use on account of its sharp blade and four-wheel construction. In fact, Fiskars claims that this mower is 60% easier to push than conventional reel mowers, meaning it's great for those who might be more accustomed to a gas-powered mower. A three-year warranty just adds to the long list of advantages.
Pros
Technological upgrade over other reel mowers

60% easier to push than other models

Only requires sharpening every 3 to 5 years

Three-year warranty

Good introductory replacement for a gas mower
Cons
Quite heavy compared to other mowers

One of the priciest mowers on the market
---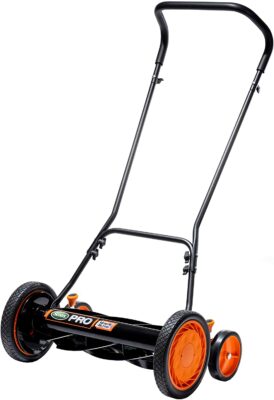 Why we like it:
With seven stay-sharp blades and a four-wheel format for precision and ease of use, this mower from Scotts feels like a combination between a motor-powered motor and a reel mower.
Editor's Rating:
At a Glance:
Cutting Dimensions: 18 inches
Cutting Height: 1 to 3 inches
Weight: 29.9 lbs
The Scotts 7-Blade push mower is an easy-to-use cutting machine, tied with Earthwork's 7-Blade Model for the most blades in the product category. While more blades aren't necessarily better, here, the large, paint-coated cutting edges make quick work of even thicker and taller grasses, although, with no clipping catcher, the discarded grass will end up back in your lawn.
With an 18-inch cutting width, it's not so small that it will take all day just to cut your backyard, but it's not so big that it takes an incredible amount of effort to cut. It comes in at just a hair under 30 pounds, which is light enough for most operators and feels about right for a reel mower of this size. In fact, sometimes lower quality mowers are the lightest as they'll use cheap plastics instead of more expensive, more durable metals like aluminum and steel.
Although this mower is relatively economical, especially when compared to motor-powered mowers, it's got some touches to show that no corners were cut. The seven blades rotate on a ball bearing reel, quickly spinning up to speed and making easy work of even thick grass, especially with sharpened blades. The handles are comfortable and cushioned, although the rear wheels feel rather cheap and spin on low-quality bearings.
Pros
Seven quickly-spinning grasses make quick work of even thicker grasses

An 18-inch cutting width is a great compromise for precision and size

Bearings allow the reel to spin up quickly

Relatively lightweight mower is easy to maneuver

Higher-end touches show that relatively few corners were cut
Cons
Rear wheels are made of plastic and are cheap-feeling

Low-quality wheel bearings

No clipping-catcher means grass will end up in your lawn
---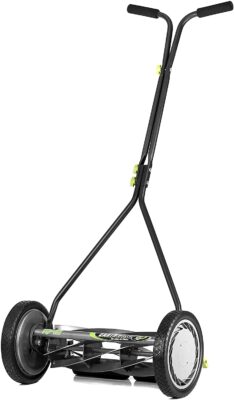 Why we like it:
Built to last with a metal construction, this two-wheel, seven-blade reel mower is well worth its slightly-above-average price point.
Editor's Rating:
At a Glance:
Cutting Dimensions: 16 inches
Cutting Height: .5 to 2.5 inches
Weight: 26 pounds
With an environmental bent, this reel lawn mower has a couple of touches that make it a good option for anyone looking to replace their conventional motor-powered mower with a push reel model that will last for years and years.
Firstly, the mower has a somewhat unusual 16-inch cutting width, which is a great compromise for an average lawn. It's not too small to get the job done over bigger areas, but it's not so big that it's difficult to use for finer detail work either. If you've got a bigger yard, though, consider looking for something like this Greenworks 20-Inch reel mower.
Weighing in at 26 pounds, it's lighter than some mowers that have smaller cutting widths, thanks to a lightweight metal alloy construction and a two-wheel design. That two-wheel design is quick to pivot on high-quality wheels, with sturdy rubber and plastic rolling on high-quality rubber bearings. All of the parts are made to stand the test of time, so this will likely be the last reel mower you ever buy.
The aesthetics, height, and footprint are all designed to mimic that of motor-powered lawnmowers, which is no accident. At a competitive price point and designed by a manufacturer looking to target environmentally-conscious customers, it's about as close as you can get to a motor-powered mower without being, well, motor-powered.
Pros
Similar use and form factor to a motor-powered motor

Pivots on high-quality wheels with smooth bearings

Aesthetics, height, and footprint mimic motor-powered motors

Competitive price point, especially for durable build quality
Cons
Plastic wheels

Those with larger lawns should look elsewhere
---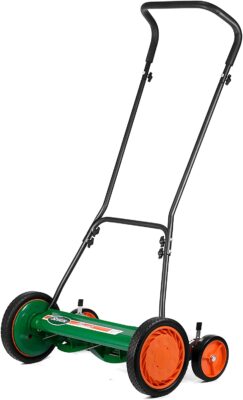 Why we like it:
This push reel mower with an old-school look still uses recent tech and durable wheels that help adjust mowing height.
Editor's Rating:
At a Glance:
Cutting Dimensions: 20 inches
Cutting Height: 1 to 3 inches
Weight: 34 pounds
If you're looking for something to replace that other push mower that's been in the family for 60 years, this is a great pick. It's got a classic look, with that John Deere-colored green paint that just screams "loyal lawn maintenance."
And that classic look is blacked up with classic tech: five blades, a four-wheel setup that makes cutting height easy to adjust, and a ball bearing reel that's easy to get up to speed. All that with a full-metal construction that's completely bombproof.
At 34 pounds, though, all that metal adds up, though. Other 20-inch mowers like the Greenworks 20-Inch Push Reel Lawn Mower shed a couple pounds compared to this model. We'll take it though, especially if three pounds is the difference between no warranty and the impressive no-questions-asked 2-year full warranty you'll get when you purchase this mower new.
Sealed bearings and paint-coated blades mean maintenance is infrequent if you take good care of the device, although you'll still have to bring it in once in a while to get sharpened. An anti-oxidation paint should take care of the rest, but be prepared to pay a slight premium as far as price goes.
Pros
Classic looking, high-quality mower will last for decades

Full-metal construction is completely bombproof

Sealed bearings and paint-coated blades require minimal maintenance

Full two-year warranty when purchased new

Cutting height is easy to adjust
Cons
Reel still requires infrequent sharpening

A few pounds heavier than other 20-inch reel mowers
---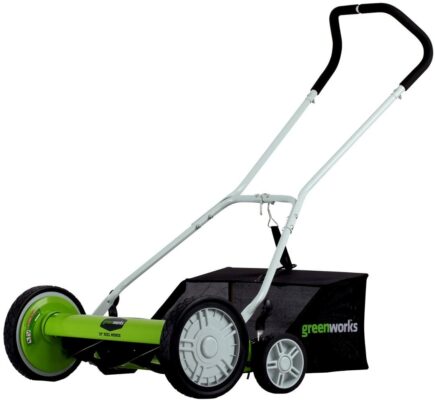 Why we like it:
This 20-inch mower is one of the best mowers for larger lawns, with its size making mowing 40% quicker than comparable 14-inch models.
Editor's Rating:
At a Glance:
Cutting Dimensions: 20 inches
Cutting Height: 1 ¾ to 2 ¾ inches
Weight: 31 lbs
If you've got a larger lawn but still want to use a reel mower, you'll need to buy something with a larger footprint. That's where this 5-blade model from environmentally-friendly outdoor manufacturer Greenworks comes in, with a 20-inch mower cutting the same area of terrain about 40% quicker than the same model in a 14-inch format.
The mower also has a built-in removable grass catcher that will catch most of the grass clippings cut during a mow. The grass catcher is connected to the back two wheels, as instead of a two-wheel setup, this mower relies on a four-wheel design that makes the mower easier to use and balance but a little less maneuverable.
For such a large footprint, it's quite impressively lightweight at a touch over 31 pounds, although 20-inches of blades is a lot more difficult to push across thick grass than mowers with smaller footprints. If you're looking for a mower that's good for detail work, we'd recommend something two-wheeled and with a smaller blade width like the 14-inch Great States 5-Blade Push Reel Lawn Mower.
Pros
Larger footprint mower makes lawn-mowing quicker

Built-in removable grass catcher

40% quicker than 14-inch models

Four wheels make the mower easier to use and balance
Cons
More detail-oriented mowers might look for something a bit smaller

Somewhat difficult to push across the grass
---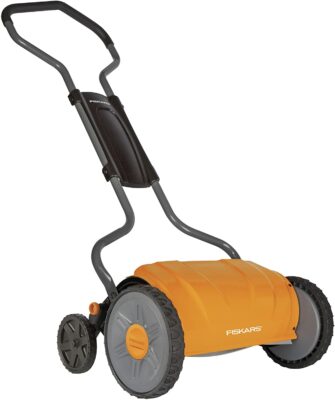 Why we like it:
With stay-sharp blades that hold their edge year after year, this Fiskars mower isn't just safer and quicker than other mowers, it also requires less maintenance.
Editor's Rating:
At a Glance:
Cutting Dimensions: 17 inches
Cutting Height: 1.5 to 3 inches
Weight: 40.4 lbs
With a modern look and a smooth, easy-to-use design, this reel mower is likely to convert gas-mower fans into believers. Even its design looks a bit more similar to gas mowers than typical reel mower designs. At the end of the day, it's definitely going after a slightly different market than the typical, city-dwelling reel mower buyer.
Thanks to well-constructed wheels and smooth-spinning bearings, it's 30% easier to push than other reel mowers. The handles and base are phenomenally stable, allowing the user to traverse uneven terrain with minimal difficulty. It does include a guard over the top of the blade, which makes it slightly more difficult to unjam if you happen to run over a branch or vine, but also less likely to fling debris.
Lastly, for its pretty economical price, we're incredibly impressed with the fact that Fiskars backs up this product with a no-questions-asked lifetime warranty, something they don't even provide on their premium Fiskars Stay Sharp Max (that model only has a 3-year warranty).
Pros
Reel mower that goes after conventional lawn mowers

Remarkable lifetime warranty

30% easier to push than other reel mowers

Includes guard that prevents debris from getting flung around
Cons
Guard makes it slightly more difficult to unjam
---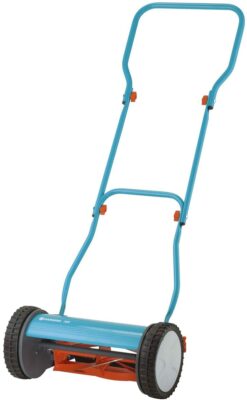 Why we like it:
With an ultra-compact 12-inch blade width, this nearly-silent, easy-to-push mower isn't great for larger lawns, but it is phenomenal to use and operate.
Editor's Rating:
At a Glance:
Cutting Dimensions: 12 inches
Cutting Height: ~0.5 – 1.65 inches
Weight: 16.75 pounds
There are two things that make this reel mower stand out from the rest of the category: its high price (somewhere in the $200 range) and its small format (12 inches!). But with such a small cutting window, what's it even for? 12 inches isn't much.
The answer? It's easy to push and works perfectly fine for small lawns. While a foot-long blade isn't great for cutting large areas of grass, it is great from an ease of use perspective, requiring relatively minimal effort to cut through the swath. This makes it good for younger and older users.
While the company claims an 'infinitely variable cutting height,' that's really only true in one sense: variability within the range. It still, just like other mowers, has a height where it tops out (1.65 inches in this case) and a minimum height (a little under .5 inches), although the dial lets you adjust to hyper-small increments within that range.
While the warranty isn't particularly impressive at 12 months, it does include labor and shipping if anything should happen in your first season of mowing with this reel mower. While it might be a bit more finicky than other mowers, it's undeniably both precise and quiet.
Pros
Ultra-quiet while mowing

Infinitely variable cutting height

Precise cut with minimal effort due

12-month warranty includes labor and shipping
Cons
'Infinitely variable cutting height' is a bit of a gimmick

Small cutting swath isn't good for bigger lawns
---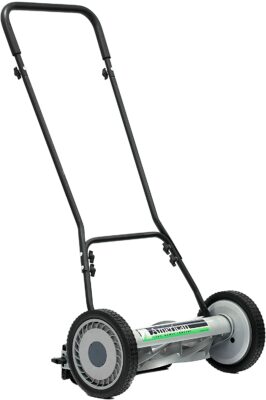 Why we like it:
Backed up by history, this mower cuts thick grasses with ease, although it's not particularly effective for more detail-oriented work.
Editor's Rating:
At a Glance:
Cutting Dimensions: 18 inches
Cutting Height: 1 to 2.5 inches
Weight: 27 pounds
Another offering by the impressive legacy brand, American Lawn Mower Company, this mower offers a small step up from their budget version, the American Lawn Mower Company 4-Blade Push Reel Lawn Mower. Both reel mowers are similar in form factor and use, although with five blades and an 18-inch width, this cuts a slightly wider path, although it requires a bit more effort.
So, if you're shopping, why pick this mower over American Lawn Mower's slightly smaller budget option? Really, one reason: mowing efficiency. Although it requires a touch more work than a smaller mower, five blades can still make pretty good work of even the thickest lawn, and with an 18-inch width, it won't take all afternoon either.
Homeowners with delicate, smaller lawns should pick up the 4-blade mower, while anyone with a bigger-footprint yard will be better suited with this mower, or even a 20-inch model like this model from Greenworks.
At 27 pounds, it's about average as far as weight goes, but a 1 to 2.5-inch cutting window is a bit more restricted than other mowers. Still, for being a mid-range mower in that $100-ish price window, we're impressed.
Pros
Mowing efficiency is great, combining ease of use and cutting width

Five blades make quick work of thicker grasses

Similar in form factor to more expensive models at a low price

Cuts a large swath, good for medium to large-sized lawns
Cons
1 to 2.5-inch cutting window is relatively narrow

Not great for cutting smaller, delicate lawns
---
Guide to Buying the Best Reel Lawn Mowers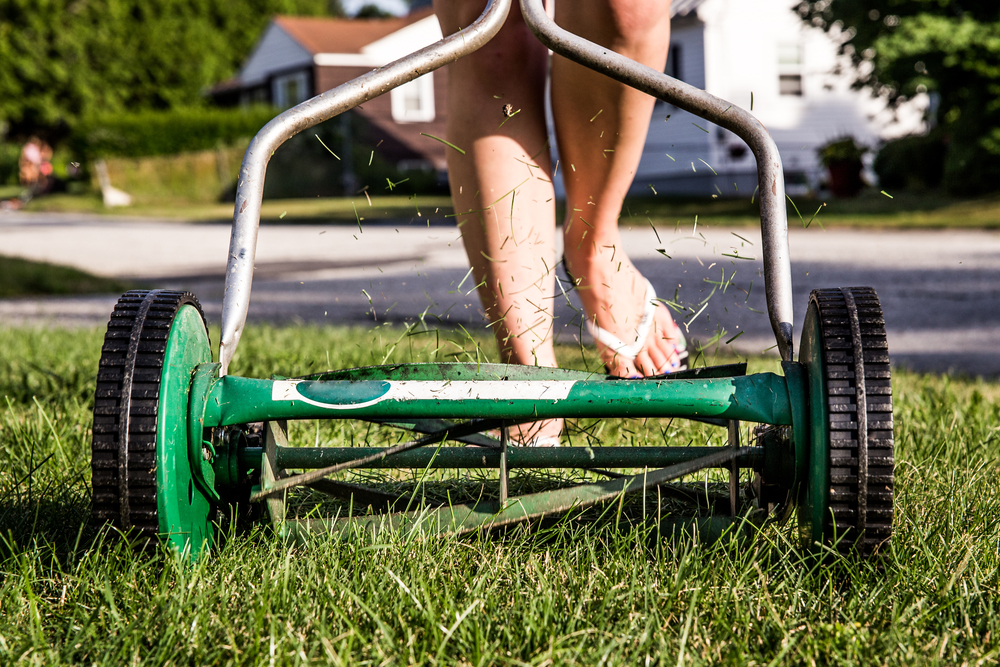 Environmentally friendly, safer than motor-powered motors, quiet, and less expensive to own and operate, it's no wonder that reel lawn mowers are increasing in popularity.
This is especially true for homeowners with smaller yards and those looking to make a positive environmental impact. It's another easy step to take that's not only good for you as a homeowner, but for the planet as well.
Reel Mower Usage Instructions and Tips
While a motor-powered mower is about pure power, a push reel mower is much more of a finesse-fueled job. There's a significant learning curve, and there are some interesting techniques that can help you get the job done. Follow these tricks to make your mow quicker and easier.
Low, Consistent Speed
The secret to a good cut with a push reel mower is a quickly spinning reel and a low walking speed. This will help get every last blade of grass. The reel spins up via the wheels, so if you move consistently across the grass, you'll be able to keep the reel spinning quickly. As long as the reel spins quickly, the blades will have no problem taking the top part of the grass off cleanly and easily.
Multiple Passes
If you've got thick, healthy grass, you're in a bit of a dilemma: while your lawn is healthy, you'll have a tougher time removing grass itself. If you're looking to take your lawn down to a low height, consider a single pass for the tips, and later a secondary pass with a lower cut height. This should make the chore a bit easier and will yield a more consistent result.
If you've got an especially large lawn, you can also reduce the number of passes you'll need to take by choosing a wide reel mower like this Greenworks 2-inch option.
Lawn Care Pro Tips
Looking to have the greenest, best-groomed lawn on the block? With a little reading and elbow grease, it's well within your reach. Follow some of these pro tips for the best results.
Aeration
Aeration serves two simultaneous and parallel purposes. Aeration is accomplished with a specific tool that puts small holes into your lawn surface, which can help with adequate air and water movement in the soil. In some cases, it helps excess water evaporate, in others, it helps water better absorb in the soil.
Drainage
Another culprit when diagnosing a poorly-performing lawn, drainage must always be considered, especially when you have a lawn that's doing well in some places but poorly in others. Dense, clay-filled soil needs to be gradually augmented with organic material to make it more permeable, but also consider evening out the topography over time for more even water penetration. It's a slow process, but it pays off in terms of lawn health.
Length Control
Typically, grass performs best when you take off about the top third for every cut. In spring, you can get away with a little more, when your grass is going through stress (droughts or extreme weather), maybe just take the top bit off. Check out this article for more condition and grass-variety-specific cutting length information, and choose something with highly variable length options like the Earthwise 16-Inch 7-Blade Push Reel Lawn Mower.
Top Dressing
Grass gets most of what it needs from the sun, the rain, and the air, but it still needs some fundamental vitamins and nutrients from the earth. Grass planted in low-nutrient soil simply doesn't thrive. 'Top dress' your lawn with nutrients and composts if your grass expresses the telltale signs of poor nutrition, such as slow growth or discoloration (typically a yellow tinge).
Cutting Different Types of Grass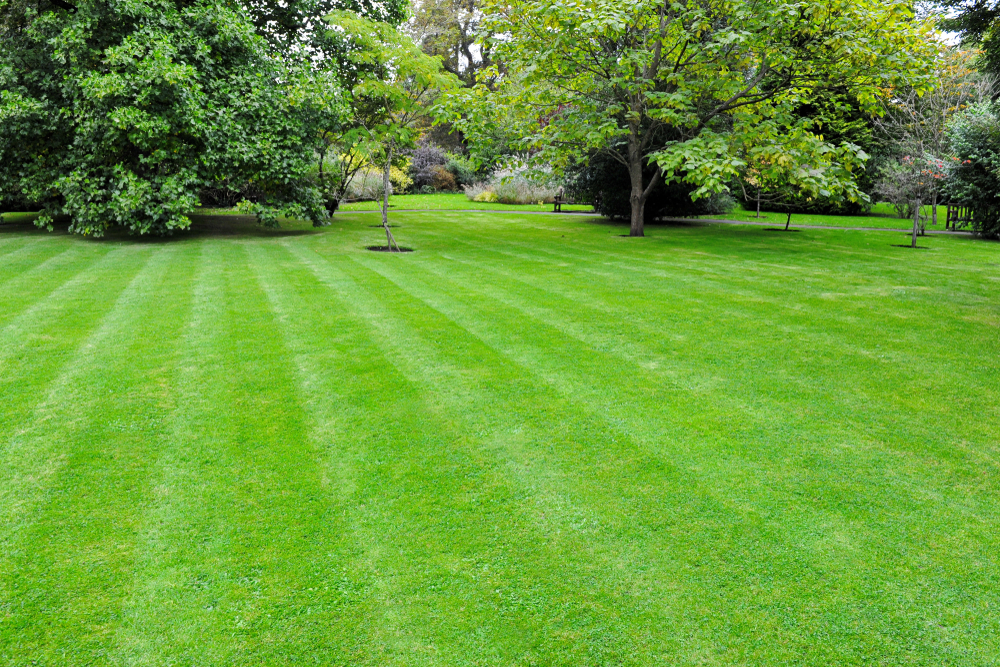 While most of us don't think too much about what kind of grass we have, there are many different species, and each variety requires different care, nutrition, sunlight, water, and cutting length. Below are some of the most common grasses in the United States and some guidance for maximizing results based on what you've got in your lawn.
Southern Zone Grasses
If you live in a zone where summers are hot and dry and winters are temperate, your lawn is probably composed of Bermuda grass, St. Augustine grass, or centipede grass. As long as these grasses stay above freezing, they are resilient and can be trimmed quite low and still survive.
Transition Zone Grasses
If you live in the middle band of the country, where it infrequently snows but occasionally freezes, you probably have Kentucky Bluegrass or tall fescue. This zone is somewhat difficult to plan for, but most of the native grasses here are relatively resilient and therefore will hold up to cold temperatures. Pay special attention during the late fall and early spring to make sure your lawn is getting the right care and is cut to an effective height.
Cold Zone Grasses
Any zone that frequently gets snow requires a hearty grass that holds up to long, deep freezes. The most common grasses in these latitudes are Kentucky bluegrass, tall fescue, and perennial ryegrass. Make sure you don't cut them too short before frosts/snows or they can die off.
Reel Lawn Mowers and the Environment
Reel lawn mowers are making an incredible comeback in recent years, and for one reason in particular: instead of being powered by fossil fuels or electricity, they're powered by a combination of old fashioned elbow grease, peanut butter and jelly sandwiches, and sweat.
This means that although it might be a bit more work than a motor-powered mower, it's an excellent way to reduce your environmental footprint. It's a simple change, but it makes a big difference in multiple ways.
Two-Stroke Motors
While most cars and motorcycles are four-stroke engines, which run clean, most lawnmowers are two-stroke, meaning they're less fussy but leave behind a lot more residue. Over one-third of the gas/oil mixture ends up unburnt, spit out into the atmosphere or your backyard.
VOCs
VOCs, or Volatile Organic Compounds, are damaging chemical substances that harm the environment and contribute to greenhouse gas emissions. Mowers are big culprits, producing about 124 times as many emissions per minute as a car.
Alternatives
While any reel mower listed here is the best option for reducing emissions, other devices can be used as well to minimize environmental impact. Consider an electric mower, battery mower, or solar mower if you want a motorized mower with less impact.
Pesticides and Fertilizers
The topic of pesticides and fertilizers has become more and more contentious in recent years, but there are two sides to the story, and it's undeniable that pesticides and fertilizers are one of the quickest, easiest shortcuts to a lush, green lawn.
Synthetic fertilizers and lawn treatments undoubtedly work, but they're expensive and harmful to the environment. Especially when considering how much they cost, most lawn care experts think the negatives typically outweigh the positives, especially since there are plenty of natural alternatives in place.
Our advice, if you're looking for a recommendation, is to use organic fertilizers and composts to keep your grass nourished and minimize chemical pesticide and synthetic fertilizer runoff into bodies of water. This is a great compromise that minimizes impact while simultaneously keeping your lawn well nourished.
FAQ
As motor-powered lawn care has come into fashion over the last 50 years, reel lawn mowers are more and more of a niche product. This means most buyers to have some questions about the man-powered products; we answer them below:
Are Reel Lawn Mowers Any Good?
As a human-powered, environmentally-friendly option that's been around since the 1860s, reel mowers are not exactly the cutting edge (see what we did there?) of lawnmower technology, but they're just fine for the typical homeowner. A reel lawn mower isn't powerful and will be a bit more of a workout than a ride-on lawn mower, for example, but it will get the job done, and then some.
Which Brand of Lawn Mowers Is the Best?
While no lawn mower brand is known to be head and shoulders above any other brand, there are a few standouts in the category. Fiskars, which you might know as a scissors brand, actually mask all kinds of gardening and home tools. As a Finnish brand, their products are meant to be beautiful and intuitive to use.
American Lawn Mower, though, is one of the most recognizable and prestigious brands in the space. They've produced reel lawn mowers since the 1800s, and use that experience to create a superior product. They have the best blade tech in the business, staying sharp for about 5 years of use.
Why Are Reel Lawn Mowers Better?
Reel lawn mowers are not powerful or as technologically impressive as motor-powered mowers, but that provides them with some distinct advantages. Being human-powered means that the sharp blades can't do much damage or kick up rocks and debris as motor-powered mowers do.
The main advantage, though, is the fact that they don't use gas. From an environmental perspective or simply a cost one, this lack of gas makes a big difference. It also means you're not breathing in nasty exhaust fumes while mowing the lawn.
How Hard Is It to Push a Reel Mower?
The truth is that a reel mower is a workout, especially in tall and thick grasses. While this means it is a great task to assign to your teenager, if you're a bit older or are simply just looking to have an easier time mowing, you might want to think about a lawnmower with a small cutting path like the Gardena 12-inch Silent Push Reel Lawn Mower, or even a motor-powered mower.
Wrapping Up
If you have a smaller yard, once you switch from a motor-powered mower to a reel lawn mower, you'll have a difficult time going back: there's nothing like the efficiency, silence, and environmental-friendliness of a human-powered mower. Whether purchasing a reel mower to save money or to have something safe for your teen, it's easy to see why this type of mower has been around for over 150 years.