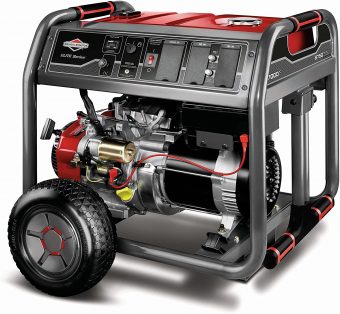 Briggs & Stratton 30663 Gas Powered Portable Generator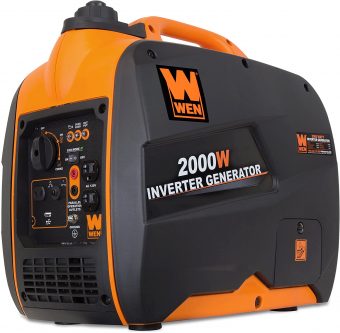 WEN 56200i Generator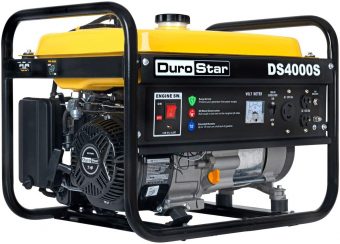 DuroStar DS4000S Gas Powered Portable Generator
Previous
Next
No matter where you are from or where you are going, we have all experienced a couple of situations without power. It can be a frustrating endeavor to work or even complete daily task without power. However, the best portable generator is designed to give you a secondary power source that can be used at home or when outdoors.
Generators have been a growing commodity for many people in recent years. Not only does it enable you to do the things you need to when the power goes out, but it enables life to continue as normal whenever you are caught in the dark. In this article, we explore some of the top portable generators that money can buy.
The 2 Main Types Of Portable Generators That Everyone Needs To Know About
You might think that all types of portable generators are the same. However, this is not the case. There are 2 types of portable generators commonly available today. To help you find the right portable generator, this guide will make it much easier:
Conventional Alternator Generator
Once you build a mental image in your head of a generator, this is the common generator that you might be thinking of. It is commonly seen as a generator that is held in place by an open frame, with the capacity to give you a lot of power. These generators are cheaper than the inverter, but they can work just as well in every situation.
One of the easiest ways to spot them is by looking at the construction. They are also much louder and you will definitely notice when someone is using one of them in their home or on an outdoor camping trip. Additionally, they can be heavy and harder to move around when you are traveling.
Inverter Alternator Generator
The Inverter Alternator Generator has many of the same characteristics as the conventional version. However, they generally have an enclosed casing that reduces the sound. While they might lack in providing you the same power output, they are more fuel-efficient, while also being lighter and easier to move.
Another different you will notice is the price of these generators. They tend to be a little more expensive when you buy them. We like them and have included them in this list since they basically symbolize portability for the traveling enthusiasts.
Before we continue with some of the many special features you need to consider, let's have a closer look at a few of the top generators that you can actually buy. These have been carefully selected using the buyer's guide you will find below.
The 7 Best Portable Generators 2020
Guide to Buying the Best Portable Generators
You might have seen the top generators and the two different types that are available. However, portable generators have a couple more important features that one needs to consider. If none of these work for you, we have designed this intricate buyer's guide to guide you on your way to finding the top portable generators:
Weight And Size
One of the reasons you are probably reading this article is to find something smaller and easier to work with. However, a portable generator does not always mean it is going to be lightweight. Occasionally, the heavier generators have special wheels that can accommodate the weight of the generator and a full tank of gas. This makes them easier to move, but still portable enough for travel.
On the other hand, you might be looking for a good generator that you can hide somewhere safe. In this case, the dimensions of the generator will play a massive part in allowing you to do so. We have not directly gone into all of the dimensions, but many of them are small enough to hide and perhaps even carry along on your camping trips. After all, camping is about being minimalistic about what you are taking along.
Power Output
One of the most important factors to consider when buying a new generator is the amount of power that is able to put out. The option you choose will depend on a couple of factors, including the type of units that need to be powered. If you need to power something that contains an element, you will need to have a much higher power output.
Additionally, smaller appliances might only need a few watts to be efficiently powered and to sustain this for a certain amount of time. Generally, the generator will have a peak power output that is achieved once you turn it on. However, it will go down a little bit if the generator has settled and is running continuously.
Power Outlets And Voltages
Each generator will have some sort of power outlet that allows you to power your devices or electronics. For most portable generators, the power outlets are around 120-volts. However, power tools might need a little more power and this can go up to 240-volts. The higher the voltage your power outlet, the more fuel it will drain.
Not only do you need to consider the voltages, but the number of power outlets that have been included. The more outlets your generator has, the more electronics or appliances can be powered simultaneously. This can potentially allow the top generators to power your entire household without too much effort.
High-end generators have one or two power outlets. However, you can switch these up to different voltages, depending on what you need for your specific items. The method can either be in the form of a twisting control or perhaps even a remote control for the generators that have been designed to be controlled easily.
Generator Power Supply
Not all generators are powered by gas. Some of them can also be powered by diesel depending on the one you choose. For most portable generators, gas is generally easier and you can use them much more sufficiently, especially when you don't need to use them for days on end like most commercial buildings or stores.
Additionally, the diesel generator is also a great option, but diesel is commonly reserved for some of the larger generators. They are power by diesel to help make them more fuel-efficient. They can also be more eco-friendly when you are using diesel and sustain your for days instead of merely using them for hours.
One of the downsides of choosing a diesel generator is the amount of noise output. Unfortunately, they have been known to be kind of heavy on the noise levels and if you have a few people nearby, they might find it intolerable. However, the upside is the longer duration of the fuel inside the generator before it needs to be refilled.
Gas Tank
One of the features that some people neglect to look at is the gas tank size of the unit. It might tie into the overall size of the unit, but you need to know how many gallons of gas the tank can hold. Not only will this give you a better indication of the duration it can remain on, but also indicate if you need to have an additional tank for refilling it.
Since power tools and many other things can draw a lot of power, or even drain the tank much faster, it is worth noting that an additional gas tank can greatly help you to keep the unit sustained. Naturally, it will all come down to the purpose of your generator and whether you need to use it for long times before finding the nearest gas station.
Circuit Breaker
Having a circuit breaker can be considered a minor feature, but with generators being fairly expensive, it is a good idea to consider it as one of the important features. The circuit breaker has one feature and that is to protect the generator from damages. This can happen when you have a unit that has a faulty circuit, while also protecting it from being a potential fire hazard.
Safety Features
The circuit breaker is not the only safety feature that people can look for. Many of the top generators are CSA and EPA compliant. This includes safety features that will automatically shut-off the unit once the oil is low or when something is wrong. We recommend looking for a generator that is compliant with some of these organizations.
If the generator is not compliant with some of the organizations, you might not even be able to use them legally. If you are caught with a non-compliant generator, you might find yourself facing hefty fines for using them
Additional Features To Consider
These are the most common main features that every person need to look at before they buy a portable generator. However, generators have definitely evolved from the days of the standard generator to look better and make it easier to use. Here are a couple of additional features that you might need to keep in mind to ensure you have the best possible generator:
Display: Most displays are fairly standard, but a portable generator can have an electronic display. The electronic display makes it much easier to keep track of the fuel levels and the hours remaining to ensure you never run out of power.
Starting Mechanism: if you are tired of the pull mechanism that needs to be pulled over and over again to get it started, you can find an electronic starting mechanism. One of the most advanced generators can even allow you to start the unit with a remote control.
Carry Handle: One might not really think that this is really important, but if you have a lightweight generator of less than 50-pounds, having a carry handle can make it much easier to move it around.
Noise: Not only can the conventional generators be noisy, but they can frustrate many of the campers or neighbors. Depending on where you are using the generator, it is important to look at the level noise output.
Warranty: Lastly, we must consider the warranty. These generators are expensive and they need some sort of protection. The standard generator from the top brands will keep you protected for around 2-years.
These are all the features that can make a generator stand out and give you great value for your money. However, a generator needs to be maintained as well, which can be daunting or expensive if you don't have the skills to take it apart. Fortunately, you can look for a service warranty for your generator to ensure it functions as a well-oiled machine.
Frequently Asked Questions
The information mentioned above should potentially cover everything that you might have been wondering about when it comes to selecting a portable generator. However, there are still a few unanswered questions that some people might have. Whilst doing research, here are a few of the most common unanswered questions:
Starting Watts Vs. Running Watts
Starting watts is what a generator can achieve once it has been turned on to get an appliance or tool running. This is generally much higher than the running watts. However, smaller things like lights will continuously use the same amount of watts.
The only real area that will be affected when it comes to starting watts and running watts is power tools and some of your appliances that use an element. These will need some sort o boost to get them running and you need to consider this when you decide for what the generator will be used.
How Much Does It Cost To Run A Household With A Generator?
To accurately measure the costs, you will need to a few of your own calculations. You will need to consider which appliances will be used, as well as the amount of time these appliances will be running. Next, you also need to keep in mind what the current gas prices are to ensure that it is easier to calculate.
Additionally, the power source you are using will have an effect as well. Diesel will give you a more power-efficient unit that can work for longer, slightly reducing the costs.
Can I Run All My Appliances Using A Portable Generator?
While the fuel and the wattage have been mentioned, you also need to consider the safety issues. Some generators can have power surges and they are hard to control with all your specific appliances, especially when something does not need as much power to function.
You will need to do a little bit of research on your generator and the appliances to find out what is the maximum voltage they can function on. One thing you don't want is to fry any of the circuit boards on your appliances. However, a good circuit breaker can always help you to avoid some of these potential issues.
Conclusion
The best portable generator can make your life easier and ensure that you always have the power to use. Blackouts won't have an effect anymore and in the modern age of security, the generator can help keep some of your battery-operated security systems going as well.
Let us know in the comment section which of these portable generators you have used and if they have been working for you. If we might have missed any of your favorite options, we would love to add them to this list.