Black + Decker BPACT08WT Portable Air Conditioner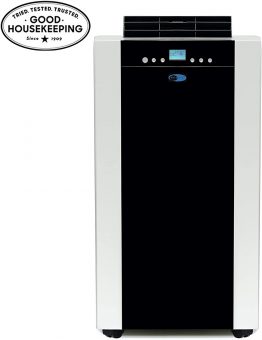 Whynter ARC-14S 14,000 BTU Dual Hose Portable Air Conditioner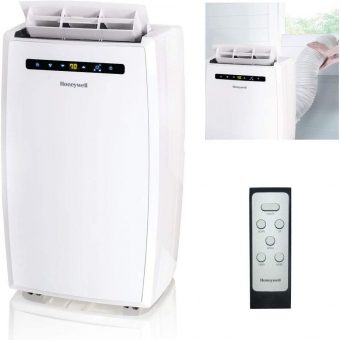 Honeywell MN10CESWW 10000 BTU Portable Air Conditioner
Previous
Next
Some of the best portable air conditioners offer quick cooling for most rooms. Additional functions such as dehumidification are added as well. However, the portable air conditioner has the considerable advantage of mobility. Unlike fixed air conditioners, portable designs can be moved from room to room as needed. With easy maintenance, washable filters, and air purification functions, some of the best air conditioners offer much more than simply air cooling for the summer months. These machines can also be seen as a solution for cleaner air and a healthier space to live in.
The best air conditioners, cooling power and why BTU is important
The cooling power of an air conditioner has its place in all purchases. From a minimum of 8.000BTU to a maximum of 14.000BTU, users can create their own space and their own freedom when it comes to instant drops in temperature with the advantage of mobility.
Cooling power is standardized. However, all users need to know that the maximum cooling power is actually measured in perfect conditions. This is why users have the ability to choose a design which works to its true capacity even a bit further as it is rare to have the windows and doors closed at all times for maximum efficiency. Stretching cooling capacity is important for most people as it gives them the freedom to enjoy even better results in terms of cooling speed.
The 10 Best Portable Air Conditioners 2020
Guide to Buying the Best Portable Air Conditioners
What is BTU?
The British Thermal Unit is used in heat measurements. It is now a standard in all air conditioners and it represents the cooling capacity of each unit.
Are portable air conditioners any good?
Portable air conditioners are comparable to traditional fixed air conditioners. They represent a valid option for any home, as long as they can cover the surface of a room.
How do I install a portable air conditioner?
Installing a portable air conditioner is not complicated. In most cases, they need to be connected to the outside of a window and possibly to a drain.
How big is my room?
To measure the size of a room, length and width need to be multiplied. The result is the square footage of a room which can be matched in cooling capacity for an air conditioner.
What is dehumidification?
Dehumidification is the process in which users can reduce the humidity of the air by removing the excess moisture.
Do I need an external wall-mounted piece?
Portable air conditioners do not need an external wall-mounted piece for cooling average rooms.
Is there a difference between vertical and horizontal airflow?
Airflow can be important with considerable cooling capacity. Vertical airflow is considered efficient when it comes to the power of covering an entire room quickly.
How to choose the best portable air conditioner
Choosing a portable air conditioner is not too complicated. Users can ensure the best results even while looking at areas such as usability and programmable functions, not just at cooling capacity. However, the following characteristics are the easiest place to start when searching for the best air conditioner.
Controls and design
The controls of the air conditioner are evolving at all times. For most users, it means having the freedom to choose designs which are intuitive, friendly and modern. Gone are the days of large knobs. Touch controls are the new norm and the good news is many of them also comes with added LED lights which instantly tell users which mode of operation is selected.
Remote controls are available as well. Even if many of them are not covering all functions of an air conditioner, they still are the best option for added comfort and temperature control from any location in a room. But not all remote controls are the same. Some of them include a digital display which tells users the settings in real-time and which informs them on the actual temperature. Remote controls without such digital screens are those which are intuitive and which only allow minimum settings.
Continuous run time
Continuous run time is important in many areas. In the South, air conditioners tend to work long hours to make up for the extra heat from the outside of the house. Portable air conditioners mostly come with a runtime between 12 and 24 hours with included sleep functions where the cooling is paused for short moments. But this also allows users to find their homes already cool when they come from work.
The practicality of this programmable function is what separates manufacturers in many cases. At the same time, there are plenty of reasons to already follow a routine in which the machine works constantly for efficiency rather than forcing quick cooling in short periods of time.
Auto evaporation vs. drain hoses and water tanks
Auto evaporation is seen as high value in most designs. Users have the freedom of choosing their own designs and having the ability to place further emphasis on the way excess water is dealt with can be another major plus. There are various systems in place which allow extra levels of freedom for all users. At the same time, there are plenty of situations in which a simple water tank system might be enough, especially if it doesn't need to be emptied every day.
The same goes for the filters of a portable air conditioner. Since not all filters are the same, users need to know what to expect. All filters need to be regularly washed in order to remain clean. But some filters such as those with added charcoal are known to fight bacteria. This is why together with the evaporation system, filters are actually parts of the portable air conditioner which need to be frequently handled by the user. The good news is that they don't actually need to be replaced, as they are simply washed in the sink.
Final words
When it comes to the best portable air conditioners, it is always worth investing in designs which are proved and which come with good warranty policies. In most cases, even alternative products can be cheaper but there is no real customer support and no expectation of durability with more affordable alternatives.
Today's manufacturers know users want the most out of their air conditioners. This is why all of them include different other functions such as a fan mode or a dehumidification mode. Users can leverage this approach to their advantage by ensuring the proper air quality in their homes. Those with kids might already plan to purchase a dehumidifier. In this case, families might be among those who benefit the most from the best portable air conditioners.
But even for other users, having the ability to diminish humidity means changing the perception the extra heat comes with. In all cases, reducing humidity and room temperature immediately improves comfort. Both functions can be controlled to various degrees in small increments on most air conditioners.