Air compressors come in various sizes, shapes, and weights. Some are big and bulky, making them difficult to move, while others are lighter and more portable. Buying a portable air compressor will be important to you if you need to use it around your home or transport it in a vehicle.
In this guide, we'll begin by looking at the key things to consider in a portable air compressor, so you understand the most important things to look out for. We'll then jump into our reviews of the 10 best portable air compressors and end with a more detailed guide on everything you need to know about these machines.
Key Things to Consider in a Portable Air Compressor
When buying a portable air compressor, there are several crucial points to consider. These things will determine whether the air compressor is suitable for your specific needs.
Performance
Higher performance isn't always better, especially if you don't need it. For small jobs, such as inflating tires or stapling, an air compressor with a lower air delivery rate will be sufficient.
These air compressors are typically smaller and more portable than high-performance compressors (which we have another article about), making them the perfect choice for smaller jobs where portability is a priority.
For more information on air delivery (CFM), pressure (PSI), and power (HP), take a look at our full guide to portable air compressors. We explain what each term means in more detail.
Weight
Heavy air compressors are harder to move, especially if they must be carried. Most portable air compressors will be light, allowing you to easily lift them into your vehicle for transportation or onto a shelf for storage.
The lightest air compressor on our list weighs just 20 pounds, which is light enough for anybody to carry. The heaviest is just under 80 pounds, so carrying it isn't an option, unless you're The Incredible Hulk. It is still portable despite being heavy as it uses wheels for easy transportation.
Design
The design plays a vital role for several reasons. Heavier compressors with large tanks will need wheels to be portable, while lighter ones will have a handle which you can carry them with.
Some air compressors, like this one also have roll cages that help protect the unit from damage. This makes them suitable for use in harsh environments, such as on worksites, or for loading into vehicles. Others have protective shrouds that protect the compressor from dirt and dust.
Use Case
If you only need the air compressor for inflating tires, consider buying an inflator. Inflators aren't fully-fledged air compressors, as they don't have a tank and can't be used with air tools. However, they're incredibly light and portable.
If you need to use air tools, a full air compressor like the Craftsman will be a better option. Pay attention to the compressor's performance, as some air tools will require higher operating pressures and air delivery rates to function correctly.
Top 10 Best Portable Air Compressors 2022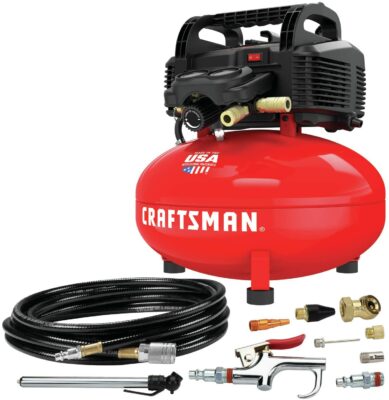 Why we like it:
The Craftsman is a high-quality air compressor that offers great performance, a large tank, and is easily carried.
Editor's Rating:
This portable air compressor by Craftsman offers great performance for its size. Providing 2.6 CFM at 90 PSI and a maximum pressure of 150 PSI, this compressor will handle most small DIY jobs with ease. It's suitable for use indoors as it's electric, however it's pretty noisy with a decibel rating of 82 dB. If that's too loud for you, take a look at the much quieter Stealth Ultra Quiet.
The large 6-gallon pancake-style tank holds a lot of compressed air while remaining reasonably small in size. A larger tank means longer tool running times, so you won't have to stop to let the tank refill as often as you would with a smaller tank.
The Craftsman is easy to carry around as it only weighs 30 pounds and features a well-positioned handle. It's also very stable on various surfaces as it has a round design and rubber feet to dampen vibrations.
This air compressor comes with a 13-piece accessory kit, including a hose, blow gun, tire gauge, and more. While the compressor feels high quality, the accessories feel cheap, which is a bit of a letdown. The benefit of having accessories included is that you can be up and running quickly, and you won't need to spend extra money on buying accessories. That will depend on what you're using it for, though.
Pros
Good performance

Large tank size

Lightweight and easy to carry

Comes with accessories
Cons
Noisy at 82 dB

Accessory kit feels cheap
---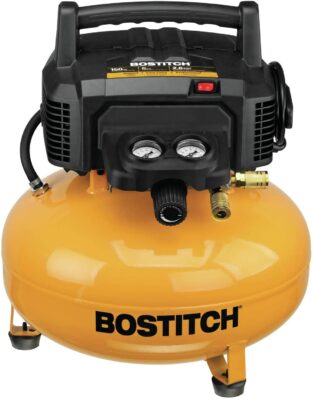 Why we like it:
Despite being one of the cheapest portable air compressors, the Bostitch keeps up with the more expensive machines when it comes to performance and specs.
Editor's Rating:
This Bostitch pancake air compressor is very similar to our overall pick, the Craftsman. The design and specs are almost identical, with 2.6 CFM at 90 PSI and a 6-gallon tank. However, the Bostitch is slightly lighter and a little quieter than the Craftsman.
This Bostitch air compressor weighs just 29 pounds, making it very easy to carry. The flat pancake design provides improved stability while remaining compact, and the rubber feet help dampen vibrations and reduce movement no matter what type of surface you use it on.
When it comes to price, the Bostitch is one of the cheapest portable air compressors out there. Considering its good performance and stable design, in addition to being easily carried, the Bostitch is an excellent choice for people on a budget.
One thing to bear in mind is that it's just a standalone unit; there are no accessories included. This may not be an issue if you already have accessories, but it's an extra cost to factor in.
Pros
Great budget option

Good performance

Large tank size

Vibration-free design
---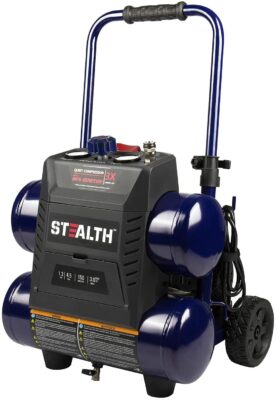 Why we like it:
The Stealth Ultra Quiet offers excellent performance and great portability thanks to its twin-stack design and rubber wheels.
Editor's Rating:
The Stealth Ultra Quiet lives up to its name as it has a 64 dB rating. It isn't the quietest air compressor though, especially compared to the 56 dB California Air Tools. Still, it's quiet enough to use indoors without hearing protection.
When it comes to performance, the Stealth Ultra Quiet shines. It has twin tanks with a total capacity of 4.5-gallons and an impressive air delivery of 3 CFM at 90 PSI. This makes it suitable for a variety of jobs, from inflating tires to using nailing guns.
This air compressor is on the heavy side. At 61 pounds, you wouldn't want to carry it. The good news is you don't have to; it has two 6-inch rubber wheels and a large frame. This makes it easy to move around no matter where you're using it, although loading it into a truck may be a struggle.
This is a premium machine that's built to last. The quality is reflected in the high price, which is fair considering its size and performance. The only downside with this design is that it's prone to vibration and movement. That's a common issue with upright air compressors. Pancake air compressors like the Bostitch don't usually have this issue.
Pros
Quiet at 64 dB

Easy to move around

Great air delivery

Well-built machine
Cons
Heavy at 61 pounds

Vibrates a lot
---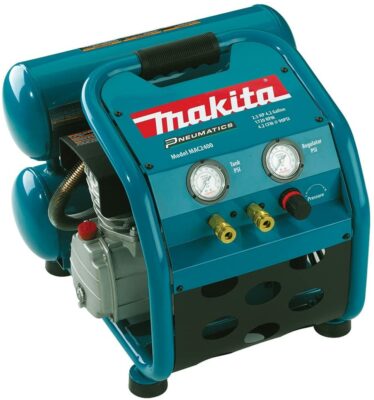 Why we like it:
If it's power you're after, the Makita MAC2400 delivers. Its high air delivery rate and large tank make it suitable for some of the more demanding jobs.
Editor's Rating:
The Makita Big Bore is the most powerful portable air compressor on our list. With an impressive 2.5 HP electric motor delivering 4.2 CFM at 90 PSI, this machine will handle more demanding jobs with ease. The twin tanks have a combined capacity of 4.2-gallons, which lets you run your tools for longer before the compressor has to kick in again.
While this compressor has an electric motor like the rest of the products on our list, it's the only one that requires oil. This means you'll need to provide regular maintenance to keep it running efficiently. The only benefit here is that the pump should last longer. Frequent oil changes result in reduced wear and lower operating temperatures, thus prolonging the pump's lifespan.
The Makita Big Bore is pretty heavy at 77 pounds. In fact, it's the heaviest air compressor on our list, in addition to being the most powerful. Unlike the Campbell Hausfeld Portable & Quiet Air Compressor, the Big Bore doesn't have wheels, so it must be carried by hand. It does have a carry handle with a rubber grip, so if it's not too heavy for you, it can be carried easily enough.
The roll cage frame protects the unit from accidental damage, making it an attractive choice for people who will be regularly transporting it in the back of a vehicle. Its design makes it very stable on a wide variety of surfaces, preventing excessive movement when in use.
If you're happy to trade some portability for performance and need something that will handle heavy jobs, the MAC2400 might be the one for you. If it's too heavy, but you still want decent performance, the Stealth Ultra Quiet might be a better choice.
Pros
Powerful 2.5 HP motor

Protective roll cage design

Long-lasting oil-lubricated pump

Stable and vibration resistant
Cons
Heavy at 77 pounds

Requires maintenance
---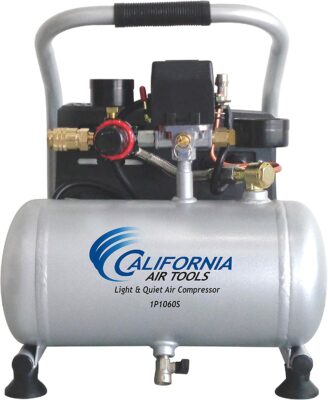 Why we like it:
The California Air Tools Light & Quiet lives up to its name, making it perfect for use inside the home.
Editor's Rating:
If having a quiet air compressor is essential, the California Air Tools Light & Quiet might be the machine for you. At just 56 dB, it's the quietest portable air compressor on our list. This makes it perfect for use in the home without any hearing protection. In fact, it's so quiet, you can even have a conversation with another person standing right next to it.
It's also very light at a little under 30 pounds. It also has a handle with a rubber grip, which means that this air compressor can be easily carried and transported. The quietness and portability do come at a price though, as it's not the most powerful air compressor when it comes to airflow.
It provides just 1.2 CFM at 90 PSI, which is only enough for small jobs. This low airflow rate simply won't keep up with more demanding air tools. It also has a small 1-gallon tank, so it runs out of compressed air pretty quickly. This results in having to wait for the motor to kick in again to recompress the air.
The rubber feet provide a fair amount of stability, preventing the unit from moving around. California Air Tools is also a great brand that's known for its high-quality air compressors.
Pros
Very light and quiet

Easy to move around

Rubber feet provide good stability

Top-quality brand
Cons
Small tank size

Low air delivery
---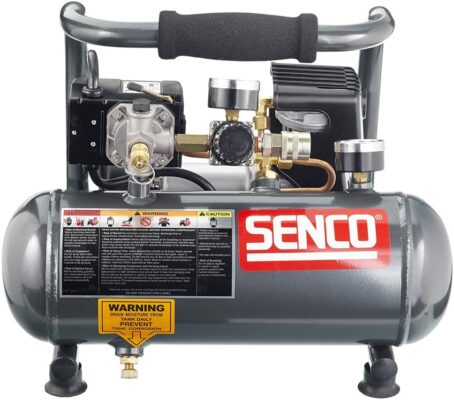 Why we like it:
It's compact, it's quiet, it's stable on the ground. The PC1010 is excellent for those who need a light machine that can be stored away easily.
Editor's Rating:
The Senco PC1010 is the most compact portable air compressor on our list, taking up a tiny amount of physical space. It's also very light and runs quietly, making it ideal for home use.
It's only designed for use with low demand air tools, as it has a low air delivery of just 0.7 CFM at 90 PSI and a small 1-gallon tank. This won't matter for small jobs, but if you're planning on carrying out larger jobs, you'll need something a little beefier, like the 6-gallon Bostitch Pancake Air Compressor.
This hotdog style air compressor is very stable on the ground due to its low center of gravity and solid rubber feet. It's easy to carry around as it's light and features a large metal handle with a rubber grip. Whether you're storing it in your garage or putting it in your truck, the PC1010 is easily transported.
Senco is a well-known brand when it comes to air compressors and air tools. All of their products are of great quality, and the PC1010 air compressor is no exception.
Pros
Compact and light

Stable design

Easy to transport

Great quality brand
Cons
Low air delivery and performance

Small 1-gallon tank
---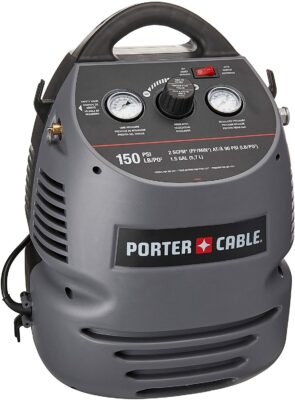 Why we like it:
This compressor is super light and has a unique design that protects the unit from dirt while dissipating excess heat.
Editor's Rating:
This is the lightest portable air compressor on our list, weighing just 20 pounds. It's also incredibly portable thanks to its shrouded design, with an ergonomic handle located on top of the unit.
Performance-wise this small air compressor has a decent air delivery of 2 CFM at 90 PSI. It also has a reasonably sized 1.5-gallon tank, which is pretty good considering how small and light it is. While it isn't going to keep up with the most demanding air tools, it will handle small jobs with ease.
The shrouded design helps protect the unit from dirt or accidental damage. Overheating isn't an issue despite the enclosed design, as it features well-placed vents to help dissipate heat. The gauges are well laid out, with everything you need at the top of the machine for easy access.
The only thing we have an issue with when it comes to this air compressor is its stability. It has tiny rubber feet to keep it upright, but they aren't very effective. Due to the compressor's center of gravity, it topples over easily when used, which isn't ideal. The Senco PC1010 has a much better center of gravity and is a lot more stable.
Pros
Good performance for its size

Weighs just 20 pounds

Easy to carry and move

Shroud protects the unit
Cons
Prone to toppling over

Not suitable for large jobs
---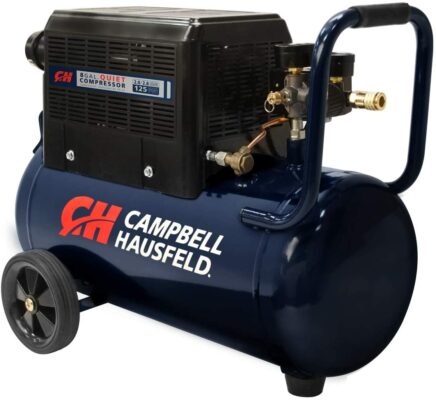 Why we like it:
This compressor's large 8-gallon tank allows you to run tools for longer, while the wheelbarrow design makes it easy to move about.
Editor's Rating:
This portable air compressor by Campbell Hausfeld offers prolonged tool running times thanks to its large 8-gallon tank. It has the largest tank of any air compressor in our lineup, making it suitable for more demanding tools like nail guns. This allows you to keep using it for longer before the tank must be refilled.
This air compressor offers decent performance, with an airflow of 2.2 CFM at 90 PSI. Despite being larger in size, it's surprisingly portable as it only weighs 55 pounds. It has a wheelbarrow design featuring two wheels and a handle for moving, making it very easy to transport across various surfaces and terrains.
The compressor itself is enclosed with a shroud, providing ample protection to the unit. The two wheels and single rubber foot provide plenty of stability when in use, and there's very little chance of it toppling over.
Pros
Wheelbarrow design makes it transportable

Impressive 8-gallon tank

Good air delivery for small jobs

Protective shroud protects the unit
Cons
Takes up a lot of physical space
---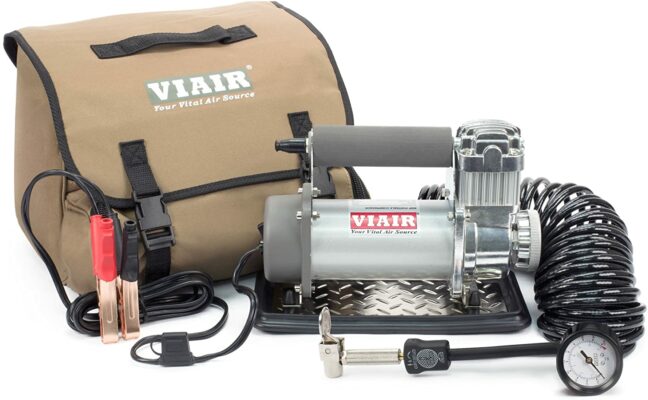 Why we like it:
The 400P is one of the best quality inflators out there. It comes with lots of accessories for inflating tires, and it's also super light.
Editor's Rating:
The 400P isn't a regular air compressor; it's a tire inflator. While you can't use air tools with it, it will inflate tires very quickly. In under 5 minutes, it can inflate a tire from 0 PSI to 35 PSI.
There are many of these inflators on the market, but this one stands out for several reasons. It can run off a 12V battery, which is the standard size found in most vehicles. The included alligator clamps allow you to connect it to your vehicle's battery for power, and it'll just work with no drama.
It comes with plenty of accessories, including a carry bag for storing everything away neatly, alligator clamps, a long 25 ft open-ended hose with a pressure gauge, a power cable, inflation tips, and more.
Depending on where your battery is located, you may find the power cord isn't long enough, especially if you have a large vehicle. It'd have been nice if it was longer, but you can use an extension cable or purchase a longer hose for better reach.
This inflator is perfect for keeping in your vehicle for emergencies, as it weighs just 11 pounds and is very small. It is pretty expensive for an inflator, however it's much better quality than the cheap inflators. Plus, it can be hooked up directly to a 12V battery.
Pros
Inflates tires quickly

Includes essential accessories

Connects directly to 12V batteries

High-quality product
Cons
Hose and cord might not be long enough

Expensive for a tire inflator
---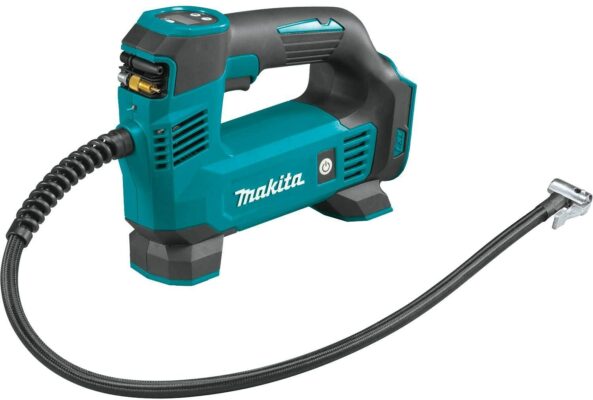 Why we like it:
This cordless inflator uses a battery for power, giving you the freedom to move and use it anywhere without needing a power outlet.
Editor's Rating:
As with the VIAIR 400P, this isn't a typical air compressor but rather an inflator. This one is cordless and runs off an 18V battery, allowing you to use it anywhere you like, even if there's no power outlet. It's perfect for topping up deflated car or bike tires or for inflating sports balls.
Unfortunately, the battery doesn't come with the inflator – you'll need to purchase it separately. The good thing is that the 18V batteries from Makita work on any of their power tools. If you already have a Makita battery-powered device, you can just use that battery without having to purchase another.
Your desired pressure can be set, and the inflator will automatically cut off once it reaches it. Simply connect the hose, set your pressure, and let it get to work. You will need to stay with the inflator while it inflates, as for some reason the trigger doesn't lock. This means holding it until it has finished inflating.
Working in the dark? No problem. This inflator features a built-in LED light so you can see what you're doing, and the display is bright enough to see what the current pressure is at.
Pros
Powered by an 18V battery

Automatic cut off once it reaches the desired pressure

Built-in LED light and highly visible display
Cons
Battery not included

Trigger doesn't lock
---
Everything You Need to Know About Portable Air Compressors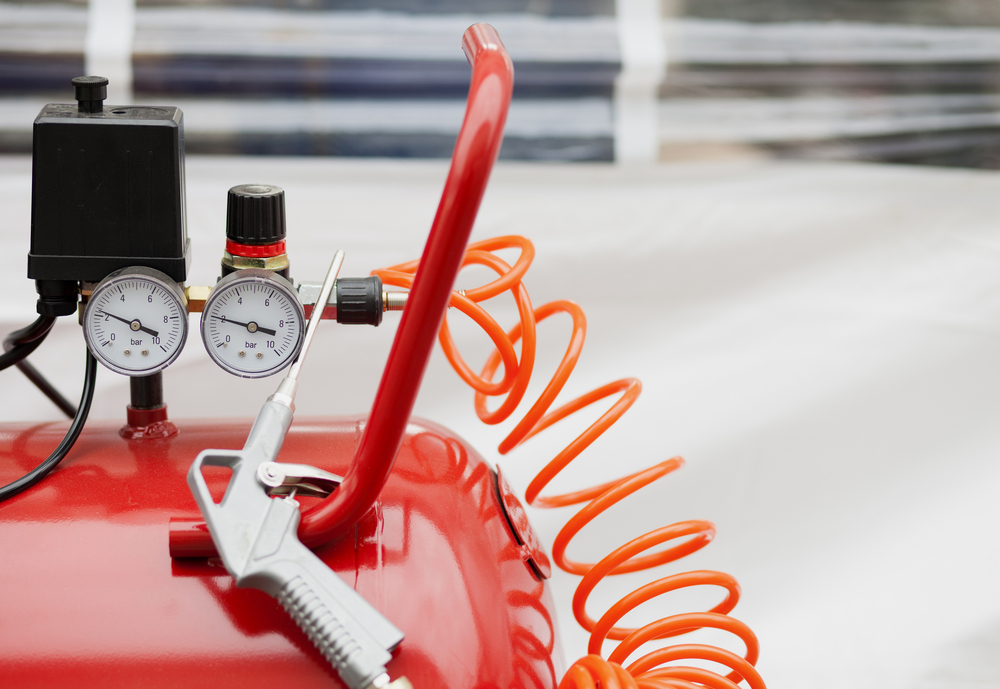 At the beginning of this guide, we briefly touched on the key things to consider in a portable air compressor. This section will take a more detailed look at the important things that make a portable air compressor good.
Tank Capacity
The air compressor's tank capacity will impact how long you can use your tools before having to wait for the pump to recompress the air. A larger tank will mean extended tool running times, so you can get on with your work uninterrupted.
A larger tank usually means the compressor is bigger and heavier, which affects portability. In some cases, a larger tank doesn't add too much extra weight or size, as seen with the 8-gallon Campbell Hausfeld.
Air Delivery
Air delivery is perhaps one of the most important things to look for in an air compressor, as it will determine which air tools can be used with the machine. Air delivery is shown as CFM or SCFM, which stands for cubic feet per minute. That is the volume of air that's delivered in one minute at a specific pressure.
Some tools, like a finish nailer, only require a low air delivery of 1 CFM at 60 – 100 PSI. Others, like impact wrenches, require a lot more, typically around 6 – 8  CFM at 90 PSI. The best way to compare air compressors is to look at the CFM rate at 90 PSI. This provides a more accurate comparison.
Remember that an air compressor providing 2 CFM at 90 PSI may provide a lot less airflow at a higher pressure. Always double-check what your tools will need to run correctly.
Power
The power of an air compressor is displayed as horsepower (HP). Many manufacturers will quote the peak horsepower, but that's not a true reflection of the machine's power. The peak horsepower is only sustained for one second while the compressor starts up. It then drops off to a much lower number. For that reason, we've not quoted the horsepower in our reviews as it's not a useful metric to use.
Instead, the air delivery (CFM) and maximum pressure (PSI) are much better when comparing an air compressor's power and performance.
Pressure
Every air compressor will quote pressure figures in PSI. PSI stands for pounds per square inch. While these numbers can be useful, they're often the maximum pressure and not representative of the machine's typical operating pressure.
The air tools you want to use will determine how high of a PSI you'll need. The pressure isn't the only figure to go off when choosing an air compressor, though, as the air delivery will also be a crucial factor to consider.
Oil vs. Oil-Free Air Compressors
Air compressors use a pump to compress air, which is then stored in the tank. This pump requires lubrication to reduce wear and ensure proper operation. You'll find both oil-lubricated and oil-free pumps in air compressors, each with their own pros and cons.
Oil-lubricated pumps require maintenance as you must add oil at regular intervals. This may not be ideal for people who don't want to carry out maintenance, but it does mean that the pump has reduced wear and runs cooler, prolonging its lifespan.
Oil-free pumps are pre-sealed with oil from the factory. This oil is designed to last the life of the pump, meaning there's no maintenance involved. However, it does mean that the pump may not last as long as an oil-lubricated pump.
Almost all of the compressors in our reviews are oil-free, making them more user-friendly as there's no maintenance required. Only the Makita MAC2400 Big Bore requires oil and regular maintenance.
Electric vs. Gas Air Compressors
Air compressors fall into two categories: gas air compressors and electric air compressors. Gas compressors use gasoline for power, while electric compressors need a power outlet to run.
Each has its own advantages and disadvantages. Gas compressors are more powerful and can be used anywhere, as there's no need for a power outlet. However, they're noisier, heavier, and more challenging to transport.
Electric compressors are less powerful and must be used where there's a power outlet. This makes them quieter, smaller, and more portable. They can also be used inside the home as there are no toxic emissions, unlike with their gas cousins.
In our selection of products, we've only chosen electric air compressors, as they're the most portable and affordable for the majority of small DIY jobs. Gas compressors are better suited for use in industrial settings for jobs that require a lot of power. We have an article about the best air compressors that covers gas compressors if that's what you're looking for.
Final Thoughts
As we've seen, several factors have an impact on an air compressor's portability. A portable air compressor must be light, well designed, and easy to carry or transport.
The right portable air compressor for you will come down to what you're using it for. If you're only carrying out small jobs, a less powerful but lighter and more portable air compressor will be enough. For large jobs, you'll have to sacrifice portability for increased power and performance.