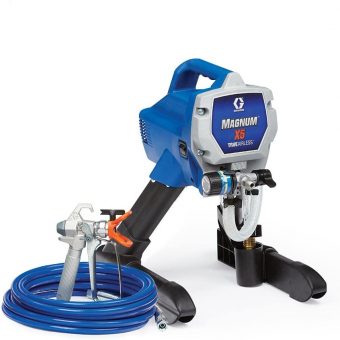 Graco Magnum 262800 X5 Paint Sprayer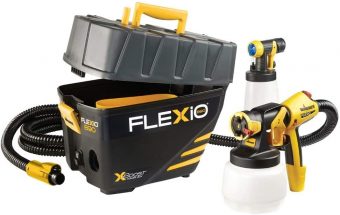 Wagner 0529021 Flexio 890 HVLP Paint Sprayer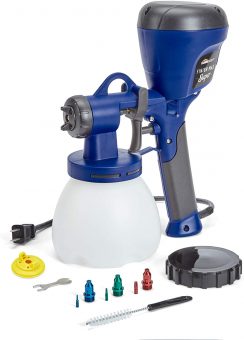 HomeRight C800766 Finish Max Paint Sprayer
Previous
Next
When you want to paint something around your house or doing a painting job as a professional, a paint spray gun will come in handy. These devices will help you save time, effort, and give you a higher quality paint job.
Redecorating your living space yourself can be made easy and efficient with the best paint spray gun. They come in different devices and with different features meant to suit you differently. Check our review and buying guide of the best paint spray guns to help you make your decision.
Features to Consider in Good Paint Spray Guns
Types of Paint Spray Guns
The first thing you should think about when you're choosing a paint sprayer is what type is best for you. There are 3 different types of paint sprayers available on the market and each has its own set of pros and cons.
Conventional Sprayers
This is the type of spray gun you're likely to find in your dad's garage. The old school reliable sprayers use compressed air to shoot out the paint in a mist of fine paint particles. These are those old, noisy spray guns that wake you up on a weekend when the neighbor is redecorating the porch.
Conventional sprayers are also known as the high-pressure sprayers, for the obvious reasons. Highly compressed air trapped inside the container and sent through the hose attached to paint results in a broad and thick spray of pain. While they're easy to use and reliable, they do have their drawbacks.
One of the major limitations of this spray gun is paint control. High pressure means a lot of power, which means that the paint will fly everywhere. It's estimated that more than half of the material blasted out in the nozzle gets wasted in the air. Only a portion of it lands on the surface you're trying to cover. This means that you're losing material, power, and the ordeal is costing you more than it should. While they're cheap and efficient in painting, the noise and the spray pattern may lead you to think twice.
High Volume Low Pressure (HVLP) Sprayers
Opposite to the conventional sprayers giving us a broad spray is the HVLP spray guns. The High Volume Low Pressure means that the spray coming from the nozzle of this device will be narrower and easier to control. It will also make this sort of sprayers ideal for smaller objects and complex surfaces.
With the help of the HVLP sprayer, you'll get maximum accuracy and control for all the intricate work that needs to be done. Besides, with the low pressure, you get more volume. This translates into more paint ending up on the surface you're trying to cover. These types of spray guns are immensely popular among the "do it yourself" people as they're easy to use and applicable to almost any kind of housework.
The precision you get with using an HVLP device allows you to do a professional level of work at your home. You can paint or protect the doors, individual pieces of wood, a bicycle or a table, just like a professional would. They're easy to use, so even if you're an inexperienced painter, you'll get satisfying results in no time.
Airless Sprayers
It's equally important to choose your weapons as you choose your battles. When painting, we always have a task to do and a selection of several tools that can get the job done. Whichever you are is entirely up to you.
Airless spray guns are incredible feats of technology and if you've ever heard of them, get ready to have your mind blown. Going airless means you won't be having any air mixed in with your paint or whatever other material you're using. Apart from that obvious conclusion, there are several other things you should know about them.
Just like the classic, traditional sprayers, these machines can help you cover large surfaces in no time and make your life much easier. At the same time, they offer all conveniences covered under HVLP sprayers. The jet of paint coming from your nozzle is adjustable so that you can customize it to your needs. Also, almost everything that gets out of that hose is going to end up on your wall. Unless you're covering a table. With a good airless sprayer, you can paint a living room like a pro, in about 10 minutes and without a mess.
The 9 Best Paint Spray Guns 2020
Guide to Buying the Best Paint Spray Guns
You have been provided with a rundown of the 10 best paint spray guns that are available on the market in 2020. This can help you narrow down your options so choosing the best product becomes easier. Before choosing the best paint spray guns, there are some factors that you need to consider.
Features to Look Out For
Paint sprayers aren't known for having an abundance of features. However, there are some features to look out for that can make your paint spraying experience much more positive. Here are some of the features to look out for:
Adjustable Pressure
While not available on airless paint sprayers, adjustable pressure is a very common feature found on both compressed air sprayers and HVLP paint sprayers. The ability to adjust not only the speed of the spray but also the thickness and pattern (such as vertical, horizontal, and circular) provides a great deal of flexibility when you have a variety of projects to work on.
Garden Hose Connection
It may not be the most exciting feature but having the option to connect your paint sprayer to a garden hose is a real time-saver. Cleaning paint sprayers can be a complicated business but this is made easier with this particular feature. Thankfully, most paint sprayers have this feature so you shouldn't have any trouble having a product with it.
Size and Weight / Portability
The size and weight of your paint sprayer may well dictate how you use it and for how long. For example, some products come with wheels and handles which add to the portability. In these cases, the unit is placed on the floor and you use a spray gun that is connected. Wheels and handles are particularly useful with heavier paint sprayers which can weigh as much as 30 pounds.
Some paint sprayers weigh as little as 3-5 pounds and are much like cordless drills in that they're not connected to anything. They may not sound heavy but having such weight in your hands for hours can cause hand fatigue. Naturally the bigger the paint sprayer, the more powerful it usually is. So it's important to think about whether power, portability or a mix of both is best for you.
What About Accessories?
As well as key features, you should also think about the various accessories that may or may not come with your paint sprayer. Such things can add value to the product you buy but are usually relatively cheap to buy separately. As such, you should keep an eye out for these things but don't worry if your favorite paint sprayer doesn't have all of them.
Filters
Filters prevent your paint sprayer from clogging. This is particularly important if you want to achieve a smooth finish. They may even ensure a longer life for your product which is always a great thing.
Hoses
The length of the hose you use with certain paint sprayers depends on the job that you're doing. If you're covering a large area, you probably want a longer hose and it's recommended you get one that's at least 25-feet long.
Extensions
Whether you're spray painting high up or low down, an extension can make things a lot more comfortable. These come in all sorts of different sizes so you have plenty of choice for when you have different types of tasks to tackle.
Tips
Depending on the spray pattern you want, you can choose a particular tip to help with this. They can even be good for handling different paints such as those that are thin or thick. For this reason, we recommend that you get a variety of tips for different types of spraying tasks.
Protective Equipment
Because of the paint and fumes, it's a very good idea to have the right protective equipment. This includes protective clothing, goggles, and a face mask. That way you can work comfortably without problems.
How To Choose The Best Paint Sprayer
When choosing the spray paint gun, you'll first need to determine what job it's for. Painting a bicycle isn't the same as applying a covering layer to your old oak table. Also, if you need to paint your entire house, then another machine will have to do the trick. Once you know the type of work you need to do, it will be much easier to know what kind of equipment you should use.
Pressure or Horsepower
When you go through the reviews about sprayers, you'll see that the words pressure and horsepower are always there. Horsepower determines how strong the engine is. More of it means more paint gets out of the nozzle and thicker layers of paint end up on the wall.
Usually, you would go for the higher pressure ones as they get the job done quicker. However, not all jobs need to be done in that way. If you require a steady and relatively weak stream, you might go for a more debilitated sprayer. It's all about the control and the situation.
Value
The world of paint spray guns is as versatile as any other branch of industry. The choices are many, and the manufacturers and brands are numerous. Choosing the right one for yourself is, as always, a matter of debate. There will always be higher level professional gear mashed with cheaper alternatives.
When it comes to choosing the sprayer, you need to understand that the one you buy might be the one you will use for years to come. This means that you should choose wisely. It's always advisable to go for a slightly better version and spend a few more bucks on a sprayer. A good one can mean a lot. Still, you might need to draw the line at a certain point, as the professional ones get quite expensive and you just might not need such a serious device.
Volume
The volume of the sprayer refers to its GPM value. GPM stands for gallons per minute, and it determines how much paint you can transfer from a bucket or a container onto a surface in a minute. Naturally, higher volume translates to more coverage and a quicker job. If you require a machine that can cover a great surface and with a thick layer of paint, then you know what kind of sprayer you need.
Spraying Tips
Spraying tips are a crucial part of the equation here. They are affected both by the type of the sprayer and a particular paint you use. We call everything "paint" to make it simpler. However, this can refer to multiple materials with variable characteristics.
Tips usually come marked with numbers which translate to measurements in inches. If you have a ".10" tip – then your tip opening is a tenth of an inch. If, however, your tip specification says it's a 515 then only the last two digits are the measure of the opening. The first one is the width of the spray pattern.
The Verdict
With different types of paint sprayers and so many features and accessories, there's plenty to think about before buying. Whether you're on a budget or looking to splash out, there are lots of products available on the market. These paint spray guns are improving year on year as technology advances so you can be sure of a product that does the job.
It's important that you consider where you'll be using your paint sprayer and what you'll be using it on. By matching your needs with products, you're more likely to find a paint sprayer that you can use for years to come. This review and guide will help you choose the best paint spray guns!