Purdy 144153320 XL Series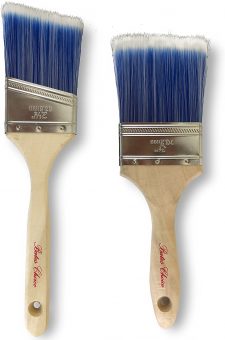 Bates Paint Brushes (3" and 2.5")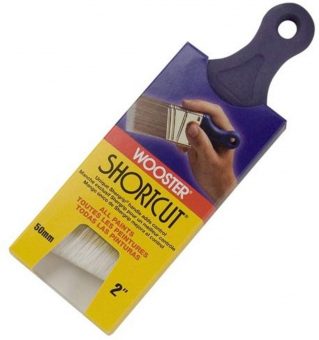 Wooster Brush Q3211
Previous
Next
A fresh coat of paint can transform any room but the paint brush you use can either make or break your decorating. Paint brushes are made with different materials and the type you pick is vital because it has a huge impact on the outcome of your paint project.
The size and shape of the brush also determine what job it's used for & what type of paint it can handle. Brushes can be used for a majority of painting projects such as window frames, skirting boards, doors, walls, and furniture.
So what job are you working on and can we help you find the correct paint brush for the job? Let's find out.
Features to Consider in Good Paint Brushes
The first feature you should look at on a paint brush is the bristles. There are two types of paint brush bristles and although they both have the same functionality, they both give a completely different texture to your paint work. These two styles of bristles are synthetic and natural hair.
Synthetic bristles are made with artificial materials such as nylon and polyester. Paint brushes are usually made with polyester bristles as they are durable and they hold their shape well. There are other types of bristles that work well with certain types of paint.
Synthetic bristles can be used with both oil based and water based paints but they work well with latex & enamel based paints too. These bristles don't absorb the water in the paint which helps spread the paint evenly and the brush will keep its shape.
Synthetic bristles tend to be a lot thicker and are prone to leaving streaks behind. Always make sure the bristles are of quality material so that it doesn't form unwanted textures on your paint.
Natural Hair Bristles
Bristles that are made from natural elements are usually made with horse or pig hair. This is because these types of hairs are coarse and can hold their shape. Brushes can't be made from human hair as it will be too soft and difficult to clean.
Natural hair bristles can be used with oil-based and water-based paints but they tend to absorb too much water which can make the brushes difficult to work with. They are best suited for enamel and painting top coats.
Brush Shapes
Different shaped brushes are meant for different types of paint jobs. The most common shape is the flat paint brush. The bristles are all the same length and they come in different widths. These types of brushes are used for broad strokes that spread the paint out evenly.
Another common shape is the angled brush. The bristles on these brushes are short on the one side and slant upwards creating a sharp angle. These brushes are typically used for detail work on skirting boards and window frames.
Brush Size
1″ to 2″ Wide Brushes
These brushes are used for fine detailed work for:
Window panes
Skirting boards
Touch up painting
Door frames
Painting around tiles
3″ to 4″ Wide Brushes
These brushes are meant for medium sized objects such as:
Doors
Cabinets
Dressing tables
Chairs
Tabletops
4″ Wide or Larger Brushes
The larger width brushes are used for bigger paint jobs:
Walls
Rooftops
Ceilings
Floors
Pillars
Now that you know what elements to look for in a quality brush, take a look at the top 10 products on the market at the moment.
The 10 Best Paint Brushes 2020
Guide to Buying the Best Paint Brushes
In order to keep your brushes from deteriorating over time, you will need to know how to clean and maintain them.
How to Keep Your Brushes Clean
It's important to keep your brushes clean after every paint project but the type of paint you use determines how you should clean them.
Removing Water-Based Paint
Cleaning off water-based paint is probably the easiest because all you need is warm water and soap. Wash your brushes with a liquid soap but be careful not to make your water too hot. Some brands use glue to keep the bristles intact and hot water will loosen the glue & break your brush.
You can also run the brush under a warm faucet and work your fingers through the bristles until all the paint comes off. When the water runs clear it means all the wet paint is out of the brush.
Removing Oil-Based Paint
Removing oil paints from your brushes can be tedious but cleaning your brushes before the paint goes hard will make it easier. Use a solvent in a bucket and soak your paint brushes for a short amount of time. Be sure to do this in a well ventilated area, as the fumes can be strong.
Don't soak the brushes for too long as this will damage your paint brushes.
Use a Bristle Brush
If bits of paint are stuck in the bristles after you've washed them, you can run a bristle brush through the filaments. This will loosen up the bits of paint and it will also reshape your brush & keep it smoothed out.
Dry Your Brushes Thoroughly
After you've cleaned properly dry the bristles on a clean towel or dab paper towels around the flat areas of the bristles. Never pull the bristles down when you dry them as this will cause them to bend out of shape.
How to Store Your Paint Brushes
It's important to store your paint brushes correctly to maintain the shape of the bristles. You can keep the brushes' original packaging to store them after you're done painting. If you don't have the original packaging you can always wrap the brushes in magazine paper.
Some brushes have holes at the end of the handles which allows you to hang them up in your workshop, shed or garage.
Maintaining the shape of the brush is important because you don't want a fanned out brush when you work as it's difficult to stay accurate with such a tool. Fanned bristles will leave streaks and an uneven coat on your surface.
How to Revive a Dried Out Brush
Sometimes when you leave your brushes soaking in a solvent the bristles dry out and this leaves streaks on your surfaces when you paint. To revive a dried out paint brush you can rub linseed oil into the bristles to soften them up again.
You may have to repeat the process a few times depending on how dry the bristles are.
Final Thoughts
If you have a low-quality paintbrush it can show in your work so it's best to invest in brushes that are constructed well and that are easy to maintain. You'll be able to keep your brushes from breaking if you look after them and keep them stored in a safe place. That means the brush you purchase today will be a long term investment.
Invest in a high-quality versatile set of brushes today to help you make your paint projects look flawless. Thanks to this one buy your next project can seem like a pro's work.