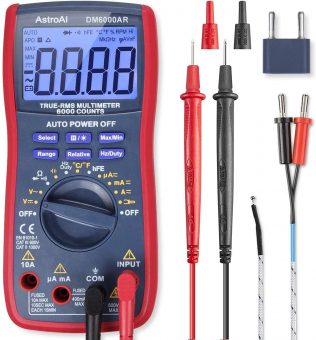 AstroAI WH5000A Multimeter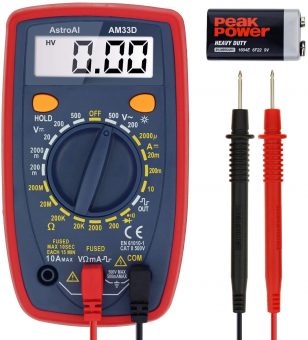 AstroAI AM33D Digital Multimeter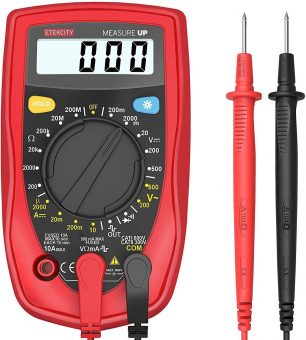 Etekcity MSR-C600Digital Multimeter
Previous
Next
Using the best multimeters has a range of unique benefits. As their name suggests, they are actually used in a wide variety of measurements. But not all multimeters offer the same measurements. For some users, it is actually a matter of preference. Used by professionals, some of the best multimeters can test voltage, resistance, continuity, frequency, etc. Most multimeters are actually used by professionals with diodes or transistors. At home, multimeters can be used with electronics and even in the garage, testing out various auto electronics is possible as well.
Certifications and safety for the best multimeters
When it comes to certifications, it must be said most multimeters have none. It is still up to the user to test out the device and see if its results are as those advertised by the manufacturer. A few select devices come with CAT III 600 and 1.000V abiding regulation construction on the UL listed devices. This makes them safer than most other products.
The 10 Best Multimeters 2020
Guide to Buying the Best Multimeters
Can I multimeter troubleshoot all electric problems?
A multimeter is mainly used as a troubleshooting tool. Its purpose serves for AC/DC current measurement, transistor, resistance, capacitance, frequency or temperature. These measurements can offer a better indication over the state of a circuit either in a home, on business premises or on an automobile.
Is a multimeter a professional's tool?
A multimeter is used by professionals. Most devices made today actually offer quite precise results and this is why they can be used for professional troubleshooting.
Can I use a multimeter at home?
A multimeter can also be used at home, alongside other measurement tools. It is not complicated to use and it represents a tool which has similar characteristics across multiple brands. Once a person uses a multimeter, the skills learned can be transferred from brand to brand.
Are electronic lead test kits included?
Electronic lead test kits are included with most multimeters. However, users are still advised to double check this as there are plenty of devices which sell lead test kits separately.
Will a multimeter show different readings if I drop it?
Most unprotected multimeters will not survive a drop even from a low height. It is why a few products are made with special reinforcements and they can be relied upon even when working on heights. Of course, even with extra protection in place, it only takes a higher drop to ruin or to damage the multimeter. Some of the best products made today are drop tested up to heights of 3.5 feet.
Are all hold functions the same?
Not all hold functions are the same. Some only hold data after measurements while others set the hold function and then hold the data before the measurement. In essence, both approaches make the user's life easier.
Can a multimeter blow up?
Certified multimeters cannot blow up. They have extra safety systems in place which protect the circuits from overloading. At the same time, the multimeters are also among the only tools to come with replaceable fuses for extra safety on the long-term.
How to choose the best multimeters
With many similar designs, multimeters offer similar results and they are even used in the same way. However, data accuracy, durability and even the way in which data is displayed varies. Given multimeters are quite affordable, this is not a big concern, especially since they can easily be upgraded to a newer version. However, to save on possible upgrades, users can consider the follow basic characteristics when making a purchase.
Range of measurements
The range of measurements is the most important element of a multimeter. Starting with AC/DC measurements and continuing with diodes and continuity tests, the range of measurements is a list which needs to be checked when it comes to the best devices. There is also room for additional measurements which include temperature or capacitance.
In most cases, purchasing a multimeter able to perform just a few measurements defeats the multipurpose approach of the device. This is why most users should actually invest in a capable multimeter, which represents a future proof purchase.
Design and ease of use
The design of the multimeter is at least as important as its list of features. One of the leading complaints users have is actually based on the design of the device. For many users, it is actually a matter of personal preference and manufacturers are now switching to smaller designs. It's hard to complain about a multimeter which is operated with a single hand. This is why the 5-inch multimeter is actually not difficult to find anymore.
LCD screens, battery life, and controls
LCD screens are also part of the design of a multimeter. However, screens have remained large even as the devices got smaller over time. It's worth noting that the size of the screen is not the ultimate judge of quality. It is actually its display capacity, the information shown to the user and the backlit design which can be so helpful in many situations. A few multimeters have no backlit screens at all. Others have an intermittent backlit option which allows users to turn the illumination on and off.
In most cases, when a screen is bad, users will not appreciate the multimeter to its true capacity. One such example is seen with screens which actually don't show any data regarding battery life. It is why users don't know how much battery life is left in the device. Having a multimeter fail on a job due to an old battery should be avoided as much as possible.
The controls of the multimeter are worth having a look at as well. They can indicate the number of buttons users need to master, their quality and the speed in which measurements can be made. With many automated designs, the user input is kept at a minimum. However, a few multimeters allow users to set minimum and maximum measurement range which is the ultimate control for the user when it comes to troubleshooting. Hold functions also have dedicated buttons.
Included accessories
The included accessories are limited to multimeters. In the best scenario, users would also receive test leads, thermocouples, and multi-function sockets. But in other cases, users will only receive the multimeter and the user's manual. Test leads can be purchased separately. Some professionals also purchase carry pouches or additional magnetic loops for the device. Those who want to keep their hands free as much as possible on the job still have the alternative of purchasing a multimeter with a built-in magnet.
Magnets are seen both as an advantage and as a disadvantage. They can certainly help the user as they can be placed on any metal surface, even during measurements. But on the other hand, magnets attract all types of small metals such as coins or paper clips. Working in commercial settings might live users with no real options when it comes to proper versatility and magnets might be one of the top features in a capable multimeter.
Final considerations
One of the best reasons to use the best multimeter is that it actually replaces other devices in making electrical measurements. This means users save time and money as well as storage space with this versatile device. In most cases, multimeters can work very well even if they come at an affordable price. But there are a few products which come with false readings or even lag on some of their functions.
Testing out the multimeter is recommended before taking it out on a job. Most features can be tested out at home. For safety purpose, it is always advisable to read the full user's manual and check out whether there are any specific settings users need to make.
A multimeter will also ship without batteries due to safety reasons. A regular 9V battery should be enough to power the average device. But it's worth investing in quality batteries as they can last up to a year for the average multimeter user.