Whether it is for providing security over a yard or parking lot, or enjoying the convenience of an automatically lit entertaining area or path, most of us are going to need to consider what motion detector light is right for us. To find the best motion detector lights that are around today, we need to consider our needs as well as what current technology can provide.
Brightness
For providing a path to guide you from the front gate, or just help you put your key in the front door, a motion detector light does not have to be very bright. Lights as low as 100 lumens are more than adequate to provide a path through a garden, while a 300-500 lumen light covers a small porch or the front of your garage perfectly.
However, for security over a large area of the yard, or to light an entertainment area, you need to think bigger. This means either looking for extremely bright lights like the LEPOWER Security Lights or buying a number of smaller lights to do the job.
We also need to consider if we want our lights to be completely off when not detecting motion, or simply dimmed. While many lights offer multiple settings, not all do.
Weather Resistance
It is important to know that your light can handle the elements, and this can be different based on purpose. Lights that sit in a garden, for example, must be able to handle dirt and water far better than ones that sit under a dry awning on your porch. The absolute minimum IP rating we could recommend is IP44, and most of our lights go well beyond exceeding this standard.
Detection
Two main factors come into play when thinking about detection. If I was walking across in front of a light, I would want it coming on before I pass it and stay on until well after I have. So, the angle of detection needs to be well over 90 degrees. Likewise, when driving up to my garage door, I need to know the nose of my car doesn't need to touch the door before I'm noticed. A range of 16ft (or 5 meters) is the minimum range we could recommend.
Power
What powers our lights can be a major factor in how we choose them. Solar, with a rechargeable battery, is the most environmentally friendly and the cheapest way to provide power, but heavy-duty lights require more power than could be provided by a small panel.
Likewise, some lights are simply not designed to be in direct sunlight and need to be powered in some other way. Battery-powered lights often need constant replacement batteries, and only one impressed us enough to make it to our list. Wired lights can draw the power they need and do not need sunlight, but installation can be slightly more difficult, especially if you are renting.
Extra Functions
When choosing the best motion detector lights available, we are always seeking that something extra. Whether it is the ability to choose multiple modes of lighting, a faster charging time on a solar panel, or simply an exterior design that is more stylish than most, we are always on the lookout for the lights that take it to the next level.
Taking these factors into consideration, we've compiled a list that includes something for everyone – from the security-conscious to the aesthetically picky, we know the right motion detector light is here for you.
Top 10 Best Motion Detector Lights 2023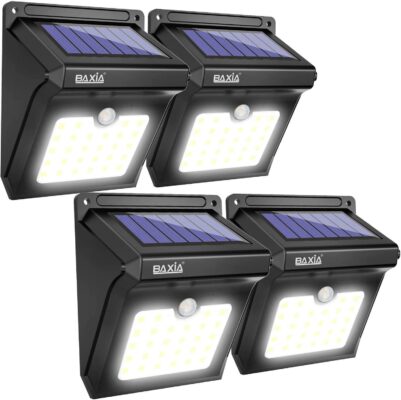 Why we like it:
Consistent across the board, there isn't a factor in which the Baxia Solar Lights fail. Reliable, bright, and long-lasting, it is no surprise that they are also an Amazon Choice product.
Editor's Rating:
Quick Facts:
Made from: ABS casing and LED Lights
Powered By: Solar backed by 1,200mAh lithium battery
Brightness: 400 lumens
Range of Detection: 120 degrees and 16ft
Weatherproof Rating: IP65
There are certain standards one would want their motion-detecting lights to meet and in every one of those factors, Baxia's Solar Lights exceed expectations without breaking the bank. The wedge-shaped design facilitates greater efficiency for the solar panel that charges the batteries with only six hours of ordinary daylight. The lights only turn on at night and are bright enough to cut through the rain and provide lighting for outdoor activities.
The ABS casing on the Baxia lights is thicker and sturdier than others and can handle rougher climates with ease. The energy-efficient design is also one of the more aesthetically pleasing looks for motion detector lights and these will suit most modern houses without being an eyesore. Baxia lights come with the screws and optional pillar hinges you might need for installation and you won't find yourself needing to buy anything else.
Baxia's are the bestselling step lights on Amazon right now, but we also highly recommend these for patios and above garage doors. Because of the short sixteen-foot detection range, they aren't the best for large entertaining areas if you are planning on only using one. However, because of how inexpensive they are, buying a few sets to run along under the awning may produce a very classy effect.
While we would have preferred multiple options when it comes to how long lights stay on, the only option being thirty seconds is the perfect length of time. If there hasn't been a movement within thirty seconds, we cannot imagine that we would want the lights to continue being on anyway. For aesthetically pleasing, highly functional motion detector lights that are simple to install and won't break the bank, you cannot go past the Baxia Solar Lights.
Pros
Energy efficiency means a quick charge and long-lasting lights

Aesthetically pleasing with the black case and wedge-shaped design

Reliable and weather resistant

Everything required is in the box
Cons
Only one mode of lighting

16ft detection range makes them better for lighting paths and patios than for security
---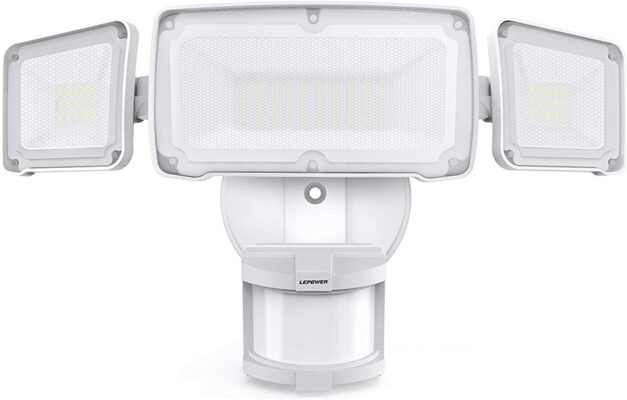 Why we like it:
With the largest range of detection and the brightest bulbs, the LEPOWER will turn your night into day.
Editor's Rating:
Quick Facts:
Made from: Aluminum casing and Samsung LED bulbs.
Powered By: Connection to the house electrical system.
Brightness: 3,500 lumens
Range of Detection: 180 degrees and 70ft
Weatherproof Rating: IP65
The LEPOWER light shows what you can get from a motion detector light if you are willing to spend the money. In a single light, you can blanket an entire entertaining area or small backyard, bringing the day to night. To accommodate all purposes, you can set the delay on turning off from anywhere between ten seconds and ten minutes.
The aluminum casing and Samsung LED bulbs means you are talking about the most rugged system imaginable, about to handle the roughest of environments and designed to last for over fifty thousand hours of use. The three head system can spread the light out across a large yard easily. While this light needs to be wired to the building, we find the manual very easy to follow. Being FCC and ETL certified, we are confident in the safety of installing it and, while a little common sense is needed, you don't need to be a qualified electrician to set it up.
The LEPOWER draws very little power to produce the 3,500 lumens, only a small 35 watt (equivalent to a single, dim incandescent bulb). While it may get a little warm during summer, it is manufactured to include vents that release the heat without decreasing its weatherproof rating.
The LEPOWER is the powerhouse you want for security more than anything else. The range of detection is a massive seventy feet, which means an intruder entering the border of your yard will be lit up like Christmas. Few other lights offer this kind of ability.
These security lights are built for function over form, of course, their appearance being anything but aesthetically pleasing. Think floodlights instead of mood lighting. As floodlights, however, there are no others than provide such high-quality lights coupled with sensitive detection and customizable settings.
Pros
Powerfully bright

Long range of detection

Strong aluminum case

Energy-efficient
Cons
Expensive

Requires wiring to a building's electricity grid
---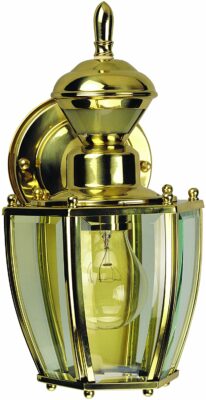 Why we like it:
These stylish lights are the perfect accessory for your front porch, offering both function and beauty.
Editor's Rating:
Quick Facts:
Made from: Brass with the standard globe base (globes not included)
Powered By: Connection to the house electrical system
Brightness: Range based on up to 100W globes
Range of Detection: 150 degrees and 30ft
Weatherproof Rating: Unrated
The Heath Zenith decorative light is a beautiful sight. With its brass frame and glass case, the old-world design offers an elegance that isn't found in other motion detector lights. While many of our other choices offer a modern style, these offer the same functionality with charm and history.
When we say "same functionality," of course, we are under-selling it. The Heath Zenith decorative light offers three different settings for time delay, and you can even adjust the sensitivity of the wide-angle detection system, offering a change in range from 10 to 30 feet. This makes for a light that can be customized to perfectly suit your front porch.
Unfortunately, choosing these lights means dealing with the same electrical installing you need for some of our other premium choices. However, being UL listed and California title 24 certified, these are perfectly safe to install, and the manual takes you through the process quite easily. Because of the construction, we also recommend keeping these lights slightly more protected from the elements, directly out of the rain.
For something far more beautiful than you would expect from a modern motion detector light, Heath Zenith wins hands down.
Pros
Offers an old-world style that isn't found elsewhere.

Three different timing modes.

Large angle of detection and customizable range.
Cons
Requires electrical installation.

Does not come with its own globes.
---
Why we like it:
For a set of good-looking lights to light the way down a garden path, look no further than these well-priced and stylish solar devices.
Editor's Rating:
Quick Facts:
Made from: Plastic casing and 16 LED Lights.
Powered By: Solar backed by 2200mAh lithium battery.
Brightness: 650 lumens
Range of Detection: 120 degrees and 26ft
Weatherproof Rating: IP67
With the sleek design of the lamps and easy-to-insert stakes, the Linkind spotlights look quite nice dotted along a stone path to light the way to a door. With a bendable hinge and included bracket, they can just as easily be put up on a wall. Most importantly, we think these lights are a perfect choice for the casual entertainer wanting temporary setups for camping or romantic night-time picnics.
The Linkinds are a lot brighter than one might expect from such little devices, which is rare for devices that market themselves as garden lights. They can be set up with two different modes in which, when no movement is present, you can choose between no and low lighting. By choosing to have them turned off without movement, they only need five or six hours of indirect sunlight to charge. This means light shade from trees in the afternoon doesn't become the big issue it is for other devices.
With a water rating better than any other we can find, they can handle the odd time they may end up sitting in a flooded puddle. While they aren't designed to be submerged for any serious period of time, they are quite useful to have beside fish ponds or backyard pools. Designed for gardens, the angle of light is narrower than a lot of other motion detector lights. This means that while they can still work great above a garage door, they wouldn't be able to throw their bright rays across an entire yard.
While there are cheaper solar garden lights out there, none offer the same reliability, weather-proofing, and style as the Linkind's Landscape Spotlights.
Pros
Extremely weather-resistant

Multi-modal

Includes garden stakes for positioning along paths and ponds.
Cons
Expensive compared to other lights.
---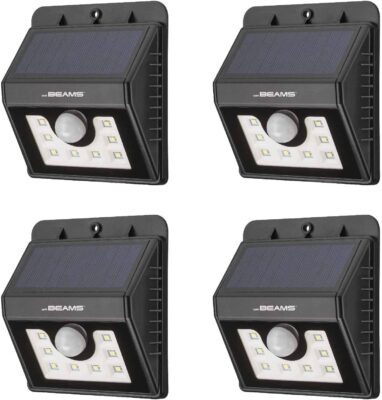 Why we like it:
At less than seven dollars per light, these solar-powered beauties offer three different lighting modes, perfect for a range of purposes.
Editor's Rating:
Quick Facts:
Made from: Plastic, with 8 LEDs per light
Powered By: Solar backed by 1200mAh lithium battery
Brightness: 100 lumens
Range of Detection: 120 degrees and 26ft
Weatherproof Rating: IP65
Solar motion detector lights that are weatherproof-rated, have a good detection range, and are easy to install should cost far more than a cheap lunch. Somehow, Mr. Beams has been able to create a high-quality product on a really small budget.
The Solar Wedge Light has that same aesthetic appeal as our best overall pick, while these lights even have something the BAXIA ones don't – customizable settings. This includes being able to be on constantly (and it has the charge to do so), and a "dusk to dawn" mode which allows a dim light to brighten upon detecting movement.
Mr. Beams' product is not without its drawbacks, of course. The brightness is at the very line of what we would consider acceptable for detector lights and is far more suitable for lighting the way between a garage and front door than providing the light for an entertainment area. The plastic case is also much thinner than other products which makes it light, but hardly sturdy. While rated as weatherproof, we wouldn't want to guarantee it can handle the roughest of elements.
Possibly the biggest drawback is the number of times we have found people commenting on lights failing to work out of the packet. While the customer service is amazing and those lights that work last a long time, the hassle of requesting replacement devices is one we shouldn't have to go through to enjoy an otherwise impressive product.
Pros
Value for money

Customizable settings

Stylish wedge design

Great customer service
Cons
Some cases of failing to work

Low brightness

May not handle the roughest weather.
---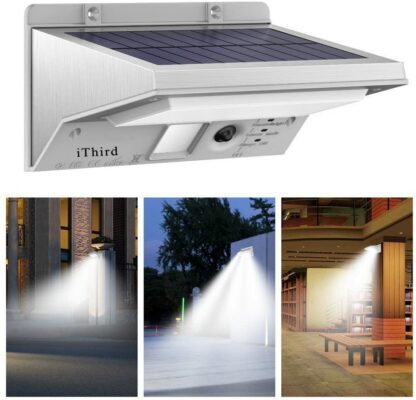 Why we like it:
While one of the more premium options, we really like the sturdy stainless steel build and multi-modal options.
Editor's Rating:
Quick Facts:
Made from: Stainless Steel and ABS casing with 21 LED Lights
Powered By: Solar backed by 2,200mAh lithium battery
Brightness: up to 330 lumens.
Range of Detection: 120 degrees and 16ft
Weatherproof Rating: IP44
The stainless steel design of these wedge-shaped lights make them fit to the facade of modern homes very easily. Running them along the outside wall of a house or garage can produce quite a striking effect beyond the functional benefits provided by the motion-detecting lights.
The iThird Solar Security Lights offer multiple modes, with the "always on" setting being handled easily by the larger battery. This does require more exposure to direct sunlight during the day, however, which means you have to consider how much sun the wall receives. Mounting these lights is easy, and changing their positions just as so. The stainless steel material means no rust from the elements, and the weather-resistance is adequate for wall-mounted lights.
For a metal-cased light, the price of the iThird Solar Security Lights is very reasonable and we highly recommend purchasing multiple packs to run every three or five meters for an impressive look.
Pros
Stainless Steel design

Multimodal

Easy to install
Cons
Low IP rating

Lower brightness for the price range
---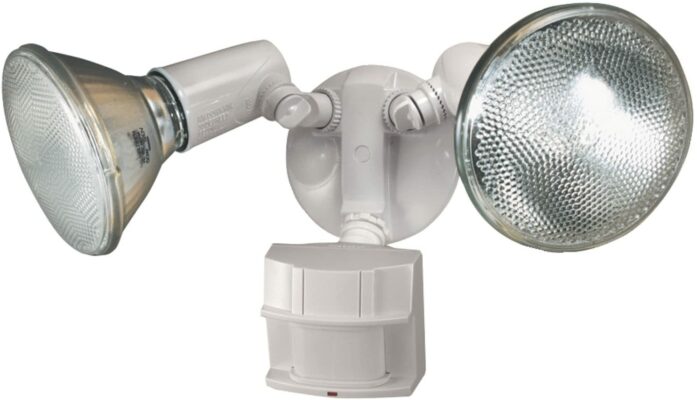 Why we like it:
These are the most affordable motion-activated lights you will find with this kind of power and detection available.
Editor's Rating:
Quick Facts:
Made from: Metal and Plastic using two flood bulbs (not included)
Powered By: Connection to the house electrical system
Brightness: Dependent on the globe, which can be up to 120W
Range of Detection: 150 degrees and 70ft
Weatherproof Rating: unknown
We've featured Heath Zenith lights before with their beautiful decorative light, and they return with something designed more for security than beauty. Designed to accept flood bulbs up to 120W, the dual-head lights have a very large range and angle of detection which is quite sensitive. Like their fancier siblings, these lights come with customizable timers, and are certified for safe installation on existing electrical infrastructure.
Unfortunately, we could not find more information regarding the IP rating for these security lights, knowing that they would be more likely to have to weather the elements, but they are certified highly by the appropriate authorities, which is comforting.
Choosing a high-powered flood bulb will provide a brightness that could cover a large backyard and the movable heads mean the angle of the light will leave few corners for anything to hide in.
At a very low price, these high-quality security lights offer great functions and sensitive detection – everything you really need.
Pros
Very large range of detection in both degrees and range

Customized timers

Accepts high-wattage globes for maximum brightness
Cons
Unknown weather rating

Requires wired installation
---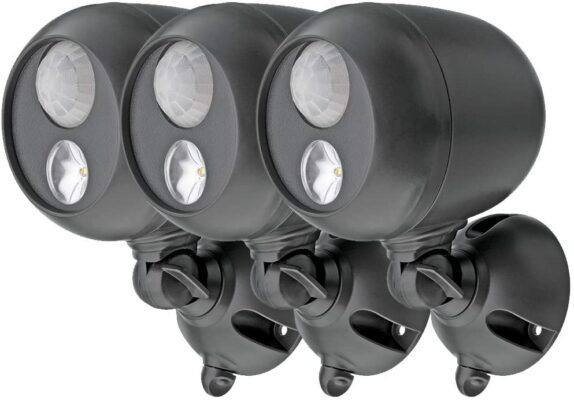 Why we like it:
The only battery-powered lights on our list, we are impressed by how long they last and how light they are.
Editor's Rating:
Quick Facts:
Made from: ABS casing and a single LED spotlight
Powered By: 3 D-Cell batteries (not included
Brightness: 140 lumens
Range of Detection: Unknown degree and 30ft
Weatherproof Rating: IPX5
The Mr. Beams MB363 lights are the only battery-powered motion detector lights to make our list and for good reason. Most battery-powered lights need their cells replaced often, and their water-resistance rating is low enough for them to experience constant issues with rust. The MB363 bucks this trend, offering reliable, secure lights that last a surprisingly long time.
With a thirty-second timer and a light sensor to ensure it doesn't function during daylight hours, these highly-efficient devices get a year of normal activity out of a single set of D-Cell batteries. While unrated for dust, we have yet to hear a single complaint about their weather resistance, and the single LED spotlights produce a clean if not very bright light. Mr. Beams' lights are extremely light-weight and installing takes seconds instead of minutes.
If you want motion detector lights without worrying about installation or sunlight, the best choice for you is the Mr. Beams B363.
Pros
Longest lifespan of any battery-powered light found

Lightweight

Easy to install
Cons
Low brightness

Unrated for dust
---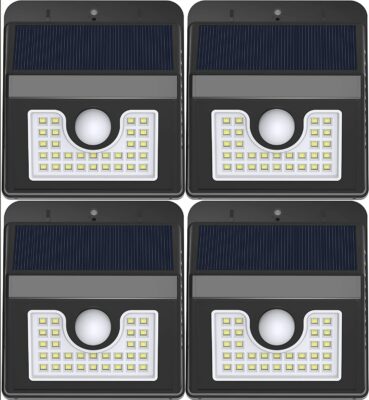 Why we like it:
The brightest lights you will find among the lower-priced motion detector lights, these are also extremely energy-efficient.
Editor's Rating:
Quick Facts:
Made from: ABS casing and 30 LED Lights
Powered By: Solar backed by 1200mAh lithium battery
Brightness: 600 lumens
Range of Detection: 270 degrees and 26ft
Weatherproof Rating: IP67
Vivii security lights are extremely efficient, considering how bright they can be. While dimmed, these lights run all night as well as brightening considerably when detecting motion. Despite this use of power, they only need three to five hours of sunlight to fully charge.
These durable and weather-resistant lights may not have the most beautiful of the wedge designs but are unobtrusive nevertheless. While it is unfortunate that they have only one setting (and no ability to be completely off), the difference between dim and bright is considerable.
For a bright motion detector light at a budget price, it is well worth considering the Vivii Super Bright Security Lights.
Pros
Bright for solar lighting

Only need five hours to charge

Highly water-resistant

Great price
Cons
A little ugly

Only one setting
---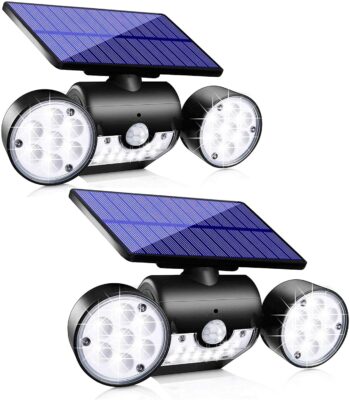 Why we like it:
The brightest lights we have found, these could light up an entire back yard with little issues.
Editor's Rating:
Quick Facts:
Made from: ABS casing and LED Lights in two heads
Powered By: Solar backed by 2200mAh lithium battery
Brightness: 800 lumens
Range of Detection: 120 degrees and 26ft
Weatherproof Rating: IP65
The heads on the Upgrade Sensor Lights are surprisingly small for the light they produce, and so are much easier to angle to find the right exposure of light. Because of this combination of brightness and size, these lights make a great choice for outdoor dining and entertaining areas more than anything else. While not the most stylish choice, they will provide the illumination many other motion detector lights would not be able to.
The Upgrade lights offer a dim setting, rather than completely off, but the larger battery handles this well. While the solar panels are larger than found on other lights, this also means that less sun is required for a full charge.
A decent set of lights that provide greater illumination than many others at its price point, even if they don't look as nice as some.
Pros
Easy-to-direct lighting

High brightness

Fast charge time
Cons
The large solar panel is obtrusive

A little expensive
---
A Buyer's Guide to Motion Detector Lighting in 2021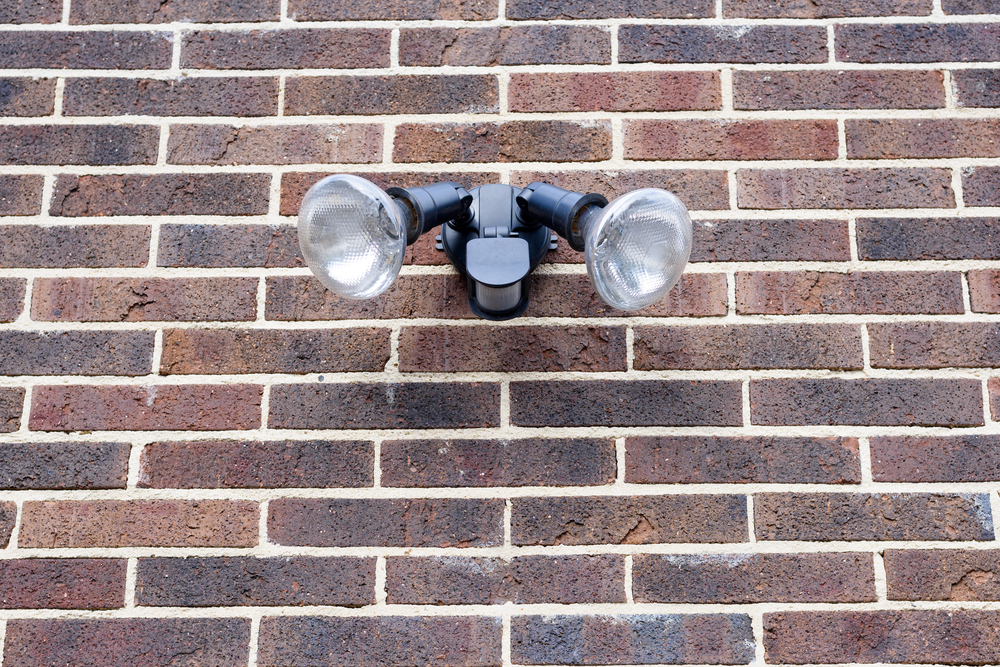 It's very normal to have a lot of questions when it comes to choosing the correct motion detector light. After all, we all have different needs when it comes to these lights and different expectations. On top of this, lighting is a tricky subject, with unusual terms like "lumens" and  "IP Ratings." To help you make the correct decision when it comes to buying a motion detector light for your property, we've broken down some of the most important things you need to know right here.
What Is the Difference Between a Motion Detector Light for Security and a Light for Guidance?
Knowing the purpose of your lights is a very important place to start. After all, the porch light that helps you find your keys has very different requirements than the floodlights designed to scare away foxes, or the garage light designed to help you park your car.
Because of this, we've put together some simple guidelines that can help you find what is best. If you are looking for a light for security, you should consider that:
Looks are not as important as function: Something that directs light exactly where you want it to go and has a high sensitivity to movement is far more important than having a sleek design.
Brightness is Boss: High lumens are absolutely necessary, and you shouldn't be thinking about lights that offer less than 400 lumens.
These lights are going to be outdoors: This means they need to be weather-resistant and have a higher IP rating than others.
If, on the other hand, the light is supposed to guide your way there may be different factors, including:
If the installation can be in unusual positions, like beside a garden path or along a pool fence.
If the light is unobtrusive to the eye during daylight hours.
If it has access to sunlight or not.
Can the light be dimmed so it remains partly on at all times?
Outdoor lights need better weather resistance and solar lights need to be in a position to be charged. A light on a porch needs to look nicer than the one on the side of a barn, and lights at your feet should not take up too much space. You should also consider other, more general, factors about what you want from technology. Solar-powered lights are more environmentally friendly, while some brands have a better reputation for longevity than others.
What Is a Lumen and How Does It Relate to Brightness?
A Lumen (lm) is a complicated measurement to determine how bright a light source is, based on how much area it can illuminate. It takes complex laboratory tests and mathematics to determine the lumens of a light source.
A simplistic explanation would be to imagine a candle sitting one foot away from a wall. If we drew a square on the wall that measured 1ft by 1ft, and the candle could light up the entire square, that would equal 1 lumen.
Of course, we need lights that illuminate areas much further away than a foot, and that will illuminate a wider area of the wall (or ground). So, instead of trying to make the complicated measurements to work out the exact lumens we need, it is easier to instead know some common numbers.
For example, your average household kitchen is usually lit by about 700 lumens per square meter of space, while a small reading nook can need as little as 400. A car headlight produces about 1,300 lumens. It is also important to know that lumens stack. So because our car has two headlights, 2,600 lumens are used to light up the road in front of us.
In our research, we have found that 100 lumens is more than sufficient to light a garden path from a short distance and 400 lumens will cover the front of a garage from a light above the garage door.
What Are IP Ratings and How Do They Relate to Weather Resistance?
The IP (or Ingress Protection) rating is a rating created by the International Electrotechnical Commission to easily show how weather resistant a piece of electronics is. It normally consists of two numbers. The first being between 0 and 6, the second between 0 and 8. IP65 doesn't mean "sixty-five" as much as it means "6 and 5."
The first number determines how much dust and dirt can get into a device. 0 means literally zero protection from dirt and dust, an example being a circuit board sitting with no case. A 6 would be no dust can get into it. A 6 requires a vacuum to be run on the device for tests that sometimes take 8 hours to complete.
The second number determines how waterproof a piece of electronics is. While a 0 means no protection, an 8 means it can be immersed completely in water and be safe. A 4, the lowest standard we have accepted, means that a device can be left in a heavy rain but not rain with heavy winds.
If an IP rating contains an X, it means that this test has not been done. Almost all the lights we have chosen received a 6 in dust protection and a 5 or more in water. It is of little surprise that the Linked Spotlights, designed for gardens, offer the most protection with IP67.
What Do I Need to Consider When Installing My Lights?
Drilling a hole into a wall can be a daunting task for someone who has not done it before. Fortunately, there is little you can do to cause major damage, and only a few minor details to take into consideration.
What Is the Wall Made Of?
When screwing into a brick wall, often drilling into the mortar between bricks is an easier task than the bricks themselves, while screwing into some cheap woods can cause unwanted splintering.
What Is Behind the Wall?
While this is less important with thick brick and cement walls, setting a light into the ceiling of a front porch may involve finding the "stud," or cross-beam, using a "stud finder" such as this one. It is also important to know if there are any wires you may be accidentally drilling into.
If you are installing a light fixture that requires being connected to the house wiring, you need to know where the internal wires will run and if there are nearby light fixtures you may be able to take advantage of.
If you are at all unsure about installing a wired light, consult your local electrician. Always ensure your electricity is turned off at your fuse box before attempting any installations.
How Should I fill in the Holes Afterward?
While it is likely that lights installed are done so permanently, it may be that you decide to try other lights or change their position. So what do we do with any holes left behind? In a brick wall, they are generally so small that ignoring them completely is a viable option, while a little spackle and paint will disappear any holes in wooden walls.
Many of the motion detector lights in our list are very lightweight. Consider using double-sided or electrical tape to temporarily install lights and give them a few "test nights" before making any permanent decisions.
A Final Word on Motion Detector Lights
There is something for everyone when it comes to motion detector lights, and it is a mistake to simply accept the first ones you see. The price range between the cheapest and most expensive lights is not that wide, which means your wallet doesn't become as big a factor. We highly recommend looking at each of these lights to find the style and functions that most benefit your home or garage.