LED light bulbs are quickly becoming the standard for both residential and commercial lighting. If you're one of the millions of people who have already switched over to LED lamps, or if you're just considering an upgrade for the first time, you will want to make sure to purchase the right bulbs. While all LED lights are energy-efficient and long-lasting, there are some big differences between the various brands and models. To make sense of this multitude of options, we've designed this guide to help you to learn how to identify the right options for you and discover which models we recommend.
Features to Consider in Good LED Light Bulbs
Understanding LED Technology
LED light bulbs work in an entirely different way than incandescent and other types of bulbs. LED stands for light-emitting diode, a long-lasting and energy-efficient source of lighting that first appeared in the 1960s but has only recently become popular in lightbulbs. These light bulbs are actually made up of a large number of LEDs, which light up together to brighten up any room. This is done by moving electricity along the path of a semiconductor, which creates safe electromagnetic radiation. The radiation in these bulbs produces a light that is visible to the human eye. This method is far more efficient than traditional incandescent lights, which is why LEDs are quickly becoming the standard for almost every environment as they grow increasingly affordable.
What Specs and Features Do the Best Led Light Bulbs Have?
When shopping for a LED light bulb, there are a number of different things that you're going to want to look for. Since each customer is going to need lights for a different purpose, the one that is right for you might be different from the one that is best for someone else. No matter what you're looking for, however, you will want to understand the following factors:
Brightness – The brightness of incandescent bulbs was listed based on the number of watts it uses. LED bulbs use far fewer watts than older bulbs, but still give off a lot of light. Their brightness is typically also rated as a wattage equivalent to the brightness level that would be provided by an incandescent bulb of that wattage.
Expected Lifespan of the Bulb – LED bulbs are designed to last far longer than incandescent bulbs. Knowing the estimated lifespan of a bulb will help you to determine its overall value.
Smart Bulb Features – Higher end LED bulbs have built in smart technologies that allow you to turn them on or off, adjust their brightness, and even change their color from a remote control or an app on your smartphone.
Color– When purchasing an LED bulb, you will want to pay close attention to the color of the light it outputs. Some bulbs will simply emit some variation of standard white or soft white light, and others can glow with a color of your choice. Some even allow you to change the color whenever you want!
Bulb Shape – LED bulbs can come in a variety of different shapes and sizes. When ordering an LED light bulb, make sure that it will fit in the light fixture where it is to be used.
Value – The price of LED bulbs can vary greatly based on a variety of factors. When shopping, the right bulb for you will depend on whether you're looking for high-quality inexpensive bulbs or feature-rich options that will cost a little extra.
While there are thousands of different LED light bulbs on the market today, we have focused on the most commonly used types for residential situations. That being said, all of these products will work perfectly well in office buildings and most other workplaces. No matter your intended use, these are the top ten LED lightbulbs on the market today:
Top 10 Best LED Light Bulbs 2023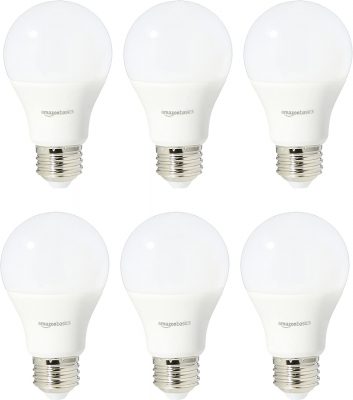 Why we like it:
We love these bulbs because they are an excellent value and work really well. Like most items from the AmazonBasics line, these are designed to meet most people's needs with no extra frills or features. When it comes to light bulbs, that is exactly what most people who don't need anything more than reliable lighting want.
Editor's Rating:
Estimated Lifespan – 13 years or 15,000 hours.
Bulb Shape – This bulb is the standard A19 shape and will fit nicely into any light fixture
About the Bulb
When you imagine a standard LED light bulb, this is exactly what most people will have in mind. If you are shopping for light bulbs you are likely looking to replace an old burnt out bulb that is hidden away behind a lampshade, light cover, or other item. The main features that you're looking for are that it will give off the appropriate amount of light, it is easy to install, and that it will last a long time.
These bulbs from AmazonBasics check off each one of those boxes very nicely, and all for an excellent price. You can choose from 40, 60, 75, or 100-watt equivalent bulbs, which are the most common levels and should fit just about everyones needs. You'll also be able to choose between daylight, soft white, and clear for the color of the light that the bulb emits.
You might be wondering why such a basic bulb was elevated to the top spot on our list. In addition to the fact that it meets the exact requirements of the vast majority of shoppers, this bulb stands out in few important ways. First (and most important) is the price. These bulbs are extremely affordable, making them an excellent option for anyone looking to replace all the lights in their home. Second, this bulb has thousands of 5-star ratings on Amazon, proving it is a good quality bulb that works as intended. Finally, this bulb is well-made and durable, so it isn't going to break with the slightest touch. In the end, we believe that this is the ideal bulb for almost every situation, which is why it found the top spot on our list despite its lack of advanced features.
Pros
Excellent build quality and quality control

Available in lots of wattages and white light colors

These bulbs last far longer than incandescent.
Cons
These are non-dimmable lights
---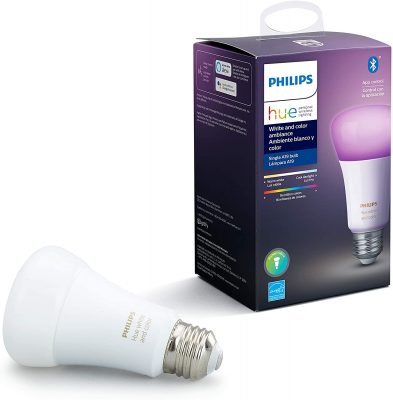 Why we like it:
When it comes to smart LED lights, this model really stands out above the rest. The Philips Hue was one of the first smart bulbs to be readily available to the public, and they have continued to innovate with the latest technologies. With more than 16 million color options available, this bulb is ideal for anyone looking for more than just a standard white LED light bulb.
Editor's Rating:
Estimated Lifespan – 22 Years or 25,000 hours
Bulb Shape – This bulb is the standard A19 style and will fit in most lamps and light fixtures
About the Bulb
The Philips Hue LED bulb is one of the most expensive options on this list, but for good reason. It is extremely well-designed and has a proven reputation going back many years. To start off with, you need to understand that this is definitely not the bulb for everyone. If you're just looking to illuminate an area with white light, this bulb is overkill. For those who want their light bulbs to really go above and beyond, however, this is the perfect choice.
This is far more than just a light bulb that can glow different colors. It is a whole lighting system built into the bulb and included Android or iPhone app. You can turn the light on and off remotely, change its color, and much more. One of the best features is that you can set up specific "moods" based on the color of the light. When you're getting ready for bed, for example, just tap the "nighttime" button in your app, and the lights will gently dim and shift to be more red — a color that's far gentler on your eyes and can help you fall asleep more easily. You can also set the light to turn on and slowly brighten automatically at a specific time to help you wake up in the mornings.
The Philips Hue smart app can control up to 10 different LED bulbs at a time. If you need more than that, Philips sells a smart hub, which will allow you to control up to 50 individual bulbs from your smartphone. Along with being able to turn the lights on and off, the app can be used to set up timers, create fun lightshows, and much more.
Pros
Can be set to over 16 million colors

Multiple bulbs can be coordinated using one simple app

Average lifespan of 22 years

Easily create lightshows, timers and more to manage this light bulb.
Cons
These LED bulbs are quite expensive

Not intended for use in most standard locations that only need white light
---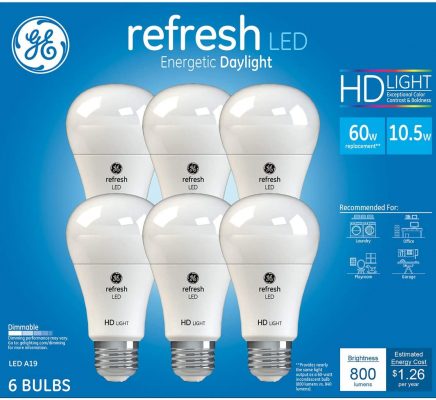 Why we like it:
This is one of surprisingly few standard LED light bulbs that will work with a dimmer switch, which is critical for many situations. It is also quite affordable, especially considering it comes from a brand name as respected as GE.
Editor's Rating:
Estimated Lifespan – 13 years or 14,000 hours
Bulb Shape – This bulb is the A19 shape, so it will fit in all standard lamps and light fixtures
About the Bulb
This is an all-around great light bulb that will meet all of your basic needs. The one area that it really stands out the most, however, is the fact that it is dimmable. If you've been shopping for LED bulbs for any length of time you know that it is very difficult to find a bulb that is dimmable as well as affordable, properly sized, and not colored. GE has filled that (rather large) niche with this model.
GE is a very well-known name in virtually all industries, including lighting, and their expertise really shines through here. This bulb has a classic look, lasts quite long (up to 13 years), and is still very affordable. The light that this bulb gives off is also quite pleasant, and is almost unnoticeable in most environments—which is exactly what you want in most cases.
Pros
This bulb will work with dimmer switches

Long 13-year estimated life of each bulb.

Very pleasant light that is appropriate for almost any room
Cons
The color rendering index (CRI) is only 76

This bulb has more "dead on arrival" reports than most, but GE will replace bad bulbs quickly
---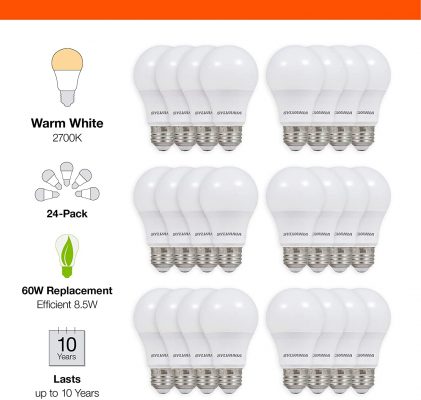 Why we like it:
This is the most affordable high-quality LED light bulbs on the Internet bulb available, with a price that hovers around a dollar per bulb depending on your options. The great combination of affordability, good looks, and pleasant light made this an obvious choice for our list.
Editor's Rating:
Editor's Rating: [star rating="4.5″ max="5″][/su_note]
Estimated Lifespan – 10 years or 11,000 hours
Bulb Shape – This bulb is an A29 shape, so it may be slightly too large for certain enclosed fixtures
About the Bulb
If you've ever bought any products made by Sylvania, you know that they are a discount brand that still does a great job with quality, and these bulbs are no exception. This is an excellent light bulb for those who aren't looking for anything fancy, but still want a bulb that reliably emits a pleasant light. You can choose from either soft white or daylight options, both of which emit a light that is very similar to what you would get from an incandescent bulb. Anyone who likes their older style bulbs but wants to benefit from the longer lifespan and dramatically improved energy efficiency will love these lights.
When considering this bulb, make sure to note that it is the A29 size, not the standard A19. We'll get into the details of what these designations mean for later, but the important thing to know now is that this simply means that the bulb is slightly larger than standard. It will still fit in most lamps, but it may not be right for some enclosed fixtures. Of course, many light fixtures are designed specifically for this size, in which case these bulbs would be a perfect choice.
Pros
Very affordable, especially when buying one of their large 24-packs

The light is very similar to what people are used to from incandescent bulbs

The slightly larger A29 size is great for certain lamps and light fixtures
Cons
The 10-year, 11,000-hour expected lifespan is lower than many other LED bulbs
---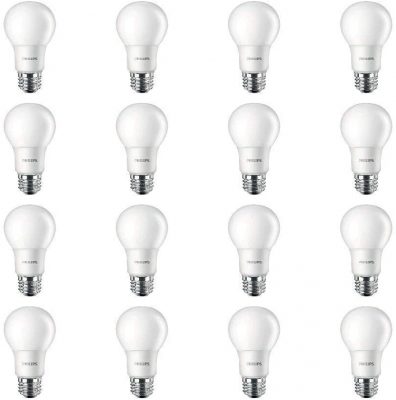 Why we like it:
This light bulb is another great example of great quality backed by an industry-leading manufacturer. The light emitted from these bulbs is softened by their frosted glass, making it easy on the eyes and helping to bring out the natural colors of everything in the room.
Editor's Rating:
Estimated Lifespan – 10 years or 11,000 hours
Bulb Shape – The standard A19 shape, which will work in virtually all lamps and fixtures
About the Bulb
This is a great LED bulb from a great company. Philips is one of the top names in LED lighting, and while most of the attention goes to their Hue line of color-changing bulbs, this standard white model is excellent as well. You can choose from either soft white or daylight options based on the environment in which it will be installed and your own personal preference.
You'll find that this bulb is standard in all the right ways, but one thing will stand out for those who are shopping from California. Philips offers a Title-20-compliant packaging option for their 16-pack of bulbs. Title 20 is a law in California that governs the wording used on many different products. It has resulted in dozens of different LED bulbs being unavailable to those in the Golden State. No matter what state you're in, however, this Title-20-compliant LED light bulb will provide you with the light you need, where you need it.
When doing research, we found that a small but not insignificant number of people reported that their bulbs died after about a year. Make sure you keep your receipt just in case this happens to you. If it does, Philips will replace the bulb free of charge under their full 3-year warranty.
Pros
Option for Title-20-compliant packaging, which is necessary for those in California

Available in 16- or 24-packs at an affordable price

Backed by the well-known Philips brand name and 3-year warranty

Frosted light makes these much less harsh than standard bulbs
Cons
Some reports say the bulbs lack quality control
---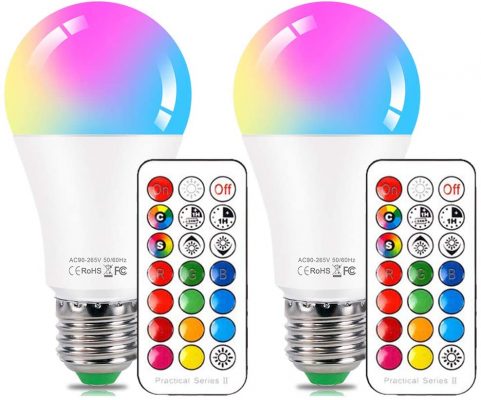 Why we like it:
This is the most affordable reliable color-changing, dimmable, LED bulb on the market today. It is easy to install and even comes with a remote control so you can adjust your lighting with the tap of a button.
Editor's Rating:
Estimated Lifespan – 18.3 years or 20,000 hours
Bulb Shape – This is a standard A19 bulb that will fit in any normal lamp or fixture
About the Bulb
This LED bulb can be used either as a standard white bulb or as one that changes colors, depending on your mood. While obviously not the most reasonably-priced choice for those who are only going to use it exclusively as a standard bulb, it is a good option for anyone who will enjoy the various color options from time to time while also using it to provide white light. If you want to enjoy the flexibility of a color-changing LED bulb but don't want to spend a ton of money, this is the best option out there.
It is much more affordable than most of the color-changing bulbs on the market, but you are sacrificing some of the features. For example, while the high-end Philips Hue can be set to any of 16 million colors, this one can only switch between 12. This bulb is also controlled by an included remote rather than an app on the smartphone, which is actually quite convenient (as long as you don't lose the remote).
Pros
This bulb will work with a dimmer switch.

The light has an option to automatically shut off after a set amount of time.

Includes an easy-to-use remote control.
Cons
This bulb can't be controlled from a smartphone app.
---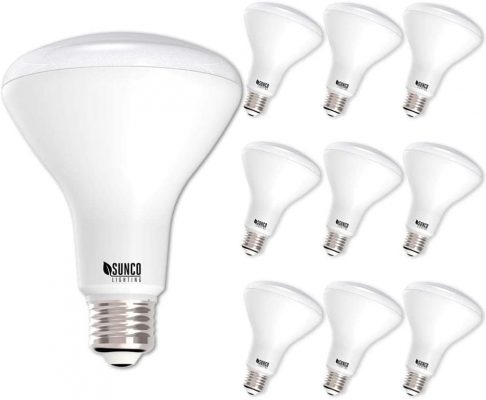 Why we like it:
There are many environments where you want bright, directed lighting, and this is a great option to meet that need. They are perfect for recessed ceiling lights or any other fixtures that demand this bulb size and shape. In addition, the brightness on these bulbs can be adjusted with a dimmer switch.
Editor's Rating:
Estimated Lifespan – 24 years or 25,000 hours
Bulb Shape – This bulb has an E26 base with the BR30 bulb shape
About the Bulb
Many lighting fixtures, especially those that are recessed into the ceiling, require a BR30-shaped light bulb, which is what this model has. It provides a uni-directional focus that will illuminate anything that it is pointed at, perfect for use as an indoor or outdoor floodlight. Do note, though, that this bulb isn't weather-resistant or rated for outdoor use, so if you do use this floodlight outside it will need to be protected from the elements. It will fit in either a 5- or 6-inch can-style light fixture, and stays cool enough to safely operate in these environments.
When purchasing this bulb, you can choose between a wide range of different colors including soft white, warm white, cool white, daylight, and daylight deluxe. This flexibility is great for making sure the room is illuminated in just the way you want it. No matter which you choose, you will be able to adjust the brightness of the bulb if you have a dimmer switch installed.
Pros
Very long 24-year estimated lifetime

Comes in a number of different white color options

Very economical for this type of bulb
Cons
These bulbs will fit in a very limited number of light fixtures

Rated for indoor use only
---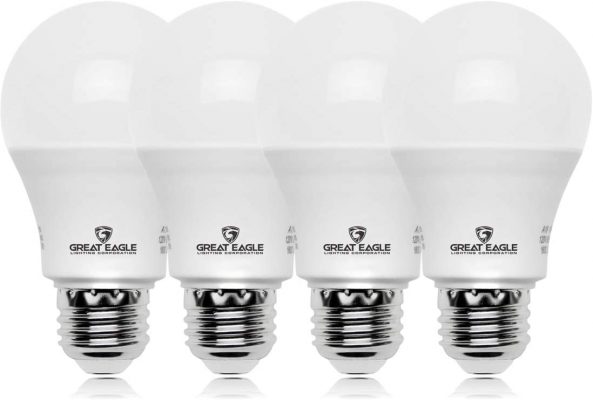 Why we like it:
These are excellent standard replacement bulbs that have a great reputation from thousands of users. The no-frills design and feature set of these bulbs will be perfect in most situations.
Editor's Rating:
Estimated Lifespan – 22 years or 25,000 hours
Bulb Shape – This is a standard A19 light bulb that will work in all normal lamps and light fixtures.
About the Bulb
This is another great example of a simple and straightforward LED bulb that will be perfect for almost every situation. If you're just looking for a light bulb and you don't care about all the extra features and functions of more expensive options, Great Eagle's cheap bulbs may be ideal for you.
While there really is very little to be unhappy about with this light bulb, it has a somewhat higher price point than we would like to see. They're about the same price as the AmazonBasics bulbs, but they're not really as reputable. The real appeal of this alternative is subjective: if you've tried other basic bulbs like the ones made by Amazon but don't like how their light looks, you should give these a shot.
Pros
You will get an estimated 22 years of use from this bulb

Very highly rated from thousands of satisfied customers

Affordable light bulbs for all situations
Cons
Slightly overpriced compared to similar alternatives
---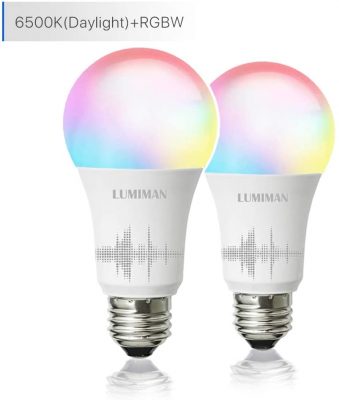 Why we like it:
You can control this color changing light bulb with your voice through Alexa, Google Home Assist, and other smart assistants. This makes it one of the most enjoyable and useful LED bulbs on this list.
Editor's Rating:
Estimated Lifespan – 28.6 years or 30,000 hours
Bulb Shape – This bulb uses the standard A19 shape, so it will fit in almost all lamps and light fixtures
About the Bulb
This is definitely one of the most fun and entertaining bulbs on the list. The fact that you can control it using your voice (as long as you have a smart assistant in your home) made it an obvious choice for our list. You can set up a large number of different commands so you can light up your home just the way you like it. For example, you could say, "Alexa, turn on party mode," and your light will begin cycling through various colors to add to the fun atmosphere. More practically, you can simply tell the lights to adjust to bedtime mode to turn down the brightness and move to more calming colors.
Another great feature is that you can control the lights from anywhere that has an Internet connection through your smartphone. Just download the app on your device, and you can adjust your lighting on the go. This is great if you forgot to shut off the lights, or if you want to make it seem like you are still home even while you are away for an extended period of time.
Pros
Easy to control with your voice

Can display up to 16 million colors

Control from anywhere using an app on your phone

Incredibly long-lasting
Cons
Requires some technical acumen to connect to your WiFi.
---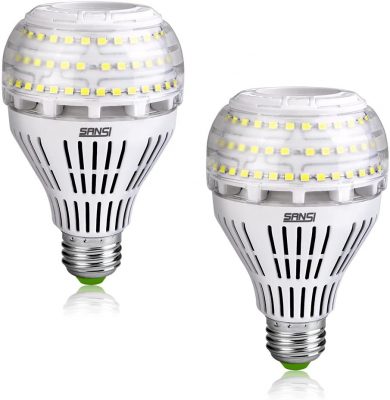 Why we like it:
This is the brightest bulb on our list, which is important for many situations. It offers a 250-watt equivalent brightness, which is great for large open areas, workshop locations, and much more. If you need a bright, focused light bulb, this is a great option.
Editor's Rating:
Estimated Lifespan – 22.8 years or 25,000 hours
Bulb Shape – This bulb is an A21 style, which is slightly larger than standard and is not intended for use in enclosed fixtures
About the Bulb
From the first time you look at this bulb, you will see that it really stands out from the norm. It has an unusual appearance because of the strange placement of the actual LEDs within the bulb, which allows it to be very bright in all directions. The look of it isn't ideal for light fixtures that display the bulb itself, but in any area where it is hidden away it can be perfect since it is able to give off so much light. In fact, it is rated to give off as much light as a 250-watt incandescent bulb, while still only using 27 watts.
While it is quite costly, it is designed to last for up to 22.8 years, which is one of the longest in the industry. It even comes with a 5-year unlimited warranty, so no matter what happens, you can be confident you won't need a new bulb for a very long time. It has a rugged ceramic base that is not only long-lasting, but also helps to disperse the heat generated while on.
You can choose either daylight or soft warm light, and in either case this bulb will illuminate the room very nicely. It boasts a CRI of 80, which means that the colors of every item in the room will look very close to the way they would in true natural lighting. Overall, we really love this bulb in many situations, and we think you will too!
Pros
This is a very bright bulb that can illuminate almost any environment

The estimated 22.8-year life of this bulb is among the best on the market.

You will get a full 5-year unlimited warranty with this bulb
Cons
Quite a bit more expensive than most other light bulbs

Despite the price, this bulb is still not dimmable
---
Guide to Buying the Best LED Light Bulbs
Even after narrowing your list down to just the 10 best LED light bulbs, it can still be hard to know which ones to pick. While we put a lot of time and effort into finding the best bulbs on the market and ranking them in a way that makes sense for most people, there really isn't just one "best LED light bulb" for everyone. The bulb that will be best for you may be different than what is best for someone else.
There are a lot of factors that should go into deciding which bulb to buy, which is why we developed this buyers' guide. Read on to learn more about some of the key aspects of LED bulbs so you can be sure to make the best possible choice for your specific situation.
Key Terms & Features to Understand
When shopping for LED light bulbs, you are likely to run into a lot of different terms, features, and ratings. Having at least a basic understanding of what each of them means will help you to make a more informed decision. The following are among the most important terms to recognize whenever shopping for a new LED bulb:
Color Rendering Index (CRI) – Color rendering index is a measure of how well a light source can reveal the actual color of an object compared to its true color in a natural light source. The higher the CRI, the more accurately a light bulb will reveal colors in an area.
Kelvin – Kelvin ratings are used to provide color temperature descriptions. Lower ratings are said to be warmer, and higher ratings are considered cooler. The scale typically used in light bulbs will range from about 2,000 Kelvin up to 6,500 Kelvin, or more. The Kelvin rating of various different natural and artificial lighting sources can be visualized on this guide to color temperatures.
Watt Equivalent – This term is used to indicate the level of brightness a bulb will emit. For generations of light bulbs, the number of watts used was the indication of brightness. Today, watt equivalent will allow you to find a bulb that will give off the same level of light as an older incandescent option. If you need help deciphering these conversions, there's a helpful chart here that can help you understand the differences between several types of bulbs.
Dimming – Most LED bulbs are not-dimmable. If you connect them to a dimmer switch, they will have some issues. Depending on the model, the light may flash, buzz, or simply turn off when attempting to dim the room. If you have a dimmer switch, always make sure to choose a compatible bulb.
What Color is White?
Most light bulbs are made to give off a white light that illuminates an area without coloring it. Within this category of white light, however, there are many different shades. The different options are primarily shown by the Kelvin rating, which is used to specify the color temperature. When reading the numbers below, however, keep in mind that there is no set industry standard for what Kelvin temperatures correspond to different of white. Still, these numbers will provide a general guideline to help you out when shopping.
Listed here are some of the most popular options, and what they mean in everyday terms. This should help you to decide which color of light is right for your environment and preferences:
Warm White – Warm white will be any bulb that is below 3,000 Kelvin. The lower the rating goes, the warmer it is considered. Warm white will develop a slight orange tint as it drops lower on the kelvin scale.
Soft White – This designation is typically given to bulbs that are between 3,000 and 3,500 Kelvin. They may also be listed simply as white.
Cool White – Cool white is going to have a blue look to it, and will typically appear between 4,000 and 5,000 Kelvin. As the bulb moves up on the Kelvin scale, it will grow increasingly more blue in tint.
Daylight – Daylight ratings are intended to most closely emulate natural sunlight, and will typically appear on bulbs above 6,000 Kelvin.
These are the four primary options that manufacturers use when labeling their light bulbs. Some, however, may make up additional non-standard phrases.If you see a lightbulb with some other designation on it, just refer to the Kelvin temperature listed to get a good idea of what shade of white it will be.
Understanding Light Bulb Size & Shape
There are dozens of different sizes and shapes used in light bulbs, each distinguished by a set of codes that typically has one letter and two numbers. Knowing what size and shape of bulb to buy is very important, since not all bulb types will fit properly in all lamps or fixtures. Understanding what the various codes mean will allow you to determine exactly what type of bulb you are looking for.
The first and most commonly seen code is used to identify the shape of a light bulb. The most common example of this is an A19 bulb. The A is used to designate the standard style of bulb, the shape of which is still the most common in most situations. The number is used to indicate the size. An A19, for example, is 2.375 inches in diameter and 4.13 inches in height. An A21 is 2.625 inches in diameter and 5 inches in height. There are dozens of different shapes and sizes for light bulbs today. The following are the codes used for some of the most commonly used options:
A – As mentioned above, the A code for light bulbs is used to indicate the standard bulb that most people are familiar with. The A in this case stands for "arbitrary."
BR – Any light that starts with a BR is intended for recessed lighting and will typically have a longer stem and a bulb that is flatter on top. A BR code stands for "bulged reflector."
PL – The PL designation is for lights that plug into a receiver rather than screw in like a standard bulb. These are much more popular with fluorescent lights, but can sometimes be found in LEDs as well.
G – Light bulbs with a round shape have the G code, which stands for "globe." These are commonly used for vanities and decorative situations.
MR – These are known as quartz multifaceted reflector lamps, and will typically have a flat top with reflecting backing to create a brighter light. They are often quite small in size but can still light up a room. The MR designation stands for the "mutlifacited reflectors" that allow these lights to be so powerful.
There are other codes used for decorative lighting, industrial lighting, and much more. The ones listed above, however, are what will most commonly be seen for residential light bulbs. These codes are seen on almost all light bulbs in America, and indeed in most other English-speaking countries in the world. The codes are not, however, a standard that manufacturers are required to follow. Occasionally you may see a bulb without any designation, or one with a designation that is unfamiliar. For a complete listing of all types of bulbs, along with pictures of each, check out this exhaustive chart. If the bulb's size and shape isn't on this list, you'll likely need to rely on manufacturer measurements to ensure that it will fit in your fixture.
This concludes our LED light bulb buyers guide; we hope you found it helpful. Armed with all the information here, you should be able to make the right choice when purchasing an LED for your home or business.  Whether you want a basic no-nonsense energy-efficient LED light bulb or a cool high-tech color changer, one of the LED light bulbs on this list should meet your needs perfectly.