Do you want portable lighting that lasts for a long time, consumes a low amount of power, and has high brightness alongside other appealing features? If so, portable LED flashlights are for you. Flashlights are one of those items that seem to find a use in almost every situation. Going camping in the woods? You need a flashlight. Going downstairs to inspect that strange noise in your basement? Yup, you still need a flashlight.
Because of their usefulness and popularity, many companies now produce flashlights. This guide and product review is to help you choose the best LED flashlights you can buy right now. We will consider some of the important factors that affect your choice of flashlights.
Features to consider in Good LED Flashlights
When it comes to power and efficiency, nothing beats the flashlight. Although the flashlight apps on your Android and Apple products are convenient, especially when you are stumbling in the dark, a flashlight serves you better.
Although there are many LED flashlights on the market, choosing the best one for you can be easy if you know what you are looking out for. In this section, we will briefly discuss some of the most important features you have to consider when buying an LED flashlight.
These features will be discussed in detail later in this article.
Without further ado, here are the things you need to consider.
Intended Use
An important question when shopping for a flashlight is "what am I using it for?" Why is this factor important? It is important because the intended use of the flashlight will determine the features that matter most to you.
Portability
Traditionally, flashlights are portable. It is in your pockets, or even dangled on your keychain. If you so desire, you can also go for something a bit bigger, a light that might require a bag or a toolkit.
Brightness
Aside from portability, brightness is another important factor that affects the choice of a flashlight. Flashlights are to allow you to see things, not blind other people. Hence, a normal flashlight with an average amount of lumens is perfect for your needs. Anything more is overkill.
Durability
As with every product you purchase, durability is a key factor. You do not want to buy a flashlight that will not last. Many flashlights work perfectly for about 2 months before going belly up on their owners. We are sure you don't want this. Thus, in the case of flashlights, the pricier it is, the more durable it is likely to be.
Top 10 Best LED Flashlights 2022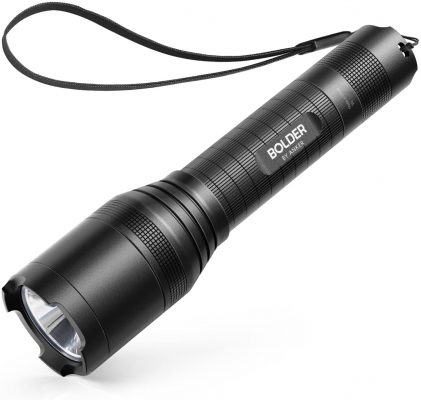 Why we like it:
This flashlight ticks all the boxes we want in a LED flashlight. It is very bright and goes a very far distance. We also like the long time the batteries take before running out.
Editor's Rating:
Design
The Anker Super Bright Tactical LED flashlight is one of the largest flashlights on this list. During testing, we found this flashlight to have a strong grip and fill our hand. The weight of the flashlight does not make it ideal for stuffing in pockets or concealing, but it's sturdy design is great for self-defense. It is quite heavy, and we doubt anyone will want to be at the receiving end if this flashlight were used for self-defense.
During testing, we dropped this flashlight a couple of times, and the model we tested did not even have a dent. We do not recommend dropping it on the hard floor, but its reassuring to know that even if it falls, it won't break.
Light Output
This flashlight displays excellent results during testing. Compared to other adjustable focus flashlights, it delivers great performance. Some flashlights have a square beam pattern in the distance, but not the Anker LED flashlight.
During testing, we discovered that it was able to highlight objects even 100 yards away. The beam pattern is quite good.
Other Features
The Anker flashlight comes with 5 different settings. These settings are: High, Low, Medium, Strobe, and an SOS mode. We discovered that it lasted for close to 6 hours on continuous use.
The batteries recharge for about 6 hours before they can be used again. Furthermore, we discovered the flashlight comes with its own USB cable.
Pros
Water resistant performance

It can be recharged via USB

Completely zoomable

50000-hour lifespan

Very bright performance

Great customer service and support
Cons
LED shorting out after sometime
---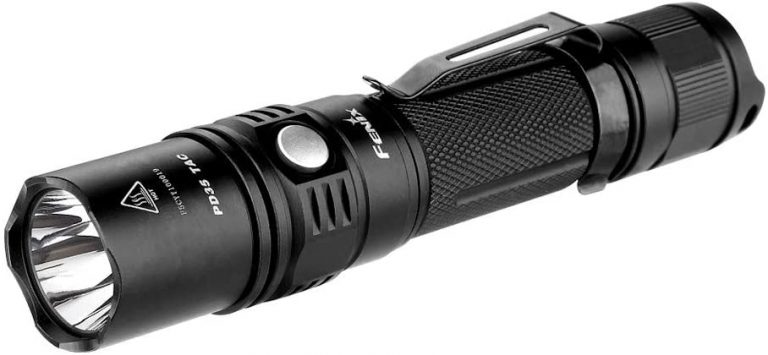 Why we like it:
With the 1000 lumen output, it is one hell of a powerful flashlight. It comes with different modes and delivers good performance as a tactical flashlight. Although it might take some time to learn all these modes, once you get the hang of it, it is rewarding. And all these features come at a pretty sweet price.
Editor's Rating:
Portability
Portability is one of the greatest assets of a flashlight, and the Fenix satisfies these criteria. It feels perfect in the hand despite its small size. Although it is a tactical flashlight and is made of military-grade aluminum, it is strong, albeit being lightweight.
Light Output
If you are dumb enough to shine this flashlight into your eyes, prepare to be blinded. The sheer brightness of the light this small flashlight produces is quite stunning.
This flashlight has a main beam that can reach up to 200 meters. Incredible performance!
Battery and Power
There is no way you can use a flashlight without batteries. Hence, this nifty flashlight comes with batteries that simply elevate its performance. The FENIX flashlight can use both a rechargeable battery and AA batteries. Therefore, even if you are running low on juice, you can walk into your nearest retail store and purchase batteries to use.
We observed that this flashlight has a power management system that lowers brightness as the battery drains. With this system, it is easy to know when the flashlight needs to be recharged. Once again, we just have to comment on the sheer brightness of this flashlight.
Other Features
It is clear from the design and features that a lot of care and thought went into the production of this device. It has a dual switch option that allows you to toggle between ON and OFF. This is in addition to the normal on-off switch by the side.
Pros
Impressive brightness

Extremely durable

Lightweight
---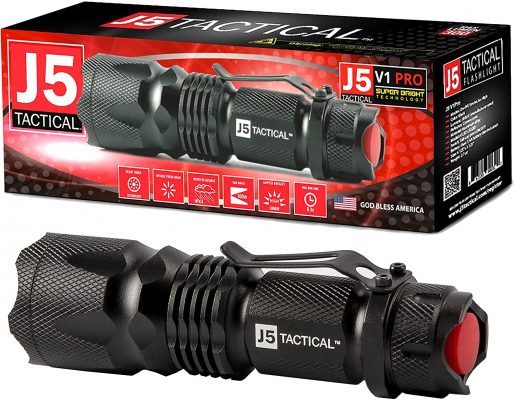 Why we like it:
The impressive Amazon rating and reviews underline the excellence of this flashlight. We like the compact size that ensures almost everyone can hold it comfortably. Aside from the technical features, we liked the practical features like a sturdy belt clip.
Editor's Rating:
Design and Portability
This flashlight has a compact design that makes it possible that anyone can hold It comfortably in their hands. To ensure that the flashlight does not slip away from big hands, it comes with ridges along the side. We observed that this made our grip stronger.
Aside from fitting perfectly into different palms, the J5 flashlight also fits nicely into different pockets. From coat pockets to pant pockets, it can be slipped into holes and be unobtrusive. Therefore, you can always have it available whenever you need it.
Furthermore, this tactical flashlight has a strong sturdy belt clip that helps you carry it around even more conveniently. You can attach the flashlight to anything, including helmets.
Light Output and Battery
The J5 flashlight is designed to use one AA battery. On the plus side, this means that batteries are really easy to obtain. And they are very affordable too.
However, just as we suspected prior to testing the flashlight with the AA battery, it delivers less power than the flashlight is capable of. To unleash this flashlight and use it to the full, get yourself Lithium-ion batteries. That way, you get a longer run time and more powerful performance.
With Lithium-ion batteries, the flashlight beam can reach up to 600 feet!
Other Features
It has 3 modes that are controlled by 1 switch. The switch is hard to press. Therefore, there is no chance of accidentally switching on the flashlight.
Pros
With Lithium-ion batteries, the beam can reach up to 600 feet

Compact size

Sturdy clip

Hard switch button to prevent accidental switch ON
Cons
Hard switch has been reported to jam after some time.
---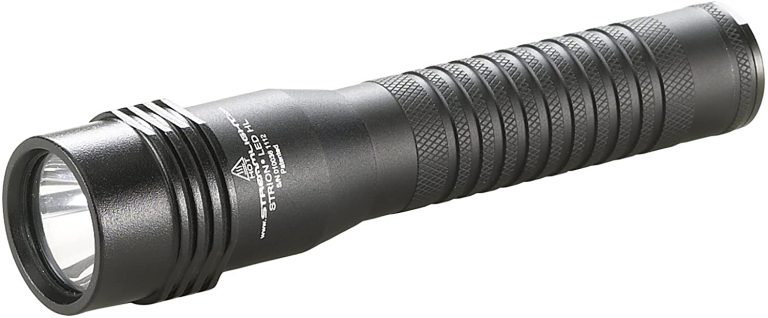 Why we like it:
This flashlight is considered one of the best tactical flashlights on the market, and we agree. Compact, well-constructed, and bright, we have no choice but to add this flashlight to this list of the best LED flashlights.
Editor's Rating:
Design and Size
With this flashlight, you can be sure to get something you can carry around. Coming in at 5.9″ length, 1.23″ wide, and a weight of 5.2 ounces. During testing, it was not a pain to carry around. Although it might not easily fit in your pocket and isn't for stealth operations, it can still serve you well.
The external covering of this flashlight is simple yet elegant. It is made of aircraft aluminum. We found this very appealing. It also has sides that make for firm gripping. We are sure the sight of this flashlight will turn heads.
Power and Battery
The Strion LED HL uses a Lithium-Ion rechargeable 2000mAh battery. Despite the relatively large capacity, we observed that the battery was fully charged after 3 hours.
Performance
The flashlight provides admirable performance. It can be used in different modes. It will consume 615, 320, and 160 lumens on the high, medium, and low modes respectively. During testing, the light lasted for about 1 hour on high mode and 3 and a half hours on low.
Furthermore, the beam was able to travel 200 meters.
Pros
High-quality design and build

Bright performance
Cons
Charger developed issues after sometime
---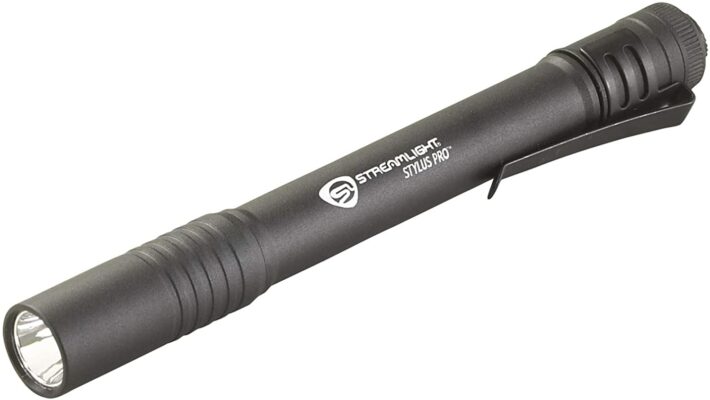 Why we like it:
Although it is a bit expensive, we love the strong, sturdy build that underlines the high-quality of this flashlight. You do not need to be a doctor or surgeon to appreciate this flashlight.
Editor's Rating:
Performance
Although it is a penlight, it produces a lot of power. The white LED light produces 100 lumens of light. Of all the pen lights from Streamlight, this is the best Pen LED light we have tested. Under testing, the Penlight lights up the entire room. If you hold this flashlight up to your eyes, you might blind yourself. The beam is very strong and consistent.
The flashlight has batteries that have quite a long runtime. Therefore, there is no fear of the flashlight dying out on you suddenly.
Light Output
Since it is a penlight, it is obviously very portable. It is easier to whip out of your pocket than a phone and delivers far more illumination.
Made of strong, high-quality materials, it is able to withstand knocks and bruises. During testing, it slipped out of pocket about twice, but despite this, we did not notice any problems with performance.
Other Features
To prevent an accidental switching on, the ON/OFF switch of the flashlight is quite stiff. Although some people have complained about this, most people find it quite comfortable and useful. Furthermore, it comes with a water-resistant design that allows you to use it even in wet conditions.
Pros
It is durable and water-resistant

The beam is very consistent and strong

Very portable and compact
Cons
The ON/OFF switch is stiff for some users
---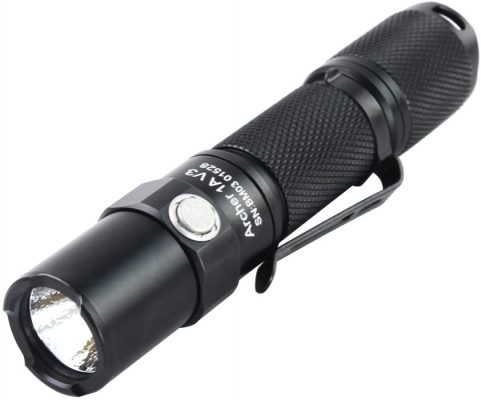 Why we like it:
The ThruNite Archer 1A is a solid flashlight that we like for good performance at a reasonable price. It is water resistant and displayed enviable durability.
Editor's Rating:
Water Resistance and Durability
Under testing, the ThruNite shows good water resistance. It has an IPX8 rating for water resistance. We observed that the flashlight worked well up to 1.6 meters underwater. However, going deeper than that caused performance issues.
While testing this flashlight, we dropped it to observe its durability. After repeated drops from a height of 1 meter, the flashlight did not display any performance issues. Therefore, during use, you can be sure that the ThruNite Archer 1A will withstand rigorous everyday use.
Performance and Body
The flashlight is a powerful flashlight. This is surprising considering the price. However, knowing ThruNite, we were not that surprised. Under testing, we observed the flashlight is excellent for indoor and outdoor use. It has an output of 500 lumens. This ensures the beam is focused and that it goes the distance.
The durable chassis of the flashlight is due to the aircraft-grade aluminum it is made of. It is one of the few flashlights that can stand on their end. Therefore, it is very versatile. It has 5 modes: high, medium, low, strobe, and the "Firefly" mode.
Other Features
The device features an impressive battery life that makes it one of the best cheap LED flashlights on the market.
Pros
Bright, effective and reliable light output

Great price point

Solid battery life

Compact, sturdy design with a water resistant body

It has 5 different modes of operation

It can be seated on its bottom
Cons
Although it is quite durable, it is not as strong as other competitors
---
7.

Best Outdoor LED Flashlight

Maglite ML300L

Why we like it:
It should be no surprise that the Maglite ML300L 6 Cell flashlight makes it into this list of the best LED flashlights. During testing, it delivered great performance and lasted longer than any other flashlights we tested.
Editor's Rating:
Battery and Light Output
A USP of the Maglite ML300L is the 6-cell battery. This is great for so many reasons. We observed that this flashlight lasts for a very long period. Under testing, we recorded a runtime of 71 hours for the high mode and a stunning 177 hours in low mode.
During testing, we were able to highlight the top of a tree about ¼ miles away. The brightness is amazing. It is up there with some of the brightest flashlights. It offers far more illumination than 12V spotlights of cars. The beam is strong and very consistent. The reported range of 415 meters seems to be a true claim!
It has 3 modes: high, medium, and low.
Design
The Maglite ML300L has a metal body. We observed that this made it prone to noise. When we placed the batteries in the flashlight, we experienced a rattling sound. Although it offers a ridged surface that provides a strong grip and anti-slip, it still needs careful watching when placed on its side. This is because it has a tendency to roll around.
It is a big flashlight. Therefore, except you have like really big pockets, you cannot place them comfortably in your pockets.
Other Features
The big, heavy design makes this flashlight great for use in the outdoors. It can even be used as a tool for self-defense.
Pros
It is extremely bright

The beam is focused and can travel great distances

It has 3 brightness modes

Too big to lose

Incredible runtime
Cons
Heavy and big design

Noisy metal body
---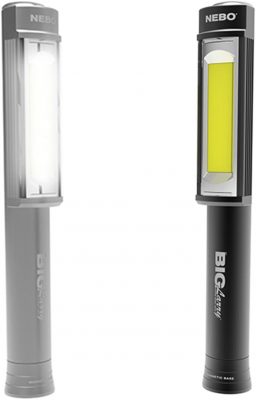 Why we like it:
The magnetic strip at the bottom of flashlight and the impressive output lands the Nebo Big Larry on the number 8 spot on this list.
Editor's Rating:
Design
As stated earlier, this flashlight has a magnetic bottom. We found this feature to be very useful. We wonder why other manufacturers haven't tapped into this feature too. The magnetic bottom makes it perfect work light. Simply stick it to a metallic surface and get to work. It remains stable and upright.
Because of the placement of the magnetic strip, the switch button is placed at the top of the flashlight.
Light Output
This flashlight packs quite a punch. It has different modes of brightness. It has the high, low, and strobe. The high mode has an output of 400 lumens and a runtime of 4.5 hours. The low mode has an output of 160 lumens and a runtime of 15 hours.
During testing, these specifications were enough when we went camping, used it for work, and emergencies.
Durability
With an all-metal body, the flashlight seems strong and durable. Even the lens, which is made of plastic, is firm and protected.
Other Features
It comes in different colors. Its size does not allow for stowing away in a pocket.
Pros
Magnetic base is a great feature

Bright, reliable performance

Durable, sturdy flashlight
Cons
It suffers from loose connections
---

Why we like it:
Although it does not have many of the extra features of the other flashlights on this list, it still features water resistance and a durable design. If you need a flashlight that is reliable, long-lasting and ensures the safety of you and your family, then this flashlight is a good fit.
Editor's Rating:
Durability
The Maglite LED 3-Cell Flashlight is a good flashlight that has excellent durability. It is often employed by law enforcement agents like policemen and military people. However, it is not limited to these. The flashlight features a strong design that makes it last.
When we tested this flashlight, we observed that it is built to withstand everyday use and rough handling. Furthermore, it is water and shock- resistant, making it even more appealing. Additionally, even with constant use, the rubber on the ON/OFF switch is pretty durable. It does not have any issues with leaking or tearing.
Portability
Just as the other Maglite product on this list, portability is not a strong suit of this flashlight.
It is heavy, large, and clunky.
Battery and Runtime
This flashlight maintains the intensity of Maglite flashlights. It has 168 lumen output, yet it has a consistent, bright, and reliable beam. It can run for close to 80 hours before it runs out of juice. Although other flashlights are brighter, the lifespan of this flashlight is something that appeals to many folks.
As the name implies, it uses 3 D batteries. These are easy to get at different retail stores.
Other Features
The size and the weight make it good as a defensive weapon, and it can be used in different scenarios. It can be at home, for camping, for repairs and so on.
Pros
The light beam is consistent, reliable, and far-reaching

It lasts for a long time

It is built to withstand shocks and everyday use

It is water and shock-resistant
---
10.

Best Pistol LED Flashlight

Surefire x300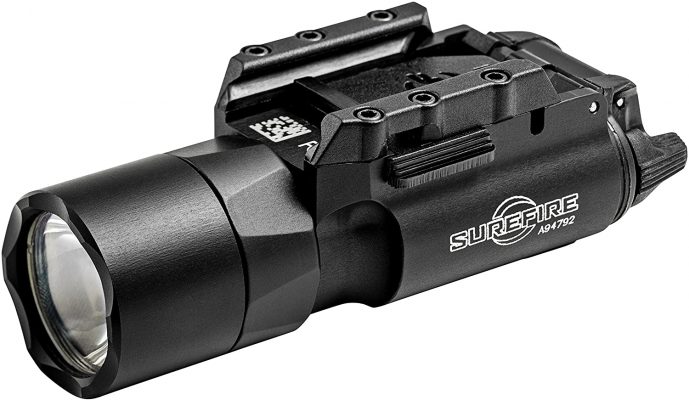 Why we like it:
Meant to be mounted on a weapon, this flashlight provides durability and shock resistant almost unrivaled among its peers. It also offers a high beam that is focused and bright
Editor's Rating:
Battery
The Surefire uses batteries to function. It needs 2 CR123A batteries. The good thing is that we found these batteries packaged along with the flashlight. Furthermore, these batteries are easy to get, and you can always have an extra pair handy.
Performance
If you are using a mounted flashlight, odds are in many cases; your life depends on the flashlight working. The Surefire brand is the best choice for a reliable flashlight.
The flashlight has a light output of 600 lumens for 1.5 hours. The beam is smooth and intense.
Design
The Surefire has a design that makes it a very reliable flashlight in emergency circumstances. It is easy to install. Acknowledging the need for an instant ON feature, the flashlight features an ambidextrous switch. Hence, while testing, we could comfortably switch it on with either hand.
Durability
The Surefire is one of the most durable flashlights on the market. And it has to be! Since it is a mounted flashlight, it has to be able to receive and absorb shocks that would ordinarily destroy other types of flashlights. The body is coated with a Mil-Spec anodized coating. Coupled with the aircraft-grade aluminum body, it is exceptionally durable.
Other Features
The Surefire is one of the easiest pistol LED flashlights to install. We observed that we could remove and attach the Surefire without any tools. The mount is very firm and does not work its way loose while shooting.
Pros
It is very durable

It produces a focused, reliable beam of light

It is easy to install and unmounts

The ambidextrous switch is very comfortable to use
Cons
The 500 lumens might be too bright, especially for a closed area.
---
Guide to Buying the Best LED Flashlights
We have provided you with 10 of the best LED flashlights that are available for purchase in 2021. By reading those reviews, you can narrow down your options and choose the best flashlight. Before buying the best LED flashlights, there are some factors that you definitely need to consider.
Features to Look Out For
Flashlights are known for their high brightness, low energy consumption, and portability. However, these are not the only features that you need to consider when choosing the best flashlights on the market. There are more, and in this section, we will consider these features.
Looks
No matter how frugal you are, we are sure that you want whatever you buy to at least look okay. Everyone wants to look good, and flashlights come in different models and designs that can look impressive.
Flashlights have limited options when it comes to aesthetics, but the most common design feature of flashlights is that they can easily fit into the palm of your hand. They can fit in your pocket.
Despite the wide variety of designs, some manufacturers have sought to make flashlights look appealing: with varying degrees of success. One of the most popular looks is the military look. The mere appearance of these types of flashlights makes you feel that they will last for a long time, even if they do not. However, in many cases, they are actually quite durable.
Some flashlights makers have gone with more radical, in-your-face, type of design. One design that is increasing in popularity is the "gun" design. These flashlights are designed like guns with the lights where the mouth of the barrel should be, and the on/off switch in the form of a trigger. If that is your type of thing, no problem, many people seem to like it too.
Most people, however, stick to the more traditional and more practical design. A long, slender flashlight that has a smooth surface, but offers a strong grip due to the ridges along its surface. For those who want a bit of individuality, the fact that these come in different colors is a source of relief.
Although there are other, frankly more important factors, that affect the choice of flashlights, the looks of a flashlight are part of the things most folks look out for.
Purpose
This is arguably the most important consideration when choosing a flashlight. What will you use it for? If you are going hunting or going on a search and rescue operation, you need powerful flashlights that offer a large amount of light. In such cases, using a flashlight with close to, or over 1000 lumens of light is not overkill.
However, if you are doing something more "normal," like checking the basement, camping, fishing, and so on, you do not need a flashlight with a large lumens output. A flashlight with an output of between 300 to 1000 lumens will do a good job.
For everyday use like checking the basement, use in the attic or garage, a flashlight with even a lower lumens output, say from 100 to 300, is what you need.
Runtime and Batteries
Measured in hours, the runtime is the time it takes the light output of your flashlight to reduce to 10% of the output on new batteries. The higher the runtime, the better for you.
Batteries can make or mar your experience with an LED flashlight. There are different types of batteries, and each flashlight has a type that is compatible with it. Let us consider some of these batteries.
Lithium batteries are hands-down the best types of batteries for any flashlight. They simply outstrip the competition. A Lithium battery might be more expensive, but it offers great value for money. They have longer runtimes, and they give brighter light outputs. Furthermore, these batteries can last up to 10 years on the shelf, something no other battery can do. Why is this important?
Because many of us are guilty of leaving batteries in flashlights. Thus, if we have flashlights with lithium batteries and forget the batteries in them, they will still work after a long time.
AA and AAAs. These batteries are undoubtedly the most common. Although we have extolled the superiority of Lithium batteries, this doesn't mean that AA and AAAs are all bad. For one, they are very easy to find. Walk into any store across the country, and you will find them.
Furthermore, if you have a high quality LED flashlight, you do not need to worry excessively over light output or run times.
The best LED flashlights in this regard are those that can use both Lithium batteries and AA/AAAs. They offer you the high performance of Lithium batteries and the accessibility of AA/AAA batteries. The flashlight you go for depends on what you are going to use it for and the duration the flashlight would be on.
Portability and Convenience
When it comes to flashlights, portability and convenience are a big factor to consider, right? Of course! Although many people want different things from their flashlights, a compact flashlight is usually high up the list of most wanted things.
If you are going camping or outdoors, you want something that you can carry around without feeling weighed down. You require something you can hold in on-hand and fit right in your pocket.
The design affects the convenience of your flashlight. The slender, long flashlight, which is quite popular, is great for its compactness and portability. On the other hand, the other types of designs, not so much.
Large flashlights are obviously not meant to be kept in your pocket, but in a toolkit, in the car, or home.
When choosing a flashlight based on portability and convenience, it is important to consider the intended use.
Let us consider some of these lights.
Keychain Lights are LED lights attached to, obviously, your keychain. The best LED flashlight is one that appears whenever you need them, and these lights never leave you. Although due to their size, they do not provide premium performance, they are nifty flashlights. In this case, you need to factor in the size and the method of connection. If it falls off your keychain due to a bad connection, or you find yourself constantly adjusting it, then it is not the right fit for you.
The pen flashlights are a common type of flashlight. They are small, though usually not as small as keychain lights. They are identical in size and sometimes in shape to pens, hence the name. They are put in a breast pocket or anywhere you usually put your pens. Since they are bigger than keychain lights, they require bigger/more batteries. They have more power and give more longevity.
Pocket lights. These lights are bigger than pen lights and run on more/bigger batteries. If you find yourself misplacing pen lights but do not want to go for an outright flashlight, then these are your best bet.
Pistol flashlights. These flashlights are usually mounted on guns and projectiles. They offer the same services as traditional flashlights, however, due to the fact that they suffer sudden shocks and impacts, they are usually made of very high-quality materials.
Headlamps and the Trunk/Toolbox lights. Headlights allow you to work hands-free and are usually found with repairmen. The Trunk lights or Headlights are the big boys. They give off incredible amounts of light and are great for home security and law enforcement. They emit so much light you can be sure to scare away even ghosts.
Price and Quality
Price does not always determine quality. However, in the case of flashlights, it kind of does. A cheap flashlight means that the manufacturer has cut costs in some form or the other. It probably doesn't have a good design, isn't very bright, or isn't durable.
Although a cheap flashlight can serve as an impromptu source of illumination, do not expect it to always bail you out. Sooner, rather than later, it will disappoint you. If you want something that is bright, has a great design, and that is durable, you will have to spend good money.
Here is a quick tip. If you find a flashlight that has loads of LED bulbs. Chances are that it is rubbish. If a flashlight has a single LED bulb, in most cases, it is something you should spend your money on.
Brand
Although new brands produce some great lights, if you are a skeptic and want no hassles, you are better off buying a flashlight from a known brand. That way, if you have any question, issues, or require technical support, you will likely find assistance.
Conclusion
There are so many types of LED flashlights with so many features, advantages, and disadvantages. Therefore, you have quite a lot to think about before making a purchase.
It is important that you carefully consider different factors before choosing which one to buy. Thankfully, this guide and review contain the information you need to make the right choice. We urge you to look at the 10 best LED flashlights reviewed in this article and read the buying guide before spending your money on any flashlight.