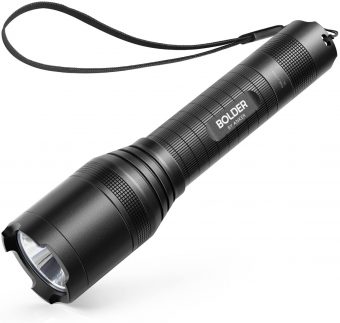 Anker Super Bright Tactical LED Flashlight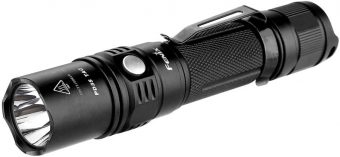 Fenix FX-PD35TAC Flashlight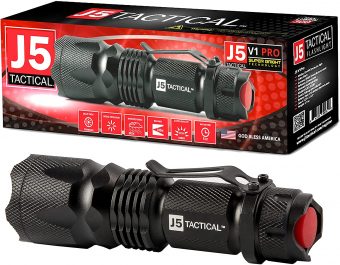 J5 Tactical V1-PRO Flashlight
Previous
Next
Do you want portable lighting that lasts for a long time, consumes a low amount of power, and has high brightness alongside other appealing features? If so, portable LED flashlights are for you. Flashlights are one of those items that seem to find a use in almost every situation. Going camping in the woods? You need a flashlight. Going downstairs to inspect that strange noise in your basement? Yup, you still need a flashlight.
Because of their usefulness and popularity, many companies now produce flashlights. This guide and product review is to help you choose the best LED flashlights you can buy right now. We will consider some of the important factors that affect your choice of flashlights.
Features to consider in Good LED Flashlights
When it comes to power and efficiency, nothing beats the flashlight. Although the flashlight apps on your Android and Apple products are convenient, especially when you are stumbling in the dark, a flashlight serves you better.
Although there are many LED flashlights on the market, choosing the best one for you can be easy if you know what you are looking out for. In this section, we will briefly discuss some of the most important features you have to consider when buying an LED flashlight.
These features will be discussed in detail later in this article.
Without further ado, here are the things you need to consider.
Intended Use
An important question when shopping for a flashlight is "what am I using it for?" Why is this factor important? It is important because the intended use of the flashlight will determine the features that matter most to you.
Portability
Traditionally, flashlights are portable. It is in your pockets, or even dangled on your keychain. If you so desire, you can also go for something a bit bigger, a light that might require a bag or a toolkit.
Brightness
Aside from portability, brightness is another important factor that affects the choice of a flashlight. Flashlights are to allow you to see things, not blind other people. Hence, a normal flashlight with an average amount of lumens is perfect for your needs. Anything more is overkill.
Durability
As with every product you purchase, durability is a key factor. You do not want to buy a flashlight that will not last. Many flashlights work perfectly for about 2 months before going belly up on their owners. We are sure you don't want this. Thus, in the case of flashlights, the pricier it is, the more durable it is likely to be.
The 10 Best LED Flashlights 2020
Guide to Buying the Best LED Flashlights
We have provided you with 10 of the best LED flashlights that are available for purchase in 2020. By reading those reviews, you can narrow down your options and choose the best flashlight. Before buying the best LED flashlights, there are some factors that you definitely need to consider.
Features to Look Out For
Flashlights are known for their high brightness, low energy consumption, and portability. However, these are not the only features that you need to consider when choosing the best flashlights on the market. There are more, and in this section, we will consider these features.
Looks
No matter how frugal you are, we are sure that you want whatever you buy to at least look okay. Everyone wants to look good, and flashlights come in different models and designs that can look impressive.
Flashlights have limited options when it comes to aesthetics, but the most common design feature of flashlights is that they can easily fit into the palm of your hand. They can fit in your pocket.
Despite the wide variety of designs, some manufacturers have sought to make flashlights look appealing: with varying degrees of success. One of the most popular looks is the military look. The mere appearance of these types of flashlights makes you feel that they will last for a long time, even if they do not. However, in many cases, they are actually quite durable.
Some flashlights makers have gone with more radical, in-your-face, type of design. One design that is increasing in popularity is the "gun" design. These flashlights are designed like guns with the lights where the mouth of the barrel should be, and the on/off switch in the form of a trigger. If that is your type of thing, no problem, many people seem to like it too.
Most people, however, stick to the more traditional and more practical design. A long, slender flashlight that has a smooth surface, but offers a strong grip due to the ridges along its surface. For those who want a bit of individuality, the fact that these come in different colors is a source of relief.
Although there are other, frankly more important factors, that affect the choice of flashlights, the looks of a flashlight are part of the things most folks look out for.
Purpose
This is arguably the most important consideration when choosing a flashlight. What will you use it for? If you are going hunting or going on a search and rescue operation, you need powerful flashlights that offer a large amount of light. In such cases, using a flashlight with close to, or over 1000 lumens of light is not overkill.
However, if you are doing something more "normal," like checking the basement, camping, fishing, and so on, you do not need a flashlight with a large lumens output. A flashlight with an output of between 300 to 1000 lumens will do a good job.
For everyday use like checking the basement, use in the attic or garage, a flashlight with even a lower lumens output, say from 100 to 300, is what you need.
Runtime and Batteries
Measured in hours, the runtime is the time it takes the light output of your flashlight to reduce to 10% of the output on new batteries. The higher the runtime, the better for you.
Batteries can make or mar your experience with an LED flashlight. There are different types of batteries, and each flashlight has a type that is compatible with it. Let us consider some of these batteries.
Lithium batteries are hands-down the best types of batteries for any flashlight. They simply outstrip the competition. A Lithium battery might be more expensive, but it offers great value for money. They have longer runtimes, and they give brighter light outputs. Furthermore, these batteries can last up to 10 years on the shelf, something no other battery can do. Why is this important?
Because many of us are guilty of leaving batteries in flashlights. Thus, if we have flashlights with lithium batteries and forget the batteries in them, they will still work after a long time.
AA and AAAs. These batteries are undoubtedly the most common. Although we have extolled the superiority of Lithium batteries, this doesn't mean that AA and AAAs are all bad. For one, they are very easy to find. Walk into any store across the country, and you will find them.
Furthermore, if you have a high quality LED flashlight, you do not need to worry excessively over light output or run times.
The best LED flashlights in this regard are those that can use both Lithium batteries and AA/AAAs. They offer you the high performance of Lithium batteries and the accessibility of AA/AAA batteries. The flashlight you go for depends on what you are going to use it for and the duration the flashlight would be on.
Portability and Convenience
When it comes to flashlights, portability and convenience are a big factor to consider, right? Of course! Although many people want different things from their flashlights, a compact flashlight is usually high up the list of most wanted things.
If you are going camping or outdoors, you want something that you can carry around without feeling weighed down. You require something you can hold in on-hand and fit right in your pocket.
The design affects the convenience of your flashlight. The slender, long flashlight, which is quite popular, is great for its compactness and portability. On the other hand, the other types of designs, not so much.
Large flashlights are obviously not meant to be kept in your pocket, but in a toolkit, in the car, or home.
When choosing a flashlight based on portability and convenience, it is important to consider the intended use.
Let us consider some of these lights.
Keychain Lights are LED lights attached to, obviously, your keychain. The best LED flashlight is one that appears whenever you need them, and these lights never leave you. Although due to their size, they do not provide premium performance, they are nifty flashlights. In this case, you need to factor in the size and the method of connection. If it falls off your keychain due to a bad connection, or you find yourself constantly adjusting it, then it is not the right fit for you.
The pen flashlights are a common type of flashlight. They are small, though usually not as small as keychain lights. They are identical in size and sometimes in shape to pens, hence the name. They are put in a breast pocket or anywhere you usually put your pens. Since they are bigger than keychain lights, they require bigger/more batteries. They have more power and give more longevity.
Pocket lights. These lights are bigger than pen lights and run on more/bigger batteries. If you find yourself misplacing pen lights but do not want to go for an outright flashlight, then these are your best bet.
Pistol flashlights. These flashlights are usually mounted on guns and projectiles. They offer the same services as traditional flashlights, however, due to the fact that they suffer sudden shocks and impacts, they are usually made of very high-quality materials.
Headlamps and the Trunk/Toolbox lights. Headlights allow you to work hands-free and are usually found with repairmen. The Trunk lights or Headlights are the big boys. They give off incredible amounts of light and are great for home security and law enforcement. They emit so much light you can be sure to scare away even ghosts.
Price and Quality
Price does not always determine quality. However, in the case of flashlights, it kind of does. A cheap flashlight means that the manufacturer has cut costs in some form or the other. It probably doesn't have a good design, isn't very bright, or isn't durable.
Although a cheap flashlight can serve as an impromptu source of illumination, do not expect it to always bail you out. Sooner, rather than later, it will disappoint you. If you want something that is bright, has a great design, and that is durable, you will have to spend good money.
Here is a quick tip. If you find a flashlight that has loads of LED bulbs. Chances are that it is rubbish. If a flashlight has a single LED bulb, in most cases, it is something you should spend your money on.
Brand
Although new brands produce some great lights, if you are a skeptic and want no hassles, you are better off buying a flashlight from a known brand. That way, if you have any question, issues, or require technical support, you will likely find assistance.
Conclusion
There are so many types of LED flashlights with so many features, advantages, and disadvantages. Therefore, you have quite a lot to think about before making a purchase.
It is important that you carefully consider different factors before choosing which one to buy. Thankfully, this guide and review contain the information you need to make the right choice. We urge you to look at the 10 best LED flashlights reviewed in this article and read the buying guide before spending your money on any flashlight.