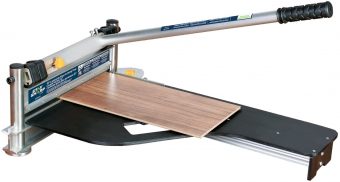 EAB Tool Exchange-a-Blade 2100005 9-Inch Laminate Flooring Cutter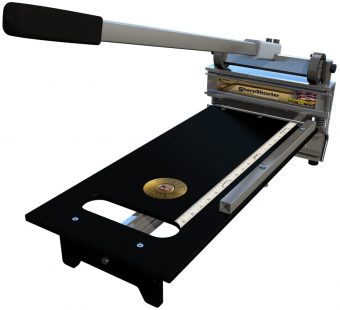 Bullet Tools 9 inch EZ Shear Sharpshooter Siding and Laminate Flooring Cutter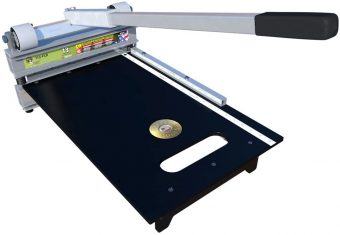 Bullet Tools 13 in. EZ Shear Laminate Flooring Cutter
Previous
Next
Some of the best laminate cutters offer immediate results. Mainly suitable for laminate floors, these cutters may also work on vinyl and solid wood. Laying flooring is easier as a result. There often is a misconception about regular and professional level laminate cutters. But in reality, some of the most affordable laminate cutters are the best even for large jobs such as those in commercial spaces.
Since there are not many parts which can break in a laminate cutter, its durability is beyond the average durability of other tools used for laying floors. It is why it's actually worth investing in the most capable design from the start, as there are few reasons to upgrade even after years of use.
The best laminate cutters and clean cuts
Clean cuts are sought after result of all laminate cutters. But this depends on the design of the cutter, the quality, and sharpness of the blade as well as on how the user is actually basing cuts on the right technique.
Some of the best cuts are made with high-quality blades. While the first job is a guaranteed success with a new blade, it is only with concomitant cuts that users start to see chips at the ends of the laminate planks. For most of them, there are replacement blades to consider. A top tip here is to actually stick to original blades and laminate cutters. Many cheap knock-offs brands actually make poor blades. The following laminate cutters are known for their clean cuts.
The 10 Best Laminate Cutters 2020
Guide to Buying the Best Laminate Cutters
Is it safe to use a laminate cutter?
Using a laminate cutter might not require too much time to master. For safety purposes, it is recommended to read the user's instructions and then make a few practice cuts. As a general rule, the hands need to be away from the blade at all times.
How many cuts can I make with a laminate cutter?
A laminate cutter can handle hundreds of cuts before the blade needs to be re-sharpened. Depending on the thickness of the laminate plank, this might need to be done a little bit quicker. But at the same time, there are plenty of reasons to consider the laminate cutter for years and years, especially as the blades can be replaced on the best laminate cutters.
I want to install laminate floors in an office, is it suitable for the job?
Using a laminate cutter in a large space is still possible. Regardless of the square feet, users should be able to make the necessary cuts when needed. In most cases, the sharpness of the blade is the only limiting factor for large areas.
How long does a laminate cutter last?
A laminate cutter can last for years. Made from steel or a combination of aluminum and steel, the best laminate cutters are actually very easy to use. For most users, they represent a top choice when it comes to future proof purchases as most laminate cutters never get upgraded.
Is there any maintenance on a laminate cutter?
Sharpening the blade should be done as often as needed. But oiling the blade can also protect it against rust and improve its durability. All maintenance steps should be detailed in the user's guidelines.
What is tungsten steel?
Tungsten steel is a special alloy. At its base, it is steel reinforced with tungsten. The right amount of tungsten needs to be added to the steel. Too little tungsten allows the still to bend while too much tungsten hardness the steel and makes it prone to fractures.
Why choose the best laminate cutter?
When it comes to the best laminate cutters, there are a few elements to consider. Prices vary considerably and many users could be left wondering if there's really a point in investing in the best laminate cutters. The main idea is that this is truly possible and actually recommended as the best laminate cutters offer the cleanest cuts. Other benefits are detailed as follows.
No extra walking
Another advantage of laminate cutters lies in its practicality. Since it can make cuts on the spot, a laminate cutter requires no extra walking as many other power tools do. Without walking thousands of steps each day, this means workers can feel more relaxed at the end of a shift. At the same time, users have the ability to take the laminate cutter with them where power cords cannot reach, which is the case with new residential and business developments.
Cuts with no dust
A distinct advantage of the laminate cutter is making cuts with no dust. For most users, it is this ability which allows them to stay on point with most re-modeling jobs around the house. The last thing people need is to actually cover furniture, paintings, mirrors, and windows when installing laminate floors. A laminate cutter eliminates this preparation process and it actually cuts the installation time, which is perfect in today fast-paced world.
Impressive durability
The durability of a laminate cutter is considerably more suitable for the average user than that of a power tool. With not many moving elements and with most work done by the cutting blade, laminate cutters are made to last. Just as most manual cutting tools, there is minimum maintenance and care needed to keep them in shape over the years. But they can be a top tool for those concerned about durability.
Quiet operation
Working inside a home or even in a busy office with power tools can create noise pollution. But the laminate cutter eliminates this problem completely compared to power tools. Contractors can quickly install laminate floors without disturbing those in the premises, which is one of the ways businesses can replace old flooring without interrupting daily activities.
Lightweight portable designs
One of the undervalued benefits if using a laminate cutter actually comes with its portable nature. Even the largest laminate cutters can easily be transported in a car. This is not the same with many electric saws as they often need a pair of extra helping hands for transportation needs. Compared to manual saws, laminate cutters also offer quicker and straighter cuts, so the advantages are still worth the investment for most users.
Final words
Some of the best laminate cutters are made using different materials. If steel and aluminum are used for the frame, anti-slip materials are used for the supportive base. Special allows materials are used for the cutting blade and it is here that the difference can be made between a good cut and the best cut.
The best laminate cutters also come with ruler markings to simplify all cuts. For most users, it is an actual opportunity to learn more about the type of laminate plank sizes needed for various tasks. For other users, it is actually a professional characteristic for a perfect job.
But a lot can be said about a laminate cutter manufacturer by the way it handles customer inquiries. Some of the best brands, like those seen above, are actually doing a great job at offering clients all the information they need. Most of these enquires are related to replacement parts. The great news is that these parts are available. Furthermore, as seen above, many brands offer complete starter kits which can even include grindstones. But regardless of the chosen laminate cutter, the right technique needs to be practiced for perfect cuts. The thickness of the laminate plank also needs to be matched to the capacity of the laminate cutter for the best results.