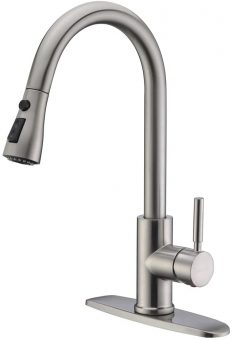 WEWE Single Handle Faucet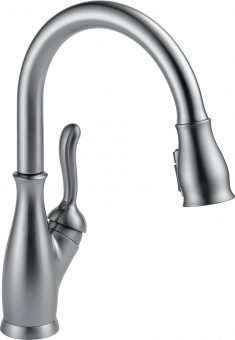 Delta Leland Pull-Down Single Handle Kitchen Faucet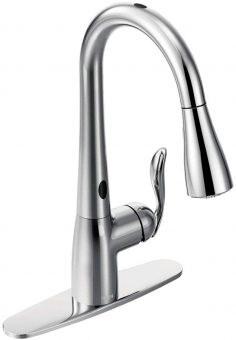 Moen Arbor Touchless Pulldown Faucet
Previous
Next
Kitchen faucets are almost as important as having the kitchen itself. Since they're multi-purpose in nature, you can use them for nearly everything from cooking pots in the kitchen sink to washing your veggies, doing your dishes to cleaning difficult items caked with stains. Besides being used to control water flow, faucets also add a great aesthetic feeling to any kitchen. They allow you to incorporate creativity in the layout of your kitchen with different faucet styles and designs. With limitless designs and options for your kitchen faucets, you can transform your kitchen to look how you want it to. The best part is that you don't have to spend a fortune to get one.
Finding the right kitchen faucet can mean the difference between a comfortable evening having dinner or endless calls to your plumber. That's why you need to think about your new kitchen faucet. The type of faucet matters as much as the ease of use and installation. You don't want a faucet that looks good but is a headache to install or use. There is also a choice between going for classic faucets or modern ones crammed with technology. You will find voice-controlled faucets in the market with customizable voice controls or touchless faucets with motion sensors.
Features to consider in Good Kitchen Faucets
Are you looking for a new faucet for your kitchen? Check out some of the crucial things below that you should take into account.
Type of Faucet
Just like any other product, there are a ton of faucets out there for your kitchen. Once you have understood how the different kinds of faucets work, then you can determine the one that'll work best for your kitchen. You can choose between pull-down or pull-out faucets depending on the size of your sink. You can also choose between commercial two handle and touchless faucets. These are the most common faucet options that are available with different finishes.
Faucet design
The kitchen is at the "heart" of every home. While not everyone pays attention to how the kitchen looks, most take the time to design their kitchens. One of the things you can play around with to transform your kitchen is the design of the faucet. Check existing faucet designs and see what suits your kitchen layout.
Unique features
In the spirit of healthy competition, most manufacturers ship their products with exclusive features. It's these features that make some products stand out against the competition. The big companies invest in incredible tech even for faucets. That's why you get MotionSense by Moen and Touch20 by Delta Faucet. Check out the product description to get a glimpse of the proprietary stuff.
Some of the areas big companies invest their tech include the finishing, availability of a spray mode, leak blocking valves, head dock for pull-down or pull-out, and finally, the finishing.
Faucet installation options
For someone that's been dealing with faucets for a long time, you wouldn't even think twice about checking the installation process. With some taps, you only require one hole to fit. Others take up to four. If you buy a single hole faucet while you have several mounting holes, a cover plate for each extra mounting hole works excellent. You could also drill more holes if you have a drill. Either way, choose an option that's most convenient for your setup.
Another important thing regarding your supplier is valuable after-sale services.
Buy your faucets from a trusted source
Lots of things that can go wrong with your plumbing. It helps if you buy from a reliable source like the faucets on our list. Some local suppliers sell fake or cheap faucets that can't get the job done. It's worth shopping from a reputable company, even if it costs more.
The 10 Best Kitchen Faucets 2020
Guide to Buying the Best Kitchen Faucets
Nearly every activity in the kitchen entails using water. In the next section, we are going to discuss factors to consider when choosing a stylish and highly functional kitchen faucet. With a variety of kitchen faucets available in the market, it can be quite challenging to determine which design suits your kitchen.
Handle types
One thing you should consider is the handle type. You can opt for a lever handle or the cross handles. Lever handles will suit you if you need something easy to use and convenient in terms of temperature control, but if you have a traditionally designed kitchen, then a T-shaped handle will be the best option. When it comes to the number of handles, there are the following: single-handle, two-handle, and touchless faucets.
Single-handle is the most straightforward and most convenient option. However, you have to consider the available space before you install it, since it has a rotating handle – one side gives you cold and the other gives you warm.
Two-handle faucets have one handle for cold water and another one on the other side for warm water. It is best for controlling water temperature. Touchless faucets are suitable for commercial facilities. Whenever you place your hands below the tap, the sensor will trigger water flow. So, if you want to buy a kitchen faucet for your restaurant, then this might be a good option as long as you're ready to cough up some good money for initial installation costs and repairs due to its high tech features.
Desired Mounting
When it comes to mounting your faucet, you have two choices: deck-plate and a wall-mounted faucet. The former one is a common fixture in many kitchens, and it often comes with a spout and handles on a single plate while providing for up to a three-hole installation in your sink. The latter option is best for a kitchen with a small space. Users prefer it too because it makes cleaning fast and gives space for placing other kitchen items like pans in the sink after cleaning.
Number of Holes
When shopping for a kitchen faucet, you also want to make sure you get a design with the right number of holes. Your choice is mostly going to depend on the number of handles on your faucet. A single hole is suitable for installing a single-handle faucet in your sink. Two-holes are meant for two-handle faucets, although you can still install it with a single handle along with an accessory, such as soap dispenser. Three holes goes well with two handles and the remaining hole being for spout or soap dispenser. And finally, a four hole faucet goes well with both single and two-handle design plus enough space for your other accessories.
While you will have all the above options when setting up your new kitchen, you will have limited choices if you are going to do a replacement of an existing faucet. For the best outcome, first, count the holes of the previously installed sink or countertop then look for a suitable replacement. Nevertheless, you can still buy a different model then add more holes if you need some change. Talk to your kitchen technician to see what options suit you best.
Type of Faucet Finish
Who wouldn't want a faucet finish that will look great in the kitchen for many years without incurring replacement costs? That's why most manufacturers factor the choice of finish whenever they produce any kitchen faucet model. Many customers seem to prefer the chrome finish. However, that doesn't mean other types are less impressive.
Let's look at commonly preferred finish types.
Chrome- This is the most popular type in the market. Not only is it durable, but it also goes well with any décor.
Matte Black- People with modern kitchens tend to gravitate towards it because of its unique look.
Stainless steel- Consider this if you want a rust-free and durable design with maximum spot resistance.
Nickel- This type combines a modern and traditional style. The nickel faucet with a polished finish will not disappoint you, especially if you blend it with classy décor.
Bronze – Go for this option if you want to recreate that retro kitchen look. The good thing is that some décor can still go well with this type of finish.
Faucet Style
Style is a subjective feature, and this explains why people have divergent interests. Some people prefer a modern-looking kitchen while others like the traditional style. Others like mixing both traditional and modern looks.
When it comes to choosing the kitchen faucet style, here are the options you have:
Traditional Style – In most cases, the conventional style goes well with a faucet with a vintage touch. This style is considered classic, and there is no time it will go out of fashion. People who are into vivid colors tend to prefer this design.
Contemporary Style – Designed with high-tech features, modern styles offer simplicity and convenience to the savvy homeowner. It's quite a hit with the young homeowners who value space, but you wouldn't miss it in the kitchen of old folks who want to move with the times.
Transitional Style – Some people like combining traditional and modern styles in their kitchens to create classic but chic styles. In this case, the conventional part is meant to make the kitchen stand out while the modern part is to simplify work and preserve space while creating an impressive kitchen at the same time.
Low or High-Arch Faucet
It is another crucial thing to consider when buying your kitchen faucet. It's advisable for you to combine your kitchen sink with the right faucet arch. If you have opted for the low-arch faucet, then you will need to buy a deep sink, but if you are going for high-arch, your sink should be shallow. Remember, you can still choose a medium faucet to suit your taste.
Conclusion
Nothing is as stressful as having your faucet breakdown or leak in the middle of the night as you are doing the dishes. Choose the right faucet, and it will serve you for many years. Get the wrong one, and you could well be on the way to calling your plumber week in week out for repairs. Every faucet on this list is an excellent addition to your kitchen that will make everyday tasks easier and even fun, whilst also adding a splash of class to your kitchen.