Kitchen faucets are almost as important as having the kitchen itself. Since they're multi-purpose in nature, you can use them for nearly everything from cooking pots in the kitchen sink to washing your veggies, doing your dishes to cleaning difficult items caked with stains. Besides being used to control water flow, faucets also add a great aesthetic feeling to any kitchen. They allow you to incorporate creativity in the layout of your kitchen with different faucet styles and designs. With limitless designs and options for your kitchen faucets, you can transform your kitchen to look how you want it to. The best part is that you don't have to spend a fortune to get one.
Finding the right kitchen faucet can mean the difference between a comfortable evening having dinner or endless calls to your plumber. That's why you need to think about your new kitchen faucet. The type of faucet matters as much as the ease of use and installation. You don't want a faucet that looks good but is a headache to install or use. There is also a choice between going for classic faucets or modern ones crammed with technology. You will find voice-controlled faucets in the market with customizable voice controls or touchless faucets with motion sensors.
Features to Consider in Good Kitchen Faucets
Are you looking for a new faucet for your kitchen? Check out some of the crucial things below that you should take into account.
Type of Faucet
Just like any other product, there are a ton of faucets out there for your kitchen. Once you have understood how the different kinds of faucets work, then you can determine the one that'll work best for your kitchen. You can choose between pull-down or pull-out faucets depending on the size of your sink. You can also choose between commercial two handle and touchless faucets. These are the most common faucet options that are available with different finishes.
Faucet Design
The kitchen is at the "heart" of every home. While not everyone pays attention to how the kitchen looks, most take the time to design their kitchens. One of the things you can play around with to transform your kitchen is the design of the faucet. Check existing faucet designs and see what suits your kitchen layout.
Unique Features
In the spirit of healthy competition, most manufacturers ship their products with exclusive features. It's these features that make some products stand out against the competition. The big companies invest in incredible tech even for faucets. That's why you get MotionSense by Moen and Touch20 by Delta Faucet. Check out the product description to get a glimpse of the proprietary stuff.
Some of the areas big companies invest their tech include the finishing, availability of a spray mode, leak blocking valves, head dock for pull-down or pull-out, and finally, the finishing.
Faucet Installation Options
For someone that's been dealing with faucets for a long time, you wouldn't even think twice about checking the installation process. With some taps, you only require one hole to fit. Others take up to four. If you buy a single hole faucet while you have several mounting holes, a cover plate for each extra mounting hole works excellent. You could also drill more holes if you have a drill. Either way, choose an option that's most convenient for your setup.
Another important thing regarding your supplier is valuable after-sale services.
Buy Your Faucets From a Trusted Source
Lots of things that can go wrong with your plumbing. It helps if you buy from a reliable source like the faucets on our list. Some local suppliers sell fake or cheap faucets that can't get the job done. It's worth shopping from a reputable company, even if it costs more.
Top 10 Best Kitchen Faucets 2021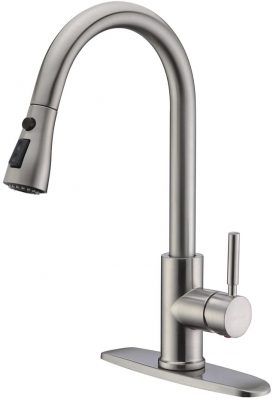 Why we like it:
Besides the sleek design, the WEWE single handle faucet has an excellent three-way spray that does a splendid job, whether you are washing your vegetables or merely doing some cleaning. The preinstalled lines and hoses are also a joy for DIY enthusiasts. The anti-rust and anti-corrosion properties are great features, especially for hot water.
Editor's Rating:
Looking for an affordable faucet that gets the job done but still looks great at the same time? WEWE single handle faucet might be what your kitchen needs. A customer's favorite, it incorporates a modern design and premium-quality features. It has a tulip design that looks fresh and sleek for the contemporary kitchen or breathes new life into your old kitchen sink. With WEWE, you get an exciting three-way spray configuration for both stream and spray patterns, including a pause option that's useful when you don't want to splash water.
The WEWE single handle faucet also comes decked with preinstalled hoses that take out the need for plumbers. You can simply do-it-yourself without a hassle. Within half-an-hour, you should be through with the installation. If DIY is not your forte, you can enlist a plumber and have it running within a few minutes.
The WEWE single handle faucet also has a 360-degree rotating spout with different controls for temperature and flow. You can easily adjust the water flow even when you are using the retractable head. Besides the handful of cleaning options you get with the rotating spout, the hose has a mechanical retraction system. That means your faucet's spray head will always stay out of your way when you are cleaning. The faucet is also made with anti-rust and corrosion technology that ensures you always get clean water whenever you turn your taps on for cold or hot water.
Pros
Has an affordable price

Super simple installation

Supports multiple flow mode

Handy retractable head
Cons
It would be better with a notably longer hose

Weight system for the retractation can have issues after extended use
---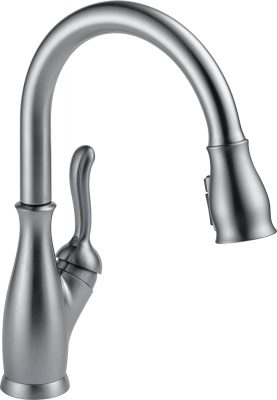 Why we like it:
The magnetic docking system is a beautiful addition to keep the wand sturdy at all times. The Delta Leland's Diamond Seals are incredible even after long-term use.
Editor's Rating:
Another excellent kitchen faucet that has stolen many customers' hearts is the Delta Leland single handle faucet. This model is for those people looking for a mid-priced option for their new kitchen. It comes with either a built-in valve or two-hole for a blend of traditional styling as well as modernity. With the Delta Leland, you get a Diamond Seal technology that ensures you have the best service for the duration of the faucet's life. The proprietary ceramic discs with embedded diamonds take care of any leaks. Without the need for lubrication, the seals remain healthy and last longer.
The Delta Leland features a handy Tempsense LED that shows you the temperature of the water that' flowing through the faucet. The LED changes color depending on the temperature of the water, so you know how hot or cold the water is. Don't you just hate it when you get surprise hot or cold water? This faucet eliminates that problem. You can get Delta Leland single handle faucet in Arctic Stainless, Chrome, or Venetian Bronze.
The Delta Leland has a magnetic docking system that keeps the spray wand where it needs to be. The magnetic docking helps keep the rod away while it's not being used and also keeps it from drooping as you continue using it. The Delta Leland also features a wand with a dual spray that allows you to switch between a spray and stream within seconds. They have also added a 20-inch hose so you can better clean and water your pots and pans or thoroughly clean your veggies.
Pros
Installation is straightforward

Bundled with soap dispenser

Can adjust water temperature from the handle

Easily cleaned spray holes
Cons
Not a lot of options for hot and cold temperatures

Challenging installation for first time DIYers
---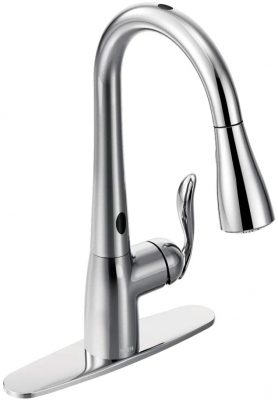 Why we like it:
The touchless dual-sensor setup makes Moen Arbor an incredible faucet for your kitchen. The sensors are super accurate, giving you instant feedback. With its high-quality build, you can expect the Moen Arbor touchless to serve you for a long time thanks to its limited lifetime warranty.
Editor's Rating:
Want to simplify your kitchen work? Get the Moen Arbor Touchless pull-down faucet. It is a beautiful faucet for any modern kitchen, and it features some incredible premium features. If you want to get an exquisite faucet, you shouldn't look further than the Moen Arbor Touchless Pulldown faucet.
It comes packed with a dual-sensor setup that pretty much takes the load off your hands. The sensors ensure you never have to touch your faucet whenever you are washing or filling up your pots with water. When you want to run water, you only need to swipe your hands over the strategically placed dual sensors to get the water flowing.
While other faucet heads droop, the Moen Arbor Touchless faucet comes bundled with a retractable spray head. It not only ensures your spray head stays out of the way when it's not in use, but also keeps it safe. A drooping spray head tops the reasons why people replace their faucets. The retractable system is not only easy-to-use but also holds securely.
The Moen Arbor also features incredible PowerClean technology that allows you to quickly and easily clean using the double spray option. The spray cord is super convenient. It moves in any direction you want it. And, since the Moen Arbor has a slim design, you can make it a secondary faucet in your sink. The compact design looks outstanding in any kitchen sink you install.
Pros
Superior quality

Easy to use

Has a super long hose

Packed with great tech features
Cons
Controlling the water flow away from the faucet is not easy

Hose need replacements after a couple of years
---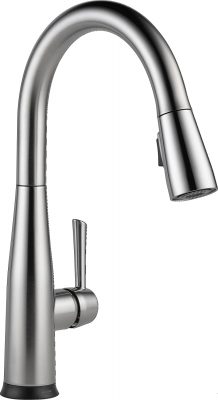 Why we like it:
The Delta Essa Single Handle Kitchen Sink has an accurate touchless on and off that works great even when you have your hands full. You never have to your faucet again when your hands are filthy. The faucet features a robust design and build quality with an excellent magnetic technology that keeps your spray head in place all the time.
Editor's Rating:
Delta brand tops the list of reliable and high-quality faucet manufacturers. They are known to deliver some of the best faucets in the world. Delta Essa Single Handle Kitchen Sink Faucet carries all the qualities of the Delta brand. It is an elegant and simple faucet that is packed with superior technology and functionality. It features a pull-down sprayer plus a 20-inch hose with either a streaming or spraying choice.
One of the best features of the Delta Essa single handle kitchen sink is the high arc design. The design provides enough space for all your pots or veggies. Throw in the 360-swivel spout, and you have got yourself a reliable and high-maneuverable faucet. You shouldn't have any problems cleaning anything around your sink or worktop.
The problem with having a pull-down faucet head is that with time it becomes damaged or starts drooping. Thanks to its magnetic technology, you can say goodbye to such issues. The internal magnet mechanism keeps the detachable head attached to the neck, ensuring it does not get damaged plus keeping it out of your way. The Delta Essa single handle faucet comes with an ingenious Touch20 technology that allows you to turn your water flow on or off wirelessly. It is handy when you have a lot on your hands or have joint problems that prevent you from turning on your faucet.
Pros
Features a magnetic dock to keep your spray in one place

Limited lifetime warranty that guarantees longer use

Simple but stylish design that'll fit any kitchen
Cons
Has some plastic parts both inside and outside

The touchless sensor isn't always accurate
---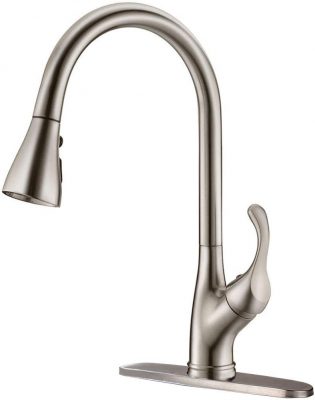 Why we like it:
The APPASO kitchen faucet has a simple and straightforward installation process that is a joy for DIY lovers. The water flow controls on the spray head are also another great feature that's convenient to use. The water pressure is also great with this faucet.
Editor's Rating:
Looking for your kitchen sink's replacement faucet without breaking the bank? Get the APPASO K123-BN stainless-steel pull-down kitchen faucet. The faucet features a unique patented design that can transform your kitchen into a sleek 21st century work kitchen. The timeless design will never go out of style.
The APPASO K123-BN offers a ton of options. You can let the water flow as a stream or spray. It has a pause option as well. The controls for all of the water flow configurations can be found on the head of the sprayer, making it convenient even as you move the head around. The hot and cold settings are super simple; you just turn the handle backward or forwards for either.
The other great thing about the APPASO K123-BN is the retractable spray head. It allows for a full range of motion with a weight that pulls it back in place when you are not using it. With a 20-inch hose, you can quite comfortably move the spray head to any position within your sink or worktop thanks to the ball-joints.
With a thick PVD coating, you can say goodbye to wear and tear on the APPASO K123-BN. The 5-layered galvanized finish is free from fingerprints and rust to keep your kitchen shiny. Plus, it is super simple to clean. You can even use your fingers to clean the spray head, removing anything that'll block the holes in the spray. Therefore, you can be sure that nothing will block your faucet holes.
Pros
Fantastic water pressure

Smooth and accurate hose retraction

Fluid handle and hose operation

Excellent finish and design
Cons
Slightly too strong spray function

History of small drips
---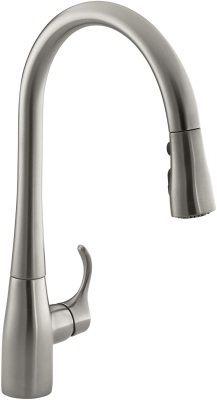 Why we like it:
One of the main reasons this is a favorite for a lot of people has to do with its look. The Kohler K-596-Vs faucet looks incredibly good. It sports an elegant and timeless design that fits any kitchen. It also features an ingenious docking mechanism using a magnet to keep the spraying head in place.
Editor's Rating:
Looking for a sleek faucet for your kitchen sink? Take advantage of the beautifully finished Kohler K-596-Vs to spice up your kitchen and add some flare to your kitchen sink. The Kohler K-596-Vs features a sturdy design and build that'll serve you for many years. It leaves enough space in the sink thanks to its high arc design.
Kohler K-596-Vs sports a three function spray head capable of delivering a stream, sweep, and boost. With these many options, you can use your kitchen faucet for a different number of tasks while switching the water flow modes. The sweep mode works by using angles to create a water blade that is incredible for rinsing and cleaning the dishes. The boost, on the other hand, increases the strength of the water flow to fill up pots and other things faster.
Another feature that Kohler K-596-Vs Simplice excels in is the DockNetic docking system. The retractable spray head makes this faucet versatile in the kitchen for either washing or filling up things with water. However, retractable spray heads develop drooping problems with prolonged use. Thanks to the magnetic docking system, this is one problem you never have to worry about. The faucet also incorporates ceramic valves to eliminate leaks plus anti-corrosion and anti-tarnish finish for longer use.
Pros
Comes with multiple spray options

Bundled with a lifetime limited warranty

Has a magnetic docking system that keeps the spray head secure

Excellent finish and look
Cons
The faucet doesn't return to default settings when turned off

Some people have experienced problems with water pressure
---
Why we like it:
The Kraus KPF-1610SS is super-efficient and eco-friendly. You can say goodbye to water wastage. The single handle also offers a full 90-degree rotation, ensuring you have plenty of control for your water flow. The Kraus KPDF-1610SS not only looks beautiful but provides a lot of functionality.
Editor's Rating:
The Krauss KPF-1610SS Kitchen Sink Faucet is one of the few kitchen faucets that look stunning in any modern kitchen. It is beautifully designed with a smooth and elegant finish. The design centers around eco-friendliness and durability, which makes the Krause KPF-1610SS one of the sturdiest kitchen faucets.
Kraus KPF-1610SS is packed with a ton of functionality for the modern kitchen. It features a pull-down spray head that offers dual water flow options. You can use the head like a stream or spray with easy controls for switching between the two functions. Additionally, you can turn the faucet a full 360 degrees, giving you full usage of the sink. No irregularly shaped bottle or container will stand in your way when you are filling up.
One of the things that the Kraus KPF-1610SS standout is the minimal and sleek handle. It looks beautiful and is super smooth to the touch. It also offers enough control for water as it rotates a whole 90 degrees. You can also control the water flow and the temperature with just a single button making it super convenient and easy-to-use.
If you want to a new and sleek kitchen faucet without stretching your bank account, the Krause KPF-1610SS is the way to go. It offers lots of options with an affordable price and premium quality build.
Pros
Flash-free flow control with a single handle with 90-degree movement

Comes with a retractable 20-inch hose

High water efficiency for eco-conscious buyers

Simple installation process
Cons
Not a traditional style kitchen faucet

It has a metal-coated plastic spray head
---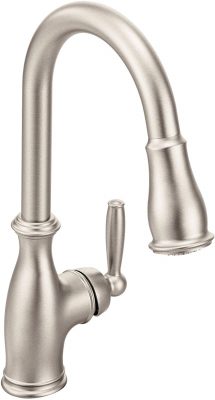 Why we like it:
The Moen 7185SRS Brantford single handle kitchen faucet is ADA compliant. It's a great choice for disabled people or for someone with Parkinson's or joint problems. It also features a ton of tech improvements that save you time and effort in the kitchen.
Editor's Rating:
As a brand, Moen is well known for its dedication to delivering premium high-quality faucets that carry a timeless design. The Branford model is no different. It is tastefully designed to give your kitchen sink and kitchen a whole new vibe. The design is a mashup of classic and modern styles to bring a sophisticated look worthy of a modern kitchen.
Nothing gives you more flexibility in the kitchen than a retractable spray head. It allows you to clean the areas that are hard to reach or fill containers that are too big for the sink. The retractable head stays secured in one place when not in use, ensuring longer use. Speaking of abnormal containers, you can quickly fill the big ones thanks to Moen's Boost feature. The boost also helps out with stubborn stains.
With Moen's Brantford model, you get a choice of three water flow options. The boosted mode to fill up faster or clean stubborn parts quickly. The powerful rinse mode is ideal when you want to do some thorough cleaning while the aerated stream option works great for standard everyday use.
Moen Branford comes with preinstalled lines and hoses, making the installation process a walk in the park. Use standard mounts to setup the Moen Brantford on your sink or kitchen top.
Pros
Comes with a retractable head for more cleaning options

Has a fantastic design that blends classic and modern designs

Has an easily cleaned finish that is spot and fingerprint resistant

Includes a lifetime limited warranty
Cons
Few cases of pressure dropping in select homes

Doesn't work great with hard water
---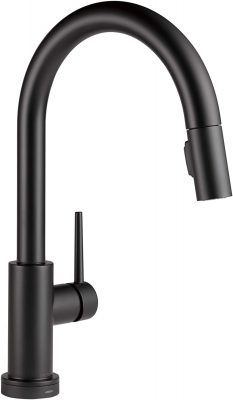 Why we like it:
The Delta Trinsic VoiceIQ smart features are pretty impressive. The voice commands are very accurate, with an option to customize the commands to your liking. The measurement features are also pretty handy when you have got your hands full or lack measuring equipment. Coupled with the Touch2O, you can hardly go wrong with a smart option.
Editor's Rating:
In this digital era of the internet of things, everyone's fixtures in the home are connected. Faucets have not been left behind. If you have been looking for a smart kitchen faucet for your home that supports Alexa and Google Assistant-enabled devices, this one is just that. You can now give voice commands to your faucet without having to touch or swipe it. This is definitely great for people with extreme disabilities as well as tech enthusiasts.
The Delta Trinsic VoiceIQ is packed full of commands that make your kitchen work easy. Want a cup of water? The Delta Trinsic VoiceIQ can help with your measurements. Just say the command, and it fills your cup or pot with the right measurements. It also allows you to install custom commands to make it more personal. You can also touch anywhere on the spout to turn the water flow on or off using Delta's Touch2O technology. The faucet comes with a 20-inch retractable hose plus handy temperature indicator LED.
The faucet also features magnetic docking technology for the retractable spray head, allowing you to extends your faucet's life and also keep it out of your while working around the sink. The installation process is pretty straightforward, using either one or three holes. The three-hole setup will require an additional docking station.
Pros
Incredible voice commands

Bundled with a 20-inch retractable hose

Beautiful design and finish

Accurate touch sensors on the spout
Cons
Some users experience leaking after a couple of years

Some parts are made from plastic
---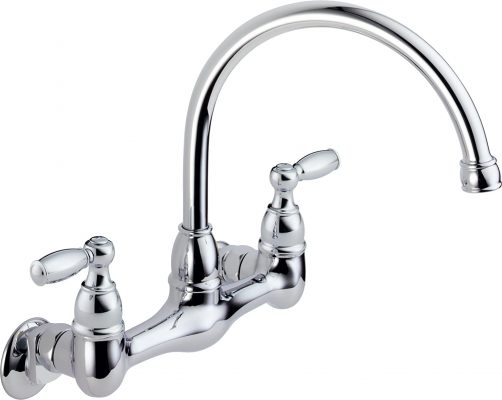 Why we like it:
The Peerless two-hole wall mounted kitchen faucet offers a ton of versatility and control with its double-tap configuration. You can also set up independent hot and cold water hoses for your double hole kitchen sink faucet without a hassle. The design of the faucet is both classic and timeless, even for a modern kitchen. It features a rust-resistant chrome finish.
Editor's Rating:
Space is one of the constraints that people have to contend with in modern spaces. Some kitchens have the sink installed flush against the wall, making it virtually impossible to install the faucet anywhere else apart from the wall. The best wall mounted kitchen sink faucet is the P299305lf from peerless with two handles.
The Peerless wall mounted kitchen faucet features a chrome finish with two handles that allows precise water temperature controls. The two-handle design can draw hot and cold water from two separate hoses with much ease. It allows the use of hot or cold water streams. For a double sink layout, two people can use the faucet for hot and cold water intermittently when it comes to washing and rinsing.
Installation is super simple. The two-hole connections link directly to the plumbing eliminating unnecessary complexities. It is one of the few faucets that DIY guys will love.
Thanks to the stainless-steel finish, you never have to worry about cleaning. Your faucet remains clean all the time with little effort. The Peerless faucet also features anti-corrosion and anti-rust protection, so you never have to worry about hard water reducing your faucet's lifespan. The faucet also contains ceramic cartridges that are resistant to abrasion allowing a smooth water flow.
Pros
The faucet has a lifetime limited warranty for the finish and faucet itself

Super simple installation for the two-hole setup

Sturdy and durable ceramic cartridge

Beautiful scratch-resistant chrome finish
Cons
Doesn't have a retractable hose

The supply lines have to be bought separately
---
Guide to Buying the Best Kitchen Faucets
Nearly every activity in the kitchen entails using water. In the next section, we are going to discuss factors to consider when choosing a stylish and highly functional kitchen faucet. With a variety of kitchen faucets available in the market, it can be quite challenging to determine which design suits your kitchen.
Handle Types
One thing you should consider is the handle type. You can opt for a lever handle or the cross handles. Lever handles will suit you if you need something easy to use and convenient in terms of temperature control, but if you have a traditionally designed kitchen, then a T-shaped handle will be the best option. When it comes to the number of handles, there are the following: single-handle, two-handle, and touchless faucets.
Single-handle is the most straightforward and most convenient option. However, you have to consider the available space before you install it, since it has a rotating handle – one side gives you cold and the other gives you warm.
Two-handle faucets have one handle for cold water and another one on the other side for warm water. It is best for controlling water temperature. Touchless faucets are suitable for commercial facilities. Whenever you place your hands below the tap, the sensor will trigger water flow. So, if you want to buy a kitchen faucet for your restaurant, then this might be a good option as long as you're ready to cough up some good money for initial installation costs and repairs due to its high tech features.
Desired Mounting
When it comes to mounting your faucet, you have two choices: deck-plate and a wall-mounted faucet. The former one is a common fixture in many kitchens, and it often comes with a spout and handles on a single plate while providing for up to a three-hole installation in your sink. The latter option is best for a kitchen with a small space. Users prefer it too because it makes cleaning fast and gives space for placing other kitchen items like pans in the sink after cleaning.
Number of Holes
When shopping for a kitchen faucet, you also want to make sure you get a design with the right number of holes. Your choice is mostly going to depend on the number of handles on your faucet. A single hole is suitable for installing a single-handle faucet in your sink. Two-holes are meant for two-handle faucets, although you can still install it with a single handle along with an accessory, such as soap dispenser. Three holes goes well with two handles and the remaining hole being for spout or soap dispenser. And finally, a four hole faucet goes well with both single and two-handle design plus enough space for your other accessories.
While you will have all the above options when setting up your new kitchen, you will have limited choices if you are going to do a replacement of an existing faucet. For the best outcome, first, count the holes of the previously installed sink or countertop then look for a suitable replacement. Nevertheless, you can still buy a different model then add more holes if you need some change. Talk to your kitchen technician to see what options suit you best.
Type of Faucet Finish
Who wouldn't want a faucet finish that will look great in the kitchen for many years without incurring replacement costs? That's why most manufacturers factor the choice of finish whenever they produce any kitchen faucet model. Many customers seem to prefer the chrome finish. However, that doesn't mean other types are less impressive.
Let's look at commonly preferred finish types.
Chrome- This is the most popular type in the market. Not only is it durable, but it also goes well with any décor.
Matte Black- People with modern kitchens tend to gravitate towards it because of its unique look.
Stainless steel- Consider this if you want a rust-free and durable design with maximum spot resistance.
Nickel- This type combines a modern and traditional style. The nickel faucet with a polished finish will not disappoint you, especially if you blend it with classy décor.
Bronze – Go for this option if you want to recreate that retro kitchen look. The good thing is that some décor can still go well with this type of finish.
Faucet Style
Style is a subjective feature, and this explains why people have divergent interests. Some people prefer a modern-looking kitchen while others like the traditional style. Others like mixing both traditional and modern looks.
When it comes to choosing the kitchen faucet style, here are the options you have:
Traditional Style – In most cases, the conventional style goes well with a faucet with a vintage touch. This style is considered classic, and there is no time it will go out of fashion. People who are into vivid colors tend to prefer this design.
Contemporary Style – Designed with high-tech features, modern styles offer simplicity and convenience to the savvy homeowner. It's quite a hit with the young homeowners who value space, but you wouldn't miss it in the kitchen of old folks who want to move with the times.
Transitional Style – Some people like combining traditional and modern styles in their kitchens to create classic but chic styles. In this case, the conventional part is meant to make the kitchen stand out while the modern part is to simplify work and preserve space while creating an impressive kitchen at the same time.
Low or High-Arch Faucet
It is another crucial thing to consider when buying your kitchen faucet. It's advisable for you to combine your kitchen sink with the right faucet arch. If you have opted for the low-arch faucet, then you will need to buy a deep sink, but if you are going for high-arch, your sink should be shallow. Remember, you can still choose a medium faucet to suit your taste.
Final Words
Nothing is as stressful as having your faucet breakdown or leak in the middle of the night as you are doing the dishes. Choose the right faucet, and it will serve you for many years. Get the wrong one, and you could well be on the way to calling your plumber week in week out for repairs. Every faucet on this list is an excellent addition to your kitchen that will make everyday tasks easier and even fun, whilst also adding a splash of class to your kitchen.