The Bosch JS470EB 7.0-Amp Barrel-Grip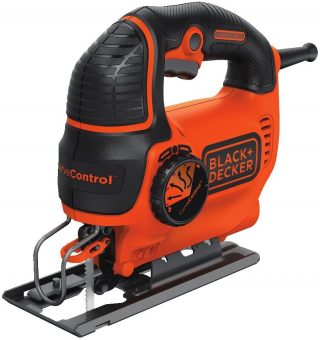 BLACK & DECKER BDEJS600C 5.0-Amp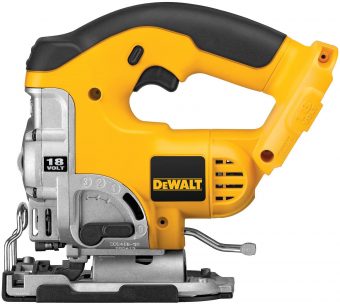 DEWALT DC330B 18-Volt Cordless
Previous
Next
When it comes to building, artisans appreciate a more precise cut. It is exactly why a jigsaw is a necessary tool for any builder. There are so many different options out on the market, which is why we want to show you nothing but the best jigsaws.
The best jigsaws for 2020 deliver precise cuts with every use. The products are known for their durability and reliability. We recommend taking into account everything this article has to explain about the best jigsaws, before comparing individual products.
Features to consider in Good Jigsaws
Buying a jigsaw is not always the easiest thing to do because there is a wide selection. It is intimidating for craftspeople just getting into the business.
There are a couple of features of jigsaws you must take into account to make sure you find the right tool for your building needs:
Blades
You need to make sure you have the right blade to do the job correctly. Here are some things to look out for when it comes to the best jigsaw blades:
Thin blades provide you with an all-around cleaner cut.
If you're trying to avoid damage to the surface you're cutting through; you will want to consider a push stroke blade.
Every blade has a different number of teeth, which means that you need to be mindful of the blade you're using.
The edge of the blade is also important because you don't want to get left with any improper cuts.
Consumers can learn more about different blade types by considering the information found in this article.
Cordless Jigsaws vs. Regular Jigsaws
Aside from the various blade types on the market, you'll also want to consider whether or not you'll want a cordless unit. There are a few factors to consider:
The battery life of a cordless jigsaw.
The length of the cable that comes with a standard jigsaw.
The power output of the cordless jigsaw (some may be lower than their wired counterparts).
Now that you know a few basics to consider, let's examine the ten best jigsaws for 2020:
Guide to Buying the Best Jigsaws
Now that you have spent time reviewing some of the best jigsaws on the market, let's take a closer look at the standard features of a jigsaw tool.
There are several important factors to consider to make your buying decision easier. These include:
Corded vs. Cordless
Types of Blades
Jigsaw Angles
Power of the Jigsaw
Corded vs. Cordless Jigsaws
When it comes to picking one of the best jigsaws, something that you'll need to consider is whether or not you want to go cordless. The choice usually comes down to personal preference, though some types of jobs are more practical for one type over the other.
Cordless jigsaws tend to cost a bit more. Regardless, each type of jigsaw has its advantages and disadvantages:
The Benefits of a Corded Jigsaw
A jigsaw with a cord does not make it a second-rate tool. You'll have plenty of power to work with, and a lot of the best jigsaws come with at least eight feet worth of cord length. The benefits include:
Corded jigsaws provide a higher power output that makes cutting through hardwood and metal easier.
With a corded jigsaw changing a battery is not required, so there is no need to remind yourself to charge a battery overnight.
Corded jigsaws are fairly portable with the use of an extension cord.
Corded jigsaws tend to weigh less than cordless jigsaws.
The Benefits of a Cordless Jigsaw
Cordless jigsaws are an excellent choice, and there are a couple of benefits that make them more valued compared to corded versions. The top benefits of cordless jigsaws are:
Cordless jigsaws are extremely portable.
It is easier to angle certain cuts without having to worry about a cord getting in the way.
It comes down to personal preference when deciding between cordless and corded jigsaws.
Types of Jigsaw Blades
Jigsaws have a wide array of different configurations. The easiest and most practical way to configure a jigsaw is with the blade. For example, some types of blades have a designated purpose for cutting metal, while others get preferred for wood. Builders also need to consider how many teeth are on the blade.
Teeth are crucial because they can determine the outcome of the cut. The more teeth you have and the less wear, the better your overall cut. Also, please keep in mind that using the wrong blade on the wrong material will lead to damage.
This article covers a lot of basics when it comes to selecting the right type of jigsaw blade for your project.
Cutting Jigsaw Angles
The best part of using a jigsaw is the wide array of angles. You can make straight cuts, sideways cuts, and even cuts on a 45-degree angle. The type of cut depends on the project. Regardless, orbital adjustments like those found on jigsaws get designed specifically for making angled cuts.
Keep in mind that there are so many techniques for angled cutting, and it deserves its own article. Beginners using a jigsaw should reference this high-quality instructional video.
Power of the Jigsaw
The power output of a jigsaw is also something that you'll need to consider. It is because some cutting applications may require more power. The strokes per minute of a jigsaw, as well as its volts and amps, is important to keep in mind.
When it comes to power, it comes down to a couple of factors. If you want a precise cut through a tough metal, you'll want to go with a saw that offers more strokes per minute. Why? A higher strokes per minute indicates the jigsaw will cut through hard surfaces (i.e., metal) with more efficiency and less strain on the cutting cool.
Voltage is also important with cordless jigsaws because it is a clear representation of how powerful the jigsaw is with cutting objects.
Aside from sheer power, you'll also want to make sure that the jigsaw you're using will last you a decent amount of time. Nobody wants to be standing around, right? So if you are going cordless, and the battery you have doesn't last very long, you might want to consider picking up a second battery to avoid unwanted interruptions.
Recap
The top jigsaws on the market are the best friend for skilled builders. Whether you are starting as a craftsperson or have spent years building things, it never hurts to brush up on the different features of a jigsaw.
Jigsaws make your life easier by providing precise cuts, particularly hard to complete angled cuts. We have helped make your buying decision easier by selecting the best jigsaws for 2020 based on performance, reliability, and durability.