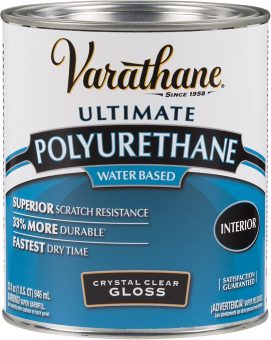 Rust-Oleum 200041H Water-Based Polyurethane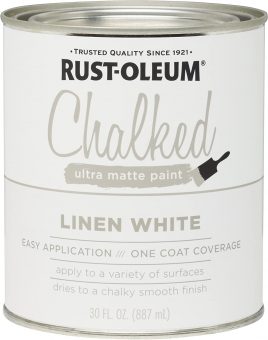 Rust-Oleum 285140 Ultra Matte Interior Chalked Paint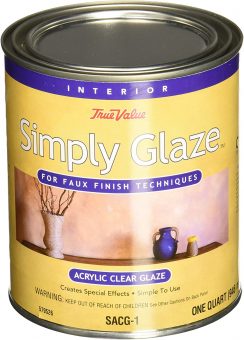 True Value SACG1-QT Simply Glaze
Previous
Next
For many folks, one of the most popular and fun projects to undertake is painting. The process of changing a dull, drab room into something that looks amazing is an uplifting experience. Before painting, many factors need to be taken into consideration. These factors include the color of paint, the type of paint, and so on. There are many types of paints that can be used for interior decoration. Choosing the right type or brand can be a big challenge. To help you choose well, we have reviewed 10 of the best interior paints. These paints have different characteristics that make them the best for interior painting. In the buying guide section, we will discuss some of the factors to consider before buying paint.
First, let us consider some of the important considerations in the mini buying guide.
Features to consider in Good Interior Paints
Many brands claim to have the best paints that will not only transform your living space into what you desire, but that is safe and durable. However, it is clear that not all of these claims ring true. Thus, it is important that as a consumer, you consider some important features that make up the best paints for your interior.
Types of Paints
The type of paint you use will affect the effect you are trying to achieve. With a few tricks and techniques, a room can be made to look bigger or smaller than it actually is. If you are painting the kitchen or bathroom, you have to use a different type of paint from what you would use for somewhere else.
To help you make the right choice, let us briefly discuss the types of paints that are available.
Emulsions
Emulsions are very common types of paints. In fact, in most homes and locations, emulsion paints are used to paint the interior walls and ceilings.
These paints are water-based and have thinners, vinyl, or acrylic added to make them shine a bit more. Since they are water-based, they do not smell as much as other types of paints. They are also very easy to wash out of materials after painting.
This type of paint is sub-divided into 3.
These divisions are; vinyl matt, vinyl satin, and vinyl silk. More about these sub-divisions will be discussed in our main buying guide.
Gloss Paint
Gloss paints are another commonly known type of paint. Unlike the water-based emulsion paints, gloss paints are usually oil-based. To make them hard-wearing, many manufacturers add some resin. With advancements in technology, however, you can now find water-based gloss paints.
More about the types of gloss paint finishes will also be discussed in the main buying guide.
In the following section, we will have a detailed review of ten of the best interior paints on the market today.
The 10 Best Interior Paints 2020
Guide to Buying the Best Interior Paints
In the section above, we have seen the 10 best interior paints that are available on the market. By considering these, you can narrow the vast amount of paints you have to consider. This makes it easier to choose the right one for you. Before you choose the best interior paints, there are some factors that you need to consider.
1. Type of Paint
In the mini-buying guide, we highlighted the 2 main types of interior paints: emulsions & gloss paints. Now, let us take a further look at them.
Emulsions
Emulsions come in 3 main types. These are vinyl matt, vinyl satin, and vinyl silk. Let us look at the characteristics of each of these types.
Vinyl Matt
This type of emulsion is a paint that delivers a finish that shines. The reflective surface is an especially great choice if you are trying to cover flaws on the wall surface. It is good for painting over old paints and is also ideal if your painting preparations have been less than ideal.
Vinyl matt will give your interior a depth and richness it formerly lacked. The downside of this type of emulsion is that it is easily stained. However, there are vinyl matt emulsions that can be cleaned with a damp cloth to reduce the stains.
Vinyl Satin
This type of emulsion delivers a soft finish. It is more durable than the Vinyl Matt above. Furthermore, although it also suffers from stains, it is easier to clean than Vinyl Matt.
Vinyl Silk
This is the last type of emulsion. It offers a similar appearance to Vinyl Matt emulsion, albeit shinier and more reflective.
It is also completely washable. If you have an area that experiences a high volume of traffic or the presence of kids, this emulsion paint will suit your needs.
Gloss Paints
These oil-based paints are an excellent type of paint. There are different finishes that come with this type of paint.
These finishes include:
Satinwood
This type of finish has a subtle sheen. However, it is not as durable as the traditional gloss finish.
Liquid gloss
The liquid gloss finish is the traditional gloss finish. It is extremely durable, often stain-resistant, and very easy to clean.
Silthane
A Silthane finish has a combination of silicone and polyurethane in the paint. This makes it extremely hard-wearing.
2. Quality
Lower quality paints seem like a bargain at the checkout counter. You get them for a low price, and they give you the color you want. Bargain, right? Well not really.
The truth is over time; these lower-quality paints are just not worth it. Using low-quality paint will seem great only in the short-term. Sooner rather than later, these paints will fade, and you will need to replace them. If you had bought high-quality paints, despite their price, over time, they offer better value for money.
Aside from the monetary benefit of buying high-quality interior paints, these paints require less labor, less effort, and offer far greater durability.
With high-quality paint, it will require fewer coats to apply to the surface, and the color blocking capability is better.
Furthermore, high-quality paint is less stressful to apply and doesn't require special expertise to apply properly. For DIYer and the inexperienced painter, high-quality paints make it appear like a professional did the job. Why is this? Let's see.
High-quality paints are thicker than low-quality paints. Therefore, the chances that they will splatter or drip during or after painting is very low.
High-quality paints take a longer time to dry than low-quality paint. This means that the paint "levels" properly. Brushstrokes are not easily identified on high-quality paints. However, with low-quality paints, the quick dry time doesn't allow them to "level."
In the world of interior painting, in most cases, the more expensive a paint is, the higher the quality. We do not expect you to break the bank simply because you want to buy the highest-quality paint; still, we recommend that you do not opt for super-cheap paints as these are an indicator of the quality.
3. Safety
In our list of the best interior paints, one of the features regularly mentioned is "VOC." And you'd notice that all of the paints on our list feature "low-VOC." Why is this important? What does it mean?
VOC (Volatile Organic Compounds) are substances that, as the name implies, are very volatile. They easily evaporate at room temperature. These substances are byproducts of the paint manufacturing process. Unfortunately, many VOCs have adverse effects on health. Thus, when choosing paint, having low VOC content is an important criterion.
Nevertheless, no matter the rating on the paint, painting in a well-ventilated room is still the wise course.
4. Color
Color is usually the very first thing you think about when thinking of painting your interior. Color is an important factor that can transform the way the interior looks. It solely depends on what you are going for. Do you want subtle, muted tones, or do you want bright, loud colors? Do you want something that seamlessly fits into your existing design and tones, or do you want something that stands out from your overall décor?
When choosing the color, use test samples. Although paint cards are used to represent how the paint will look on your wall, these cards lack the size and other factors to give you a complete and accurate representation. If you will use these cards, try to get a view of the cards in natural light. The artificial lights of a store can affect the way the colors appear and deceive you.
Another thing that can help you with choosing the right color using the color wheel. When you use colors that exist close to each other on the color wheel, the colors will be more obvious. If the colors are opposite each other on the wheel, using them together in your interior will ensure they complement each other.
5. Primers & Undercoats
Most of the best interior paints come as "self-priming paints." These paints do not require a separate primer coat. This saves you time, cost, and effort.
Nevertheless, just in case you are not choosing any of the incredible products in our review, it is important that you know what Primers and Undercoats are.
Primers
Primers are used on virgin surfaces. They are either oil-based or water-based, and they are employed to seal the virgin surface. If the surface is not sealed prior to painting, the surface will simply soak in the paint, increasing the number of coats you need to apply, making your work take longer, and probably increasing costs.
Undercoats
Usually used for gloss paints, these oil-based substances are used in conjunction with primers. They are used on previously painted surfaces. The main function is to prevent the previous color from showing.
Frequently Asked Questions about Interior Painting
Q. Should I use Oil or Latex Paints?
Each of these interior paint types has advantages and disadvantages. You need to consider these before making a decision.
Latex Paints are better for exterior painting, but that is not our concern in this article.
Latex paints are not as toxic to the environment as Oil paints. Latex paints do not produce the paint fumes that Oil paints produce. These fumes can make painting uncomfortable, especially if the room is not well-ventilated.
However, Oil paints give a finer, smoother finish than latex paints. They also are more stain-resistant and easier to clean than Latex paints.
Q. Should I be bothered about VOC?
Yes. If you are allergic to harsh smells, are asthmatic, or have respiration problems, these substances can do real damage. VOC (Volatile Organic Compounds) pose a health hazard.
Therefore when choosing interior paint, you should consider the VOC rating. Some paints are labeled "Zero-VOC." However, in reality, there are no paints without some amount of VOC. The best you can hope for is "Low-VOC" paint. These paints have less than 250 g/L for emulsion paints, and 380 g/L for gloss paints.
Q. How can an interior painting job be maintained?
While some paints are specially formulated to be stain-resistant and be more durable than others, all interior paint jobs still need maintenance.
If the painted area has a high amount of traffic, or you live in a house with kids, you can rest assured that your walls will get dirty. The best way to reduce stains is by being proactive. This means that before stains accumulate and become almost irremovable, you start to clean.
Different surfaces require different ways of cleaning them. Some surfaces only require a damp cloth, some water, and probably some mild detergents. Others might require scrubbing. Only use harsh detergents or cleaners only when it is unavoidable because these chemicals can interact with the paint and affect the sheen and adhesion.
Conclusion
There are so many types of paints and so many colors, finishes and so on. Therefore, before buying interior paints, you have a lot of thinking to do.
Consider the factors in our buying guide before making a choice. The 10 products in the review help to narrow your choice to the best interior paints on the market. We hope this review and guide will help you make the best choice!