For many folks, one of the most popular and fun projects to undertake is painting. The process of changing a dull, drab room into something that looks amazing is an uplifting experience. Before painting, many factors need to be taken into consideration. These factors include the color of paint, the type of paint, and so on. There are many types of paints that can be used for interior decoration. Choosing the right type or brand can be a big challenge. To help you choose well, we have reviewed 10 of the best interior paints. These paints have different characteristics that make them the best for interior painting. In the buying guide section, we will discuss some of the factors to consider before buying paint.
First, let us consider some of the important considerations in the mini buying guide.
Features to consider in Good Interior Paints
Many brands claim to have the best paints that will not only transform your living space into what you desire, but that is safe and durable. However, it is clear that not all of these claims ring true. Thus, it is important that as a consumer, you consider some important features that make up the best paints for your interior.
Types of Paints
The type of paint you use will affect the effect you are trying to achieve. With a few tricks and techniques, a room can be made to look bigger or smaller than it actually is. If you are painting the kitchen or bathroom, you have to use a different type of paint from what you would use for somewhere else.
To help you make the right choice, let us briefly discuss the types of paints that are available.
Emulsions
Emulsions are very common types of paints. In fact, in most homes and locations, emulsion paints are used to paint the interior walls and ceilings.
These paints are water-based and have thinners, vinyl, or acrylic added to make them shine a bit more. Since they are water-based, they do not smell as much as other types of paints. They are also very easy to wash out of materials after painting.
This type of paint is sub-divided into 3.
These divisions are; vinyl matt, vinyl satin, and vinyl silk. More about these sub-divisions will be discussed in our main buying guide.
Gloss Paint
Gloss paints are another commonly known type of paint. Unlike the water-based emulsion paints, gloss paints are usually oil-based. To make them hard-wearing, many manufacturers add some resin. With advancements in technology, however, you can now find water-based gloss paints.
More about the types of gloss paint finishes will also be discussed in the main buying guide.
In the following section, we will have a detailed review of ten of the best interior paints on the market today.
Top 10 Best Interior Paints 2022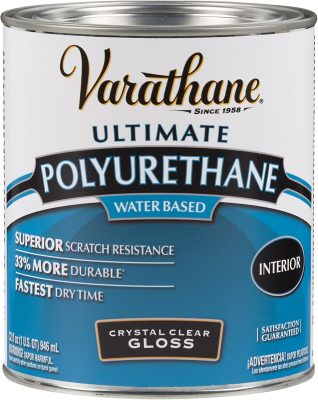 Why we like it:
We were very pleased with the performance we got from the Rust-Oleum 200041H Water-Based Polyurethane. It looked absolutely great, and the finish is quite stunning. The quality is very high, and no matter who you are, whether an amateur or a professional, you will find it easy to use this paint.
Editor's Rating:
Durability
The paint might be more expensive than other similar paints, but the durability and overall performance make it worth the cost.
It comes in more than 30 colors. Therefore, you have a wide variety of colors to choose from with each one offering the same superior performance.
Performance
The performance is just great. It is absolutely clear when you apply it on walls and other interior surfaces. We observed that it dried up really fast. When the surface got stained, it was easy to clean with just a damp cloth.
Painting is a breeze. You can quickly transfer the paint from the bucket to the wall surface. It dries up pretty fast too. In less than 30 minutes, it is dry to touch.
With just 2 coats, it is possible for you to achieve the coverage you want.
Safety
The paint has a low-VOC rating. Thus there are reduced risks of health hazards from dangerous fumes associated with the paint. Furthermore, there is no odor from the paint.
Pros
It is very easy to use

Dry time is really fast

It has a warm finish

The coverage is excellent

Zero-VOC and no odor
Cons
It might require more than 2 coats to achieve your desired finish
---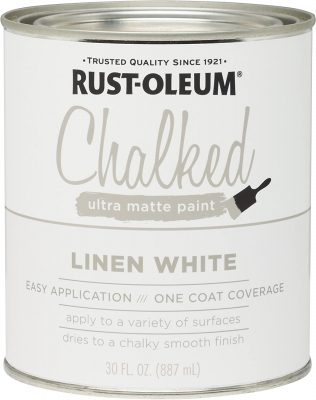 Why we like it:
The first chalk paint on this list is the remarkable Rust-Oleum 285140 Ultra Matte Interior Chalked Paint. We absolutely love the way this paint transforms a space. The ultra-matte finish that it gives looks great and idyllic at the same time. If you are looking for chalk paint to spruce up the appearance of your space, then this paint is an elegant solution.
Editor's Rating:
Durability
Rust-Oleum is primarily recognized, not for their paints, but for their market share in the industrial paint industry. Their automotive and protective products are some of the most effective and durable in their respective fields.
With this background, it is no surprise that this paint offers similar quality and durability. The paint retains its "chalk" appearance despite exposure to sunlight and the passage of time. Although the paint comes at a cheap price, there is nothing cheap about the durable performance.
Performance
We enjoyed the wonderful performance from the Rust-Oleum 285140 Ultra Matte Interior Chalked Paint. The paint delivered an ultra-matte finish that we found really appealing and rustic.
If you are a DIY enthusiast, you will find these paints quite great. It is not super-thick; thus, it is easy for you to load the paint from the bucket to the brush and to the wall. Trims and edges are easy to cover.
The paint covered any flaws on the walls quite admirably, and it created a very smooth appearance.
The paint is quite versatile. To this end, it can be used to paint other stuff asides from walls. If you wish, you can use the paint for your wood, metal, and masonry. Overall, it is an impressive paint.
Safety
This paint is low-VOC paint. As such, it creates a workspace low in toxicity as there are just little harmful fumes in the air.
Pros
It is a versatile paint that can be used for different functions

Delivers an elegant and rustic look

It is cheap

There is no need to prime
Cons
If you aren't a distressed designer, this isn't for you
---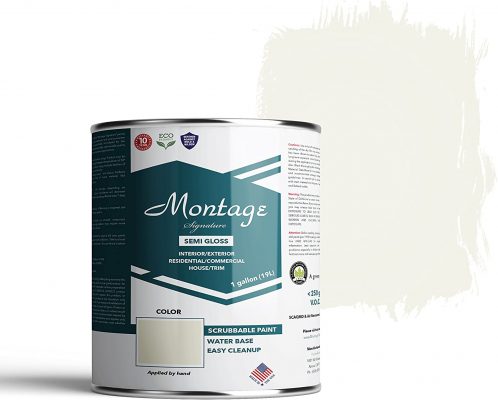 Why we like it:
The Montage Signature Paint interior paint is a great budget-level paint that is excellent at covering stains and hiding old paints. We like the way it covered the flaws of the test wall we used. We also like the low-VOC nature, which makes it relatively safe for use even in poorly ventilated enclosures.
Editor's Rating:
Durability
As pointed out earlier, this paint is great for covering flaws, old paints, and stains. The durability it offers is very impressive. It comes in a semi-gloss sheen that while it isn't as shiny as some of the other paints on this list, it still looks good.
It is ideal for spaces that are prone to stains due to high traffic or other reasons. Cleaning the stains from the painted wall is very easy. All you need is water and scrubbing. After this, the wall looks as good as new.
Performance
This paint is one of the fastest drying paints and easiest paints to use. It has a single coat coverage which infers that you do not need to prime then paint. As it doubles as a primer, it saves you from the stress of priming, saves you time, and saves you money.
Performance with this paint is very satisfactory. The paint sticks to almost every type of surface. And if you do not like the color you get, you can tint the paint with ease and speed.
Safety
Just as several of the paints on this list, it is low-VOC paint.
Pros
Easy to clean

It is a self-priming paint

It covers flaws and old paints with ease

One coat coverage
---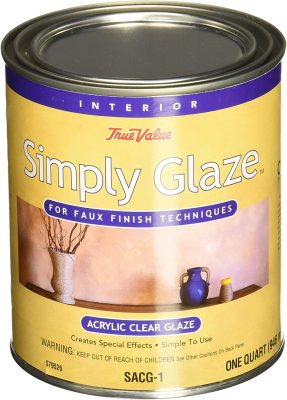 Why we like it:
This paint comes highly recommended by professionals painters and other users, and when we tested it, we also were left impressed by the overall performance. We like the ability of the paint with regards to stain removal. We were also left impressed by the durability of this paint.
Editor's Rating:
Durability
The first thing we noted after testing this paint is the durability it displays. Although it is an interior paint, the paint did not even fade a little despite exposure to sunlight.
If you are thinking of painting a room with a lot of windows and that will be exposed to a lot of sunlight, this paint will be ideal. The paint is resistant to mildew, chipping, and chemical damage. If you wish, you can even apply this paint to areas that are often wet or damp like bathrooms.
Performance
This paint can be used on so many surfaces. As a completely acrylic paint, it dries into a thicker film compared with other semi-gloss paints. This makes it look quite great on the wall.
When it dries, it gives something like a satin finish. It is neither flat gloss sheen nor high gloss sheen. It finds itself smack in the middle. This might be divisive, but we found that we loved the result that we obtained. Why? Because without the reflection of a large amount of light, the paint creates an effect of depth.
Furthermore, this thick film hides any flaws or stains on the wall. It provides good coverage, and the overall finish is great quality.
Safety
It is rated as low-VOC.
Pros
It does a great job covering stains and flaws on the wall

It is very durable and fade resistant

It has a low-VOC rating
Cons
It takes a long time to dry
---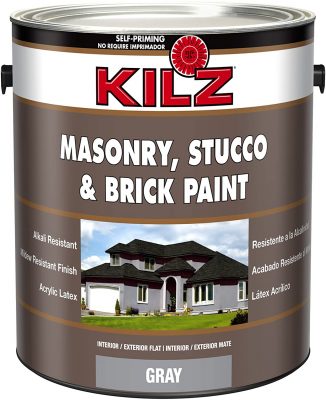 Why we like it:
The KILZ interior paint is an impressive paint that leaves your interior looking astounding. We like the beautiful and durable finish we achieved by using this paint on our masonry and bricks. Since the paint can be tinted any color, the paint can be used for a variety of applications. One major reason we like this paint is the supreme stain-blocking ability it has.
Editor's Rating:
Durability
The paint is very durable and does its job excellently. If you are stuck with a wall that always gets stained, and the goal is not just to put some color on your wall, this paint is a stain-blocking behemoth.
The durability of this paint is the main USP. Homes that suffer from mold, mildew, and similar occurrences, benefit from the action and durability. As a water-based latex paint and sealer, it provides satisfactory performance.
Performance
The sheen on this paint is an uninspiring flat-matte. Compared with most of the paints on this list of the best indoor paints, the Kilz doesn't exactly scream "beautiful finish." However, this isn't its primary function.
If you use this paint as your final finish coat, then you will likely be disappointed by the final result. It serves as a base for other interior paints. Nevertheless, the function it serves should not be underestimated.
The paint is easy to mix, and it spreads well too. However, we didn't find the paint completely smooth.
Safety
The paint is water-based. As a result, it does not smell a lot. The smell is similar to the smell you get when using regular acrylic interior paints. The smell isn't overwhelming, and it doesn't exactly pose a health hazard.
Pros
The paint is a supreme stain-blocker

It is easy to apply

It has a tolerable smell
Cons
It cannot serve as a final finish
---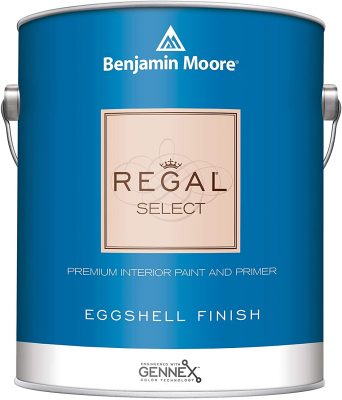 Why we like it:
The Benjamin Moore Regal Select interior paint is an outstanding paint all around. We like the thickness of the paint. We also are pleased by the durability of this paint. If you are planning on giving your wall a brand new start with a fresh coat of paint, the Benjamin Moore Regal Select will adequately serve your needs.
Editor's Rating:
Durability
The paint, once dry becomes a hard, mildew-resistant, and easily cleaned surface.
Performance
Choosing the right paint for the job is an important step to take if you want your home or space to look amazing. The Benjamin Moore Regal Select offers you a lot of advantages over other paints. Although it might be considered a bit expensive, the overall performance makes it worth the price. For one, the brand offers a fair amount of color options to keep you intrigued and creative.
This paint offers a diverse selection of paints. Homeowners and professional painters have all highly praised the performance of this paint. The Benjamin Moore Interior paint doubles as both a paint and a primer.
During testing, the paint displayed excellent coverage and durability. It is easy to use. We tested the paint by painting 3 rooms, and the paint surprised us by the ease of use. The paint is thick, but not in a bad way.
The thickness ensures that it doesn't just run along the wall or splatter about.
Despite being amateurs, most people who used this paint have achieved an even sheen without any brushstrokes. It applies in a surprisingly low number of coats and simply looks better than most paints in this category.
Safety
The paint is rated as VOC free. Therefore, you can rest assured that it doesn't have as much dangerous fumes common to interior paints.
Pros
It has an easy to clean surface

Mildew-resistant

Zero VOC rating

It leaves no brushstrokes
Cons
It is relatively expensive
---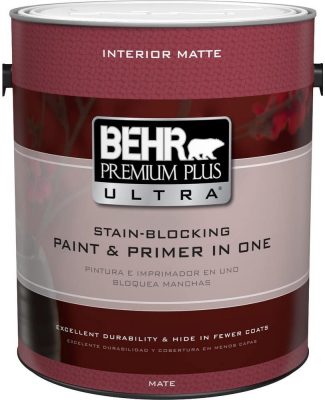 Why we like it:
The BEHR Premium Plus Ultra is an amazing paint that delivers great coverage and impressive overall performance despite the relatively low price. The low price is quite deceptive because this paint is arguably the best paint for stain removal. The stain removal ability, along with other features, makes it one of the best interior paints you can buy.
Editor's Rating:
Durability
This paint is very durable. Like the other best interior paints on this list, the paint displays satisfactory durability. It stays on point even when it is exposed to a fair amount of sunlight. The paint is stain-resistant.
It doesn't lose its shine or looks even when painted in a room that is in constant exposure to sunlight. If you use it in the kitchen, laundry rooms, or the bathroom, which are areas of the home that often suffer from wet or damp conditions, the paint remains great.
Performance
While testing, we enjoyed the ease of using the paint. The paint is self-priming. Therefore, we did not have to bother about balancing the amount of primer to paint. All you need is your brush or roller, old T-shirts, and creativity to start painting.
The paint dries fairly quickly; it dries in one hour. As for curing, the paint just requires four weeks to be completely cured. Overall, the appearance is smooth and uniform.
Safety
Paints can pose a health hazard, particularly if it is done in a room without good ventilation. If you will be painting such a room or space, it is vital that you get a paint that reduces this risk. The BEHR Premium Plus Ultra interior paint is safe to use. It is a low-VOC paint. Therefore it provides a beautiful and non-toxic finish.
Pros
The paint delivers good coverage

It is relatively cheap

Stain removal is impressive

Low-VOC paint
Cons
The thickness of the paint is bad for brushwork
---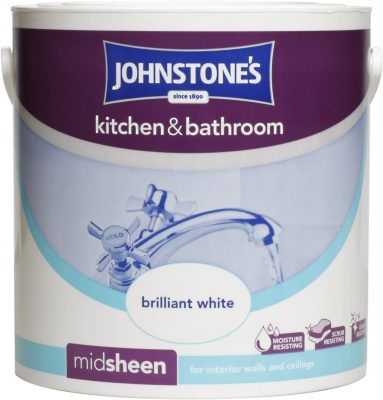 Why we like it:
The Johnstone's Kitchen & Bathroom Emulsion paint is designed with the aim of withstanding wear and tear, which makes it very durable. We love the durability and the general ability of the paint to make interiors look great.
Editor's Rating:
Durability
According to the manufacturers, these paints are up to 10 times stronger and more durable than the normal emulsion paints. We observed that it easily withstood wear and tear. Furthermore, when the paint gets stained, it is very washable and convenient to clean.
If you have a space that is vulnerable to damp and moisture, thus leading to a buildup of mildew and mold, using this paint will protect your walls.
Since the paint has a mid-sheen finish, you can use a cloth and ordinary detergent to clean it.
Performance
The performance is satisfactory, to say the least. It dries in just about 2 hours. And this first finish allows you to see how the coat will eventually look. After about 4 hours, you can add an extra coat. This makes it very durable and improves the appearance of the paint.
Safety
Since this paint is a low-VOC paint, it can be used in almost all parts of the home, from sunlit, well-ventilated rooms to dark, poorly-ventilated rooms. There is no danger of inhaling toxic fumes that can harm your health.
Pros
It is easy to clean

It is very durable and offers protection against mold and mildew

It dries fairly quickly
Cons
Coverage is a tad unsatisfactory

It has poor consistency
---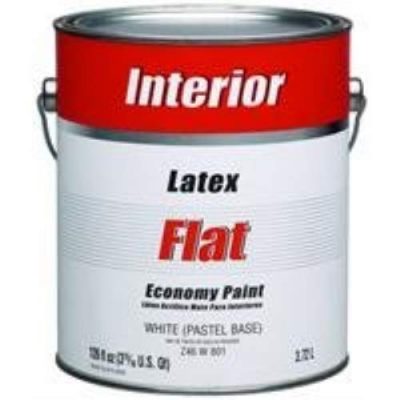 Why we like it:
We were left impressed by the Sherwin Williams interior paint. Although it has existed longer than many of the paints on this list, the paint still stays as great as it has always been. It has a great and durable finish. As it also comes as low-VOC paint, we like the low-odor from the paint.
Editor's Rating:
Durability
After painting a room for over six years with the Sherwin Williams interior paint, the interior still looks brand new. Despite the stains that ought to have disfigured the walls, we noticed very little stains.
The paint is washable, which ensures stains are easily cleaned. You can also use the paint in bathrooms and kitchens. It is completely resistant to mildew and similar stuff.
Considering that this is a Sherwin Williams offering, it is not in the least surprising that the paint is this durable.
Performance
The interior paint is not particularly thick. Therefore, the brushwork is impressive. It is very easy to lift from the brush or roller to the desired surface. The thinness of the paint, however, does not undermine the coating it delivers. We observed that the hide is as good as many paints we tested.
As the paint doubles as a primer, we did not need a primer when painting on previously painted walls. We found one coat to be sufficient, however, if you want to use more than one coat, that is fine and will only improve the durability.
Safety
The paint is low-VOC. Many folks who used the paint for the interior of their homes claimed they couldn't perceive any smells, and neither could we.
Pros
It has a very durable finish and excellent coating

It is very easy to apply

Low-VOC interior paint
---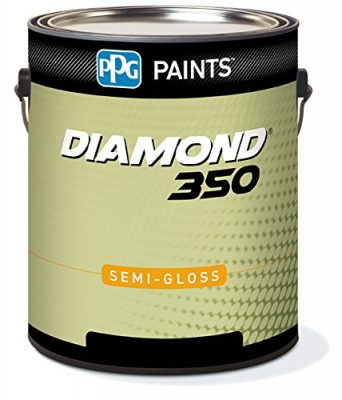 Why we like it:
The paint has received a lot of positive reviews from users, and part of what we like about the paint include the low number of coats it requires to completely coat the wall, the fast-drying, and the low odor. Overall, there's almost no reason not to like the paint.
Editor's Rating:
Durability
This paint is very durable. It is mold and mildew resistant, which makes it great to use in bathrooms, kitchens, and other places that are prone to wet and damp conditions.
The paint is very cleanable and stain-resistant too. It easily covers a variety of surfaces and lasts for a long period.
Performance
The paint is easy to apply. It is easy to carry and transfer from the bucket to the desired surface. The paint dries really quickly and allows you see how the final finish will look like almost immediately. It is resistant to chipping, stains, and similar stuff.
Safety
The paint is very safe to use. It does not have a harsh, strong odor. The low-VOC makes it free of toxic chemicals, so you don't have to bother about the fumes ruining your health.
Pros
It is a paint and a primer

It is quite cheap

The stains are easily cleaned away
Cons
The paint is not as stain-resistant as advertised

The flat finish is not completely flat
---
Guide to Buying the Best Interior Paints
In the section above, we have seen the 10 best interior paints that are available on the market. By considering these, you can narrow the vast amount of paints you have to consider. This makes it easier to choose the right one for you. Before you choose the best interior paints, there are some factors that you need to consider.
1. Type of Paint
In the mini-buying guide, we highlighted the 2 main types of interior paints: emulsions & gloss paints. Now, let us take a further look at them.
Emulsions
Emulsions come in 3 main types. These are vinyl matt, vinyl satin, and vinyl silk. Let us look at the characteristics of each of these types.
Vinyl Matt
This type of emulsion is a paint that delivers a finish that shines. The reflective surface is an especially great choice if you are trying to cover flaws on the wall surface. It is good for painting over old paints and is also ideal if your painting preparations have been less than ideal.
Vinyl matt will give your interior a depth and richness it formerly lacked. The downside of this type of emulsion is that it is easily stained. However, there are vinyl matt emulsions that can be cleaned with a damp cloth to reduce the stains.
Vinyl Satin
This type of emulsion delivers a soft finish. It is more durable than the Vinyl Matt above. Furthermore, although it also suffers from stains, it is easier to clean than Vinyl Matt.
Vinyl Silk
This is the last type of emulsion. It offers a similar appearance to Vinyl Matt emulsion, albeit shinier and more reflective.
It is also completely washable. If you have an area that experiences a high volume of traffic or the presence of kids, this emulsion paint will suit your needs.
Gloss Paints
These oil-based paints are an excellent type of paint. There are different finishes that come with this type of paint.
These finishes include:
Satinwood
This type of finish has a subtle sheen. However, it is not as durable as the traditional gloss finish.
Liquid gloss
The liquid gloss finish is the traditional gloss finish. It is extremely durable, often stain-resistant, and very easy to clean.
Silthane
A Silthane finish has a combination of silicone and polyurethane in the paint. This makes it extremely hard-wearing.
2. Quality
Lower quality paints seem like a bargain at the checkout counter. You get them for a low price, and they give you the color you want. Bargain, right? Well not really.
The truth is over time; these lower-quality paints are just not worth it. Using low-quality paint will seem great only in the short-term. Sooner rather than later, these paints will fade, and you will need to replace them. If you had bought high-quality paints, despite their price, over time, they offer better value for money.
Aside from the monetary benefit of buying high-quality interior paints, these paints require less labor, less effort, and offer far greater durability.
With high-quality paint, it will require fewer coats to apply to the surface, and the color blocking capability is better.
Furthermore, high-quality paint is less stressful to apply and doesn't require special expertise to apply properly. For DIYer and the inexperienced painter, high-quality paints make it appear like a professional did the job. Why is this? Let's see.
High-quality paints are thicker than low-quality paints. Therefore, the chances that they will splatter or drip during or after painting is very low.
High-quality paints take a longer time to dry than low-quality paint. This means that the paint "levels" properly. Brushstrokes are not easily identified on high-quality paints. However, with low-quality paints, the quick dry time doesn't allow them to "level."
In the world of interior painting, in most cases, the more expensive a paint is, the higher the quality. We do not expect you to break the bank simply because you want to buy the highest-quality paint; still, we recommend that you do not opt for super-cheap paints as these are an indicator of the quality.
3. Safety
In our list of the best interior paints, one of the features regularly mentioned is "VOC." And you'd notice that all of the paints on our list feature "low-VOC." Why is this important? What does it mean?
VOC (Volatile Organic Compounds) are substances that, as the name implies, are very volatile. They easily evaporate at room temperature. These substances are byproducts of the paint manufacturing process. Unfortunately, many VOCs have adverse effects on health. Thus, when choosing paint, having low VOC content is an important criterion.
Nevertheless, no matter the rating on the paint, painting in a well-ventilated room is still the wise course.
4. Color
Color is usually the very first thing you think about when thinking of painting your interior. Color is an important factor that can transform the way the interior looks. It solely depends on what you are going for. Do you want subtle, muted tones, or do you want bright, loud colors? Do you want something that seamlessly fits into your existing design and tones, or do you want something that stands out from your overall décor?
When choosing the color, use test samples. Although paint cards are used to represent how the paint will look on your wall, these cards lack the size and other factors to give you a complete and accurate representation. If you will use these cards, try to get a view of the cards in natural light. The artificial lights of a store can affect the way the colors appear and deceive you.
Another thing that can help you with choosing the right color using the color wheel. When you use colors that exist close to each other on the color wheel, the colors will be more obvious. If the colors are opposite each other on the wheel, using them together in your interior will ensure they complement each other.
5. Primers & Undercoats
Most of the best interior paints come as "self-priming paints." These paints do not require a separate primer coat. This saves you time, cost, and effort.
Nevertheless, just in case you are not choosing any of the incredible products in our review, it is important that you know what Primers and Undercoats are.
Primers
Primers are used on virgin surfaces. They are either oil-based or water-based, and they are employed to seal the virgin surface. If the surface is not sealed prior to painting, the surface will simply soak in the paint, increasing the number of coats you need to apply, making your work take longer, and probably increasing costs.
Undercoats
Usually used for gloss paints, these oil-based substances are used in conjunction with primers. They are used on previously painted surfaces. The main function is to prevent the previous color from showing.
Frequently Asked Questions about Interior Painting
Q. Should I use Oil or Latex Paints?
Each of these interior paint types has advantages and disadvantages. You need to consider these before making a decision.
Latex Paints are better for exterior painting, but that is not our concern in this article.
Latex paints are not as toxic to the environment as Oil paints. Latex paints do not produce the paint fumes that Oil paints produce. These fumes can make painting uncomfortable, especially if the room is not well-ventilated.
However, Oil paints give a finer, smoother finish than latex paints. They also are more stain-resistant and easier to clean than Latex paints.
Q. Should I be bothered about VOC?
Yes. If you are allergic to harsh smells, are asthmatic, or have respiration problems, these substances can do real damage. VOC (Volatile Organic Compounds) pose a health hazard.
Therefore when choosing interior paint, you should consider the VOC rating. Some paints are labeled "Zero-VOC." However, in reality, there are no paints without some amount of VOC. The best you can hope for is "Low-VOC" paint. These paints have less than 250 g/L for emulsion paints, and 380 g/L for gloss paints.
Q. How can an interior painting job be maintained?
While some paints are specially formulated to be stain-resistant and be more durable than others, all interior paint jobs still need maintenance.
If the painted area has a high amount of traffic, or you live in a house with kids, you can rest assured that your walls will get dirty. The best way to reduce stains is by being proactive. This means that before stains accumulate and become almost irremovable, you start to clean.
Different surfaces require different ways of cleaning them. Some surfaces only require a damp cloth, some water, and probably some mild detergents. Others might require scrubbing. Only use harsh detergents or cleaners only when it is unavoidable because these chemicals can interact with the paint and affect the sheen and adhesion.
Conclusion
There are so many types of paints and so many colors, finishes and so on. Therefore, before buying interior paints, you have a lot of thinking to do.
Consider the factors in our buying guide before making a choice. The 10 products in the review help to narrow your choice to the best interior paints on the market. We hope this review and guide will help you make the best choice!