A racecar roars into the pit, the crew racing against the clock as they get into position. Time is of the essence; the wheels need changing as quickly as possible. They huddle around each wheel well, and then you hear it – that familiar high-pitched whirring of their tools. Heavy, impossibly tight bolts are extracted in the blink of an eye then replaced just as securely, then the car is tearing off again before even a minute has passed.
Exciting, isn't it? But how did they do that so fast, when it takes you half an hour to change a tire with a tire iron? You can thank an impact wrench for that. If you've got a need for a tool that can make even the mightiest of bolts nothing more than a speed bump in the road, read on.
Choosing the Best Impact Wrenches
Impact wrenches are incredibly versatile and have a wide range of uses, from simple tire changes to HVAC work and even aviation maintenance. Anywhere you see a bolt or lug nut (especially a stuck and stubborn one) is a potential job for an impact wrench.
It can be hard to narrow down exactly what you're looking for even if you do have a specific job in mind, but we've got some criteria to help you narrow down your options. Whether you're looking for an air-powered beast that can conquer even semi-trucks and construction vehicles or a compact and portable choice to fit in your trunk, there's an impact wrench out there for you.
Evaluating Impact Wrenches
We've taken the guesswork out of shopping by carefully selecting the most useful aspects to review on each of these tools. As you work your way through our reviews, keep the following criteria in mind to make sure you're choosing the right impact wrench for you.
Power Source
One of the most important things to consider, we've listed the power source of every impact wrench on this list. There are several categories of impact wrench, each using a slightly different power source. As far as electricity goes, for cordless wrenches that run off batteries, we've listed the voltage and amp-hours (Ah). Corded wrenches have the outlet voltage they require to work.
Pneumatic impact wrenches are a little more complicated, requiring an air compressor for power. We've listed the Cubic-Feet-per-Minute (CFM) and Pounds-per-Square-Inch (PSI) demands of each wrench, but keep in mind this is the average draw. As long as your compressor meets or exceeds the CFM requirements and you keep the PSI dialed in right, you shouldn't have any issues.
We detail the differences between these sources and motors further in our guide to impact wrenches after the reviews.
Drive Size
The drive of an impact wrench – that square-shaped tip you attach extensions and sockets too – defines the size of sockets you'll be able to safely use with that impact wrench. There are adapters available to convert between drive sizes, but they tend to slow your impact wrench down, eating into valuable torque.
If you're having trouble deciding which drive size is best for you, it's good to keep in mind that you always want to use the largest socket you reasonably can for a given job. Make sure you don't go too large, though – impact wrenches are powerful enough they can shave the hex corners right off a bolt, and while you can always place a larger socket head, you need an adapter to fit a smaller one.
Torque
The star of the show for any impact wrench, torque is rated in 'foot-pounds.' Put very simply, a foot-pound is the amount of force it takes to move a pound of weight one foot. Measuring that is a bit more difficult, but what's important here is knowing we use foot-pounds to measure how tightly a bolt is secured.
Impact wrenches we reviewed will usually have two max torques – one for fastening and one for loosening (also known as 'nut-busting' torque). If the wrench lacks speed settings or fastening and loosening are the same foot-pounds, we list only the max torque.
The mechanics of torque are explained a little more in our guide further down the page.
Weight
As self-explanatory as it is important to your choice, this is the weight of the tool itself without any batteries, attachments, or hoses connected to it. Expect many of the cordless impact wrenches to be as much as twice as heavy in practice thanks to their batteries.
Design
In this section, we break down the positives and negatives of the impact wrench's design – ergonomics, torque, and any particularly notable features are mentioned here. We'll also elaborate on the size and weight if there's anything noteworthy to say about them. Look here if you're interested in the technical side of things.
Convenience
Ease of use, power draw and battery life, and any other quality of life notes are found under this section. Check out this section if you're curious about what actually using the tool is like in practice rather than theory.
Top 10 Best Impact Wrenches 2021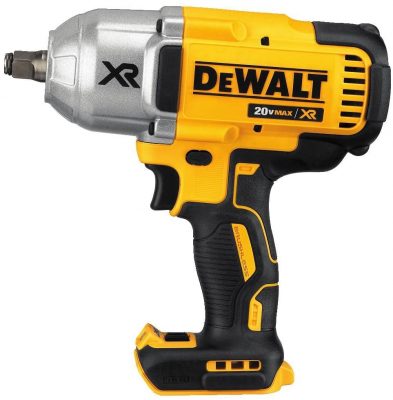 Why we like it:
A great all-rounder with high torque capabilities, the DEWALT MAX XR Impact Wrench sits in that perfect range of not too expensive without sacrificing quality and features, ultimately winning out as one of our top overall impact wrench choices.
Editor's Rating:
Quick Notes
Power Source: 20-volt 4.0ah battery, brushless motor
Drive Size: 1/2"
Torque: 700 ft-lbs. fastening, 1200 ft-lbs. loosening
Weight: 6.4 lbs
Design
People don't call this impact wrench a beast for nothing – though the specs sheet lists it at a weight of about 6.4 lbs, the sheer bulk of the tool makes it feel even heavier than it is. That can make tighter fits, like under a vehicle or tractor, a little harder to access. But the bulk isn't just for show. It makes for a durable tool that shrugs off accidental drops and bumps with ease.
It doesn't reach the strength of a pneumatic wrench, but where DEWALT excels in that regard is price-to-torque ratio. You're getting an impact wrench here that can handle a truck's wheels as easily as a sedan's without having to break the bank.
Convenience
Many cordless power tools come with an LED light meant to illuminate what you're working on, but few position it as well as DEWALT, centering in on the bolt itself instead of above or below it so you can see what actually matters.
The rugged build of this tool makes it particularly well suited to work outside of the shop, such as repairing tractors in the field or changing a tire on the side of the road. You won't find many complaints about the power draw on this wrench, with the battery lasting more than long enough for a day's work.
Verdict
Though it may not be quite as strong or efficient as the more premium high torque electric impact wrenches we review on this page, that didn't stop DEWALT from delivering a far more affordable and accessible professional-quality option that should be more than enough for the average craftsman or home mechanic's needs.
Pros
The best torque strength to price ratio of our cordless impact wrench picks

Very durable build - able to handle being dropped off a table with little or no damage

Brighter than average LED work light illuminates hard to see bolts better

Great for rugged jobs like repairing tractors in the field
Cons
Bulky and somewhat heavy in the average hand, making tight fits difficult
---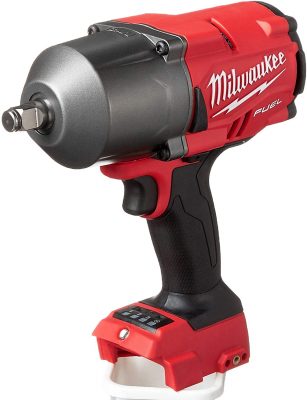 Why we like it:
A reliable powerhouse among cordless electric impact wrenches, the Milwaukee M18 Fuel Impact Wrench isn't cheap, but you're paying for best in class torque strength, great portability, and a solid tool that will last you years to come.
Editor's Rating:
Quick Notes
Power Source: 18-volt 5.0ah battery, brushless motor
Drive Size: 1/2"
Torque: 1000 ft-lbs. fastening, 1400 ft-lbs. loosening
Weight: 5.91 lbs
Design
Milwaukee is a well-known tool-maker founded in 1924 with a long history of innovation and a reputation for quality. They brought both of those to the table when they designed this cordless impact wrench.
The torque strength on this wrench outclasses almost every other wrench of its size, pulling foot-pounds that are easily comparable to pneumatic impact wrenches. That's because it uses a high-torque brushless motor to knock stuck bolts. It's lightweight and solidly built, easily stashed away in your trunk for travel.
Convenience
This tool is awesomely efficient in regards to power draw. Under mild load you could go hours before seeing any noticeable drop in strength.
There are four different drive control modes, making it even easier to dial the strength in just right. That means no matter what you're using it on, you're getting the most out of your tool without worrying about damage.
In the Bolt Removal mode, the impact wrench will deliver maximum torque until the bolt is freed then drop to a mere 750 RPM (rotations-per-minute), preventing any accidental stripping or bolts being flung free.
Verdict
The Milwaukee M18 Fuel Impact Wrench is a cordless electric option that rivals even some of our favorite pneumatic impact wrenches in terms of torque strength without sacrificing its portability.
Lightweight, reliable, and easy to use, the only thing that stops this impact wrench from being the best we reviewed is its hefty price tag, especially when you consider the battery you'll need to buy (it's not included with the tool itself). Even then, we think you'll agree an impact wrench this versatile and powerful is more than worth a premium asking price.
Pros
Strongest torque among our reviewed cordless impact wrenches

Great power efficiency, so you get the most out of your battery life

Bolt Removal mode is very useful when quickly removing bolts

Incredibly light for its torque strength
Cons
Very high list price - but you do get what you pay for
---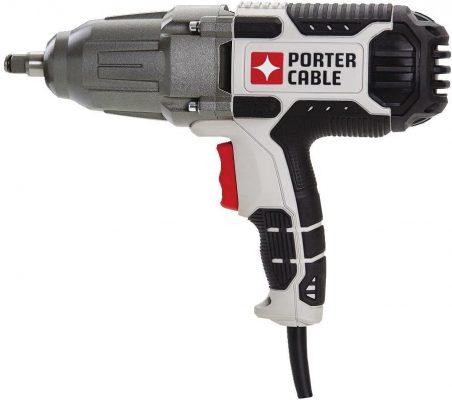 Why we like it:
For anyone looking to do light work while also staying light on the budget, this PORTER-CABLE Impact Wrench is a corded option great for anyone looking for a simple, cheap, and consistent impact wrench to add to their toolset.
Editor's Rating:
Quick Notes
Power Source: 120-volt outlet, brushed motor
Drive Size: 1/2"
Torque: 450 ft-lbs. max
Weight: 7.5 lbs
Design
Sporting a solid, slim design, this impact wrench is no bulkier than a handheld drill. There aren't any speed settings to be found here – pressing down on one half of the trigger will tighten a bolt and pressing on the other removes it. That means it doesn't have any special settings or features, but there's value in a simple, no-fuss option.
Modern power tools have moved away from brushed motors for a reason, but the brushed motor is a big part of the reason for the great price on this wrench. The brushes aren't hard to replace but it's a matter of when, not if, you're going to have to replace them. Luckily replacement brushes are readily available online.
Convenience
As a corded impact wrench, power draw shouldn't be a concern. But it does mean you're tethered to the nearest outlet, which can be a bit frustrating as you're limited by your cable length.
As mentioned above, the brushed motor requires extra maintenance, which can cut into your upfront savings over time if you're using this impact wrench often.
Verdict
Cordless impact wrenches may be all the rage, but that doesn't mean their corded variations don't have anything to offer. As the lowest priced option on our list PORTER-CABLE's offering appeals to those who don't have the budget or need for rugged all-rounders. This impact wrench shows you don't need to spend hundreds of dollars to benefit from these awesome tools.
Pros
Consistent and reliable torque - power draw isn't a worry

Only one speed, in forward or reverse - using this tool is simple and easy

Great budget pricing
Cons
Brushes in motor will eventually need replacement
---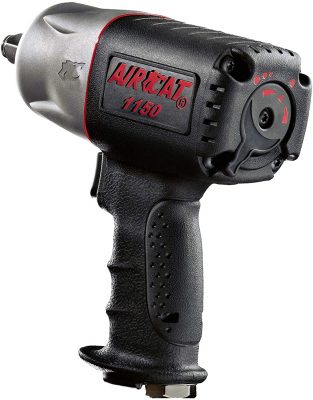 Why we like it:
Packing incredible torque strength in a tiny package, AIRCAT seems determined to show us "Killer Torque" isn't just a cool nickname and in the process creates one of the best pneumatic impact wrenches on the market.
Editor's Rating:
Quick Notes
Power Source: Compressed air, 8 CFM at 90 PSI
Drive Size: 1/2"
Torque: 900 ft-lbs. fastening, 1295 ft-lbs. loosening
Weight: 4.6 lbs
Design
Pneumatic impact wrenches excel at delivering massive torque in small packages, and none are a better example of that than AIRCAT's "Killer Torque" Impact Wrench. The 1295 foot-pounds of torque this thing puts out is capable of handling almost anything you throw at it with the correct socket.
While the manufacturer boasts an operational sound volume of only 86 decibels – which is on the quiet side for a pneumatic impact wrench – as we detail in our safety precautions after the reviews, that's still above the limit for potential hearing damage. Play it safe and make sure you wear ear protection whenever you operate an impact wrench.
Convenience
The comfortable shape of this impact wrench rests easily in your hand, a welcomed ergonomic design keeping your fingers from aching no matter how long the job takes.
You'll need an air compressor capable of putting out 8 CFM (cubic-feet-per-minute) of air at 90 PSI (pounds-per-square-inch). That's a little bit higher on the CFM side than the most common compressors provide, so make sure you double-check what you've got on hand before purchasing this impact wrench, but its power demands a powerful compressor.
Verdict
It requires more power than similarly high torque pneumatic wrenches and the manual isn't as clear on care and maintenance as it should be, but that doesn't stop this from being a best-in-class impact wrench.
Among the strongest of impact wrenches we reviewed, the AIRCAT Killer Torque can handle anything you throw at it no matter the size, making it our favorite pneumatic impact wrench.
Pros
"Killer Torque" is exactly what you're getting with the 1295 ft-lbs. of torque strength

Light and comfortable to use

Quiet for a pneumatic impact wrench
Cons
Instructions could be better put together, omits important information about care

Higher CFM demands than similar pneumatic impact wrenches
---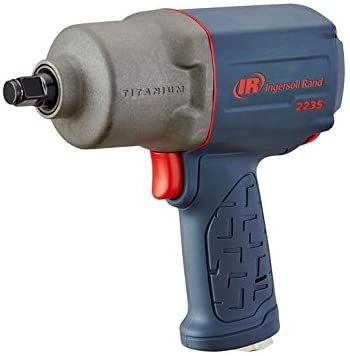 Why we like it:
With one of the highest maximum torques on the market our list wouldn't be complete without reviewing this mighty impact wrench from toolmaking veterans Ingersoll Rand.
Editor's Rating:
Quick Notes
Power Source: Compressed air, 6 CFM at 90 PSI
Drive Size: 1/2"
Torque: 930 ft-lbs fastening, 1350 ft-lbs. loosening
Weight: 4.62 lbs.
Design
It may not be much to look at, but this impact wrench is solid as a rock and comes equipped with a trigger that has great sensitivity and control. You need a surprisingly small compressor for the power it puts out, as the mighty twin-hammer motor is very efficient with the air you feed it.
That engine is the real star of the show here, putting out the 1350 ft-lbs of nut-busting strength that should be enough to free even the most stubborn of bolts.
Convenience
Despite its awesome power, the 2235TiMAX is brought down a few notches by some problems with the ergonomics. These issues are hard to ignore – front-heavy balance, an uncomfortably shaped handle, and oddly placed switches that dig into or rub your hand while in use.
Over the course of hours of work, these inconveniences can become actual pains. If you're not going to be working with this tool for a long period or have smaller hands, though, it's a milder issue.
Verdict
Ergonomics issues do hold this impact wrench back from being as highly recommended as our favorite pneumatic wrenches or the top of the line cordless ones. By raw torque numbers this is still the strongest impact wrench we reviewed, and that makes it worth consideration for anyone seeking the most torque they can get.
Pros
Highest maximum torque on this list

Durable despite lightweight construction

Great trigger control
Cons
Some uncomfortable ergonomics issues
---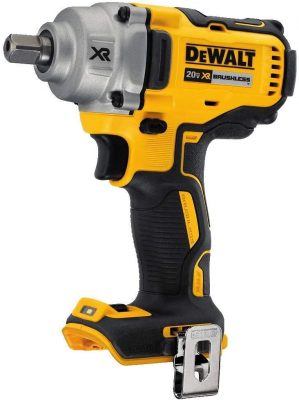 Why we like it:
Where other impact wrenches are too bulky, heavy, or plain overkill for the job, DEWALT has come through with one of the lightest and most compact of its kind. This is perfect for anyone who mostly works with small bolts in cramped spaces.
Editor's Rating:
Quick Notes
Power Source: 20-volt 5Ah battery, brushless motor
Drive Size: 3/8"
Torque: 150 ft-lbs. max
Weight: 2 lbs
Design
Looking like a shrunken version of DEWALT's more robust sibling we also took a look at, this ⅜" impact wrench prioritizes compact portability to great effect. Even small pneumatic impact wrenches can weigh almost twice as much as this nimble tool.
It isn't just the build that's compact – the drive size comes in at 3/8″, which makes it better suited to fit sockets meant for smaller lug nuts and bolts. You can find adapters that will let you use any sized socket on this impact wrench, but they're known for soaking up torque potential.
With the already limited torque strength, we think you're better off using a properly sized impact wrench for larger jobs, but it's nice to have the option available.
Convenience
The convenient size of this impact wrench and its drive make it a great choice for working on things like lawnmowers, air conditioning units, or even aviation maintenance, where a full-sized impact wrench might be too unwieldy or frustrating to use.
Battery life and power draw on this tool is great – because of its low torque demands, you can go a surprisingly long time without worrying about throwing the battery back on the charger.
Verdict
This is easily the most portable and compact cordless impact wrench we reviewed. It isn't as well-suited to heavy-duty jobs like renovations or truck maintenance due to the low torque, but it's a brilliant tool for those tight jobs with small bolts around your home or work site.
We also review a very similarly compact pneumatic 3/8″ impact wrench elsewhere on this page if you're looking for something air-powered.
Pros
Great for smaller jobs and cramped fits

Awesome battery life

Compatible with adaptors for larger nuts and bolts
Cons
Lowest torque-speed we reviewed, not great for heavy-duty work
---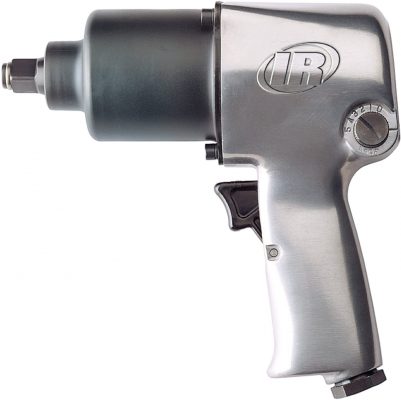 Why we like it:
Another classic and reliable design from Ingersoll Rand's long history of just that, the 231C model impact wrench makes for a great workhorse tool that doesn't demand a massive compressor to work well.
Editor's Rating:
Quick Notes
Power Source: Compressed air, 4.2 CFM at 60 PSI
Drive Size: 1/2″
Torque: 300 ft-lbs. fastening, 600 ft-lbs. loosening
Weight: 5.8 lbs.
Design
It's hard not to enjoy a tool that looks like it belongs in a workshop, and the solid metal casing of the 231C isn't just for looks. This is a durable pneumatic wrench that can stand up to years of use, making it a great workhorse choice.
The pressure demands of the wrench are impressively low for the torque you get. It'll work well with much smaller compressors than other pneumatic air wrenches, so the overall footprint in your workshop is reduced.
Convenience
Every pneumatic wrench requires lubrication at some point or another, so Ingersoll Rand including a simple and easy to access grease port on the back of the tool is an awesome touch.
The manual for this line of impact wrenches claims the 231C comes in at a roaring 110-decibel volume. This is equivalent to standing three feet away from a running chainsaw, incredibly loud for a tool you'll be using indoors most of the time. Follow proper safety procedures and spare your ears the very likely damage.
Verdict
An awesome choice for daily workhorse use, compared to other lower-pressure pneumatic air wrenches we checked out, the Ingersoll Rand 231C manages to pack a higher torque with even less average pressure demands. We only wish it were as efficient with the noise it makes as it is the air it uses.
Pros
Works well even on a limited air supply

Solid metal build great for a workhorse impact wrench

Easy lubrication makes maintenance a breeze
---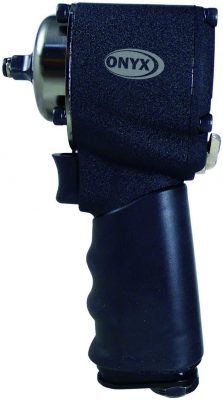 Why we like it:
Small, lightweight, and as compact as impact wrenches come - the Astro ONYX Nano supplies impressive torque for its size and makes those hard to reach bolts easy to remove.
Editor's Rating:
Quick Notes
Power Source: Compressed air, 4.8 CFM at 90 PSI
Drive Size: 1/2″
Torque: 450 ft-lbs.
Weight: 3 lbs
Design
Thanks to the compact size, this will fit places no other impact wrench will while keeping the drive size needed to handle larger bolts. Anyone who's ever tried to work around a transmission can attest to how difficult it can sometimes be to maneuver an impact wrench.
We've heard complaints about the longevity of this tool, the small parts wearing out under the powerful forces an impact wrench subjects them to. You'll definitely want to avoid abusing or dropping this little wrench if possible.
Convenience
Talking up the size of this doesn't mean much until you get the ultra-compact unit in your hands. It can fit just about anywhere. Using a socket extension with this impact wrench means almost no bolt will be out of reach, but remember to only use attachments rated for use with impact wrenches.
Astro also offers a 3/8″ drive size version of this model, meaning you've got a great pneumatic wrench for the job no matter the size of bolt you're working with.
Verdict
While our favorite portable option defeats the Astro ONYX's torque output, the compact size of this unit is nearly unbeatable. Though it's still tethered to an air compressor and the small parts can be a bit fragile, if you need a compact pneumatic wrench that can squeeze into the tightest of places without sacrificing torque, you've found it.
Pros
Impressive torque for the size

Head the length of a credit card - the most compact impact wrench on this list

Also available in 3/8" drive size
Cons
Build quality and longevity could be improved
---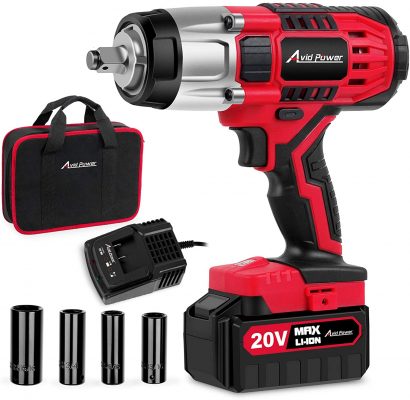 Why we like it:
Avid Power takes its shot at providing power and portability in the same tool with this cherry red impact wrench. The accessories and carrying case make it a great value.
Editor's Rating:
Quick Notes
Power Source: 20-volt 3Ah battery, brushed motor
Drive Size: 1/2″
Torque: 330 ft-lbs. fastening, 369 ft-lbs loosening
Weight: 4.12 lbs.
Design
There's a bit of heft to this wrench, especially with the battery attached, but it's still a nimble cordless power tool. The weight distribution is balanced and it feels good in your grip. This is the lightest 1/2″ drive cordless impact wrench we reviewed and it isn't any slouch when it comes to strength – 350 plus foot-pounds of nut-busting torque is more than enough to handle most cars, trucks, and vans.
Convenience
As if the portable design wasn't good enough, this is one of the few impact wrenches on the market that comes in a complete package with everything you need for use. You get a set of four impact wrench rated sockets, a battery, a fast-charging station, and a carrying case that will fit everything inside at once.
You'll be thankful for that fast charger when you run into the power consumption issues that hold this wrench back from truly excelling as a portable impact wrench. With only 3Ah to work with and a torque as high as this, you might be charging it as often as you're using it.
Verdict
This kind of torque in such an easy to handle and cordless form doesn't come around every day, but the battery issues prevented it from being our choice for most portable impact wrench.
Pros
Impressive power for the price

Fast charger takes an hour and a half at most

Includes convenient accessories like a carrying case and socket set
Cons
Battery doesn't last very long
---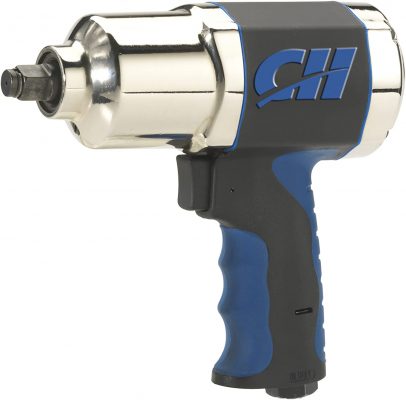 Why we like it:
Campbell Hausfeld serves up a great-looking, respectable, ergonomic pneumatic impact wrench with a focus on portability and a great max torque value.
Editor's Rating:
Quick Notes
Power Source: Compressed air, 3.4 CFM at 90 PSI
Drive Size: 1/2″
Torque: 550 ft-lbs. max
Weight: 4.4 lbs. 
Design
Campbell Hausfeld's wrench scores a lot of points for its sporty, modern look that stands out among the more spartan alternatives. The grip is padded in a soft, non-slip, fatigue-reducing rubber and contoured to the shape of a hand, making it safe and easy to handle all day without pain.
With strength like this, even semi-truck wheels and steel construction framing bolts are no trouble. Even if you do find the 550 foot-pounds of torque lacking, for only a slightly higher price Campbell Hausfeld offers a heavier-duty model with a different body but the same quality internals.
Convenience
The price is awesome for a pneumatic impact wrench, although you'll be spending most of the savings on an air compressor if you don't already have one. We've heard reports it will still operate with smaller tanks, but the manufacturer recommends your air compressor have at least an 8-gallon tank attached for optimal use.
Verdict
It isn't a pneumatic powerhouse or a cordless workhorse, but this simple ergonomic-friendly impact wrench from Campbell Hausfeld is a great choice for anyone looking to add a pneumatic power tool to their shop without breaking the bank.
Pros
Great choice for a budget pneumatic wrench

Ergonomic grip is easy on the hands

Also available in a larger, higher torque model
Cons
Requires larger than average air compressor tank
---
Guide to Impact Wrenches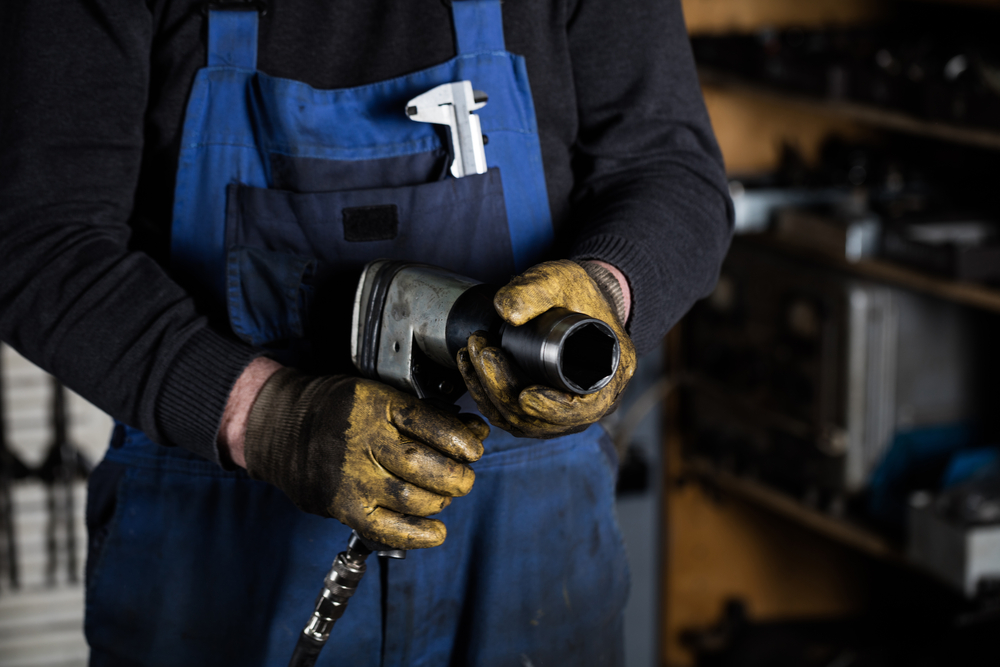 Every year that goes by, it seems like tool technology is in a race to become more portable and affordable. Heavy power tools are no exception here. No longer the realm of shop mechanics and factories, it can feel a bit intimidating to add something like an impact wrench to your home garage – but picking up the right tool isn't as hard as it first seems.
Whether you're an experienced gearhead or someone who imagines whacking an engine with a socket when they hear the term 'impact wrench,' we've got everything you need to know covered with this short guide.

How Impact Wrenches Work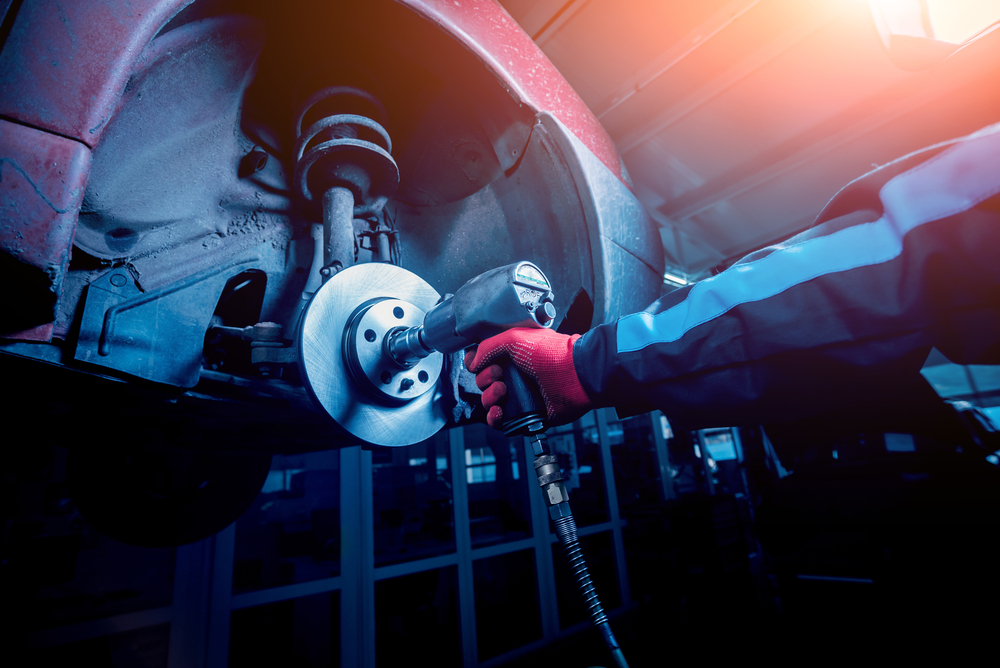 Have you ever seen those massive bolts, hex-head screws, or lug nuts on your vehicle, wondering just how they get them on and off? You're most likely looking at the work of an impact wrench.
These are considered the power tool version of socket wrenches, able to grip onto those heavy bolts and deliver massive amounts of torque with minimal manual effort required thanks to the mechanisms within. Impact wrenches are so efficient with this process the user feels almost no reactive torque like they would with a power drill – all of that energy is delivered to the socket.
A heavy rotating mass – usually called the hammer – is spun by air or electricity at incredibly high speeds, building and storing up energy, before it's connected to an output shaft that drives the impact itself. This output shaft is commonly referred to as the anvil. Imagine a miniature hammer hitting the side of your wrench quickly and repeatedly.
The hammer returns to spinning, rebuilding the energy, creating a cycle of spinning and impacting the anvil that delivers an incredible amount of torque to the socket extension and the bolt itself. This is why most impact wrenches advertise both their Revolutions Per Minute (RPMs) and Impacts Per Minute (IPM) separately. The ratio between the two numbers will decide how much torque you're going to get out of the wrench.

Power Sources and Styles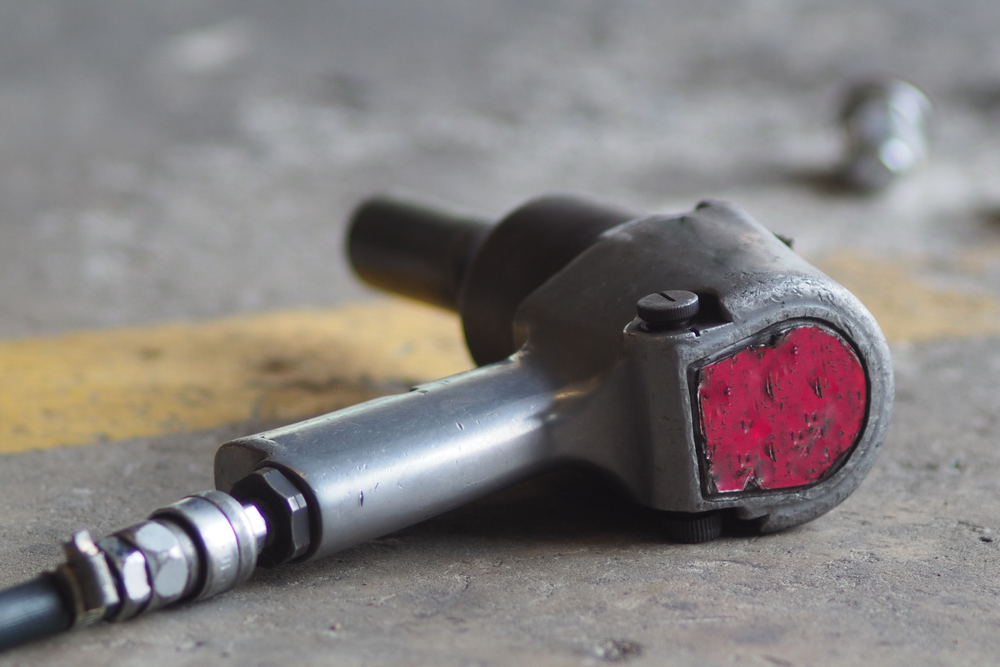 You'll find impact wrenches come in all shapes and many different sizes. These range from massive, compressed air powered monstrosities that practically require heavy equipment to operate as well as lightweight handheld versions no larger than a screwdriver. For the sake of this guide, we've focused on the latter more than the former.
The biggest differences between the kind of impact wrenches you might have in your garage usually comes down to power source, and there are two main categories.
Electric Impact Wrenches
The vast majority of impact wrenches available online are powered by electricity, either battery or outlet power. Historically, battery-powered versions have lagged behind in torque compared to their pneumatic cousins, but technological innovations are rapidly closing that gap.
By choosing a cordless electric impact wrench, you're getting better portability and a power source that at most takes the space of a charger. With a corded electric wrench, you'll be limited to the range of the cable, but will get better consistency over time without having to worry about a drained battery.
This is especially true when it comes to handheld impact wrenches – the largest downside of an electric impact wrench is they need to increase in size proportionately to their strength. You might need a cordless impact wrench twice the size of a pneumatic one to reach the same torque strength.
Pneumatic (Air-Powered) Impact Wrenches
The traditional kind of impact wrench and the choice of most mechanic shops, pneumatic impact wrenches are powered by compressed air. That means you'll need a compressor, usually with an attached tank hooked up to your wrench by a hose, which is a big strike against the convenience of pneumatic wrenches.
You're rewarded for tolerating the space and money expense of an air compressor by an arguably more consistent and powerful impact wrench – you won't find it losing torque as the battery runs low like an electric wrench, and compressed air is an extremely strong propellant. They're more powerful, longer-lasting, and typically more durable.
Working with pneumatic tools can be intimidating for someone who's only ever used electric tools, but as long as you follow standard safety procedures for both impact wrenches and air compressors alike, you'll find them a reliable ally in the shop.
Brushed vs. Brushless Motors
Almost every modern electric power tool is brushless at this point, but that makes them more expensive. For classic designs or budget choices, you might find a cheaper brushed motor inside.
Both of these motor types work the same in practice, but over time the spinning metal brushes of the motor will wear themselves out and require replacement. Usually, this isn't too difficult, but it is a maintenance step brushless motors will never have to worry about.

Common Uses of Impact Wrenches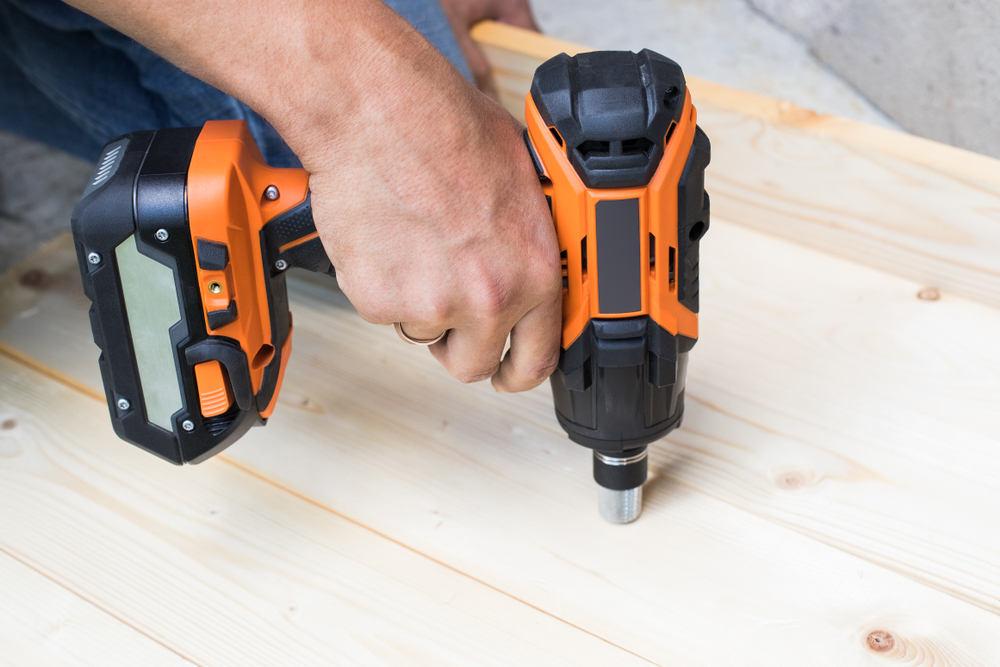 The first thing that comes to mind for most when they think of impact wrenches (if they're familiar with the term at all) is in the context of a body or mechanic shop. It's hard not to blame them, as these wrenches excel when working in the automotive realm. But that's far from the only place you'll find a use for your new tool. Impact wrenches are surprisingly versatile pieces of equipment, with all sorts of uses and functions such as:
Almost anywhere you find a bolt or a lug nut, the presence of an impact wrench is a great addition to your toolset. It's important to use the right tool for the job, however – because of their great torque strength, you'll want to be careful you don't accidentally damage what you're working on, so take special care to use the right socket for the bolt. This isn't as likely when working with cars or heavy equipment, but definitely keep it in mind if you'll be working with wood or thin metal.

Impact Wrench Safety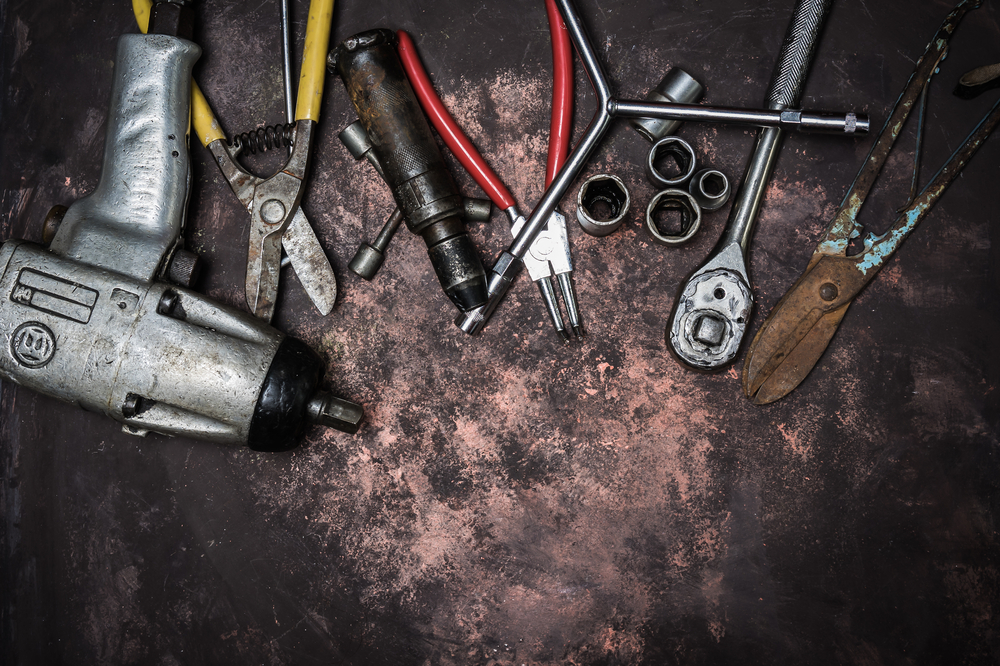 As with all tools, power or manual, safety should be one of your highest priorities when operating an impact wrench. You're dealing with massive amounts of force delivered with each blow of the hammer here – up to or exceeding 250-pounds-per-foot of impact strength.
Read on for a few of our top safety tips for working with an impact wrench.
Always wear safety glasses and avoid loose clothing or hair when operating power tools of any kind.
Never use a socket or accessory that wasn't made for an impact tool. This can lead to bent or damaged sockets at best and dangerous shrapnel at worst.
Disconnect any corded or pneumatic impact wrenches when not in use.
Never carry an electric impact wrench by the cord or a pneumatic wrench by the hose.
Always wear hearing protection when using impact wrenches. Pneumatics can put out up to 103 decibels and electrics slightly less – well over the threshold for potential hearing loss.
Don't over-torque a bolt with an impact wrench, as this can damage or strip the bolt. Use an old-fashioned torque wrench to finish tightening jobs and set the bolt's foot-pounds.
As you can see, covering impact wrenches alone could have us listing tips here all day. It's a subject that deserves an article all to itself.
That's something the US Occupational Safety and Health Administration has agreed with us on, and so we highly recommend reading through their guide to basic safety procedures for hand and power tools for a much more in-depth safety breakdown.
Impact Wrench FAQ
If there's still some questions in mind about impact wrenches, we've got you covered there too. Here are a few of the questions we've heard asked most frequently about impact wrenches and how they're used.
What's the Difference Between Impact Wrenches and Impact Drivers?
Though they look very similar at first glance, impact wrenches and impact drivers are entirely different tools. While an impact wrench is meant to have a socket attached so it can spin large bolts, impact drivers are meant to drill long screws into wood beams or metal plates. While you'll often find impact wrenches where cars are worked on, impact drivers are more for DIY and construction work.
Are Impact Wrenches Dangerous?
Despite the massive power they pack, using an impact wrench shouldn't be any more dangerous than using a drill or electric saw. Like any power tool, you'll want to make sure you operate them properly and with care. Check out our safety tips elsewhere on this page for more information.
Can You Only Use Impact Wrenches on Bolts?
No, impact wrenches have a variety of extensions and attachments, even ones that can be used on all sorts of fasteners too, as long as you've got the right bit attached. Never use an attachment for an impact drill that wasn't designed for that purpose – regular bits are far more brittle and prone to breaking under the forces impact wrenches produce.
Do I Need an Air Compressor to Operate My Impact Wrench?
No, these days there are plenty of options for people who don't have the space for a hundred-pound air compressor. Electric impact wrenches have taken the market by storm, and you can even find completely cordless ones that run off batteries. The days of impact wrenches being a stationary tool are long over.
Final Thoughts on Impact Wrenches
As you've probably seen by now, there's a lot to learn about when it comes to these awesome power tools. Whether you're in the garage, out in the field, or renovating a job site, as long as there are bolts involved, you'll get a lot out of purchasing an impact wrench.
If you've found yourself won over by the way these tools revolutionize the regular socket wrench, take a look at our reviews of impact drivers too. If you wind up with a pneumatic tool and are in need of a way to power it, we've also broken down the best air compressors on the market.
No matter what impact wrench you end up adding to your toolbelt in the end, we hope we've managed to help you out with this guide. Maybe you've even learned a thing or two!