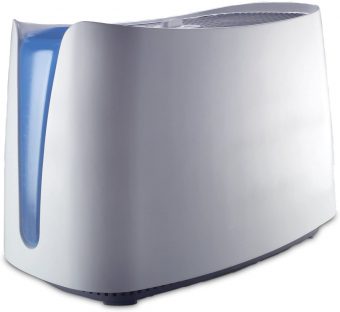 Honeywell HCM350W Cool Mist Humidifier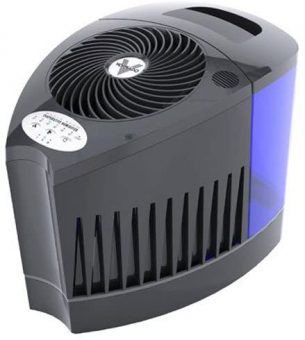 Vornado Evap3 Whole Room Evaporative Humidifier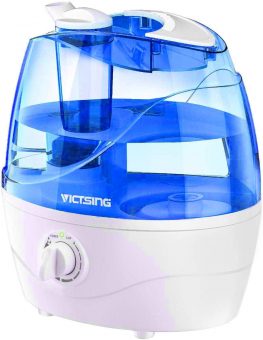 VicTsing Ultrasonic Cool Mist Humidifier
Previous
Next
Indoor air can be either too humid or too dry, too cold or too hot. Particularly during the colder months, when people try to keep warm at home and often have to deal with very dry air caused by lower humidity levels. This results in an array of problems, ranging from irritated sinuses to nosebleeds to cracked lips. Fortunately, a humidifier is an affordable solution to add moisture to any indoor environment.
The best home humidifier will help you combat this persistent dry air problem or provide some relief from the occasional cold. There are quite a few things to consider when picking out a humidifier, such as ease of cleanup (bacteria growth can be a problem for these devices), type (evaporative, ultrasonic, or warm-mist), and size. There are plenty of humidifiers in the market to choose from. These include small, inexpensive units to heavy-duty devices that will easily humidify large rooms. With that in mind here's a review of the best home humidifiers you can choose from.
Features to Consider in Good Home Humidifiers
What Do Humidifiers Do? Why Use Them?
Humidifiers add water or moisture to the indoor air because it can often get dry during the winter. Humidifiers will be a great addition to any home particularly for those living in the cold north and are indoors most if not all winter. Just like any other machines, humidifiers have reliability issues and it can be a challenge finding one that doesn't need constant maintenance.
Humidifier technology has come a long way over the years. Humidifiers are now easier to maintain, quieter, and have even omitted the white mineral dust which can cause respiratory problems. It's recommended that indoor humidity levels in winter should be around 30 to 40%. Winter cold air holds less moisture, and when it's heated indoors, it gets even drier. This sets the stage for itchy dry skin, sinus attacks, dry eyes, and the like. Humidifiers do the following:
They relieve the cold, allergy and asthma symptoms by keeping nasal passages moist. This also helps speed up the healing process.
The moisture is essential for preventing nose bleeds and relieving dry, aching sinuses.
If your sleep with a snoring partner, humidifiers will help alleviate the intensity of that annoying snoring sound.
It soothes dried out, itchy, cracked skin and lips.
Humidifiers reduce unpleasant static electricity in the air.
They protect valuable wood furniture, floors, and musical instruments from cracking and warping.
It retains the heat in your home better saving you heating costs.
Types of Humidifiers
Humidifiers can be broadly divided into two different types – Cool Mist and Warm Mist. While the job of both of them is to increase the amount of moisture into the air, the process in which they do it is different. While there's also another category, known as whole-house humidifier, they're complex units that are tapped in the air ducts and are plumbed in the water supply of your home.
Cool Mist Humidifiers
These humidifiers are further divided into three categories – Ultrasonic, Impeller and Evaporative. The ultrasonic models make use of vibrating nebulizer for emitting water. Impeller models use rotating disk and the evaporative models make use of a fan to blow the air over a wick that's wet. Based on the model, the cost of this wick can be around $10 or more.
Warm Mist Humidifiers
This type of humidifier heats the water and brings it to a boiling temperature for emitting the steam that's formed. Some of these models feature mineral filters for trapping the water deposits. While purchasing this type of humidifier, you should remember that the filter will need constant replacement. The filters are generally inexpensive. Some pediatricians suggest that these humidifiers should not be used near small children as they can result in burns.
These two types of humidifiers can be further divided into:
1. Ultrasonic Warm/Cool Mist
Liquid water particles in the form of mist are emitted into the air where they evaporate before they touch the ground, increasing the humidity. This happens when a metal diaphragm vibrates at ultrasonic speed to agitate the water into very small particles creating the mist. A silent fan pushes the mist up and out into the room.
Some humidifier models offer you the choice of the warm or the cool mist. With the warm mist, the water is heated to about 176 degrees before the mist is created allowing it to exit the top of the humidifier at about 104 degrees so it's slightly warm to touch. One can also select the cool mist function, which simply means that the water will not be heated before creating the mist. The mist will exit the top relative to the water temperature, which can be between 50 to 80 degrees.
2. Evaporative Cool Mist
Evaporative cool mist humidifiers produce humidity by a fan that draws the air in from the room and blows it over or through a moistened wick in water. Some of this water evaporates and this water vapor is added to the air which increases its humidity. This air is then blown back into the room to increase the humidity in the room. The air is cooled as a result of heat being removed when evaporation occurs. The air coming out will be cooler than when it went in.
3. Air Washers
These add humidity to a room and help to clean the air. Water in conjunction with rotating discs retain and remove airborne impurities, including large dust and pollen particles. They in turn return clean, properly humidified air to the room. Air washers produce a cool mist only. An air washer is the most robust kind of humidifier. They're very reliable and can cover a larger area than other types of humidifiers. Air washers have no problems with mineral dust. However, they do require regular maintenance, as you have to rinse frequently. Keep in mind that although an air washer can remove large allergen particles from the air, they do not remove the sub-micron lung penetrating particles.
4. Steam Vaporizer Warm Mist
These humidifiers involve a heating element in the humidifier that heats the water before dispersing it into the air. The advantage of a steam humidifier is that by heating the tank water, bacteria and organic compounds are destroyed.
The 10 Best Home Humidifiers 2020
Guide to Buying the Best Home Humidifiers
From newborns to adults, humidifiers are a great way to maintain a healthy humidity level in your home. By maintaining a good level of humidity in your environment, you can safeguard your family's health, protect your home's structure from the effects of dry air, and improve your overall indoor comfort. Before you choose the best home humidifier, there are some factors that you need to consider.
Cleaning
It's very important to clean the humidifier regularly to ensure that it functions flawlessly. So, while buying one make sure that the model is easy to clean and maintain. Drain the machine, rinse it and then dry it before switching it on daily.
If there are any visible residue on the machine, clean it with vinegar and then follow it with a bleaching solution for disinfecting it as per the instructions of the manufacturer. You should then thoroughly rinse it. You should remember to do this before and after storing away the humidifier for the season.
Easy Operations
Despite the fact that you'll be picking a console model or a tabletop model, it should be easy to use, move and clean. The water tank should easily fit under the faucet as well. If you're going for an evaporative model, make sure that the wick is easy to find, replace and isn't expensive. All the humidity settings and levels should be clearly visible as well.
Humidistat
Some of the humidifiers have a built-in humidistat that turns off the unit when it reaches a pre-set level of humidity. The models that don't have humidistat can raise the humidity to an extent where you'll have condensation on the windows. Even if you want to go for a unit that doesn't feature a humidistat, you can always purchase a hygrometer separately to keep track of the humidity level and then manually turn off the unit when the required level is reached.
Low Noise
As mentioned above as well, ultrasonic models are a lot quieter than evaporative units. Even the warm mist humidifiers are louder than ultrasonic models, but they are quieter as compare to evaporative models.
Filling Ease
It's important to choose a mode whose water reservoir can be easily removed. Wide reservoir mouth handle to carry the tank are added benefits.
What Kind of Water is Supplied to Your Home?
If the supplied water is hard, you'll need a demineralization filter along with the ultrasonic humidifier to reduce the dust of minerals in the water. While some of the units come with such filter, with many others they are an optional accessory. Also, make sure that you replace the filter periodically.
Maintenance Required
Humidifiers do not generally require a lot of maintenance. You generally need to only clean its water tank to make sure that mildew, mold, and bacteria are not growing in the tank. Also, check the misting outlets to ensure that the mist can flow smoothly.
While these are some of the basic maintenance requirements of almost all the different types of humidifiers, there are some cool-mist models that feature a wick filter for creating a soothing blanket of mist for the surrounding. These filter needs to be replaced periodically. Also, make sure that you go through the manual that comes with the humidifier to know more about its maintenance requirements.
Warranty
You should check the warranty that comes with the humidifier you choose. This is mainly because the manufacturer will only repair the unit or get its part or the entire unit replaced for free within this period only. Generally, the warranty should cover at least 2 years.
How Much Space Do I Need to Humidify?
Deciding whether you need focused humidification for a single room or whole house humidification is one of the most important steps in choosing a humidifier. To add moisture to a small- or medium-sized area such as a bedroom or home office, a tabletop humidifier (room humidifier) is the best choice.
These lightweight humidifiers can be easily moved to other areas as necessary. Besides, many models can operate up to 24 hours before requiring a water refill. Single room humidifiers are also available in germ protection, multiple speeds, built-in hygrometers, combination warm or cool mist outputs, easy-to-use controls, and low water indicators.
If you need to add moisture to multiple rooms or your entire house, console humidifiers and whole house humidifiers are well-suited for the job. Considerably larger than a single room humidifier, a console humidifier can deliver moisture as large as 3,000 square feet. These humidifiers are typically placed in a central location and come in a variety of designs and finishes that allow the devices to blend easily with your décor.
For homes and offices that have a significant need for moisture, a bypass, flow-through, or drum humidifier is a great choice. These humidifiers work with a central air system – and install onto your HVAC unit and directly connect to the water line to continually disperse moisture to your home environment. These humidifiers do not need to be refilled because water is drawn directly from the building's water supply.
The Verdict
Humidifiers come in handy during the cold winter months when dry indoor air is more than likely to affect your sines and skin. Our review and guide above has given you plenty of home humidifiers to choose from. They range from small, inexpensive units to heavy-duty devices that'll easily humidify large rooms.
The best home humidifiers add the right amount of moisture to the air to alleviate pesky symptoms and maintain an optimal humidity level of 35 to 50 percent. However, before buying one, you need to take certain factors such as ease of maintenance and operation and noise levels among others into consideration. The Honeywell HCM350W and HCM350B will cover most of anything you require in a home humidifier.