Top 10 Best Heated Jackets 2023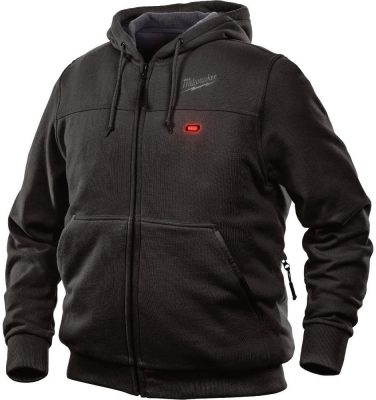 At a Glance:
Running Time: 6 hours
Materials: Cotton/polyester with thermal lining
Jacket Design: Front-zip jacket with hood
Review
With the M12 Hoodie Heated jacket, Wisconsin-based manufacturer Milwaukee Tools has designed a heated-jacket originally meant for the construction site that's perfect for other applications. It's most impressive features are its durable build quality, thoughtful design, and reliable heating elements. An outer cotton layer has a thick weave to stand up to wear and tear, an inner carbon fiber layer holds in the warmth created by the heating elements. The jacket has a hoodie-like form factor with a front zip making ventilating the jacket easy.
The heating elements are controlled by Milwaukee's replaceable and universal batteries which have a variable heating functionality. Coming in at under 4 pounds for the heated coat, it's barely heavier than a typical jacket. Milwaukee also offers an industry-famous limited lifetime warranty, so in the unlikely case of a product failure, you'll be covered.
Heating Functionality
Heating comes via three heating elements, two on each side of the zipper on the front of the jacket, and one across the back. This design gives consistent heating without being too hot.
While Milwaukee's six-hour run time is a bit short compared to a few other jackets, notably the Ororo Men's Soft Shell, it provides six hours of continuous, powerful operation compared to the gradually-fading ten hours of lower-quality jackets. With a replaceable, rechargeable Milwaukee system battery that fits the entire range of Milwaukee's tools, we'd just buy an inexpensive extra backup battery for a total of 12 hours of run time, with no loss of heat.
---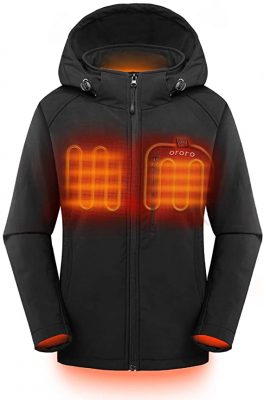 At a Glance:
Running Time: 10 Hours
Materials: Polyester
Jacket Design: Women's jacket with detachable hood
Review
An upgraded women's version of the Ororo Men's Soft Shell this jacket is perfect for ladies who are for looking a little extra warmth on the coldest of days. While most heated jackets are bulky and meant for men, Ororo does a great job with this jacket by creating a flattering, form-fitting shape that sneaks heating elements inside the slim design.
Most of the Ororo's technologies and designs are roughly the same across all of their heated jackets, although this jacket manages to keep a slimmer form factor. A detachable hood and several drawstrings help users customize the jacket to their preferences and their body shape. The garment comes both in plain black as well as a design with purple accents.
Helping to keep things minimal is the battery, a small-in-size but powerful 7.2 volt 5200mAh unit. Running the jacket on its lowest setting for a remarkable 10 hours, it also has a USB port that can be used to charge devices on the go. A durable YKK zipper and washable proprietary factory fabric ensure you'll get plenty of use out of this heated coat.
Heating Functionality
Similar to most Ororo designs, the jacket uses carbon fiber strips as heating conduits to distribute heat across the core. The elements are located on both sides of the chest and the middle of the back, although this version lacks the sleeve warmers of models like the Dewalt Heavy Duty Work Coat.
It's operated by a single button that cycles between heating settings, an included charger recharges the battery.
---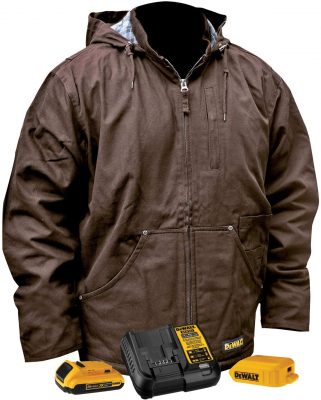 At a Glance:
Running Time: 8 hours
Materials: Canvas shell, fleece polyester, flannel hood liner
Jacket Design: Hooded work coat
Review
Dewalt is famous for brawny and durable construction tools that can hold up to years of use, and their premium-priced heavy duty work jacket is no different. While an expensive price tag can turn some potential buyers off to this jacket, it is well worth it simply due to its durability. In fact, Dewalt backs up its long-wearing product with a full-year 'materials and workmanship' warranty.
Much care is taken with the construction of this jacket, and it stands by itself even without heating functionality as a warm and durable jacket. A water-resistant canvas outer layer is nice in unpleasant weather while a fuzzy fleece liner keeps the inside warm. Flannel is incorporated into the hood, and the jacket packs in high end touches like a flannel lined hood, a ribbed collar, and stretchy sleeve cuffs that help heat stay trapped in the garment.
The jacket will run for eight hours on the low setting but only about four on the high setting—however, the jacket uses on Dewalt's system batteries that cross over from its other drills, impact drivers, and multi-tools. While battery time is lower than average, the overlap can help minimize issues, as you can just pop in a new battery when necessary. Additional batteries can be bought inexpensively, and a charger is included with the jacket. They have the side benefit of an additional auxiliary port that can charge USB devices.
Heating Functionality
Dewalt's jacket is warmed by five separate heating elements that surround the whole core of the body. These heating zones are located on both sides of the front of the jacket, with one large element in the back and an element in both of the sleeves. This jacket is unique for its sleeve located heating elements which help keep the whole upper body and arms warm.
---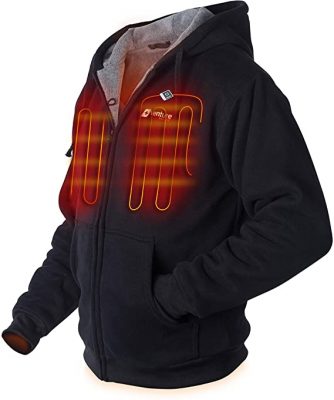 At a Glance:
Running Time: 12 hours
Materials: Waterproof Polyester Exterior / Fleece Interior
Jacket Design: Hoodie with outer shell
Review
Venture Heat is a US-based company formed shortly after the first heated jackets came onto the market. Thanks to its early adoption of the technology, the company now has been producing high-quality winter garments for the last 15 years. With a custom ADDheat technology, this hoodie-style jacket with a waterproof outer shell is both lighter and slimmer than other jackets in the space, but equally as warm.
Powered by a single button press that activates a slim 7.4V 5200 mAh battery, this jacket can last up to an impressive 12 hours on its lowest setting, although run time is reduced to a little less than 3.5 hours on high heat. The outer black exterior fabric is waterproof and the soft inner fleece is soft and comfortable against the skin, helping maintain the warmth generated by the heating elements.
This machine-washable jacket packs down to a small size and even fits into an included zipper-closure packing cube. The jacket also comes with a full one-year warranty for any issues that crop up, although with premium zippers, stitching, and materials, we doubt you'll have any issues.
Heating Functionality
The highest setting will keep the interior temperature at around 100 degrees, plenty warm for even frigid days. Large carbon-fiber heating panels can keep you toasty and spread heat over a larger surface area of the body. You can also charge your phone directly from the battery's extra USB port. For help in an emergency, the battery also contains a mini flashlight that activates when the main button is held down.
---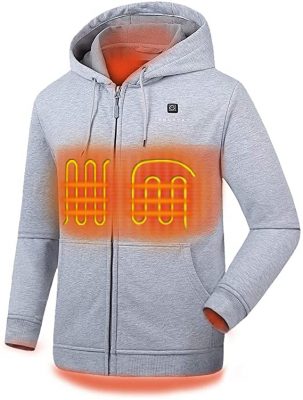 At a Glance:
Running Time: 10 hours
Materials: Polyester
Jacket Design: Hoodie
Review
With a slim hoodie design, this jacket looks much less substantial than other models, passing up thick insulation for a lightweight form factor. While the material looks like light cotton, it's actually a technical polyester that's designed to be insulative, breathable, and water-resistant. This form factor is unusual—the hoodie design, although equipped with multiple high-end features, is quite different from conventional heated coats.
But this jacket isn't going after the same customers as high-end jackets like the Milwaukee M12. A low price tag and slim profile point to this hoodie as a jacket meant to fit under a more substantial conventional coat. The breathability of this jacket is quite important here, as it can help you stay warm when placed under another jacket without overheating.
Lastly, the jacket has impressive functionality and durability for the price. With YKK zippers, sturdy stitching, and a light-up front button that helps you adjust the heat, this jacket offers a quite impressive suite of quality and features for its price. Although it is not necessarily a completely stand-alone option for the frigid cold, it's great for someone looking for something that also works as an inner layer.
Heating Functionality
This hoodie's four carbon fiber heating elements wrap around the chest producing an even heat that rivals that of expensive jackets like the Milwaukee M12. The hoodie also uses a mylar liner to keep heat in. Three power settings help to adjust the level of heating based on your preferences and needs.
---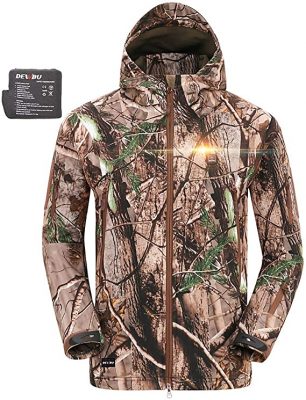 At a Glance:
Running Time: 10 hours
Materials: Polyester
Jacket Design: Hooded slim-fit jacket
Review
Lacking the multiple layers of insulation on jackets like the Milwaukee M12, this Dewbu heated jacket leverages a slim profile to create a fashionable and light-feeling hooded jacket that still feels plenty warm.
Although this coat is on the less-expensive side of the price spectrum, a matte design, sturdy seams, and a form-fitting shape make the jacket seem on the same level as premium offerings. The polyester outer layer is both water-resistant and breathable. The jacket squeezes in seven different pockets, meaning you'll always be able to tuck away your wallet, phone, or other possessions.
Where this jacket struggles is extreme cold and wind, as a breathable single layer of fabric ends up feeling inadequate in subzero temperatures. Dewbu says this softshell is 100% wind resistant, but the biting winter wind of northern climates can sneak through the zippers and sleeves, meaning this jacket is a bit better in slightly milder conditions.
Where this jacket excels is mobility, and the powerful heating elements take care of short term, sub-freezing temperatures. For long periods outside in the bitter cold, we'd recommend something a bit more substantial.
Heating Functionality
Heating comes through the traditional carbon fiber filaments we've come to see as standard in the industry, and they're located in a single band around the waist of the jacket. Three modules range the temperature spectrum from 100 degrees to 131 on high. Although claimed battery life on the lowest setting is about 10 hours, on a medium to high setting, you'll likely get about 3-4 hours of battery life. With an auto-shutoff, there's no danger of the jacket short-circuiting or overheating.
---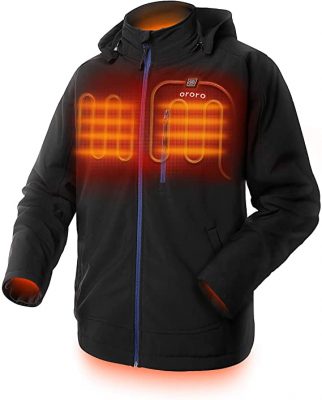 At a Glance:
Running Time: 10 hours
Materials: 100% Polyester
Jacket Design: Full softshell jacket with detachable hood
Review
The Ororo Men's Soft Shell jacket is a comfortable and mid-priced heated jacket better suited to casual use than use in the extreme cold. The jacket utilizes a water-resistant polyester that makes it good for use in the snow and acceptably impermeable in the rain. The coat includes high-quality touches that make it durable and convenient to use, such as the use of a YKK zipper, a machine-washable fabric, and a detachable hood.
Our single issue with this jacket is the battery plug-in: the jacket's lithium-ion power source plugs in via a rather flimsy connector that easily comes unplugged. While this isn't an issue in most use cases, and even a brisk walk won't disconnect the plug, those doing rigorous physical activity might want to consider an option meant for physical activity like the Dewbu Heated Softshell.
A final note on this excellent jacket: if you're in between sizes, size down. While Ororo's sizing guide is accurate, the actual model dimensions used for each size are a bit larger than typical.
Heating Functionality
Orono uses a series of three heating elements that wrap around the entire upper torso of the jacket, evenly distributing heat to the body. The heating elements are made of carbon fiber and can be placed on three different heating settings: high, medium, and low.
While low heating is for warmer days and just warms the body mildly, the high setting produces a heat that thoroughly and rapidly warms you up. Since the high setting is quite powerful, it quickly chews through battery life. Make sure to ration your use of the high heat setting if you're a long way from a recharge.
---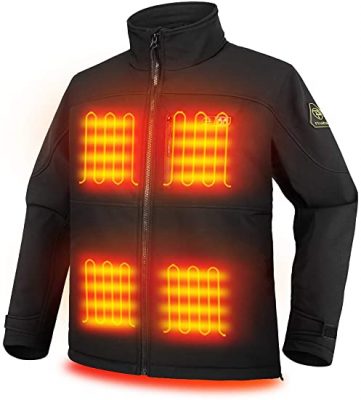 At a Glance
Running Time: 8 hours
Materials: Polyester/Cotton
Jacket Design: Hoodless Jacket
Review
While PTAHDUS isn't a household name in winter clothing, the company has ridden the digital retail wave to success by providing high-quality, reasonably priced clothing to online customers. In this industry, reputation is everything, and PTAHDUS has a full line up of heated garments that are beginning to garner positive attention online.
With an inside layer of fleece material and a middle cotton insulative layer, the jacket is comfortable and warm even without the heating elements turned on. It's warm without being bulky, and the five carbon-fiber heaters are flexible and don't feel obtrusive or make the jacket stiff.
The battery is about iPhone sized, and the heating elements are thin which keeps the jacket form-fitting but still leaves room for a few layers of winter clothing under the garment. At an average price point, it's not inexpensive by any means but it's still more economical than name-brand garments like the Milwaukee M12.
Heating Functionality
This jacket shines in heating functionality. While it is about average in terms of price, five distinct heating elements provide all-encompassing warmth. Located on the chest, mid-back, and sleeves, the heating elements warm up quickly and continue to warm for up to eight hours on the lowest setting, which is still relatively powerful. A 7.4-volt battery means that the sweet spot of warmth and battery life is on the jacket's 'medium' setting. Pockets are heated as well, so if you've got cold fingers you can pop in your hands and warm up.
---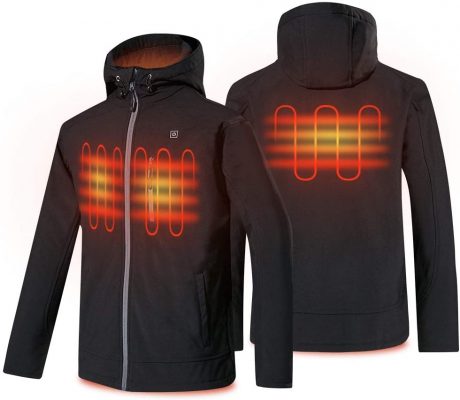 At a Glance:
Running Time: 16 hours
Materials: Polyester
Jacket Design: Waterproof Hooded Jacket
Review
PROSmart is a newcomer brand that has recently started offering low-price heated jackets with a direct to consumer model. This waterproof version is relatively lightweight with a waterproof shell but has some internal insulation. Build quality is so-so on this offering, with cheap-feeling zippers, finishes, and loose stitching that doesn't feel particularly long-lasting.
Three heating elements (two in the chest, one on the back) are effective but other manufacturers typically include four or five to warm up their jackets evenly, perhaps this contributes to this jacket's problem with hotspots. There are no heating elements in the sleeves, and the untailored cuffs and collars mean that heat slowly leaks out of the jacket.
While ProSmart claims a 16-hour battery life on their low setting, low is very low and merely provides a smoldering, gentle heat—if we had to guess, we'd say that it's a tactical move from ProSmart so that they can advertise an incredible battery life. Battery life for medium and high settings is about average. The battery is small and lightweight for a 12v model, which keeps the jacket mobile and good for outdoor activities like skiing and hiking.
Heating Functionality
Relying on a 12-volt electric system, heating is particularly powerful, although a little uneven as the elements produce some hotspots. Otherwise, for a price only slightly above $100, we think the heating functionality is quite impressive. Another thing we love is the fact that the electronic heating system is compatible with Craftsman, Milwaukee, and DeWalt batteries, meaning that if you've already got a battery from another manufacturer, you can cross over and use it with this heated jacket.
---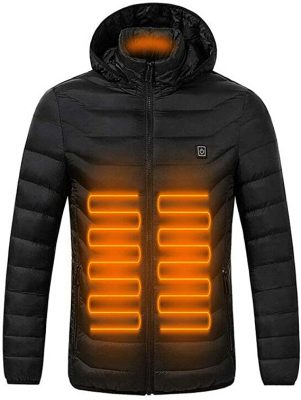 At a Glance:
Running Time: 8 hours
Materials: Nylon/Polyester
Jacket Design: Lightweight Hooded Jacket
Review
Compared to the $500 heated jackets of the past, at almost one-tenth of the price, the Antarctica Lightweight Heated Jacket is a pricing miracle. However, this jacket isn't just cheap, it's visually attractive, and the black or red variations look every bit as nice as their name-brand counterparts. We especially love the collar of the jacket, as a fitted collar fits under the hood, trapping heat inside of the garment.
With a one year warranty, the jacket's construction is guaranteed but not necessarily super durable in terms of build quality. A nylon top layer means it's relatively waterproof, but seam quality is low and the buttons and zippers feel a little cheap. Overall, though, it feels pretty solid and there's a healthy layer of insulation to hold heat in.
So for just a little over $50, what's the catch? Will it last all of your life? No. Is it as warm as premium jackets such as the Milwaukee M12? Again, no. But without doubt, it will get you through a bone-chilling winter without problem, and for the price of a dinner for two. For us, that alone earns it a spot on our list.
Heating Functionality
Heating functionality doesn't feel as strong as more expensive garments, but it is well thought out. The elements warm-up almost instantaneously and wrap around the front and the lower back, distributing warmth to the whole core. On the lowest setting, the jacket's lithium-ion battery works for up to eight hours. Heating is adjusted via a front button with three different heating levels, although the top heating level on this jacket is more like the 'medium' level on other jackets.
---