Exposure to loud noises is really harmful to your ears. Even one extremely loud sound can lead to hearing loss—or more accurately, noise-induced hearing loss (NIHL). It's even worse if you have to be repeatedly subjected to loud noises, whether willingly or otherwise.
Fortunately, there's a way to prevent NIHL. You just need to wear hearing protection and wear it correctly. The bad news is, there are so many healing protectors avaliable that shopping for one can be tedious and time-consuming. But here's some good news: we've rounded up the best hearing protectors around so you won't have to. Check them out below.
How to Choose the Best Hearing Protectors
Before you begin your search, you should learn about the different types of hearing protectors and their features to make it easier for you to compare them.
Hearing Protectors by Type
There are two main types of hearing protectors: earplugs(in-ear protectors) and earmuffs(on-ear/over-ear protectors.)
Earplugs
You've seen them before—they're the handy things people insert in their ears to protect their hearing. They're small, easy to store, and easy to transport, which also means they're easy to lose, like your keys. They don't come with special features, but the price is hard to beat.
They're for you if you don't like the idea of wearing something over your head or earmuff-style protection is too hot and heavy.
Earmuffs
They look exactly like a pair of headphones, so it's easy to mistake them for one. They're either passive or electronic. Passive earmuffs block out noise, but electronic ones do much more than that. They amplify ambient noise for hunting and may also come with digital features you might like.
The type of hearing protector you pick really depends on the intended use and how much you're willing to pay for extra features. Regardless of what type you pick, make sure to take a look at the list of basic features below, so you know what to look for in a hearing protector.
Features to Consider in a Good Hearing Protector
If you've never owned a hearing protector before, you might be thinking all you need is one that sufficiently blocks out noise. While that is the most important thing to keep in mind when buying a hearing protector, there are other features that could affect the efficiency of a hearing protector as well.
Noise Protection
Hearing protectors vary in the level of noise protection they offer. The standard method used to measure this is the Noise Reduction Rating (NRR), which was developed by the Environmental Protection Agency (EPA). It is expressed in decibels (dB) and is shown on the package per EPA's regulation. Some of the best hearing protectors offer an NRR of over 30dB.
On paper, the higher the NRR, the better, but in reality, it really depends on how well the hearing protector fits you and if it provides a good seal from outside noises. Still, go for a hearing protector that has an NRR of at least 22dB.
Now, just because a hearing protector has an NRR of 22dB doesn't mean that it will reduce a sound's volume by 22dB—it's more complicated than that. If you want to learn more about how NRR works, you can jump to this section.
Comfort
The NRR of a hearing protector is undeniably the most important consideration, but you should consider comfort as well. Depending on the intended use, you could be wearing the hearing protector for hours at a time, so it's important to get one that provides adequate comfort. Walker's Razor Quad Bluetooth Muff is by far the most comfortable option.
Later on in the article, you'll find a list of things to look for when choosing the most comfortable hearing protector for your ears.
Design
Hearing protectors come in a wide variety of designs. Depending on your ear and/or head shape, some options may not work for you, even if they have stellar reviews.
Earplug Designs
Cylindrical earplugs are the most basic of all earplugs, but they usually don't stay in your ears that well. Tapered and bell-shaped earplugs are the go-to, and you'll see we've recognized the tapered Mack's Ultra Soft Foam Earplugs as one of the best hearing protectors to buy in 2021.
Another good option is flanged earplugs, like the SureFire EP4 Sonic Defenders Plus Earplugs.
Earmuff Designs
To dampen loud noises as much as possible, earmuffs tend to be really bulky. And when they're bulky, they can interfere with shooting guns or your work, and may not be compatible with additional gear or personal protective equipment.
It's best to find slim options with ultra-low-profile ear cups like the Walker's Razor Slim Electronic Muff. You should also pick earmuffs that you can fold into a more compact shape. That way, they're easy to store and transport.
Extra Features
Since earplugs are pretty basic and straightforward, the only three features you'll probably consider in earplugs are the following:
Whether they're reusable instead of disposable
Whether they come with a traveling case
Whether they feature a cord or band that enables you to rest the hearing protector on your neck when not in use
But earmuffs are different. Some of them are so advanced they come with features you probably didn't know existed. You'll see a list of these features later in the article.
Now that you know what to look for in hearing protectors, it's time to take a look at 10 of the most highly rated hearing protectors and find the right one for you.
Top 10 Best Hearing Protectors 2022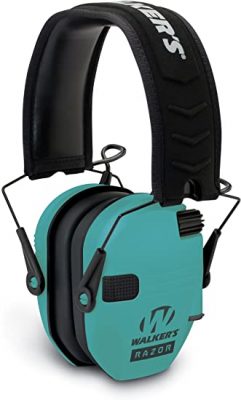 Why we like it:
Not only does it efficiently block out harmful, loud noises, but it also comes with a volume control knob that you can operate even when wearing gloves.
Editor's Rating:
Quick Facts:
Type: Earmuffs
NRR: 23dB
AUX: Yes
Bluetooth: No
The most revered hearing protector from Walker's, the Razor Slim Electronic Muff offers excellent hearing protection but without the bothersome bulky design that's usually associated with the best hearing protectors.
Popular with people from a wide variety of professions and backgrounds, this hearing protector excels at the shooting range, but also works great for yard work and drag racing.
Noise Protection
Featuring an NRR of 23 dB, the Razor Slim Muff dampens noises that are over 89dB and comes with a Sound Activated Compression feature that boasts an ultra-fast 0.02-second response time.
It comes with two microphones that pick up low-level noise, so you'll be able to talk to people like normal. This also means that this hearing protector wouldn't be a good option if you were looking for something to block out ambient noise.
Another thing to note is that the sound amplification is non-directional. It's really hard to know where the sound is coming from, so you'll often end up looking the wrong way when you hear a sound.
Comfort and Design
It has a coveted ultra-slim design that doesn't interfere with most uses. It folds up easily, and is compact when folded which makes it easy to store. Unlike many hearing protectors that only come in the standard black issue, this one comes in nine, cool-looking colors/patterns.
As for comfort, it's pretty comfortable thanks to the fully-adjustable, padded headband. It can be worn comfortably for a few hours, but if you wear it for an extended amount of time, you may start feeling some discomfort.
Audio
This hearing protector comes with a 3.5 mm jack, as well as dynamic range HD speakers, which are a great addition if doing yard work without your favorite tunes bores you out of your mind.
The volume control is easy to find, and thanks to the raised ridges, you'll be able to manipulate it even if you're wearing gloves.
Pros
Ultra-slim design

Over 89dB of protection

Good ambient sound amplification

0.02 response time

Easy-to-manipulate volume control knob
Cons
Uncomfortable after prolonged usage

Subpar omnidirectional reporting
---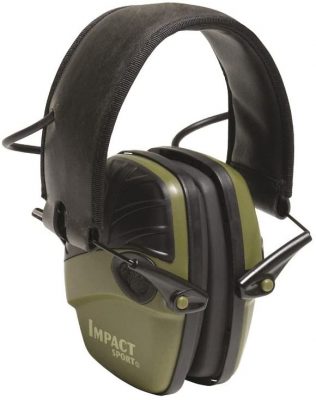 Why we like it:
Perfect for shooting, it dampens gunshot sounds really well, and the superb ambient noise amplification makes it an excellent option if you're working with a team.
Editor's Rating:
Quick Facts:
Type: Earmuffs
NRR: 22dB
AUX: Yes
Bluetooth: No
The Howard Leight Impact Sport Earmuff is built and designed for shooters and hunters. It does a great job at reducing gunshot noises, but you'll need additional hearing protection against louder sounds like a lawnmower.
Noise Protection
With a noise reduction rating of 22dB, the Impact Sport Earmuff provides great noise protection when it comes to gunshot sounds. Anything more than that and your ears will ring like you just attended a rock concert. If you're looking for a hearing protector with a higher NRR, the Decibel Defense Safety Ear Muffs have a very high NRR of 34dB.
Where this hearing protector really shines is ambient sound amplification. The distortion-free amplification allows low-level sounds like talking and range commands to come through really well. Not only that, but you can easily tell where the sounds are coming from thanks to the built-in directional microphones.
Comfort and Design
You have more options to choose from with this hearing protector, as it comes in eight different colors. It's easy to fold and store, and the adjustable headband can fit most head shapes and sizes. It also comes with a carrying case to make transport even easier.
The padded headband and snap-in ear cushions allow for comfortable extended wear, except the comfort goes down by a lot if you're wearing glasses.
Out of all the best electronic hearing protectors, Impact Sport Earmuff has the longest battery life at a staggering 350 hours. The two AAA batteries are included, and there's a 4-hour automatic shut-off that prolongs the battery life even further.
Audio
Like the Razor Slim, the Impact Sport comes with AUX-in. The audio quality is substantially better though. The only downside is the few seconds of lag that occur when you turn them on or when you adjust the volume.
Pros
Excellent ambient sound amplification

Comfortable for long periods of time

350-hour battery life

Good audio quality

Comes with a carrying case
Cons
Sound lags when music is turned on or volume is adjusted

Uncomfortable with glasses

Noise reduction too low for louder sounds like a lawnmower
---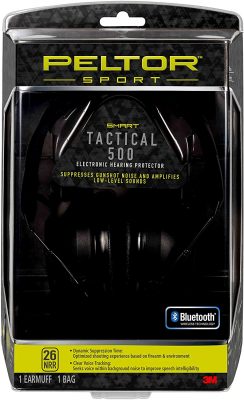 Why we like it:
It cancels out really loud noises and the echoes that follow and has both AUX-in and Bluetooth.
Editor's Rating:
Quick Facts:
Type: Earmuffs
NRR: 26dB
AUX: Yes
Bluetooth: Yes
As the name says, this electronic hearing protector uses proprietary smart technologies to keep your ears protected while also offering other benefits you'll love. Coming in at over $120 per unit, it is a bit pricey, and in fact, costs three times more than the Walker's Razor Slim Electronic Muff. However, the extra features are superb, so it's well worth the money.
Noise Protection
The Peltor Sport Tactical 500 is effective at dampening super loud noises thanks to its 26dB noise reduction rating. It's mainly marketed towards shooters and hunters, but it also works well for when you're doing yard work or woodworking.
What makes it really good for shooting guns is the Dynamic Suppression Time feature. What it does is that it recognizes the energy of a shot through its volume, then automatically sets the suppression time to reduce the echoes that follow.
But since it continues to block noise until the loud echoes are gone, you won't be able to have a regular conversation while firing. Once the loud noises stop, however, you will be able to resume talking like normal since it has a Clear Voice Tracking feature that amplifies voices and improves speech intelligibility.
Comfort and Design
The Tactical 500's slim design makes it so you can wear it over your hat. It's also lightweight and compact when you fold it away for storage. It comes with comfortable cushioning, but the adjustable headband can dig into your head and get quite uncomfortable after extended use.
Moreover, durability is pretty questionable despite the hefty price tag. There's a high chance of the headband breaking if used regularly or not handled with care.
Audio
This hearing protector comes with a 3.5 mm jack, but unlike the Walker's Razor Slim Electronic Muff, it also comes with a Bluetooth feature. Pair it with your phone and you'll be able to take and make calls with it.
Unfortunately, the Bluetooth quality isn't that great. The speakers emit a buzzing noise when Bluetooth is active, which you could still hear even with loud music.
Pros
Reduce loud noises and their echoes

Has Bluetooth

Lightweight

Low-profile and compact design
Cons
Uncomfortable headband

Breaks easily

Bluetooth quality could be better
---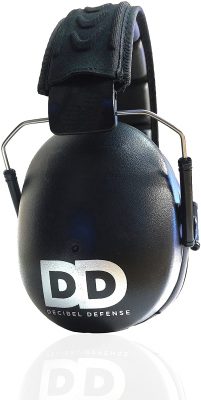 Why we like it:
As the hearing protector with the highest NRR, Decibel Defense can protect your ears against most loud noises without additional hearing protection.
Editor's Rating:
Quick Facts:
Type: Earmuffs
NRR: 34dB
AUX: No
Bluetooth: No
The Decibel Defense Professional Safety Ear Muffs have the highest NRR out of all the best hearing protectors on the market. They're certified for 34dB, but the manufacturer claims that they test at 37dB. They're passive like the Mpow 035 Safety Earmuffs, but they cost almost twice as much due to the high NRR. Unlike the Mpow 035, however, they come in 5 solid colors, so you have more options.
Noise Protection
Offering superior noise reduction, Decibel Defense Safety Ear Muffs can be used for almost all purposes, from lawn maintenance and using power tools to concerts, sports events, and protection from your neighbor's (or your own) loud drums. You could wear this hunting or shooting at the range without needing to wear earplugs underneath.
Comfort and Design
These earmuffs are designed to fit securely to your head—so much so that it can actually be uncomfortable and sometimes painful if you have a larger head. But because they're smaller than your average earmuff, they will be able to fit children just fine.
If you have a smaller head, they should be pretty comfortable and remain comfortable even after several hours of wearing them. That said, because of how snuggly they fit, heat doesn't really escape, so it might make your ears uncomfortably hot when worn for too long on a warmer day.
Another drawback is that you can kind of tell that the earmuffs were made with low-quality materials. They tend to break sooner than the average over-ear hearing protector.
Other Features
The Decibel Defense Safety Ear Muffs aren't designed for music-listening, but since you can wear earbuds under them, you'll still be able to listen to your favorite tunes.
Pros
Impeccable noise reduction

Comfortable on smaller heads

Fits children

Compact
Cons
Tight on larger heads

Cheap construction

Can get uncomfortably hot on warmer days
---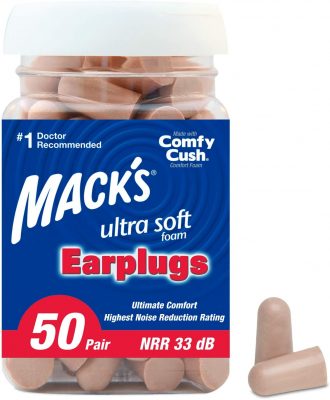 Why we like it:
It's a no-fuss, no-frills, comfortable option that provides excellent noise protection at a really low price.
Editor's Rating:
Quick Facts:
Type: Earplugs
NRR: 33dB
AUX: No
Bluetooth: No
Mack's Ultra Soft Foam Earplugs are a great option if you're just looking for a basic, in-ear hearing protector that reduces noise just as well (or better) as the earmuff variety. For right around $10, you get 50 pairs of earplugs that come in a plastic jar. It's among the cheapest hearing protectors you can get anywhere.
Noise Protection
At 33dB, the noise protection these earplugs offer is pretty solid. They're mainly sought out by people who are starting to lose their sanity due to their spouse's loud snoring, and students who just want to finally get some studying done. But they also work great for use at concerts, movie theaters, weddings, and church ceremonies.
And that's not all—you could use them for shooting, woodworking, using power tools, and mowing the lawn.
Comfort and Design
Apart from being super affordable, Mack's Ultra Soft Foam Earplugs are also among the most comfortable hearing protectors. You won't have to deal with an annoying headband that digs into your head, or ear cups that press firmly onto your ears. In fact, you'll barely feel them. And because of the neutral, beige color, they won't stand out like a sore thumb.
Like the name says, they're extremely soft, which makes them really easy to insert in your ear. Just pinch and insert, and it will expand in your ear to create a seal. Because they don't go on or over your ears, you'll be able to wear any type of glasses or headgear without a hitch. Moreover, they won't get in the way no matter what shooting position or firearm you use.
If there's one almost intolerable problem with these earplugs, it's that it can make your ear canal itch really bad.
Other Features
Like any other earplugs, Mack's Earplugs are very easy to store and transport. Since you'll have 50 pairs, you can pretty much put one pair in every bag, container, or case you own. You can keep some in your car, a pair in your jacket pockets, and a pair in your nightstand drawer all at once. But this also means they're easy to lose, and if you tend to lose small objects a lot, you might go through a whole jar much faster than you think.
Pros
Comes in 50 pairs

Comfortable

Easy to insert

Easy storage and transport
Cons
Easy to lose

May cause ear itch
---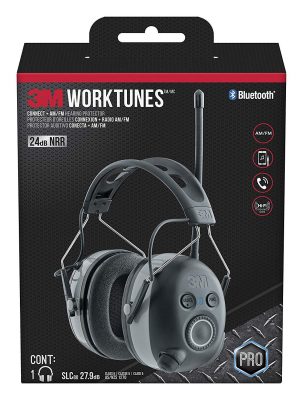 Why we like it:
This hearing protector comes with Bluetooth, an audio jack, and a built-in AM/FM radio so you can listen to your favorite tunes the way you want while keeping your ears protected.
Editor's Rating:
Quick Facts:
Type: Earmuffs
NRR: 24dB
AUX: Yes
Bluetooth: Yes
3M takes hearing protectors to the next level by offering an over-ear option that doesn't only dampen noise and come with an audio jack but also comes with Bluetooth and a built-in AM/FM radio. As you'd expect, the price tag is higher than some of the best hearing protectors on the market. If you'd rather lose the AM/FM radio for a lower price, the 3M WorkTunes Connect Hearing Protector with no AM/FM costs over $10 less.
Noise Protection
These earmuffs from 3M do an outstanding job of reducing noises from loud tools and equipment. You won't even need to turn the volume of your music all the way up to escape the blaring, annoying noise. They're great for yard and garden work, woodworking, and shooting.
Comfort and Design
The design is pretty comfortable and there's plenty of adjustment room to fit most heads. It does make your ears uncomfortably hot and sweaty on a hot day, so you might want to get a jar of Mack's Ultra Soft Foam Earplugs as well just in case you need a break from the earmuffs.
Also, this headset is pretty heavy at 20 oz, so you'll have to think about whether you'll be okay with wearing it for an extended amount of time.
Audio
Having three listening options to choose from will really expand your music horizon. You can stream music from your phone and other Bluetooth-capable gadgets, plug your MP3 player into the headset, or use the AM/FM radio that saves up to 50 stations. The Bluetooth technology will also allow you to make or receive phone calls using your hearing protector.
You'll be able to turn up the volume of your music or call with the Safe Volume Control feature, but it will automatically turn it down to a safe level once the volume hits a harmful level. While this seems like a good feature, those who like their music really loud might consider this to be a flaw.
It's worth mentioning that while it comes with three different ways to listen to music, the audio isn't really amazing, and it might put you off if you're an audiophile. But it should be adequate if you're not nit-picky about audio quality.
Other Features
The addition of the nifty Audio Assist feature goes to show that 3M really understands their customer base. This feature will help you navigate through the settings and operate the earmuffs without removing them. Additionally, it has a two-hour auto shut-off feature to prolong the life of the built-in rechargeable battery.
Note that you might need replacement ear pads with heavy use, but 3M will send them to you for free if you ask.
Pros
Has Bluetooth

Built-in AM/FM radio

Audio assist feature

Auto shut-off
Cons
Heavy

A bit pricey

Just OK audio quality
---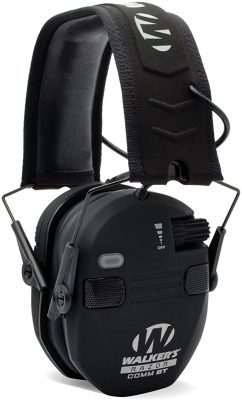 Why we like it:
The most comfortable hearing protector yet, the Razor Quad Muff has excellent ambient sound amplification, and it also comes with Bluetooth.
Editor's Rating:
Quick Facts:
Type: Earmuffs
NRR: 23dB
AUX: No
Bluetooth: Yes
The Walker's Razor Quad Electronic Muff is the more expensive sibling of the Walker's Razor Slim Muff. They're pretty similar in that they both offer great noise reduction and ambient sound amplification. What makes the Razor Quad different from the Razor Slim is that it is Bluetooth-capable and has four high-gain omnidirectional microphones instead of two. It's substantially more comfortable as well.
The addition of these features also increases the price by a lot—the Razor Quad is about 1.7 times more expensive (or about $30 more) than the Razor Slim. If you don't mind paying extra for the Bluetooth technology maximum comfort, definitely get the Razor Quad.
Noise Protection
Like the Walker's Razor Slim, the Razor Quad features an NRR of 23dB. It also comes with the same Sound Activated Compression feature and the same 0.02-second reaction time. The sound amplification is much better than the Razor Slim's thanks to the two additional omnidirectional microphones, and there's a volume control knob for adjusting the volume of the ambient noise.
Unfortunately, the company didn't really address the subpar directional reporting. You'll still have issues figuring out where the sound is coming from.
Comfort and Design
Like the Razor Slim Muff, the Razor Quad Muff also has a slim design that folds easily and compactly for storage. The low-profile ear cups provide little to no interference when shooting or hunting. They are also so much more comfortable and you can really tell that the build is superior. You'll be able to wear it pretty much all day. That said, if you have a larger head, the headband will feel tight and uncomfortable.
Audio
The 3.5 mm audio jack in the Razor Slim Muff is replaced by Bluetooth technology in the Razor Quad. This can be good or bad depending on your preference. The cool thing about it though is that it comes with its own volume control separate from the one for ambient noise.
However, the Bluetooth quality isn't the best. The sound sometimes cuts out and when you're on a call, the other person will hear muffled sounds coming from your end. It's probably not worth the extra $30 if you're looking for a hearing protector with Bluetooth, but if you care more about the added comfort and the superior sound amplification, it should be worth the money.
Pros
Has Bluetooth

Excellent ambient noise amplification

0.02-second response time

Very comfortable

Slim design
Cons
Not for larger heads

Subpar omnidirectional reporting

Bluetooth quality isn't great
---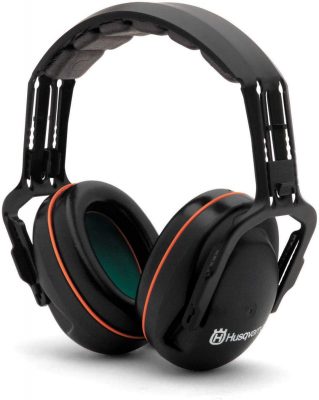 Why we like it:
It is very light and comes with a one-size-fits-all adjustable headband that makes it perfect for children.
Editor's Rating:
Quick Facts:
Type: Earmuffs
NRR: 25dB
AUX: No
Bluetooth: No
You know a hearing protector is trustworthy when it's made by a reputable company that also manufactures outdoor power tools and equipment. Manufactured by Husqvarna, these passive earmuffs have an innovative design which makes them suitable not just for adults, but also for kids.
Noise Protection
These earmuffs are rated at 25dB and are able to efficiently dampen noise caused by power tools, yard equipment, and more. They also work great for shooting guns. As with any passive option, you won't be able to connect them to your MP3 or your phone, but you can always wear earbuds underneath so you can listen to music.
Comfort and Design
This hearing protector features a universal fit headband that you can adjust to fit your head. Because these earmuffs are a bit smaller than the average, they fit children really well and will keep their ears protected from harmful sounds. But this also means they're not great for larger heads.
Weighing only 10.4 oz, they're among the most lightweight of the best hearing protectors, which makes them an even better choice for kids. They're padded too so they're comfortable to wear, and they come with a pressure adjustment feature to minimize the risk of getting a headache after extended wear.
If we had to ding it for something, it's that the construction feels kind of cheap and the build is a bit flimsy. It's about $10 more than the passive Mpow 035, so it's natural to have higher expectations.
Pros
Comfortable

Very lightweight

Best for kids
Cons
Not for larger heads

Flimsy
---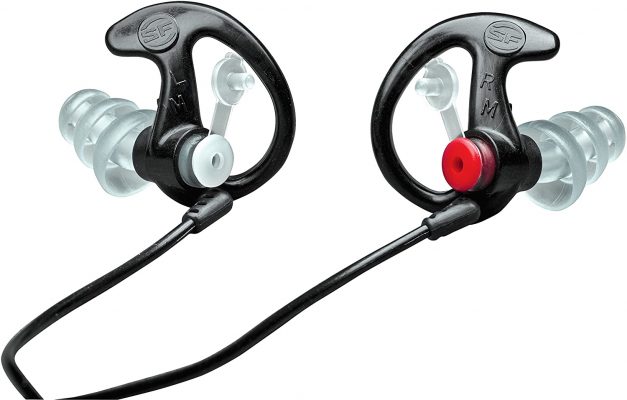 Why we like it:
They lock in place better than most earplugs and come with a feature that can turn ambient noise on or off.
Editor's Rating:
Quick Facts:
Type: Earplugs
NRR: 24dB
AUX: No
Bluetooth: No
Perhaps the most interesting-looking earplugs you've seen to date, the SureFire EP4 Sonic Defenders Plus Earplugs feature a very complicated design that enhances user experience in multiple ways.
Noise Protection
These earplugs have an NRR of 24dB. They work for most uses, but the level of noise they can block out really depends on how they fit in your ears. If you get the right size (there are three) and they fit well, they should be able to filter out noise just fine.
Comfort and Design
Unlike the earplugs that you pinch to insert in your ears, the EP4 Sonic Defenders Plus earplugs have a flanged design that's not only easy to insert, but also more comfortable to wear. You only get one pair which is meant to be reused for the duration of its lifespan.
The flanged stems are attached to the company's patented EarLock retention rings which lock the earplugs in place. The earplugs also come with filter caps that you can snap on or off depending on whether you want ambient noise to come through.
Thanks to the low-profile design, you'll be able to wear additional protective equipment with these earplugs, whether it's a helmet, a hat, or a pair of earmuffs. They also come with a cord that you can attach to the plugs so you can rest them on your neck.
They come in three sizes: small, medium, and large. If you get the wrong size, they won't filter out noise as well as they should. If they're too big, they will feel uncomfortable, and if they're too small, they'll fit loosely and fall off.
Because they tend to break easily when not handled with care, you'll have to be more careful in handling them.
Pros
Easy to insert

Comfortable

Optional cord

Snap-on/off filter caps for ambient noise
Cons
Chance of getting the wrong size

Breaks easily
---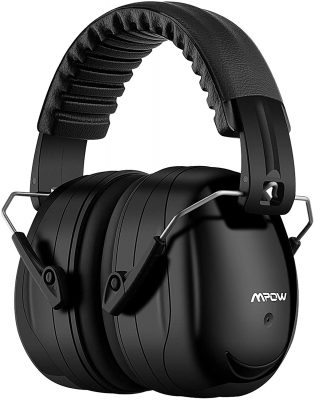 Why we like it:
A pleasure to both your wallet and ears, this hearing protector offers outstanding noise protection at a bargain price.
Editor's Rating:
Quick Facts:
Type: Earmuffs
NRR: 28dB
AUX: No
Bluetooth: No
If you want a hearing protector that offers superb protection but doesn't cost an arm and a leg, look no further than the Mpow 035 Safety Earmuffs. This passive hearing protector doesn't come with special features like AUX and Bluetooth, but if all you need it for is blocking out loud sounds, then you should definitely get it.
Noise Protection
Because of its high noise reduction rating of 28, the Mpow 035 works for most purposes and environments. You could use it for hunting and shooting at the range, and it's also suitable for construction work or operating loud machinery. You could even wear it to sports events, concerts, and festivals to protect your ears from week-long ear ringing.
What it isn't good for is noises over 100dB, like a leaf blower. You would need a hearing protector with a higher NRR for that.
Comfort and Design
You wouldn't really expect something this cheap to be comfortable, but the Mpow 035 surprisingly is. Apart from having super soft ear cups, this hearing protector is also really lightweight at 11.7 oz, so they won't press too hard on your ears.
The Mpow 035 comes with an adjustable headband and 360° rotatable cups to fit most head sizes and shapes—even children—but it can be a little tight on larger heads.
They fit over most types of glasses, like prescription glasses or shooting glasses, but they're too bulky for rifles. They can also get kind of hot, which is why the manufacturer recommends to take it off after two to three hours in the summer to give your sweaty ears a break.
Other Features
Another great thing about this hearing protector is that even though it doesn't come with AUX or Bluetooth, you can still listen to music by wearing earbuds under them. This won't really break the seal or affect its ability to reduce noise.
Just like the Howard Leight Impact Sport Earmuff, Mpow 035 comes with a drawstring bag for easy storage and transport.
Pros
Lightweight

Comfortable

Fits both adults and children

Comes with a carrying bag
Cons
Tight on larger heads

No AUX

Gets too hot in the summer
---
Guide to Buying the Best Hearing Protectors
It's good to know what the best options are, but it's also important to know other things that will help you pick the right hearing protector and get the most out of it. Before that, however, let's take a look at why it's important to protect our hearing.
Why You Should Prevent Hearing Loss
According to a 2011-2012 study by the Centers for Disease Control and Prevention (CDC), up to 40 million adults may have hearing loss in one or both ears from loud noise exposure, as suggested by their hearing test results.
That's a lot of people, and you definitely don't want to be part of the statistics, especially since hearing loss can come with many negative consequences. It's associated with cognitive decline and heart problems, but it can also lead to isolation, depression, and tinnitus (ringing in the ears). To avoid all these, you should always wear a hearing protector if you're going to be exposed to loud sounds.
When to Wear a Hearing Protector
Sounds over 85dB are considered to be too loud, but if you have sensitive hearing, you might not even be able to tolerate sounds less than 85dB. If you know you're going to be exposed to extremely loud sounds, you definitely have to wear a hearing protector.
See the Decibel Scale below to get an idea of how loud everyday noises are in dB.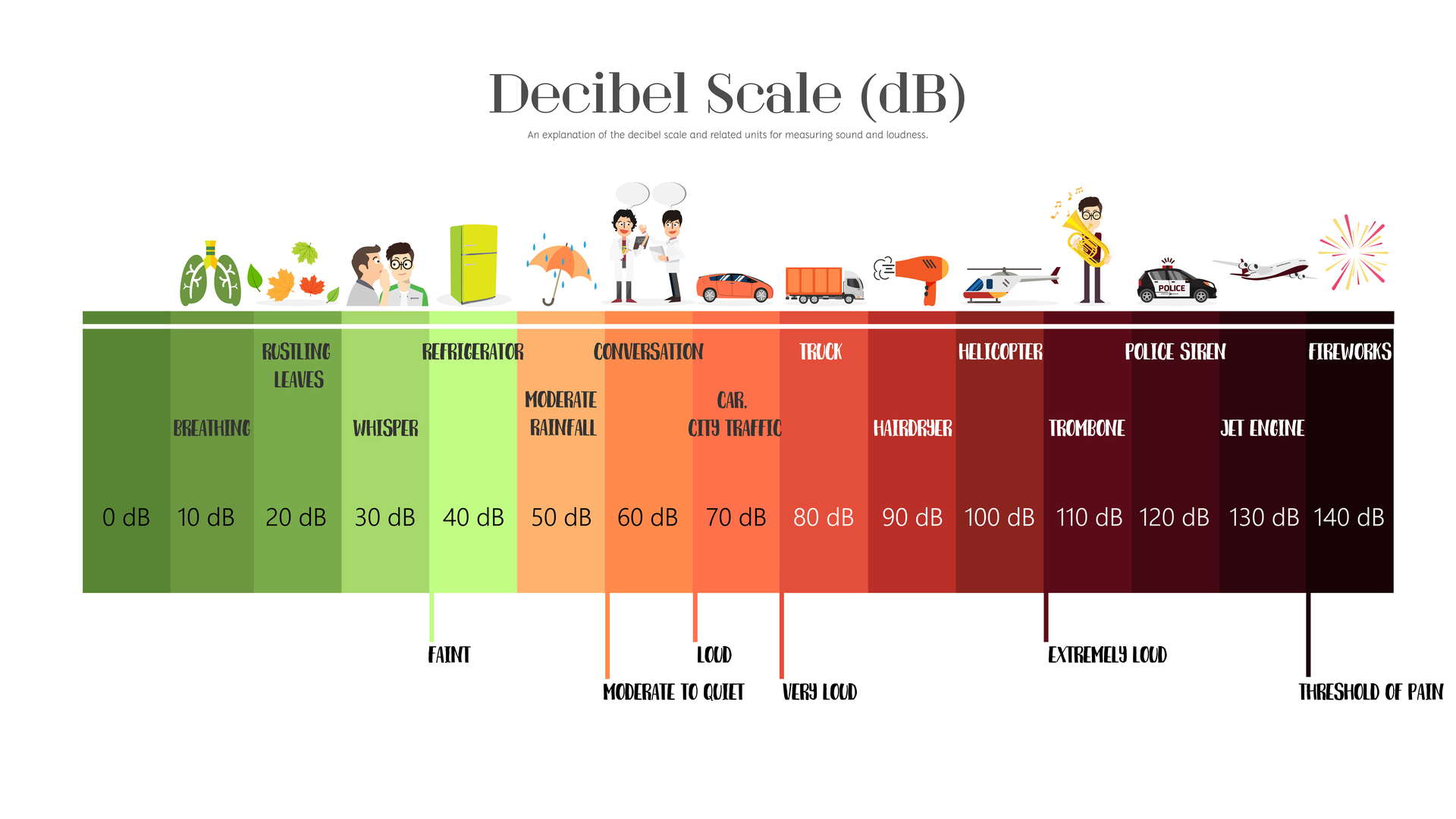 Noise Reduction Rating Explained
As stated before, the number associated with a hearing protector's NRR isn't the same number that's subtracted from the surrounding decibel's level. You have to do some math to get to that number.
Here's how it's done: Subtract 7 from the NRR value (let's say 25dB), then divide it by two. The result, which in this case is 9dB, is the actual number that will be subtracted from the loud sound's volume level in decibels.
If the level of noise exposure when running a hammer drill is at 95dB, then you're still exposed to an 86dB noise. That level is still bad for your ears, but it's still better than if you're not wearing any hearing protection.
Right now, the best hearing protectors go from 22dB to 34dB. A much higher number would be ideal, so here's to hoping hearing protection technology gets substantially better in the coming years.
For now, what you can do to further minimize potential damage to your ears is wear an additional hearing protector. This means wearing earplugs under your earmuffs.
By doing this, you'll gain an extra 5dB of protection, which is to be added to the hearing protector with the higher NRR. So if you're wearing a 25dB muff and 28dB earplugs, you add 5 to 28dB, and the sum (which is 33dB) is the total NRR you're getting.

Finding the Perfect Hearing Protector
Here, we'll go into detail about the different features and attributes of the best hearing protectors so you'll have an even better idea of what you need or want.

Ambient Noise Amplification
You're probably wondering why you'd want ambient noise amplification as a feature if you just want something to block out noises. The thing is, this can be a really great feature depending on how you intend to use your hearing protector.
For example, if you're going hunting, it'll be useful to hear your surroundings—you don't want a bear surprising you from behind. At the shooting range or at work, you'll still be able to have conversations like normal.
This is also a useful feature if you normally wear hearing aids. Even if you take your hearing aids off, as long as your hearing protector has excellent ambient noise amplification, you'll still be able to hear your surroundings.

Maximum Comfort
Here are a few things you should take into account if you want a comfortable hearing protector that you can wear for long periods of time:
Size and Construction (Earplugs). If you have smaller ear canals, you might find the average earplug to be a bit too big and uncomfortable, so you'll want earplugs that are the right size and are also soft so they don't hurt your ears. On the other side of the spectrum, if you have larger ear canals, earplugs might fit too loose, and so they won't do a good job at reducing noise. Loose earplugs can also scratch the inside of your ears.
Adjustable Headband (Earmuffs). Some hearing protectors just aren't built for larger heads. If you know you have a larger head, you have to find one that won't be too tight on your head. It'd be hard to focus on what you're doing if the headband was digging into your head. Earmuffs with an adjustable headband would be ideal, but even then, they could still be too tight depending on the brand.
Soft Padding (Earmuffs). Hearing protection companies employ different technologies to achieve maximum comfort including soft padding in ear cups and headbands. Make sure to look for a hearing protector that uses soft padding if you're going to be wearing it for an extended amount of time.
Audio Capability
Earplugs that are audio-capable are unheard-of, unless they've been brought back from the future by a time-traveler. Passive earmuffs don't come with this feature either, but electronic earmuffs can either come with one, two, or all of these things: an audio jack, Bluetooth technology, and a built-in AM/FM radio like the 3M WorkTunes Connect + AM/FM Hearing Protector.
Those fitted with Bluetooth technology can also make and take phone calls, so that's a huge plus since you won't need to take your earmuffs off for it. But because it's a pretty convenient feature, it also adds a lot to the price. Which can be a real bummer if it turns out the quality of the audio isn't as good as expected.
Battery Life
If you've decided on electronic earmuffs, you should pick ones that have a long battery life so it doesn't die on you after a few hours of usage. Howard Leight Impact Sport Earmuff is the best option in terms of battery life. Some hearing protectors also come with an auto shut-off feature, which can prolong your earmuffs' battery life.
Ease of Use
Some of the best hearing protectors are fitted with technology that makes them much easier to use than the average hearing protector. For example, the 3M WorkTunes Connect + AM/FM Hearing Protector comes with an Audio Assist Technology that will provide operational guidance so you won't have to remove your earmuffs to operate them.
Then there's the Walker's Razor Slim Muff which comes with a raised volume control ridge so you can manipulate the volume level easily even with your gloves on.
Getting the Most Out of Your Hearing Protector
As mentioned before, it's better to get a hearing protector with a high NRR since this means it will do a great job at dampening noise. But to actually get the optimum protection, you have to make sure the hearing protector is worn correctly to get a perfect seal.
How to Wear Earplugs
Since we've only included soft foam earplugs and flanged earplugs in this article, they're the only ones we're going to cover in this section.
Here is CDC's guide (with pictures) to wearing your soft foam earplugs correctly. And here's a video that shows how to insert the SureFire EP4 Sonic Defenders Plus earplugs in your ears.
What You Should Know About Earplugs
Wearing earplugs too often can lead to impacted earwax. Earwax usually drains bit by bit, but with earplugs in your ears, there's no way for your ears to do that. This can cause a build-up of earwax, which in turn causes a build-up of bacteria.
To avoid this, make sure you clean your ear canal and earplugs regularly to avoid ear wax build-up. Better yet, discard the earplugs (if they're disposable) as soon as you notice an accumulation of wax on them.
If you clean your ear canal and plugs routinely, you might be able to reuse disposable earplugs three times a week for up to two to three weeks before discarding them.
How to Wear Earmuffs
You need to wear earmuffs properly so that they give you the protection they're rated at. Here is a guide with pictures showing how to wear them correctly.
What You Should Know About Earmuffs
Just like earplugs, you also have to clean your earmuffs regularly. The box or packaging should include the manufacturer's instructions on how to do this right. But in case it doesn't, you can wipe your earmuffs with a mixture of warm water and mild soap, and wipe it again with clear water to get the soap off.
Make sure the ear cushions, especially the sound-attenuating material inside them, don't get wet. You can clean the cushions by using a soft brush to remove dirt that has accumulated on them.
Another thing you need to know is that every now and then, you have to check your earmuffs for wear and tear. You'll need to replace the ear cushions once they've degraded. You'll probably need to replace them every six to 12 months with regular use, and three to four months with heavy use.
If the headband no longer keeps the ear cushions snuggly against your head, it's time to buy a new hearing protector.
To prolong the lifespan of your earmuffs, store them in a case when not in use.
Final Thoughts
Your hearing is something that you should never take for granted. You don't want to be one of those people the saying "You don't know what you've got 'til it's gone" applies to. As long as you always wear your hearing protector around loud noises and you wear it properly, your hearing shouldn't leave you. But just to make sure your hearing is in tip-top shape, you should get your hearing checked every year if you're constantly exposed to loud noises.