Top 10 Best Hammer Drills 2023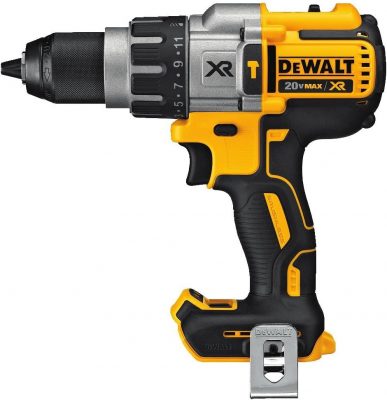 Quick Facts
Power Source: Cordless, Lithium-Ion Battery (Sold Separately)
Weight: 4.7 Pounds
Speed: 3 Stage 0-38, 250 2,250 BPM
This bare tool comes in at just under $170, which feels like a steal. As far as features are concerned, this drill includes a 3 stage variable speed gauge, a high-performance brushless motor and the battery life with the 20V Max* battery system that you would expect. Being a bare tool, though, you'll need to have the accessories, which can drive up the cost.
It deals with concrete no problem as long as you have the right drill bits for the job. It also has the normal driver mode for the day to day uses that you as a homeowner or professional tradesperson may have.
This drill rides the line between DIY and Professional grade. The only issue you might have is the battery running out on you prematurely. We would always recommend getting at least one extra battery if you are planning on using this tool in a professional capacity.
Value Proposition
The DEWALT DCD996B is a fantastic value for money. It's one of the two logical choices for professionals who want a reliable, ergonomic cordless hammer drill. The build quality and features built into this model offer a technologically advanced tool with great durability.
---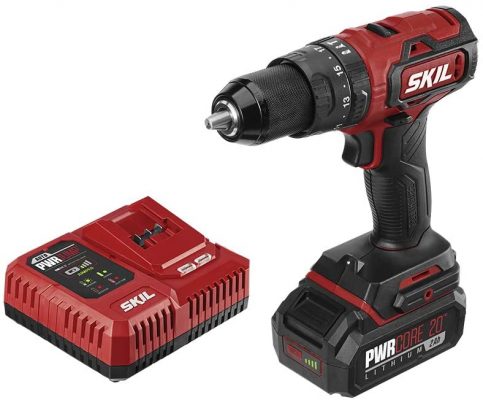 Quick Facts
Power Source: Cordless, Brushless Motor, Lithium-Ion 20V Battery (included)
Weight: 5.26 Pounds
Speed: 17 Selectable Torque Speeds, 450 in/lbs of torque max.
Not much separates SKIL PWRCore 20 Brushless and the DEWALT DCD996B as a raw tool, and this one comes with accessories too.
SKIL uses its own proprietary battery system known as PWRCore 20, much like many other companies. If you already own other PWRCore 20 tools it would be silly to buy into another brand, especially when SKIL is offering a top quality product. However, that proprietary journey might start with this kit, which will preclude you from buying a DEWALT later without having to invest in an additional charger.
Still, the SKIL includes a great battery and fast charger that can recharge your batteries in around five minutes. The lithium-ion battery rated at 2A and the PWR jump charger are both added bonuses that many companies do not include. DEWALT usually only offers its tools as a bare tool and not as kits.
The drill has three unique settings, hammer drill, regular drill and screwdriver drill. These alone make it possible to go from three drills to one, which is invaluable, especially on a job site – or for purchasers with limited garage space.
If you also take into account the brushless motor, the insane levels of torque and the reliability that surrounds SKIL tools, then this is a very attractive option. The drill has three unique settings, hammer drill, regular drill and screwdriver drill.
SKIL's newest cordless hammer drill is ideal for both tradespeople and DIYers. Aside from being a bit heavy, this feels about as close to perfectly balanced between price and features as is available on the market today.
Value Proposition
For a reasonable price, you get an above-average tool. The value here is mostly in the quality components and features that are included at no extra cost.
The drill has three unique settings, hammer drill, regular drill and screwdriver drill.
---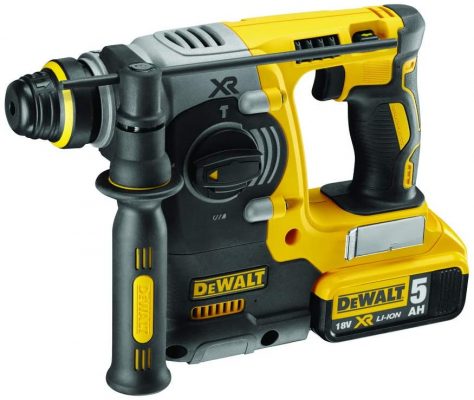 Quick Facts
Power Source: Cordless, Lithium-Ion Battery (Sold Separately)
Weight: 6.4 Pounds
Speed: Variable 0-4,600 BPM
Are you tired of always having to choose between power and portability? The DEWALT DCH273B is a powerful cordless drill that gets any job done. At over $300 it's not a cheap piece of equipment, but if you spend your workdays on the construction site and need a hammer drill as part of your daily routine, then this has you covered.
Usually, ultra-premium tools and gadgets are overpriced. How do we justify spending over $300 on this tool? It's simple. It's the most powerful and durable hammer drill on the market. On top of that, it comes with DEWALT's famous manufacturer's warranty as well, 3 years limited warranty, 1-year service coverage and a 90-day money-back guarantee. It's brushless, cordless, durable and will do the job you need it to do every time.
The DEWALT DCH237B can cut through concrete like a knife through butter with its 2.1 Joules of impact energy. Its brushless motor is quiet in comparison to the other options on the market. Last but not least, battery compatibility and quality make it so that if you already own other DEWALT 20V Max* or 60V batteries, you won't need to fork out additional cash.
Value Proposition
The DEWALT DCH237B is in a class of its own. It makes no compromises and has a ton to offer the professional. We would recommend this drill to everyone except for budget-conscious buyers.
---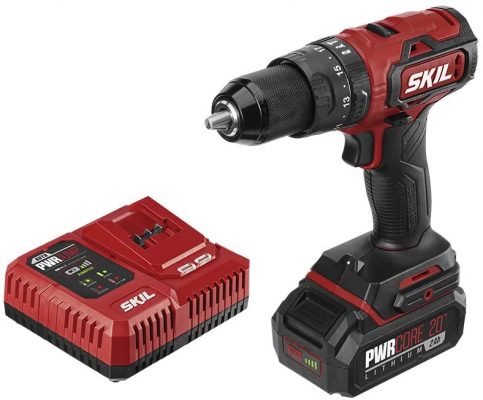 Quick Facts:
Power Source: Corded, 8.5 Amp Brushed Copper Motor
Weight: 12.2 Pounds
Speed: 0-4,300 BPM
DEWALT makes really good tools. The D25263K is a bit different than the other two options in a few minor ways and a couple major ways.
Let's start with a few of the minor, yet important differences. This hammer drill is much heftier than the other two options that weigh less combined than this does on its own. Like the Makita HR2475, its weight can actually be an advantage for stability and control. This specific model is also running an older copper brushed motor as compared to the newer brushless ones.
One of the most obvious differences between the D25263K and the DCH273B is that this one is corded and the other options from DEWALT are cordless.
The D26263K has the heft and feel of a "designed for professionals" hammer drill. This does come as a bare tool without a case, but its price is in line with that reality. This is also the best heavy-duty corded model on the market that doesn't make many compromises to keep the price down.
We would recommend the D25263K to professional craftsmen and women who need the most durable and reliable tool on the market without breaking the bank. It's not flashy, but it does the job right.
Value Proposition
DEWALT makes many fantastic tools and always seems to offer the best of the best at each individual price point and the D25263K is no exception. The lack of any additional accessories does bring the total value down slightly but as a whole the asking price is fair.
---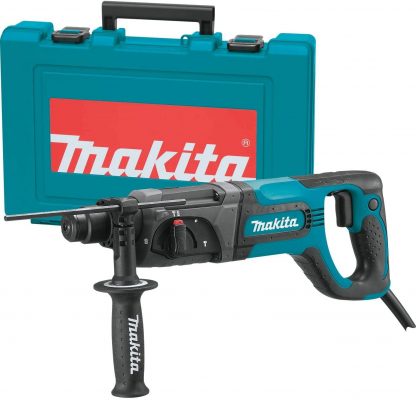 Quick Facts
Power Source: Corded, 7.0 Amp Brushed Copper Motor
Weight: 10.7 Pounds
Speed: 0-4,500 BPM
Makita has always made high-quality construction-grade tools at an affordable price and the HR2475 is no exception. Its iconic color scheme allows us to have nostalgic feelings when we think of the great tools of the past. As far as heavy-duty hammer drills are concerned, this is one of the better ones out on the market today.
The HR2475 comes as a bare tool but also comes with a Makita hard case which does add some value. However, there are no other accessories.
It does feel good to use as it has plenty of power and torque packed into this beast of a drill. Weighing in at over ten pounds, it is one of the heaviest drills on the list. This isn't always a bad thing though. In the case of the HR2475, we would actually say it's probably a positive. It feels powerful, and when used on a massive concrete block, actually is powerful. It slices through concrete with no effort at all.
There are a few issues with the drill though. Makita decided to simply rejuvenate their older copper brushed motor instead of upgrading to a brushless motor for this model. It really feels like a waste of potential.
One other issue that did rear its ugly head feels like somewhat of an engineering oversight, a "lock-on" button. The problem with this specific function or feature is that it can be a safety hazard if you are not careful, but maybe more importantly, can blow out the motor if you aren't paying close attention. A brushless motor would have easily balanced out these negatives because of the increased durability and longevity.
Makita's HR2475 is a solid choice for experienced hammer drill users. It is on the heavier side of things so keep that in mind when making a purchasing decision as it may be harder to handle than other drills on this list. Despite this, it is one of the better heavy-duty multifunction hammer drills available.
Value Proposition
The Makita HR2475 is a high-quality hammer drill with a price to match. It's expensive. For the most part you get what you pay for, however in this case it feels a little overpriced. If it happens to be on sale, that's when you would want to pick it up.
---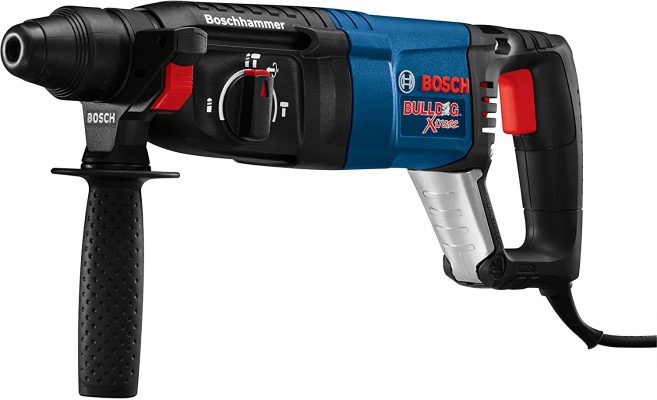 Quick Facts
Power Source: Corded, 7.5 Amp Brushed Copper Motor
Weight: 10.4 Pounds
Speed: 0-5,800 BPM
The Bosch has the same usage and style of both the DEWALT D25263K and the Makita HR2475. The Bosch does lag behind slightly for a couple of reasons, but that doesn't mean it's not one of the better hammer drills on the market.
The Bulldog is also a corded rotary hammer drill powered by a copper brushed motor with a solid power-to-weight ratio. While you can buy it as a bare tool, we highly recommend picking up the dust attachment because the exhaust is at an angle that can blow into your face if you aren't careful.
However, it's slightly too expensive. Both the DEWALT and the Makita are very similar for a lesser price, especially if you buy the dust attachment. Because we feel the dust attachment is almost required due to the exhaust, then it has to be factor. It does have a slightly better recoil system than the Makita, but less impressive than the DEWALT.
As far as using the drill is concerned, the Bulldog has three functions, hammer, hammer rotary, and rotation only, all controlled by the variable speed trigger. It is fully capable of carving through concrete, chipping tile, or drilling holes into bricks. This video has more information about how to properly drill into brick, if that's your intended use for the product.
We would recommend the Bosch Bulldog to those who don't mind spending a little bit more on a hammer drill for the Bosch name. This specific drill is targeted more at the professional than the DIYer, but there is no reason why it wouldn't work for both groups of craftsmen.
Value Proposition
Overall the Bosch Bulldog is a solid 3-in-1 rotary hammer drill. The price is slightly higher than the value you are getting, but that doesn't mean it's not a fantastic tool. This is a classic example of "wait for a sale" or being a target of brand loyalty. The fact that it does not include the dust attachment is a miss by Bosch and we would have liked to see it included in the bare tool.
---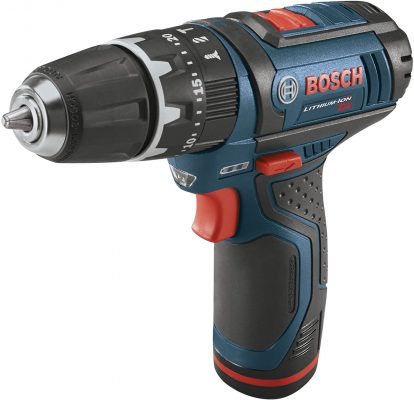 Quick Facts
Power Source: Cordless, 1.3 Amp Brushed Copper Motor 12V Lithium-Ion Battery
Weight: 2.3 Pounds
Speed: 0-19,500 BPM
This is the one and only true compact hammer drill available right now. Weighing in at just over two pounds with the battery and bit installed is quite the achievement considering the speed and power that this tiny drill is capable of. The PS130-2A is the ideal drill for occasional at-home use.
Because it has the driver function in addition to the hammer drill function, this is a solid pickup either way. We love that Bosch includes 2 12V batteries and the wall charger especially because of the lower capacity in comparison to bigger models such as the DEWALT DCD996B which uses a 20V battery in a bigger overall frame.
The one thing that does concern us about the PS130-2A is that this model is using a copper brushed motor. On smaller hand drills, this can really cause a problem if you overheat it or push it past its breaking point.
This is clearly the best small form factor hammer drill on the market. It is reliable, easy to use, and still has enough power to drill into masonry. We would recommend this to condo/apartment owners or other people who have a less than ideal amount of storage space for tools.
Overall the PS130-2A is a solid little hammer drill that can both carve through dense materials like butter and still hold its own as a normal driver drill as well.
Value Proposition
It's slightly expensive, however the dual-use and its compact size are the reasons for that. Bosch includes the battery charger and two 12V Lithium-Ion batteries as well as a carrying case, so as long as you have drill bits you get what you need out the box. All in all the PS130-2A is a cross between a premium hammer drill and a compact driver drill.
---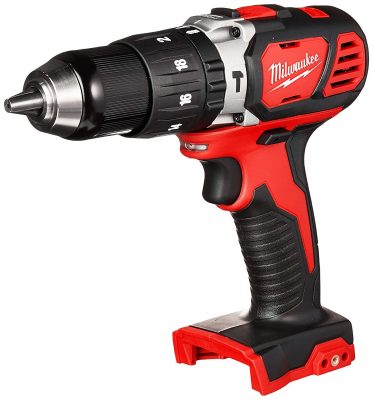 Quick Facts
Power Source: Cordless, Brushed Copper Motor 18V Lithium Ion Battery
Weight: 3.4 Pounds
Speed:1800 rpm
Milwaukee enters the fray with their own cordless hammer drill, the 2607-20. It is a solid bare tool option with a flashy design that doesn't cost an arm and a leg. And you'll definitely need two arms to use this hammer drill. It has an absurd amount of torque but is plagued by one major issue, a loose chuck.
For the most part, this appears to be competing with the Bosch PS130-2A in the cordless compact hammer drill category. It does a fairly good job performance wise, however the price is so similar to the Bosch and this one does not include batteries or a charger or even a case and bits.
We think that if you own other Milwaukee tools that use their M18 battery line then this would be recommended over the Bosch. For everyone else, the Bosch is just a better drill.
Overall, we would recommend this only to people looking for a compact 2-in-1 cordless hammer driver drill that already owns Milwaukee tools. The 2607-20 can be a worksite drill but we would probably advise against using it on very dense materials for long periods of time.
Value Proposition
While the Milwaukee 2607-20 is a solid drill, it is missing many features and accessories that would really make it a good investment. Those of you who already use Milwaukee M18 tools will find this to be adequate and sufficient for the price that they are asking.
---
9.

Best Budget Hammer Drill:

Kimo Cordless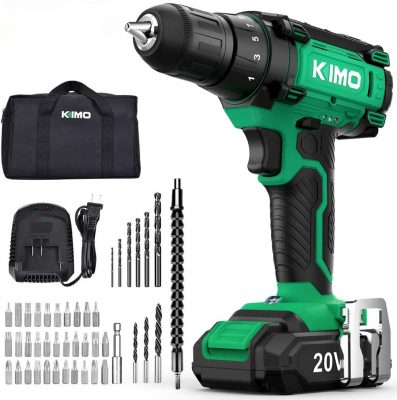 Quick Facts
Power Source: Cordless, Lithium-Ion Battery, Copper Brushed Motor
Weight: 3 Pounds
Speed: Variable 2-speed 0-350 & 0-1,350 BPM
Kino is a lesser-known brand. It certainly doesn't look the part. However, this drill/cordless drill 2-in-1 comes with everything the average DIYer might need. The case, drill bits, and battery and charger all come included. This is alongside it being the cheapest cordless drill on the list. It comes awfully close to what the bigger companies are offering at almost half the price.
Let's be clear here, if you are looking to buy a tool for constant workplace use, we would recommend the DEWALT DCH237B, but for everyone else, this is the one for you.
The Kino Cordless will drill into stone and concrete. Although we recommend using this for softer materials: wood, fencing, or drywall. The power is a bit underwhelming, and that is particularly due to the brushed motor. Quite a bit of efficiency has been lost, but money has also been saved. At this point it really comes down to what you the buyer values more; money or efficiency.
Value Proposition
The Kino Cordless Hammer Drill comes with many valuable accessories and addons. It comes with 42 drill bits, a proprietary 20V lithium-ion battery (and charger), and a case. It is usually available as a full kit for under $80. For people who may not need the tool often, this is probably the right choice as it is usually cheaper to buy this than to rent a tool from a local store.
---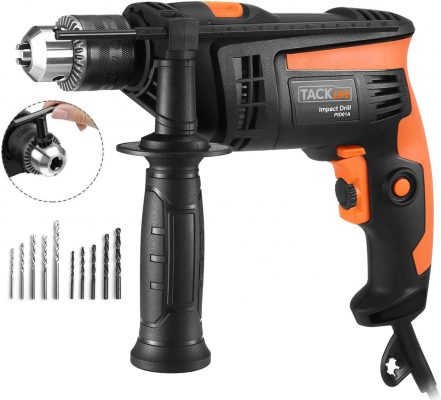 Quick Facts
Power Source: Corded, Copper 6 Amp Brushed Motor
Weight: 4.28 Pounds
Speed: 12 Speed Variable 0-2,800 BPM
Tacklife has been around for some time, churning out price-sensitive products of above-average quality. Their hammer drill is no exception. The PID01A is the ideal entry-level corded hammer drill of 2021. No other brand offers a corded hammer drill of this quality at this price.
When you use the Tacklife you will notice differences from some of the more well-known brands. It does have a rather unintuitive speed selection system which can cause an intense torque pull or push.
The drill bits that are included in the kit are not made for masonry, but will do fine for normal drilling into softer materials. This drill is not recommended for heavy concrete work. The motor and hammer functions are less than impressive when it comes to extremely dense material for an extended period of time.
This specific drill is ideal for users looking to buy a corded drill for around the house or shop and are occasional users of the hammer function. We would not recommend this to tradespeople simply because the longevity of the motor seems average at best, and you really can't afford waiting for a replacement if you need it for your job.
Value Proposition
The company offers a drill with hammer drill functions for cheaper than any other brand. However, it doesn't come with any accessories and it also has an outdated copper brushed motor.
The price and dual functions are enough for us to recommend to DIYers and homeowners who need a drill occasionally.
---