Stanley STHT20138 Solid Frame High Tension Hacksaw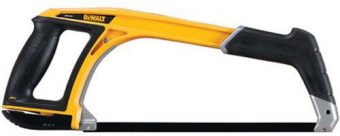 DEWALT DWHT20547L 5-in-1 Hacksaw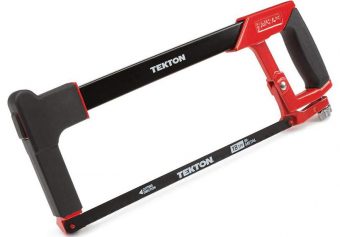 TEKTON 6823 2-in-1 High-Tension Hacksaw
Previous
Next
Any professional handyman will tell you that hacksaws are one of the best tools out there. It's a definite must-have tool for DIYers and professionals alike! A hacksaw typically features a solid frame that's usually made of metal. Also, it comes with a fine-toothed blade for cutting different materials. Originally, the purpose of a hacksaw is to cut metal. But you can also use it to cut wood and plastic.
There are different kinds of hacksaws out there. Most commonly though, they have full frames, and they come with a blade that's 10 or 12-inches in length. There are also compact hacksaws which have smaller frames. These are typically used for cutting metal pipes and plastic tubing. The best hacksaw is an essential tool in any toolbox especially if you want to perform precision cutting applications.
Features to consider in Good Hacksaws
The right tension
The tension of the hacksaw is very important. Most hacksaws available on the market will allow you to adjust the tool's tension to meet your needs. Also, after you've acquired the right blade for the job you need to do, having the appropriate tension will allow you to leverage your hacksaw's power. The wrong amount of tension, on the other hand, will require more energy from you as the user while cutting.
Quality of construction
The quality of the hacksaw's construction is another vital feature to look out for. This is especially true if you plan to cut a lot of highly-abrasive materials such as steel and brass. You need a high-quality tool that's durable and well-designed as well.
Quality of the blade
Of course, you can't overlook the blade's quality. You need the blade for your cutting applications, so it also has to be a high-quality one. If you can, go for hacksaws with durable and versatile blades.
Ease of use
Ease of use is an important factor as you don't want to purchase a tool that's complicated especially if you're planning to use it for different jobs. Fortunately, manufacturers these days give their tools special features to make them a lot easier to use and to handle.
Teeth per inch
The blade's teeth per inch or TPI is a unit of measurement of the blade which will tell you how many teeth it has in every inch of the tool's length. You can use the TPI to help you determine the minimum thickness of the material you can use the blade for.
Guide to Buying the Best Hacksaws
Basically, a hacksaw is a type of saw which has a metal casing. You can use it for cutting metal and other kinds of materials. The frame clamps the blade between its nozzles, and it has a handle on one side. If you want to find the best hacksaw out there, you have to consider a few important factors.
What important factors should you consider when buying a hacksaw?
Type of blade
Hacksaws aren't all built the same way. They may have different blades which you can use to cut different types of materials. Regular blades are the most common ones available. Usually, hacksaws come with this type of blade. You can use them to cut materials of low-strength such as tin or aluminum.
A raker blade's teeth typically come in groups of three. It's not as common as regular hacksaw blades, but it's great for cutting hard materials such as iron pipes. Although very effective at cutting, you do need a bit more effort when using a raker blade. Finally, there are also wavy hacksaw blades. You would use such a blade to cut thin but tough metals. The teeth have a wavy design from the left all the way to the right.
Frame
The next thing to consider is the hacksaw's frame. There are two main types namely the fixed frame and the adjustable frame. For a fixed frame, you can only use a blade with a specific length. But for the adjustable frame, you can use it with blades of varying lengths.
Handle
Finally, there's the handle. Hacksaws either have a handle on one end or 2 handles on both ends. The most important factor to consider when choosing a handle is the level of comfort it will provide. Because of this, rubberized handles are very popular. Aside from the comfort factor, you can use such handles even in cold and wet weather.
How do you get the most out of your hacksaw?
Once you've chosen the best hacksaw, you also have to know how to take care of it properly. Do this so you can keep on using it for years and years. First of all, safety is important. So, you need to have the right gear while using your hacksaw. Wear a pair of comfortable gloves while working with a hacksaw along with a pair of defensive glasses.
Handle the hacksaw correctly
When you use the hacksaw, make sure your wrist and your hand are both in a natural and comfortable position. Holding the hacksaw incorrectly can result in injuries or accidents. Before you start cutting a material, make sure that it doesn't have any kind of obstructions like screws or nails.
Also, make sure that the material you're planning to cut is securely held in place. In doing this, you won't have to worry about it. Then you can focus only on the task of handling the saw and using it to cut. Keep in mind that a lot of accidents happen just because the materials have shifted while cutting.
Use and store it safely
After using your hacksaw, keep in it the right place. Proper storage is very important – be it winters or be it summers. Also, make sure to clean your hacksaw daily or at least after each use. This will prevent the tool from rusting and compromising its effectiveness.
Conclusion
As you can see, there's a lot to consider when it comes to purchasing hacksaws. They may seem like simple tools but choosing the best hacksaw can be quite tedious. Fortunately, we've shared a lot of information with you which, hopefully, can help guide you. Just keep in mind that, just like other tools, hacksaws can be potentially dangerous.
Therefore, you should also know how to use them safely. Also, if you want to ensure the longevity of your tool, it's important to care for your hacksaw properly as well. Now that you have more than enough information about hacksaws, you can make a choice from the best hacksaws we've reviewed!