Dirty floors are a part of life. Whether you have a small home or a large commercial space, your floors deserve some attention from time to time. But choosing the best floor scrubber for your needs can be a confusing process.
With so many models and features available, it's easy to get lost in a whirlwind of flashy designs and marketing jargon. We are here to cut through the confusion and break down some important features to consider, as well as offer our thoughts on some of the best floor scrubbers on today's market.
Key Considerations When Choosing a Floor Scrubber
With most scrubbers, you will notice an instant distinction between those intended for commercial settings, and those meant to clean residential flooring. In both cases, features such as the size, shape, and grit of the scrubber's brush heads and its ease of maneuverability impact your outcomes.
Floor Types
Does your home have wood floors? Are you looking to clean tile and other surfaces in your bathroom? Answering these questions and others for yourself will speed up the process of selecting a floor scrubber to meet your needs.
Some scrubbers are best-suited to the kinds of grimy conditions found in commercial spaces with lots of foot traffic. But large scrubbers are likely overkill if you're just looking to impress dinner guests with shiny kitchen tiles. Pet owners should pay attention to the particular needs that they may have, such as the ability to clean up pet hair.
It's also worth noting that some floor scrubbers, such as the Bissell CrossWave allow you to clean carpets, while others do not.
Cordless vs. Corded Floor Scrubbers
Cordless scrubbers offer some distinct advantages. If you prize mobility, you can't beat the advantages of a cordless floor scrubber. On the other hand, battery life is an issue if you need to clean for long periods.
If you came to this list because having a cordless floor scrubber is non-negotiable for you, then we recommend checking out the Gladwell model.
Movement and Flexibility
While floor scrubbers are certainly more convenient than an old fashioned mop and bucket, remember that your scrubber still needs some elbow grease to operate.
To that end, movement and flexibility are important to consider. If you have a bad back or achy joints, you will benefit from floor scrubbers that swivel and allow for length adjustments.
Those with arthritis may want to consider swivel designs to avoid wrist aches and joint pain. The Bissell Spinwave 2307 is a great option.
Brush Heads and Attachments
No two stains are equal. Because of this, it's a good idea to consider getting a floor scrubber that offers multiple brush head attachments.
Some brush heads are wide and soft-bristled, making them the perfect companions for an afternoon of light cleaning. Others are tough and direct, so you can call them into action when you're wrestling a major stain.
Whatever your needs, a scrubber with several attachments helps you tweak your cleaning strength on the fly. The Homitt is a great example of a bathroom floor scrubber with a range of brush head attachments.
Space and Size Requirements
Finally, size matters with floor scrubbers. Large commercial scrubbers may offer superior cleaning power, but their size and weight make lugging them around a chore.
Consider the angles of your cleaning jobs as well. If you have tight, sharp corners, as most rooms do, then a larger scrubber may be too bulky to glide tight against your walls. Size is also an important factor when you are looking to store a floor scrubber in a closet, basement, or mudroom.
Without further ado, let's dive right into looking at the ten best floor scrubbers on today's market!
Top 10 Best Floor Scrubbers 2023

Why we like it:
This is a powerful scrubber that can handle hard floor types from wood floors to tile. Swivel steering and a lightweight design make this unit easy to move around, regardless of the space.
Editor's Rating:
Quick Facts
Cordless: No
Carpet-cleaning: No
Floor scrubbing is simple with this unit. Simply power the device on, apply some cleaning solution using the handy on-demand spray, and swivel it around.
If your floor collects quite a bit of dirt, the washable pads on the bottom side of the unit make it easy to clean and continue. The scrubber comes with a cleaning solution, as a bonus. It also includes soft cleaning pads and "scrubby" pads to tackle tough stains.
Floor Types
The Bissell Spinwave is great on hardwood floors. It uses an on-demand spray feature to control the amount of solution applied to floors.
It can be used on marble, wood, tile, and grout. However, the on-demand spray mechanism can become clogged over time.
If you want to clean carpets, this unit isn't the one for you. Instead, consider another option such as the Bissell CrossWave 1785A.
Movement and Flexibility
This unit is lean and flexible. A swivel design makes it easy on the hands and back. Wide surface mop pads allow you to get to hard-to-reach areas that may be challenging with other scrubbers.
Pros
Easy to use

Works on several hard floor types

Includes cleaning solution

Moves with ease

On-demand spray assists with different settings
Cons
Does not clean carpets

On-demand spray feature can get clogged with use
---

Why we like it:
This is a big-time floor scrubber that gets big-time results. It's fit for almost any floor type, and it can be used to dry clean carpets.
Editor's Rating:
Quick Facts
Cordless: No
Carpet-cleaning: Yes
Review
As a tank of a unit, the Oreck Commercial ORB550MC Commercial Orbiter Floor Machine is well-suited to large commercial cleaning duties. But that's not to say you can't take it to task in your home, either. The unit can clean all floor types, and it performs many of the same tasks that a much more expensive unit can without a fuss.
Floor Types
The scrubber is ready for wood floors, concrete, marble, stone, and other hard floors. You can also use the scrubber dry on carpets. The instructions include some detailed stipulations about which brushes and chemical combinations to use on different floor types. It may take some time and a bit of homework, but the machine is ready to take on almost any problem.
The brushes on the underside of this unit move in a unique random orbit pattern that help you to avoid streaks and brush marks on your floors.
Movement and Flexibility
At 24 lbs., this is one of the bulkier floor scrubbers on the market. However, with this weight comes some immense power. This is a great option for anyone who is done playing games with the stains on their floors. It will take care of just about any dirty floor you can throw its way.
The weight of the unit makes it difficult to pick up and carry, so keep this in mind when you're considering storage. The scrubber's wide cleaning path makes for great maneuverability and quick cleaning. The unit also includes an extended horizontal two-hand handlebar for easier grip and maneuvering.
Pros
"Random Orbital Drive" feature prevents brush marks and streaks

The unit can work as a dry cleaner on carpets

Can handle all floor types
Cons
It's pricey

Heavy and difficult to carry
---

Why we like it:
This scrubber is simple and uncomplicated. It makes cleaning jobs the same. Efficient scrubber pads and removable components make for a user-friendly cleaning experience.
Editor's Rating:
Quick Facts
Cordless: No
Carpet-cleaning: No
Review
This unit is all about making things easy for you. The scrubber's two-tank system makes it easy to separate clean water from dirty water. It also serves as a helpful measurement, reminding you when it's time to think about changing your water.
The scrubber is amenable to a wide range of different cleaning solutions as well. This means you won't be left scrambling if you run out of cleaning solutions. Other floor scrubbers can be quite finicky in this regard, accepting only certain cleaning solutions.
Floor Types
This floor scrubber is safe to use on any sealed floor such as marble, laminate, and hardwood floors. But it won't take care of carpet cleaning.
Movement and Flexibility
For all its charm, this unit isn't great when it comes to movement. It's set up like a standard vacuum cleaner. If you've ever tried to vacuum tight angles and corners, then you know how tough it can be to reach every nook and cranny. This scrubber suffers a similar shortcoming.
Pros
Easy to replace dirty water and clean components

Includes two-year warranty

Safe on a variety of floors
Cons
Not great for reaching corners and tight spots

Tough to maneuver
---

Why we like it:
An affordable but robust cleaner that can take on tough stains and spills. It includes some microfiber pad accessories to adjust to different floor types.
Editor's Rating:
Quick Facts
Cordless: No
Carpet-cleaning: Yes
Review
This unit comes with an array of microfiber pads that are easy to clean. The unit can take on carpets and other floors with ease. It's not exactly friendly in terms of mobility, and it can be quite noisy too. Despite these minor setbacks, the scrubber is great for a variety of floor types.
Floor Types
Floor wax solutions used on concrete surfaces in commercial settings often contain polymers and other chemicals that can impede the functions of a residential floor cleaner like this.
But that's not to say this cleaner cannot handle these tasks. The inclusion of two microfiber pads allows for hard floor cleaning that can rival more robust commercial cleaners such as the Oreck machine.
Movement and Flexibility
The unit only weighs seven lbs., so it's quite easy to move between your floors and your storage areas. However, the unit's handle isn't very comfortable, and users may have to contort their hands depending on the setting.
Pros
Includes microfiber mop pad attachments

Affordable

Lightweight
Cons
Noisy

Handle is inconvenient
---

Why we like it:
This unit is unique in that it can both vacuum and clean at the same time. This makes it great for pet owners and those with lots of area rugs or carpets.
Editor's Rating:
Quick Facts
Cordless: No
Carpet-cleaning: Yes
Review
Do you hate the idea of having to pull your vacuum out of storage to clean your rugs and carpets before applying a deeper cleaning with a floor scrubber?
This scrubber eliminates the need to do this. As a dual-function vacuum/floor scrubber the Bissell CrossWave Floor and Carpet Cleaner with Wet-Dry Vacuum is our best option for those looking to clean their carpets. Spills, pet hair, and odors don't stand a chance. On the downside, the unit can leave streaks behind if not used properly.
Floor Types
Sealed floors such as hardwood, laminate, and marble are all eligible here. Area rugs and carpets benefit from the dual-action brush roll that picks up dirt and debris as it cleans.
Movement and Flexibility
As a medium-sized scrubber, this unit gets a moderate ranking in the movement department. It's not too unwieldy for most people, yet it doesn't offer the slim convenience of a smaller scrubber like the Gladwell device.
Pros
Vacuums and cleans

Great for hard floors and carpets

An excellent option for pet owners
Cons
Can leave streaks

A little unwieldy
---

Why we like it:
This Oreck floor scrubber will go toe-to-toe with the deepest carpet stains. It's a bit pricey, but a generous 10-year warranty offsets some of the cost.
Editor's Rating:
Quick Facts
Cordless: No
Carpet-cleaning: Yes
Review
Oreck is known to create robust cleaning machines. This one is no exception. Its minimal black design foreshadows the scrubber's main goal: to pack some serious cleaning punch with as few complications as possible.
The unit includes a fingertip control for moderating your cleaning solution, and its horizontal handle allows for two-hand control. On the downside, the power driving this unit can fling dirt onto baseboards. Homeowners looking for a long-term scrubber to call their own will enjoy a hefty 10-year warranty, which includes yearly tune-ups.
Floor Types
As a multi-purpose machine, the Oreck Orbiter All-In-One Floor Cleaner is suitable for all sealed floor types. It will also provide deep-cleaning for carpets and rugs.
Movement and Flexibility
As a large machine, flexibility isn't the greatest. The horizontal handle allows for greater grip control when you're up against tough stains. The handle isn't adjustable by height, so keep this in mind if you're tall and don't want to hurt your back every time you clean your floors.
Pros
Deep-cleans carpets

10-year warranty

Multi-purpose
Cons
It's a pricey option

Powerful scrubbing motion can spray dirt in all directions
---

Why we like it:
This is a simple yet effective cordless floor scrubber for anyone who wants to minimize the hassles associated with cleaning their floors. It can handle multiple hard floor types and includes washable mopping pads and cleaning solutions.
Editor's Rating:
Quick Facts
Cordless: Yes
Carpet-cleaning: Yes
Review
This machine provides another cordless option for the casual cleaner. If you don't have pets and you don't expect to encounter serious day to day grime in your household, then this is a great choice. The pads aren't the best at absorbing liquid, which may require you to leave some time for your floors to dry.
Floor Types
The unit can take care of sealed floors. It can't clean carpets, though. The mop pads provided can be washed and reused so you can switch them out between cleaning jobs.
Movement and Flexibility
The scrubber makes use of two circular mop pads. There are some positives and negatives to this design. On the bright side of things, the mop pads can be washed after usage, which cuts down on your replacement costs.
However, the downside to these pads is that they are centrally located on the bottom of the scrubber. When combined with their circular shape, this makes it hard to reach corners with this scrubber. On the bright side, the unit includes a storage tray to cover the mop surfaces in between uses.
Pros
Cordless and convenient

Includes on-demand spray control and cleaning solution

Mop pads are washable

Includes storage tray
Cons
Hard to reach some corners

Doesn't handle serious spills and stains well

Battery life isn't great
---

Why we like it:
This scrubber represents the peak of cordless floor scrubber performance. It's lightweight and flexible, charges fast, and makes cleaning a cinch.
Editor's Rating:
Quick Facts
Cordless: Yes
Carpet-cleaning: Yes
Review
Most people choose a cordless floor scrubber for its convenience. This unit does not disappoint. The strong battery life aids in cleaning times. Units that can handle both hard floors and carpets, such as this one, are a rarity in the world of cordless scrubbers.
The dual mop-head setup is great, but it won't handle deep or tough stains as well as a stronger unit like the Oreck. As a fair warning, if you try to fight hard stains too adamantly, you risk wearing down the mop pads.
Floor Types
Dirty floors are no match for the battery driving this machine. While it's simple to clean tile, hardwood, and other floors, this unit can also take care of your carpets.
Movement and Flexibility
The dual mop-head design is the star of this scrubber. A strong battery nearly propels the unit on its own. This makes it an excellent choice for those who lack the strength needed to apply pressure to clean their floors.
Pros
Strong battery life

Easy to move around

Works on hard floors and carpets
Cons
Mop pads wear down with use
---

Why we like it:
This floor scrubber uses two bristle types and soft pads for sensitive floor types. A long cord length and multiple brush pads give this scrubber a productive edge.
Editor's Rating:
Quick Facts
Cordless: No
Carpet-cleaning: No
This Bissell Spinwave offers slightly more performance than the other Bissell products on our list, but doesn't offer the same value for money. You're getting a good cleaner from a trusted brand, however.
Floor Types
While you can use this cleaner on different sealed floor types, you should be careful to apply the correct mop pads before doing so. Using the default scrubbers could lead to floor damage. Also, be sure to use the correct cleaning formula to avoid problems.
Movement and Flexibility
While this isn't a cordless unit, the cord length is quite long, measuring in at 22 ft. Quiet operation makes this unit kind on your ears. Like many other Bissell cleaners, a swivel helps with those tough-to-reach areas.
Although it's reasonably heavy, the unit isn't too tough to store and retrieve when you need it. However, it lacks a carrying handle, which can make it awkward to lug around.
Pros
Affordable

Cord length is generous

Great brand
Cons
No carrying handle

Other models offer better value for money
---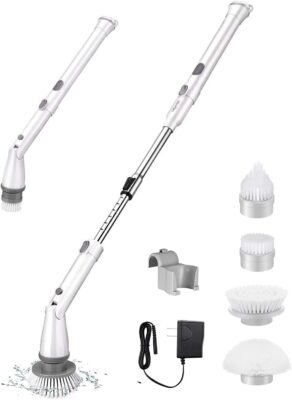 Why we like it:
This is a great bathroom floor scrubber that offers four different brush head types. An extendable handle and great battery life make this scrubber an excellent option for the domestic cleaner who is looking to save a few dollars.
Editor's Rating:
Quick Facts
Cordless: Yes
Carpet-cleaning: No
Sometimes you need a special scrubber to take care of your bathroom. After all, the bathroom has some unique considerations when it comes to cleaning. Whether you like to keep separate tools for hygienic reasons, or if you're just looking to clean your bathroom's surface without all the hassle of a bucket and some rags, look to this unit. The unit takes about four hours to reach a full charge, so keep this in mind when you're thinking of cleaning.
Floor Types
This scrubber is meant to take care of bathroom floors such as tile, marble, and grout. The brush heads are quite tough, but they do have their limits. As a lightweight scrubber aimed at the home cleaning market, this unit will have a tough time eliminating severe or deep stains.
However, you can get some positive results in this domain by soaking the brush heads in a mixture of detergent and water before going to battle with a prickly stain.
Movement and Flexibility
This scrubber is great in the realm of flexibility. As an added perk, the unit's handle is adjustable to meet the needs of taller folks. You can also alter the angle of the brush head.
This proves to be a handy feature when you're trying to clean those hard-to-reach corner tiles in the bathroom and kitchen. For some people, features like these are responsible for fewer aches and pains.
Pros
Works on bathroom floors as well as showers, tubs, and sinks

Flexible

Lightweight

Affordable
Cons
The unit and brush heads are small, making this scrubber suboptimal for large commercial cleaning tasks

Takes about four hours to reach a full charge
---
A Guide to Buying the Best Floor Scrubber
Asking the right questions will help you decide on a floor scrubber that meets your cleaning needs and your budget. Here are some common questions answered that can help you in your search for the best floor scrubber.
Floor Types
Most homes and apartments have multiple floor types. Hardwood has different requirements than tile, and so on. Accounting for this with your floor scrubber can make all the difference. Most of the floor scrubbers on this list, such as the Boss Scrubber make use of mop pads and solutions intended for different floor types. When using the scrubber, use the mop pad that's suitable for that floor.
For example, linoleum floors tend to last longer than vinyl floors. But linoleum is also prone to water damage under certain conditions. While it's probably too late to change the type of floors that you have in your home or office space, being mindful of the chemicals and scrubbers that you take to task on their surfaces can help to bring your floors to life and showcase their vivid details.
Freedom and Flexibility When Scrubbing
Cordless floor scrubbers offer some distinct advantages over their corded counterparts. For those who prize mobility in their cleaning, cordless floor scrubbers are optimal. If you hate the feeling of being tethered to one area at a time, a scrubber with a cord can hold you back. Cordless scrubbers allow you to work in multiple locations. In some cases, you may even be able to tackle several jobs in a single charge. Which brings us to our next point.
Be mindful of the fact that cordless floor scrubbers, despite all their charms, still must run on a battery. That means you will have to be judicious in ensuring that your battery is charged before taking on a big cleaning job. Some units such as the Gladwell make charging limitations into a minor concern, as the unit boasts a heroic battery life.
If you expect to clean a few rooms in a small home or apartment from time to time, then you can probably stand to have your cordless scrubber's battery deplete between sessions.
Those trying to surmount stains, spills, and other floor-based catastrophes in a large commercial warehouse, on the other hand, may want to consider a more robust option. The Oreck machine serves as one example.
Taking Care of Pet Messes
Those who own pets should take this into account when searching for the ideal floor scrubber. Long-haired dogs, for example, are known to shed a lot of hair, as any dog owner knows.
Those with pets may also want to consider the presence of other animal "surprises" when selecting a floor scrubber. While you may be tempted to simply select a floor scrubber that is advertised to take care of pet hair, it's a good idea to dig a bit deeper.
For instance, if your home requires daily cleaning due to your pets, then you need to consider the longevity of a machine too. Will it simply break down and refuse to pick up hair after so many uses? Replacement costs like these can add up. It's usually better to adjust your budget so you can make the right purchase from the start.
Units with lengthy warranties, such as the Oreck can reassure you.
Extra Brush Heads and Attachments
The addition of different brush types and other attachments is quite handy for some situations. For example, if you have a large family with young children and spilled drinks are a common occurrence in your household, it's probably helpful to pick a scrubber that allows you to swap brush heads with ease.
Some brush pads, such as those offered by the Boss, provide tough-scrubbing options for harsh commercial environments where floors need regular cleaning. Bathroom floors have different needs than hardwood floors, and many scrubbers account for these differences in their attachments.
Scrubbing Up
As you can see from this list, floor scrubbers come in all varieties. It's easy to get wrapped up in fancy features and colorful designs, but in the end, your particular needs take precedence.
If you're in a large commercial environment that needs constant scrubbing, a strong, bulky floor scrubber may trump the benefits of a lightweight cordless option. For those with a small kitchen or bathroom to clean up, what's convenient is what's best. If you're looking for other ways to clean your commercial or residential setting, check out our list of best window cleaners.