Finishing nailers are one of the most important tools in any contractor or DIYers toolbox. Finish nailers, also known as finishing nailers or trim nailers, are a type of power tool that drives nails directly into wood without a hammer, using air pressure to fire the nails.
What's a Finish Nailer?
From framing nailers to staplers, carpenters and DIYers use many different types of nailers to fasten lumber together. The most common types of nailers are finish nailers, brad nailers, and framing nailers. Framing nailers accomplish heavy-duty framing tasks using large, 3-inch nails. Brad nailers use small-gauge nails to nail delicate trim. Finish nailers are a middle ground, good at tasks like fastening baseboards, sturdy trim, and molding.
Features to Consider in a Finish Nailer
While nailers are all designed to send a nail through a piece of a construction material, the product category is both wide and specialized, with different products meant for different use circumstances. Before evaluating the features of a specific nailer, understand exactly what you need your finish nailer for. Knowing exactly what type of product you need can save you time and money in the long term.
Type of Finish Nailer
The whole beauty of a power nailer is the fact that it doesn't require physical input from the user to drive a nail, instead using some kind of machine power to push the nail into the nailing surface. Most commonly this comes via compressed air; almost all commercial nailers are powered via some type of gas pushing the nail forward. More DIY-oriented nailers are handheld, relying on batteries, or operate via direct electric power.
Pneumatic Nailers
Pneumatic nailers are the most reliable, powerful, and common nailers on the market. They require an auxiliary air compressor, typically electric-powered, that connects via an air hose and provides highly compressed air that drives the nail. When purchasing a nailer, consider the price, noise level, and energy requirements of an air compressor. While pneumatic nail guns are the gold standard in nailing, power that comes via an air compressor is louder and less portable.
Cordless Electric Nailers
Although cordless finishing nailers are a relatively recent addition to power tool lineups, they have their purpose for quick applications where it's not worth pulling out a whole air compressor/finish nailer setup.
While we definitely wouldn't recommend a cordless nail gun as a framing nailer, you can often get away with a wireless nail gun when taking upon less intense products that are more aesthetic in nature, most of the projects you might approach with a finish nailer.
Fuel Nailers
Fuel nailers are a cordless option that uses an electrical, battery-powered spark to ignite a fuel/air mixture inside a combustion chamber to drive a nail from the barrel into the work surface. While they're powerful for being cordless, they have the disadvantage of requiring both a battery and an expensive tool-specific fuel cartridge that needs to be frequently replaced.
Corded Electric Nailers
Some nailers skip the air compressor completely, plugging directly into 120v wall power. While these nailers are much less powerful and you're still somewhat movement-restricted thanks to a power cord, they're a bit of a middle ground option and don't require the purchase of an air compressor
Weight
Weight typically increases with the power of a nail gun but makes use and portability more difficult, especially for DIYers and amateur carpenters. When shopping, compare the power of the nail gun to the weight, recognizing that it can be both difficult and physically straining to use a 10-pound nailer to put up crown molding all day.
Nail Gauge/Fastener Style
Each nail gun is compatible with a specific type of nail or style of fastener. Nails are delivered in a plastic belt of nails. Fasteners are physically connected to each other, similar to staples. Consider what kind of nail will work best with your project, also consider the price of the nails or fasteners you choose.
Angle
While many amateur carpenters are inclined to think that the angle of a finish nailer has to do with the angle at which the nail or fastener enters the wood, it actually has to do with the orientation of the nail magazine against the barrel. Straight nailers are popular for their resistance to jamming, simplicity, and lower average price. Nail guns with steeper angles are easier to maneuver, typically designed to be lightweight, and fit into small spaces. The more delicate work you do, the better off you are with an angled nail gun.
Read on to learn about some of our favorite finish nailers for pros, DIYers, and hobbyists alike.
Top 10 Best Finish Nailers 2021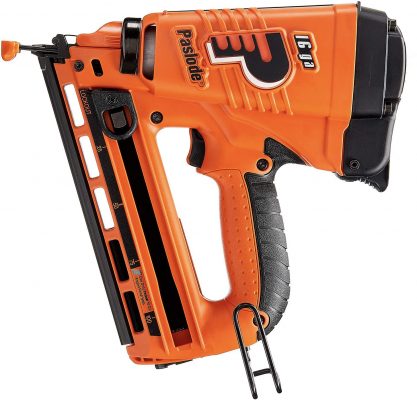 Why we like it:
This pricey nailer gets the job done using fuel cartridges, making it a lightweight yet powerful option for those who need something more portable.
Editor's Rating:
At a Glance
Type: Fuel Nailer
Weight: 4.5 lbs.
Fastener Size/Style: 16 Gauge
Angle: 30 degrees
Review
Paslode is one of the biggest names in nailers, always producing the most powerful and cutting-edge nailing technologies. While this nailer uses a fuel format that creates some difficulties related to periodic cartridge replacement, it's a happy compromise for most between the portability of a cordless nailer and the power of a pneumatic nail gun. And unlike conglomerate manufacturers like Milwaukee, Ryobi, and Dewalt, Paslode only produces nailers and staplers, yielding a more expensive but ultimately higher quality product.
This premium nailer is no exception, and there's a reason it's particularly popular with the contracting crowd, which might help inform serious DIYers as well. Fantastic with this finish nailer is nail accuracy, and a bump trigger combined with an angled magazine delivers nails consistently and powerfully, while still being able to squeeze into tight spots and corners.
The downsides: price and fuel, as this $300-plus nailer isn't only expensive, it's got an annoying and expensive fuel system. Are a couple of bucks worth of gas enough for you to buy this over a pneumatic nailer and an air compressor? You'll have to be the judge of that, but for us, the 12,000 nail-per-charge batteries and 1,000 nail-per-refill Paslode-specific fuel cartridges seem reasonable at a little under $10 a pop. Making up for the high base price and operating costs are the included battery and battery charger, something that isn't included on cheaper nailers like the Ryobi One+ Cordless 16 Gauge Finish Nailer.
Pros
Pneumatic power without an expensive, bulky air compressor

12,000 nail-per-charge battery

Includes a convenient bump trigger

Angled magazine can squeeze into tight spots and corners

Fantastic nail accuracy
Cons
Expensive, especially considering repeat fuel cartridge purchases

Requires frequent fuel refills
---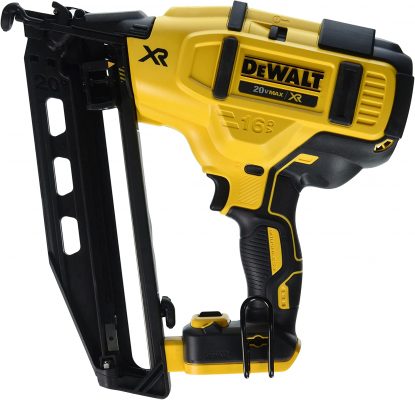 Why we like it:
This expensive nailer from industry giant Dewalt is electric and cordless, providing rechargeability and portability.
Editor's Rating:
At a Glance
Type: Cordless Electric Nailer
Weight: 6 lbs.
Fastener Size/Style: 16 Gauge
Angle: 20 degrees
Review
Dewalt, like Paslode, is a brand incredibly popular with contractors for producing high-quality, bombproof products that will run without complaint day after day at even the most demanding job sites. This six-pound (lightweight for cordless) finish nailer relies on portable batteries for power, delivering nails to even tight corners thanks to a 20-degree magazine.
As an angled finish nailer, though, remember to use the proper nails for the gun, in this case, 16-gauge 20-degree nails (Dewalt makes their own, but generic nails will work fine as well). While some nailers will simply not fire if you use the wrong nail, with this gun you run the risk of blowing the magazine, one of the more expensive parts on the gun. Double-check the label on the nail box before banging in your next baseboard or you could screw up a whole project timeline.
A 110-nail magazine is well above average for finish nailers, meaning you'll be able to go longer between reloads. Also convenient is the fact that the battery used with this gun is part of Dewalt's larger 20V lineup, making it compatible with over 180 different tools. While that's not necessarily an earth-shattering benefit considering you need to buy your own battery with this tool, if you've already got some Dewalt 20V tools, it's nice to buy into a system that you can use across all of your projects.
Pros
Bombproof portable nailer

Magazine holds 110 fasteners

6-pound weight is light for a cordless finish nailer

System 20V battery means you can use the same battery across Dewalt's lineup
Cons
No included battery with purchase

Requires angled nails
---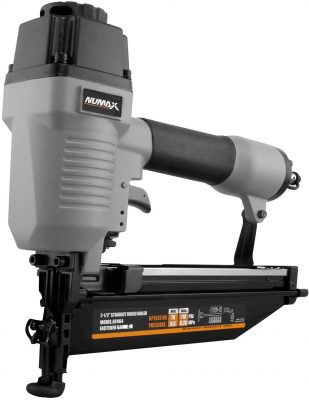 Why we like it:
This mind-blowingly inexpensive nailer is a relatively solid product for DIYers and amateur carpenters who prioritize price over contractor quality.
Editor's Rating:
At a Glance
Type: Pneumatic Nailer
Weight: 4.5 lbs.
Fastener Size/Style: 16 Gauge
Angle: Straight
Review
An incredibly inexpensive pneumatic nailer, this versatile finishing nail gun comes in multiple angles with multiple nail standards, perfect for filling out your ideal tool lineup. While there's a framing option available for firing off three-inch monsters, those looking for a finishing nailer are probably looking for the 16-gauge option that's a bit more delicate, suited for jobs somewhere in between the high-powered nailers meant for framing and the brad nailers used for lightweight trim.
Still, shooting a one-inch nail at the bottom end and 2.5 inches at the top means that this nailer will take you from the top end of brad nailers to the bottom end of finish nailers: so although this pneumatic nailer is one of the cheapest on our list by almost $100, it's equally versatile as the more expensive nailers. It's got some other features that are most commonly seen on the highest end of nailers as well: a no-mar contact tip is soft to prevent scratches and a special release at the top of the magazine makes clearing jams a breeze.
As with most bargain products, there are some issues, but none are particularly severe. The biggest issue is that some nails aren't driven in all the way, meaning you'll have to come back and check your work over by driving in the 'standout' nails with a hammer (check out a list of our favorite claw hammers here). Another issue? Frequent jams, although with a barrel-clearing feature, it can be resolved, although it slows down workflow. So even though this nailer has a few issues, most will be tolerable by a DIYer but not necessarily by a professional.
Pros
Incredibly economical nailer is effective for DIYers

Barrel clearing feature

16-gauge nail is suitable for brad nailer and framing nailer projects

Soft contact tip to prevent damage
Cons
Frequent jamming

Some nails don't get driven in all the way
---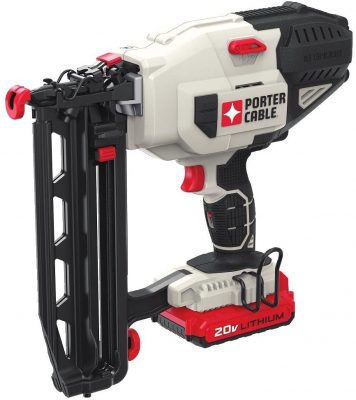 Why we like it:
This premium finish nailer from industry giant Porter-Cable isn't just a typical cordless. It's one of the highest quality cordless electric nailers on the market, period.
Editor's Rating:
At a Glance
Type: Cordless Electric Nailer
Weight: 6.5 lbs.
Fastener Size/Style: 16 Gauge
Angle: Straight
Review
If you're looking for the best just-electric battery powered cordless nailer on the market, you've found it. This power tool from Porter-Cable is incredibly effective, putting serious brawn behind nails for its small size and cordless format. The nails are driven via a straight magazine, an interesting choice given that handheld nailers are usually prized for their portability. This nailer is also a bit heavier than average, but both facts are forgivable based on the nailer's strong performance.
One important thing to note with this nailer is its high level of power for a cordless nailer. The vast majority of cordless nailers are brad nailers, smaller nailers better equipped for more delicate work—a fact that becomes problematic when looking for a finish nailer in a cordless format. While there are some sacrifices made in terms of power and repeated use (a pneumatic nailer can drive more nails, more quickly and more powerfully), it's one of the few effective cordless finish nailers on the market, period.
Durability is exceptional and the gun will have no trouble delivering tens of thousands of nails consistently with little to no jamming. Also almost nonexistent? Misfires, in which the nailer improperly fires the nail, twisting the metal and making it a pain to take out. While you can probably do the math for yourself, we're happy to spend a couple of extra bucks to avoid frequently wasting time fixing misfires and jams.
Pros
Durable, reliable nail gun fires without jamming

Serious power for a small nailer

Cordless and battery-powered

Exceptional durability
Cons
Straight magazine is hard to fit in tight areas

Nailer is heavy at 6.5 pounds
---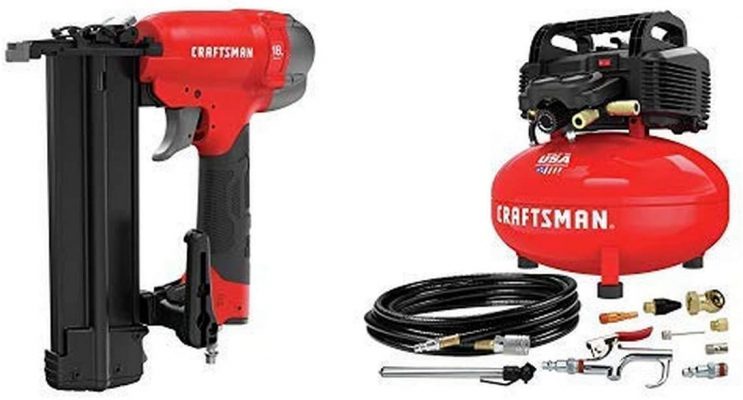 Why we like it:
Legacy brand Craftsman comes out swinging with a sub-$300 nail gun that includes a high-quality compressor, everything you need to powerfully drive nails all day long.
Editor's Rating:
At a Glance
Type: Pneumatic Nailer (with included air compressor)
Weight: 4.5 lbs.
Fastener Size/Style: 18 gauge
Angle: Straight
Review
One of the biggest issues with nail guns? The best ones are all pneumatic, powered by enormous, loud, difficult-to-transport air compressors that typically cost somewhere around $300 for relatively small-scale use. Tool giant Craftsman solves this problem by simply including an air compressor with the purchase of a nail gun, miraculously providing a full setup for the same price as premium nail guns like the Paslode Cordless Finish Nailer.
Unfortunately, to stay price competitive, Craftsman sacrifices product quality on both the nailer itself and on its small-format air compressor. Instead of a typical large-tank air compressor, this oval-shaped compressor only has a six-gallon capacity, fine for DIY projects but not for the job site. For the compressor itself, build quality is surprisingly good, but the nailer is where things start to fall apart a little bit.
While Craftsman has a recognizable name for quality, in recent years the brand was acquired and has fallen into a noticeable slump in product caliber. The fact that Craftsman offers a tool-free jam release mechanism over simply designing a nail gun that doesn't jam in the first place (the Porter-Cable 20V Max Finish Nailer is a good example of this) further advertises the fact that this isn't a particularly high-quality product.
Pros
Included compressor allows you to fire this pneumatic gun out of the box

Lightweight compressor is easier to transport than full-size compressors

Six-gallon compressor has strong build quality
Cons
Product quality is slightly below average

Low capacity six-gallon tank
---
Why we like it:
Driving larger-bore 15-gauge nails with more holding power, the ultra-simple and inexpensive Makita AF635 Angle Finish Nailer focuses more on pure practicality over expensive features.
Editor's Rating:
At a Glance
Type: Pneumatic Nailer
Weight: 4 lbs.
Fastener Size/Style: 15 Gauge
Angle: 34 degrees
Review
If you're looking for a reliable, powerful pneumatic finish nailer, this model from Makita is a great pick. At under $200 and with an angled magazine, it's both inexpensive and easy to fit into small spaces. Also included are some clever features like a built-in air duster and a depth-adjuster that doesn't require any tools.
The finish nailer itself is light at about four pounds even, but that's not the only consideration to be made with a pneumatic nailer: when talking about maneuverability, you also have to consider the pneumatic hose (a generic air hose like this one is probably fine) and an air compressor (here's a 2.5 HP matching Makita compressor) that you'll have to lug around the job site. So all in, for a full setup, you're spending around $500.
Sure, it's a kit that's more than capable of the biggest jobs, but so is the Paslode Cordless Finish Nailer, which even at a premium price comes in at a lower total cost.
So there's the math behind a full pneumatic setup. Firing broader, 15-gauge nails with maximum holding power out of a durable magnesium chassis, the nailer is just as durable as more premium models and less expensive for just a nailer, but a full setup is quite the investment.
Every person will have to do their own evaluation of the pros and cons, but the biggest consideration is probably the volume of nails. Are you putting trim up in just a couple of rooms? A cordless finishing nailer will work perfectly. Are you firing all of the finishing nails for an entire project? It could be worth it to purchase a full pneumatic nailing system.
Pros
Inexpensive when compared with cordless nailers

Clever features like an air-duster and tool-less adjustment

Fires broad, 15-gauge nails with lots of holding power

Durable magnesium body
Cons
Somewhat expensive when combined with a compressor and air hose

Not worth it when firing a small quantity of nails

Less maneuverable as a pneumatic nailer
---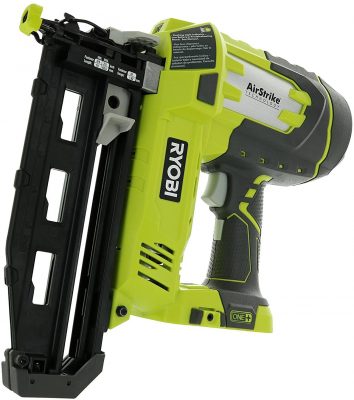 Why we like it:
Perfect for countless projects around the house, the Ryobi One+ Cordless Finish Nailer is a high-quality tool at an affordable price.
Editor's Rating:
At a Glance
Type: Cordless Electric Nailer
Weight: 8 lbs.
Fastener Size/Style: 16 gauge
Angle: Straight
Review
Another straight-magazine cordless finish nailer worth taking a look at is Ryobi's ultra-reliable 16-gauge One+ model, a nailer priced well below $200 oriented towards the serious DIYer. Ryobi, a Japanese manufacturer, is probably the non-American brand with the strongest reputation, selling incredibly reliable and high-quality tools at a surprisingly accessible price point.
Ryobi's nailer fires 16-gauge finish style nails out of a straight magazine, which is a slight negative for those looking to squeeze into small areas and fire nails at awkward angles (think trim and cabinetry work). However, if a straight magazine is the difference between this nailer's economical price and more expensive nailers, we're on board.
The nail feeding and piston action itself is smooth and reliable and the construction, while not on the same level as ultra-premium tools like the Dewalt's, it's remarkably durable.
Something we're not quite on board with yet? The lack of an included battery, meaning that the price-competitive sub-$200 nailer turns into an over-$250 purchase when you add in Ryobi's two-battery pack. When a large part of the appeal of a cordless nailer in the first place is the fact you don't need to buy additional, expensive equipment (an air compressor, in most cases) it feels like a relatively large oversight that Ryobi doesn't just include a battery in the first place.
Pros
Ryobi's sub-$200 finish nailer is great for DIYers

Economical price

Reliable action with high-quality construction
Cons
No included battery

Straight magazine is difficult to fit into corners
---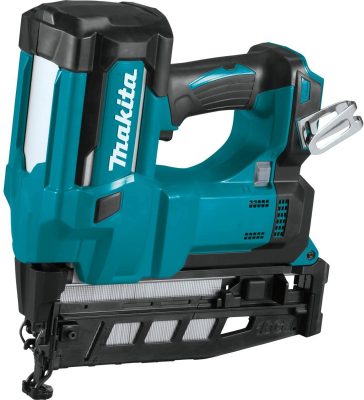 Why we like it:
Compatability with Makita's universal battery makes this nailer is a great choice for users who already own other Makita tools.
Editor's Rating:
At a Glance
Type: Cordless Electric Nailer
Weight: 8 lbs.
Fastener Size/Style: 16 Gauge
Angle: Straight
Review
With a built-in LED light strapped into a solid battery-based format, the Makita XNB02Z is a cordless, battery-powered option that fires 1,000 finish nails per charge using Makita's universal 5.0 amp-hour 18-volt system battery. While it's not quite as powerful as fuel nailers like the Paslode Cordless Finish Nailer, nor as long-lasting as pneumatic nailers like the Makita AF635 Finish Nailer, it's a solid option for those who don't want to deal with disposable fuel canisters or bulky air compressors.
This finish nailer's bump trigger activates with just a simple flick of a switch, convenient for those switching from delicate work to driving large volumes of nails. Be aware, though, that if you're not used to a bump trigger, you can easily accidentally activate it, increasing the odds of an accidental misfire. To combat this issue, make sure you get accustomed to using the convenient and solid feeling trigger lock that will prevent firing in all cases.
And while the nail clip is made with a straight magazine-style construction, it's a little more maneuverable than other nail guns of the same style thanks to a contact tip that's shorter than average and a slightly angled bottom of the magazine. If you're looking for a gun to do nailing work in tight spaces, you're better off purchasing a lightweight, cordless nail gun like the Paslode Cordless Finish Nailer, but this is still better than the brawny, straight magazine options like the NuMax SFN64.
Pros
Burly battery-powered nail gun that doesn't rely on fuel or compressed air

Built-in, easy to use bump trigger

Contact tip is shorter than average and thus more mobile
Cons
Not as maneuverable as lighter-weight fuel-powered nailers

Not as powerful as pneumatic nailers
---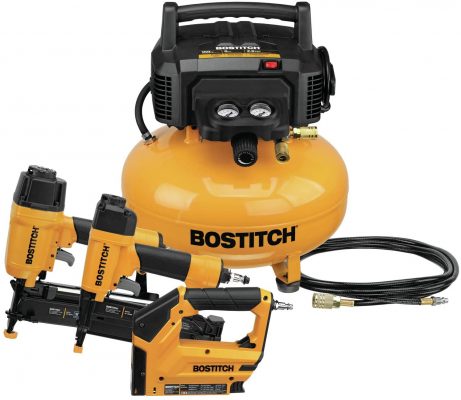 Why we like it:
For DIYers looking for a complete set of pneumatic tools, this Bostitch kit with an included air compressor provides a truly impressive value.
Editor's Rating:
At a Glance
Type: Pneumatic Nailer (includes brad nailer, crown stapler, and air compressor)
Weight: 4 lbs.
Fastener Size/Style: 16 Gauge, 18 Gauge, ⅜ inch Crown Staples
Angle: Straight
Review
While finish nailers like Dewalt's come in at well over $300, with this tool lineup, Bostitch has managed to provide truly incredible value for well under that price: included in the box aren't only an air compressor and a finish nailer, but a brad nailer and crown stapler as well.
Still, though, at the end of the day, this feels more like a compromise than a viable option for serious DIYers or contractors. The included air compressor simply isn't powerful or sturdy enough to hold up to the demands of serious construction (it's also really loud), while the nail guns are really somewhat inadequate compared to real-deal models like the Paslode Cordless Finish Nailer. That being said, the fact that Bostitch includes not only a finish nailer, but two other types of air-powered fastener drivers with this package is impressive.
Our final verdict? If you're a DIYer working on a job where you absolutely need a finish nailer, brad nailer, and crown stapler, this is a perfect kit for you. Just know that, although they're impressively effective for the price they won't last forever, nor will they perform at the level of more premium models.
Pros
Great for DIYers that need a full kit of fasteners and nailers

Three nailers and a compressor for low price

Effective quality
Cons
Don't perform as well as professional models

Compromise for DIYers and serious contractors
---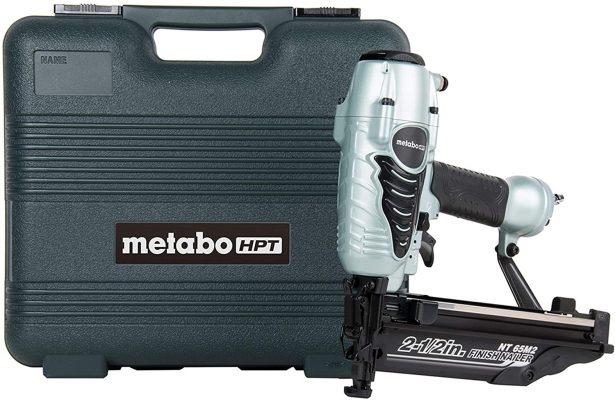 Why we like it:
This finish nailer from discount tool manufacturer Metabo provides a solid balance of performance and price for those taking on a small project or who need a finish nailer for occasional use.
Editor's Rating:
At a Glance
Type: Pneumatic Nailer
Weight: 3.7 lbs.
Fastener Size/Style: 16-gauge
Angle: Straight
Review
Famed Japanese tool (and consumer product) manufacturer Hitachi has transferred all of their power tools over to their recently acquired German power tool wing, Metabo, in a play to appeal to a higher-quality segment of the market. With a so-so product quality reputation and a budget price point, it's a sensible move that made us look twice at this product, a budget yet warranty-backed 16-gauge nailer powered by compressed air.
It has some of the same high-end features as premium-priced products, such as a no-mar contact tip to prevent surface damage while nailing, a bump-fire trigger, and an air-duster that can help clean off work surfaces. It's even got some features missing from nicer nail guns, such as tool-less drive depth adjustment and a soft, easy-grip handle that keeps nailing accurate and hands comfortable.
And while Hitachi had a below-average reputation for tools, the reformed Metabo has made great strides on improving product quality, offering an impressive five-year warranty alongside this nailer. Also included? Safety glasses, a backup no-mar contact tip, a plastic carrying case, and a quarter-inch NPT male plug for connecting the finish nail gun to conventionally sized air hoses.
Unfortunately, it falls to the same flaws of all pneumatic nail guns, namely the classic portability and noise difficulties along with the added expense of an air compressor. If you're a DIYer or one-time user, and you've already got an air compressor, though, it's a smart buy thanks to the price well below average for the category.
Pros
Mid-range nail gun is effective yet inexpensive

Impressive 5-year warranty

Premium features like bump trigger and easy-grip handle

Extra no-mar tip and plastic carrying case
Cons
Suffers from the same issues as other pneumatic nail guns

History of so-so product quality
---
Guide to Buying the Best Finish Nailers for 2021
There's a reason a power nailer is in the back of nearly every single work van in the country: the nail sits in third place behind the brick and the 2×4 on the list of 'most popular construction materials,' and a power nailer is simply the most effective way to drive nails accurately, quickly, and powerfully.
Categories of Nailers
While all types of tools look quite similar, there are three main categories of handheld nailers on the market today if you don't count specialized tools like roofing and flooring nailers. While many serious contractors have a full spectrum of tools, finishing nailers are one of the most important nail guns to have: they use a thicker, midrange 15 or 16-gauge nail that can function for more serious attachment as well as more delicate tasks like hanging trim. We'll go through the three most common types of general carpentry handheld nailers below:
Framing Nailers
Framing nailers are heavy-duty nailers for the biggest carpentry tasks. Typically using 3.5-inch framing nails (also known as 16d or 16-penny nails), everything from framing to attaching cabinetry gets done with framing nailers.
One issue with framing nailers (that's sometimes an issue for finish nailers as well) is the power with which a nailer enters the wood. Framing nailers use a huge nail that's propelled by a large volume of air, punching a hole beyond the surface of the wood. If the surface you're nailing will eventually be covered up by trim, drywall, or other carpentry work, you shouldn't worry about this hole. If not, you'll have to fill in the depression with putty and then cover it up with a coat of paint.
Finishing Nailers
Contrary to what you might expect based on the name, finishing nailers can still be used for serious attaching and lighter framing work, although the heaviest-duty carpentry should be left to a framing nailer.
The beauty of a finishing nailer is its 'Goldilocks' position in nailing lineups. It's a jack of all trades, powerful enough to attach sturdier trim but delicate enough that you don't have to worry about destroying it or splitting it. Nail holes will still be deep enough that you'll have to fill them in, but won't require as much attention as with framing nailers.
Brad Nailers
Brad nailers are the lightest weight nailers, maneuverable and delicate enough for the most intricate carpentry tasks. With a brad nailer, you can often get away without filling in holes and just painting over the depressions caused by nails, although for a seamless look, it's worth filling in the small holes with putty. Brad nailers are probably the least versatile option as they are really only capable of holding up things like trim: even relatively lightweight molding is better mounted with a finishing nailer.
Angled vs. Straight Finish Nailers: What Do I Need?
Confused about the differences between angled and straight nailers? More than comparing the nailers themselves, take a look at exactly what kind of work you're looking to do with your finish nailer. A straight nailer will use a smaller, cheaper, and thinner nail, all at a price that's typically lower than that of angled nailers.
If you're looking to do more structural work, potentially in tighter spaces, and you want to get the job done with a thicker-gauge nail, an angled nailer is probably what you're looking for. If you're not worried about the budget, we'd typically recommend an angled finish nailer either way.
Purchasing Nails for Your Finish Nailer
A nail is not just a nail, even less so when using an expensive nail gun. Purchasing the right nail keeps a project on track, while purchasing the wrong nail can jam a nailer, blow out a magazine, or in the worst case, put a whole job behind schedule by totaling an entire nail gun. It's of the utmost importance that you use the right nail!
Nail Gauge
While bigger nails for framing nailers are sometimes measured in inches, the nails used in finish nailers are measured by 'gauge.' Nails that are measured by gauge are called trim nails, used in finish nailers, brad nailers, and ultra-small 23-gauge nailers called pin nailers.
Finish nailers fire either 15 or 16-gauge nails, and it's important that you get the right one. Your device's owner's manual will tell you what nails to pick up. The gauge should also be listed on your nailer's magazine. 16-gauge nails have a slightly smaller diameter, meaning they provide slightly less holding power. The tradeoff for this is a typically lighter nail gun.
Angled and Straight Nails
If you've purchased an angled nail gun, it's vital to purchase an angled nail that aligns with the magazine properly. It's easy enough to keep track of. Got a 30-degree nailer? Buy a strip of 30-degree fasteners (nails). While some DIYers and contractors say you can get away with a tolerance of about two degrees, we'd just buy the proper nail and avoid destroying your equipment.
Nail Length
Nail length has more to do with the project you're working on than the finish nailer itself. All nailers are designed to accept varying lengths of nails, and trim nailers are typically designed to drive nails from 1 inch to 2.5 inches. A good rule of thumb for selecting a length? Pick a nail that's about 2.5 times the depth of the wood you're nailing. Nailing a 1-inch board? Pick up a box of 8-penny (2.5-inch) nails.
Safety Advice for Nail Guns
Nail guns are incredibly dangerous when misused but quite safe when used correctly. In fact, they're one of the most common ways for carpenters (both amateurs and professionals) to injure themselves on the job site, with 2 of 5 carpentry apprentices injured in a four-year apprenticeship by a nail gun. We'll cover the most common injuries and how to avoid them below.
Know Your Trigger
Any time you have your finger on the trigger, you're at risk of firing your nail gun. But most nail misfires don't happen because the trigger is accidentally pulled, they happen because the trigger is already depressed and then the barrel is pushed down.
Don't just be aware of if your finger is on or off the trigger, also pay close attention to exactly how the trigger functions. Is it sequential? Do you have a bump trigger? What are your habits when carrying and transporting the gun? Any time your body is in front of the nail barrel becomes an opportunity for an accident to happen.
Understand Your Work Surfaces
Another common source of injury is contractors and carpenters sending a nail through a piece of wood without realizing that a body part (typically a hand or a leg) is on the other side. Never brace a piece of wood against your leg when using a power nailer, and always keep your non-trigger hand visible to the eye, assuring it's not in the path of the nail gun.
Secondary to the risk of a nail going through lumber and causing a puncture wound is another type of work-surface unawareness: ricochet and deflection. Often, carpenters are nailing on a surface and are unaware of the fact that there is metal below. When a nail hits this metal, it can ricochet, turning a nail into an impromptu projectile.
If you're a contractor or even if you're just looking to stay up-to-date on the latest safety information, check out this guide from OSHA
Tips and Tricks for Finish Nailers
While nail guns are relatively simple to use and have a quick learning curve, there are a couple of tips and tricks that can help your carpentry become quicker, more efficient, and better looking. As with everything, you'll get better with time.
Maintain Your Nail Gun
As with all construction tools, take good care of a finish nailer, and it will take good care of you. Use the proper nail, treat your tool gently, keep it clean, and most importantly, keep it lubed. A properly greased nail gun will last much longer and cause you much less trouble than an unkempt one.
You should oil your nailer daily, applying four to five drops of compressor oil or 30-weight non-detergent oil to the air fitting per day. Not only will this keep the action of your nail gun smooth, but it will also keep your O-rings supple, preventing catastrophic failure.
Take Advantage of Bump Triggers
Typically, nail guns are set up to function similarly to a normal gun: set your target, pull the trigger, and the nail drives into the wood. Some nail guns have a 'bump trigger' setting that can eliminate the need to pull the trigger, firing when you 'bump' the barrel against the wood. This helps with jobs like framing and roofing, potentially freeing up maneuverability and speeding up the process for when you have to lay down a lot of nails. Be careful, as this feature eliminates a step to firing the nail, making it a bit more dangerous.
Adjust Drive Depth
Almost all nail trimmers have a cool feature that allows you to adjust the depth which the nail enters the wood. For more delicate applications, you want the nail to be shallower as to not split trim and to lie flush with the wood surface. For framing, the nail can be deeper to lock in more solidly.
Watch Out for Empty Firing
Almost every nail gun will still fire even without fasteners loaded in the magazine. This compressed air is still powerful enough to cause indents in the boards, causing visual problems for you down the line. Make sure you're keeping an eye on how many fasteners or nails you've got in the gun, otherwise you might go over on the putty cover-up budget.
Don't Push Too Hard
Many amateur carpenters have the temptation to push the nail gun directly perpendicular to the nailing surface, pressing up hard against the wood. While that does offer some improved accuracy, the recoil and air pressure of the nail gun can damage and even burn the wood. The solution to resolving these issues? Back off on the pressure a bit, giving some room for the nail gun to do its thing.
Nail Gun Accessories
While a nail gun just needs a power source and a nail to work, there are some accessories you can purchase to make life easier and your workflow more efficient. Consider investing in the following:
Batteries
Cordless nailers get better and better each year, but even the best ones have a limited battery life. The good news? Large manufacturers have multi-compatible battery systems, which isn't ideal if you want to mix and match power tools but great news if you're loyal to a single brand.
Run out of juice, and you can just pop in another battery, ready to fire off another thousand nails. It's worth it to pick up a backup battery from your preferred tool manufacturers. Milwaukee, Ryobi, Paslode, Porter-Cable, and Dewalt all sell proprietary batteries that work in their nailers).
Hoses
Most people who've had experience with a pneumatic nailer can agree that they're largely a necessary evil: needed for anyone driving a large quantity of nails, but noisy, expensive, hard to maneuver, and reliant on air compressors. One way to solve part of the problem is to add an extra-long hose, enabling you to move around without such a tight lease. Make sure the air hose you buy fits your hose fittings, but a 100 foot hose can make life a lot easier, and with plenty of long options under 50 bucks only costs a fraction of the price of your original nail gun.
Holsters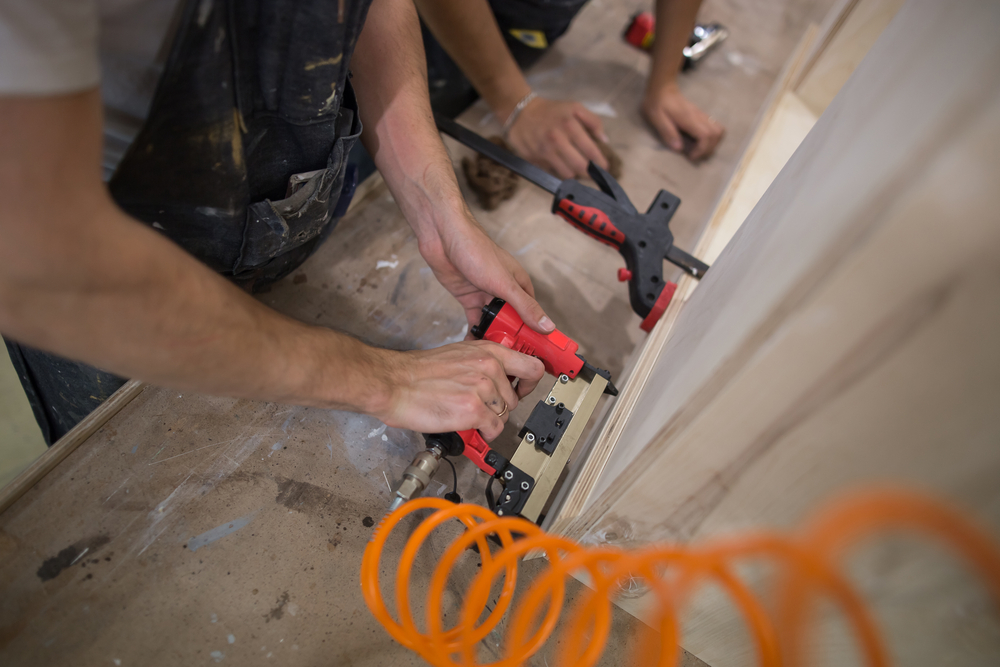 Especially for those with pneumatic nailers that need to drag around an air compressor, heavy 8-pound nailers get cumbersome to carry around all day. There's a whole cottage industry of nail gun holders meant to clip onto belt loops.
Our favorite holster is 'the Gunnie,' a clever device that actually locks the nailer in place. It's inexpensive, ambidextrous, and also works with drills and reciprocal saws—just make sure you pop your safety on before holstering your nailer to avoid puncture wounds.
Frequently Asked Questions About Finish Nailers
Finish nailers are tools that require skill, caution, and maintenance: beginners are probably better suited to work with a simple hammer. Some of the most common questions about finish nailers are answered below.
Can I Use a Finish Nailer for Framing?
With framing nailers, finish nailers, brad nailers, pin nailers, and even crown staplers all available and recommended for different purposes, it's tempting to figure out a way to double up, using one nailer for multiple tasks.
And while you can sometimes get away with a framing nailer for baseboards or a brad nailer for lightweight trim, it's not a good idea to use a finish nailer for framing. Finish nailers use a much smaller and much shorter nail than framing nailers, and a 2.5-inch nail simply isn't long enough for framing tasks that typically use 2x4s. While you can get away with crossover in some cases, don't do it while framing.
What's Better, a 15-Gauge or 16-Gauge Nailer?
Finish nailers come in two sizes, either firing 15-gauge or 16-gauge nails. So which one is better? As with a lot of tool decisions, there's no better or worse: pick the nailer best suited for your purpose. If you want a nail with a bit more holding power, pick a 15-gauge nailer.
Looking to do smaller jobs with more delicate wood? Trim and cabinetry projects are better tackled with a 16-gauge finish nailer.
That being said, if you're just looking for a nailer for 'honey do' projects, we'd probably recommend a 15-gauge nailer, as they drive a nail with more holding power. 16-gauge nails are typically for more delicate work. In fact, we'd recommend a 15-gauge nailer over a framing nailer, as framing nailers are really just good for framing and not many household applications.
Who Makes the Best Finish Nailers?
For the most part, the companies with the best reputations for producing finish nailers are the same companies that produce high-quality tools across the spectrum. While there are plenty of other companies that produce other power tools besides finish nailers, some of our favorite brands with contenders on our list are Bosch, Porter-Cable, Dewalt, and Milwaukee.
These companies all produce great nailers along with other tools, but there's one brand that stands head and shoulders over others when talking about nailers: Paslode. Although they make a premium-priced product, Paslode nailers are commonly thought to be the best in the game.
Why Is There No Corded Electric Finish Nailer on This List?
While many think of the construction tool industry as relatively static, there's been one tremendous improvement that has drastically changed the way the industry uses tools: battery technology. While cordless tools hardly even existed about 20 years ago, now they're near-ubiquitous even in the professional contracting world.
The answer, then, is simple. Corded electric finish nailers now offer no real advantages over battery-powered nailers. Fuel-powered nailers keep things light but require a disposable fuel canister. Pneumatic nailers are powerful but need an expensive, noisy, and heavy air compressor. Cordless electric nailers are less powerful and slightly heavier but simpler and less expensive.
Corded electric nailers are relatively heavy, not particularly powerful, and less maneuverable thanks to the fact they need to be connected to an electrical outlet. The single advantage is the fact that they're slightly less expensive, although the gap between these nailers and other inexpensive nailers comes down every year.
Wrapping Up
While the classic hammer isn't going anywhere, even an inexpensive cordless nail gun can be transformational to your carpentry workflow, speeding up jobs and improving the quality of your work simultaneously. Whether you are looking for a cordless fuel-powered option, something that uses an air compressor, or something versatile and electric powered, there's a nailer on the market perfect for your next project.