You've made up your mind; your garden hose just isn't cutting it anymore. You want to take your cleaning to the next level, so you've decided to invest in a lean, mean, pressure washing machine. But which one should you buy?
There are hundreds of different models on the market, and quite frankly, they all look great! PSI, GPM, wands, nozzles… if you're new to the world of pressure washing, these terms will seem awfully confusing!
Fear not, as we'll be running through everything you need to know about electric pressure washers. Our goal is to help you make the right choice when buying a pressure washer.
Choosing the Best Electric Pressure Washer for Your Needs
The right pressure washer for you will ultimately boil down to one major factor: what you're going to be using it for.
You may want an electric pressure washer for washing vehicles, cleaning driveways or buildings, sprucing a patio, or more. Regardless of what you'll be using the pressure washer for, there are several important things to consider before buying one.
Cleaning Power
There are two key things to look out for when it comes to the cleaning power of a pressure washer: the PSI and GPM. But what do these two terms mean?
PSI: PSI is the force of the water coming out, so a higher PSI will mean higher pressure and more cleaning force.
GPM: Gallons per minute. GPM is how much water flows every minute. A higher GPM means a faster cleaning process, as more water is being pumped through the system.
You'll want to pick a pressure washer that has a good PSI and GPM rating, as it needs to be powerful enough for the job at hand. To find out more, take a look at our guide to PSI, which tells you what PSI is suitable for the job you are doing.
To get an overall idea of the cleaning power of a pressure washer, you can multiply the PSI by GPM, which gives you a measurement known as cleaning units (CU). The higher the CU score, the better the washer's cleaning power.
To make life easier for you, we've already worked out the CU score and listed it in each of the product reviews. We've also listed some quick facts detailing the PSI, GPM, and weight of each machine.
Pro Tip: A higher PSI and GPM isn't always necessarily better. Be sure to check which nozzles are included, as they have a big impact on the stream of water that comes out of the pressure washer.
Materials & Construction
What the unit is made from is often overlooked, but it's pretty important as pressure washers are notorious for toppling over. In addition to that, some pressure washers are made from plastic and use plastic spray wands, which are more susceptible to damage if dropped.
Others use metal spray wands and have welded steel frames to protect the unit from accidental damage.
Additionally, not all hoses are created equally. Some are more flexible than others, and some use better materials that don't kink so easily, making them easier to coil when not in use.
Portability & Storage
Portability is an important factor to consider, especially if you're going to be using the machine in rough outdoor terrain. Many pressure washers have wheels that make for a smooth, easy movement, although how smooth that movement is will depend on the size and material of the wheels.
As mentioned in the last section, all pressure washers are prone to falling over, and this is more common with two-wheeled units. You will find some four-wheeled units and units with feet that successfully avoid this problem.
Others don't have wheels at all, which means they need to be picked up and placed down carefully. This can be a downside in some cases, especially if you need to move the machine around a lot. Having said that, these machines tend to be smaller, more compact, and lighter, which makes them easier for storing or putting in your car's trunk.
You'll also find that some pressure washers have hose reels to make storing the hose easier and tidier, whereas others simply use a hook for you to wrap the cord and hose around. This will be important for people who like to keep things looking neat and tidy.
Nozzles & Accessories
The type of nozzle you use will affect how the water sprays out, and each nozzle has its own time to shine depending on the job you're doing. We go a lot deeper into the world of pressure washing nozzles in this section.
Some products come with an array of nozzles, while others only supply one or two. Some brands prefer to use adjustable nozzles and to be fair, they're pretty useful, as there's less chance of losing one and you can adjust the spray in real-time.
Pro Tip: Pressure washing spray nozzles are universally color-coded, even between different brands. This makes it easier to identify each nozzle's angle just from the color.
You may want to purchase a specific accessory for a specific job, so it's a good idea to check whether the manufacturer makes any extra parts for that particular model. For example, there are brush attachments that can be used to make cleaning vehicles a less arduous task, but not every manufacturer will offer these.
Most brands don't include premium accessories with the pressure washer, although some, like Powerhouse International, do.
We've kept all of these important points in mind when selecting the products for this article, and we'll point them out in the individual reviews listed below.
Now the tank is primed, let's blast through the reviews.
Top 10 Best Electric Pressure Washers 2023
1.

Best Overall Electric Pressure Washer:

Sun Joe SPX3000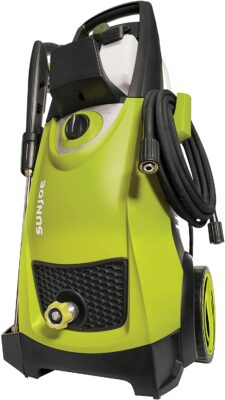 Why we like it:
Considering the SPX3000 has a large array of features, strong specs, and a mid-range price point, we believe it offers the best value for money of any electric pressure washer on the market today.
Editor's Rating:
Quick Facts:
Pressure: Up to 2,030 PSI
Volume: 1.76 GPM
Score: 3,573 CU
Weight: 31 pounds
The Sun Joe SPX3000 is one of the best selling electric pressure washers on the market today and for a good reason. It offers plenty of standout features that make pressure washing an enjoyable task, and it can handle most of the jobs that come its way. This machine is powerful enough for cleaning cars, trucks, RVs, driveways, patios, buildings, and a whole lot more.
The SPX3000 has an automatic "Total Stop System" that cuts power to the pump when it detects that the trigger isn't engaged. This is an incredibly useful system, as it not only saves energy but also helps increase the lifespan of the motor. That's pretty important, as every electric pressure washer has a finite number of hours it can run for before the motor or pump wears out.
No matter what it is that you're cleaning, this offering by Sun Joe has you covered. The pressure washer comes with 5 different spray nozzles, ranging from 0° for blasting, all the way up to 65° for soaping. On the subject of soap, the SPX3000 has not one, but two removable detergent tanks that can each hold 900ml of liquid. That's a whopping 1800ml of capacity in total, and as there are two, there's no need to waste time emptying and refilling when using two different liquids. Simply fill each one with a different soap or shampoo and away you go.
This product does have some minor shortcomings that we think are worth mentioning. After prolonged periods of use, the pressure output does start to decline, although you have to be using the machine for hours before that happens. The other thing to note is that it's rated at 2,030 PSI internally, but at the hose, you'll only see around 1,450 PSI. That's enough pressure for most jobs; however if you need something with a bit more oomph, you may want to take a look at the most powerful electric pressure washer in our line-up.
Our Verdict
The Sun Joe SPX3000 is an excellent all-rounder that comes with plenty of accessories and some nifty features. Best of all, it doesn't cost an arm and a leg.
Pros
Outstanding value for money

2 removable detergent tanks

5 quick-connect spray nozzles

Total Stop System prolongs motor life and saves energy

High PSI and GPM rating to handle almost any task
Cons
Pressure declines with prolonged use
---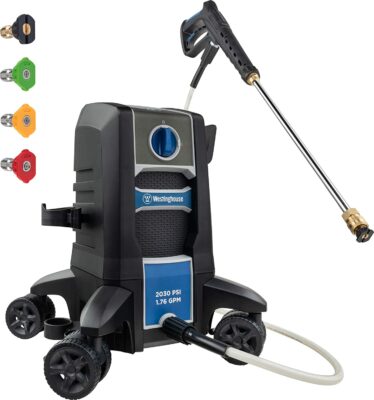 Why we like it:
The Westinghouse ePX3000 has a unique design that includes four 360 degree rotating wheels and a low center of gravity for enhanced stability. It's also super lightweight, making it easy to move about on even the bumpiest of terrains.
Editor's Rating:
Quick Facts:
Pressure: Up to 2,030 PSI
Volume: 1.76 GPM
Score: 3,572 CU
Weight: 19 pounds
The Westinghouse ePX3000 is a highly capable machine that boasts amazing stability and maneuverability thanks to its unique design. It has a low center of gravity that helps the machine avoid toppling over, which is a common problem most pressure washers face. Combined with the four 360 degree lockable wheels, moving this pressure washer around is a breeze. These design features make it ideal for cleaning large vehicles, or for cleaning over large areas, especially if the terrain is rough and bumpy.
As seen with some of the other electric pressure washers, the ePX3000 features an energy-saving system that cuts off power to the pump when it machine isn't in use. This prolongs the life of the motor, which means you'll get more life out of your pressure washer. This handy feature is also seen in the Sun Joe SPX3500.
The 15ft nylon braided hose is a bit shorter than the standard 20ft hoses seen with most pressure washers. However, this machine does include an extendable 17.5-inch steel wand that makes up for it. In addition to that, the hose's material makes it easy to coil up, so you won't be fighting with it when putting it away.
Performance-wise it'll handle any light and medium-duty tasks you throw at it, including washing vehicles, blasting outdoor furniture, and cleaning patios. It comes with 4 spray nozzles (0°, 15°, 25°, and soap) so there's a nozzle for every occasion. While it does have an onboard detergent tank, it's pretty small at just 600ml.
Our Verdict
This pressure washer's unique design and construction makes it ideal for people who'll be using it on uneven ground, so it's a great choice for using outdoors. It's also incredibly light, weighing just 19 pounds.
Pros
Low center of gravity provides enhanced stability

Four 360 degree lockable wheels make it easy to move around

The nylon braided hose is easy to coil

Energy-saving system increases the motor's lifespan
Cons
The detergent tank only holds 600ml
---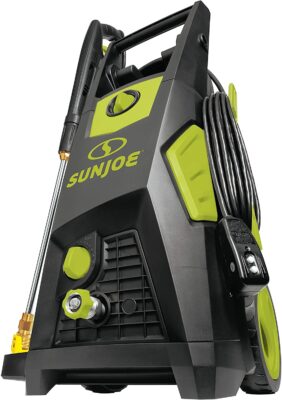 Why we like it:
The SPX3500 is Sun Joe's premium offering, boasting a superior brushless induction motor that can handle prolonged use at higher speeds, all without breaking a sweat.
Editor's Rating:
Quick Facts:
Pressure: Up to 2,300 PSI
Volume: 1.48 GPM
Score: 3,404 CU
Weight: 46.5 pounds
The SPX3500 is the SPX3000's bigger brother. Although there are many similarities between the two, such as the Total Stop System that saves energy and prolongs the motor's lifespan, this is without a doubt the premium option.
One of the key differences is with the motor; the SPX3500 has a brushless induction motor that is very quiet and lasts a lot longer than the standard universal motors. Specs-wise the SPX3500 is slightly more powerful as it has a higher PSI rating, giving it the edge when it comes to pressure. Its GPM is lower, which means it may take a fraction longer to clean than its little brother, but that difference is negligible.
As with all of Sun Joe's excellent machines, there are plenty of nozzles included as standard, including 0°, 15°, 25°, 40°, and a soap nozzle. Also included is a large, 34-inch extension wand that makes high up areas, such as guttering or the top of a truck, much more easily accessible.
We love the fact that the SPX3500 has a huge 1,200ml detergent tank built-in, as it means you won't need to keep topping up the tank for larger jobs. On top of that, this machine has a detergent dial that allows you to alter the amount of detergent used. This extra control means you can use more or less detergent, depending on your needs.
Our Verdict
This is a premium machine at a less than premium price. Its solid design and large wheels make it a good choice for cleaning outdoors, although it is on the heavier side when it comes to weight.
Pros
Superior, higher speed brushless induction motor

Provides 2300 PSI of grime busting pressure

Total Stop System saves energy and prolongs motor life

Large 1200ml detergent tank
Cons
Quite heavy at just under 47 pounds
---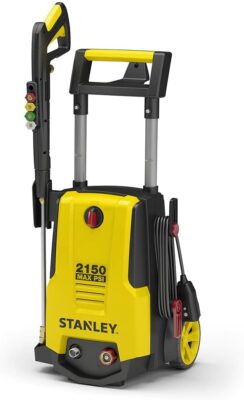 Why we like it:
The Stanley SHP2150 is very easy to use and set up, making it a good choice for people who have never used a pressure washer before.
Editor's Rating:
Quick Facts:
Pressure: Up to 2,150 PSI
Volume: 1.4 GPM
Score: 3,010 CU
Weight: 26 pounds
The Stanley SHP2150 is one of the easiest electric pressure washers to use thanks to its simple design and useful accessories. In fact, if you want to see the SHP2150 in action, take a look at this helpful video. This machine's 25ft high-pressure PVC hose and extension wand make reaching even the most difficult of places no challenge.
It comes with 4 quick connect nozzles (0°, 15°, 25°, and 40°) which will give you greater control over the machine's water stream. These nozzles are conveniently stored on the spray gun, so there's less chance of losing them. Plus, they're easily accessible if you need to swap them over quickly.
While it doesn't have an onboard detergent tank, it does have a foam cannon that attaches to the end of the spray wand. You fill this with detergent, connect it, and simply start spraying. This is one of the best ways to wash a car as it does an excellent job of mixing the water and detergent together.
When it comes to cleaning power, the Stanley SHP2150 keeps up with the other machines, despite having a slightly lower GPM rating. Whether you're cleaning siding, pavements, pools, or vehicles, this pressure washer makes easy work of it all. The only thing that we don't like is that the motor is a little noisier than some other models, especially compared to the super quiet Karcher K5 Premium.
Our Verdict
A great pressure washer for first-time users due to its simplicity and ease of use. For the price, it offers a good amount of cleaning power that will handle most tasks.
Pros
Easy to use even for beginners

Foam cannon is superb for washing vehicles

25ft hose makes difficult-to-reach places a piece of cake
Cons
Slightly noisier motor than some of the other pressure washers
---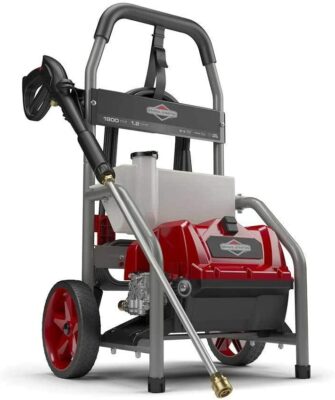 Why we like it:
The Briggs & Stratton S1800 is uniquely built with a steel frame construction and two large rubber wheels. This makes it an incredibly strong and sturdy machine that has no chance of tipping over.
Editor's Rating:
Quick Facts:
Pressure: Up to 1,800 PSI
Volume: 1.2 GPM
Score: 1,980 CU
Weight: 31.5 pounds
The key feature of the S1800 is its construction; it has a welded steel frame protecting the unit from damage should it ever tip over. Having said that, we doubt this machine would tip over, as it has two large wheels and steel feet keeping it upright. It's easy to move about too, as it isn't super heavy. It also has a conveniently placed handle for moving it around, which is ideal for jobs covering larger areas.
Another standout feature is its massive integrated detergent tank. At a huge 1,800ml capacity, you'll only need to fill it up once, which saves you time and hassle! This machine comes with three quick-connect nozzles (15°, turbo, and soap), which isn't that many, but it does have a turbo nozzle. The turbo nozzle is awesome to use as it can clean up to 40% faster than regular nozzles.
This pressure washer is perfect for cleaning filthy patio furniture, muddy vehicles, and dirty walkways. It has decent cleaning power, although to achieve the maximum 1.2 GPM, the pressure must drop to just 900 PSI. That's not a major issue, considering it still achieves 1.1 GPM at 1,800 PSI.
Our Verdict
Despite having less cleaning power than some of the more powerful pressure washers, it makes up for it with its 40% faster-cleaning turbo nozzle. The build quality makes this machine super stable, no matter where you use it.
Pros
Welded steel frame protects the unit from damage

Large wheels and feet keep the machine from toppling over

Turbo nozzle cleans 40% quicker than a regular nozzle

Massive 1,800ml integrated detergent tank
Cons
Pressure drops to 900 PSI to achieve 1.2 GPM

Less cleaning power than many of the other machines
---
6.

Best 2-in-1 Pressure Washer:

Stanley SLP2050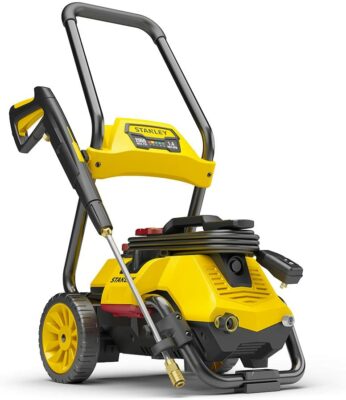 Why we like it:
The Stanley SLP2050 is very versatile; it can be used in the mobile cart for easier movement or removed as a standalone unit that can be mounted on a wall.
Editor's Rating:
Quick Facts:
Pressure: Up to 2,050 PSI
Volume: 1.4 GPM
Score: 2,870 CU
Weight: 36 pounds
The Stanley SLP2050 is a 2-in-1 electric pressure washer as it can be used as a standalone unit, or combined with the mobile cart. If you need to wheel it around, for example when cleaning a larger area, that cart's rugged wheels will handle that, no problem at all. Or, if you need to quickly move it to a different area, simply pull it from the cart and it becomes a super portable and lightweight machine.
The SLP2050 is powerful enough to tackle everyday jobs, such as cleaning driveways, buildings, vehicles, plus a whole lot more. With 5 nozzles to choose from, you can get the right pressure for the specific job at hand. You'll also get plenty of extra parts, such as an extension wand, an o-ring replacement kit, and an 800ml capacity detergent tank. The M22 hose connections make it easy to get up and running with any regular garden hose.
Our Verdict
The SLP2050 will appeal to people who want a machine that has great maneuverability and can be mounted to a wall or carried by hand. Despite having a premium price tag, we feel it's not as premium as the Sun Joe SPX3500, which offers better value for money.
Pros
2-in-1 design allows for easy movement and wall mounting

5 nozzles for more accurate cleaning
Cons
Not the lightest of machines at 36 pounds

Expensive compared to more premium machines
---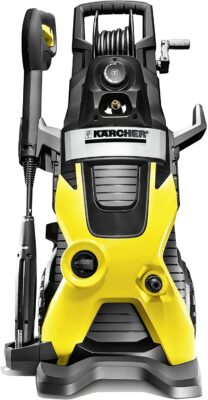 Why we like it:
The Karcher K5 Premium has a water-cooled induction motor which helps prolong the motor's life. It's also one of the quietest electric pressure washers out there.
Editor's Rating:
Quick Facts:
Pressure: Up to 2,000 PSI
Volume: 1.4 GPM
Score: 2,800 CU
Weight: 32 pounds
The Karcher K5 Premium can handle any task you throw its way thanks to its high PSI and GPM rating. It uses a water-cooled induction motor, which helps lower internal operating temperatures and prolongs the motor life by up to 5x. Despite being quite pricey, this feature may save you money in the long run, as the machine will last much longer than a cheaper model.
It includes an onboard detergent tank with an adjustable detergent dial. This dial allows you to choose how much detergent is used, which helps prevent wasting detergent and gives you finer control over your cleaning. There are also two spray wands included; the dirt blaster for hard to shift muck, and a Vario spray wand that lets you adjust the pressure as you go. As it uses these two wands, there's no need for additional spray nozzles.
While it'll happily deal with most jobs, Karcher does sell additional accessories for more specialist tasks, such as driveway cleaners and brushes. The K5 moves smoothly, thanks to its two large wheels, and there's little risk of it toppling over due to the stability foot, reducing the chance of accidental damage.
Finally, it uses a pressurized hose reel to make the coiling and storage of the hose easier. This also reduces kinks in the hose, which can further prolong the life of your pressure washer.
Our Verdict
The K5 Premium is a great choice from a great brand. It'll deal with most tasks no problem at all, but it is a little pricey. The K2 Compact may be a better choice if you want a cheaper and more compact version of this machine.
Pros
Water-cooled induction motor helps prolong motor life

Includes a detergent tank and adjustable detergent flow dial

Quiet operation compared to other pressure washers
Cons
Double the price of the similar K2 model
---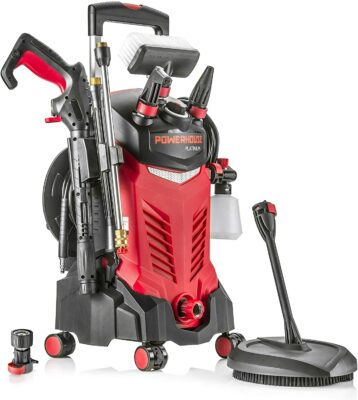 Why we like it:
The Powerhouse International Platinum is unique in this lineup as it offers unparalleled cleaning power that's on par with gas pressure washers.
Editor's Rating:
Quick Facts:
Pressure: Up to 3,000 PSI
Volume: 2.2 GPM
Score: 6,600 CU
Weight: 32 pounds
This is a unique electric pressure washer with a very high PSI and GPM rating. In fact, it's the most powerful out of all the electric washers on our list. Having said that, the power it offers is overkill in most situations, so unless you need a heavy-duty machine, we'd recommend spending less money on just as high quality, like the Briggs & Stratton S1800.
Powerhouse International is a small, family-owned business based in Lincoln, Nebraska. We like that, as most brands these days are owned by massive companies. It also means the customer support is more personal, and they should be easier to get in touch with should you have an issue.
The Platinum comes with lots of premium accessories, including a spinning patio cleaner, foam sprayer bottle, and soft bristle brush, which all conveniently fit onto the body for storage. While that's nice, it does make the unit look untidy as there are lots of pieces hanging from it.
It also comes with five quick-connect nozzles, two stainless steel wands, two proprietary nozzles, and a hose reel for easy hose storage. You're certainly getting a lot with this product, yet that is reflected in the expensive price tag.
Our Verdict
This electric pressure washer is the most powerful one we've seen so far, however it's also the most expensive. The majority of people doing regular cleaning jobs won't benefit from the massive PSI and GPM rating, so if you're looking for a premium machine for light to medium-duty tasks, feast your eyes on the Sun Joe SPX3500.
Pros
Small family-owned American brand

On par with gas pressure washers when it comes to power

Includes lots of premium accessories
Cons
Expensive and overpowered for most people's needs

Too many accessories hanging off the unit makes it look untidy
---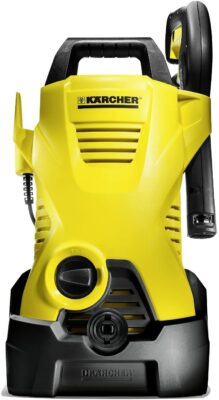 Why we like it:
The K2 Compact by Karcher is super lightweight, making it a great choice for people who need a compact and easily portable electric pressure washer.
Editor's Rating:
Quick Facts:
Pressure: Up to 1,600 PSI
Volume: 1.25 GPM
Score: 2,000 CU
Weight: 14.5 pounds
The combination of being super light and compact makes the Karcher K2 Compact one of the best electric pressure washers for moving about frequently and storing in small spaces.
Unfortunately it doesn't come with wheels, so you'll need to stand it upright when in use. It also doesn't come with many accessories, other than the Vario wand and dirt blaster wand. Having said that, these two spray wands have a lot of functionality; the dirt blaster, as the name suggests, blasts dirt and grime with ease. The Vario wand, on the other hand, can be adjusted for different pressures, allowing you to alter the pressure as you wash.
There's no onboard detergent tank but there is a tube that feeds into a detergent bottle if needed. While it's good that it has been included, it can sometimes be annoying to use as the detergent doesn't always get drawn up properly.
The K2 will be sufficient for most jobs, including vehicle washing, moss removal, and decking cleaning. While it isn't as powerful as it's sister, the Karcher K5 Premium, it is a lot more portable and around half the price, making it good value for money.
Our Verdict
The Karcher K2 Compact fits a lot of cleaning power into a small package, but it's not the most feature-rich pressure washer available. If you want a compact electric pressure washer with more features, take a peek at the budget-friendly GreenWorks GPW1602.
Pros
Super lightweight at just 14.5 pounds

Includes two spray wands: the dirt blaster and Vario wand

Good cleaning power for its size
Cons
Can be tricky to get the detergent flowing through the tubing

Must be carried by hand as there are no wheels
---
10.

Best Budget Electric Pressure Washer:

GreenWorks GPW1602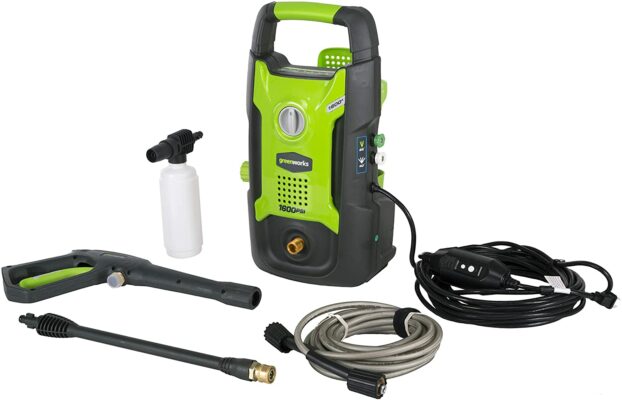 Why we like it:
This pressure washer from GreenWorks is one of the cheapest and smallest, offering strong pressure washing capabilities for its size.
Editor's Rating:
Quick Facts:
Pressure: Up to 1,600 PSI
Volume: 1.2 GPM
Score: 1,920 CU
Weight: 17.5 pounds
If you're looking for a small, compact, yet powerful pressure washer that won't break the bank, the GreenWorks GPW1602 might just be the right one for you. For such a light machine it has some pretty impressive cleaning power that can handle light jobs, such as washing vehicles, with ease.
Its biggest advantage over the other machines is that it's ultra-portable and easy to store. It will have to be carried around as there are no wheels, but that's not much of an issue considering it weighs just 17.5 pounds. There isn't a built-in detergent tank (although it does have a soap applicator that connects to the spray wand), nor a hose reel, which we'll let slide due to its small size.
It comes with three nozzles in total (25°, 40°, and soap) which will be sufficient for cleaning grime off surfaces. There's also an option to purchase additional nozzles and accessories, such as surface cleaners and rotary brushes if needed.
Our Verdict
This is an excellent entry-level electric pressure washer best suited for people on a budget. We'd recommend it for beginners doing small jobs as it must be carried around due to the lack of wheels. If this budget electric pressure washer doesn't do it for you, go take a look at the Karcher K2 Compact.
Pros
Great value for money

Impressive cleaning power for a small unit

Comes with a soap applicator and three nozzles

Easy to store and transport
Cons
Not ideal for covering large areas as it must be carried around

Doesn't come with many accessories
---
Everything You Need to Know About Electric Pressure Washers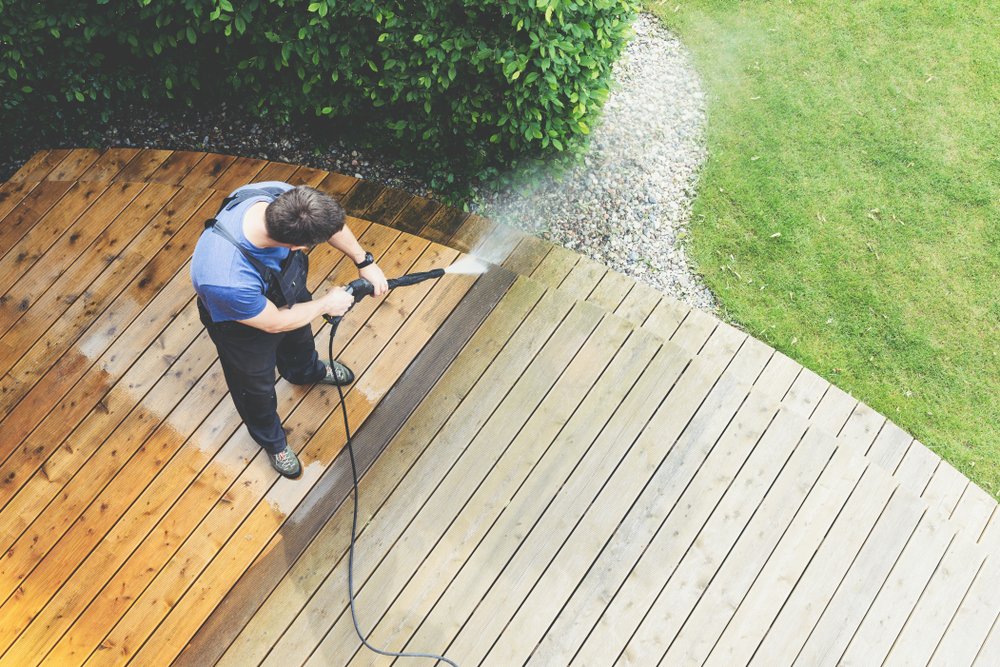 If you've never owned a pressure washer before, you probably don't know what you're missing out on. A garden hose just doesn't compare when it comes to efficiency, speed, and cleaning power.
There's a lot of things to consider when purchasing an electric pressure washer, so let's take a deeper dive into the world of pressure washing.

The Differences Between Gas and Electric Pressure Washers
Pressure washers come in two flavors: gasoline and electric. What's the difference between the two, I hear you say? Well, aside from the obvious (one uses gasoline for power and the other electricity), there are several key differences. We have a full article elsewhere on our site about both types of pressure washers which lists some of the best gas ones on the market.
Gasoline pressure washers are more powerful than their electric counterparts, but that comes at a cost. There's a lot more maintenance involved with a gas pressure washer, and they're a lot noisier too. They're also less environmentally friendly as they kick out emissions, which means they can't be used indoors unlike electric pressure washers.
They tend to have a higher PSI rating and GPM, which results in faster and more powerful cleaning. Another benefit is that they don't require an electric outlet, so they can be used in remote areas with no power.
Even though electric pressure washers are not as powerful, they're still much more powerful than a garden hose, and they use less water. Coupled with the fact that electric pressure washers are more environmentally friendly, quieter, and relatively maintenance-free, they're the best option for the vast majority of people looking to perform light to medium pressure washing tasks.
There's very little to no maintenance required with an electric pressure washer, they're generally cheaper than their gas cousins, and they produce no emissions, so they're better for the environment.
Unless you need an ultra-powerful pressure washer for heavy-duty tasks, we'd recommend sticking to electric.

What's the Right PSI for My Needs?
The best right PSI for your needs will depend on the kind of jobs you want to carry out. Below are the different ratings and the jobs they're best suited for.
Light Duty Pressure Washers (Under 2,000 PSI)
A pressure washer under 2,000 PSI is considered light duty. Light duty work includes cleaning vehicles, washing small decks, and removing grime from patios.
Medium Duty Pressure Washers (Between 2,000 and 2,800 PSI)
Medium duty is considered to be between 2,000 and 2,800 PSI. These machines are good for cleaning sidings, driveways, fencing, and larger vehicles.
Heavy Duty Pressure Washers (Between 2,800 and 3,300 PSI)
Heavy-duty pressure washers are designed for covering larger areas or tall buildings. These are rated at between 2,800 and 3,300 PSI.
Extra Heavy Duty Pressure Washers (Over 3,300 PSI)
Extra heavy-duty pressure washers are what the professionals use. They're best suited for constant use over many hours, day in day out. These are usually over 3,300 PSI.
Pro Tip: Pressure washers are very powerful and they can easily cause injury to people and property, even if they have a low PSI. Never point a spray gun directly at a person.
The vast majority of people at home will only need a light or medium-duty pressure washer, especially if they're only cleaning cars or trucks. Higher powered isn't always better if there's no need for the extra power, as it means more water consumption and increased electricity usage. The additional power will only benefit professionals carrying out massive jobs.

Guide to Using Different Spray Nozzles
Most pressure washers include several spray nozzles that can be attached to the spray wand, but what do they do exactly? Well, they make a massive difference in how the machine cleans due to the different angles used.
Interestingly, the vast majority of brands use universally color-coded nozzles, so it's easy to know which one does what. Below are the different types of nozzles available.
Red (0°)
Red is the narrowest of nozzles at 0°. It creates an immensely powerful water stream that's capable of causing damage to surfaces, so it's best not to use this nozzle at close range.
Due to its very narrow stream of water, it doesn't cover a large surface area, so it's best for blasting thick layers of mud or grime.
Yellow (15°)
Yellow nozzles have a 15° angle, which isn't quite as powerful as the red nozzle, but it's still strong. It's best used for pressure washing concrete or stripping surfaces before painting. It can also be used for stripping muck off of ATVs.
Green (25°)
Green nozzles have a 25° angle, which is ideal for multiple uses, including washing cars or cleaning dirt or grime on patios or garden furniture. It covers a larger area at a decent pressure, making the cleaning process quicker and easier.
White (40°)
White nozzles have a 40° angle, making them a lot weaker than the previous nozzles. They're most commonly used for outdoor cleaning and delicate surfaces, such as windows and sidings.
Black (65°)
Black is the least powerful, with a 65° angle. It won't be strong enough to get rid of heavy dirt or stains, but it's a good option for coating a surface with water. This is often called a soap or soaping nozzle, as the lower pressure draws up detergent (when connected to a detergent bottle).
Adjustable
Some spray wands have adjustable tips, so you can alter the angle by twisting it. These aren't individual nozzles like the others, so be sure to check you have it in the correct position before using it as you don't want to damage your vehicle. These are useful as there's no need to spend time swapping them over; simply adjust as you clean.
Turbo
A turbo nozzle is pretty unique as it has the force of a 0° nozzle but the spray area of a 25° nozzle. In addition to that, it creates a pulsating action by rotating the jet of water between 1800 and 3000 rotations per minute (RPM).

Using an Electric Pressure Washer for the First Time
Pictures paint a thousand words, as they say. If you've never used an electric pressure washer before, we'd recommend watching this video of the Stanley SHP2150.
Pro Tip: Every brand of pressure washer has slightly different usage instructions. Be sure to read the manufacturer's instruction manual before using the machine for the first time.
Pressure Washing Tips & Tricks
You can have the best electric pressure washer in the world, but if you're not confident in using it you may end up causing damage to whatever surface you're cleaning – or worse – to yourself. Below are some tips and tricks to get the most out of your electric pressure washer.
Use two hands when operating the pressure washer. Depending on the PSI and nozzle used, the force of the water can cause the spray wand to move away unexpectedly. That's going to hurt if you get caught in the line of fire!
It's a good idea to keep the spray tip around 18 inches away from whatever you're cleaning. If it isn't removing the dirt, you can always move it closer. Starting off too close can cause damage, and that will cost you money to put right.
Wear eye protection if you're cleaning something that's heavily soiled, such as a vehicle caked in mud. The high pressure can cause bits to fly back towards you, and you don't want to get any in your eyes!
Use the right spray nozzle for the job. You don't want to use a red nozzle if you're cleaning a car or truck – it could strip the paint. Likewise, a white nozzle isn't going to do much if the surface is covered in muck.
Prolonging the Life of Your Electric Pressure Washer

Electric pressure washers are just like other electrical machines; misuse them and they'll break. Thankfully there are a number of things you can do to help prolong the life of your electric pressure washer, which includes the following:
Switch off the machine when it's not in use
Expel all the water from the hose and pump when storing in the cold winter months
Make sure there are no kinks in the hose when using the pressure washer
Make sure the pressure washer is on a stable footing before using to avoid tipping
Keep the nozzle clean by using a nozzle tip cleaner or blunt instrument
Check the hose and unit for any cracks, leaks, or damage before use
Repair any leaks before they become too serious
Frequently Asked Questions
Are Electric Pressure Washers Any Good?
Absolutely, electric pressure washers can handle most jobs and they are an excellent alternative to gas pressure washers. Head over to our comparison of gas vs. electric pressure washers for a more detailed insight.
Can I Use an Extension Cord With an Electric Pressure Washer?
No, we wouldn't recommend using an extension cord with an electric pressure washer. While some people may choose to use them, extension cords can cause serious issues, like electrical fires and unnecessary trip hazards.
What PSI Is Safe for Washing a Vehicle?
A 2,000 PSI pressure washer will be safe for washing a vehicle. Just be sure to choose the correct nozzle to avoid causing damage to the paintwork.
Cleaning House
Hopefully at this point you have a much better idea about electric pressure washers, and which one might be right for you. As we've seen, that's highly dependent on your specific needs and the things you're looking to do with the machine.
You certainly can't go wrong with any of the products that we've looked at in this article; they all do a terrific job of cleaning away muck and grime. Regardless of which pressure washer you choose, one thing is for certain; they'll outperform a garden hose any day of the week!