Nails have been a major part of construction since time immemorial. They are older than every other method of construction such as the rope. It was not until the last century that we moved from driving nails using mallets and hammers. With the creation of powerful batteries, nail guns have been available for private use.
The invention of electric nail guns has helped in driving nails quickly and efficiently. These nail guns not only work to drive thousands of nails every day but also relieve a lot of physical work for the person nailing. A nail gun accurately places your nails with no more effort than it takes to pull the trigger.
When you are looking for a dependable tool, electric nail guns are an awesome alternative to pneumatic or fuel powered guns. When it comes to making a selection of the perfect nail gun, you need to take into consideration the type of job you are going to do. The best electric nail gun provides the power you need for the jobs you anticipate and is a tool you are comfortable using.
Features to consider in Good Electric Nail Guns
There are a number of different types of nail guns that require a high level of knowledge to safely and correctly operate. When deciding which nail gun is the best for you, you need to consider the kind of job you need to complete first. There is a wide variety of brands available from which to choose from. If you have specific needs, you can narrow down on the best electric gun for you.
What to Look for Before Buying an Electric Nail Gun
If you are looking to buy a nail gun, you need to take into consideration some factors. The following factors should help you choose the best electric nail gun that will appeal to your variety of tasks, a range of uses, and fit your budget.
Power
Battery powered nail guns provide mobility in comparison to those with cables. Not so long ago, batteries were not powerful enough for use in most of the heavy duty tasks. They had short life spans. This is a thing of the past and most nail guns utilize proprietary battery sources, whereas others can fit multiples battery systems.
Consistency
The best nail gun should be consistent when driving in nails. This means that if you are placing dozens, if not hundreds, of nails you will no longer have to go back and manually adjust each one. Getting a nail gun with an overall rating for consistency gives you a considerable advantage against those with regular issues with depth placement.
Size/Weight/Comfort
A big and bulky tool can be a real nuisance during long work hours or when trying to nail small or awkward areas. The best nail gun should provide ample power and be easy to use. Such tools should also provide overall comfort when using. Bulkier tools are likely to cause fatigue and pain to the body.
Price
If a tool can accomplish 75% of the same tasks as another one, but the second tool is 95% more expensive, it can be argued that the first tool has a higher overall value. However, this is bound to be very subjective. An affordable tool that accomplishes most of your needs will be of value to you.
Extra Features
Additional features like LED lights, Tool-less adjustments, and easy jam clearing methods may seem like superfluous additions, that is until you need them. These are bonuses rather than key metrics and are some of the more important overall factors besides to the ones listed.
Types of Electric Nailers
There are two types of electric nailers, corded and cordless. Corded nailers plug into 110/120 volt outlets and are run via an appropriately rated extension cord. On the other hand, cordless nailers run off a rechargeable lithium-ion battery.
Changes in technology have made battery run tools very popular, despite the corded power tools being a household name for many years. It is currently very difficult to find corded nailers anymore and they are limited to staple/brad nailer choices. The most reviewed electric nail guns revolve around cordless models for dependable, powerful choices.
Cordless Electric Nail Gun
The cordless electric nailer runs off a lithium-ion-battery. Despite the limited working time of such tools, most carry a long enough charge to provide what you need. Besides, you can buy extra batteries separately. Even though a cordless electric is not always considered as powerful as a pneumatic one, there are many that are highly dependable to get heavy work done and are a great value.
The battery-powered models use ignition caused by a spark produced by the battery to drive in nails. These nails provide more mobility in comparison to pneumatic nail guns since you do not need an air compressor. This type of electric nail gun is easier to start up but produces less power than the pneumatic model. This is a perfect fit for anyone who finds the cord stressing when working.
Corded Electric Nail Gun
As mentioned before, changes in technology have made corded electric nail guns less popular. However, they still can pack a pretty strong punch overall. The downside to these types of nail guns is they are limited by the length of the cord. On the other side, what gives them an upper hand on cordless electric nail guns is the fact that they are not limited in the time they can be used.
These are made for small nails such as staples and brads and depend on the electric current supplied from the mains. They are powerful for small scale tasks and have limited portability because of their cords. However, you do not have to recharge the batteries.
Top 9 Best Electric Nail Guns 2023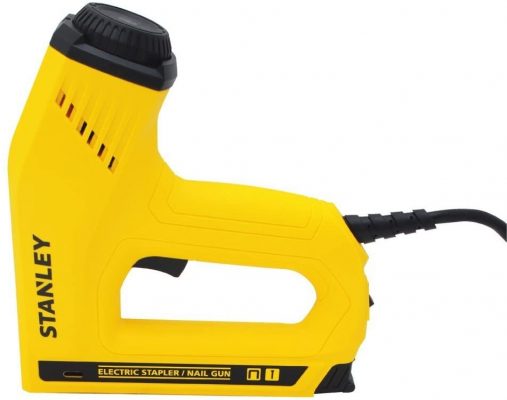 Why we like it:
The Stanley TRE550Z Electric Nail Gun features a simple design that offers a quick way of setting up and starting your nailing work. You do not have to connect three separate pieces together. This brad nail gun takes advantage of the flexibility of the electric drive by using either the Stanley Sharpshooter staples or a variety of brads. You can choose the type and length of fastener to use depending on the requirements of your particular project.
Editor's Rating:
Power
The Stanley Brad Nail Gun is powered by an 8-foot electric cord. While this cord limits mobility if you do not use an extension cable with you, it supplies a constant stream of power meaning you will not run out of juice while working. It has a dual power setting lever so that you can switch between high and low to use with either soft or hard materials.
Size/Weight/Comfort
Thanks to Stanley's simple driver unit, you can do minor upholstery fixing and smaller stapling jobs in rapid time with less effort. This is particularly useful for individuals looking to carry out lightweight nailing and stapling jobs. This brad nail gun weighs just 1.1kg and is a great deal lighter than any other nail gun you can find on the market. However, this nail gun can only handle up to 15mm brad nails and 10mm staples. This means that it can only fix lightweight materials to soft surfaces.
Price
This heavy-duty electric nail gun provides a good amount of power for both hard and soft materials. Besides, it is extremely affordable costing about only a fifth of the cost of the battery capable version. Even with the low cost, it is a competent tool with several valuable features.
Pros
This nailer is extremely affordable compared to the battery capable version.

The Stanley TRE550Z is a heavy duty electric nail gun that provides good power and comfort to the user.

It is lightweight in comparison to other nail guns and weighs just 1.1kgs.

It has two power options for softer and harder materials.

The nailer features a flush nose for easy use in tight areas and corners.

Its handle is contoured to provide a comfortable grip when using it.
Cons
The Stanley Brad Nail gun is prone to jams to due feeding problems of the nails.

The electric cord limits mobility particularly if you do not have an extension cord with you.
---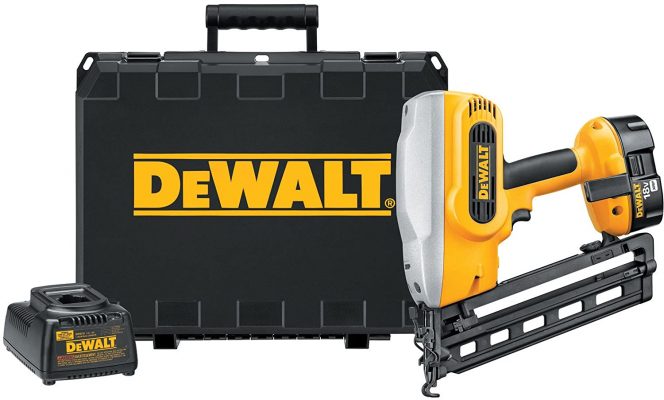 Why we like it:
The Dewalt is a very common brand name in the market for power tools. This cordless electric nailer kit is dependable and popular for various reasons and is among the top picks by many customers. This 20 degrees angled finish nailer kit is powered by 18 volts, which provides consistency for finishing work. Besides, it has sequential and bumps firing modes from which one can choose from. Professionals will undoubtedly find use in its versatility and the large load of extra features.
Editor's Rating:
Power and Performance
The engine design of the Dewalt Finish Nailer kit allows the tool to work as fast as you want with consistent nail penetration into both hard and soft joints. It has an anti-jam feature that provides easy access to the nosepiece for the removal of jammed nails without having to use screwdrivers or tool wrenches.
The 20-degree angled magazine with a 120-nail capacity can accommodate Dewalt and Paslode 20-degree nails, and it has a rear-load magazine. On the other hand, the contact trip lock-off allows the trigger to be disabled when not in use.
Comfort and Convenience
This nailer kit features a sequential operating mode that allows for precision placement and the bump operating mode that provides the user with production speed. The 6 position dial enables the user to move between applications without having to re-acquire the exact depth setting. It weighs only 8.5 pounds making it lightweight for easy maneuvering and reduced fatigue on the operator. It has an integrated LED light for perfect placement in low-lit or shadowy areas.
Extended Battery Life System
The Dewalt DC618K has batteries that can run long enough to get the job done. The Dewalt XRP extended run time batteries keep this finish nailer kit running round the clock. They provide up to 40 percent more run-time than standard Ni-Cad batteries. Furthermore, the Dewalt XRP batteries can be used on any 18-volt Dewalt tool that allows you to expand your system by adding other cordless tools depending on the job's demands.
Pros
The nosepiece design allows easy access without a screwdriver in case there are jammed nails.

It comes with a Dewalt XRP batteries that are powerful enough to power the 18-volt tool.

For safety purposes, the contact trip-lock disables the trigger once you are finished with the job, therefore preventing any accidents or injuries.

It is packed with ease of use and comfort features.

It comes with a casing for portability purposes. Besides, it is cordless allowing for more maneuverability.
Cons
The proprietary batteries and semi-proprietary nails are a major limitation on this finish nailer kit.

It is relatively expensive.

Some customers may find it to be heavy and bulky for some jobs.
---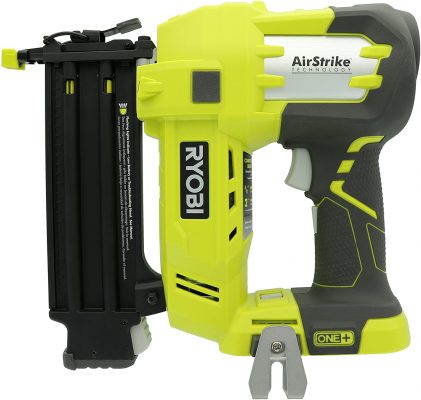 Why we like it:
The Ryobi P320 Airstrike Cordless Brad Nailer has built its name around dependable power and value for homeowners. It is also strong for professional capacities. You can interchange the one+ Lithium system with their line of cordless tools to power a wide choice of tools all from one source. The 18 volts provided by this battery can drive up to a 2-inch nail with no problem making it even great for heavy duty jobs. It is very versatile because you can change the firing methods. The entire kit comes with a gun, battery, and charger.
Editor's Rating:
Power and Performance
The Cordless Ryobi Brad Nailer offers a power comparable to lower end gas compressed tools with cordless versatility. It comes with an 18-volt lithium-ion battery that can be interchanged with other cordless tools. This means you can power a wide choice of tools from one source. In addition, the battery provides enough power to drive nails with no problem and they are great for even heavy duty jobs. It provides consistent power over a long battery life making it ideal for a full day's work. The Ryobi features clever technology that includes the neat low nail indicator and tool-less jam release mechanism that makes it simple to set-up and use.
Size/Weight
This 18-gauge nailer is lightweight and typically suited to precision work and for smaller wood projects and upholstery jobs. The brads are small and not up to heavy hanging duties but they leave less of a mess, making them easy to finish with a professional touch. The lightweight body makes it simple to wield and slightly more approachable than some of the much heavier tools in its class.
Pros
It can fire up to 700 nails per charge using the 4 amp Lithium-Ion battery that provides enough power and all-around use.

The surface of the tool is protected from damage using the dry fire feature.

When the magazine is empty, this brad nailer stops working so that it does not fire blanks.

It features two bright LED lights that provide better visibility when working in low light conditions.

There is no need for using an air compressor.

The nail gun has a tool-less depth adjustment that allows you to change the depth of the nailer easily and quickly.

It is lightweight and easy to use.
Cons
When it comes to clearing jams, the Ryobi Brad Nailer Gun might frustrate you sometimes.
---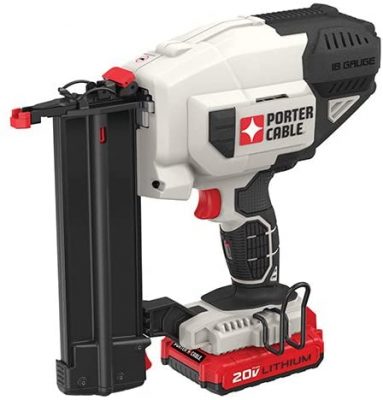 Why we like it:
The Porter Cable PCC79LA is a popular brad nailer kit with homeowners. It weighs just 5.9 pounds and is among the lightest in its class. It comes with a 20-Volt MAX lithium ion battery that can drive up to 1300 nails on one charge. It can hold 100 nails at a time in its magazine for consistency when working on both large, and small jobs around your home or property. This kit comes with the nailer, a charger, and a battery pack. This is a good choice if you need a portable and dependable nailer for driving power and depth.
Editor's Rating:
Comfort and Portability
This brad nailer kit has been designed around comfort and portability. It just weighs 5.9 pounds being a light tool in its class. Therefore, you can use it without having to worry about getting fatigued due to the nailer gun being bulky. The weight of the tool has been centered near the handle, which will reduce hand fatigue during long projects.
The PCC790LA Cordless Nailer has an in-built dual LED lights for optimal visibility and precision, considerably improving the performance of this nailer. The optimal 4.0 Ah battery that is sold separately, this nailer is capable of driving 1,300 nails per charge with consistent and smooth results.
Power and Performance
The Porter Cable Cordless Brad Nailer Kit has been built to withstand heavy use and features a high capacity nail magazine that is capable of accepting up to 100 5/8" to 2" brad nails. It has been designed with a sequential firing mechanism and an auto-lock feature that allows the user to set the nails accurately. There are a tool-free jam release feature and a depth adjustment wheel that boosts this tool's efficiency.
What is more, because of the rechargeable 20-Volt MAX lithium ion battery, this 18-Gauge Brad Nailer offers impressive performance without having to use a compressor, hose, or gas cartridges. It includes several useful tool-free features making it one of the most versatile nail guns in its class.
Pros
There is no need for using a compressor, hose, or gas cartridge because it is powered by a rechargeable 20-volt Lithium-ion battery.

It comes with tool-free settings that allow for depth and jam clearance.

It features an in-built multifunctional dual LED lights for optimal visibility and precision when working.

It offers consistent firing power in various material and climates because of a well-designed motor.

It is comfortable and light.

Its design makes it durable and will last you long enough.
Cons
There is a delay between pulling the trigger and firing making it one of the slowest.

As the battery drains, the jamming becomes an issue.
---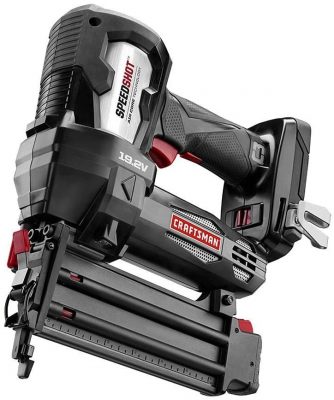 Why we like it:
The C3 Brad Nailer by Craftsman is the latest model offered on the C3 platform. It features a cordless design that drives nails between 5/8-inch and 2-inches in length in one shot. The long-lasting battery provides enough power and eliminates the need for a noisy compressor and will give you around three solid hours of work. The Craftsman is a lightweight tool that can be used for extended periods in awkward and hard to reach places.
Editor's Rating:
Design
The Craftsman C3 Brad Nailer is a cordless nail gun that eliminates the need for loud compressors and hoses. It is powered by a 19.2-volt battery that provides enough power to drive in 5/8" to 2" nails on single fire for accurate placement and bump fire for fast production speed. In addition, it features two modes: Single sequential mode and the contact mode.
The Tool-less jam release means that you can remove nails that have jammed in the tool. The Craftsman has two LED lights that provide sufficient light when working in low light conditions. You can properly set your nails with the Tool-less depth drive adjustment. Furthermore, a low-nail indicator allows you to quickly see when you need to reload your magazine.
Pros
The Craftsman C3 Brad Nailer Gun offers an accurate single fire option as well as a bump fire that drives as many nails as possible.

Because this nail gun is cordless, you do not have to worry about any hoses getting in the way or any loud compressors.

It is easy to use because of the wide selection of features.

It has 2 in-built LED lights that provide sufficient illumination when working in low light conditions.

You can easily refill the nails in the magazine because of the Low-Nail indicator.
Cons
It is quite expensive particularly if you want multiple batteries.

It does not quite stand out in any category.
---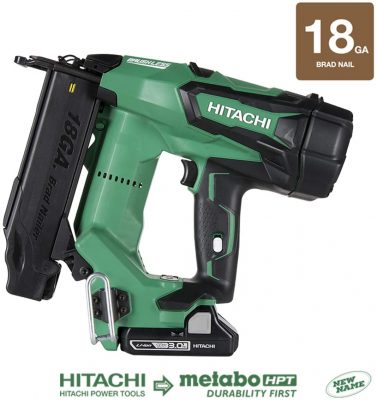 Why we like it:
The Hitachi NT1850 Cordless Brad Nailer is a top-rated power tool. This is mainly because they are highly-rated and well-liked by homeowners and professionals alike. This Brad Nailer has a powerful 18-volt battery for driving in nails on any surface. With two modes available, you can choose between contact or sequential firing modes for any job. It has a lightweight, compact battery for easy handling and good balance. This kit comes with the nail gun, charger, battery, case, and even safety glasses. This is a fantastic high-end nail gun that is well suited to professionals and homeowners.
Editor's Rating:
Power and Performance
The Hitachi Cordless Nailer allows the user to move easily around the worksite because it eliminates the need to use hoses or compressors. Equipped with a brushless motor, this Brad Nailer can operate smoothly, work powerfully, and drive nails without a feedback delay, and last longer. It has been combined with a series of tool-less adjustment features, in-built LED lights, and other ease of use and practical features such as a belt hook, and side lock.
Although battery powered, it uses an air spring drive system to fire nails and can handle up to 1650 nails per battery charge. This also allows you to drive between 2 to 3 nails per second and gives you a feel similar to that of a pneumatic nailer.
Pros
It comes with a plethora of features aimed at making your work easier.

It features in-built LED lights to provide enough illumination when working in low light conditions.

It is equipped with a long-lasting brushless motor that makes the nailer operate smoothly.

The cordless Hitachi nail gun allows you to maneuver easily around your job.

It is powered by an 18-volt Lithium-ion battery that provides substantial driving power.

It is reliable and does not have frequent feed errors.

It has a rubber bumper on safety tip in case it falls off.
Cons
It is bulky making it difficult for certain tasks such as trim.

You may have to work with depth adjustment to get it right.
---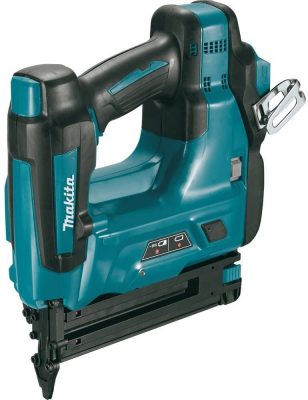 Why we like it:
The Makita XNB01Z Cordless Brad Nailer is a tool that has been specially designed for narrow trim and molding work. It is compact, sturdy and sports a large nail capacity and battery life. It can fire up to 1,000 nails in one charge. The battery's recharge time is also very good. This Brad Nailer features the Makita Star Protection which helps reduce cases of overcharges and heating. However, it can't handle rougher surfaces such as harder woods. On the other hand, it can take on more delicate tasks more easily and quickly.
Editor's Rating:
Technology
The Makita Cordless Brad Nailer has Star Protection Computer Controls for improved performance and extended battery life. This is a communication technology that allows the nailer equipped with Star Protection and the battery to exchange data in real time and monitor conditions during use and protect against overloading, overheating, and over-discharging. The tool can also be powered by the Makita 18-volt LXT and Compact Lithium-ion batteries for increased versatility.
Performance and Power
The Makita Nail Gun is powered by the Makita 18-Volt LXT Lithium-Ion batteries. This 18-gauge model is ideal for installing narrow trims and molding. It is compact and powerful and drives a range of 18-gauge brad nails from 5/8 inches to 2-inch with a magazine capacity of up to 110 nails. The battery power of the XNB01Z means that this brad nailer can drive up to 1,000 nails on a single charge.
Pros
It features an easy to use "tool-less" depth adjustment dial for a wide variety of finish applications.

An anti-dry drive mechanism has been engineered to prevent driving blanks and damaging the work surface.

The battery gauge indicates the battery level so you know when it is time to charge.

The battery has a very good recharge time.

It is easy and fast to use.
Cons
The performance of the Makita is not at a professional level.

It suffers from consistency issues when driving nails.

The spring-loaded hatch for clearing jammed nails is uncomfortably stiff.
---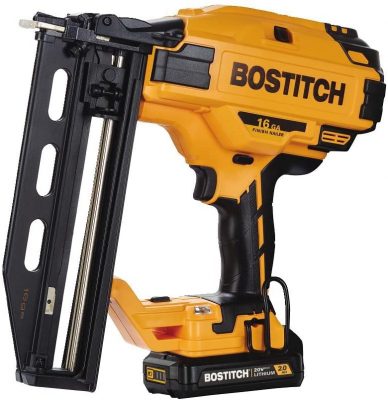 Why we like it:
If you are a perfectionist and want to get each nail exactly where you want it, the BOSTITCH Cordless Straight Finish Nailer could be the right nailer to suit your needs. The 20-volt nailer is quite powerful and provides multiple firing methods from which you can choose. The narrowed tip provides a clear line of sight that is further aided by an LED light. You can easily work in a variety of situations with the in-built LED lights. This is a dependable finisher for both homeowner and professional grade jobs. The excellent accuracy of this nailer means that you have all you need for quality finished projects.
Editor's Rating:
Power and Performance
This 16-gauge Cordless Straight Finish Nailer Kit saves you time and money by doing the job fully powered by a battery. The 20-volt Lithium-Ion battery can drive in 16-gauge straight nails from 1 1/4-inch to 2 ½-inch. This nailer features a narrow nose design that provides a clear line of sight and accuracy when driving in nails.
There are a tool-free depth adjustment and a tool-free selector for sequential or contact actuation modes. It is also equipped with a brushless motor that allows for optimal durability and runtime. This cordless nailer offers a tool-free jam release that quickly and easily clears nail jams. In addition, there is a tool-free stall release lever that quickly resets the driver blade in the event of a stall.
The BOSTITCH Finish Nailer has in-built multi-function LED lights that help in providing both workspace illumination and tool diagnostics. What's more, you do not need a compressor meaning you save time and money by going for this cordless nailer gun.
Pros
It is very lightweight and balanced.

It has a very good battery life that will last you during your operation.

It can be used in tight spaces easily because of the narrow nose design.

The 20-volt Lithium-Ion battery provides enough power to drive 16-gauge straight finish nails.

The multi-functional display LED lights to help in providing better visibility when working.
Cons
It takes some time to get used to using the safety switch.
---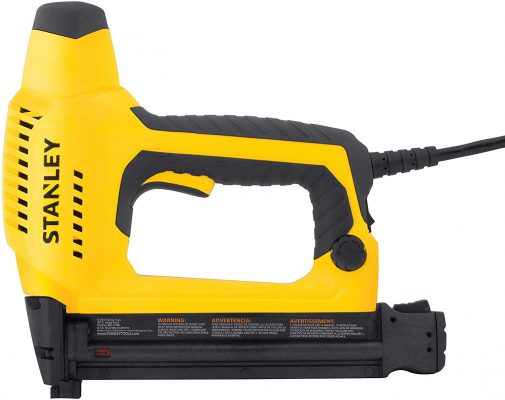 Why we like it:
The Stanley TRE650Z Brad Nailer gun has been built to withstand demanding projects. It is easy to operate and provides great efficiency and versatility. If you have a lot of DIY projects at home, this will be your go-to tool. This electric nail gun can fire 5/8-inch to 1-inch 18-gauge brad nails, making it capable of tackling a number of projects. It features a slide-out magazine making it easy to load. You can also know if you are out of nails using the Brad-empty indicator.
Editor's Rating:
Design and Performance
The TRE650Z has been built with a dual Hi/Low lever that can be quickly adjusted allowing you to nail in soft or hard materials. You can power this electric gun by plugging the 8-foot power cord and get to work. It has been built with a durable plastic body and weighs only 4.75 pounds. Therefore, you can use it for hours without getting exhausted. A contoured grip offers comfort and stability when working with this tool. The nail gun's flush nose design is ideal for placing nails in tight spaces.
Pros
It has a simple ergonomic design for easy handling.

It is compatible with heavy-duty brads.

It is durable but light enough for extended use.

You do not have to worry about not knowing when you run out of nails with the Brad-empty indicator.
Cons
The electric cord limits mobility particularly if you do not have an extension cord with you.
---
Guide to Buying the Best Electric Nail Guns
The above review has given you a rundown of the best electric nail guns in 2021. With your options narrowed down, you can choose the best product for your usage. However, before you choose the best nail gun, you need to take some factors into consideration. So whether you are having a DIY project at home or using it for a job, this guide will help you in choosing the best electric nail gun.
When choosing an electric nail gun, take the following key factors into consideration
Tool-Less Adjustments
When you need to make multiple changes, it can be extremely frustrating if you need an extra device to do so. Tool-less adjustments are vital in making changes to the operation of your toll using adjusters such as knobs and dials. This will save you a lot of time and relieve unnecessary stress.
Easy Jam Removals
Feeding issues are likely to occur on low powered nail guns. Most of the time, a nail will either feed improperly or get jammed up in the magazine. If you get a tool that allows you easy access to the jammed up areas or have forward assists for guiding the nail properly, can save you effort and time.
LED Lights
These can come in handy when working on cabinets or some other dark areas. It can become very frustrating if you are balancing a flashlight against something precariously. We all know the magic LED does; an inbuilt LED light on your electric nail gun will save you from all that form of hassle.
Body Design
It is important that you pick a tool that will operate in your environment. Bulky tools are likely to make it very difficult for you to work in tight spaces or for tasks that need you to consistently reach up or out. Tools that are lighter and come with comfort grips will make working more enjoyable.
Choosing an Electric Nail Gun
As explained before, you need to consider the kind of job you need to complete when considering which nail gun is best for you. You should ask yourself the following questions before you choose an electric gun.
What is the job?
Many models of electric guns can handle both heavy works in addition to the finer, finishing touches. If you have a variety of ideas you would use for your gun, look for a model that is capable of handling a wide variety of jobs.
Is a power outlet available for a corded electric nail gun?
If you fancy having a corded electric model, you should have outlets available in the areas or close to the areas you would use it in. However, these typically long-lasting tools are not as popular as the cordless models. You would still want to be sure that you can use it when you want to.
How often will i use a nail gun?
Machines are bound to eventually stop working. That is why it is vital to buy one that has the best reviews when it comes to durability. This is very true for a person planning to use the gun often, and for long periods of time rather than a random weekend job.
Is it sequential or contact?
Contact firing, or bump firing, lets you work without having to take a break when you keep the trigger pulled. All you have to do is move it from place to place and 'bump' the tip against the surface you are working on. On the other hand, sequential firing requires that you complete certain steps in a certain order before you can fire a nail. There are different ways to do this, but most require that the tip is in contact with a surface before you pull the trigger.
The Verdict
The above choices and the guide provided have hopefully given you a solid idea of where to begin when looking for the best electric nail gun. The choices above are comparable to each other and are capable of providing power both at home and on the job as needed. These tools can provide you with electric power in any place you can imagine.
The popularity of corded electric nail guns is dwindling due to technological advances in battery charge and power. Cordless nail guns are more popular due to their portability and ease of handling. Whereas every device on the list above is of reliable quality, there are still comparable on different categories that may suit your needs more. So, whether you are a professional looking to fire nails like a marine in a gunfight or a homeowner trying to work with fencing or picture frames, you can choose the best electric gun to suit your needs.