Some jobs just aren't suited for handheld power tools. If you've got to drill a bunch of holes that are all an even distance apart and completely straight without the right tools, it's a serious struggle.
Trying to do this with a handheld drill is an exercise in futility. Even if you can accurately measure everything out. Even if you can make sure your drill is perfectly perpendicular every time. There's just no way to stop the drill from catching, or the torque twisting it sideways as you drill downwards. It's such a real problem that how to accurately drill without a drill press is a common question, especially when you're drilling metal.
It's in times like these that we crave the ease and stability of a drill press.
Our Drill Press Buyer's Guide
At first glance, a drill press doesn't seem too complicated. It's just a drill that's mounted to a vertical pole, right?
But like all power tools, there's a deeper layer that needs to be examined. Drill presses are complicated pieces of kit, and there are a few things that potential buyers should know before considering a purchase.
What Are the Different Types of Drill Press?
There are three types of drill press. Free standing, bench mounted and magnetic.
Freestanding drill presses tend to be much more powerful, but this comes at the cost of mobility and ease of use. Because of the greater power, standing presses are better for larger workshops with a significant amount of floor space, and for people who see their press undergoing heavy use and large projects.
Bench mounted drill presses on the other hand can be easily clamped to any workstation, and moved from job to job, making them ideal for small workshops and hobbyists. If you're looking for one of these, this is our favorite.
Magnetic drill presses are designed specifically for drilling metal. They tend to have powerful motors that run at slower speeds, and all have a built in electromagnet instead of a base that holds the drill to the material being drilled. If you're looking for one of these, this is out pick.
What Should I Be Looking for in a Drill Press?
When working out which drill press is the best, there are a few considerations that should be running through your mind. It's important to buy a machine that's going to be able to take the rigors of your daily work pattern, and understanding what makes these machines tick is the first step towards that.
The Motor
The motor should be one of the first things you look at. A more powerful motor means the more power delivered to the spindle, the chuck and the bit. A more powerful motor will easily handle jobs that could cause lesser motors to jam or overheat. Yet keep in mind that a bigger motor is also tends to cost a lot more.
Motor power is measured either in amps (A) or horsepower (HP). Higher is always better in both cases. The most common motor sizes are anywhere between 3 and 10A, or 1/3 to 1 full horsepower.  Anything less than these minimums is generally not enough and should be avoided, especially considering how cheap and powerful some of the budget options in our list can be.
Chuck Size
The second consideration, especially if you're looking to drill metal or have other specialist concerns, is the chuck itself. The chuck is the part of the drill that holds the bit.
Almost all drill presses have adjustable, expanding chucks that can take bits that are sized from the smallest you would find in a handheld power tool, all the way to heavy-duty bits that are upwards of half an inch in diameter. The largest and most specialised presses, including some in this list, have a chuck width reaching almost an inch.
As usual, take a look at your tools and work out what you need before you buy. Fitting a replacement chuck you work out you need later can be an involved process – if the model you chose even allows it at all.
Size
Size is an important consideration with drill presses. Some of the budget models have smaller tables and drill depths, so can only handle small to medium sized jobs. There's two key things to look for when you're judging size.
Stroke length (AKA spindle travel, quill travel): The stroke length is the total distance that the spindle, and therefore the bit, can move up and down as you turn the feed handle. This is the maximum depth that a hole can be bored.
Swing distance (AKA throat distance, table size): Swing distance is the total width of material that a drill press can handle whilst still drilling into the exact center of the piece. In essence, the swing distance is the measurement to the center point of the table. It's the point that the drill bit will impact if the material being worked on is right up against the support column (the throat).
Precision
Drill presses are already more precise than handheld tools by the sheer virtue of the drill itself being mounted to a solid column of metal.
But many presses come with extras that can make your workflow even simpler and more precise. These extras might include:
Guiding lasers that show where the bit will impact before it is depressed
Depth locks that prevent the bit from drilling past a certain depth, guaranteeing all holes will be drilled down to the same point
Tables that lock to specific heights and bevel to lockable angles
Top 10 Best Drill Presses 2021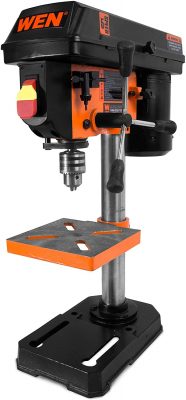 Why we like it:
Consistently rated one of the best drill presses on the market, for the price you're paying there's pretty much no better option than the WEN 4208.
Editor's Rating:
Description
The WEN 4208 is simple but powerful. It's also deceptively portable. It's not heavy duty enough for a constant working press, but for a workman or hobbyist who needs a press for occasional use at home or on the job, this machine is hard to beat.
Despite the cheap and cheerful price tag, it's hard to argue that the WEN 4208 isn't a high quality press that performs way above its pay grade.
With a powerful 1/3 horsepower induction motor that's built around ball bearings for a much longer life span, it definitely puts out power. Considering the budget price you're paying for this, it's impressive. 5 different gear speeds, from 740 to 3140RPM, give you adequate control and let you deal with most jobs and materials without issue.
The worktable is a reasonable size, if a little smaller than it could be, but it is rock solid, and so is the base. The body itself has key storage built in so you're not going to lose that all-important chuck key, which is good because the need for frequent chuck tightening is one of the few downsides of this product.
Realistically, unless you're going all-in on heavy industrial work, the WEN 4208 is a smart little workhorse that's perfect for damn near any home hobbyist, workshop or tradesman. As an entry-level drill press, it does exactly what you need it to do. As long as you're not planning on heavy-duty metalwork it's never going to struggle with anything you point it at.
Pros
Variable 5 speed 1/3 HP motor

6 ½ squared worktable that bevels up to 45%

Built-in key storage, so you don't lose essential parts

Incredibly budget-friendly
Cons
Slowest speed is still quite fast

Occasional chuck wobble if not properly tightened
---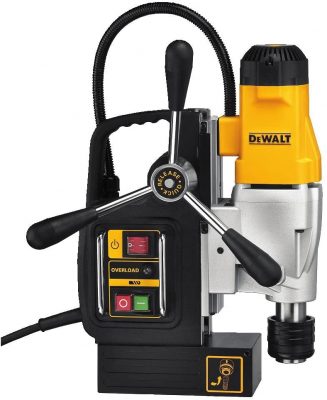 Why we like it:
If you know tools, you know that DeWalt are known for quality. This press is no exception. If you need a light mag press that's easy to move around and has serious power for general metalwork, this is a great drill press.
Editor's Rating:
Description
Designed for mobility and ease of set up and tear down, DeWalt's mag drill is built for guys who need a magnetic drill press that can be dropped into the van and moved from site to site on a daily basis.
It comes with a built-in coolant tank – also magnetic – which helps to keep the drill cool even when working under a heavy load. This doesn't mean you shouldn't use cutting fluid, but it does take a lot of the pressure off when you're working on softer materials. A nice touch is that the coolant tank is also detachable. It can sit on the tool itself, or if you're struggling for space, on the working surface.
In terms of performance, the drill itself is solid. It's powered by a seriously impressive 10A motor that puts out just under 750lbs of pressure at the drilling point and has a fantastic 4 3/8 inches of travel. There are only two-speed settings, 300 and 450RPM, which seems like a problem until you realise that you're probably only ever going to use this on metal, so you're going to want those lower RPMs anyway.
On the upside, it comes with a ½ inch chuck which locks in with a smart, tool-free quick-change system. You can snap it out and drop in a ¾ inch Weldon Shank when needed without tools – no matter where you are – in seconds. You do have to buy the shank separately, though.
Also great is that, unlike a lot of mag drills, this takes normal sized bits. That means that you can use your existing bits rather than having to drop even more cash on a set of stubbies.
For heavy-duty work, you might want to consider something with a bit more beef, like the Mophorn , but as a general use magnetic drill press, this is a great option that's going to perform over and over.
Pros
Easy to move, easier to set up

Powerful motor easily punches holes in sheet

Drills very true, especially for a mag drill
Cons
No drill guide

Only 2 speed settings
---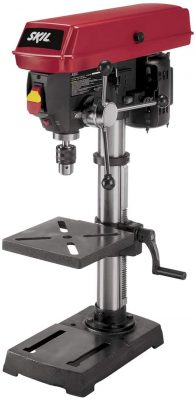 Why we like it:
An excellent entry-level option. This press by SKIL has enough power for pretty much anything a home workshop would need, as well as a few smart little high tech touches. If you're looking for a budget option that's got a bit more oomph, the SKIL 3320-01 is a great choice.
Editor's Rating:
Description
Another budget option, the SKIL 3320-01 packs a surprising amount of features into a compact body. You're getting the usual 5-speed system, from 570 to 3050 RPM from a 120V, 3.2A motor. The table is an average size at 8 inches square with a 10-inch swing, and tilts up to 45 degrees both ways.
Despite the low price, this drill press also comes with a guiding laser and lockable depth adjustment. That lets you know that you're drilling at the right point, to the right depth. Therefore, you get more consistent, professional level drilling, every single time.
SKIL's products also have a really nice warranty. In this case, the 3320-01 has a 3 year warranty that covers a lot of the common faults, so your purchase is covered even if the worst happens.
The only downside is that it's hard to source replacements for common parts, so as this press gets older you're more likely to have to buy a new one, rather than keep it running with extras.
Pros
5-speed system, from 570 to 3050RPM

X2 laser system for precision drilling

Larger 8-inch table with 45-degree bevel

3 Year Warranty
Cons
Hard to find replacement parts
---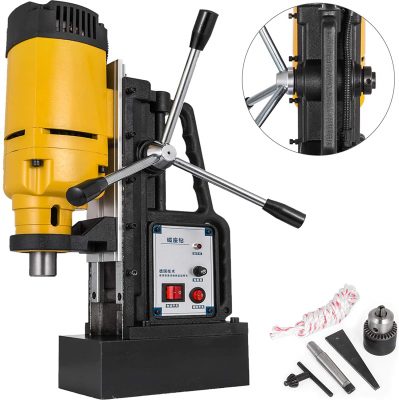 Why we like it:
Mophorn's 1200W Magnetic Press is a powerful drill press for a very reasonable price. The high power motor, strong magnet and ability to take a huge range of bits means this is perfect for home workshops, auto work or occasional industrial usage – at an affordable price.
Editor's Rating:
Description
Mag. Presses are designed to do one thing well, and Mophorn's 1200W model absolutely delivers. It's been designed from the ground up as a workman's tool, and that's what it does. Whether you're in your garage or on-site, it puts out that power, punching through thick sheets with no issues at all.
The motor is excellent, putting out 1200W at 110V. The drill itself has a massive 210mm (8.2 inches) of travel, perfect for boring through steel beams. The chuck takes bits from the narrowest thickness, all the way up to 0.9-inch widths. That's significantly wider than the industry standard of ½ inch.
It's heavy, but despite the weight, it's relatively easy to move using the dual carrying handles. Once you're in position, it's not going anywhere. The powerful electromagnetic base puts out almost 3000lbs (13500N) of adhesive force, making this thing almost impossible to move, even when it's attached horizontally. Just make sure the surface you're placing it on is reasonably flat. A few raised lumps or excess fouling on the ground or wall can cause a massive loss of force.
Because the drill is so powerful, it might run a little fast when using smaller bits, so make sure to keep an eye on that. The built in cyclone air system helps to keep the drill cool. When paired with the general use of cutting fluid and you're unlikely to ever have to stop this thing from working.
The manufacturers recommend this for steel structure work, shipbuilding, bridges, railways, wind farms and more. But we also think it's perfect for home and sole trader use, considering the power you get for the price.
Pros
Wide chuck takes up to 0.9-inch bits

High power 1200W motor carves through sheet

3000lb magnetic force will hold this secure
Cons
Only a single speed, 350RPM

Takes a little adjustment out of the box to set up right
---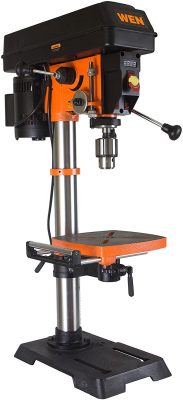 Why we like it:
The bigger brother to our top choice. The WEN 4212 is far more powerful, with a suite of deluxe additions that make using it a pleasure. If your budget stretches a little further and you know you're going to be using your drill press regularly, this is almost certainly the best option at the price point.
Editor's Rating:
Description
Highly adjustable, with solid power to back it up, the WEN 4212 is a premium tool that's going to handle pretty much any job you point it at.
First off is the motor. It's a powerful 2/3 horsepower induction system that kicks out effortless power. The mechanical variable speed also delivers the same torque no matter what speed it's set to. That means no power fade, and no having to relearn the way your machine performs every time you change speed.
This is backed up by the fact that this drill press has an infinitely variable speed range, allowing you to set it at anywhere from 580 – 3200 RPM. Compared to the standard 5 settings that most drill presses give you, the difference you have in control and precision is amazing. Speeds are easy to set with the onboard controls, and at a glance the digital readout lets you tell what you're set to.
The whole press is solidly built around a fully cast iron frame, base and a large 9 ½ inch, bevelling table with a 12-inch swing. The all-metal build means this should take a beating, and it's going to run true wherever you end up bolting it down. Like a lot of WEN products, this press also has built-in storage for the essentials you need close to hand, like the chuck key.
Finally, WEN built a work light and guiding laser into this drill press. As anyone who has ever used one will know, guide lasers aren't a necessity when you're buying a drill press, but they do make using one a lot easier.
Pros
High power induction motor delivers great performance at any speed

Large cast iron table with bevel and extension

Work light and laser make precision drilling effortless
Cons
Wen customer service isn't the best we've seen

Pricey
---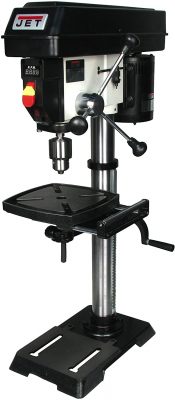 Why we like it:
Despite the small size and the fact that this is a benchtop system, the Jet 716000 is deceptively powerful. Simple to use and with a large amount of speed settings, it offers a lot of control to its user, especially compared to similarly priced models.
Editor's Rating:
Description
If you want the most power you can get out of a benchtop press, it's definitely worth looking at the Jet 716000. The motor kicks out half a horsepower across a full 12 speeds. RPM is instantly visible with the front-mounted meter, directly above the large paddle on/off switch. If you need to adjust speeds, there's no complicated belt system. Just a lever mounted on the left side of the head that you can use with your left hand as you operate the system with your right.
The press itself is well designed, with a solid cast iron base that's only 10 by 16 inches, so it's going to fit comfortably in most work spaces. The chuck is a slightly larger than average, an industrial-grade 5/8 of an inch. Bear that in mind if you're specifically looking for a larger bit capacity or plan on heavier-duty work. Drilling itself is made much easier by the guidance laser, which has an X shape output, allowing you to see precisely where the bit will bite.
Overall, at its price point, you're getting a lot of power with a few smart touches, and a high build quality across the board.
Pros
High power, especially for a bench top model

Easily variable speed settings, with simple adjustment

Solid build, high quality
Cons
Weight makes it hard to move around
---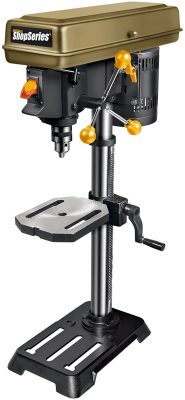 Why we like it:
A powerful, high horsepower drill press, the ShopSeries RK7033 has enough grunt to be used a main press for heavy-duty work - without costing the earth.
Editor's Rating:
Description
Solid and dependable, this drill might not have the flash of some brands, but when you start working it certainly performs. The drill is a powerful 6.2A, and produces up to 200 in/lbs of torque across its 16 clutch settings and 5 operating speeds, from 620 to 3100RPM.
The ½-inch chuck is standard for a drill of this size. The swing is an adequate 10-inch swing, but there's a solid 2 inches of travel. It also has a depth stop, allowing you to lock the drill to a prescribed depth. This drill press is designed for heavy, repetitive work.
The built-in work light has a lithium-ion battery, the same style that you find in electric cars like the Tesla, and delivers constant, fade-free power whether it's fully charged or minutes from dying. Either way, the onboard battery indicator keeps you updated.
The build is of a high standard throughout. The working table bevels up to the standard 45 degrees, and it's made out of cast iron which is very tough. Start/stop is controlled by a key rather than a button, which might not seem like much but it does make it almost impossible for accidental firings to happen.
Despite being billed as a ShopSeries, this is actually a rebranded Rockwell made drill. Rockwell make high-quality power tools and have a reputation for solid performance, and this drill certainly delivers on that reputation. If something does go wrong, it's all backed up by a 2-year repair or replace warranty, which is nice, especially if you're planning to be using it on a daily basis.
Pros
Solid construction and powerful motor

Wide range of features and settings

Good value
Cons
Initial assembly is a pain
---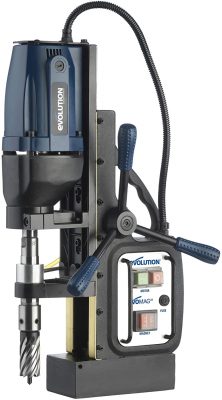 Why we like it:
Portable and powerful, the EVOMAG28 is an efficient little unit that packs a lot of features into its smart little frame.
Editor's Rating:
Description
The first thing that strikes about this drill is the size. It's under 40lbs and deceptively petite, making it easy to move around using the built-in carry handle. Despite the fact that it's small, once you've got this in position the magnet will lock it in place with over 2860lbs/ft of adhesive force.
It's worth noting that this press also has the built-in security of only activating when the magnet has a secure lock on a flat surface. That's really good to know. Ask any man who's started drilling down only to have to cut power and run when the drill bites and starts twisting out of your hand. They'll tell you how bad this situation can be.
Once running, it puts out a decent amount of power. The motor is a solid 1200W, but unfortunately only runs at a single speed of 570RPM. The chuck is what we'd consider standard. I can accommodate up to ½ inch bits, with a 2-inch depth and a maximum cutting diameter of 1-1/8 of an inch.
For beginners, it's really easy to use. The controls are simple, a set of easy to reach buttons laid out on the left-hand side. One huge bonus about this press is that the operating handle can be switched from the left to the right-hand side, perfect both for lefties and for working in confined spaces.
It's also really solidly made, especially for such a small unit. It's just a shame that it's outperformed by the other options on this list. Still, if you end up purchasing this, maybe because you want a mag press that's easy to transport, you won't be disappointed.
Pros
Tiny, and incredibly easy to maneuver

Small but powerful, with high build quality throughout

Strong 1200W motor
Cons
Not as powerful as other options we've reviewed
---

Why we like it:
If you've got the tools to go along with it, this drill press is an exceptional piece of kit for a great price. Multi-use, with options for the vast majority of Dremel rotary tools, if you already have a bunch of Dremel gear, it's almost a no brainer.
Editor's Rating:
Description
Dremel tools are designed for things like hobby work and furniture repair. With that in mind, this is a light, low power drill. This press workstation is built to accept pretty much all of the available Dremel rotary tools. So moving into this review, we'll be considering this drill press as if it's mounted with the most popular model, the Dremel 4000.
The 4000 comes with over 30 attachments, allowing you to grind, sand, cut, polish, and yes, drill. As a drill press, it performs admirably. 4 clamping points on the metal base keep it stable, no matter where you're working. It drills perpendicular, but also at 15-degree shifts up to a full 90 degree horizontal. Finally, it has a huge height adjustment, anywhere between 16 and 29 inches.
However, for heavy-duty workloads, this is absolutely not suitable. All the compatible multitools are lightweight, light motor pieces that are designed for hobbyists, arts and crafts, repairs and other light and delicate work. If you plan on driving multiple holes in sheet steel, or even working with hardwoods, you're going to need to look elsewhere.
The body is built from tough plastic, with a crow's nest storage for small parts like drill bits and keys. It's not going to be as tough as a heavy-duty, dedicated drill press, but it was never designed to compete with them.
One major selling point is how this can be used with multiple tools. Realistically, that means if you've got the tools, you can use this for multiple projects, and buying a high-quality Dremel gives you the majority of those tools in one box. So if you're setting up for the first time, aren't looking for ultra-high power, and need a tool that's going to save you space and money, it might be worthwhile looking at how much a full set up is going to cost you versus one of these.
Bottom line; if the work you're doing is suitable for Dremel rotary tools, you should probably take a look at this kit.
Pros
Multiple uses: Drill press, rotary tool, router, sander, polishing, saw

Light and simple to use

Budget-friendly, if you have the tools
Cons
Not suitable for heavy jobs

Have to buy all the tools separately
---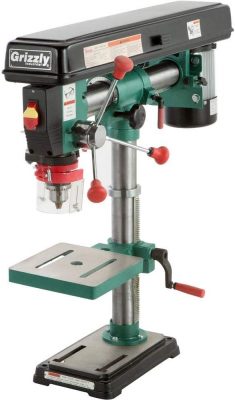 Why we like it:
Good performance backed up by a wide range of speeds, good travel and huge swing make the Grizzly G7945-34 a great choice if you have a wide range of jobs and you need a press that's going to cope with them all.
Editor's Rating:
Description
Looking down the list of features, the Grizzly G7945-34 holds its own when it comes to power. The ½ HP, 5A motor is certainly powerful enough for the majority of jobs, so you don't need to worry there. What really impressed us was the range of speeds. Unlike the standard 5-speed gearbox that runs from around 300 – 3000, the Grizzly has a 12 -peed system that runs as low as 140RPM.
That means if you're boring holes in steel or driving through hardwood, you're less likely to have to worry about the bit catching or the motor burning out.
Where this system does stand out is the workspace. The spindle has a decent travel of 3 ¼ inches, and that's backed up by a colossal 14 inch swing. The table is an average 9 inches, but that doesn't matter so much when it has a full 360 degree traverse and 45 degree tilt.
With heavy duty power and a massive amount of working area, the Grizzly will eat the vast majority of projects without complaint. For workmen who need that ability, this is the right choice. So why is it at the bottom of our list? The build quality is not consistent, and sometimes you find yourself having to return it. Still, it might be worth the gamble for this affordable, powerful drill press.
Pros
Heavy duty 1/2HP motor

12 speed belt drive, anywhere between 140 and 3050RPM

Durable and tough

Highly adjustable table with a 360 swing and 45 degree bevel
Cons
Occasional issues with build quality, but covered by warranty
---
Guide to Buying the Best Drill Press
What Is a Drill Press and How Does a Drill Press Work?
In short, yes, a drill press is a tool that's designed for drilling holes in much the same way as a handheld drill.
But unlike handheld drills, drill presses are mounted onto a central column and a heavy-duty base. This allows a drill press to mount a much heavier duty motor than a comparable handheld tool. This in turn makes them much more suitable for drilling holes in hardwoods and metals, or for boring particularly wide or deep holes with heavy duty bits.
Because the drill itself is mounted directly to a support column and running rail, this eliminates a lot of the movement you get in a handheld tool. This means drill presses are much more accurate than comparable options. This is especially true when you also factor in the array of drilling aids most drill presses have built into them, including depth locks, table bevel and height, guiding lasers and more. These factors make drill presses popular amongst tradesmen who need a powerful, accurate and reliable tool that's going to stand up to repeated use.
More expensive models also tend to come with systems that make accurate and repetitive work much simpler. Examples include lasers that allow you to see your bite point before the bit is depressed, or depth stops that lock the chuck at a certain distance so you can drill down to precisely the same depth every time.
What Can My Drill Press Be Used For?
Because of the design of a drill press, they're suitable for a large variety of tasks. Almost any task a regular drill can be used for, a press can be adapted to perform.
The expanding chuck that most drill presses come with is capable of taking a far wider range of bits, and the more powerful motor means that heavier bits or tougher materials are less of a problem than they otherwise would be.
Drill presses are suitable for:
General-purpose drilling jobs
Drilling multiple holes to the same precise depth
Drilling at a specific angle
Drilling holes at precise intervals
Smoothing or reaming drilled holes
Countersinking
Counterboring
Tapping
Cutting square holes
Sanding
Polishing
Understanding the Parts of Your Drill Press
Almost all drill presses are made of the same set of parts. Knowing how and why these parts work together can help you make a decision
Head: The head is ironically the main body of the press system, and contains the majority of the working parts including motor and gears.
Chuck: The section which mounts and holds the drill bit, the chuck is adjustable, and mounted on the spindle. Some chucks have a quick-adjust system that lets you quickly change drill bits, allowing you to quickly switch between various jobs.
Spindle: The shaft that runs between the gears and the chuck, and drives the entire machine. The spindle should be hard-wearing and made of high-quality steel as it's going to be doing the majority of the work.
Some spindles are pre-tapered, meaning that the drill bit is mounted directly into the spindle itself, and so don't require a chuck.
Swing: The distance between the central drilling point and the drill press column. The swing of a drill is the largest-sized piece of material you can fit onto the table and still reach the center point.
Arm: The arm controls the movement of the spindle, chuck and drill bit. Arms come in multiple variations, with lever and wheel being common.
Table: The working area, which is usually measured in total width, pre-drilled.
Column and Base: Freestanding drill presses come attached to a heavy-duty column and base. A free-standing drill press isn't designed to be moved, so make sure it's set up in the area you expect to be working in.
Safety Concerns When Using Your Drill Press
Like all power tools, your safety should be paramount when using a drill press.
Eye protection should always be worn, and any hanging clothing, jewelry and long hair should be tied back in a way that prevents it from catching in the spindle. A high torque drill press can and will catch anything that goes near it, with predictable and often painful results.
When drilling, make sure that any pieces you're drilling are firmly secured. If possible clamp all working pieces securely to that table. Never hold a piece of material by hand. This is especially true when drilling smaller pieces, or when drilling steel, as both are more likely to catch and can easily be torn from your grip and spin out of control.
Drill presses operate with an extremely high amount of torque. If they catch on a piece of material, a drill press will function like a winch and spin it at high speeds, with more than enough force to tear it from your grip or break bones. When working, keep all obstructions out of the way, including your own body.
How to Install Your Drill Press
Space
When initially setting up your drill press, there are a few things that should be considered alongside the obvious concern of 'will this fit into the gap I've made for it.'
First off, you're going to want excess space around your unit, unless you never plan on working on anything larger than the table itself. Even then, it's recommended that you give yourself several feet of working space around the press itself, as it makes the whole operation that much easier.
You're also going to want good lighting, even if the machine itself has built-in work lights. Bright light will make lining up your bite much easier, and long hours of working in low light conditions can cause eye strain.
Finally, think about having some storage space close by for bits, clamps, and other sundries. It might not seem like much, but the time saved is considerable.
Mounting
Making sure that your press is adequately bolted down should be a major consideration. If your press isn't mounted correctly, even the tiniest amount of give in the bolts can cause the head to shake whilst it's in operation. That shake will cause deviance in the chuck and bit, leading to inaccuracies in your drilling, and could contribute to a shorter lifespan on your press as it causes extra wear on the motor.
Bench mounted drill presses should be attached to your bench with nuts and bolts for a secure hold. Stand mounted drill presses should also be securely bolted down, using lag bolts if you have a wooden floor, or masonry bolts if your workshop is concrete.
Even if you have a model that's supposed to be bench mounted, it might be worth considering if purchasing a stand is a better option. Almost all bench mounted models can comfortably be mounted on a stand, and it makes the operation of your press much simpler and more accurate.
Power
Your drill press will need mains power. When setting up power to your home workshop, it's generally best to have a separate circuit solely for power tool use, with minimum 12 gauge wire and a 20A fuse.
If you're using an extension cable, make sure that it's rated for the same voltage and amperage as your drill press. Running on low voltage destroys power tools, and usually isn't covered by warranties either.
Make sure that all the plugs you're using are three-pronged, which means that they have the grounding wire
How to Manually Change the Speed on a Belt-Driven Drill Press
Whilst a lot of newer style drill presses have a motor speed that can be adjusted at the push of a button, some still run using an older style belt system. If so, changing the speed can take a little work the first couple of times you do it.
Your press should come with instructions on how to change the drive speed, but most belt-driven motors will follow something similar to the below method.
First, check the speed of the bit, so you know where you're starting from
Open the body of the press, allowing you access to the belts
Check the speed guide. Almost all belt driven presses will have a guide stamped onto the body
Change the belt to the required speed. Relock it, and make sure it's tight
Test the press on some waste material before getting down to business
Are Drill Press Bits Different?
Broadly, no. Most drill presses have an adaptable chuck that takes all standard bits up to its maximum size, which will be mentioned in our reviews.
The only time you might need to purchase new bits is if you're specifically drilling metal, or you're doing something with your press that you've never done before.
What Speed Does Your Drill Press Need to Be Set To?
As a general rule of thumb, you should be using:
Slower speeds for metal
Medium speeds for wood
High speeds for polishing and finishes
Your Drill Press Start-Up Checklist
When starting your drill press, there's always a few things that should be done, especially if you haven't used it in a while.
Over time, settings can change, fittings can loosen, a whole myriad of things that can affect whether a job goes clean and easy, or ends up a mess. Here's a simple checklist to run through before you work.
Check the speed setting
Check that the table is square, that the table height is set correctly, and that the table is clean and free of obstructions like offcuts and dust
Check that the chuck is tight. Remember to check all 3 holes. A single loose hole can cause a large amount of give in the chuck
Check the bit you're using is correct for the job
It's always smart to run a short test on a piece of scrap material before you start, just in case there's an issue with tightness or the drill not running straight you didn't pick up
It's normally preferable to have a backer board, especially if you're drilling through wood.
A backer board is a scrap piece of wood that gives a solid backing to the working piece. It can make a huge difference when it comes to preventing things like tear-out and ending up with clean drill holes.
Why Isn't My Drill Running True?
There's a couple of reasons why a drill might not run true. First off, it may be that the bit itself is flawed in some way.
But the most likely explanation is that the chuck isn't set correctly. Check and retighten your chuck, making sure that all 3 jaws are equally tight with equal pressure.
If one jaw is loose, this gives the bit a small amount of lee to move in the chuck. Even if the bit looks true, when it bites with the material, a small amount of flex in the chuck can cause issues.
Final Thoughts
Choosing a drill press doesn't have to be complicated. Look for enough workspace and a powerful motor. Most other things are secondary. You can get away with not having a guidance laser, for example. But these two aspects are such a core part of the working process that investing in more space and more power will always pay for themselves.
Knowing that, if you want the best power to value drill press you can buy, always take a look at the WEN 4208 first.