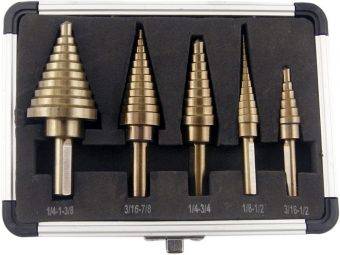 CO-Z Cobalt Multiple Drill Bit Set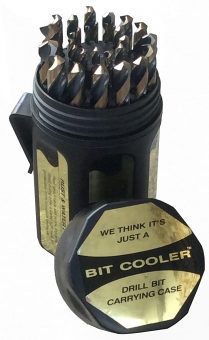 Drill America Cobalt Drill Bit Set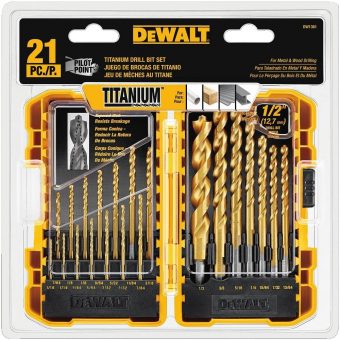 DEWALT DW-1361 Titanium Pilot Point Drill Bit Set
Previous
Next
Drill bits are designed to make holes on a surface or materials, and the holes vary in shape depending on the drill bit since they come in a variety of shapes and sizes. Before choosing a drill bit, you should consider what you want to drill. Drill bits are designed for specific purposes, and there is a drill for concrete walls, glass, and acrylic, hardened metal, wood, and plastic. For brittle materials like glass, you need specialized drill bits for accuracy and finish. Make sure that the drill bit is safely chucked into the drill, to avoid accidents and damage to the material you are drilling.
Features to Consider in Good Drill Bits
Several factors should be considered when selecting a drill bit. Each drill bit is unique and specialized for a specific task. This guide will help you decide what drill bit to purchase based on the job and the material of the drill bits.
Design
The design of the drill bit is a broad topic, as we will later see on the complete buying guide. Design entails factors like the material the drill bits are made of because the material should be rust and corrosion resistant. The material used to make the drill bit should be heat resistant, due to the friction and the drill speeds. The most popular drill bits are made from Titanium and cobalt. The design also entails the point styles, which include the speed helix, 135 degrees split point, and 118 degrees point drill bit. All these bits are designed for specific materials.
Performance
The performance of the drill bit will depend on the coating and penetration. Most drill bits are coated using Black Oxide or Titanium Nitride. These two materials provide the drill bits with lubricity and heat resistance. They make your drilling job even more comfortable and increase the durability of the drill bits.
Variety
The best drill set or brand should provide the most extensive variety of drill bits. You need different drill bits for different functions, and you may need a smaller drill bit for a specific purpose. All the drill bit sizes need to be available in the drill set. All the drill bits should be in a decent case, and this case should hold the bits together. The hinges to the casing should be durable and indestructible. You don't want housing that falls apart within the first year of usage.
NB: Learning how to sharpen drill bits is important because you might need to sharpen them frequently on the job.
The 10 Best Drill Bits 2020
As you go shopping for a new drill set, you will find several brands out there. To help you make that choice, we've narrowed down to ten drill bits. What are the best drill bits on the market? Here are our top ten best drill bits.
The 10 Best Drill Bits 2020
Guide to Buying the Best Drill Bit
You need to consider a few features before buying a drill bits set. The features should go hand in hand with what you intend to drill. Before buying that drill, have the purpose of buying it in mind. It will assist you in making the right choice.
Material
The material with which a drill bit is made from directly impacts its functionality and durability. Three primary materials are used to make drill bits. Cobalt drill bits are considered superior because they can withstand high drilling temperatures.
High-speed steel – they are more resistant to heat than other materials like high carbon steel. Remember when you are drilling, the friction causes a buildup of heat, which may result in the melting of the drill bit. Especially when drilling in hard surfaces like concrete. You can achieve high cutting speeds with this material, though they are brittle. Drill bits made from HSS snap and break often. Most drills are made from high-speed steel.
Cobalt – Cobalt alloys are considered to be very hard; they are capable of penetrating hard materials like stainless steel. They are capable of withstanding high drilling temperatures, without twisting or expanding. This feature makes the cobalt drill bit superior to others. Examples of cobalt drill bits are manufactured by Drill America and CO-Z.
Titanium – titanium coated drill bits are durable and have surface hardness. However, they are no match to the cobalt drill bits. They also increase the lubricity while drilling any surface. Examples of titanium coated drill bits are made by DEWALT and Makita.
Tungsten carbide – drill tips made from this material are hard and very sharp. They are capable of boring holes into concrete and brick. They can be used to cut through glass and tiles. An example of such a drill set is Kalinco Glass Drill set. When well lubricated, it can be durable. That's why tips made of tungsten carbide are used for masonry drilling works.
Point angle
The tips of drill bits are usually shaped in a certain angle. Different angles offer different penetration levels in most materials. Here are the different angles of the drill bit tips. The most common type of angle is the 135 split point angle. This angle provides the best penetration in wood, plastic and metal surfaces. It eliminates instances of drill walking or skating. Drill walking occurs when the drill bit is not confined to the point you intend to drill. Another angle is 118 point angle. This drill bit angle is best suited for use with wood and plastic surfaces. It is prone to drill walking, so it has to be used with a center punch. Finally, the speed helix angle. It resembles a flute, which provides faster drilling penetration because of the flute design caries out metal and wood chaff from the tip. Making the drilling process more comfortable.
Variety
One drill set that provides an enormous variety of drill bits is Makita. You have access to different sizes of the drill bits and other items like counterpunch, nut drivers, and countersinks. In addition to that, you have access to insert bits like Philips and Toax for fastening the drill bits. This drill set is an all in one toolbox. After considering the type of bits that you need, you should look at the casing. The casing is also an important consideration. It protects the drill bits from weather elements, so it has to be waterproof. It also has to be well arranged, with labeled sections for ease of selection. Still, on the variety of drill bits, you have to know if the drill set you are purchasing is compatible with the standard drill you have at home. Most drills bits are compatible with standard drill chuck.
Performance
Before buying that drill set, you should research how it performs while drilling certain materials. You will find that specific drills are designed for specific materials. A good example, you cannot use an HSS drill bit for drilling holes in concrete or glass. The drill bit will break upon contact with the material to be drilled. If you want to drill that is best suited for masonry drilling, then it should have a sharp carbide tip. A good example is the Kalinco drill set. Most masonry drill bits are made of Tungsten carbide at the tip. Because for you to drill into concrete or bricks, the tip needs to be sharp and extremely hard. This drill set is one of the best drill bits for drill press. When drilling a hole in the concrete, the speed of the drilling press should be low. Look for a drill bit that doesn't wobble when drilling into a surface. If you don't want wobbling of the drill bit, consider looking for a speed helix design. This design ensures that metal or wood chaff is brought out as the drill bit spins, so it prevents clogging of the drilling hole. This is a critical factor to consider if you want a high-performance drill bit.
Bottom line
In my opinion, the best drill sets are those made from cobalt. They are superior to other drills bits because they are suited for hard materials like cast iron and titanium. No other drill bit can withstand those temperatures. Take a look at the CO-Z drill set; it is made from cobalt and has a unique ability of drilling without changing the drill bits. They don't break easily. The most important consideration is the material of the drill bit. It directly impacts the performance and durability. If you get the material right, then other features will follow.