Just about anyone who has worked on a vehicle or home improvement project has run into a problem related to screws, bolts, or fasteners. When a bolt or lug nut is too tight for a drill or a spanner, there's only one thing to do: pull out a cordless impact wrench.
Impact wrenches look similar to a drill but use an internal hammer to deliver short, sharp blows to the drill axel, exerting powerful torque on a fastener or bolt and unscrewing it with that force. Cordless impact wrenches use battery power to deliver this force, which is compact, quick, and lightweight, but not necessarily as powerful as corded, pneumatic versions. Thankfully, though, they're getting better every year and now most impact wrenches that are sold are cordless versions.
Features to Consider in a Cordless Impact Wrench
For the most part, cordless impact wrenches can be measured against each other through product specifications; tool manufacturers compete to make these tools with the highest torque, longest battery life, and highest tool rotational speed.
Maximum Torque
Maximum torque, often labeled as max torque, is the maximum twisting power an impact driver can deliver to a screw, bolt, or nut at a full charge. Since impact drivers are useful for getting fasteners really tight or loosening fasteners that are stuck or too tight for traditional drills, this number represents the maximum amount of twisting force that can be applied to the bolt, fastener, or screw.
Battery Size
Cordless technology in all types of tools has come an incredibly long way in recent years, but the tools are still limited by battery power and size. Most of the cordless drills on our list are 18V options, capable of putting out similar power to corded formats.
Battery capacity is a different question, though, and an impact driver requires a lot of electricity; batteries are measured in ampere hours, a unit of stored energy. More ampere-hours (also shortened as amp hours or Ah) doesn't necessarily mean a longer battery life in all cases, but there's a strong correlation.
Voltage
As previously stated, most cordless impact wrenches for consumer use are 18 volts, but some use slightly different formats, with 20-volt formats being the most common. While tool manufacturers would like you to think 20 volt tools are more powerful, it isn't necessarily true. Where it is important is how the tool fits into your existing battery lineup; if you've already got 18 or 20-volt tools from a specific manufacturer, it's worth it to stay with the system you've already got.
Variable Speed
There's another aspect to impact wrenches that's not necessarily more important than maximum torque, but should still be strongly considered when shopping. The measurement is called variable speed, and it's measured in a range of RPMs. Top variable speed is typically inversely related to maximum torque, meaning you need to look at what type of work you'll be doing to make an effective evaluation.
If you're working with smaller bolts, screws, and fasteners, a lower variable speed is best. If you're working with big bolts, it's better to work at a low speed with higher torque. All drills are more or less equally capable of managing both large and small bits, but at the end of the day, it's about putting down maximum power and being efficient with your time.
Now that you know what to look for, we're going to take you through the best cordless impact wrenches.
Top 10 Best Cordless Impact Wrenches 2023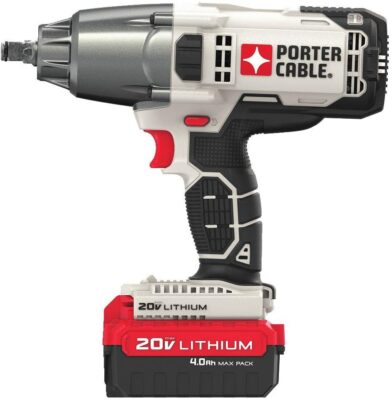 Why we like it:
Classic tool brand Porter-Cable knocks it out of the park with this 20-volt impact wrench that uses a half-inch hog ring to mount sockets.
Editor's Rating:
At a Glance:
Maximum Torque: 260 ft-lbs
Battery Size: 4 Ah
Variable Speed: 1,650 RPM
Voltage: 20 volts
While this durable impact wrench from Porter-Cable doesn't have incredible numbers, it's still solidly equipped with 260 ft-lbs of torque, 1650 RPMs of speed, and a 4 Ah battery with an impressive working life. Porter-Cable backs up its commitment to long-lasting products with a three-year limited warranty. A six-pound weight also ranks in the middle of the pack, neither too heavy nor too light for effective use. All in all, it's highly effective but not mind-blowing.
But where it distances itself from the pack is in terms of user-friendliness. You can really tell that Porter-Cable put this product to the test before releasing it as it's loaded with features that make it convenient to operate as a user. Instead of the most commonly fitted ⅜-inch driver, it's driving shaft uses a half-inch hog ring that holds on to the socket with a steel ring. It's a little harder to fit the socket at first, but the system keeps it on tight, which is incredibly important, especially when using the impact wrench on a bolt that's tight or corroded. It also helps with security if you're working in the air or over a body of water.
Pros
A product that's been put to the test by designers and real users

Uses a half-inch hog ring that does a good job of holding sockets on tightly

Effective but not insane power and speed

4 Ah battery with long life
Cons
Stats aren't incredibly impressive
---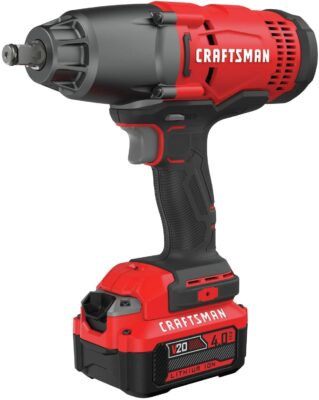 Why we like it:
This powerful impact wrench with long battery life comes from famed tool manufacturer CRAFTSMAN.
Editor's Rating:
At a Glance:
Maximum Torque: 350 ft-lbs
Battery Size: 4 Ah
Variable Speed: 1,700 RPM
Voltage: 20 volts
This tool from famed manufacturer CRAFTSMAN is powered by a 4 Ah battery, above average for the category. That's convenient, but where this tool really outcompetes competitors, however, is charging speed. The high-capacity lithium battery recharges completely in just 60 minutes, phenomenal if you're trying to continue a project without stopping overnight.
Frankly, though, even better are multi-battery setups like the Dewalt Xtreme 12V Max Impact Wrench that can go forever. So all in all, the battery setup is good but not great.
350 pounds of torque, however? That's just about best in show, for consumer models, and more than enough to undo stuck, corroded, or overtightened bolts. Unfortunately, however, high torque means the tools have to make sacrifices elsewhere: namely, in terms of spin rate.
Revolutions per minute on this impact wrench are quite low at 1,700, which doesn't make life significantly worse, but makes it take longer to remove deeply fastened bolts. If speed is a priority, something like this Workpro 20V Cordless Impact Wrench might suit you a bit better.
Pros
4 Ah battery is above average for the category

Outcompetes competitors in charging speed

High torque is great for removing stuck bolts
Cons
High torque means a sacrifice in spin rate

More difficult to remove deeply-fastened bolts
---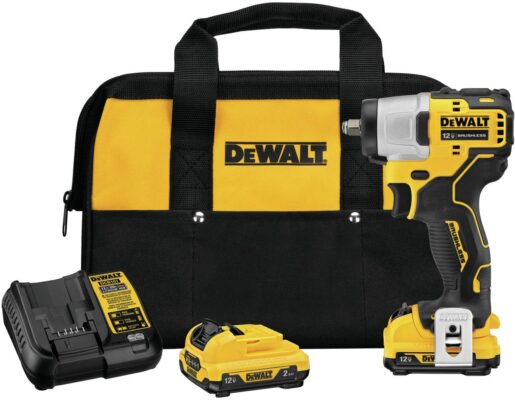 Why we like it:
While some buyers might be deterred by the 12-volt format of this impact wrench, 200 foot-pounds of torque and different precision power settings should set them straight.
Editor's Rating:
At a Glance:
Maximum Torque: 200 ft-lbs
Battery Size: 2 Ah
Variable Speed: 2,450 RPM
Voltage: 12 volts
This impact wrench from Dewalt is a 12-volt setup, unconventional for impact wrenches, which are typically either 18 or 20 volts. That doesn't always mean that 12-volt wrenches will be less powerful, but in this case, it does, as the brushless motor pushes out only 200-foot pounds of nut-busting power, about half the power of more premium impact wrenches like the Craftsman V20 Impact Wrench. It's still strong enough for typical uses like lug nuts and other suspension parts, but if you're frequently dealing with rusty fittings, you'll have a bit more trouble.
It's unique in the fact that it's technically advanced, with multiple settings and three LED lights that can help you light up your work surface. Unlike some impact wrenches, which only have one setting optimized for power, this is a bit more versatile with three distinct modes including a 'Precision Wrenchtrade' setting that can help with smaller more delicate fittings. A ⅜-inch square drive allows it to fit more fittings from sockets.
While the battery capacity is relatively small at only 2 amp hours, this tool from Dewalt includes two batteries, unique for the category. We actually prefer this to a single 4 amp hour battery as you can recharge one battery while using the other, leading to virtually unlimited use. No matter how big a battery you have, you won't be able to outlast this setup, although you will have to change batteries more often.
Pros
Technically advanced torque settings

Multiple settings help control how and where torque is applied

Top speed of 2,450 RPM

Three LED lights can illuminate work surface

Includes multiple batteries that will allow you to use the tool indefinitely
Cons
Two amp hour battery is smaller than typical

200 ft-lbs of torque is well below average
---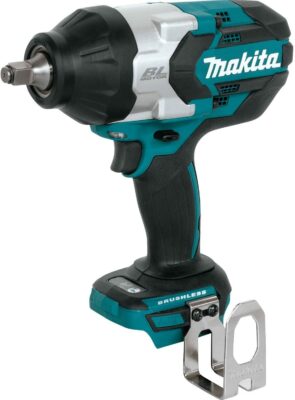 Why we like it:
This drill from Makita is quite pricey but delivers a phenomenal torque in a small package, letting you fit it in tight spaces.
Editor's Rating:
At a Glance:
Maximum Torque: 740 ft-lbs
Battery Size: 5 Ah
Variable Speed: 2,000 RPM
Voltage: 18 volts
Makita is a well-known tool manufacturer, producing high-quality tools at relatively premium price points. This impact wrench is no different, and although it delivers more accessories than competitors (two batteries, a rapid-charging dock, and a tool bag), it's still almost twice the price of similar tools. The brand is popular with residential and commercial contractors alike for its incredible reliability and fantastic stats. In this case, these premium features come in the form of a mind-boggling 750 ft-lbs of torque, a 2,000 RPM max speed (adjustable), and a list-topping 5 Ah battery.
Keep in mind the fact that, as with many brand-name cordless tools, you're locked into Makita's battery system when you buy a Makita impact wrench. Since it's long-lasting, though, it's hard to complain. RPMs are adjustable to three different speed ranges, each one increasing max torque. It's compact at only nine inches, but still manages to pack in a full half-inch shaft to transmit power and a half-inch anvil to create it. Still, though, it's a bit potent for some. If you're looking for something with a little less power and a smaller price tag, think about the Porter-Cable 20V Max Impact Wrench.
Pros
Reliable manufacturer creates a tool with a durable construction

Includes two batteries, a rapid-charging dock, and a tool bag

Mind-boggling 750 ft-lbs of torque

Three levels of RPM speed adjustability

Half-inch shaft pairs with a half-inch anvil
Cons
Price double that of competitors

Batteries aren't compatible with other tools
---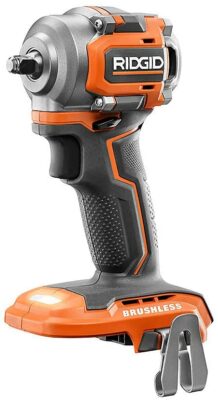 Why we like it:
While this wrench isn't particularly impressive in terms of its power, battery, or speed, it's one of the most compact and lightweight impact wrenches on the market.
Editor's Rating:
At a Glance:
Maximum Torque: 225 ft-lbs
Battery Size: Not included
Variable Speed: 2,900 RPM
Voltage: 18 volts
This isn't the most powerful, longest-lasting, nor quickest impact wrench on our list, but it does have a distinct advantage over the other models on our list: size. At just 3 pounds (a little more with a battery equipped) yet with an impressive 225 ft-lbs of torque, this little impact wrench packs a punch. It's even more powerful than full-size models like the Dewalt Xtreme 12V Max Impact Wrench.
Included with the wrench is a belt clip, convenient for safely carrying the small impact wrench. Compare this to a pneumatic impact wrench, which has to be connected to a 50-pound-plus air compressor at all times and you'll start to see the advantages of this style of tool. They're more portable, lightweight, convenient, and safer than other formats of impact wrenches. Unfortunately, however, it's missing a charging station and doesn't include a battery. You can pick up a set of two batteries for a little over $100, or buy some generic ones for less.
Pros
Most compact wrench on our list

Includes a belt clip

Doesn't require an air compressor

Produces impressive torque
Cons
Not particularly powerful, long-lasting, or quick

Missing a battery and charging station

225 ft-lbs of torque is impressive for the size but average overall
---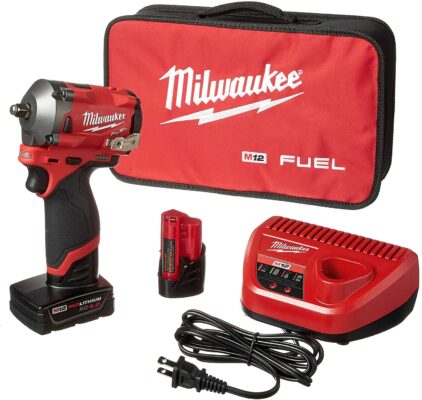 Why we like it:
This contractor-grade tool is compact, powerful, and warrantied, all while still managing to keep a relatively competitive price.
Editor's Rating:
At a Glance:
Maximum Torque: 250 ft-lbs
Battery Size: 4.0 Ah
Variable Speed: 2,900 RPM
Voltage: 12 volts
We've got to confess: we're consistent fans of Milwaukee's products, and this one doesn't disappoint. When you've got a product that produces 250 ft-lbs of torque in a hyper-compact 4.8-inch, two-pound format, you're looking at a tool that can compete with full-size impact wrenches but still fit into tight spots. A 4.0 Ah battery, variable rotational speeds, and intelligent battery monitoring all just sweeten the deal. The fact that it's small, relatively expensive, durable, and compact make it one of our favorite picks for DIYers.
The compact impact wrench spins at one of four presets, the highest one topping out at a list-topping 3,000 RPM. We've just got one quick note on the battery: while Milwaukee's 'kit' includes a 4.0 Ah battery, you can purchase a wide variety of backups of different sizes (the most economical being the 3.5 Ah battery). These will also fit any other tools in the Milwaukee M12 lineup, all of which, like this impact wrench, come with a 5-year warranty. Keep in mind, though, that while it's small, it's not really mighty: both torque specs and RPM specs are pretty average.
Pros
Compact 4.8-inch, two-pound construction

Variable rotational speeds and intelligent battery monitoring

Fantastic five-year warranty

Batteries are compatible with other Milwaukee M12 tools

Inexpensive and affordable batteries
Cons
Might need to buy an additional battery for backup

Average torque and RPM specs
---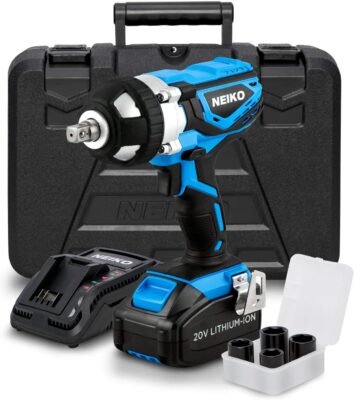 Why we like it:
This cordless impact wrench is mid-range in terms of price but high-end in terms of specs thanks to a direct-to-consumer model and an emphasis on engineering.
Editor's Rating:
At a Glance:
Maximum Torque: 300 ft-lbs
Battery Size: 4.0 Amp Hours
Variable Speed: 3,000 RPM
Voltage: 20 volts
Neiko isn't a household name, but maybe that's a good thing: instead of putting their budget towards marketing, the primarily direct-to-consumer brand can prioritize engineering and design. The specs back up this strategy: the motor produces 300 ft-lbs of maximum torque, topping out at 3,000 RPM. Torque is delivered via a quick motor that can deliver 3,500 blows per minute, taking care of even the tightest bolts.
Conveniently, the tool has a battery-monitoring feature that displays battery level, lighting up at 100%, 75%, 50%, and 25%. This lets you keep an eye on when you need to recharge the 4.0 Ah battery, one of the largest capacity batteries on our list. This capability combined with the performance stats makes it one of the more impressive tools on our list by the numbers, even given its mid-range price.
The only issue we found, however, is that those claimed numbers might be inaccurate; some users find that their impact wrench only delivers a portion of the top 300 ft-lbs of torque under normal circumstances.
Pros
Battery-checking feature lights up every 25%

4.0 Ah battery is large capacity compared to less expensive batteries

Impressive stats based on the number

Delivers 3500 blows per minute
Cons
Claimed torque numbers are probably exaggerated

Direct-to-consumer brand
---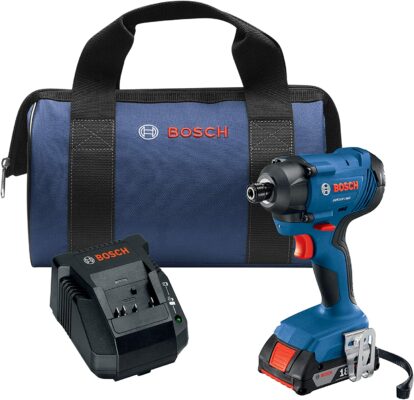 Why we like it:
This inexpensive and durable impact driver isn't phenomenally powerful, but it's great for consumer users that won't be frequently using an impact wrench.
Editor's Rating:
At a Glance:
Maximum Torque: 115 ft-lbs
Battery Size: 2.0 Ah
Variable Speed: 800 RPM
Voltage: 18 volts
German company Bosch is one of the largest budget tool producers on the market, and their experience shows through with this impressive yet economical tool. On an 18-volt system with a relatively small 2.0 Ah battery, the impact driver should last several hours with minimal fade until you'll have to recharge it on the included charger. It's also got an included tool bag, and if that wasn't enough, the battery is compatible with other 18-volt tools that use Bosch's battery platform.
While it's durable for its size and incredibly affordable, be aware of the fact that a 115 ft-lb impact wrench is in the bottom tier of cordless tools in terms of power. Add to that the fact that its ¼-inch hex head simply isn't as capable of delivering force as larger impact drivers (typically ⅜-inch or ½-inch), and you start to see the drawbacks of a smaller impact wrench.
It'll still be more than capable of taking off lug nuts and other automotive parts, but if you end up with a stuck or rusted bolt, you could run into some trouble. If you really need torque, look for a half-inch wrench like the Porter-Cable 20V Max Impact Wrench.
Pros
Bosch yet again produces a great, affordable tool

18-volt system has almost no power fade as the battery draws down

Incredibly affordable option

Battery is compatible with other Bosch tools
Cons
Low torque might have a tough time powering through rusted bolts

Relatively small 2.0 Ah battery

¼-inch shaft isn't as capable of delivering force
---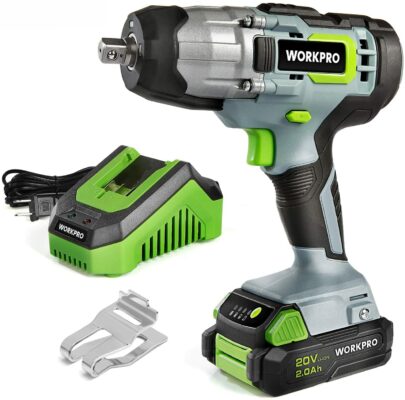 Why we like it:
This generic impact wrench competes against brand name tools for a fraction of the price.
Editor's Rating:
At a Glance
Maximum Torque: 320 ft-lbs
Battery Size: 2 Ah
Variable Speed: 3,200 RPM
Voltage: 20 volts
Most contractors don't trust or recommend generic tools, although in this case, direct-to-consumer manufacturer Workpro has made a cordless impact wrench worth taking a look at, at least for consumers. Generic tools typically struggle for one of three reasons: durability, performance, and compatibility. Workpro solves two and a half of these problems.
First, durability. While this tool isn't equipped with the 2-year-plus warranties we see on some models, it's impressively durable and has no cheap feeling fixtures or handles. It performs just as well as high-end models, delivering 320 foot-pounds of torque at a maximum speed of 3,200 RPM.
As an independent manufacturer, battery compatibility is still something to be considered. While the Workpro battery won't work with other manufacturers' tools, and you can't use other batteries with this tool, a quick charging feature (just one hour of recharge time) eliminates most of the pain. It's only 2 amp-hours, though, which is well below average. The included belt clip is a nice touch, although the fact that one can be purchased for less than five bucks online means it probably shouldn't influence your buying decision too much.
Pros
Low price for a high-quality impact wrench

Great quality and performance for a generic tool

One hour quick-charging time

320 foot-pounds of torque

3,200 RPM maximum speed
Cons
Battery isn't cross-compatible

Battery is only 2 amp-hours
---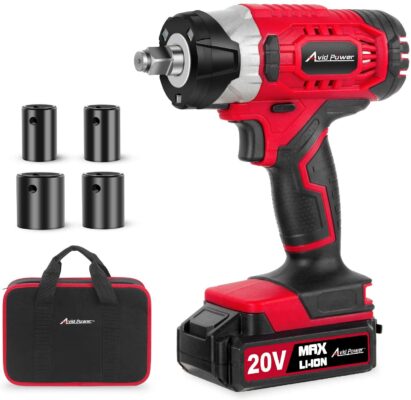 Why we like it:
This incredibly economical impact wrench is dirt cheap and impressive for the price, although there are some corners cut to keep costs low.
Editor's Rating:
At a Glance:
Maximum Torque: 185 ft-lbs
Battery Size: 1.5 Ah
Variable Speed: 2,200 RPM
Voltage: 20 volts
There's one thing that this cordless impact wrench does better than just about any other impact wrench on the market: keep your wallet full. At a ludicrous sub-$100 price point, this accessory-loaded product delivers quite an impressive bang for your buck. It's equipped with four standardized sockets that fit on its half-inch chuck; there's also a tool bag included that holds everything in one place. At only 3.3 pounds, it's lightweight, but comes with a sacrifice in terms of power. That, along with the textured rubber handle makes it comfortable to use.
One of the flaws here, and one of the reasons for such an inexpensive price point, is the minuscule battery. The lithium-ion tech measures in at just 1.5 Ah, easily the smallest on our list. While the included charging dock is easy to use and quite durable, you're still going to get a maximum use time of only about one hour. That's enough to swap a car's worth of lug nuts, but not enough for much else. A 3 to 5-hour charge time doesn't make the battery life much more pleasant either. While torque output decreases as the battery drains, with a top torque of 185 ft-lbs, it probably won't budge much under 150 ft-lbs.
Pros
Incredibly inexpensive cordless impact wrench

3.3-pound construction with textured rubber handle

Comes with four standardized sockets

Half-inch chuck
Cons
Torque is lower than average and fades with battery life

Battery life is disappointing
---
Guide to Buying the Best Cordless Impact Wrenches for 2021
Cordless impact wrenches, simply put, are the best tools that exist for taking off tight bolts. While they are most commonly used in automotive and heavy machinery applications, the tools are versatile. Learn more about impact wrenches below.
Types of Impact Wrenches
While cordless electric impact wrenches are now the most popular impact wrenches by sales, other types are still preferred for different applications. We define and break down the types of impact wrenches, their advantages, and their different applications below.
Cordless Electric Impact Wrenches
Cordless electric impact wrenches are the most common and often the most effective type of electric impact wrenches, especially for DIYers and those who won't need to use the tool frequently. Cordless electric impact wrenches can hypothetically be used endlessly if you've got an unlimited supply of batteries, they are lightweight, and they can be carried around a job site without much, or any, regard for where your power is coming from. This means that their convenience factor is unbeatable.
Pneumatic Impact Wrenches
Pneumatic impact wrenches were once the only type of impact wrenches around, delivering a repeated series of quick, sharp hits to the drill axis via compressed air. As they're operated via air hose, there's no battery necessary, but you do need a source of compressed air; a dedicated air compressor that will cost you. An inexpensive air compressor might run around $200 while a commercial one can cost well over $1,000.
Corded Electric Impact Wrenches
Corded electric impact wrenches represent a bit of an in-between in terms of impact wrench technology, lacking both the power of a pneumatic wrench and the portability of a cordless electric wrench. The benefit? Price, as these wrenches are cheaper relative to their power than anything else on the market. Another benefit? You don't need an air compressor as you do with pneumatic impact wrenches.
Hydraulic Impact Wrenches
Hydraulic impact wrenches are rare and expensive, primarily used for mining, industrial, underwater, and commercial applications. They're undoubtedly the most durable and powerful type of impact wrenches, but they're incredibly expensive, costing thousands of dollars. Unless you've got a great reason, you probably don't need one.
Safety With Cordless Impact Wrenches
Impact wrenches aren't as dangerous as power nailers, lawnmowers, or chainsaws, for example, but it's still important to take plenty of safety precautions. Follow the steps below for an experience that will keep you safe and sound.
Hearing Protection
Impact wrenches are very loud, producing levels of noise that approach those of a loud rock concert. While quieter, smaller units produce around 80 to 85 decibels, the loudest can produce over 120 decibels, which can cause immediate harm to your ears if you don't use earplugs or earmuffs. Stay safe and protect your hearing: once it's gone, you can't get it back. Take a look here at our favorite hearing protection.
Loose Clothing and Accessories
While loose clothing and accessories aren't the number one biggest danger to users of impact wrenches, you can minimize the risks of injury or damage to your tools by making sure nothing gets in the way of the work service. This includes jewelry as well as accessories, long sleeves, and jackets. Keep your work surface clear as well.
Safety Glasses
Impact wrenches create quick, sharp movements which can sometimes send metal fragments from bolts or screws flying. It's a significant safety risk and you should never use an impact wrench without safety glasses. Side protectors are strongly recommended as well. As they're inexpensive, you've got no excuse.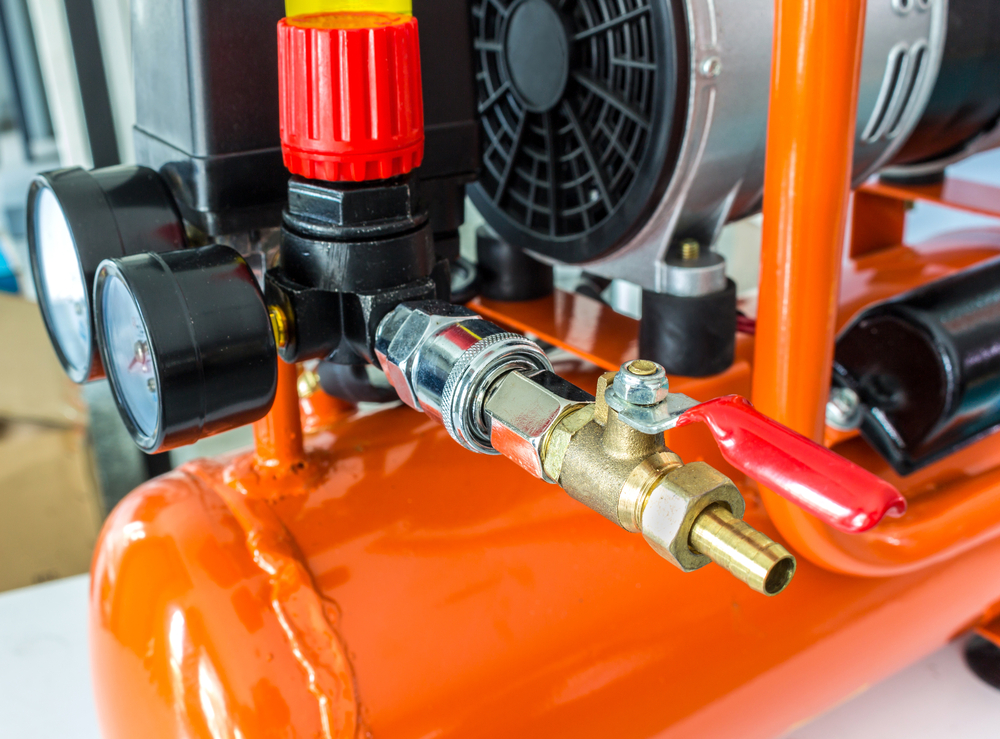 Use Caution With Air Pressure
Often DIYers underestimate the power of air pressure, but there's a reason it's used in power tools. We're including this section in the hopes that you avoid the use of compressed air, opting for an electric impact wrench instead.
Pressurized gasses can emit tremendous force on a small area, an advantage for making compact tools, but presenting a significant risk as well. Never direct an air hose at yourself or at another person, as it can cause just as much damage as a nail or projectile. Always transport an air-powered tool by the handle or body, never use the air hose as a handle.
Cordless Impact Wrench Applications
When thinking about impact wrenches, they're most frequently used to remove large, tight bolts. If you run into a problem with a stuck bolt, your most likely solution is an impact wrench.
Automotive Applications: The whirring and banging sounds of an impact wrench call to memory an automotive garage. From car frames to suspension pieces to lug nuts, an impact wrench is a practically universal problem solver.
Agricultural Applications: From ride-on lawnmowers to huge, half-million-dollar tractors, agricultural machines are held together by massive, highly torqued bolts. When they're tight, there's only one way to get them removed: an impact wrench.
Heavy Machinery: Most consumers won't be working on heavy machinery, but just about every bolt on skid loaders, small tractors, and diggers needs to be removed with an impact wrench.
Residential Construction: Impact wrenches are primarily used for bolts, and there are minimal but important uses for bolts in construction. Primarily these uses surround connecting to materials: framing to concrete, I-beams to the foundation, and more.
Cordless vs. Corded Impact Wrenches
When shopping for an impact wrench, most consumers will consider both corded and cordless options, and each type has its advantages. Old school contractors swear by the corded tools while DIYers and most manufacturers will push their newer, cordless products. We think it's all about getting the right tool for your job and your price point.
Price
Simply put, comparable corded impact wrenches are less expensive than corded ones. No, it's not necessarily noticeable when comparing two products from two different manufacturers, but the cordless version of the same product from the same manufacturer will always be more expensive than a cordless model. The difference isn't enormous, but it's enough to consider, especially if you're only using it for home DIY products.
Power
10 years ago, we would've said that air-powered impact wrenches are nearly always more powerful, but that's not necessarily the case these days. In terms of power, you're more limited by your budget by the format in which your impact wrench comes. In rough order, at roughly the same price point, the least powerful impact wrenches are cordless, followed by corded electric, then pneumatic wrenches, then hydraulic impact wrenches.
Battery Systems
Cordless tools have grown to be incredibly popular over recent years thanks to incredible advancements in battery capacity tech, a shift to smaller-format tools, and the introduction of 360-degree battery systems from tool manufacturers permitting for multiple uses of the same battery across all their tools. This ties you into one tool manufacturer, but once you stock up a few batteries, means you can go all day wirelessly without charging.
Cordless Impact Wrench FAQs
Impact wrenches can be difficult to get your head around, and while they've got wide applications, they can be easy to misuse. Screwing up could ruin your day or even your whole project. We try to clear up some common questions below.
What's the Difference Between a Cordless Impact Driver and a Cordless Impact Wrench?
Both impact drivers and impact wrenches work with driving or unscrewing screws, nuts, and bolts, but where they differ is in direction. Cordless impact drivers are used to drill screws into hard materials like wood or metal (where a drill might not be capable), while cordless impact wrenches unscrew those same fasteners. Unlike a drill, impact wrenches/drivers only work in a single direction.
Can You Adjust Torque on an Impact Wrench?
Neither cordless impact wrenches or traditional pneumatic impact wrenches will allow you to adjust torque on the tool itself, but you can often find torque-adjustable sockets to adjust the force your impact wrench applies on a bolt. If you want even more torque sensitivity and adjustability, consider a handheld torque wrench. You can check out our favorites here.
How Much Torque Do You Need for Lug Nuts?
As car lug nuts are designed to stay tight during thousands of miles of road travel, they can sometimes become incredibly tight, making them really hard to remove. This is one of the most common applications for an impact wrench. As lug nuts are designed to be tightened to about 100 foot-pounds, any impact wrench with over 100 foot-pounds of accessible torque should work for removing lug nuts, although rust and oxidation can complicate the situation.
Will a ⅜-Inch Impact Wrench Remove Lug Nuts?
An impact wrench's power is roughly correlated with the size of its drive shaft, as thinner drive shafts are more flexible and thus can't deliver as much torque to a fastener. Most cordless impact wrenches have a ⅜-inch axis/driver, and that's often not enough for lug nuts that are stuck on (¼-inch models are even less powerful).
Purchase an inexpensive breaker bar to take off the most difficult lug nuts and use an impact wrench for other high-torque applications, or use a half-inch model like the Porter-Cable 20V Max Impact Wrench.
Wrapping Up
There's a moment in many DIYer's or amateur auto mechanic's lives where they find a bolt that they can't get unscrewed with a wrench, socket set, or even a cheater bar. When this happens, there's nothing better than an impact wrench to take care of the job. Whether you need one for occasional use or you're a mechanic that uses a cordless impact wrench daily, a quality cordless impact wrench will make a problem with a bolt go away.