Working away with a cold saw always offers the most cost-effective and efficient approach when a smooth finish is what you're after. Abrasive saws emanate heat and generate an eruption of sparks.
Most people go for cool-to-the-touch cuts. The best way to achieve that is by using the toothed blades of a sturdy cold saw. If that's you, then this list of the 10 most popular cold saws in 2021 should be of interest.
Features to consider in Good Cold Saws
As is the case with any acquisition, the most expensive saw is not necessarily the best. There is no universal cold saw guaranteed to fit everyone's needs. Before listing the best cold saws on the market, it is useful to take the following features into consideration.
Blade Type
There are two types of cold saw blades. The good news is that both types can be used numerous times before being discarded, and both can be resharpened.
Solid HSS Blades
Solid high-speed steel blades (or HSS) can withstand high temperatures without losing their hardness, and can therefore cut faster than high carbon steel (hence the name "high-speed steel"). The general recommended heat treatment for HSS blades is at room temperature. On the Rockwell scale (which is a scale based on the indentation hardness of a material), HSS grades above 60, which means it displays high hardness, as well as abrasion resistance.
TCT Blades
Tungsten carbide-tipped (TCT) blades have the advantage of keeping their sharpness for longer than other materials. Since the blade's main body is made of steel, the small carbide tips are brazed onto its body. In comparison to a steel-tipped tool, a carbide tip could hold an edge 10 to 20 times longer. Carbide tips are categorized based on one of 4 grades.
K01 tips are very resistant against abrasion due to the finesse of the powdered (micro) grain they are made of. Blades with K01 tips are ideal for cutting hard materials, such as chipboard, double-sided laminated chipboard, MDF, and HDF.
K10 tips have a balanced combination of material hardness and fine-grained structure, so they are as close to a universally used solution as you can get. These K10 type blades are best for cutting lighter materials such as plastic, wood, plywood, non-ferrous metals, and plasterboards.
K20 graded tips contain a higher percentage of cobalt binding material, which enables better tooth tenacity. Due to their high resistance while hitting other types of material like branch knots, steel chips, and dirt, these blades are optimal for cutting along the grain of natural woods.
K30 tips have high tenacity and resistance against breaking, due to their lower hardness. The high percentage of cobalt binding material they are made of make K30 tips most fittingly used for cutting in extreme conditions, for example, cutting frozen wood.
It is important to note that any vibration that may occur during the cutting process could severely damage the teeth.
Electric Motor
Now let's make that blade spin without frying it! Before purchasing any motorized heavy-duty tool, make sure to know the power specifications of your outlets. If you use an electric circuit of 220 volts (or have the ability to run two separate regular 110-volt hot wires to the same point-of-use), you can choose a single phase-powered motor. For more heavy-duty activity that would require a 3-phase motor, you would need an electric circuit that is suitable for 415 volts.
Gear Reduction Unit
Some cold saws have a built-in gear reduction unit. Through such a unit, an input speed can be lowered for a requirement of slower output speed, with the same or more output torque. The number of gears used in the reduction gear assembly – known as a reduction gear box – depends on the output speed requirement of the application. There are two types of reduction gears: single reduction gears and double reduction gears. Single reduction gears are used for applications requiring slow-to-moderate speeds and consist of a single pair of gears. Double reduction gears are used in applications that involve high speed and facilitate the reduction of speed to a ratio of up to 20:1.
Now let's explore and analyze our picks for the best 10 cold saws on the market today. Apart from blade type, coolant system, motors, and gear reduction systems, we will also be grading our choices based on design, performance, price, stability/rigidity, range, and amount of heating that can incur, which are key factors to deciding on a durable, capable tool.
Top 10 Best Cold Saws 2023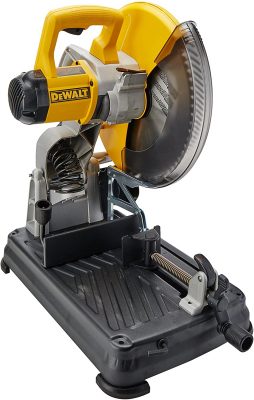 Why we like it:
The versatility of this saw is perfect for DIYers and homeowners, but also professionals. It's not too heavy and not too light, not too expensive and not too cheap. It ticks the sweet spot between any range, as it is capable of handling any range of materials.
Editor's Rating:
Both ferrous and non-ferrous materials can be cut with this saw, as its 14" 70-tooth carbide-tipped blade cuts through metal eight times faster than any portable band saw, and four times faster than chop saws. Not only that, but its cuts are burr-free and precise. Props to the durable blade too, as it allows the depth of each cut to remain constant without you having to replace the blade that often.
Performance
Both ferrous and non-ferrous materials can be cut with this saw, as its 14" 70-tooth carbide-tipped blade cuts through metal eight times faster than any portable band saw, and four times faster than chop saws. Not only that, but its cuts are burr-free and precise. Props to the durable blade too, as it allows the depth of each cut to remain constant without you having to replace the blade that often.
Price
The price range for this magnificent product is between $450-$600, depending on if you are also looking to add the blade to your purchase. Sure, carbide blades are expensive, but with the lack of pressure necessary on the handle, the slower dulling will save you money in the long run. It comes with a full one-year warranty.
Stability
The measurements of the saw are 24" x 15.25" x 18.5". It weighs roughly 47 pounds, which is a good, stable weight for such a unit. The heavier the cold saw, the fewer chances are of unwanted vibrations taking place during the process.
Range
The DEWALT DW872 was built with the intention and ability to take on any job from a small-scale residential project to a heavy-duty industrial job. It can quickly and effortlessly cut through heavy pipes or solid bars. It is especially useful if you cut pipes or other materials prior to welding. It also comes in handy if you are making miter cuts on handrails and other similar items.
Heating
Heating and occasional sparks may occur when cutting heavy stock, although in regular parameters. If cutting small stock, the material remains cool to the touch and the amount of sparking is nothing to be alarmed about.
Pros
Cuts are fast and smooth (even multiple metals and steel)

Carbide-tipped blade is durable

No burrs

Stays cool

Well-designed
Cons
The clamp on the fence is somewhat weak

A bit loud

Pricey blades

Attaching the blade guard is somewhat tricky
---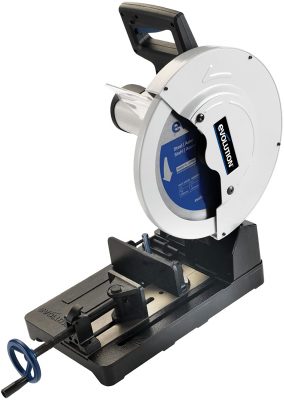 Why we like it:
Besides the 3-year warranty it comes with, this saw also comes with a case and a laser guide. It's affordable as well. It might not have such a wide spectrum of uses, but it is still a valuable purchase for hobbyists and professionals alike, whose main concern is cutting metal. In addition, the enclosed collection tray helps keep your shop clean while reducing airborne irritants.
Editor's Rating:
Evolution designed its EVOSAW380 15-inch Steel Cutting Chop Saw specifically for industrial metal cutting. So, if you need a machine suited to your frequent needs to cut through metal or large pieces of metal, this may be for you. The EVOSAW380 also includes a collection tray, allowing for an easy on-hand metal chip disposal.
Performance
The EVOSAW380 is very easy to use, runs on 110 volts and is A/C powered. Due to the incredibly durable blade on this saw, customers that tested it found that they could make up to 1000 cuts with the blade when working through 2" x 2" mild steel. The cuts remain cold, the burrs remain minimal, and it can cut a wide variety of materials with a clean 3/4″ rebar being no problem for it.
Price
Evolution wanted to offer customers the option of choosing their preferred blade size to suit their individual needs. With a 15" blade, it falls within the $450-$500 range of products, but you can also look into 7.25" and 9" blades, which will save you at least half of the price you'd pay for a 15".
Stability
The EVOSAW380 has a heavy-duty cast aluminum base, which deems it durable enough to support even the heaviest of materials. Even if the base is not made of stronger cast iron, its 62 pounds in total weight makes up for that in providing stability. It measures 21" x 13.5" x 26" and comes with a three-year warranty.
Range
The machine is generally designed to work with metal. However, customers have also reported that it's great for mild steel, stainless steel, square tubing, round rods, and even flat stock. One buyer reported that the largest cut they attempted was a round pipe with a 4" diameter wall and a ¼" thickness.
Heating
The saw generates virtually no heat, burrs, or sparks. In fact, it does not even require coolant!
Pros
Heavy-duty cast aluminum base

Good price

Blade versatility

No burrs, minimal sparks

Keeps the cuts cold
Cons
It lacks a quick-release on the clamp (adjustments are made with hex wrenches, which are included)

Occasional inconsistent cuts

The base isn't level, no tabletop mounting method

The blade is a bit wobbly
---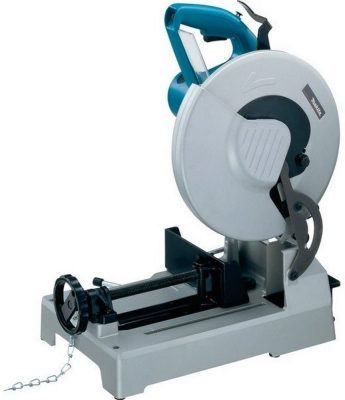 Why we like it:
This saw leaves the shop much cleaner than others. It has a very sturdy yet user-friendly design - especially the D-shaped handle - for those who intend on using it for longer periods of time. It can cover a wide range of projects, and stands the test of time and usage.
Editor's Rating:
If time is of the essence, this is the perfect cold saw for you. A solid contender from a brand name manufacturer, the Makita LC1230 12-Inch Metal Cutting Saw is found in the top picks of any respectable saw user. This tool saves time by reducing a job that would normally take a full day to a mere three hours, and does so by leaving clean, burr-free cuts behind. It comes with a lock-off button to prevent accidentally starting the machine, as well as a comfortably D-shaped handle to make gripping easier.
Performance
Thanks to its adjustable guide plate and dual-finger trigger/lock-off button, The Makita LC1230 can cut through a 2 x 2 box tubing with a 1 / 4" wall thickness in a minute, which is pretty impressive. It manages to stay cool throughout the cutting process, while the resulting cuts are precise, quick, and accurate. Customers noted that the Makita has the ability to cut four times faster than a traditional abrasive saw.
Price
The saw can be purchased for less than $450. Included in the price is a one-year manufacturer's warranty. This tool also comes with a carbide-tipped blade that lasts 50% longer than standard abrasive blades, and it includes a socket wrench and safety goggles.
Stability
The Makita LC1230 runs on 120 volts, measures 14.57" x 22.83" x 17.52", and weighs a bit over 42 pounds. The carbide-tipped blade it comes with has a depth of 4.5". This weight is ideal for homeowners and DIYers, and is stable enough to withstand even heavy industrial use.
Range
This serious power tool can tackle materials such as light pipe, angle iron, tubing, conduit, and channel, and any project in between. The angle of the blade can be adjusted to achieve anywhere between 0 and 45 degrees of miter cutting.
Heating
Users that tested this product were impressed by the virtually burr-free results. Not only are the remnants too small to even be cleaned off, but the saw gets the job done while staying quieter than a chop saw.
Pros
The lock-off button that prevents accidentally starting the machine

Fence and clamp work well

Folds for easy storage

Burr-free

Quiet

Cuts easily with no pressure necessary

Great cost for benefit ratio
Cons
The chip collector tray only catches about 10% of the chips.

The included blade doesn't cut stainless steel

The setting for angles is not accurate and needs to be measured each time
---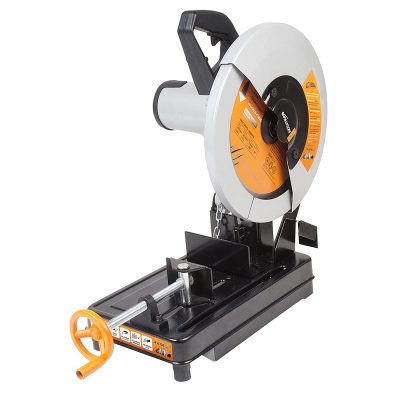 Why we like it:
It leaves a clean, cold cut and has good durability on the blade teeth. It doesn't require much pressure on the handle, and almost every used deems it much better than any normal abrasive cut off saw.
Editor's Rating:
Evolution released another viable cold saw contender with the RAGE2. The best thing about it is that it is really affordable, and it is just about the best it could be, at this price. A great product for small shops and homeowners that leaves clean cuts, no dust, no fumes, no sparks, and no smoke.
Performance
The RAGE2 comes with a hi-torque motor gearbox, which reduces motor stress and improves the durability and performance of the saw. Making miter cuts is easy due to how nicely the saw holds the angles, with the help of a 0-45 degree secure clamp. Some users had to reinforce the clamp with a piece of welded steel to stop the flex with cutting angle iron on a 45 degree angle. The clamp needs to be adjusted with the help of the enclosed allen wrench.
Price
The saw goes for roughly $230. It comes with Evolution's three-year warranty and an included blade. It also comes with goggles, ear protection, a 6mm allen wrench key and an extra set of brushes for the electric motor.
Stability / Durability
Its measurements are 23" x 12" x 24" and its weight is roughly 43 pounds. Another great perk of this product is the durability of its blade, which can outlast 20 abrasive discs. Additionally, it has a built-in hi-torque motor gearbox, which reduces motor stresses, and improves the performance and durability of the saw.
Range
This saw enables you to cut aluminum, steel, angle iron, square tubing, and wood with embedded nails, thanks to its multipurpose cutting technology. It can cut oak wood that is full of nails as easily as steel fence posts.
Heating
A cut through 6mm steel can be achieved without any burrs or sparks. You won't need to correct the finish after performing the cut, and thankfully it stays cold to the touch.
Pros
Can easily cut through an array of materials

Fast-action swivel clamping mechanism

Three-year warranty

Cold, clean cuts

Good miter cuts
Cons
Enclosed blade is multi-purpose, so you might need to invest in blades that are specific for each range of materials you are cutting.

Pretty loud, hence why earplugs are included.

Base and clamp are stamped steel instead of cast.

Clamp needs allen wrench adjustments, as it doesn't have a quick release mechanism.

Engine slows down a bit when tough cuts take place.
---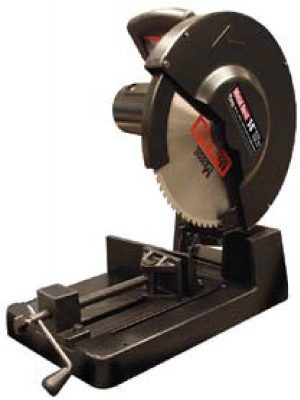 Why we like it:
esides its incredibly cool and solid design, this saw covers a wide range of jobs, from pipe work to tube application. It is built to outlast its owner, and the extra items it comes with plus the one-year warranty are in no way compensating for any weaknesses, as all the users that spent their money on this tool said they got back more than their money's worth.
Editor's Rating:
Another excellent choice, if you require a solid metal-cutting tool, is the MK Morse CSM14MB, by Metal Devil. It cuts metal safely and quickly, and is suitable for electricians, heat and air conditioning experts, mechanical workers, handymen, and contractors alike.
Performance
Forget other tools that you saw at building sites. The MK Morse CSM14MB make cooler, faster, and longer-lasting cuts in comparison to most alternatives. Heat transfer is kept to a minimum due to the 72-tooth carbide blade that cuts the metal, instead of grinding it. This is achieved without generating sparks, odour, noise, or heat buildup.
Price
The Metal Devil MK Morse CSM14MB goes for around $460, weighs 53 lbs. measures 22 x 18.5 x 14 inches and requires 120 volts to function. It includes a beveling vise, a protection guard, 6- and 8-mm hex wrenches, ear plugs, protection goggles, and a Metal Devil steel cut blade.
Stability/Durability
Its steadiness is ensured by its 53 lbs. weight. The blade is made out of a combination of materials in a proprietary mixture that ensures its long-lasting quality. You can get a general idea of why industry experts claim this machine is a must-have from this video, by the M.K. Morse company itself.
Range
The Metal Devil MK Morse CSM14MB can cut through steel and other hard metals fairly easily, but it was designed as an ideal go-to tool for doing pipe fitting work, tubing application, and cutting angle iron and conduit. It is powered by small speed, It is powered by a high-torque motor that spins at 1,300 RPM.
Heating
There is little heat transfer to the inner plate, all due to the exclusive metallurgy of the carbide tips. M.K. Morse designed the cutting blade to offer faster, cooler, longer-lasting cuts, which ensures a minimal heat transfer.
Pros
Finish is near perfect

Good torque

Uses a universal motor (can be AC or DC powered)

Good cutting abilities

Thick jaws

3 different blade sizes

Ideal for dry cutting

Minimal heat transfer

Very durable machine and blade
Cons
Unfit for aluminum and other types of metal the blade doesn't specify

Could use improvement on the vise, for faster opening
---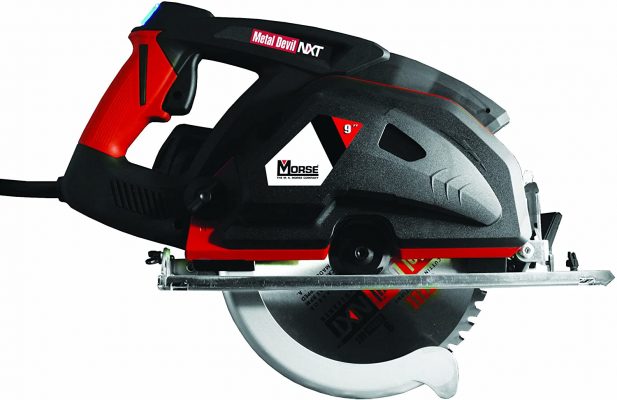 Why we like it:
Aside from the great quality all the M.K. Morse machines offer, this little metal devil comes with a whole list of extras in the cool case it is shipped in. It is safe, clean, not too noisy, easy on the hand, and most important of all, a great value for the price.
Editor's Rating:
The MK Morse CSM9NXTB 9-Inch Circular Saw is another good release from their Metal Devil line of saws, and it truly is to metal what Judas Priest is to…metal. Allowing the user to smoothly saw through metal, this saw maintains torque at optimum RPMs (up to 2700). The design includes a thumb lever for advancing the blade guard, a guide bar for nice straight cuts, bevel gauge, LED light and laser guide.
Performance
Almost all customer reviews are positive in regards to this fine piece of machinery. It was built to slice through materials easily and swiftly. Cuts are super clean, safe, and efficient. The result is kept cool, with burr and heat kept at a minimum.
Price
The M.K. Morse CSM9NXTB sells for approximately $400. It measures 8.9 x 11 x 7 inches and weighs roughly 34 lbs. Included in the price is a very durable blade designed specifically for cutting steel.
Stability / Durability
Although compact and lightweight at 22 lbs., this saw can go through tough metals like a skewer through a marshmallow. Its enclosed chip tray works well, the blade is easy to change, it fits well in the hand, and it has plenty of power.
Range
This is a perfect saw for projects involving steel, aluminum, and all around metal cutting. Its 9" blade was built to help you attain various tasks for the long haul. It is perfect for cutting down bar stock and for home improvements.
Pros
Retractable blade guard

Comfortable grip

Enhanced blade alignment guides

Good torque

Chip collector tray minimizes mess and makes clean-up easier
Cons
It is not cordless, which makes cutting of smaller parts a bit difficult

Not suitable for 7 ¼" blades
---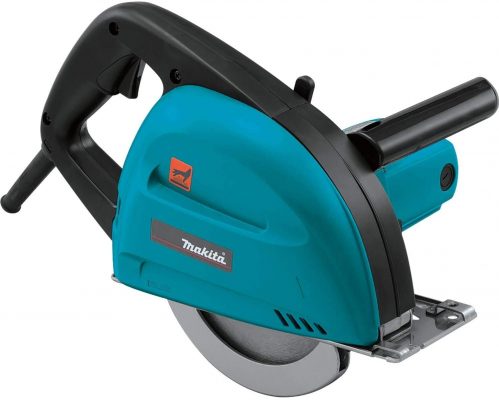 Why we like it:
For a compact 11 pound 13-amp tool, the versatility is remarkable. It can cut through ¼", ½", and even ¾" if your grip and pressure are adequate enough. It is a near-perfect portable device.
Editor's Rating:
Since Makita is known to make some of the best power tools in the industry, it is no surprise that the Makita 4131 7 ¼" Metal Cutting Circular Saw does not fall short. A feature that distinguishes this from other cold saws is the CERMET tipped blade it is equipped with. This is a special ceramic-metal mixture that can resist heat and makes it last longer than the traditional carbide-tipped blades all other tool on the market use.
Performance
This portable saw is a must-have in any professional kit. If you are a homeowner or a small shop owner in need to do your own repairing and adjusting, you will be pleased to know you don't have to worry about the Makita 4131 leaving a mess. Cleaning up is made easy due to the built-in chip collector, which is merciless on any resulting debris.
Price
The Makita 4131 falls in the $400 range of power tools, and includes a one year warranty on parts and labor. It also comes with a 36 tooth blade and protection goggles.
Stability/Durability
It weighs around 11 lbs., measures 16.5 x 12 x 14 inches, requires 120 volts and is AC powered. This is a strong saw that does wonders while staying cool and virtually burr-free. Stability is ensured by its stainless-steel base.
Range
Ideal for steel roofing, conduit, and iron pipe. Electricians, plumbers, roofers, and metal fabricators will be pleased to own this product and explore its versatility and precision in any project they take on.
Heating
This tool is powerful enough to cut through multiple sheets at once, due to its impressive no-load speed of 3,500 RPM. It creates a minimal amount of sparks.
Pros
Aluminum chip collector

Spindle lock

Stainless steel base

Light yet powerful

No sparks

Cool cut

Compact

Great for single pass cuts (2 ½" deep capacity)
Cons
Does not come with blade guide for running along edges

Blade guard and chip collector affect visibility

Does not include a blade chart

Too lightweight for bigger heavy-duty projects
---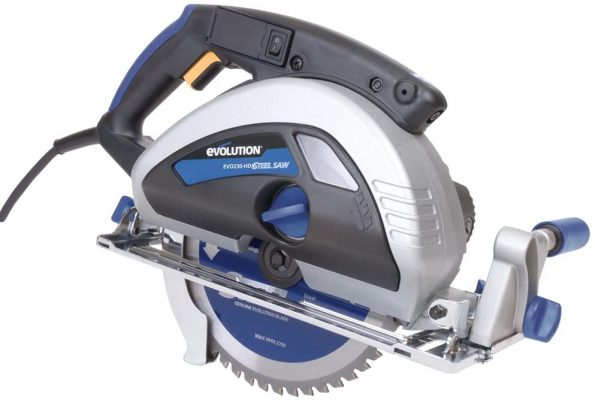 Why we like it:
The bevel tilt is useful for making quick adjustments as you are working. Angled cuts between 0-45 degrees are easy to make. If you feel it's starting to tire, there is a built in safety switch with overload protection which lets you know when it is time to rest. It also features a laser guide and an adjustable depth cut.
Editor's Rating:
Yet the third offering by Evolution Power Tools, the EVOSAW230 Steel Cutting Circular Saw covers a wide range of projects, from small-scale to heavy-duty industrial quantities. This slick and modern steel saw is robust, sturdy, and accomplishes a wide variety of tasks, while being propelled by 15 amps of power and a no-load output of 2700 RPM.
Performance
The 0-45 degree bevel tip allows for angled cuts to be made. The enclosed blade can go through up to 262 feet of cuts in ½" steel plate. The Evolution Power Tools EVOSAW230 Steel Cutting Circular Saw runs on a powerful 15 amp, 2.7 HP motor capable of generating an impressive no-load speed of 2,700 RPM. This video made by the Evolution company itself will give you an exact visual notion of the whole process of preparing it and putting it to work.
Price
For $250, the Evolution Power Tools EVOSAW230 comes with a 9" 48-tooth carbide-tipped cutting blade, a side handle, carrying case, spare carbon brush set, wrench, fence guide, safety goggles, 2 batteries, ear plugs, and manual. That's almost three rows of extra items included in the price, plus a 3-year limited warranty.
Stability/Durability
At a steady 20 lbs., the EVOSAW230 saw has a rugged and durable build, yet is conveniently portable. It can withstand industrial cutting applications without showing signs of wear too soon.
Range
The EVOSAW230 has the capacity to cut steel plate, steel pipe, box section, cladding, scaffolding, and roofing. Its versatility is also highlighted by its ability to morph into a wood cutting cutting circular saw (by simply replacing the blade with a 9" Evolution Power Tools Wood Cutting Blade).
Heating
Heating is not a big issue for this machine, as it can cut through metal without heat build-up or burrs. It cuts faster than other abrasive discs of its product range and lasts 20 times longer.
Pros
Powerful 15 amp motor, 2700 RPM

It has an adjustable 0-45 degree bevel tilt

Versatile
Cons
The base lacks a table mounting method

The chip tray needs improvement

The miter gauge needs improvement
---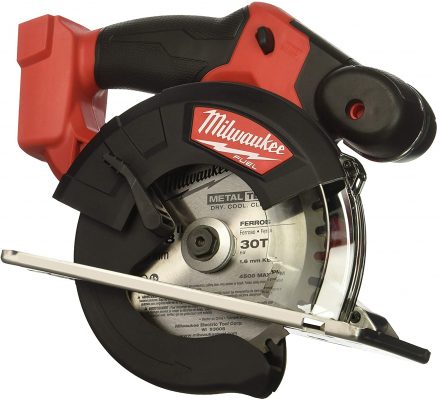 Why we like it:
It is one of the lightest but durable machines on the market. The design is very slick and user-friendly, it even has an integrated hang hook which allows it to hang on ladders or other common building materials.
Editor's Rating:
The M18 Fuel 5-3/8" – 5-7/8" metal saw is an excellent ergonomic, cordless saw that not only generates the fastest cuts, but will do so for a prolonged period of time. With its lightweight and compact design, the Milwaukee M18 has been an ongoing favorite on the power tool market, and rightfully so, as the Milwaukee company has spoiled users with their trusted products for years.
Performance
A power state Brushless DC motor with 3900 RPM makes this saw be the fastest and most precise cutting tool it can be. It is designed for thin metal cuts, such as metal roofing, but is recommended for universal usage.
Price
Because it is a bare tool (no batteries included) and because of its compactness, the Milwaukee M18 2782-20 sells for around $170 on the market. Batteries have to be purchased separately, but the machine does come with an enclosed blade, as well as a 5-year tool warranty.
Stability/Durability
This high-carbon steel feline measures 14 x 7 x 7 inches and weighs roughly 5 lbs. This saw is good to go for up to 370 cuts in ¾" Electric Metallic Tube in a day's work, thanks to the Red Lithium batteries it runs on. The metal saw also features Redline plus intelligence, which is the most advanced cordless power tool system, another factor that ensures considerable durability and maximum performance.
Range
The saw cuts through single and double strut, 1/2" all thread, with a cut depth of 2" EMT, as well as rigid materials with the 5 7/8" blade. Most electricians are satisfied with its generous range of cutting strut, all thread, and conduit up to 1 1/2" and with the fact that no clean up is necessary. Cutting wood is also a breeze with this machine, though you would need to replace the blade with one suitable for cutting wood.
Pros
It does not bear any wearable components, which insures its long lasting capability.

M18 Redlithium batteries can deliver up to 370 cuts in ¾" EMT

Integrated hang hook reduces damage to drops

No clean up necessary

5-year warranty
Cons
Does not include batteries
---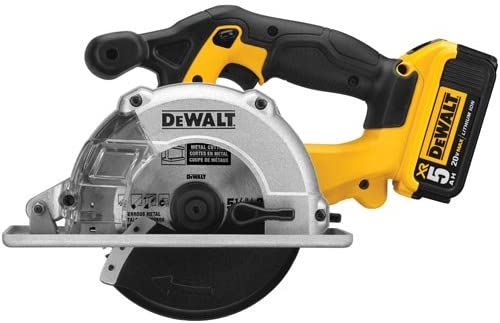 Why we like it:
For cordless saw, its range and precision are right on point. The DeWalt DC S373P2 features a sight-line window, which allows for easy and safe viewing while cutting. The design is also enhanced by a bright LED light with a 20 second delay after trigger release.
Editor's Rating:
Coming in at full circle, we started the list with DeWalt, and we end it with DeWalt. Another lightweight yet robust metal saw that is rugged and solid enough to find its place in any professional saw owner's repertoire.
Performance
This tool allows you to take on a wide array of projects and not worry about cords. It runs on rechargeable lithium ion battery that lasts 24 hours. A time-saving feature is its ability to cut steel that result in clean edges, removing the necessity of grinding or filing afterwards.
Price
The DeWalt DC S373P2 sells for approximately $320. The kit includes the saw, a charger, two 5.0 Amp Hour batteries and a case. If you are also considering to pair it up with the 5 ½" blade, the purchase will run you up to a total of $412.
Stability/Durability
At 6.8 lbs, the saw's sturdy construction guarantees the user optimal balance and control. Two features that make this saw easier to manipulate and control are the high strength steel shoe and optimized rubber comfort grip. It measures 13 x 17.6 x 9.3 inches so it can find its place in any compact storage unit among other unexpendable tools.
Range
Its 5 ½" carbide-tipped blade propels the saw to cut at a speed of 3,700 RPM. Ferrous and non-ferrous materials alike will be the victims of some quick and clean cuts. Customers have also tried out the matching recommended 5 ½" blade and were able to make precise cold cuts through 1/8" steel diamond plate, 3/16" sheet, and 3/8" flat stock effortlessly.
Pros
Light

Speed 3700 RPM

Compact

Bright LED with 20 second post-trigger release delay

Sight-line window
Cons
Chips fly off hot go everywhere, so you will need some extra caution and protective devices
---
Guide to Buying the Best Cold Saws
There is no wrong decision when purchasing a cold saw. We picked the 10 absolute best saws on the market for a myriad of reasons, but they are all specific to what projects or intentions the user has. Some have a wider range than others, others may be more limited but are unequivocally the best at what they can cut. But there are some tips that apply to all cutting power tools, which will guarantee a long-lasting device. They aren't cheap, so you will want to maintain them and follow instructions. Otherwise you could have a gremlin situation on you your hands…but instead of turning into a little critter monster, your cold saw will just transform into a useless, space-wasting item.
A cold saw is designed to save you time. It is infinitely more efficient than using a manual hacksaw. In order to make the task of cutting much less tedious, the blade plays an important role, and must therefore be cared for afferently. Blades can either take the form of abrasive disks, or are multi-toothed. To ensure durability, blades have a special coating to make them last longer. They either have a carbide-tipped coating, or a ceramic-alloy blend that allows them to cut through hard material without heat build-up. It is not recommended to cut wood using blades designed to cut metal.
Some cold saws use a coolant system to keep the blade lubricated and cooled. This can provide additional benefits like reducing sparks and friction. Depending on the volume of materials to be cut, or the frequency of usage, there are two coolant methods cold saws use. If you undergo high-production sawing operations, the most effective coolant application method is a flood system. If you have a smaller quantity of cuts to undergo, there is also a coolant misting/spraying system, which is much cheaper and less laboursome to use.
Here are a few important safety tips to consider, before getting to work with your new cold saw:
Eye protection is crucial. Some saws come with safety goggles, others don't…but your workplace should have a pair stowed at all times.
Cold saws have protective guards. Never operate a cold saw if they are not in place.
Keep away from flammable gases or liquids, and even oils. Sparks may fly off, or even the minimal amount of heating can lead to unwanted unfortunate events.
Always inspect the blade before using it. Even the slightest cracks or chips can ruin a project you have put so much effort into.
This may seem obvious but keep your hands away from the cutting blade, especially while in motion.
Until the saw is 100% off and stopped, do not undergo any adjustments.
Leave the cold saw steadily in place at all times while it is operating.
Wet hands or any damp conditions will ruin your work, and possibly your saw.
Let the blade cool off a bit after you are finished with it, before touching it.
After you are done with the day's work, make sure to wipe the tool down with a dry rag. Check the blade often and make sure you replace it if it starts giving sings of wear. For optimum results, the blade should always be sharp. Check the carbon brushes and replace them – both at the same time – regularly. Most of the cold saws we recommended come with built in chip collector trays, but in case you choose one that doesn't have this feature, it is imperative to buy it separately. Most importantly, make sure to always check the blade range and only cut the kind of materials that the saw and blade can handle. Every material has its own RPM speed requirement, and factors like cut depth, angles, tooth amount, motor and power are decisive in choosing the right saw for your work.