Blowguns have come a long way to be the hunting weapons and recreational tools we know today. Whether you are buying one for target shooting or hunting small animals, we can all agree they provide lots of fun.
We have researched the market to identify the Best Blowguns in 2021. Here, we present you with real blowguns from brands that have put in years in creating the most functional tools rather than decorative toys. If you are here for the real deal, we got you covered in all aspects.
Features to consider in Good Blowguns
Construction
Blowguns used in the yesteryears were made from reeds and bamboo. With modernization, manufacturers have devised better construction materials including aluminum, carbon fiber, and plastic. Aluminum blowguns are the most long-lasting, and they can shoot heavy darts through long distances. This material comes with some additional weight which is needed to deliver heavy darts.
Carbon fiber is much more elegant and is seen on some high-end blowguns. They are also very durable, but they are lighter than aluminum. This aspect makes them only efficient up to a certain distance. The last material is plastic which is an affordable choice for pastime use.
Length
The longer a blowgun is, the better it is at throwing darts to far distances. It works in the same way a pneumatic gun works since by blowing the air into the pipe, the distance it travels allows it to gain momentum to propel the dart at superfast speeds. In fact, with a good length, you will be hitting a 2-inch circle to a distance of up to 20 yards.
Portability
The length of the blowgun will dictate how portable it is. If you plan to travel with your blowgun, it is important that you look for those that can break down into shorter pieces. This allows storing of the blowgun in a backpack.
Dart Size
What size darts can the blowgun drive? .40 caliber darts are the most common. They are good when you want to practice target shooting. They make holes as small as pushpins meaning they are not any good for hunting.
.50 caliber darts are the starting point for shooting small animals like lizards, frogs, and rabbits. They will not take down larger animals like warthogs and squirrels. Hunters of small animals will agree that they are stronger than .40c blowguns. They are also more accurate and have a better speed of the projectile.
.625 caliber darts are the largest of the three. Blowguns that run .625 caliber darts are designed for hunting. You will encounter mini broadhead darts that are flexible and accurate in that they can penetrate a ½ inch plywood.
Long bamboo darts do not penetrate, but they fly in a straight line at superfast speeds. They are ideal for hunting frogs and lizards.
There's also a family of razor darts that can hit large animals like squirrels. The stun dart is also an efficient dart in the .625 caliber size. It expresses concussive force that can kill birds, snakes, and squirrels on the spot.
Top 10 Best Blowguns 2022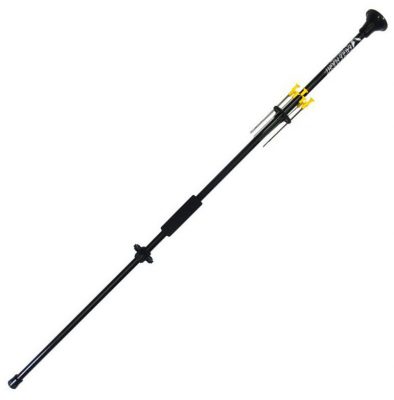 Why we like it:
It is designed for indoor use as it uses .40c darts. This blowgun can be used by kids and adults the same.
Editor's Rating:
Finding a functional blowgun can be tricky business. This is true if you are looking for an ideal model for target practice. The Avenger 40c is a 36-inch blowgun that boasts excellent construction, practicality, and good range.
Construction
Featuring an aluminum pipe, this blowgun is designed to last a lifetime. It uses aircraft grade aluminum that presents a seamless barrel. You will find that since it is 36 inches long, it can drive darts faster and accurately to your target. You will get an effective muzzle and mouth guard that helps to push all the air into the barrel.
Not forgetting, the mouthpiece prevents inhalation of darts so that you can always be safe when using your blowgun.
Avenger considers your ergonomic health by including a soft and squishy hand grip. It allows you to attain the proper holding position such that you will be aiming in a straight line to the target. It is a grand bargain considering you will not be paying exorbitantly for this blowgun.
Performance
This model is supplied with the quiver and eight 4-inch target darts. These are good to start your indoor target practice since they are amusing when using them with stuffed animals or a dart board. If you want something that can drive darts to the board faster and more accurately, this is the model for you.
This blowgun accepts only .40c darts. As such, you are limited to hunting of animals bigger than a small lizard. It will be good on fruits if you are practicing to get your aims better, but that is about it.
Overall
Avenger 36-inch blowgun is a good place to start target practice. It is lightweight and comes with foam grips to ensure proper alignment with the target when shooting.
Pros
Long to drive darts further away

Comes with the muzzle and mouth guard

Supplied with 4-inch target darts

It has a foamy handgrip
Cons
The 40c darts are easily bent, but they are cheap and readily available in the market
---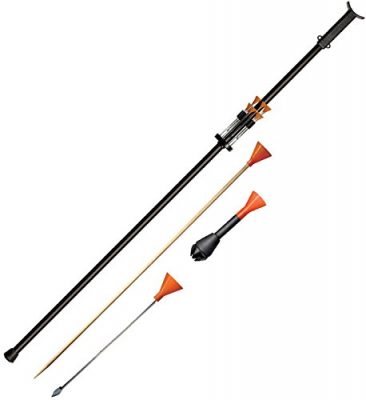 Why we like it:
It is a versatile weapon that can be used for leisure or in survival situations.
Editor's Rating:
Design Features
Cold Steel is the pioneer of the modern big bore blowgun. These are .625 blowguns designed to offer the force needed to hunt down more significant game than other caliber blowguns could ever achieve. This model features a 4ft length which is an incredible length that gives every hunter an advantage in the field.
With 3mm thick aluminum barrel, it is twice as thick as other Cold Steel's 4ft. blowguns. It is also heavier than other models in its class giving it better accuracy thanks to the additional rigidity and weight. It is said that if you are skilled, you can drive a dart through a 2-inch target at an outstanding range. This goes to tell you the kind of weapon the Cold Steel 4ft. Blowgun is all about.
Convenient Features
This blowgun comes with the quiver and dart guard. It allows to keep your darts safely and at your arm's reach. You will be supplied with a target-style mouthpiece so it won't be long before you can focus your breath to drive darts at remarkable force.
What we like most about this blowgun is that it has a wealth of darts. These include twelve stun darts for taking down big animals, twelve mini broadheads, six broadheads, and six bamboo darts. They all serve different purposes, and you can even use some on warthogs. You will also be supplied with a rubber ferrule.
Verdict
You don't want a toy blowgun to do the heavy work of hunting. You will need something that can deliver on a serious level. Cold Steel 4ft. .625 ensures you can get the most out of your blowgun. It is silent, fast, and accurate meaning you get a well-rounded blowgun for tough jobs.
Pros
Uses high-grade aluminum bore

It has a target-ready mouthpiece

Comes with a total of 36 darts

It is 3mm thick to increase its accuracy

It is among the heaviest blowguns in the market.
---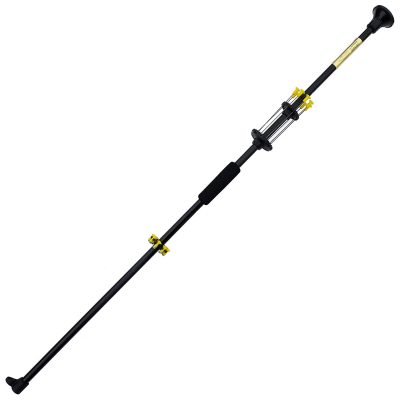 Why we like it:
It is aimed at both indoor and outdoor shooting with both stunner and target darts.
Editor's Rating:
Design Features
Venom Blowguns is quite a practical blowgun. It is a great pick if you are looking to do both target shooting and hunting of small animals. At 36-inches long, it expresses lots of power to enable hitting of targets up to 20 yards away.
It is fun to use this model since it comes with a tactical peep sight. You will have an easy time aiming as the peep sight will give you correct aims such that if you are not an expert, you will be on your way to shooting small targets at greater distances.
The hand grip is well padded and set at an ergonomic height. You will love that it has a dart quiver so you can access your targets fast and easy. With the anti-inhale mouthpiece. You are safe from accidentally taking a mouthful of dart. But you should always remember to inhale before bringing the pipe into your mouth to shoot the darts.
Convenient Features
This blowgun is much more durable than other toy guns. It boasts an aluminum construction to give you lightweight seamless tubing that will last in good condition for a decent time. You also get to work with Venom Blowgun's specially made super stun darts and twelve target darts. It gives you the flexibility to practice target shooting as well as go out and take down live targets like small lizards.
Overall
This model by Venom Blowguns is perfect for blasting targets from a considerable distance. You can also use it in survival situations. It comes with the necessary accessories including strong darts that you can reuse over and over again.
Pros
Aircraft-grade, aluminum high precision barrel

Comes with dart guard protectors for the tip

It has a quick access quiver

Foam grip provides enhanced control and proper handling

Robust darts can last a long time without bending
Cons
Isolated complaint that the mouthpiece is a little lose.
---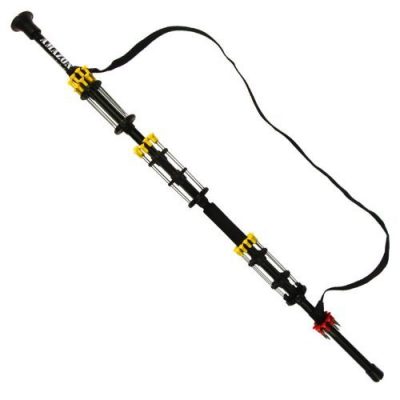 Why we like it:
It is a hunter's choice when starting out in blowgun shooting. .50c makes it applicable in survival hunting situations.
Editor's Rating:
Design Features
Are you looking for a blowgun with all the bells and whistles that make a good quality blowgun? Commando Avenger is an easy pick as it has a thoughtful design with well-fitting accessories. It has an aluminum barrel that manages to pack more weight than other blowguns. This feature allows it to be at the forefront when shooting .50c darts.
This weapon is an excellent choice when hunting in a flat field where you can see your targets from far. Because of its thick stature, it allows you to blow a high volume of air that pushes the dart faster allowing it to hit targets hard. It can easily take down squirrels. You don't want to injure animals and leave them to die out of a rusting dart in their skin.
Instead, grab this blowgun and bring game home. You will also be able to keep rabbits away if they keep invading your farm at night. Its improved accuracy ensures that your shots are not by sheer luck but by its power to penetrate and disable your targets.
Convenient Features
You have a fantastic collection of 44 darts. They can be arranged neatly on the three quivers on this blowgun. These darts vary from spearhead to target, broadheads, and spike darts. They open up more ways for utilizing these darts so that they can serve you in just about any situation.
You will love the convenience brought about by the handmade carrying sling. Since this blowgun is not breakable for compact storage and transport, you will not have to deal with sweaty palms when you hold it for extended periods. It can stay over your shoulder until the time you are ready to use it.
Overall
With a 50c design, the Commando Avenger is the real deal in shooting heavy darts. It takes you away from the house and welcomes you the wild for more fun. It is tough, and it penetrates to ensure you get to every target.
Always remember to monitor children around your blowgun.
Pros
The rigid thick tube has an aluminum construction

Large bore drives more air volume to hit targets hard

It can hit moving targets

It is equipped with 44 heavy hunting and target darts

It comes with a carrying sling

Mouthpiece fits correctly
Cons
It takes a little time to master
---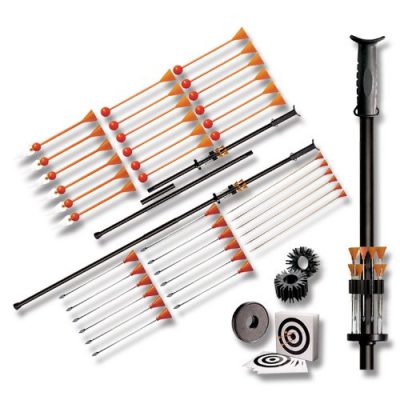 Why we like it:
It is a multipurpose tool designed to cover needs that arise in the outdoors. It is useful as a self-defense weapon and also hunting small game.
Editor's Rating:
Design Features
This Cold Steel Blowgun is another of their most popular tools among survivalists. If you are planning to spend a couple of nights in the Amazon, you will want to take this blowgun with you. The rubber ferrule allows it to be used as a walking stick such that it can guide your steps while crossing a river.
As a blowgun, it is an efficient weapon to take down small animals in utter silence. You don't need to be at a close distance to the animal since it has an impressive range of up to 20 yards. It allows you to use heavy darts that can get to great distances without risking over-penetration and injuring of someone or livestock that could be in your line of your sight.
This blowpipe will also come in handy as a self-defense weapon thanks to its long length. You can defend your life out of a dangerous situation since it is easy to grab and blow unlike when you have to fetch a branch from a tree to scare an animal. It is an excellent hiking staff that will ease your journey up a steep hill.
Convenient Features
This blowgun performs with excellence since it specializes in large calibers. You get an assortment of .625 darts that include twelve stun darts, six bamboo darts, twelve mini broadhead darts, and six broadhead darts. It also comes with the dart guards that keep the darts safe and sharp in the quiver.
Also, this model is a 2-piece design. It can easily attach to your backpack in two tubes. It gives you effortless portability so that you are not limited to the things you can carry if you are already limited on space. Even though it comes in two pieces, it remains sturdy and straight for effective shots.
Verdict
Cold Steel 5ft .625 Magnum Blowgun is a quality tool that doubles as so much more. It uses large darts that deliver power to take down small game. It is an ideal weapon for survivalists as it can pack compactly during travel. Its versatility ensures you will not run out of ideas to use it no matter your current outdoor situation.
Pros
Comes in two pieces that make a 5ft. long blowgun

Uses heavy and large darts to shoot small animals

It has a rubber ferrule to allow use as a walking staff

Heavy-duty aircraft-grade aluminum barrel
Cons
It is illegal in some states including California, Wisconsin, Massachusetts, and New York City
---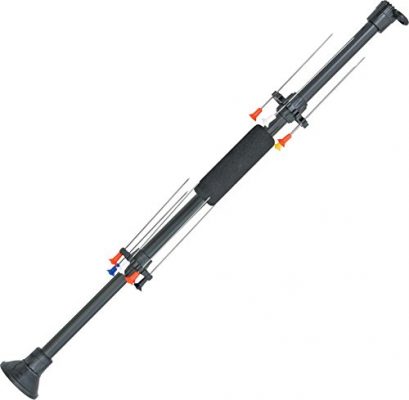 Why we like it:
This is a good blowgun for use by both kids and adults. At only 1.5ft long, it has a short range which makes it applicable for dart board shooting.
Editor's Rating:
Design Features
If you are a parent looking to impress your kid with a practical gift, Predator Blowguns lets you have at it with this powerful blowgun. At only 18 inches, it has great handling with small hands. It works with small calibers .40c which also adds into their functionality when used for target shooting.
With aluminum construction, it expresses a remarkable level of quality such that it resists damage if used on a daily basis. It can throw darts at high speeds that make it comfortable for use up to around 10 yards. Even then, you can hide behind a tree and shoot a small bird with its specially designed target darts.
You will like that the other components are of injected plastic. This is because molded plastic does not have a joint. This aspect ensures it will not come apart with constant usage as they are no points that could be weakened by the impact.
Convenient Features
The aluminum barrel comes with a foam hand grip that provides you with comfortable and controlled handling. It is also equipped with two quivers so you can bring along many darts for target shooting. This blowgun has a handy sight to help with taking aims. It also includes 12 targets darts to kick-start your leisure time instead of buying them yourself.
Verdict
The Predators Blowgun .40c fires darts with impressive accuracy. Although it has a limited range, kids can learn the art of shooting darts and get better as they graduate into more substantial blowguns with longer range.
Pros
It comes with a sight

Foam contoured grip provides comfortable handling

Short length allows kids to use it

It has a muzzle guard and safety mouthpiece

Uses high-grade components in its construction
Cons
It has a limited range for hunting
---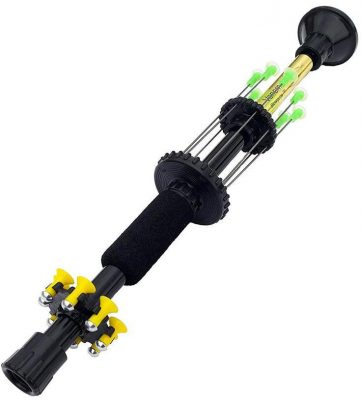 Why we like it:
This Blowgun presents a tool aimed for close range target shooting. It is an easy an exciting blowgun to use for the indoors.
Editor's Rating:
Design
Venom Blowguns explores a beautifully designed blowgun that will look good in your hands. It has a short barrel but large barrel, that can still push your darts to a considerable distance. It is a fun tool to have when you don't feel like driving darts to the dart board using your hands. Some people even agree it gives them a competitive edge in dart throwing.
The short tube provides you with portable convenience since you don't need to break it to fit into a backpack. As short as it is, kids can use it conveniently under your supervision. It uses .40c darts that are simple to master and use. This feature means that it can be your first blowgun, but you won't be limited in the range you can achieve when you upgrade to a longer tube.
We also like that since you can stow it away, it can act as an excellent self-defense weapon. You can use it to chase animals away as well as cause significant pain at an assailant. It thrives in appearing harmless such that if someone is attempting to assault you, they will not see it coming.
Convenient Features
The blowgun comes with a foam grip. It is squishy to allow your hand a comfortable grip when shooting. You don't need to worry about a sweaty palm since your hand will always attain a firm grip. You can get two of these and start competitive shooting with a friend.
Apart from the foam grip, you will be happy not to go back to the store to buy the mouthpiece and muzzle guard. It also includes a fair share of darts including eight stunner darts and twelve target darts. They are barely enough for a good round, but you are set for the first few occasions if they do not bend after using them on hard surfaces.
Verdict
Venom Blowguns 12-inch model is all about convenience and affordability. It represents one of the weapons you can store discretely for self-defense and also take it out for some fun activities.
Pros
Uses lightweight and durable aircraft grade aluminum

It has a comfy handy grip contoured for extended usage

It has a long-lasting black finish

It comes with the dart quivers and dart guards

It has a safety mouthpiece to prevent inhalation
Cons
It cannot be used for hunting
---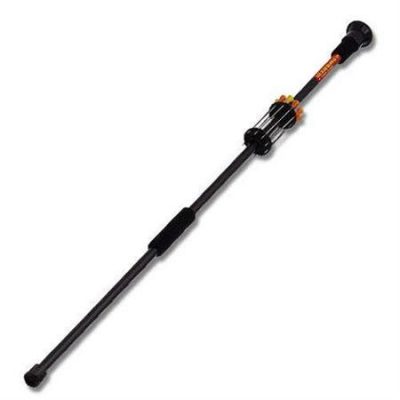 Why we like it:
It provides lots of amusement and functionality thanks to its length and construction features. It is a durable piece that will not disappoint in the house or the field.
Editor's Rating:
Design Features
Have some fun right in your home with the Armory Replicas African Predator Blowgun. It has a stunning length that gives it an edge over other blowguns with a shorter length. You will be shooting targets at long distances since, at 3ft long, you can garner incredible force to push your darts even further.
This model is intricately constructed using hand-drawn aluminum tubing. It is a thick barrel that helps to release targets with high force. It is easy to learn and master utilizing this blowgun since it comes with a safe mouthpiece that prevents inhalation. You will get 12 coned darts that are exclusively made to be used time and time again.
Convenient Features
With this blowgun, you will get a target so you can start shooting darts right away. The blowgun also comes with a quiver which allows placing of the cone darts where you can access them fast and easy. If you are using a blowgun for the first time, this model also comes with a sheet of instructions to help you learn how to safely perform your first shoot with a blowgun.
Overall
This blowgun presents an inexpensive option for enjoying hours of target shooting from the convenience of your home. It is an ideal length for leisure activities since we find it is not suitable for hunting activities. It will also work as a self-defense weapon if you are a survivalist.
Pros
It has a 2-piece design for compact storage and portability

It comes with twelve darts

It has an aluminum construction

It has an anti-inhale mouthpiece

Comes with an instructions sheet
Cons
It does not have a target sight
---
Why we like it:
This blowgun has vibrant colors to keep a young mind interested
Editor's Rating:
Design Features
Barnet spit fire gives you a set of blow guns with colors enough to interest your kids in a competitive challenge. It is a cool toy that allows your kids to engage in target shooting at a young age. These blowguns are short such that they don't need to deliver targets to long distances.
With .40 caliber darts, it cannot be used in hunting, but it is a joy to use with the colorful target. The target has a high-quality construction which is applicable only with the small .40c darts. Otherwise, it would not be wise to use it with any other darts as they can penetrate the target and destroy it.
Convenient Features
The one-way mouthpiece is a thoughtful feature considering that this blowgun is aimed at using with kids. This makes it safe to blow into it without the risk of the dart being pulled into the mouth if your kid accidentally inhales into the pipe.
It has multicolored suction cup darts that give your kids the chance to challenge each other since they will know whose dart made a specific target. It enables your kids to be out in the house doing more amazing things instead of sticking around in front of a gaming PC.
Verdict
If your kids love playing darts, you will want to gift them this set of blowguns. It allows partaking in an engaging dart shooting that is fun. This model explores all the safety measures that ensure your kids will always practice safely.
Pros
Anti-inhale mouthpiece

It has a multi-color target

Comes as a set of two at an affordable price

It includes suction cup darts

It has a noiseless operation
Cons
Kids need close supervision when using it
---
Why we like it:
It is simply a fun blowgun that is accurate and highly-performing.
Editor's Rating:
Design Features
The Terminator .40c gives you hours of dart shooting in a simplified blowgun. At 2ft this blowgun can fire darts at incredible speeds to get to your desired target up to around 10 yards. It is a single piece, but the length is not going to give you problems when traveling with it. This is because it can easily be attached to your backpack.
The .40 caliber darts are ideal for everyday use since they are not only durable, but they also fit perfectly into the blowgun. The aluminum barrel is precision made to fit the darts. This allows you to use every breath effectively as you won't be blowing into a dart that sticks such that you waste every breathe.
Convenient Features
The anti-inhale mouthpiece is a safety mechanism to prevent accidents caused if you would inhale into the blowgun. It comes with a dart holder that allows storing the darts on the blowguns in a professional manner. This blowgun also has a muzzle guard and an ergonomic hand grip.
Verdict
If you are looking forward to a weekend of recreational target shooting, the Terminator .40c is a good pick. It has durable construction that involves an aluminum barrel that provides proper handling because of the small weight.
Pros
It is a high power blowgun

It comes with 12 darts and a 16-dart quiver

One-way mouthpiece

Foam grip allows secure handling
Cons
Isolated complaint about the darts sticking in the tube
---
Guide to Buying the Best Blowguns
Blowguns also known as blowpipes are fun. They were first used in Malaysia but later emerged in the USA. In the 1980s, you could find small blowguns that were only 1ft long and could fire only .40 caliber darts. But they have come a long way to now use better construction materials that can propel up to .625 magnum dart.
Advantages of Owning a Blowgun
Effective at hunting small animals
The blowgun has always been a weapon of choice for hunters in indigenous tribes. Modern equivalent blowguns can quickly take down a small animal such as a rabbit or a squirrel. If you are a survivalist, you will have to hunt small animals for your food. With a blowgun, you don't need to get too close to the animal when you have a poisoned dart. It will be clean and quiet without injuring nearby animals.
Useful as Self-Defense Weapons
Whether you are using a short or long blowgun, you can use your blowgun in self-defense situations. This works in the sense that you can use the tube to scare away animals or you can employ the dart against an assailant as they appear totally harmless.
They are Lots of Fun
Owning a blowgun for recreational purposes gives you joy just by delivering the darts to a target. They have the convenience of being used at home inside the house when shooting darts onto a dart board or at the backyard when practicing target shooting. Now you can bring along friends and challenge each other.
Factors to Consider when Buying a Blowgun
What is the Purpose of your Blowgun?
Some blowguns are exclusively made for hunting while others are only designed for recreational purposes. If you want a model that you can use just for target shooting, you will need a blowgun with small caliber darts like .40c. For basic hunting of small animals, you will need a .50c blowgun. Bigger game like squirrels will require a .625 caliber blowgun.
If you are using a blowgun for the first time, here is a video to guide you on the basics.
Safety
We all agree that shooting a blowgun is interesting. But safety is always a concern when using this product. First, there is the element of inhaling and sending the dart into your mouth. Nowadays, you will rarely see a blowgun without an anti-inhaling mouthpiece, but it is always essential that you check your blowgun for this feature.
Another aspect of safety is about who will be using the blowgun. It is imperative that kids and youngsters be supervised when using a blowgun. This is because accidents happen and blowguns can cause significant damage to human flesh. As such, a blowgun should never be pointed at someone.
Dart Covers
These are important as they prevent accidental exposure. Darts are sharp, and every prick hurts. You will want to invest in a blowgun with dart covers because they keep the darts sharp.
Hand Grip
To maintain proper control of the blowgun, you will need to hold it securely. This gives you an edge over someone who is using a blowgun without a hand grip. Also, look for hand grips that are padded and foamy to ensure your hand does not slip.
Is it legal in your state?
Some states have illegalized the use of a blowgun. This indicates you need to be aware of the laws governing the use of blowguns in your state. The states of California, Wisconsin, Massachusetts, and the city of New York prohibit the use of blowguns.
Conclusion
Buying a blowgun can be a lengthy process. We hope we have cleared the path with enough information as you choose your first blowgun. We have covered the best blowguns in the three sizes. These are blowguns designed with precision aluminum barrels and come with darts that fit into their tubes. You can expect nothing but performance with any of our top picks.
Remember that blowguns can be dangerous and they can kill animals and hurt human beings. As such they should be used responsibly. You should always teach kids how to use blowguns safely and supervise them in the process.
Otherwise, blast some targets with one of these Best Blowguns in 2021.