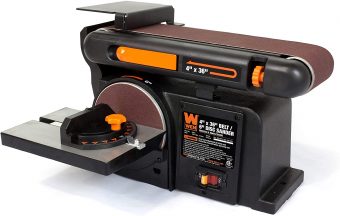 Wen 6502 4 x 36-Inch Belt and 6-Inch Disc Sander with Cast Iron Base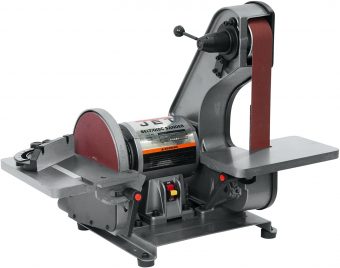 JET J-41002 Benchtop Belt & Disc Sander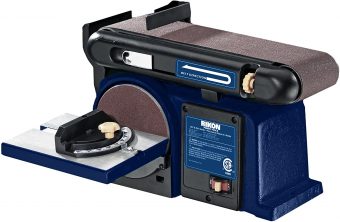 Rikon 50-112 Belt Disc Sander
Previous
Next
Could you imagine sanding down a large area with a strip of sandpaper? It would take you hours to get the job done and not to mention you wouldn't get an evened out surface. That's why you get power tools such as bench sanders.
They're designed to sand down large surface areas fast and easily which minimizes the amount of time you use on any woodwork project. But how do you find the correct bench sander? What are the features to look for that will save you time and money?
Any tool you buy should be an investment. They shouldn't break or tarnish considering the amount of cash one spends on power tools. Continue reading this article to find out what you should look for in a bench sander so you get value for money.
Features to Consider in Good Bench Sanders
Disc Sanders vs. Belt Sanders
The two most common bench sanders used for woodwork projects are the disc sander and the belt sander. Although there are slight differences between the two power tools, they both serve the same purpose which is to make sanding quick and hassle free.
Disc Sanders
The disc sander is commonly referred to as a stationary machine sander and it's used to smooth out wood surfaces. Disc sanders are usually clamped down on a surface to prevent it from moving around while you work.
Attached to it is a circular piece of sandpaper that rotates when the tool is powered on. Because the disc sander is stationary you will need to feed the wood through the machine to smooth it out. You can adjust the angles of the sander to help you get into those hard to reach places on the wood.
Before using a disc sander you must make sure the guard is always in place which prevents you from using the incorrect part of the rotating disc.
The disc sander also has an integrated dust extraction unit which clears off the dust produced by sanding down wood. You can also use it on other materials such as aluminum, plastic and other softer yard goods.
Belt Sanders
The belt sander is more versatile than the disc sander as it can be used as a stationary tool or a handheld device. This power tool has an electric motor that spins a pair of drums which rotates a seamless belt-like loop of sandpaper.
These types of sanders are portable which allows you to take it on construction sites or use it in the comfort of your own home for personal projects.
The belt sanders also come in a variety of sizes ranging from small to large. The smaller devices are used for light work and the big units are used for heavy duty construction.
The belt sander like the disc sander also has a dust extraction area where it removes dust caused by sanding wood that helps keep your area clean.
Selecting the Right Sander
Purchasing the correct sander all depends on the project that needs to be done. Both sanders are power tools so they will need to be plugged in for you to use one or the other. On the other hand, they are both used for specific types of sanding jobs. So how do you pick the right one for you?
Belt Sanders are Versatile
As mentioned before the belt sander can be used for small and larger projects but it all depends on the size of the unit. It's the perfect power tool to use when you need a lot of material to be sanded down quickly and easily such as stripping paint, sanding hardwood floors or removing dry glue.
Disc Sanders for Priming
If you need a surface area to be primed then a disc sander is the tool you need to get the job done. These power tools are used for bigger projects to sand down surface areas before you paint, varnish and prime as it gives the wood a smooth finish.
Now let's look at some of the top models on today's market.
The 10 Best Bench Sanders 2020
Guide to Buying the Best Bench Sanders
Now that you have a sufficient amount of information on the best bench sanders on the market, how do you decide which one to get? Well, it all depends on what you need done and how versatile you need your sander to be.
Let's take a look at the specifications you should look at in a sander.
Stationary vs. Portability
As mentioned before you can either use a stationary bench sander or a portable bench sander and both are quite different in size & in versatility.
Stationary Sanders
The stationary machines can be mounted or they can be moved but they're usually bigger in size and have both a disc & belt sander attached. Assembling these sanders can be difficult as you will need to install a work table for the disc and a T-square.
Motors on a stationary bench sander are a lot more powerful and can be used for heavy duty construction work. This can be used to sand down large pieces of wood that get fed through the system.
You're not really able to control the angels as much although some machines have adjustable sand belts that can be used vertically or horizontally.
Stationary machines are heavy in weight as they're usually made from cast iron. The weight of the machine prevents it from moving around and vibrating on the table. Your bench sander should never move as it will create uneven surfaces on your wood and other materials you're working on.
Having a stationary sander also helps with versatility as you're not limited to simply using them for wood. Other soft materials such as plastic, tin, and metal can be used with a stationary bench sander and they're often used on construction sites.
What's more, depending on the size of your machine, you can use them for DIY and arts & crafts at home. Many people use stationary bench sanders to make knife handles and to sharpen blades.
Portable Sanders
These sanders are significantly lighter as they're usually made from hard plastic. Portable sanders need to be light and compact as they're handheld devices. You don't need added tools to assemble handheld sanders as everything is put together for you.
Handheld sanders aren't as versatile as stationary machines because they only come with one sand disc. But you can control the movement of these devices and the speed to which the disc is moving as they usually have adjustable speed dials.
Portable sanders can be used on vertical surfaces such as walls and doors & they can be used on flat horizontal objects such as tabletops and wooden floors. This makes it more ideal than a stationary machine as you can't work on floors and walls with mounted sanders.
Although portable devices are light in weight they create no vibration or wobbling when you work but some machines can leave circular marks. Make sure your rotary disc is completely flat with no arches so you can have an even finish on your work.
Additional Features to Look For
Power
How intense is the job you need to get done? Is it heavy duty construction work or is it a basic DIY project? For small jobs like making knives or small toys, you don't need a powerful machine. For more intense jobs you may want to invest in a sander that's higher grade quality with a powerful motor.
Be aware that motors on sanders do tend to run hot and get bogged down under too much pressure. It's best to give your sander a rest every now and then to prolong the life of the motor.
Versatility
Machines that can do more than one job are probably better value for money. If you have more than one project you'd like to work on with different materials, shapes and sizes you'll need something more versatile.
Machines with disc and belt sanders are your best bet, as they come with attachable work tables & adjustable sand belts.
Cleaning and Dust Collection
Most sanders have dust collection systems that suck debris and small particles into a bag or box. You can remove the bag or the box to dispose of the contents. Some sanders don't come with a dust collection system although it's an essential part of the machine. Make sure you get value for money by getting a model with this component included.
Dust collection systems prevent you from inhaling particles and the keep your work station clean at all times. Select a machine that has an easily removable dust bag or box so you're able to clean your machine easily.
Quality Construction
When selecting a bench sander, make sure the overall construction is well made and there are no loose parts or fragile pieces that can break. If you're using a machine with a belt sander it must always be in alignment. The construction and mechanisms should be durable & sturdy as it can be a safety hazard if they're not tightly attached to the machine.
Test the machine to see if it wobbles or vibrates when in use as this can cause unwanted scratches and dents on your work.
What Can You Make With a Sander?
There are so many projects you can do with bench sanders and people use them to construct amazing products. You can craft doll houses, make small tables, cut your own chopping boards, sharpen knives and refurbish tables & chairs.
Final Words
It can be overwhelming to purchase a power tool especially because they can be quite pricey. Testing out your bench sander before buying can save you a lot of hassle in the future. Make sure that it's easy to maintain and that it will bring simplicity to your work station.
Bench sanders are designed to make all your construction work and DIY projects fun & hassle-free. Invest in your own bench sander and perhaps you can create something that can inspire others.
Your construction and craft projects have never been this easy. Change the way you work and produce the finest quality designs by getting your very own bench sander. Your next project awaits.