Could you imagine sanding down a large area with a strip of sandpaper? It would take you hours to get the job done and not to mention you wouldn't get an evened out surface. That's why you get power tools such as bench sanders.
They're designed to sand down large surface areas fast and easily which minimizes the amount of time you use on any woodwork project. But how do you find the correct bench sander? What are the features to look for that will save you time and money?
Any tool you buy should be an investment. They shouldn't break or tarnish considering the amount of cash one spends on power tools. Continue reading this article to find out what you should look for in a bench sander so you get value for money.
Features to Consider in Good Bench Sanders
Disc Sanders vs. Belt Sanders
The two most common bench sanders used for woodwork projects are the disc sander and the belt sander. Although there are slight differences between the two power tools, they both serve the same purpose which is to make sanding quick and hassle free.
Disc Sanders
The disc sander is commonly referred to as a stationary machine sander and it's used to smooth out wood surfaces. Disc sanders are usually clamped down on a surface to prevent it from moving around while you work.
Attached to it is a circular piece of sandpaper that rotates when the tool is powered on. Because the disc sander is stationary you will need to feed the wood through the machine to smooth it out. You can adjust the angles of the sander to help you get into those hard to reach places on the wood.
Before using a disc sander you must make sure the guard is always in place which prevents you from using the incorrect part of the rotating disc.
The disc sander also has an integrated dust extraction unit which clears off the dust produced by sanding down wood. You can also use it on other materials such as aluminum, plastic and other softer yard goods.
Belt Sanders
The belt sander is more versatile than the disc sander as it can be used as a stationary tool or a handheld device. This power tool has an electric motor that spins a pair of drums which rotates a seamless belt-like loop of sandpaper.
These types of sanders are portable which allows you to take it on construction sites or use it in the comfort of your own home for personal projects.
The belt sanders also come in a variety of sizes ranging from small to large. The smaller devices are used for light work and the big units are used for heavy duty construction.
The belt sander like the disc sander also has a dust extraction area where it removes dust caused by sanding wood that helps keep your area clean.
Selecting the Right Sander
Purchasing the correct sander all depends on the project that needs to be done. Both sanders are power tools so they will need to be plugged in for you to use one or the other. On the other hand, they are both used for specific types of sanding jobs. So how do you pick the right one for you?
Belt Sanders are Versatile
As mentioned before the belt sander can be used for small and larger projects but it all depends on the size of the unit. It's the perfect power tool to use when you need a lot of material to be sanded down quickly and easily such as stripping paint, sanding hardwood floors or removing dry glue.
Disc Sanders for Priming
If you need a surface area to be primed then a disc sander is the tool you need to get the job done. These power tools are used for bigger projects to sand down surface areas before you paint, varnish and prime as it gives the wood a smooth finish.
Now let's look at some of the top models on today's market.
Top 10 Best Bench Sanders 2023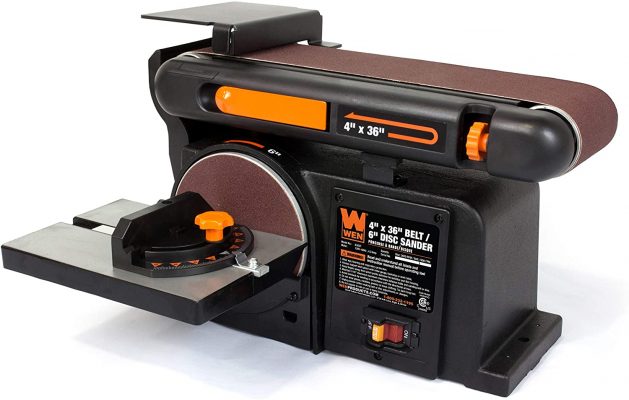 Why we like it:
Built for reliability and convenience the Wen 6502 is a sturdy versatile belt sander that knocks hours off of any construction or homebound projects.
Editor's Rating:
Remove rough surfaces, bumps, splinters and sharp edges off any type of wood or soft material surface. No project is too tough for the Wen 6502 as the motor is designed to power up your machine to work for many hours. This is ideal for those time-sensitive building jobs when you can't afford to have down time.
Features
The Wen 6502 is a two in one sanding unit which comes with a sanding belt and a sanding disc. The unit has a black exterior with bright orange designs which make it easy for you to find all the mechanisms. There is a turning mechanism that sets the alignment of your sand belt.
The belt is situated at the top of the machine and is fully adjustable while the sanding disc is situated to the side of the unit. You also get a well oiled work table and a work support piece which you can attach to your machine & it's easy to remove. Additional tools are given for mounting.
Benefits
The Wen 6502 is a small unit which is fully portable so you can use it on arts and crafts at home or more advanced woodwork projects. It's vibration free which means you'll be able to get an even surface as the unit won't move around while you work.
Wen 6502 manufactures their units for practicality and simplicity as it's quick & easy to set up and can be done so without really using the manual.
Functionality
Wen 6502 comes with a 4"x 36″ that can be adjusted to 0°- 90° and a 6″ x 6″ sanding disc. The sanding bench has a 4.3 amp 1/2 HP that powers the belt to 1900 FPM and the disc speed to 3,600 RPM. You also get a 45° bevelling work table and an integrated dust port.
Pros
Versatile

Heavy duty construction

Easy to change belts when needed

Four different types of sanding styles
Cons
Small belt guard

Belt shifts slightly
---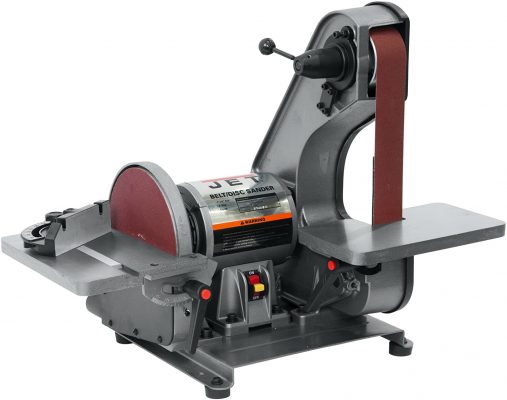 Why we like it:
The JET J-41002 is a heavy duty sander designed to deliver a super smooth finish to any surface you're working on. This versatile machine can sand, grind and prime those hard to reach areas on any outside surface.
Editor's Rating:
With its durable construction and weight, it won't vibrate causing uneven grinding & sanding. It's a stationary and mobile unit so you can use this machine in & around your home.
Features
The cast iron construction is robust which means this machine is an investment as it won't break under heavy duty workloads. The cast iron also gives some weight to ensure stability and minimum vibration. The integrated rubber feet aid in keeping the unit stationary while you work.
The abrasive belt removes unwanted surfaces such as chipped paint, old varnish and hardened glue while providing a smooth finish. The deluxe miter gauge turns and locks at different angles which aid in getting to those hard to reach places.
Benefits
The JET J-41002 is designed to give you the finest precision when it comes to sanding and grinding down those stubborn areas. What's more is this machine can also cut through material as it's as powerful as an electric jigsaw.
The construction of the machine is built to last you a lifetime as well as provide you with a safe and sturdy base so you're able to get the results you need in your work. The sturdiness and high-quality base ensure your unit will stand fixed & stay stable when working on sensitive tasks.
The JET J-41002 is both a disc and belt sander so you can make any type of product such as cutting boards, birdhouses & small doll houses. No project is too great for the JET J-41002 Benchtop belt and disc sander.
Functionality
The JET J-41002 has a 2″ x 42″ belt and a deluxe miter gauge for 45° angles both left and right for the belt. The 3/4 HP and 115 volts powered motor allows the belt to run at a speed of 3,100 SFPM and the sanding disc at 3,450 RPM.
This sanding machine includes a cast iron tilting table, hinged idler wheel cover and a bare-tool.
Pros
High-quality construction

Ideal for arts and crafts at home

Inexpensive

Stationary and mobile type
Cons
It's not easy changing the belt

Not suitable for industrial projects
---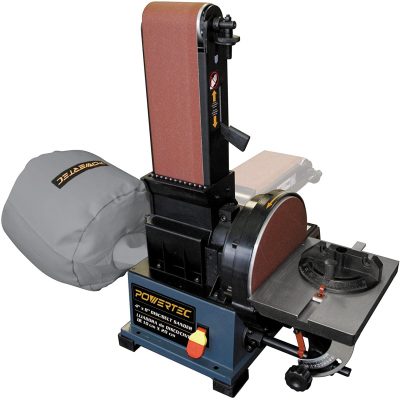 Why we like it:
This is the most heavy duty sander on this list which is important if you want minimal vibration and no wobbling for those bigger tasks.
Editor's Rating:
Thanks to the 5.5 Amps motor this is definitely a powerful piece of machinery capable of aiding you in even the most difficult construction projects.
Features
For simplicity, you're able to easily switch between the belt and the disc as the Powertec BD4800 has an integrated interchangeable worktable. Its aluminum cast construction makes it durable and sturdy for heavy duty work.
The Powertec BD4800 sander aids in keeping your work station clean as it comes with a dust collection system with an easy to remove dust bag for when you need to empty out the contents.
The belt is situated on the top and is adjustable while the sand disc is situated on the side which makes it easy to change between the two sanders.
Benefits
The Powertec BD4800 is designed to make your life hassle free when it comes to heavy duty woodwork. This unit is easy to assemble and its construction is sturdy & durable making it one of the best quality sand units on the market.
To protect you from inhaling dust the integrated dust and wood chip system keeps your station clean & protects you at all times. The Powertec BD4800 is safe to use and comes with all the accessories & units you need to mount and assemble your machine.
Functionality
The Powertec BD4800 has a 4″ x 36″ belt with a 0° to 45° sanding work table and an 8″ disc that has an integrated cast iron working table.
Its motors speed comes at 5.5 amps and the motor runs at 1/2 horsepower that gives the disc speed of 3000 RPM and the belt speed of 1850 FPM. The machine has a miter gauge for precise angle sanding and an integrated dust collection system.
Pros
Powerful motor

Highly durable construction

No wobbling

Dust collection

Heavy duty
Cons
The on/off switch isn't easily accessible

Misalignment of the belt
---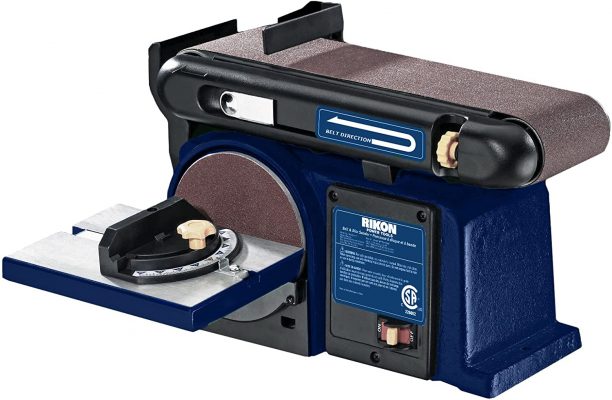 Why we like it:
The Rikon 50-112 belt disc sander may seem expensive because of its quality construction but this unit is actually moderately priced for what you get.
Editor's Rating:
This sander is compact which makes it easy to store and travel with. It's light enough to move the unit to any desired location but it's heavy enough to stay stationary when you're working.
Features
The Rikon 50-112 belt disc sander has an all cast iron construction with a blue finish and the heavy duty base provides a stable work station. The sanding belt is located at the top of the unit and the sanding disc is located to the side
You also get a durable working table, a T-square and mounting parts for your sander. On the side, you will find a yellow knob to adjust your sand belt when you need to. The disc is strategically situated so it doesn't obstruct the movement of the belt on top of the unit.
Benefits
The cast iron body gives some weight to the unit to prevent vibration which aids in precision and stability when working. It's designed mostly for small shop jobs and light arts & craft projects
It's an inexpensive sand machine and its durable construction ensures longevity.
Functionality
The sanding belt's dimension come at 4″x 36″ which tilts to a 90° angle with a 2.25″ belt roller. The disc sander is 6″ that comes with a 6.25″x9″ table. The 1/2 horsepower motor that works on 120 volts gives the belt speed of 1900 SFPM and the disc speed of 3450 RPM.
Pros
Can be used to sharpen knives

Robust construction

Easy to assemble

Inexpensive

Can sand down any type of wood
Cons
Motor slows down under heavy duty

The disc table isn't sturdy
---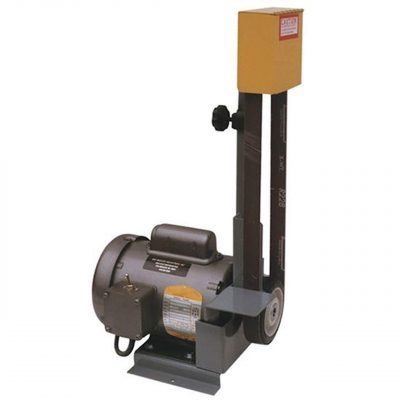 Why we like it:
The Kalamazoo is used for all types of woodwork tasks such as sharpening, resizing, smoothing out surfaces and deburring.
Editor's Rating:
You can use the Kalamazoo for materials such as metal and plastic so you're able to work on more than one type of craft other than woodworking.
Features
The Kalamazoo has a drive wheel that comes right off the motor which rotates the sand belt at a 90° angle. The idler pulley makes sure the belt rotates smoothly and sufficiently at all times. The adjustable rotator knob allows you to set the tracking of the belt on the mandrel.
This unit is mountable and will need to be integrated onto a flat surface to be used.
Benefits
The Kalamazoo runs smoothly and has a powerful motor for all your heavy duty projects. The belt is especially good for knife making; for the handle and the blade. You're able to use this sander for virtually any project as you can use the belt on other soft materials other than wood.
When mounted the Kalamazoo is sturdy and won't create any wobble or vibrations when you work. The entire machine is easy to assemble and doesn't require complicated tools to set up. Changing the belt is quick and hassle free.
Functionality
The Kalamazoo has a 1″ x 42″ belt that runs at a speed of 1800 SFPM. It comes with an adjustable work table and it has a 4″ contact wheel. The speed can be adjusted between 5.4, 2.9 and 2.7 with its 1/3 HP 1Ph 115 volt motor.
Pros
Stable

Quiet motor

Easy belt change

Convenient tracking adjustment

Robust
Cons
Not portable

Doesn't come with a mountable stand

No dust collection system
---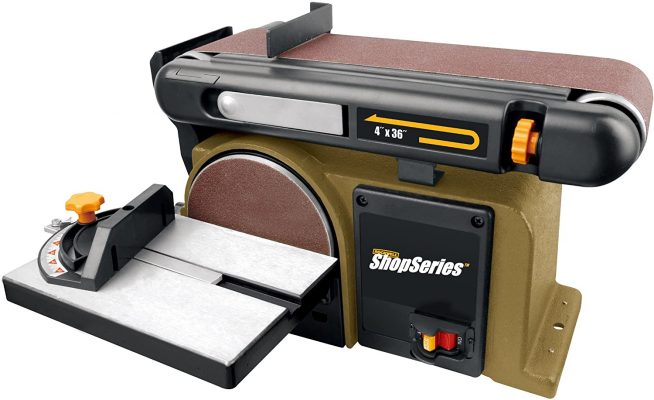 Why we like it:
If you have a home shop or you're a passionate arts and craftsman then the Rockwell RK7866 bench belt sanding machine is for you.
Editor's Rating:
The Rockwell is fully portable and easy to use for those small woodwork home projects. You're able to create items such as coasters, chopping boards, knife handles, small tables and knife blocks for the kitchen.
Features
For durability and sturdiness, the Rockwell RK7866 bench belt sanding machine is made with cast iron and the disc table is made with cast aluminum. The disc is located to the side of the machine while the belt is at the top and it's adjustable.
The Rockwell comes in a brown design with brightly colored mechanisms so you can locate them easily. You also get a T-square, a disc table and tools to assemble your parts.
There's an integrated dust collection system which aids in keeping your area clean and prevents you from inhaling dust particles. The dust system is easily accessible which makes cleaning a breeze.
Benefits
If you're looking for a sander that doesn't produce a lot of noise then the Rockwell RK7866 will suit you fine. You're able to adjust the parts hassle free to get into those stubborn places to smooth them out and remove any unwanted surface bumps, splinters & sharp edges.
When it's time to change the sandpaper the belt and disc can be replaced easily. Overall the Rockwell doesn't need a lot of maintenance as the motor runs smoothly and all the mechanisms are durable.
Functionality
The Rockwell RK7866 has a sanding belt with the dimensions of 4″ x 36″ with a 0° to 90° angle adjustment. The disc sander is 6″ and has a 0° to 45° adjustable work table. The 4.3 amp motor has 1/2 horsepower that powers up the sand belt and disc.
You can adjust the belt tension to change the sandpaper and it comes with a dust collection system.
Pros
Robust

Sturdy structure

Smooth motor

Reduced motor sound

Portable and stationary unit
Cons
Sandbelt may not be durable

Can shake during heavy duty project
---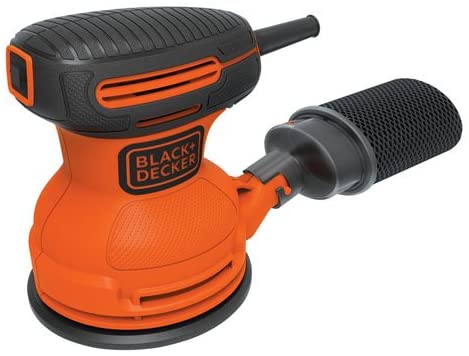 Why we like it:
The Black + Decker orbit sander is a handheld device which means it's fully portable and can be used for indoor & outdoor projects.
Editor's Rating:
The ergonomically designed unit fits well in your grasp and is suitable for use on horizontal & vertical surfaces. Black + Decker designs its sanders to bring you simplicity and comfort while you work.
Features
This Black + Decker is a small handheld unit that comes in a bright orange color and has an overall robust exterior. It uses a small round sanding disc that is powered by a motor to rotate while you sand down any surface area.
The handle has a non-slip rubber coating for an easy, safe grip as you slide the sander across a surface area. For dust collection, the Black + Decker orbit sander comes with an easy to remove compartment where all debris and woodchips are collected.
This is a power tool so it does have a cable that will need to be plugged into an electric unit when you use it.
Benefits
Portable and user-friendly the Black + Decker orbit can be used for any DIY project in & around your home. It's safe to use for school woodwork projects and it's light enough to carry around. It has a comfortable grip & doesn't strain your hands when you use it.
The discs can be changed fast and easily & don't require any tools. You don't have to mount the unit or use any added components to get it working. Since you're controlling where the machine goes, you're able to reach those stubborn places you wouldn't be able to with a mounted sander.
Functionality
This handheld machine has a 5″ sanding disc that has hook and loop mechanisms for when you need to change the sandpaper. The motor is powered with 120 volts and weighs 3lb.
Pros
Inexpensive

Ergonomic design

Portable

Produces minimal noise
Cons
The electric cord gets in the way

The dust collector doesn't work well
---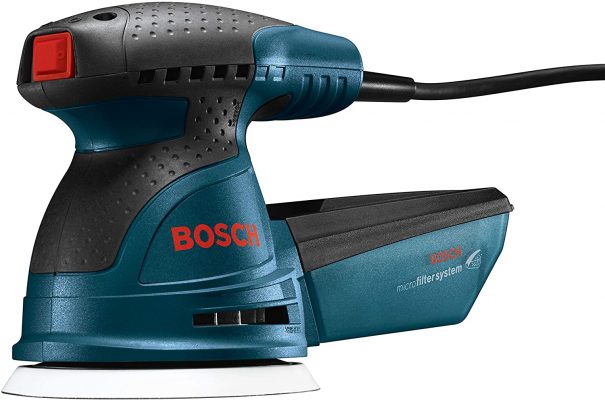 Why we like it:
Although the Bosch ROS20VSC orbit sander is light weighing just 3.5lb it packs a mighty punch and it's definitely not too lightweight to handle heavy duty jobs.
Editor's Rating:
You're able to adjust the speed of your Orbit sander and the cord doesn't restrict your movement when you're working.
Features
The Bosch ROS20VSC orbit sander has an overall blue design with a black non-slip rubber handle which ensures safety and comfort while you work. There are variable dials which you can use to adjust the speed of your sander.
The integrated hook and loop sand disc attachment allows you to change your sandpaper quickly & hassle free. The dust collector system has a microfilter which traps debris and the smallest of particles which keeps your working area clean at all times.
Benefits
Bosch manufactures sanders that are easy to use and maintain. The ergonomic design ensures you don't experience hand and wrist fatigue as you work. It's light in weight which helps you control the movement of the sander to give a clean and smooth finish to your work.
The Bosch ROS20VSC orbit sander has no vibration problems and produces minimal noise as you work. The powerful motor helps you work on heavy duty work and ensures the longevity of your sander.
Functionality
This handheld power tool has a 2.5-amp motor that's powered by 120 volts. The dial allows you to change the disc speed between 7,500OPM and 12,000OPM. The dimension of the disc sander is 5″ and can be changed using the integrated hook & loop system.
The Bosch ROS20VSC orbit sander comes with a microfilter system with a contractor bag and a vacuum hose adapter. It weighs 3.5lb and has the dimensions of 9″ x 5″ x 6″.
Pros
Dust prevention

Creates no swirl marks

Powerful motor

Interchangeable speed

Easy dust canister removable

Comes with a carry case
Cons
Problems with the flatness of the disc

The interchangeable speeds aren't consistent
---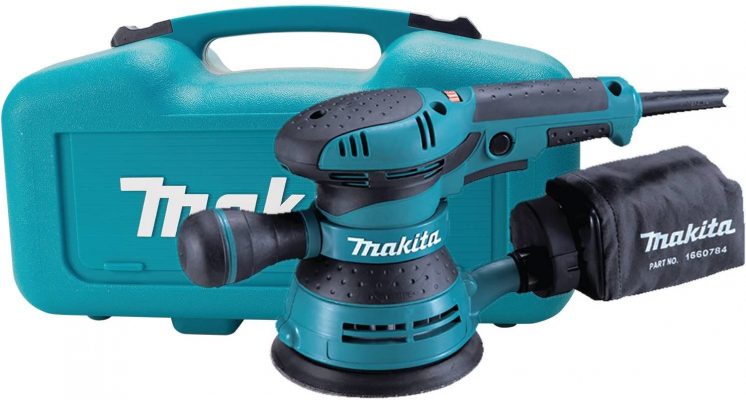 Why we like it:
The Makita BO5041 orbit sander is used by many hobbyists, carpenters and professional construction workers as it is versatile & it's a powerful handheld power tool.
Editor's Rating:
Capable of helping you with any DIY project the Makita BO5041 orbit sander leaves no trace of swirl marks giving you a smooth, even finish to your work.
Features
The Makita BO5041 orbit sander comes in an all blue outer construction with black details. The handle is made with a non-slip black rubber grip for stability and safety. There are dials that are easy to locate which help you change the speed of your disc sander.
You can adjust the handle to get into those hard to reach places and odd corners to aid you in smoothing out the entire surface area. The integrated dust collection bag helps keep your work station clean and prevents you from inhaling dust & debris while you work.
Benefits
The Makita BO5041 orbit sander is convenient because it's portable and a lightweight power tool that can be used on heavy-duty construction work or small DIY home projects. You're able to use the orbit sander vertically or horizontally for all types of sanding jobs.
The ergonomic design aids in comfort and simplicity as it's easy & safe enough for anyone to use. The disc is easy to change and doesn't require any complicated tool to get it done. It's fast, reliable and it will last you a lifetime.
Functionality
The lock on button changes the speed of the 5″ abrasive Disc between 4,000OPM to 12,000OPM which is powered by a 3 Amp motor. It also has an integrated vacuum and dust collection system that comes with a dust bag.
This handheld power tool weighs 6.3lb and has dimensions of 7.5″ x 16.3″ x 10.3″ with a fully adjustable rubber handle, making for extra comfort.
Pros
Light in weight

Easy changeable disc system

Adjustable handle

Compact design

Comes with a hard carry case

Leaves no marks

Gives a smooth even finish
Cons
Uses a lot of discs

Dust collection is faulty
---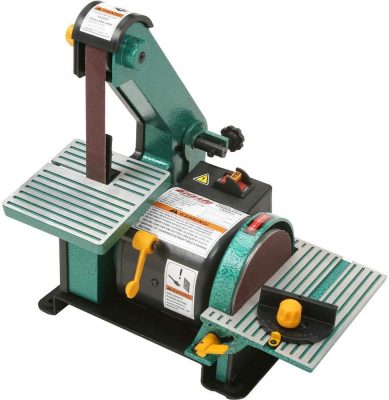 Why we like it:
he Grizzly H6070-1 is a versatile machine capable of aiding you in all types of sanding projects such as making toys, knives and even tables & chairs.
Editor's Rating:
It's a heavy duty machine that can be used on construction sites as well as for home DIY projects.
Features
The Grizzly H6070-1 sander has a heavy construction that helps keep the machine in place while you work. It comes with a sand belt and a sand disc with durable work tables to help stabilize your material when sanding.
This machine has two integrated dust ports to help keep your working space clean and to prevent you from inhaling debris while you work.
Benefits
The Grizzly H6070-1 allows you to work on projects such as contour sanding and dry sharpening. It's a durable machine that's easy to use and easy to maintain. The Grizzly sanding machine shortens the time spent on any woodwork project as it sands down areas fast and with precision.
Functionality
The disc and belt sander tables can be adjusted to 45° to work on contour sanding and detail work. It has a motor that has 1/3 horsepower at 110 volts. The belt's dimensions are 1″x30″ and the disc is 5″ in diameter. It also has a removable belt platen and idler roller guard and two dust ports.
Pros
Versatile

Easy to use

Can be used for contouring work
---
Guide to Buying the Best Bench Sanders
Now that you have a sufficient amount of information on the best bench sanders on the market, how do you decide which one to get? Well, it all depends on what you need done and how versatile you need your sander to be.
Let's take a look at the specifications you should look at in a sander.
Stationary vs. Portability
As mentioned before you can either use a stationary bench sander or a portable bench sander and both are quite different in size & in versatility.
Stationary Sanders
The stationary machines can be mounted or they can be moved but they're usually bigger in size and have both a disc & belt sander attached. Assembling these sanders can be difficult as you will need to install a work table for the disc and a T-square.
Motors on a stationary bench sander are a lot more powerful and can be used for heavy duty construction work. This can be used to sand down large pieces of wood that get fed through the system.
You're not really able to control the angels as much although some machines have adjustable sand belts that can be used vertically or horizontally.
Stationary machines are heavy in weight as they're usually made from cast iron. The weight of the machine prevents it from moving around and vibrating on the table. Your bench sander should never move as it will create uneven surfaces on your wood and other materials you're working on.
Having a stationary sander also helps with versatility as you're not limited to simply using them for wood. Other soft materials such as plastic, tin, and metal can be used with a stationary bench sander and they're often used on construction sites.
What's more, depending on the size of your machine, you can use them for DIY and arts & crafts at home. Many people use stationary bench sanders to make knife handles and to sharpen blades.
Portable Sanders
These sanders are significantly lighter as they're usually made from hard plastic. Portable sanders need to be light and compact as they're handheld devices. You don't need added tools to assemble handheld sanders as everything is put together for you.
Handheld sanders aren't as versatile as stationary machines because they only come with one sand disc. But you can control the movement of these devices and the speed to which the disc is moving as they usually have adjustable speed dials.
Portable sanders can be used on vertical surfaces such as walls and doors & they can be used on flat horizontal objects such as tabletops and wooden floors. This makes it more ideal than a stationary machine as you can't work on floors and walls with mounted sanders.
Although portable devices are light in weight they create no vibration or wobbling when you work but some machines can leave circular marks. Make sure your rotary disc is completely flat with no arches so you can have an even finish on your work.
Additional Features to Look For
Power
How intense is the job you need to get done? Is it heavy duty construction work or is it a basic DIY project? For small jobs like making knives or small toys, you don't need a powerful machine. For more intense jobs you may want to invest in a sander that's higher grade quality with a powerful motor.
Be aware that motors on sanders do tend to run hot and get bogged down under too much pressure. It's best to give your sander a rest every now and then to prolong the life of the motor.
Versatility
Machines that can do more than one job are probably better value for money. If you have more than one project you'd like to work on with different materials, shapes and sizes you'll need something more versatile.
Machines with disc and belt sanders are your best bet, as they come with attachable work tables & adjustable sand belts.
Cleaning and Dust Collection
Most sanders have dust collection systems that suck debris and small particles into a bag or box. You can remove the bag or the box to dispose of the contents. Some sanders don't come with a dust collection system although it's an essential part of the machine. Make sure you get value for money by getting a model with this component included.
Dust collection systems prevent you from inhaling particles and the keep your work station clean at all times. Select a machine that has an easily removable dust bag or box so you're able to clean your machine easily.
Quality Construction
When selecting a bench sander, make sure the overall construction is well made and there are no loose parts or fragile pieces that can break. If you're using a machine with a belt sander it must always be in alignment. The construction and mechanisms should be durable & sturdy as it can be a safety hazard if they're not tightly attached to the machine.
Test the machine to see if it wobbles or vibrates when in use as this can cause unwanted scratches and dents on your work.
What Can You Make With a Sander?
There are so many projects you can do with bench sanders and people use them to construct amazing products. You can craft doll houses, make small tables, cut your own chopping boards, sharpen knives and refurbish tables & chairs.
Final Words
It can be overwhelming to purchase a power tool especially because they can be quite pricey. Testing out your bench sander before buying can save you a lot of hassle in the future. Make sure that it's easy to maintain and that it will bring simplicity to your work station.
Bench sanders are designed to make all your construction work and DIY projects fun & hassle-free. Invest in your own bench sander and perhaps you can create something that can inspire others.
Your construction and craft projects have never been this easy. Change the way you work and produce the finest quality designs by getting your very own bench sander. Your next project awaits.