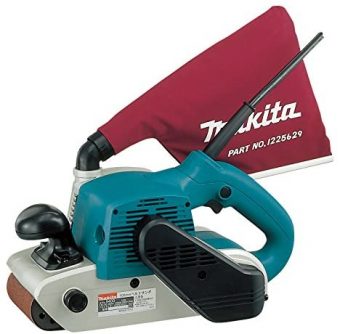 Makita 9403 4" x 24" Belt Sander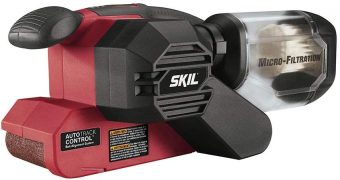 SKIL 7510-01 Sandcat 6 Amp 3-Inch x 18-Inch Belt Sander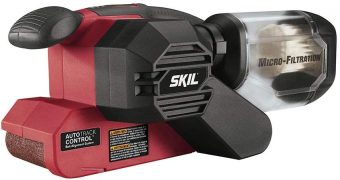 SKIL 7510-01 Sandcat 6 Amp 3-Inch x 18-Inch Belt Sander
Previous
Next
Belt sanders are perfect for woodworkers who perform a lot of shaping, trimming, sanding applications, and more. Although it's not considered as a "must-have" tool for DIYers and homeowners, it's still an important part of any toolkit. The best belt sanders are real powerhouses which you can use for various projects from sharpening tools, refinishing surfaces, and everything else in between.
Just like any other type of power tool, belt sanders have their own strong points and drawbacks. This is why you should think of what features you need first before you spend money on any model. Think about the usual size of the projects you have and how much power you need to perform them.
In this article, we'll provide you with the information you need before you make a choice. Later on, we'll review some of the best products available now and who knows? The best belt sander for you may be one of those on our list. Read on!
Features to consider in Good Belt Sanders
Purpose
Belt sanders have several practical purposes. You can use them for smoothing, sanding, trimming, and shaping. Some people even use these tools to remove old paint or stains. Some models are also great for removing rust or paint from metal too.
Belt sanders come in all sizes and shapes so think about your own purpose for needing one. Think about the sizes of the projects you'll work on then you'll have a better idea of what belt sander to get.
Size
Just because a belt sander is big and powerful, that doesn't mean it's the best. Before thinking about the size of the tool, consider how you'll use the belt sander and how frequently you'll use it too. Professionals may benefit a lot from large, hefty, powerful, and heavy sanders.
But for homeowners, a more compact and lightweight model may suffice. Also, keep in mind that big and bulky tools require more space for storage. They may also need regular maintenance to keep performing well compared to smaller models.
Types
There are 3 major types of belt sanders. First, benchtop belt sanders are a type of equipment that's stationary. They're designed to be accurate, stable, and have powerful motors with a high RPM. Benchtop models usually combine both disc and belt sanding capabilities. Some benchtop belt sanders are fairly portable while others really heavy which means that you'd only situate them in one location.
The next type of belt sanders are the handheld ones, and they're either cordless or corded. The differences among these models are in their form factor, weight, and power areas. Some handheld belt sanders are big, and these are ideal for heavy-duty work. But there are also lightweight ones which are easy to use and better suited for detail and finish projects.
Finally, the cordless belt sanders are the newest ones which have come out in the market. In fact, there are only a few brands which are widely available for purchase. They usually run on lithium-ion batteries and come with chargers.
Front, back, and center
When going through different products, check their various features one of which is the front nose of the tool. If you plan to work on detailed projects or with softer types of wood, then choose a tool that has a front nose with a round shape.
Also, check the centering system of the tool. No matter how powerful the belt sander is, if the belt doesn't stay aligned, you won't be able to work productively. Search for a belt sander which has a system that's dedicated to track centering. This will save you a lot of time and effort while preventing any issues while you work.
Price
Since a belt sander is a type of power tool, you can think of it as an investment for your workshop. Think about how much you're willing to spend and try to look for a model which fits into your budget. The good news is, there are different models available, and they come in a wide range of prices.
Depending on what you need, the different brands offer belt sanders with varying features. They have different prices, and this largely depends on the quality of the materials used in the construction of the tool. Also, a higher price may mean that the tool has a more powerful motor and some additional features.
The Best Belt Sanders 2020
Guide to Buying the Best Belt Sanders
These are the best belt sanders available in the market now thanks to their design, features, and reasonable prices. Of course, there are some things you need to consider first before you make your choice. With these factors in mind, you'll be able to find the best product which will suit your own personal preferences.
What important factors should you consider when buying belt sanders?
Weight
Beginners may not realize this in the beginning, but holding a heavy object while working for long periods of time may cause hand fatigue. So, if you plan to do a lot of projects which require working for prolonged time periods, it's best to choose a lightweight belt sander.
Although some of these models have good portability, it's still important to check their weight. Do this so that you know whether or not the tool is light enough for you to handle without experiencing fatigue.
Grip and comfort
The next factors to consider are the tool's grip and comfort level. Aside from choosing a tool that's light enough to handle comfortably, choose one which has a good grip. If the tool feels good in your hand, you'll feel more comfortable working with it.
Features
All models of belt sanders have standard features such as the tracking system, dust bags, and more. But the best belt sanders come with added features to make them more superior and efficient. Some have unique features such as a pressure control system, a clear window, quick locks, dials for variable speeds, and others.
Belt sander safety tips
When it comes to power tools, a belt sander is one of the safer tools used in woodworking. Still, it's important to learn how to handle them well to prevent any injuries or damages to the tool itself. Here are some practical safety tips for you:
Use a dust mask
When you breathe in dust, it's both unsafe and unpleasant. When working, belt sanders tend to produce high amounts of dust, so it's best to use a dust mask. Wear this even if your belt sander has an efficient dust collection system.
Clean it first before working with metal
Some users may not know this, but sanding metal may create sparks. When mixed with sawdust, this may start a fire in your workspace. That's why it's important to clean the tool first before working with any kind of metal material.
Unplug it first before cleaning or making changes
This is an important safety tip that no one should ignore. Unplugging the belt sander first before changing the belt, cleaning it or even emptying the dust bag will ensure that you're safe while doing these tasks.
The Verdict
Although some people don't really think of purchasing a belt sander, it's also an essential tool to have in your workshop. There are different factors to consider when choosing such a tool. Belt sanders are highly versatile, handy, and a definite must-have for DIYers, amateurs, and for professionals. We've reviewed some of the best belt sanders available on the market now, and they all have varying features.
Make your selection based on your needs, the projects and applications you plan to do, and your preferences. Also, it's important to learn how to use a belt sander safely and appropriately so you can avoid any work-related injuries. From a buying guide to user tips and actual products, we've provided you with all the information you need!