Airbrushes are fascinating things. Not only do they allow us to paint over a wide array of surfaces, but they're also very efficient and easy to use.
From drywall to furniture to realistic miniature models, airbrushes can handle it all. Some can paint an entire area in just a few hours. Others can create a fine and precise coat of paint that makes small models look photo-realistic.
But features like this don't come cheap – and if they do, one ought to be careful. You shouldn't scrimp out on the most important parts, especially the airbrush compressor. While there are a lot of airbrush compressors on the market, only a few of them are actually great.
Luckily for you, this article is here to save the day. We've gone through the most highly-rated airbrush compressors to come up with this list to suit your needs. We'll also discuss the most important factors when it comes to buying airbrush compressors, as well as some must-have knowledge about this topic.

3 Questions to Ask When Buying Airbrush Compressors
There's quite a lot to digest if you want to get the best airbrush compressor for your needs.
However, before buying an airbrush compressor, you can ask these three questions first to guide you on which one you should pick.
How Often and How Much Are You Going to Use It?
The answers to how often and how much use you expect from your airbrush compressor are probably the best measure of which type and capacity you should get.
If you're only going to use an airbrush for one project, then you might not want to invest in something as expensive as an airbrush compressor, no matter what kind.
However, if you foresee light to moderate use, a diaphragm-type airbrush compressor is your best bet. If you plan on airbrushing extensively, then you need a piston airbrush compressor, which has more power.
The capacity of the airbrush compressor refers to how much air it can push at a certain pressure. The numbers that decide this can be horsepower and CFM delivered. However, the latter is more reliable between the two since the higher the CFM delivered, the better the performance. Out of the two kinds of airbrush compressors, piston compressors have the higher capacity.
How Much Noise Can You Tolerate?
Air compressors can generate a lot of noise. Before buying one, you have to decide first on the amount of noise that you can tolerate. You might be surprised at how loud an air compressor can be.
In addition to this, the price can also be indirectly tied to noise. The cheaper the compressor,  the noisier it tends to be. Remember, it's much harder, and therefore more costly, to design something that runs silently.
For instance, diaphragm compressors are comparably cheaper, but they are clunkier and make a lot more noise. On the other hand, piston compressors are much more expensive but much less noisy.
What Secondary Features Do You Need?
While secondary functions may not technically be crucial to the function of the airbrush compressor itself, they do drastically increase the ease of use and quality of the experience.
Secondary features for airbrush compressors can include a storage tank, automatic shut-down features, multiple air filters and moisture traps, portability and compactness of design, and even aesthetics.
Although these things are outside primary considerations like the CFM, decibel rating, and whatnot, you can imagine that having just one or two of these features is going to make airbrushing much easier.
However, features like this can also come at a price. The more features an air compressor has, the more expensive it is likely to be, so choose wisely.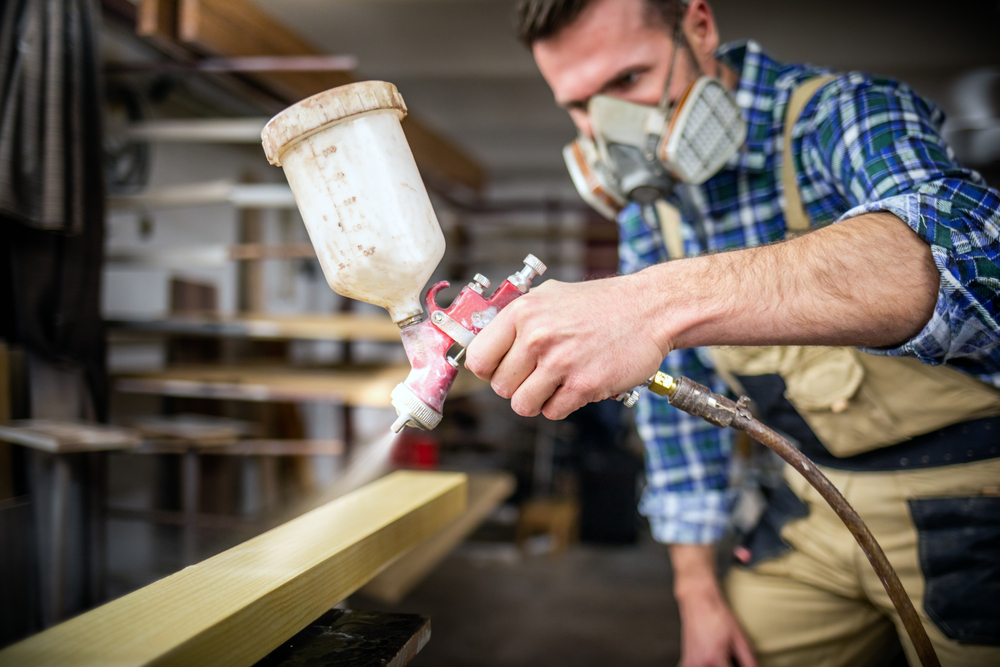 Top 10 Best Airbrush Compressors 2022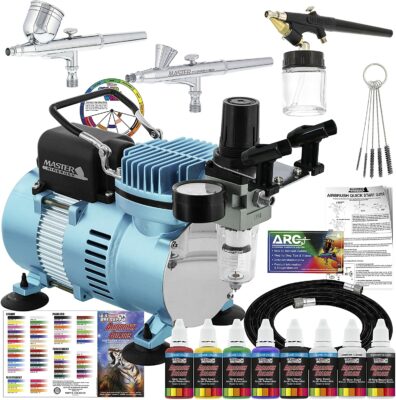 Why we like it:
If value is what you're looking for, then look no further than the Master Airbrush Cool Runner. A well-known brand, this kit provides a rare combination of having everything you need at the highest quality for its price.
Editor's Rating:
Quick Facts
Type: Oil-less Piston
CFM Delivered: 0.8 CFM
Horsepower: 1/5 hp
Max Psi: 57 psi
Weight: 9 lb / 4 kg
Noise Level: 47 dB
Features and Appearance
If you're just getting started and are looking to equip yourself with an excellent airbrush compressor, then the Master Airbrush Cool Runner is your best bet. Any brand can include an airbrush kit in its offering, but none quite captures the care that this brand puts into its product.
The three airbrushes and six paint colors are of the highest quality, and at the same time, the hot dog-shaped air compressors are reliable and have great build quality. Aside from that, the unit also features an adjustable pressure regulator and auto-off and on functions.
Power and Performance
This unit isn't the best airbrush compressor for commercial needs due to its ⅕ horsepower and single-piston capacity. However, with an airflow of approximately 25 liters of air per minute, its performance is perfect for at-home hobbyists looking for a serious airbrush compressor that can withstand long-term, rigorous use.
It does not have a tank and instead uses an "on-demand" system, where the air is stored (and pressure is built) in the airlines themselves, the compressor runs as soon as air is used to keep it filled. However, the lack of a tank makes sure that the unit is small, portable, and maintenance-free.
Downsides
Of course, there's no such thing as a perfect product. The kit doesn't have a manual, which makes the assembly and operation even more difficult for beginners. Although the parts are meant to be taken apart for cleaning and maintenance, some parts are fragile and do not have a good build quality. Lastly, reports say that the psi can become inconsistent and drop (at a median of about 15 psi) when compressed air is used up in the airline.
Pros
Compact and easy to carry

Powerful enough for hobbyists

Comes in a premium-quality kit

Great value-for-price

Adjustable pressure regulator
Cons
Difficult assembly and maintenance

No manual or guide

Fragile parts
---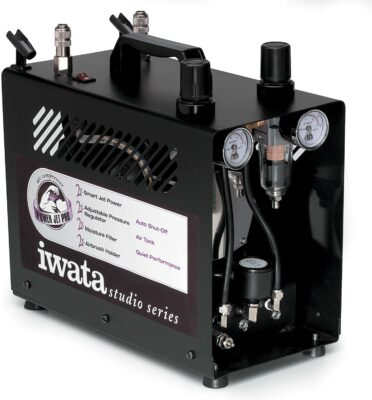 Why we like it:
If you're one of those people who will spare no expense for the best equipment, then you won't go wrong with this one from Iwata-Medea, a brand known and respected in the airbrushing industry for their premium-quality products.
Editor's Rating:
Quick Facts
Type: Oil-less Piston
CFM Delivered: Unspecified
Horsepower: 1/6 hp
Max Psi: 70 psi
Weight: 22 lb / 9.99 kg
Features and Appearance
If you've seen the pictures, the first thing that you would notice is the undeniably contemporary design of the unit. It's shaped like a black box, with its secondary features like twin regulators, moisture traps, and even the 2-liter storage tank hidden underneath a sleekly designed steel enclosure.
In short, the Power Jet Pro looks highly professional and high-quality, which, to be fair, it is.
Power and Performance
This unit is crafted especially for high-intensity studio use, but its power and capacity still aren't on a commercial level. It's way heavier than the Master Airbrush at 22 lb, but it's also more powerful when it comes to performance and still very portable.
The materials and craftsmanship are top-notch. The placement of the features is designed well for ease of use. Thanks to its storage tank, it can store higher pressures than Master Airbrush, making it able to handle more work. The Power Jet Pro is also virtually noiseless, with barely a hum heard during operation, if at all.
Downsides
That said, it can be very difficult to buy an adapter for the compressor-end quick-fit coupler, making it hard to use on a different airline if you're not content with what comes with the box, or if it gets damaged. Also, the unit starts to get noticeably warm at around the 5-hour mark of continuous use.
Pros
Runs very silently

Visually-pleasing aesthetics

Can handle two airbrushes

Has a compact storage tank

High-quality materials and craftsmanship
Cons
Very expensive

Gets hot after 5 hours

No adapter for the coupling
---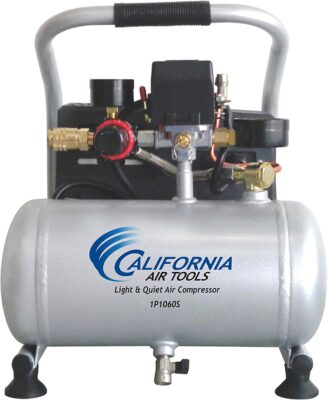 Why we like it:
If you're willing to get your hands just a little bit dirty, then the California Air CAT-1P1060S would make a good partner in crime for your DIY projects.
Editor's Rating:
Quick Facts
Type: Oil-free piston
CFM Delivered: 1.20 CFM
Horsepower: 0.6 hp
Max Psi: 120 psi
Weight: 29.5 lb / 13 kg
Noise Level: 56 dB
Features and Appearance
Performance and durability are what sets the CAT-1P1060S apart from the pack.
It has two pressure controls, an overload protector, and a universal 14" quick connector, which unlike PointZero's is much easier to find replacements for.
Power and Performance
With maximum pressure on the higher end of the scale (120 PSI) and operational noise levels of only 56 dB, the CAT-1P1060S does not disappoint.
The pump operates silently, and the unit's air tank also helps immensely with the flow of the work. With this airbrush compressor, you're sure to get a continuous supply of compressed air.
It can be used on other things like nail guns and blowguns, making it very versatile. For airbrushes, there are no special steps that you have to take to fit the airbrushes – you just have to make sure that the airbrushes' psi capacity matches this tank's output.
Downsides
However, the quality of the regulators that come with the box is not that great. The build quality of the product overall also tends to be sub-par compared to the rest.
Pros
Silent operations

High performance

Air tank helps maintain output

Has pressure controls and overload protector

Includes fittings
Cons
Build quality is not that good

Regulators likely to get damaged easily
---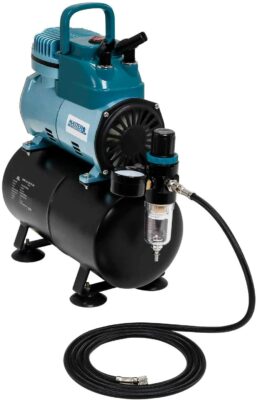 Why we like it:
If you want a dependable product that won't disturb your workflow, then this lesser-known Master Airbrush TC-40T is a great pick.
Editor's Rating:
Quick Facts
Type: Oil-less Piston
CFM Delivered: 0.8 CFM
Horsepower: 1/6 hp
Max Psi: 57 psi
Weight: 11.5 lb / 5.21 kg
Noise Level: 47 dB
Features and Appearance
The Master Airbrush Model TC-40T runs at a mere 47 decibels, which is practically a whisper compared to the other products on this list.
Appearance-wise, this hot dog-shaped compressor has a distinctive glossy teal and matte black coloring. It also sports pressure regulators, a gauge, a moisture trap, a 6 ft hose with 1/8 inch fittings, and a built-in auto on and off feature.
Power and Performance
With the power that it delivers and the reliable storage capacity that it sports, you can continuously work without having to worry about being cut off at an important time.
It also features a single-piston compressor that runs at an unbelievably silent 47 dB, much lower compared to the other brands listed like California Air (56 dB), PointZero (55 dB), or Zeny Pro (59 dB). It matches in terms of noise level to the Airbrush Cool Runner TC-320.
The two brands share similar performance features, such as CFM, horsepower, and max psi, so you know it is in top form in terms of quality and performance. However, unlike the TC-320, this one has a whopping 3L worth of compressed air storage. It also has an unbelievably long warranty of 5 years.
Downsides
Although the connector that comes with the unit is standard, you can quickly run into problems when trying to add quick-disconnect fittings to the hose. This is because the vast majority of said fittings sold in the US have NPT threads, while this model has BPS (also called AFIK) threads. This makes fitting quick-disconnect on the hose tedious and time-consuming.
Pros
High-performing unit

Automatic on and off feature

Large 3L air storage capacity

Heavy-duty and high-quality build

5-year warranty longest in the list
Cons
Pulsation issues when used for a long time

The regulator and psi may not match at times
---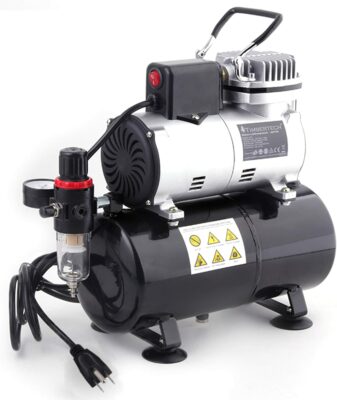 Why we like it:
This unit gives you everything you need for a quality airbrushing experience, with the quality of their craftsmanship apparent in the details.
Editor's Rating:
Quick Facts
Type: Oil-less Piston
CFM Delivered: Approx. 1 CFM
Horsepower: 1/6 hp
Max Psi: 57 psi
Weight: 11.57 lb
Noise Level: 60 dB
Features and Appearance
This unit comes with all the typical features of a good airbrush compressor: it sports a reliable air on-demand feature, auto on (at 43 psi) and auto-off (at 57 psi), a 3L air storage tank, gauge, moisture trap, pressure regulator, a cooling fan, and a 2-year warranty.
Unlike other brands whose fittings are made of cheap aluminum or copper, the tubing and fittings in this one are made of solid steel. It also has a long cable length of 6.2ft, enough to be very maneuverable.
Power and Performance
The Timbertech Professional Upgraded Airbrush Compressor is a reliable little compressor that does what it says it does. It's sturdy and solid, so you can put it on the floor of your workspace and even outdoors. The gauge is even angled up for convenient viewing while standing up.
The storage tank is decent, and when the pressure drops to the specified level, it automatically turns on for a refill. At about 60 dB, this unit is one of the louder units on the list, but it's still relatively quiet.
Downsides
Although the unit has the basics covered quite well, it does have a few disadvantages. For one, the airbrush compressor does not come with a hose, and the connector is non-standard, although one can easily find adapters online–unlike some products on our list. The unit also does not come with an airbrush holder.
Pros
Long cable

Solid build quality

High-quality fittings

Auto on and off function

Large air storage capacity
Cons
Adaptor size is non-standard

Doesn't come with an airbrush holder

One of the louder ones
---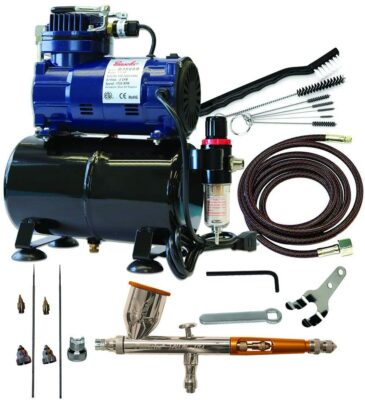 Why we like it:
Paasche is a reputable brand that is well-known in the airbrushing circle, and the D3000R is an embodiment of exactly why the Paasche has become a brand synonymous with quality.
Editor's Rating:
Quick Facts
Type: Oil-less Piston
CFM Delivered: Unspecified
Horsepower: Unspecified
Max Psi: 35 psi
Weight: 14.5 lb / 6.57 kg
Features and Appearance
The D3000R comes in its characteristic glossy dark-blue and black coloring, with a quality design that is typical of most airbrush compressors.
The materials for the compressor are made out of premium metal that results in solid construction, and it also has the usual features of any high-quality airbrush compressor: gauge, moisture traps, cooling fan, auto on and off, and pressure regulators. It even has a 7-brush cleaning kit, three head sizes, a hose, and wrenches.
In other words, it comes with everything one needs to start their airbrushing journey, including a user's manual.
Power and Performance
In terms of power and performance, this brand does not have the same performance as the Master Airbrush TC-320. It has a reputable upper limit of 35 psi before the compressor turns off, but pales compared to 57 psi of Master Airbrush.
It does not specify the horsepower and CFM delivered, which is a disadvantage but something that can be worked around with. Nevertheless, this compressor is good enough for its intended use as a beginner kit.
Downsides
Its performance is not that powerful, sadly. It's quite disappointing considering the price.
Pros
Premium build quality

Very beginner-friendly

High-quality kits that come with the compressor

Comes with everything one needs to start airbrushing
Cons
Does not specify power and CFM delivered

The power that the unit has is subpar for the price being pair
---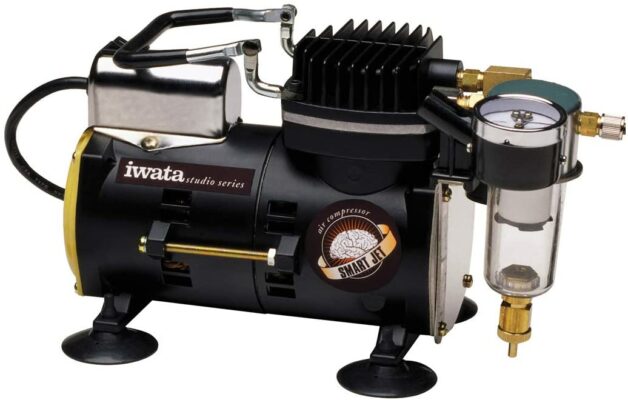 Why we like it:
Another one from Iwata-Medea, we are already assured of the premium quality of the unit, top-notch build quality, and sleek design.
Editor's Rating:
Quick Facts
Type: Oil-less Piston
CFM Delivered: 0.64 CFM
Horsepower: 1/8 hp
Max Psi: 35 psi
Weight: 9 lb / 4.09 kg
Features and Appearance
The Smart Jet from Iwata-Medea certainly has the premium craftsmanship that the brand is so proud of, which ensures us that this is certainly one of the best out there in terms of build quality and design.
The unit is a compact, black oil-less, single-piston compressor. It delivers 1/8th horsepower and 0.64 CFM, enough for most airbrushing needs, and is particularly good for low-viscosity paint mediums, such as those created by Golden Airbrush Colors and Comart. It has auto-on and off features, a gauge, moisture trap, and fittings.
Power and Performance
This type of compressor is ideal for the home-based hobbyist for light use, and while it does perform in that area admirably, it is not built for commercial use. It does not have a tank and only has a single-piston, but that makes it very portable, even while still bringing out a good performance. The design is sleek, intuitive, and easy to use. When using Smart Jet, one can feel the quality that Iwata-Medea tries to strive for with the smooth and unfailing operation.
Downsides
However, it does not have a pressure regulator. You can reduce the pressure by allowing the compressed air to bleed through the moisture trap, however, you have to do it manually, and it is quite difficult to do so with precision.
Also, if you reduce pressure through this method, the compressor machine would continue to run because the max psi would not be reached, making it prone to overheating. However, both problems can be mitigated by installing a third-party regulator yourself.
We also noticed that the turn-on and shut-down are near-instantaneous; it does not gradually cycle on or off. Lastly, the price is not the most permissive, and although the operation is quite high-quality, we feel that one could find adequate operational quality for less price.
Pros
The brand is well-known and reputable

Premium-quality materials and build

Pretty good power for the small size

Hobby compressor, small, and compact

Well-designed compressor with sleek aesthetics
Cons
Very pricey

Not ideal for commercial scenarios

Does not come with a pressure regulator
---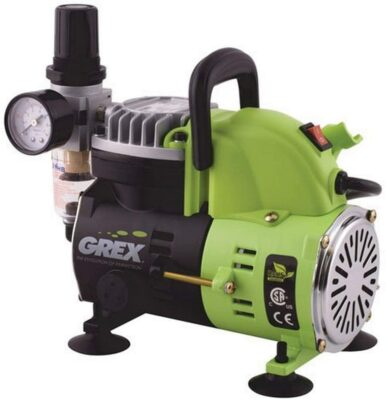 Why we like it:
If you want something that covers the basics, is light and easy to carry, and perfect for the occasional at-home and outside use, then the Grex AC1810-A has got you covered.
Editor's Rating:
Quick Facts
Type: Oil-less Piston
CFM Delivered: Unspecified
Horsepower: 0.13 hp
Max Psi: 60 psi
Weight: 10.9 lb / 4.9 kg
Features and Appearance
This offering from Grex is made to be portable, weighing only 10.9 lb. It's marginally heavier than the Iwata-Medea Smart Jet (at 9 lb). Nevertheless, we rated it more portable because of the handle. It does not have a tank, operates on-demand, features 1/8 inch fittings, and includes a convenient 12-ft air hose.
The handle of the Smart Jet is almost an afterthought, thin and elegant, but it does not provide much grip and does not stow away neatly. The Grex AC1810-A has a thick handle that makes carrying much easier, and it is designed so it stows away neatly on the body when not in use.
Power and Performance
This unit functions admirably, proving that the last is by no means the least. The power and CFM delivered is enough for most airbrushing needs, and there is no throttling or pulsation to speak of, and there is virtually no operational noise. It provides adequate power at 1/8 horsepower, and a max psi is at 60 psi.
More than that, it can run for a long time without a change in the pressure level. The low noise levels and the long-operating time makes it particularly well-suited for long-term work.
Downsides
Although it is sturdy enough, for the price, it could have had much better materials and build. It's made out of plastic, while the Iwata-Medea's exterior is built with metal.
We've also noticed that you need to keep careful attention to the quality of the moisture trap; moisture does get into the line. So, if you find that the moisture trap is sub-par, you should replace it with a better third-party one.
Pros
Very portable

Not much noise during operation

Surprisingly high max PSI

Comes with an extra-long airline

No throttling or pulsation
Cons
Expensive

Build quality could have been better

The moisture trap is sub-par
---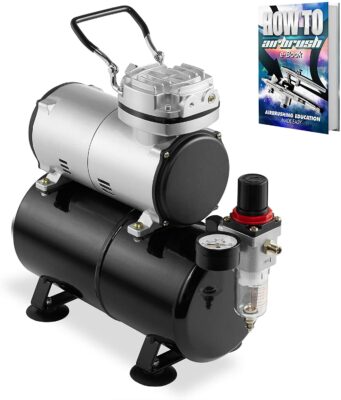 Why we like it:
If your main concern is saving money, then you'll love this high-performing and ridiculously cheap airbrush compressor from PointZero.
Editor's Rating:
Quick Facts
Type: Oil-less Piston
CFM Delivered: 1.0 CFM
Horsepower: 1/5 hp
Max Psi: 58 psi
Weight: 6 lb / 2.7 kg
Noise Level: 55 dB
Features and Appearance
For its price, PointZero's ⅕ HP Airbrush Compressor is quite astounding. The package already includes a gauge, regulator, and moisture trap. It even has a built-in auto-off and on function to prevent it from overheating and weighs a mere 6 lb, a full 16 lb-difference to the more expensive Power Jet Pro.
Power and Performance
This small compressor runs very smoothly, delivering a respectable 1/5 HP and 1.0 CFM, which is enough power for the average hobbyist.
It may not be the most silent out there, but at this price point, it's hard to complain. It's also plenty strong to reliably operate your airbrushes, with a maximum psi capacity of 58 psi.
Downsides
At this price point, it's difficult to say anything against this airbrush compressor.
That said, one of our small gripes is the lack of fittings. It's not really surprising considering the price, but the unit doesn't include any information about the needed size, making it a pain to look for the right ones. It also doesn't come with any instructions. Lastly, don't expect a very high build quality.
Pros
Affordable

Lightweight

Great value for the price

Runs smoothly and silently

High psi capacity for its size
Cons
Does not come with free fittings

Build quality is sacrificed for the price

No manual or instructions
---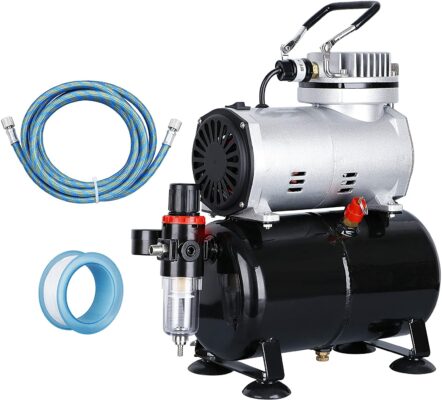 Why we like it:
If you're looking for something that is made for your ease of use, then Zeny Pro's airbrush compressor with its 3-liter storage tank, 6 ft long hose, and 95 psi pressure limit can provide you the convenience that you need if you're willing to be prepared beforehand.
Editor's Rating:
Quick Facts
Type: Oil-less Piston
CFM Delivered: Unspecified
Horsepower: 1/5 hp
Max Psi: 95 psi
Weight: 11.42 lb / 5.18 kg
Noise Levels: 59 dB
Features and Appearance
This product has all the standard offerings of an airbrush compressor; 1/5 HP of power, and a high PSI limit of 95 psi which is enough for most airbrushing needs. The unit also has built-in gauges, a pressure regulator, and a moisture trap.
One of its stand-out features is the 3-liter storage tank capacity, guaranteeing longer undisturbed use before the pumps have to turn on even when compared to Iwata-Medea's (which only has a 2L tank).
Power and Performance
The compressor operates on-demand, meaning that it will only run when the pressure in the tank gets low enough. You would only hear noises very infrequently as the storage tank can store a lot of compressed air. Aside from the auto-on, it also has an auto-off feature to prevent overheating of the unit.
When it does turn on, the compressor runs silently enough, although not as silent as the Master Airbrush's TC-40T (59 dB vs 47 dB). However, it does have one of the highest max psi on the list at 95 psi.
Downsides
As decent as this unit is, the adapter fitting that comes with the box is wrong. It does not fit the outlet on the compressor side, and neither does it fit the hose they provided.
Also, the actual connector (a reducer with 1/4 male BSPP to 1/8 male NPT) that can be used for both the compressor and the hose is very difficult to find on physical stores and even online, although we found that the exact connector is available on McMaster-Carr and Fittings, Inc.
Pros
Great build quality

Affordable price

Automatic on and off feature

Large-capacity 3L air storage tank

High max psi at 95 psi for its price
Cons
Mismatched compressor-to-hose connector

Difficult to find connectors

Time-consuming removal and connection
---
Ultimate Guide to Buying Airbrush Compressors

Now that you've gone through the most highly-rated air compressors around, it's time for you to choose which one to pick for your airbrushing needs.
But to help you make sure that you're getting your money's worth, here's our ultimate guide to buying airbrush compressors–with everything you need to know about this amazing piece of equipment.
What Are Airbrush Compressors?
Airbrushes are a great tool for anyone who needs to paint anything, whether large or small.
The mechanism is elegantly simple: you have your airbrush, which holds the paint and the atomizer. The airbrush gets air at a certain air pressure, which comes from the medium, and is connected through the airline. Air is fed through the line, reaches the airbrush, atomizes the paint, and then delivers it to the working surface.
Now, there are two methods to produce air with enough pressure to push the paint out of the airbrush and atomize it: compressed gas and airbrush compressors.
Both of them have their own advantages and disadvantages. Our focus, however, is on airbrush compressors, which are specifically designed to work with airbrushes. They provide a steady, equal source of pressure that propels the molecularized paint to the surface.
Although you can use regular compressors for your airbrush, they take too much time and effort to set up. The results are also not as smooth since they tend to have pulsation and build-up moisture. Lastly, they're much noisier, as well.
Airbrush compressors are hassle-free as they are fully optimized for airbrushes. They do cost more than regular air compressors, but the time and resources they save make the price worthwhile.
Important Features to Consider When Buying Airbrush Compressors
We've already told you the basic questions to ask when buying an airbrush compressor, and for the most part, you can choose a reliable compressor with those alone.
However, if you're determined to learn more about them before spending your money, here are the most important features that you should know when finding the right airbrush compressor for your specific needs.
Type
There are two types of airbrush compressors, and their advantages and disadvantages are discussed extensively down below.
Diaphragm air compressors are cheaper and require less maintenance, but they tend to be heavier, noisier, and less powerful. Piston compressors run very silently and have a more powerful output, but they cost a lot more and can be quite high-maintenance.
Dimensions and Weight
How big and how heavy your compressor is will decide its placement and portability, respectively.
Although most compressors likely have their own spot in the workroom, there are certain situations where you will have to move it from one place to another. You might also be someone who needs to be mobile or who doesn't have a lot of space.
If this is what you need, choose a small and portable airbrush compressor like the Master Airbrush Cool Runner Airbrush Kit or the Iwata-Medea Studio Series Smart Jet Single Piston Air Compressor. Keep in mind, though, that smaller airbrush compressors tend to be more expensive, especially if you need the specs to match the heavier models.
Tank Capacity
This refers to how much compressed air at constant pressure the units can hold before needing to run the compressor again.
If you use your airbrush only on small-scale projects and hobbies, then you don't need a unit with a large tank capacity. However, if airbrushing is something you need for your job, or if you simply want to go longer without having to wait for a refill, then a larger tank like what the Master Airbrush TC-40T and the Zeny Pro have is what you're looking for.
Duty Cycle
The duty cycle refers to how long the air compressor can run continuously without needing to cool down.
This number is expressed in the percentage of an hour. For example, if the duty cycle of an airbrush compressor unit is 10%, then it can only run for 10% of the hour (6 minutes) and will need the remaining 90% of the hour (54 minutes) to cool down.
The higher the percentage, the better the airbrush compressor because it can run for a longer time and needs less time to recharge. The ideal duty cycle for a high-quality airbrush should be 25%, which means that it can run for 15 minutes continuously and need only 45 minutes to cool down.
Air Pressure
This is the amount of air pressure that a unit can deliver. The higher the air pressure, the more airbrush units your compressor can handle.
However, you should be careful to make sure that the air pressure that ends up in your airbrush stays within the range that the airbrush can tolerate. You can do this by making sure that your compressor has a quality inline pressure regulator.
Decibel Rating
This refers to the intensity of the noise that the unit produces. The higher the decibel rating of the unit, the noisier the product is during operation.
Most manufacturers don't display the decibel rating for their airbrush compressors, so it's hard to know precisely how much noise a specific unit makes. However, as a general guideline, diaphragm compressors are the noisiest, followed by oil-less piston compressors. Oil-filled compressors are the most silent one of the bunch.
Power
Although horsepower is not a reliable indicator of output, it can be a reliable indicator of energy efficiency especially when paired with the wattage.
A compressor unit with a high horsepower rating and a low wattage means that the unit is energy efficient, which not only saves you money in the long run but is also good for the environment overall.
Cable Length
While cable length is not critical to the performance of your airbrush compressor, it does have an effect on the user experience.
A long power cable will make it much easier to maneuver around, which is especially important if you're dealing with sensitive projects.
If you have a shorter cable, you'll have to move the air compressor around more, which can lead to slipping, tripping, and touching something that isn't meant to be touched.

Two Types of Airbrush Compressors
Now, we'll discuss the two types of airbrush compressors and their strengths and weaknesses.

Diaphragm Compressor
Diaphragm compressors work by squeezing the air with a pulsating membrane. They can't store air so it needs to be continually funneled through the airbrush.
This type of compressor generally maxes out at 40 psi, which is already a pretty decent improvement compared to bottled aerosol sprays.
Diaphragm compressors are a definite improvement over spray cans. They can operate for much longer, cover a large area with minimal pulsations, and are in a much more affordable price range compared to piston compressors.
However, diaphragm compressors get overheated relatively easily and therefore can't be used for longer times continuously. Also, diaphragm compressors can only be hooked up to a single airbrush with reliability.
Pros of Diaphragm Compressor
Ideal for light use
Minimal pulsations
Affordable price range
Provides constant air pressure
Cons of Diaphragm Compressor
Can only handle one airbrush
Does not eliminate pulsations
Overheats faster compared to piston compressors
Piston Compressor

Compared to diaphragm compressors, piston compressors are more powerful. They can be hooked up to multiple airbrushes at once and still have reliable output. They can also run much longer than diaphragm compressors.
Since the pressure is created by two or more pistons, the operation is more silent compared to diaphragm compressors. They also have fewer pulsations.
That said, although piston compressors are more powerful, versatile, and easier to use, they're also more expensive overall. They should save you money in the long run, though, especially if you frequently use your airbrush.
There are two main kinds of piston air compressors, oil-less and oil-filled piston air compressors.
Oil-Less Piston Compressors
Many piston compressors are oil-less. As the name implies, pistons don't contain oil, which results in more friction and operational noise than oil-filled pistons. They're still more silent compared to diaphragm compressors, though.
Their main advantage is they have fewer maintenance requirements. Since you don't need to change the oil, you get to save on time and resources. It's also smaller and lighter compared to oil-filled piston compressors.
This type is ideal for visual art, body art, and even food decorating because there is no risk of oil getting mixed with the compressed air.
Oil-Filled Piston Compressors
An oil-filled piston compressor is exactly what it sounds like – the pistons that create the air pressure are filled with oil that lubricates them. This results in a more silent operation, making it ideal for those whose main concern is noise.
While oil-less piston compressors have only air regulators and moisture traps, this type also has oil filters to prevent the oil from reaching the airline. Without it, oil can end up in your airbrush, which could potentially damage it and your project.
However, a particular disadvantage is that it's more high-maintenance in terms of time and money, as you have to replace the oil once in a while. It's also typically larger and heavier than oil-less pistons.
Pros of Piston Compressors
Silent operation
More powerful
Runs for a longer time
Operates multiple airbrushes at once
Cons of Piston Compressors
Requires more maintenance
Much more expensive
Choosing the Best Airbrush Compressor for Your Needs
Now, you have everything you need to know about choosing the right airbrush compressor for your needs. To summarize, before making your first purchase, first ask the three questions: how often and how much are you going to use it, how much noise can you tolerate, and what secondary features do you need?
Once you have the answers to those questions, you should have a rough guideline of what you want. Still on the fence about which product to buy? You can't go wrong with our top-rated product, the Master Airbrush TC-320 Kit.